The Asus P7P55D-E Pro is one of Asus's lowest cost Sata 3 and USB 3.0 boards to date. Hitting the $200 price range Asus didn't cut quality or performance, check it out.
Introduction
Boards with Sata 3 and USB 3.0 have been flooding the market so fast that it's hard to keep up. We've tested Sata 3 and USB 3.0, and the results have been pretty sweet. Especially with USB 3.0 running as fast as a lot of internal hard drives that we've seen. The board prices have been pretty reasonable but until now Asus has limited the boards to high end models, hence higher priced boards. The Asus P7P55D-E Pro is almost an exception to the pricier Asus offerings. Hitting the $200 price range, it's a little more than some people would like to pay but the board extrudes quality and overclockability so the price is justified.
One of the problems of new technology for vendors is offering it cost them a lot of money because of component and redesign costs. Utilizing a PLX chip to keep the PCI-E bandwidth intact for graphics enthusiasts was a bold choice on Asus's part. While other vendors boards support USB 3.0 and Sata 3 most use the PCI-E bandwidth that video cards need to get the bandwidth needed for the newly implemented interfaces. That wasn't good enough for the Asus crew and they used the PLX chip to combine PCI-E lanes to get the bandwidth and leave the graphics PCI-E bandwidth intact. That makes the Asus lineup of P55 boards the board of choice for graphics enthusiasts, especially those that run multiple GPU configurations.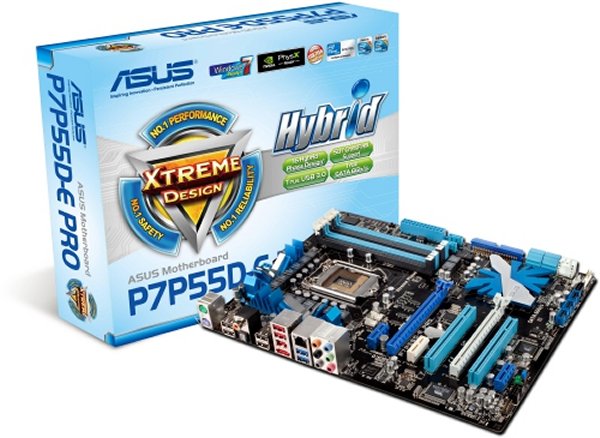 Featuring a smart layout with a smart price, the Asus P7P55D-E Pro is sure to be a favorite for those looking for great performance at a more reasonable price.
CPU, Chipset and Graphics features
LGA1156 Intel® Lynnfield Processor Ready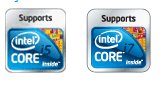 This motherboard supports the latest Intel® Lynnfield processors in LGA1156 package, which has the memory and PCI Express controller integrated to support 2-channel (4 DIMMs) DDR3 memory and 16 PCI Express 2.0 lanes, providing great graphics performance. The Intel® Lynnfield processor is one of the most powerful and energy efficient CPU's in the world.
Intel P55

The Intel® P55 Express Chipset is the latest one-chipset design to support the latest 1156 socket Intel® Core™ i7/Core™ i5/Core™ i3 Processors. Intel® P55 provides improved performance by utilizing serial point-to-point links allowing increased bandwidth and stability.
Quad-GPU SLI and Quad-GPU CrossFireX Support! (Two Dual Core GPU's)
Flexible Multi-GPU solutions, Your Weapon of Choice! P7P55D-E PRO brings you the multi-GPU choice of either SLI™ or CrossFireX™. The motherboard features the most powerful Intel® P55 platform to optimize PCIe allocation in multiple GPU configurations. Expect a brand-new gaming style you've never experienced before!
PCIe 2.0

Double Speed; Double Bandwidth. This motherboard supports the latest PCIe 2.0 devices for double speed and bandwidth which enhances system performance.
Memory Features
Dual-Channel DDR3 2200(O.C.) / 1600 / 1333 / 1066 support

The motherboard supports DDR3 memory that features data transfer rates of 2200(O.C.) / 1600 / 1333 / 1066 MHz to meet the higher bandwidth requirements of the latest 3D graphics, multimedia, and Internet applications. The dual-channel DDR3 architecture enlarges the bandwidth of your system memory to boost system performance.
True USB 3.0 Support

Experience ultra-fast data transfers at 4.8 Gb/s with USB 3.0–the latest connectivity standard. Built to connect easily with next-generation components and peripherals, USB 3.0 transfers data 10X faster and is also backward compatible with USB 2.0 components.
True Serial ATA 6.0 Gb/s support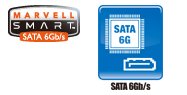 Supporting next-generation Serial ATA (SATA) storage interface with onboard Marvell® controller, this motherboard delivers up to 6.0 Gb/s data transfer rates. Additionally, get enhanced scalability, faster data retrieval, double the bandwidth of current bus systems.
ASUS Xtreme Design – Hybrid Processor

ASUS TurboV EVO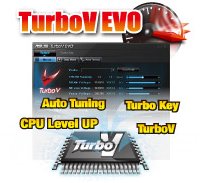 Ultimate O.C. Processor. The ultimate O.C. processor satisfies every level of overclockers—from die-hard enthusiasts to beginners. Auto tuning intelligently pushes the system to the fastest clock speeds while maintaining stability. Turbo Key boosts performance with just one touch; while TurboV offers more options to advanced overclockers to achieve world O.C.Moreover, upgrade your CPU at no additional cost with CPU Level UP!
Auto Tuning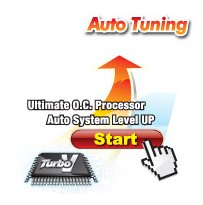 Auto System Level Up
Achieve extreme yet stable overclocking results automatically with Auto Tuning! With built-in stability testing, Auto Tuning lets even beginners improve performance with no additional cost.
ASUS Xtreme Design – 16 Hybrid Phase
T.Probe

Leading Active Cooling Technology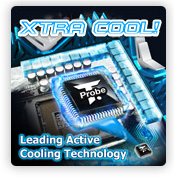 The T.Probe microchip detects and balances power phase loads and temperatures real-time. With optimal power phase functions, components run cooler and extend system lifespan.
ASUS Hybrid 12+2 Phase Power Design

Unprecedented Innovation with the Best Quality Component for Best Performance The groundbreaking 12+2 phase VRM design is brought to the ASUS motherboards. 12+2 phase power design, 12-phase for vCore and extra 2-phase for Memory controller inside CPU, can provide the highest power efficiency, and hence generates less heat to effectively enhance the overclocking capability. With the high quality power components such as low RDS (on) MOSFETs, Ferrite core chokes with lower hysteresis loss and 100% Japan-made high quality conductive polymer capacitors, ASUS 12+2 phase VRM design also ensure longer component life and minimum power loss.
16 Hybrid Phase = 12+2 Phase x T.Probe
ASUS Xtreme Design – Hybrid OS
ASUS Express Gate
0 to Internet in Seconds! Gate™ is an ASUS exclusive OS that provides you with quick access to the Internet and key applications before entering Windows®.
ASUS Exclusive Features
MemOK!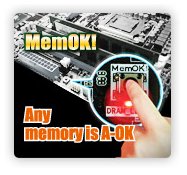 Any Memory is A-OK!MemOK! quickly ensures memory boot compatibility. This remarkable memory rescue tool requires a mere push of a button to patch memory issues. MemOK! determines failsafe settings and dramatically improves your system boot success. Get your system up and running in no time!
ASUS EPU

System Level Energy Saving. The new ASUS EPU – the world´s first power saving engine, has been upgraded to a new six engine version, which provides total system power savings by detecting current PC loadings and intelligently moderating power in real-time. With auto phase switching for components (which includes the CPU, VGA card, memory, chipset, drives and system fan), the EPU automatically provides the most appropriate power usage via intelligent acceleration and overclocking – helping save power and money.
ASUS Quiet Thermal Solution
Fan Xpert

Active Quiet & Cool. ASUS Fan Xpert intelligently allows users to adjust both the CPU and chassis fan speed according to different ambient temperature , which is caused by different climate conditions in different geographic regions and system loading.Built-in variety of useful profiles offer flexible controls of fan speed to achieve a quiet and cool environment.
ASUS Crystal Sound
8-channel Audio

Enjoy High-End 8-channel sound system on your PC! The onboard 8-channel HD audio (High Definition Audio, previously codenamed Azalia) CODEC enables high-quality 192KHz/24-bit audio output, jack-sensing feature, retasking functions and multi-streaming technology that simultaneously sends different audio streams to different destinations. This motherboard now adopts the future standard to deliver the most vivid audio enjoyment!!
DTS Surround Sensation UltraPC

DTS Surround Sensation UltraPC delivers exceptional 5.1 surround experience through the most common PC audio setups – your existing stereo speakers or headphones. In addition to virtual surround, "Bass enhancement" provides stronger low frequency bass sound, and "Voice clarification" provides clear human dialogue even with loud background sound. With these technologies, you may experience a better home-theater audio with ease.
Noise Filtering
Eliminate background noise while recording. This feature detects repetitive and stationary noises like computer fans, air conditioners, and other background noises then eliminates it in the incoming audio stream while recording.
ASUS EZ DIY
ASUS Q-Design

DIY quickly, DIY easily! ASUS Q-Design enhances your DIY experience. All of Q-LED, Q-Slot and Q-DIMM design speed up and simplify the DIY process!
Q- Shield

Easy and Comfortable Installations. The specially designed ASUS Q-Shield does without the usual "fingers" – making it convenient and easy to install. With better electric conductivity, it ideally protects your motherboard against static electricity and shields it against Electronic Magnetic Interference (EMI).
Q-Connector

Make connection quick and accurate! ASUS Q-Connector allows you to connect or disconnect chassis front panel cables in one easy step with one complete module. This unique adapter eliminates the trouble of plugging in one cable at a time, making connection quick and accurate.
EZ-Flash 2

Simply update BIOS from a USB flash disk before entering the OS. EZ Flash 2 is a user-friendly BIOS update utility. Simply launch this tool and update BIOS from a USB flash disk before entering the OS. You can update your BIOS only in a few clicks without preparing an additional floppy diskette or using an OS-based flash utility.
O.C. Profile

Conveniently store or load multiple BIOS settings. Freely share and distribute favorite overclocking settings The motherboard features the ASUS O.C. Profile that allows users to conveniently store or load multiple BIOS settings. The BIOS settings can be stored in the CMOS or a separate file, giving users freedom to share and distribute their favorite overclocking settings.
Industry Standard
IEEE 1394a interface

IEEE 1394a interface provides high speed digital interface for audio/video appliances such as digital television, digital video camcorders, storage peripherals & other PC portable devices
S/PDIF-out on Back I/O Port
This motherboard provides convenient connectivity to external home theater audio systems via coaxial and optical S/PDIF-out (SONY-PHILIPS Digital Interface) jacks. It allows to transfer digital audio without converting to analog format and keeps the best signal quality.
RoHS
GreenASUS

The motherboard and its packaging comply with the European Union´s Restriction on the use of Hazardous Substances (RoHS). This is in line with the ASUS vision of creating environment-friendly and recyclable products and packaging to safeguard consumers´ health while minimizing the impact on the environment.
Specifications
Asus P7P55D-E Pro Specifications

CPU      

LGA1156 socket for Intel® Core™ i7/Core™ i5/Core™ i3Processors

Supports Intel® Turbo Boost Technology

* Refer to www.asus.com for Intel CPU support list

Chipset

Intel® P55 Express Chipset

Memory             

4 x DIMM, max. 16GB, DDR3 2200(OC)*/1600/1333/1066 MHz, non-ECC, un-buffered memory

Dual Channel memory architecture

* Supports Intel® Extreme Memory Profile (XMP)

* Please refer to www.asus.com or user manual for the Memory QVL(Qualified Vendors List).

Expansion Slots

2 x PCI Express 2.0 x16 slots (single at x16 or dual at x8 / x8 mode)

3 x PCI Express 2.0 x1 slots (2 at 5GT/s ; 1 at 2.5GT/s )

2 x PCI

Multi-GPU Support

Supports NVIDIA® SLI™ Technology / ATI® CrossFireX™ Technology

Storage               

Intel® P55 Express Chipset built-in

6 xSATA 3.0 Gb/s ports

Intel Matrix Storage Technology Support RAID 0,1,5,10

JMicron® JMB363 SATA & PATA controller:

1 x UltraDMA 133/100/66 for up to 2 PATA devices

1 x SATA 3Gb/s port (black)

1 x eSATA 3Gb/s port

Marvell® PCIe SATA6Gb/s controller:

 – 2 x SATA 6.0 Gb/s ports (Gray)

LAN       

Realtek® 8112L Gigabit LAN controller featuring AI NET2

Audio   

VIA® VT1828S 8-channel High Definition Audio CODEC

– Absolute Pitch BD192/24

– DTS Surround Sensation UltraPC

– Supports Jack-Detection, Multi-streaming, Front Panel Jack-Retasking

– Coaxial / Optical S/PDIF out ports at back I/O

IEEE 1394

VIA® 6308P controller supports 2 x IEEE 1394a ports(one at mid-board; one at back panel)

USB

NEC USB 3.0 controller

– 2 x USB 3.0 ports (Blue, at back panel)

Intel® P55 Express Chipset

– 12 x USB 2.0 ports (6 ports at mid-board, 6 ports at back panel)

Overclocking Features 

Precision Tweaker 2:

– vCore: Adjustable CPU voltage at 0.00625V increment

– vIMC: Adjustable IMC voltage at 0.00625V increment

– vDRAM Bus: 104-step DRAM voltage control

– vPCH: 36-step chipset voltage control

– vCPU_PLL: 56-step reference voltage control

SFS (Stepless Frequency Selection)

– Internal Base Clock tuning from 80MHz up to 500MHz at 1MHz increment

– PCI Express frequency tuning from 100MHz up to 200MHz at 1MHz increment

Overclocking Protection:

– ASUS C.P.R.(CPU Parameter Recall)

Asus Unique Features

ASUS Exclusive Features

– MemOK!

– ASUS EPU

ASUS Quiet Thermal Solution

– ASUS Fanless Design: Stylish Heatsink

– ASUS Fanless Design: Stack Cool 3

– ASUS Fan Xpert

ASUS Crystal Sound

– ASUS Noise Filter

ASUS EZ DIY

– ASUS Q-Shield

– ASUS Q-Connector

– ASUS O.C. Profile

– ASUS CrashFree BIOS 3

– ASUS EZ Flash 2

– ASUS MyLogo 2

– Multi-language BIOS

ASUS Q-LED (CPU, DRAM, VGA, Boot Device LED)

ASUS Q-Slot

ASUS Q-DIMM

Back Plate I/O Ports

1 x PS/2 Keyboard (Purple)

1 x PS/2 mouse port (Green)

1 x Coaxial S/PDIF Output

1 x Optical S/PDIF Output

1 x IEEE1394a

1 x eSATA port

1 x RJ45 port

2 x USB 3.0/2.0 ports (blue)

6 x USB 2.0/1.1 ports

8-channel Audio I/O

Internal I/O Connectors               

3 x USB connectors support additional 6 USB ports

1 x IDE connector

7 x SATA 3.0Gb/s connectors (blue/black)

2 x SATA 6.0Gb/s connectors (gray)

1 x CPU Fan connector

2 x Chassis Fan connector (1×4-pin, 1×3-pin)

1 x Power Fan connector

1 x IEEE1394a connector

Front panel audio connector

1 x S/PDIF Out Header

24-pin ATX Power connector

1 x 8-pin ATX 12V Power connector

System Panel(Q-Connector)

1 x MemOK! button

BIOS     

16 Mb Flash ROM, AMI BIOS, PnP, DMI2.0, WfM2.0, SM BIOS 2.5, ACPI 2.0a, Multi-language BIOS, ASUS EZ Flash 2, ASUS CrashFree BIOS 3

Manageability

WfM 2.0, DMI 2.0, WOL by PME, WOR by PME, PXE

Accessories

User's manual

1 x UltraDMA 133/100 cable

2 x Serial ATA 3.0Gb/s cables

2 x Serial ATA 6.0Gb/s cables

1 x 2-port USB and eSATA module

1 x SLI Bridge

ASUS Q-Shield

2 in 1 Q-connector

Support Disc

Drivers

ASUS Utilities

ASUS Update

Anti-virus software (OEM version)

Form Factor

ATX Form Factor

12 inch x 9.6 inch ( 30.5 cm x 24.4 cm )
Features & Software
Now that you've read the book on the P7P55D-E Pro Specifications, it's time for the graphic novel of features & software. Aside from having a ton of features, the P7P55D-E Pro comes with some very nifty software and chips that have specific jobs. Green-minded buyers rejoice, ASUS added stuff just for you. Meet the ASUS EPU-6 Engine.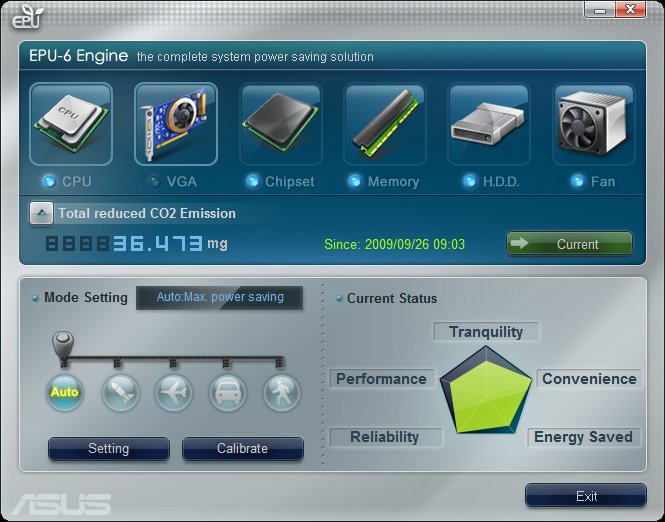 EPU-6 Engine
Using lead free solder and solid state components, ASUS is doing their best to be as environmentally friendly as possible. The Energy Processing Unit (EPU) is another example of ASUS making changes to be a more "green" company. The EPU chip is basically a power moderator. The EPU automatically raises and reduces power when needed on six major components; the video card, chipset, CPU, fan(s), hard drives, and the memory. This is where the "EPU-6" name came from.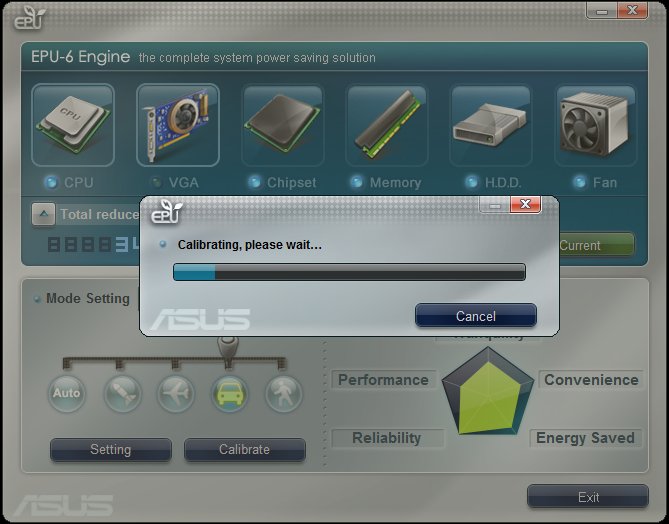 Once calibrated, the EPU-6 software will automatically adjust depending on your power demands. In total the EPU-6 software has 5 settings. Auto Mode, Turbo Mode, High Performance Mode, Medium Power Saving Mode and Max Power Saving Mode. Turbo Mode uses the most power and Max Power Saving Mode uses the least. Each mode displays how much power is being used and saved, its nice to know how deviant your being to the environment. Overall, this software is a great step in the right direction. With Intel's own "green" feature, SpeedStep, and AMD's " green" feature, Cool N' Quiet, its about time we see motherboard manufactures create software that will fully utilize these CPU features. Although the EPU is a very nice informative feature, it's best to disable this feature if your going for your maximum overclock. It tends to hinder your maximum overclock if left enabled.
T.Probe
Along with the new P55 chipset motherboards, ASUS has introduced the T.Probe chip. What the T.Probe does is balance the load on the power phases to evenly distribute power ultimately reducing the motherboards overall temperature improving longevity of the components. The T.Probe software included allows you to check the status of the power phases as well as change the power mode used; "Xtreme Phase Performance Mode" which uses all 16 power phases, or "Power Saving Mode" which uses only four power phases. Below are a couple pictures of the T.Probe chip and software in action.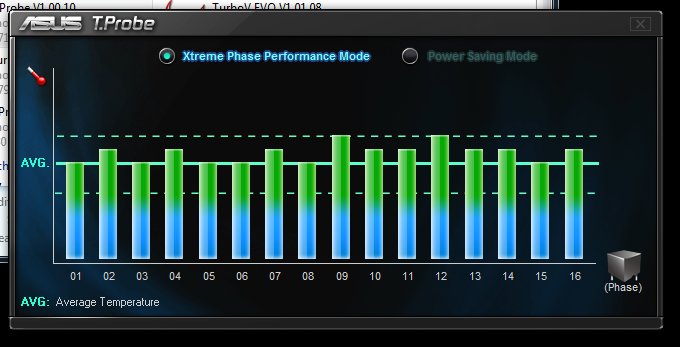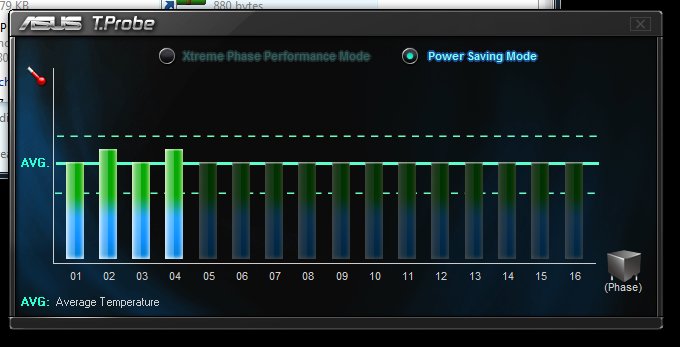 From the pictures you can see how the T.Probe chip effectively distributes power evenly throughout the power phases. We recommend selecting the Xtreme mode to achieve the highest performance from the P7P55D-E Pro. 
Update direct from Asus
The only point of clarification I have is T.PROBE is a load balancing based of per phase bank temperature. The T.Probe chip also works with our PWM design XtremePhase for normal load management. This essentially means when the system is in moderate or idle states it will drop down to as little as 4 phases and during moderate to heavy load ramp up to full phase count.
This is independent of T.PROBE, when enabled T.PROBE will monitor the temperature per phase and balance loading accordingly to keep a more balanced temperature across the VRM.
TurboV EVO
The TurboV EVO software allows you to manually or automatically overclock your computer within Windows using three separate configurations; Manual, Easy Mode and Auto Tuning. In manual mode the software allows you to set the BLCK frequency, and change all voltages including the PLL, CHA DATA, CHB DATA, PCH, CHA CTRL and CHB CTRL voltages.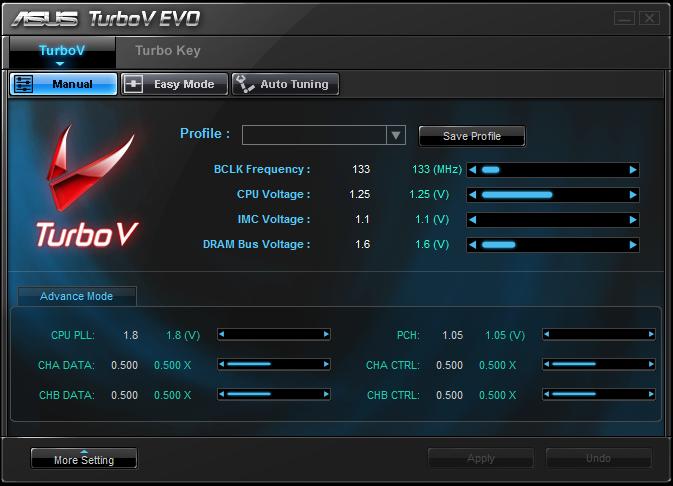 Easy Mode allows BLCK frequency adjusting and only CPU, IMC, and DRAM voltage changing. In Manual-Advanced mode you can adjust the other voltages.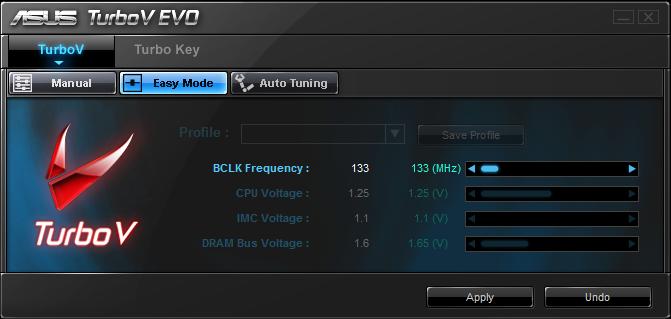 Auto Tuning mode is what makes the TurboV EVO software so special. Within the Auto Tuning mode you can let the software do 100% of the overclocking or you can use fixed settings to help the software along the way.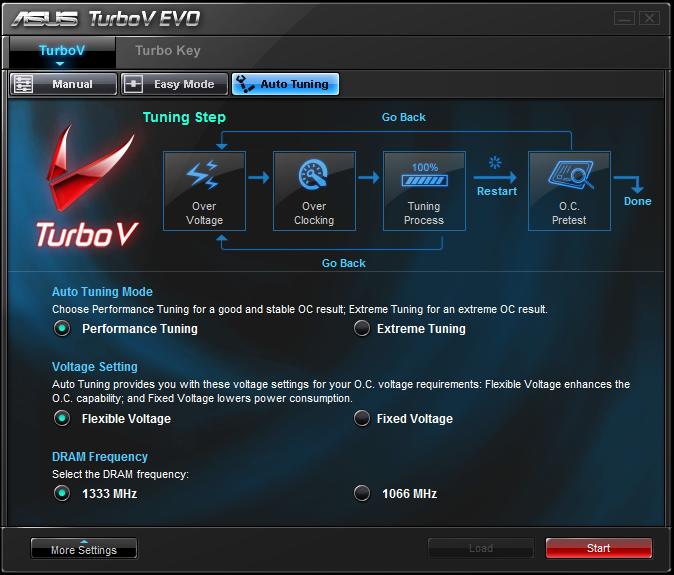 Once you find your preferred settings, you can save them and use the Turbo Key tab to assign the profiles saved. This comes in handy when your wanting more power when playing a game or less power when browsing the web. The TurboV EVO software allows you to change your profile on the fly.
We found the TurboV EVO software very easy to use and we think newcomers to overclocking will thoroughly enjoy using the suite. Although this software worked very well, we still recommend using the BIOS to achieve the highest overclock.
MemOK!
Like we said on the Specifications page, ASUS put everything into this board. The TurboV chip is another new hardware addition on the P7P55D-E Pro. The TurboV chip has one job only, the job of overclocking your computer. Combined with the TurboV EVO software and the TurboV remote, the TurboV chip allows you to overclock your machine through a GUI, or from the palm of your hand using the TurboV wired remote. We won't dive too deep into the overclocking results just yet, but to peak your interest, we were pleasantly surprised at the results. In this picture below you can see the MemOK! button and to it's right the TurboV chip, both located right under the fourth DIMM slot next to the 24 pin power header.

The MemOK! button allows the motherboard to adjust the memory settings to a more acceptable setting if a failure occurs in any area. Either it be an overclocking failure or a default memory timing or voltage issue, pressing the MemOK! button (when warned by the DRAM LED), will help make the memory as compatible as possible. We are happy to report the MemOK! button works very well. We had to use this button multiple times when overclocking our Kingston HyperX memory kit, not once did we have to resort to clearing the CMOS. The MemOK! button worked flawlessly in our testing.
Express Gate
The ASUS Express Gate software allows you to quickly access the internet within 5 seconds without booting into an operating system. We did use the Express Gate software and it worked very well. We were able to turn the machine on, and within seconds we were at the Express Gate browser looking at Bjorn3D.com. This software is useful when your in a rush and need to access your email, a website, or even use an IM client or Skype for voice communication. This may seem like a silly feature since you can do all these things within the operating system, but if for some reason your hard drive dies and you need to go online to buy another, I'm sure you will be thanking your lucky stars that you had an ASUS board with the Express Gate feature.
Click Image For a Larger One
Looking back at all the features bundled with P7P55D-E Pro, you can see why it's such a good deal at the $200 price point which is fairly low (for Asus) for all the functionality and OCing benefits you get.
Pictures & Impressions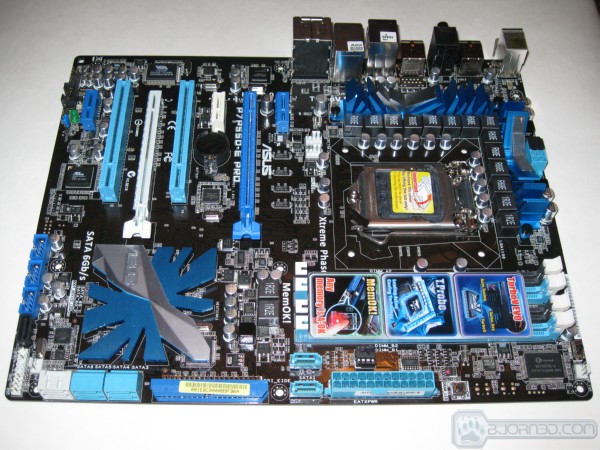 The P7P55D-E Pro has plenty of open space around the CPU area because there is no heatsink on the left hand side of the board. It's well laid out and has a total of 9 Sata connectors but they are spread around the board a little. Two of the Sata connectors are Sata 3 backwards compatible with Sata 2. The board also sports two USB 3.0 devices from the back panel and we'll get into a little more detail on that later.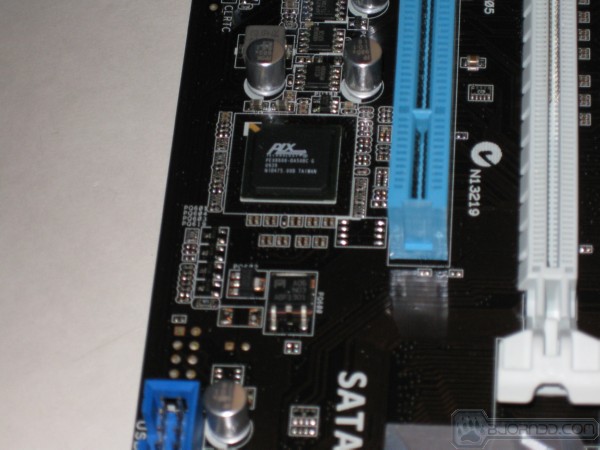 There are currently two solutions we have seen for Sata 3 and USB 3.0 on P55 boards and both differ greatly. Asus chose a little more elegant solution than Gigabyte. Gigabyte steals the bandwidth for the new interfaces from the Graphics 16x PCI-E lane, and if you enable Turbo (full speed USB 3 or Sata 3) on their boards you lose 8x of the 16x speed on your primary graphics slot.
Asus does it differently and chose to use a PLX chip (Pictured above) to combine PCI-E gen 1 lanes to get the bandwidth and the PCI-E graphics bandwidth isn't affected. You still get full 16x for single card and 8x – 8x for multi-GPU setups.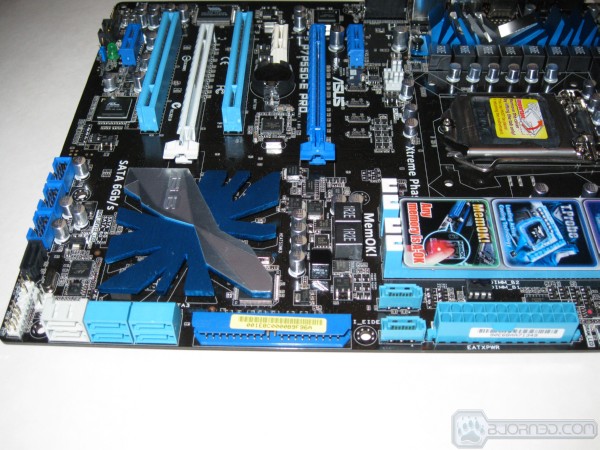 Down on the business edge of the board we have a lot going on. Extreme left we have the 24 pin motherboard power connector and next to that two upward facing Sata connectors. A lot of people yell about upward facing Sata connectors, but frankly while the 90° ports are great for under the graphics cards in mid-tower chassis they can be tricky to get at if you switch components a lot. For reviewing it's handy to have a couple of well placed upward facing Sata slots and these slots are well faced. Next to the two Sata slots we have a Legacy IDE port which we can understand having, but frankly we'd rather see the space used for more Sata ports ot onboard buttons. We have a few IDE drives laying around, but hopefully sometime soon IDE will go the way of the floppy. Next to the IDE port you find 4 Sata 2 (Blue) and 2 Sata 3 (White) ports. To the left of those ports is the front panel connector, and Asus includes a Q-Connect with this board for easy hookup.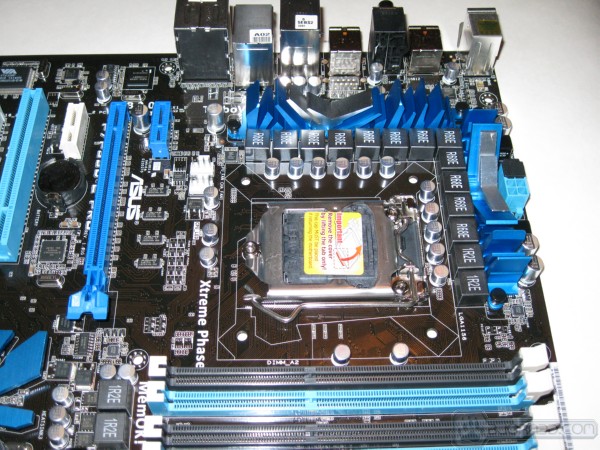 Looking down on the CPU area we see 14 ferrite chokes for the 12+2 Hybrid power on the P7P55D-E Pro. Asus links the power phases to the T-Probe microchip and the T-Probe detects and balances power load for cooler operation and longer component life. For those that continually look for a board where the first PCI-E 1x slot is open for use this is a good board to choose. Nothing obstructs the first PCI-E slot.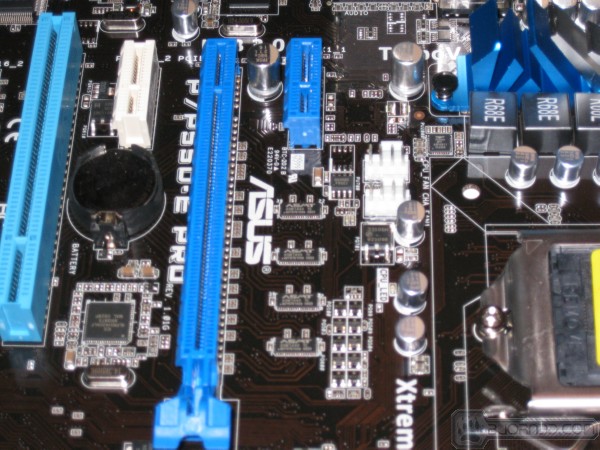 Looking behind the first PCI-E slot you see that Asus chose to leave off the heatsink on this board and at first we were worried that the lack of a sink might affect overclocking. We didn't have any problem OCing the board but it still looks a little strange, a little like a friend that went Howie Mandell on their haircut.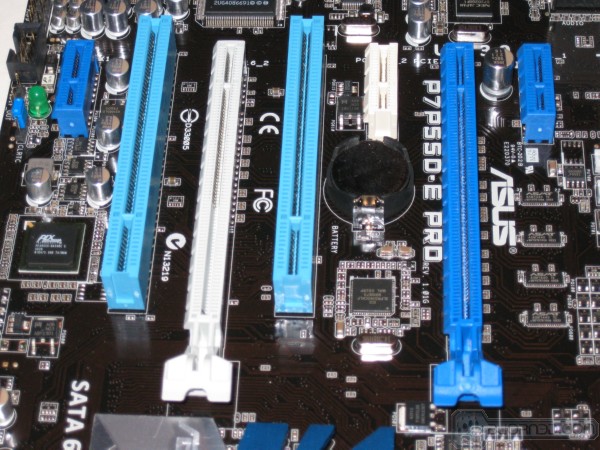 The CMOS battery is going to be a little hard to get at if you are using a large GPU, but over on the extreme left edge of the board by the Green (retro) LED is a blue CMOS reset pin. Speaking of CMOS reset pins we are big fans of bright color reset jumpers, but we like to see tall reset jumpers that are easy to get fingers or needle nose pliers on.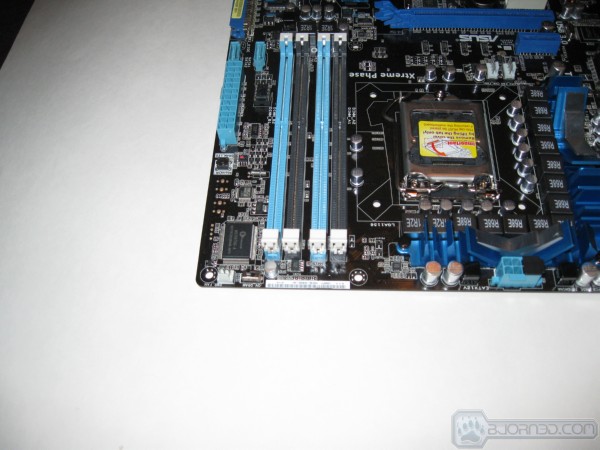 Like all the P55 boards we've seen the ram banks are a little close to the CPU, but we tried a variety of CPU coolers on the board and all of them fit with low profile ram. Tall ram sinks with large dual fan CPU coolers might have space issues with the first bank but that's more a board size limitation than design flaw. Ram banks take up a lot of room and need to be close to the CPU so the data path between the CPU and RAM is as short as possible. Shorter data path means faster transfer so they have to compromise somewhere.

On the back is a total of eight USB ports, two of which are 3.0 (blue). If you count the three internal USB connectors, which will be used by your chassis and other add-in peripherals, you could have a total of 14 USB ports at your disposal.
You also find your audio ports, including S/PDIF in and out, eSATA, FireWire, a LAN port, and a PS/2 port for both a mouse and keyboard.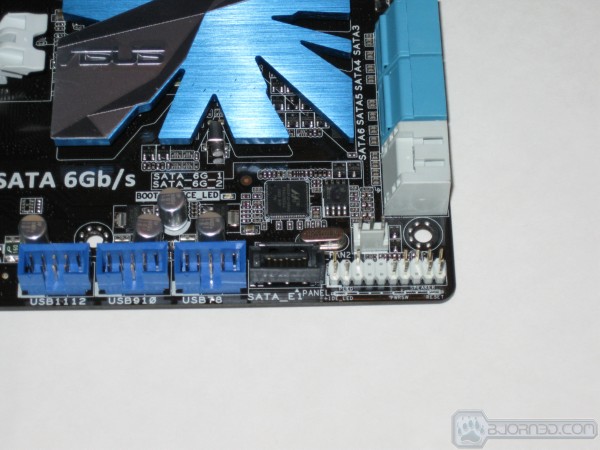 Over on the front left edge of the board you find 6 internal USB headers along with the two black upright Sata 2 ports. What you won't find on the P7P55D-E Pro is an onboard power on or CMOS Reset button but at this price for an Asus board it's pretty well stocked and we consider the addition of USB 3.0 and Sata 3 enough to more than make up for that small shortcoming.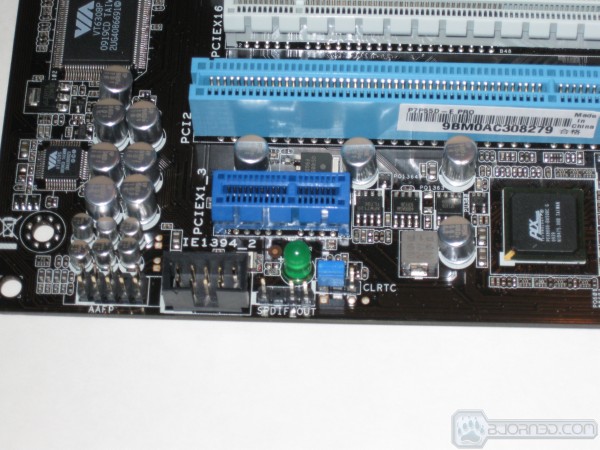 Back Left edge of the board you find the internal Firewire and front panel sound headers and SPDIF sound header. Notice the retro green power on LED and the Blue Clear CMOS jumper.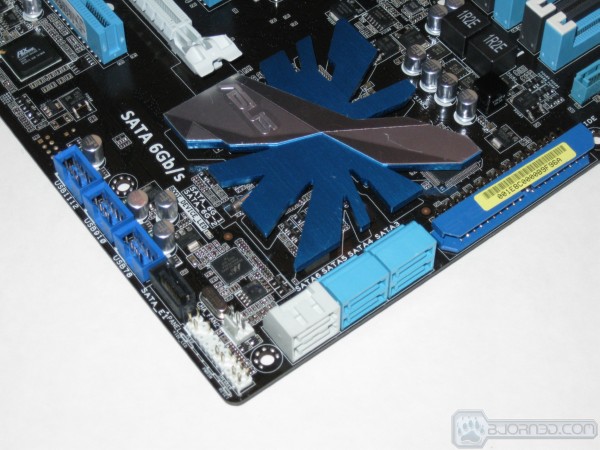 Looking at the business edge of the board you can see a lot of what you need for connections is all centrally located. The only downside of that is a large cluster of cables in one spot but with a little creative cable routing we had no problem hiding wires.
Over by the power connector is the MemOK button which is the only function button on the board itself. If you should happen to go unstable during OC or have problems with memory this is your go to button.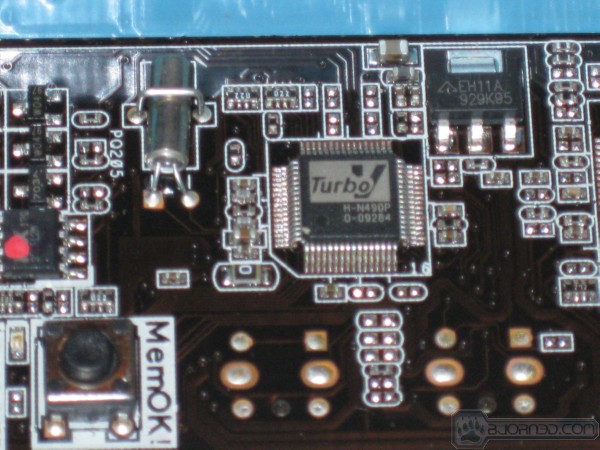 Then one of the most interesting features, the Turbo Evo chip. Asus has a proprietary setup where overclocking can be initiated in Windows but the OC settings that the software uses to automatically OC your rig are written into BIOS directly by the Turbo Evo chip. Combined with the algorithms Asus uses to overclock this is the single most effective and stable auto-overclocker we've seen. How far did we get with Turbo Evo, well you'll find that out in the overclocking section.
The Interface Design & Decision
It's always fun when you get a new critter in your hand and have to figure out the best way to provide palatable information about it with testing. More fun than one human should have.
We are using the Seagate Barracuda XT SATA 3 drive on the Asus board to test the new SATA 3 interface with. However Gigabyte uses a different design and in all fairness we are outlining both in Asus and Gigabyte Sata 3 and USB 3 board reviews.
There are a few things specific to the entire line of Giga P55A boards relating to the SATA 3 controller setup. In BIOS you will find a SATA 3 setting with a Turbo designation. This Setting allows the SATA 3 controller to run at SATA 3 speed or 6Gb/s (600MB/s) but if you use SATA 3 Turbo it disables the use of SLI and Crossfire on the P55A lineup. If you disable SATA 3 Turbo then it's still a SATA 3 interface but limited to 3Gb/s (300MB/s) but you can use multi-GPU setups. Using SATA 3 Turbo will not only limit you to one GPU but it will also cut the bandwidth on the first PCI-E slot, the one you put your video card in, to 8x speed. So you give up SLI/Crossfire and the first slot is limited to 8x speed if you use SATA 3 Turbo, or USB 3.0 Turbo. Here's the response we got from Gigabyte on the Interface limitations.
According to Colin and engineer team, that is the limitation of the P55 chipset, no native SATA3 support and PCIe 2.0 limited to 1×16 or 2×8. Due to PCI-e Gen 1 bandwidth limitation, we need to use a PCI-e Gen 2 bandwidth (since SATA3 transfer is 6Gb/s (600MB/s), PCIe Gen 1 x1 lane from the P55 has a limitation, as it's only able to offer 2.5Gb/s (300MB/s), therefore, we need to get a Gen 2 lane, which offers 5Gb/s (600MB/s). As we don't see much of a performance difference of x16 graphics vs x8 graphics, we use that lane for SATA3 and USB 3.0.
Keep in mind, users are able to turn on and off Turbo SATA and Turbo USB, so if they want to use the full x16, graphics they can, however, it will switch x1 Gen1 lane off the P55, which will limit to 2.5Gb/s. We feel this is a fair trade off, as it means we are able to give users the option to use SATA 3 and USB 3.0 on our entire lineup of P55 motherboards, unlike our competitor who only has support for their very highest end P55.
We like that Gigabyte has incorporated the entire P55 lineup with SATA 3 and USB 3.0 and we know that this is a limitation of the P55 chipset. There are only so many PCI-E lanes available and they have to get the bandwidth from somewhere. Most end users use a single GPU and 8x bandwidth isn't going to affect performance on single card setups. Since Gigabyte opened the door by responding about the competitors high end boards we felt compelled to contact Asus and this is the response we got from them.
The allocation of the PCI-E lanes comes from the PCH we unified the 1.1 lanes and then supply them to the PLX bridge this in return provides us with our PCI-E 2.0 x 1 Lane which provides 500MB of throughput eliminating any bottleneck. I believe I had previously supplied a breakdown of this information in a previous email I will resend it will all other applicable information. I hope this provides a clearer breakdown of the implementation. Additionally we are currently working with Marvell to have a newer driver supplied to enhance performance for current generation drives ( as most optimization has been done for their SSD prototype controller as well as large file transfers.
Additionally the reason why we did 4 is to ensure sufficient bandwidth for our – E premium refresh models because they need bandwidth for both SATA6G and USB3.0. So to clarify as noted below.
1 PCI-E 1.1 lane provides 250MB 4 equaling 1000MB
We have taken 4 and provided to PLX Bridge.
This way we can provide 500 to USB and 500 to SATA6G.
It is not a perfect implementation but practical efficient and does not limit the throughput need to benefit from the drives connected to those buses.
Yes, as the PLX 8613 controller provides up to 4 PCIex1 2.0 lanes output, we can connect up to 4 devices behind it.
As each PCIex1 2.0 lane takes 5Gb/s bandwidth, and we feed it with 4 lanes of PCIex1 1.1 for it to use, which sums up to 10Gb/s bandwidth, by having only two devices connecting to that controller ensures the full bandwidth without compensation.
We realize that this is a Motherboard review, but the hard drive is a SATA 3 interface and currently there are two implementations of the SATA 3 interface out there and you need to know the difference. Especially if, like most of the Bjorn3D staff, you are a multiple GPU user.
All that being said we are testing on the Asus P7P55D-E board today and have no desire to start an Asus/Gigabyte multi-board comparison of the Gigabyte/Asus SATA 3 implementations. Most of the end users use a single GPU and either solution is suitable for that. Multi-GPU users by the time they migrate away from their current boards this probably won't even be a decision you have to make. If your on X58 it's a totally different arrangement. This arrangement is merely to overcome the P55 chipset limitation which didn't include or plan for SATA 3.
BIOS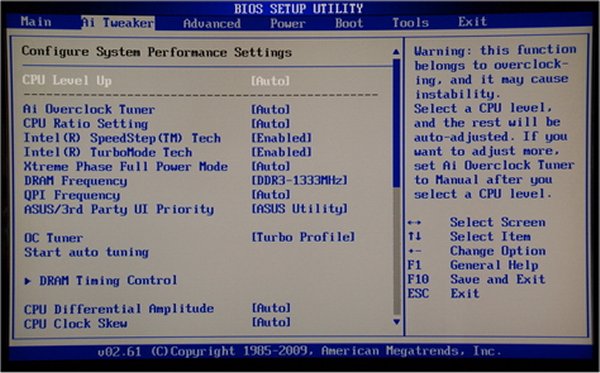 AI Tweaker main page, one stop overclocking all in one spot.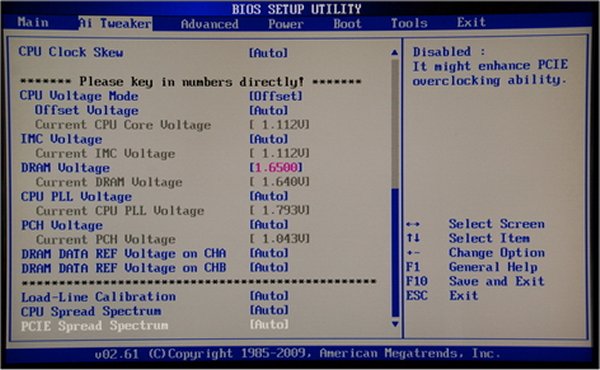 Bottom of the AI Tweaker Page.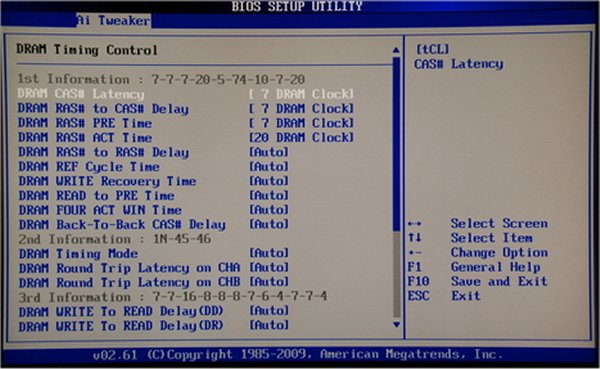 AI Tweaker DRAM TIming Control.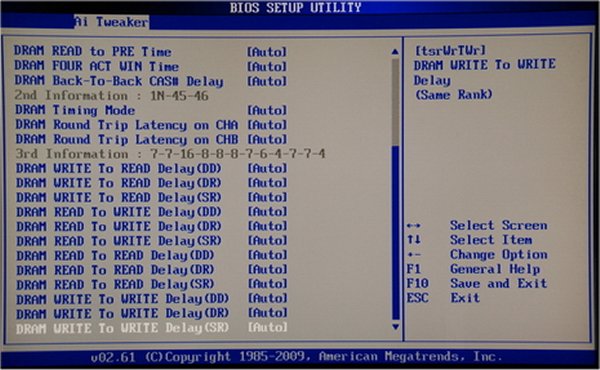 Bottom of AI Tweaker DRAM Page.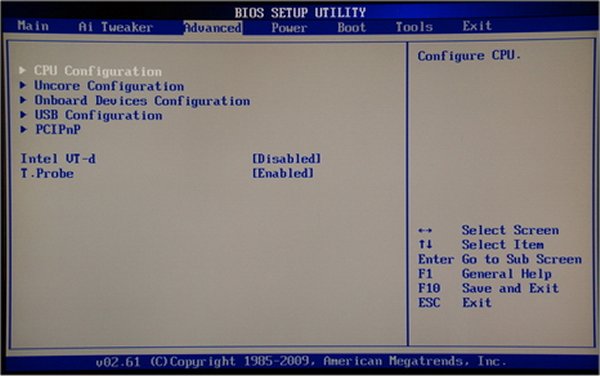 Advanced BIOS Page.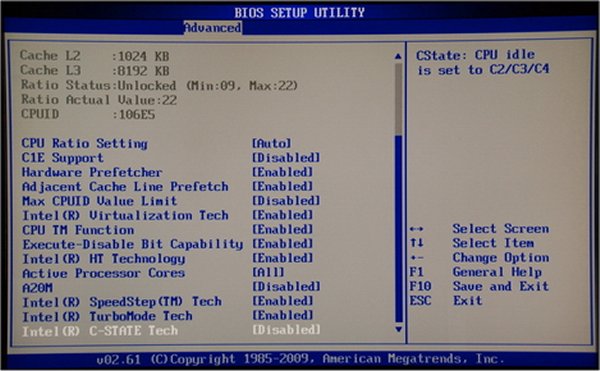 Bottom of the Advanced page.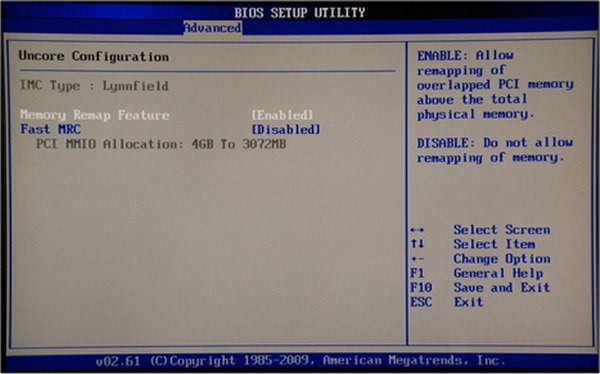 Advanced/Uncore sub-screen.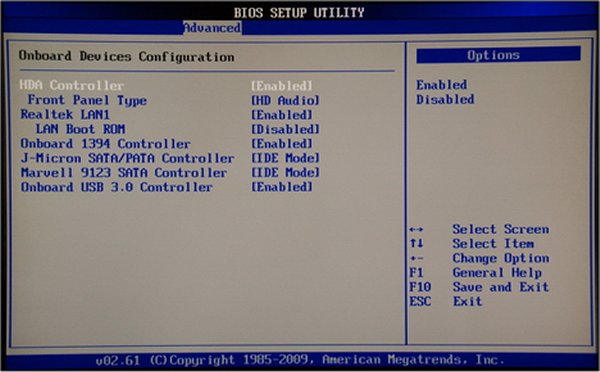 Advanced/Onboard Devices Configuration.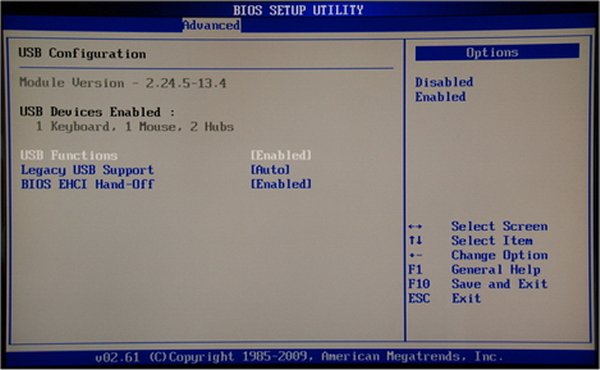 Advanced/USB Configuration.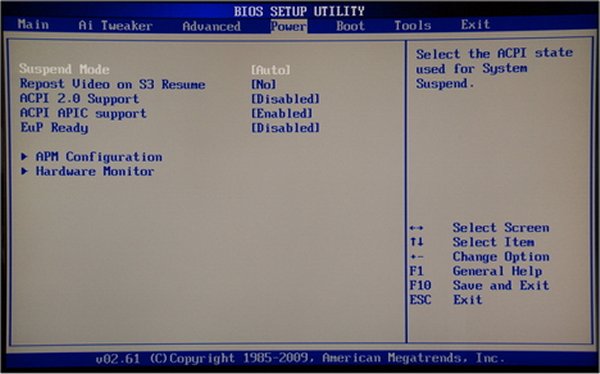 Power Screen.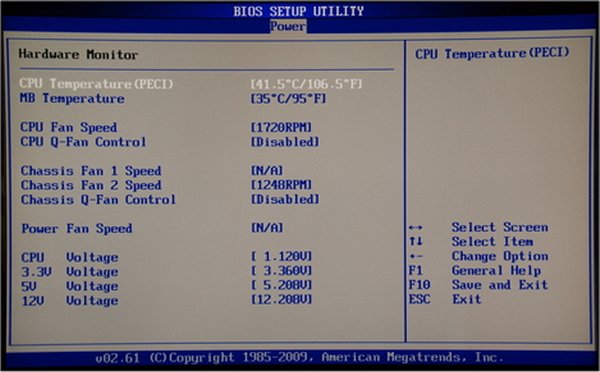 Power/Hardware Monitor Sub-Screen.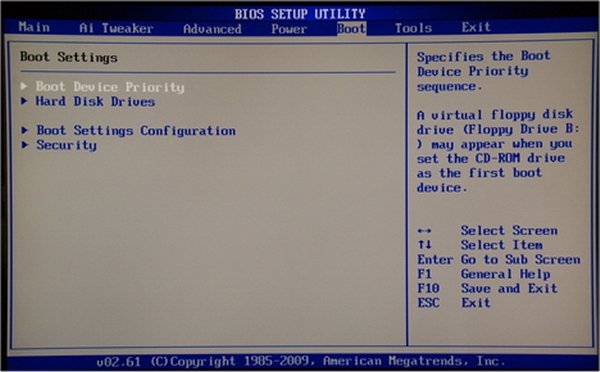 Boot Screen.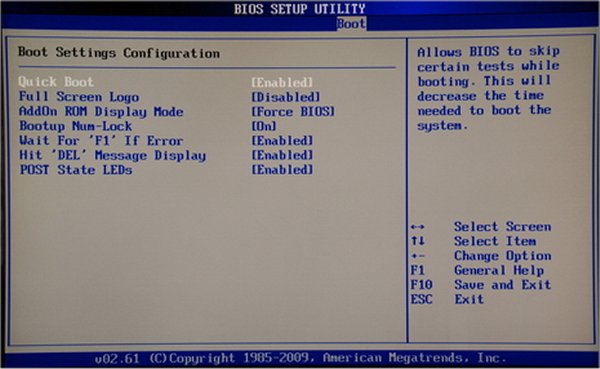 Boot/Boot Settings Configuration Sub-Screen.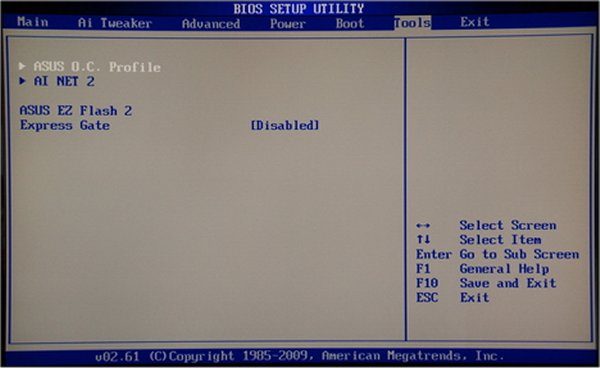 Tools Screen.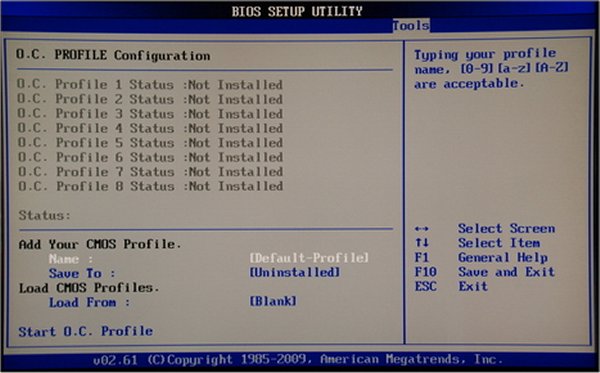 Tools/O.C. Profile Sub-Screen.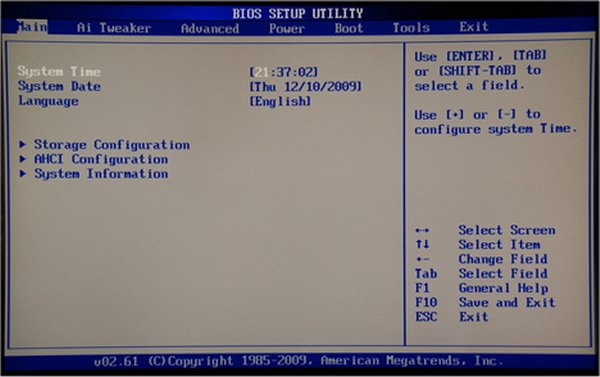 Main Screen (Yes it's out of order but it's a boring screen).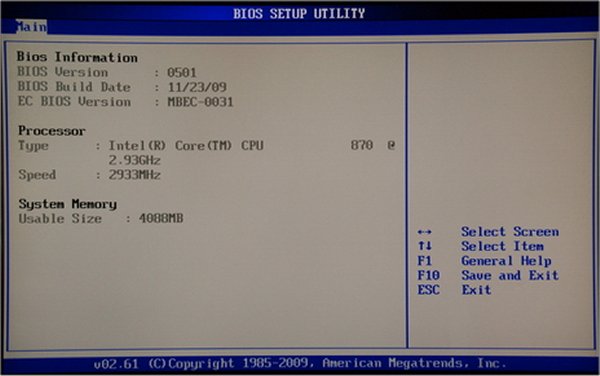 Main/BIOS Information Screen. Please note this is from the initial boot we updated to the latest BIOS prior to testing.
Testing & Methodology
To test the Asus P7P55D-E Pro we used the same components we used in the Intel i5/i7 review. The only component we switched was the motherboard/Hard Drive and did a fresh load of Windows 7 Ultimate on the test rig. To that end, we've included the Intel Extreme board results in the Asus P7P55D-E Pro review for comparison purposes. Keeping the components the same across a variety of boards will ensure a level playing field for all the motherboards tested.
We've expanded our testing suite considerably for P55(A) and will continue to use the same tests across most of the motherboards and CPU's we test. We run each test a total of at least three times minimum, some tests we run more than 3 times. We average the total of all the tests from each benchmark then report the average here.
The OS we use is Windows 7 Ultimate with all patches and updates applied. We also use the latest drivers available for the motherboard and any devices attached to the computer. We don't disable a bunch of background tasks or particularly tweak the OS or system for bigger numbers. We do turn off drive indexing and daily defragging. We also turn off Prefetch and Superfetch. This is not an attempt to produce bigger benchmark numbers. Drive indexing and defragging can interfere with testing in that one test might occur without defragging going on and the next test defragging might be active, the same thing goes for drive indexing. We can't control when defragging and indexing occur precisely enough to guarantee that they won't interfere with testing, so we turn them off.
Prefetch tries to predict what you will load the next time you boot the machine. We disable it because we want to know how the program runs without any of the files being cached, otherwise each test run we'd have to clear pre-fetch to get accurate numbers. Lastly we disable Superfetch, Superfetch loads often used programs into memory and is one of the reasons people consider Vista to be such a memory hog. Vista fills the memory in an attempt to predict what you will load. Having one test run with files cached, and another test run with the files being un-cached would result in skewed numbers. Again since we can't control it we turn it off. Other than those 4 things which can potentially interfere with benchmarking, and do so out of our control, we leave everything else running.
We went a little different on Hard Drive Testing and we mentioned it earlier. We are including the results from the Seagate Barracuda XT drive review here and reproducing them in their entirety for your convenience.
Test Rig
Test Rig
"Quadzilla i5"
Case Type
Sunbeam 9 Bay Acrylic Chassis
CPU
Core i7 870
Motherboard

Asus P7P55D-E Pro
Gigabyte GA-P55A-UD6
Asus Maximus 3 Formula
Gigabyte GA-P55-UD6
Intel Extreme DP55KG

RAM
Kingston HyperX DC DDR3 1600MHz 8 GB Kit Cas 8
CPU Cooler
Thermalright Mux 120 (Dual 120mm Fans)
Hard Drives
Crucial 128 GB SSD(MLC/Samsung controller)
Optical
Sony DVD R/W
GPU(s)
BFG GTX-260 Maxcore
Case Fans
120mm Fan cooling the mosfet CPU area
Docking Stations
None
Testing PSU
Tagan BZ 700w Modular
Legacy
None
Mouse
Razer Lachesis
Keyboard
Razer Lycosa
Gaming Ear Buds

Razer Moray
Speakers
None
Any Attempt Copy This System Configuration May Lead to Bankruptcy

Test Suite
Benchmarks
Excel 2007
Blender
SiSoft SANDRA XII Professional SP2
Everest Ultimate Edition v. 5.0
AutoMKV
Cinebench R10 64 bit
WinRar v. 3.71
POVRay
Pro Show Gold
Hard Drive Test Suite
Benchmarks
ATTO
HDTach
Crystal DiskMark
HD Tune Pro
AS SSD Benchmark
Sisoft Sandra
Everest Ultimate
Everest Ultimate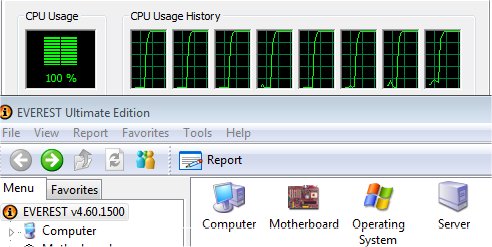 "EVEREST Ultimate Edition is an industry leading system diagnostics and benchmarking solution for enthusiasts PC users, based on the award-winning EVEREST Technology. During system optimizations and tweaking it provides essential system and overclock information, advanced hardware monitoring and diagnostics capabilities to check the effects of the applied settings. CPU, FPU and memory benchmarks are available to measure the actual system performance and compare it to previous states or other systems. Furthermore, complete software, operating system and security information makes EVEREST Ultimate Edition a comprehensive system diagnostics tool that offers a total of 100 pages of information about your PC."
CPU AES
This integer benchmark measures CPU performance using AES (a.k.a. Rijndael) data encryption. It utilizes Vincent Rijmen, Antoon Bosselaers and Paulo Barreto's public domain C code in ECB mode.
CPU AES test uses only the basic x86 instructions, the test consumes 48 MB memory, and it is Hyper Threading, multi-processor (SMP) and multi-core (CMP) aware.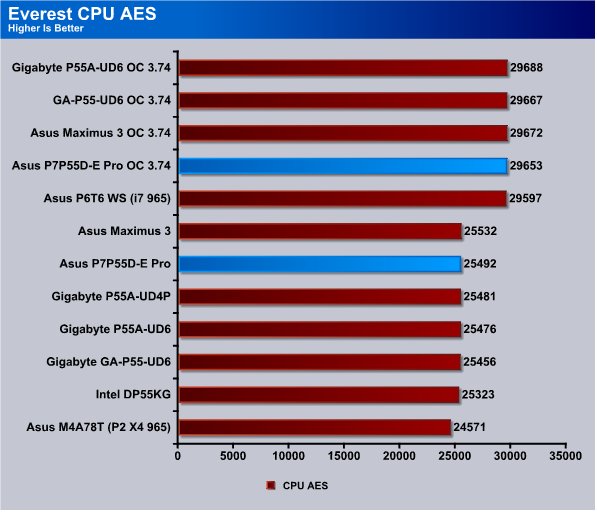 By this time in the P55 testing we've done we pretty much know that performance across a variety of boards is pretty much identical. The P7P55D-E Pro scores high within that narrow bracket and when overclocked it performs inline with the other boards we've tested.
CPU PhotoWorxx
This integer benchmark performs different common tasks used during digital photo processing.
It performs the following tasks on a very large RGB image:
• Fill
• Flip
• Rotate90R (rotate 90 degrees CW)
• Rotate90L (rotate 90 degrees CCW)
• Random (fill the image with random colored pixels)
• RGB2BW (color to black & white conversion)
• Difference
• Crop
This benchmark stresses the integer arithmetic and multiplication execution units of the CPU and also the memory subsystem.
CPU PhotoWorxx test uses only the basic x86 instructions, and it is Hyper Threading, multi-processor (SMP) and multi-core (CMP) aware.
With Intel's P55 chipset the backbone of all the boards it's no wonder why we see a performance slope that looks more like a performance plateau. You've heard it before and you'll hear it again, the biggest difference in the boards lately is Features and overclockability. With Turbo Evo working up some great Auto Overclocks the P7P55D-E has no worries in the feature department.
CPU Queen
This simple integer benchmark focuses on the branch prediction capabilities and the misprediction penalties of the CPU. It finds the solutions for the classic "Queens problem" on a 10 by 10 sized chessboard.
CPU Queen test uses integer MMX, SSE2 and SSSE3 optimizations. It consumes less than 1 MB system memory and it is Hyper Threading, multi-processor (SMP) and multi-core (CMP) aware.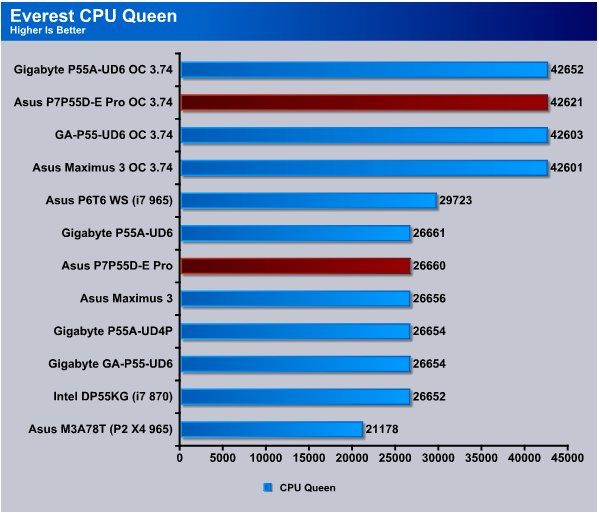 All the boards we tested fell in the 266xx range in CPU Queen and in the OC portion they all scored in the 426xx range. We overclocked all the boards to the exact same OC both BCLK and Multiplier so that the playing field is level but we are tempted to OC the featured board in review higher just to break the flat landscape developing on the charts. It's probably not good complaining about consistency in the chipset though, in years past it was hit and miss with chipset performance. The consistency we see today is a technological (but boring) marvel.
CPU ZLib
This integer benchmark measures combined CPU and memory subsystem performance through the public ZLib compression library Version 1.2.3 (http://www.zlib.net).
CPU ZLib test uses only the basic x86 instructions, and it is Hyper Threading, multi-processor (SMP) and multi-core (CMP) aware.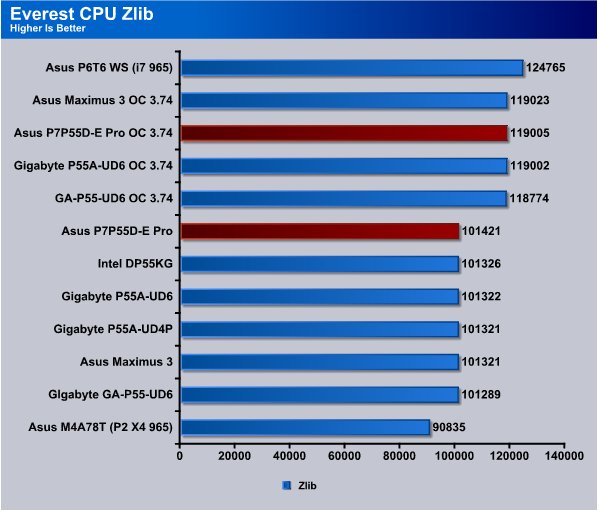 We ran the CPU ZLib test three times just like normal and the P7P55D-E Pro managed to eek out an almost 100 point win.
Everest Memory
Copy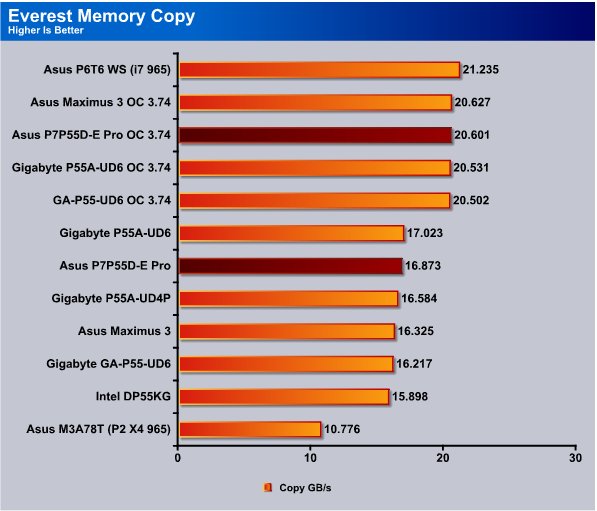 The Asus P7P55D-E Pro handles memory pretty well. The 8GB Kingston HyperX kit we used was plug and play and it churned out a 16.873GB/s and when we overclocked the CPU we got 20.601GB/s.
Read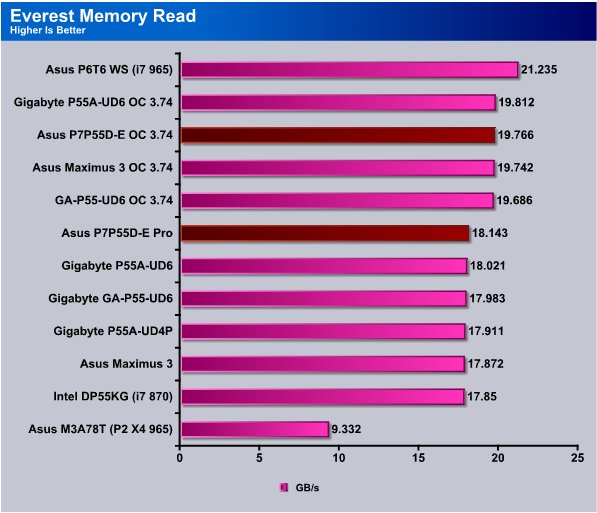 Memory Read we got 18.143GB/s and that was marginally the fastest memory speed we got off the P55 boards we've tested. When we hit the OC the bandwidth jumped to 19.766GB/s.
Write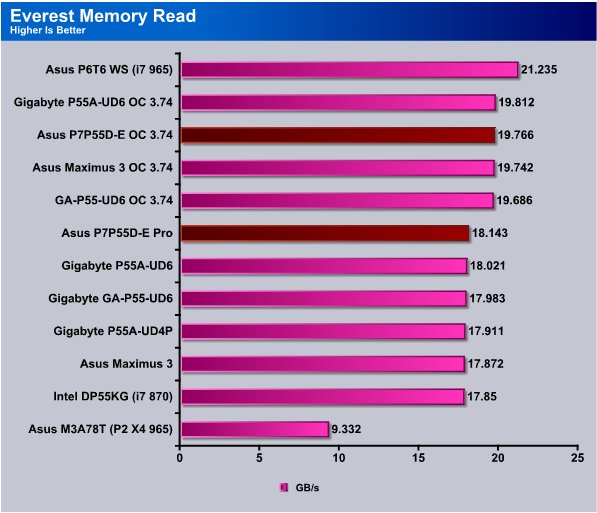 The P7P55D-E Pro topped the Memory Read test but only by 0.122GB/s and as we mentioned all the boards being Intel's P55 chipset that's to be expected.
Latency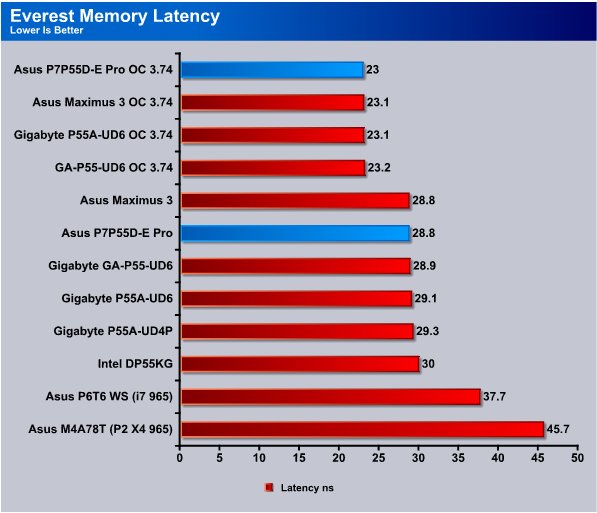 All the boards turned in a low 23(ish)ns time in the latency test when overclocked. At stock speeds the P7P55D-E Pro turned in a 28.8ns which is pretty typical of the P55 boards using our 8GB HyperX kit.
Cinebench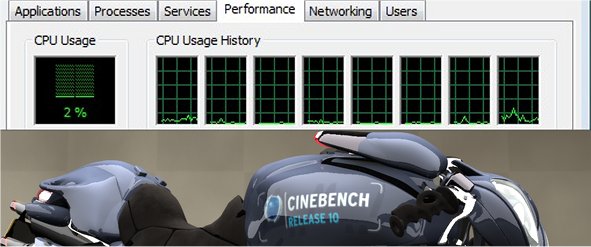 "CINEBENCH is a real-world test suite that assesses your computer's performance capabilities. MAXON CINEBENCH is based on MAXON's award-winning animation software, CINEMA 4D, which is used extensively by studios and production houses worldwide for 3D content creation. MAXON software has been used in blockbuster movies such as Spider-Man, Star Wars, The Chronicles of Narnia and many more. MAXON CINEBENCH runs several tests on your computer to measure the performance of the main processor and the graphics card under real world circumstances. The benchmark application makes use of up to 16 CPUs or CPU cores and is available for Windows (32-bit and 64-Bit) and Macintosh (PPC and Intel-based). The resulting values among different operating systems are 100% comparable and therefore very useful with regard to purchasing decision-making. It can also be used as a marketing tool for hardware vendors or simply to compare hardware among colleagues or friends."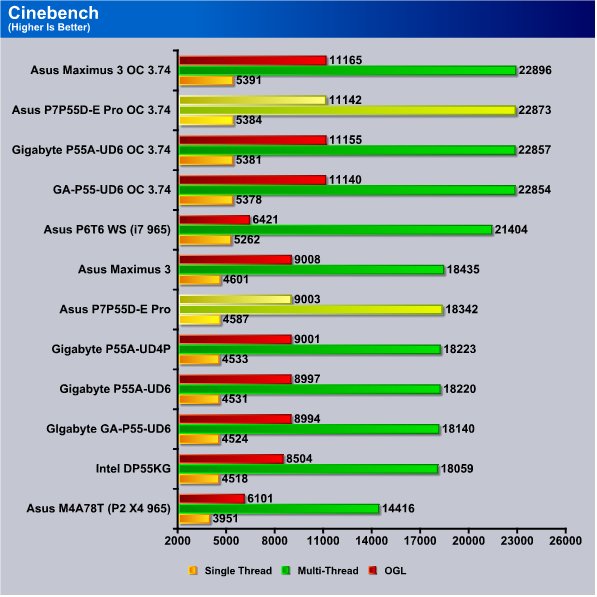 The Asus Maximus 3 beat the P7P55D-E Pro by a hair but performance was very close on both boards. The Maximus of course has a much richer overall feature set but we got our Pre-USB 3.0 and Sata 3 so the P7P55D-E Pro does have some advantages over it.
WinRar v. 3.71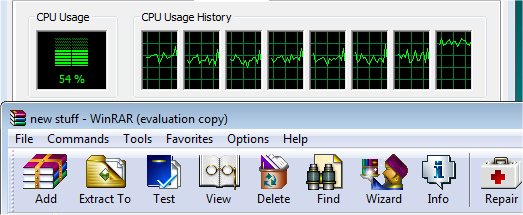 This module in WinRar generates random data, which contains specially introduced redundancy, increasing the load to both the processor and memory. Data is then passed through RAR compression and decompression algorithms, and the output of the decompression algorithm is compared to the source data. If any differences are found, WinRar then reports "Errors found – Yes" in the command window. WinRar displays a size of processed data and compression speed, current and resulting, in kilobytes per second.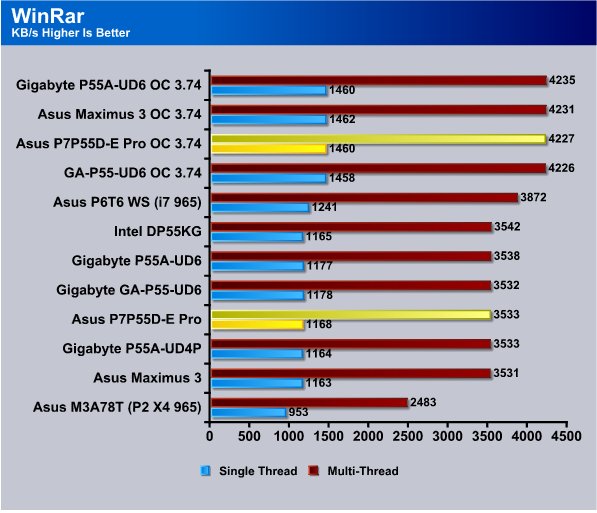 WinRar doesn't show us any amazing differences between the performance of the boards and top to bottom we see about 11KB/s difference at stock speed. We got a nice performance boost when we overclocked to 3.75GHz and the score on the P7P55D-E jumped to 4227KB/s multi-threaded and 1460KB/s single thread.
Winrar Workload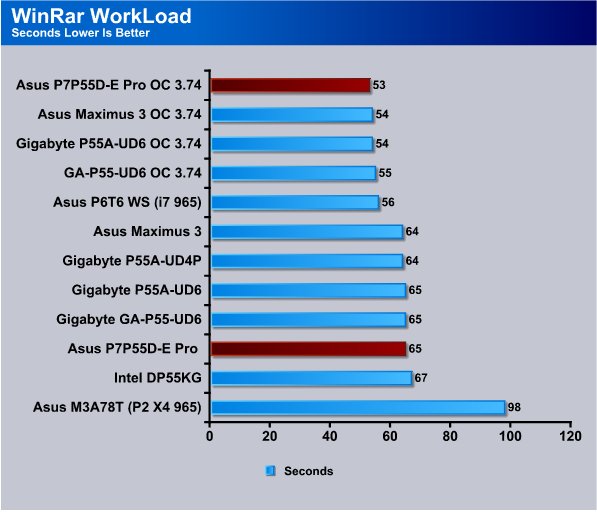 WinRar Workload we compress 5 large image files into an archive and record the archiving time and at stock speed we got 64 and 65 seconds from all the P55 boards. When we put the overclock the the P7P55D-E Pro we dropped to 53 seconds and the board topped the chart.
Sisoft Sandra
"SiSoftware Sandra (the System Analyser, Diagnostic and Reporting Assistant) is an information & diagnostic utility. It should provide most of the information (including undocumented) you need to know about your hardware, software and other devices whether hardware or software. It works along the lines of other Windows utilities, however it tries to go beyond them and show you more of what's really going on. Giving the user the ability to draw comparisons at both a high and low-level. You can get information about the CPU, chipset, video adapter, ports, printers, sound card, memory, network, Windows internals, AGP, PCI, PCI-X, PCIe (PCI Express), database, USB, USB2, 1394/Firewire, etc."
In the Sandra Processor Arithmetic test we got a 69.88 in the Whetstone test and 76 in the Drystone test and as usual all the P55 boards scored in that range. We got a nice performance boost to 73.87/91.95 when we overclocked so the P7P55D-E Pro scales well when overclocked.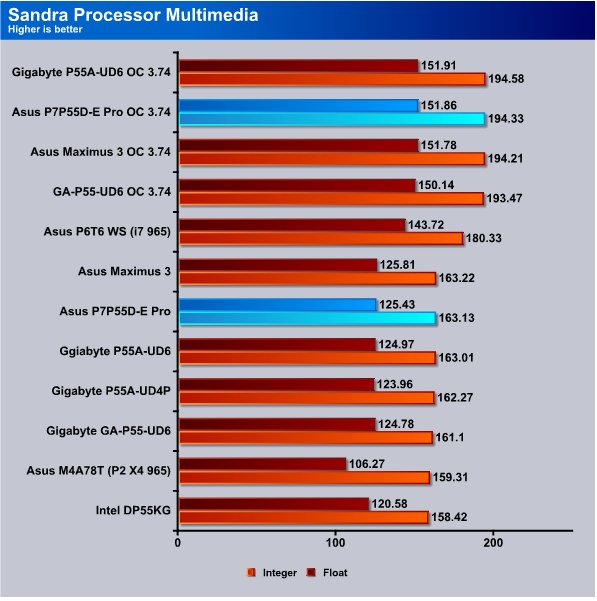 Once again in the Processor Multimedia test the P7P55D-E Pro came in right behind the Maximus board at stock speed. When overclocked the P7P55D-E Pro came out a hair ahead of the Maximus board.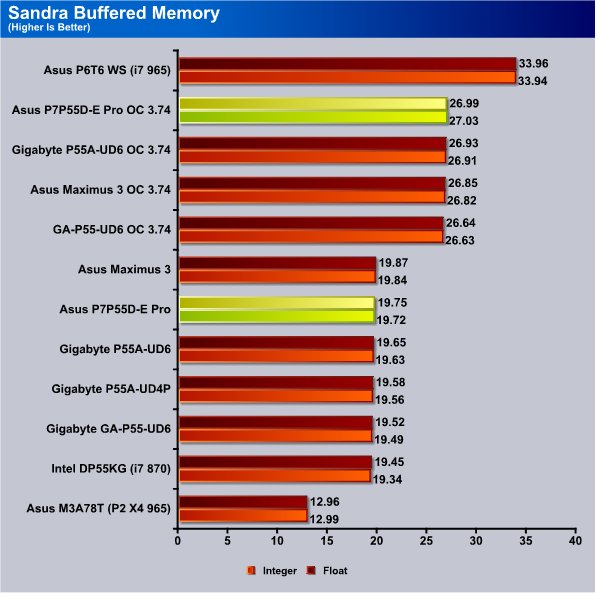 In the Sandra Buffered Memory test the P7P55D-E Pro got 19.75/19.72GB/s and landed behind the Maximus 3 again but not by much. Overclocked the P7P55D-E Pro jumped a little ahead ot the Maximus board but keep in mind if this were a horse race this would still be a photo finish.
POV-Ray 3.7 Beta 25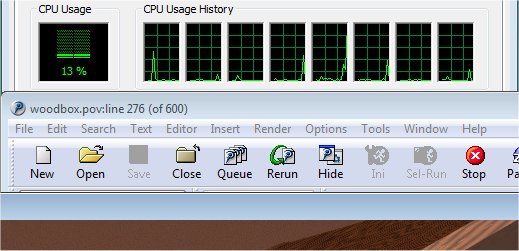 The Persistence of Vision Ray-Tracer was developed from DKBTrace 2.12 (written by David K. Buck and Aaron A. Collins) by a bunch of people (called the POV-Team) in their spare time. It is a high-quality, totally free tool for creating stunning three-dimensional graphics. It is available in official versions for Windows, Mac OS/Mac OS X and i86 Linux. The POV-Ray package includes detailed instructions on using the ray-tracer and creating scenes. Many stunning scenes are included with POV-Ray so you can start creating images immediately when you get the package. These scenes can be modified so you do not have to start from scratch. In addition to the pre-defined scenes, a large library of pre-defined shapes and materials is provided. You can include these shapes and materials in your own scenes by just including the library file name at the top of your scene file, and by using the shape or material name in your scene. Since this is free software feel free to download this version and try it out on your own.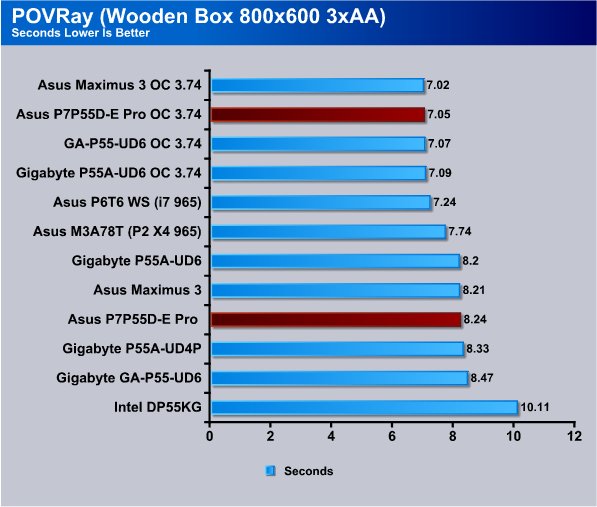 With the P55 chipset on all the i5 boards we are looking at another photo finish for the scores on the boards. The P7P55D-E Pro took 8.24 seconds to complete the Ray Trace and when we overclocked to 3.74GHz we got a 7.05 second score. The big difference in P55 boards is overclockability and features and there are a bunch of those to choose from.
Microsoft Excel 2007
Monte Carlo Black-Scholes Option Pricing Test

Microsoft Excel is the widely known and most used spreadsheet application for the manipulation and calculation for number crunching. With Excel you can analyze and share information on small scale or the largest scale you can imagine. We've seen spreadsheets in every day use that contain literally tens of thousands of numbers and hundreds of equations. Bjorn3D uses two tests in Excel to determine CPU and Motherboard performance.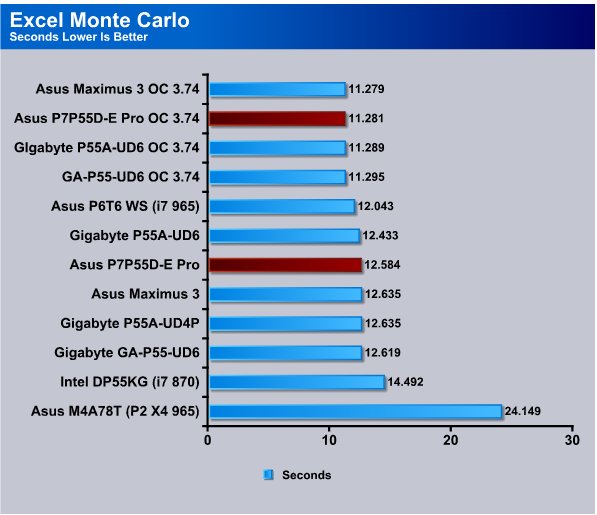 In the Excel Monte Carlo test once again we are splitting seconds for score results and the P7P55D-E Pro sets in second place in the chart. When we put the overclock on the board it can in second in overclocking but only by 0.002 seconds. That's pretty impressive for a $200 (USD) price range board.
Big Number Crunch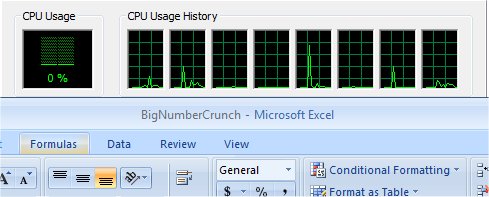 This workload is from a 6.2 MB spreadsheet and executes about 28,000 sets of calculations. It uses the most common calculations in Excel, addition, subtraction, division, rounding and Square Root. It also analyzes statistical functions such as Min, Max Median, and Average. The calculations are done after the spreadsheet with a large data set is updated with new values and must recalculate a large number of data points.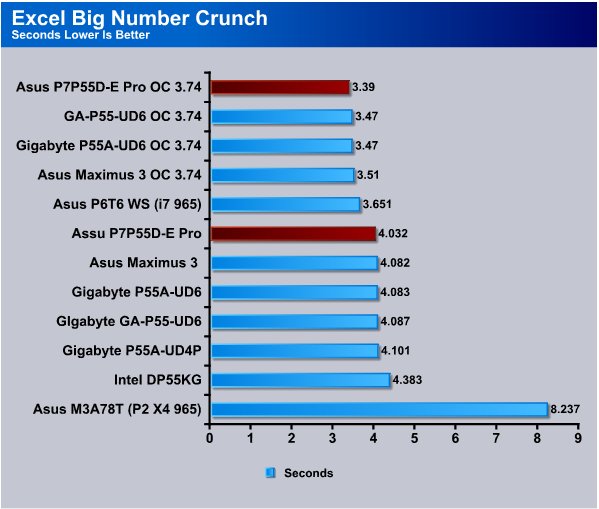 After having seen the charts this far you probably realize testing P55 is a matter of splitting seconds. In this case the P7P55D-E Pro topped the chart in both stock speed and Overclocked speed. Once again it's by hundredths of seconds.
Photodex ProShow Gold 3.2

ProShow Gold allows you to combine videos and photos and music to create slide shows, depending on the end user results can be spectacular. The application allows the end user to share photos and memories with friends in a unique and spectacular way, the different formats supported are, DVD, PC and Web. Still Photos are brought to life by adding motion effects. Supported effects include, Pan, Zoom, and rotate. You can also add captions and over 280 transition effects.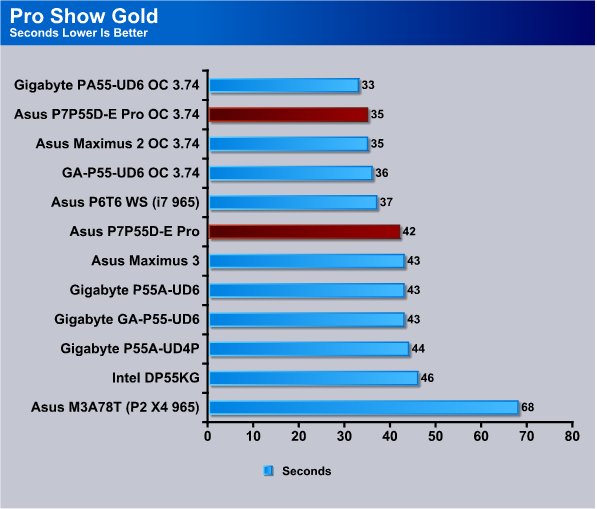 In Pro Show Gold the P7P55D-E Pro topped the chart again at stock speed and placed a close second in the OC test.
AutoMKV 0.95c
AutoMKV is an application aiming for easy media conversion between various media formats using various third party codecs. With improved internet speed and enhanced computing power, more users are interested in encoding to different media formats for their various multimedia needs. With AutoMKV and x264 codec, a freeware H.264 encoder, users can easily create media files. For more information and to obtain AutoMKV 0.95c and AviSynth* 2.5.7, please visit (http://forum.doom9.org/showthread.php?t=134478). We create a media file using AutoMKV and x264 codec. The input file used in the document is a raw 416 MB 720×480 DV file and the output is a 253MB H.264 media file.

AutoMKV gives us a chance to look at extended runs with Video Encoding driving all 8 cores at 100% (4 physical 4 Hyperthreaded 8 total). Once again the P7P55D-E Pro was just a hair behind the Maximus 3 but not by much. When we overclocked the P7P55D-E Pro it came within 2 1/100ths of a second of the Maximus's score and for it's $200 price range the P7P55D-E Pro is looking good.
Sata 3 Results
Sata 3 testing (on P55) is still new enough that all we are doing at this point is posting screenshots of the results. Asus and Gigabyte use different methods of acquiring the bandwidth for Sata 3 so they aren't directly comparable. In our testing experience the speeds obtained are very similar and the greatest difference is that the Asus solution allows you to retain full PCI-E 16x (8x-8x for dual GPU operation) while Gigabytes solution reduces the bandwidth to 8x and single card when their Sata 3 or USB 3 Turbo mode is enabled. We aren't going into that on this page because we outlined the design differences on the "Design and Decision" page in this review.
ATTO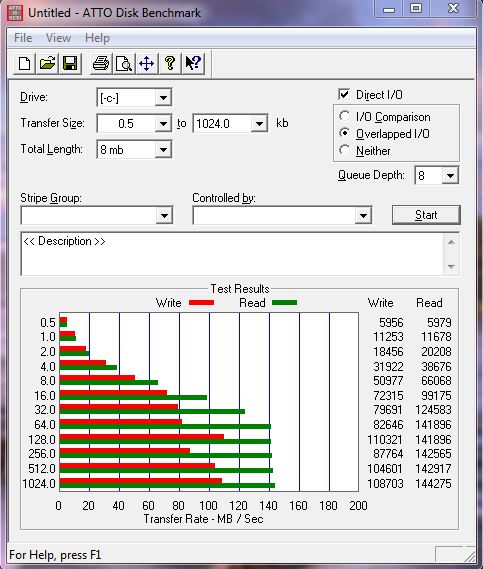 Keep in mind that while we are covering Sata 3 the drives available just don't challenge the bandwidth and Sata 3 will hit it's prime when Sata 3 SSD's appear. It shouldn't be long because prototype benchmarks are starting to leak now.
The Barracuda XT starts hitting it's stride at 128KB reads and writes and peaks at 1MB read and Write. At it's peak we see 144.274MB/s which is pretty blazing fast for a platter drive.
Crystal Disk Mark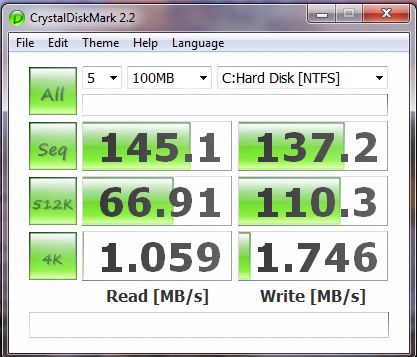 The results we get on Crystal Disk Mark mirror the results we got on ATTO and the Asus PLX chip Sata 3 solution hits 145MB/s read and 137MB/s write on the sequential portion. Speeds drop off as the reads and writes shrink in size as is expected.
Hard Drive Tach
Hard Drive Tach shows a little more conservative speed and we get 114.6 MB/s average speed and a burst speed of 254.6MB/s which is pretty decent for platter based drives. Sata 3 SSD's are expected by the end of the year so Sata 3 will be more attractive at that point. In our opinion though it never hurts to have a board with the new technology loaded and ready.
HD Tune Pro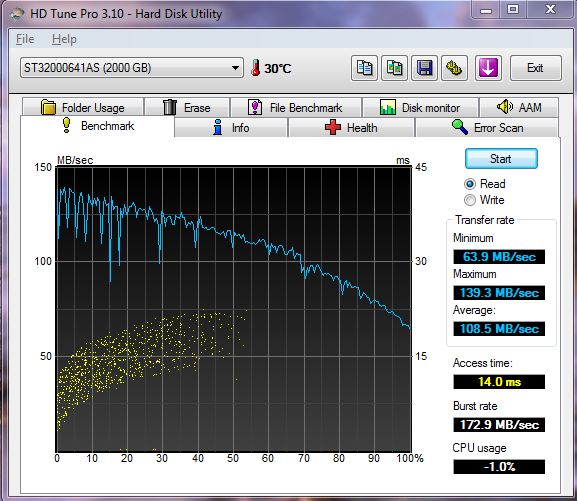 HD Tune Pro we ran this test about 15 times to check because the access time reads seem to be covering the first half the Barracuda XT's platter and after exhaustive tests we finally gave up and posted a median run but HD Tach might need to be updated for Sata 3 so take this one lightly.
We got a Minimum speed of 63.9MB/s at the end of the platter, a Maximum of 139.3MB/s which is inline with other tests and an average od 108MB/s so we believe the speed portion if the test is accurate but the Access time test worries us.
USB 3.0 Results
The same thing goes for USB 3.0 results all we are doing is publishing screen shots of the results. With the current design changes being implemented on the Sata 3 and USB 3.0 interfaces on other vendors boards trying to chart and maintain accurate charts on performance would be a nightmare. So at this point until the technology on P55 boards settles down we are screenshotting results.
ATTO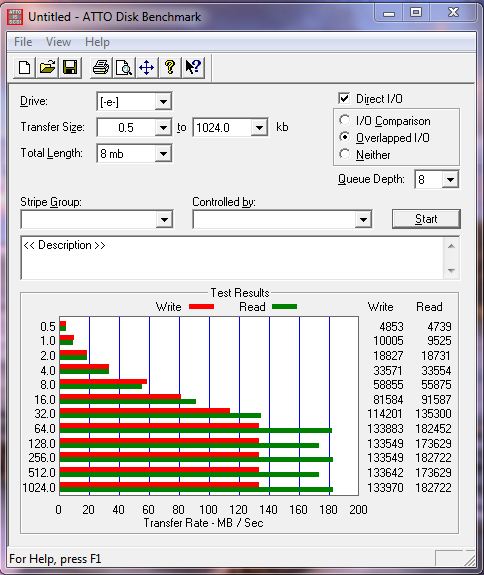 Here's what is funny about Sata 3 and USB 3.0. We are using a semi generic Buffalo USB 3.0 external enclosure with a Sata 2 drive in it, yet the USB 3.0 External drive (Sata 2 drive in the Buffalo) is topping out at 182.722MB/s while the Internal Seagate Sata 3 drive on the Sata 3 interface topped out at 144.275MB/s. The USB 3.0 external unit topped the internal drives speed by 38MB/s which runs against what our brains tell us should be the case. It might be that the FAT 32 nature of the external is making the difference.
Crystal Disk Mark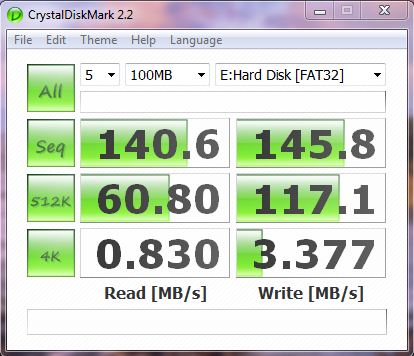 Crystal Disk Mark shows us that the external drive is running every bit as fast as the internal Sata 3 drive until it hits the 4k write and then it's slightly slower on the read side but considerably faster on the write side.
Hard Drive Tach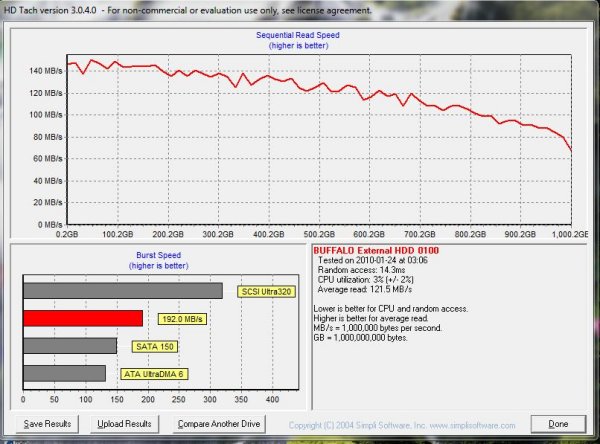 In Hard Drive Tach the Burst speed of the External Buffalo USB 3.0 drive is slower by more than 50MB/s but the average speed is higher than we got on the internal Barracuda XT (Sata 3 Platter drive).
Hard Drive Tune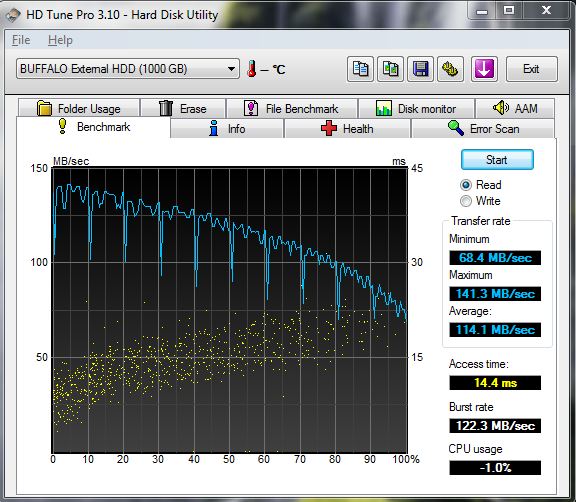 Now notice the yellow dots extending all the way across the external USB 3.0 drive and remember back to the Internal drives spread pattern. The previous page on the Sata 3 drive the pattern went about halfway across the platter, this pattern is what we are used to seeing.
We got a Minimum speed of 68.4MB/s a Maximum speed of 141MB/s and an average speed of 114.1MB/s and finally a burst rate of 122.3MB/s. Not to shabby for an external drive. We've seen external USB 3.0 enclosures (no drive installed) running in the $69 dollar range, combine it with an inexpensive Sata 2 drive and you've got an extremely powerful external storage unit capable of blazing speeds.
CPU-Z & Overclocking
Like usual since the new Intel TurboBoost technology we have a lot to cover in CPU-Z and Overclocking so lets get right to it.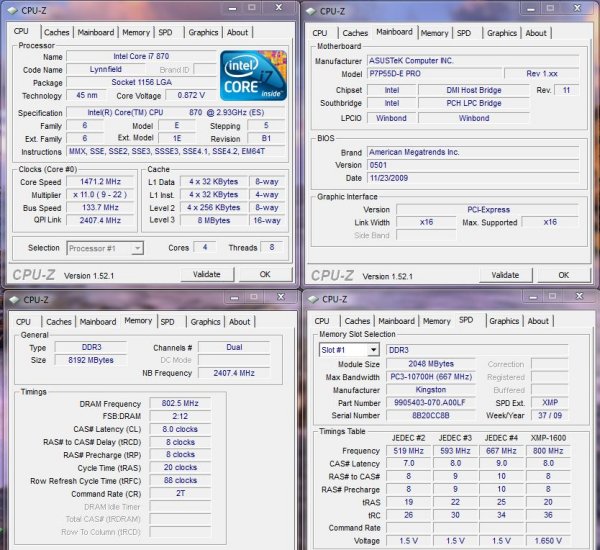 The Idle speed at initial boot shows at 1.471GB/s and TurboBoost is showing a low power state on the CPU.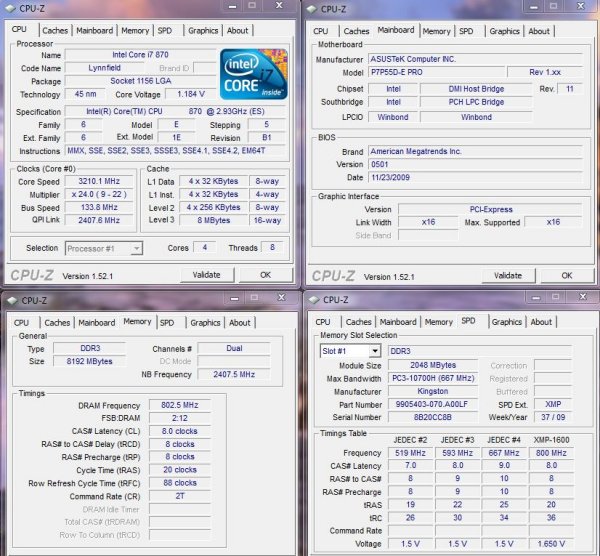 Throw a little Prime 95 on to load the cores and the speed jumps seamlessly to 3.210GHz so TurboBoost is doing it's job well.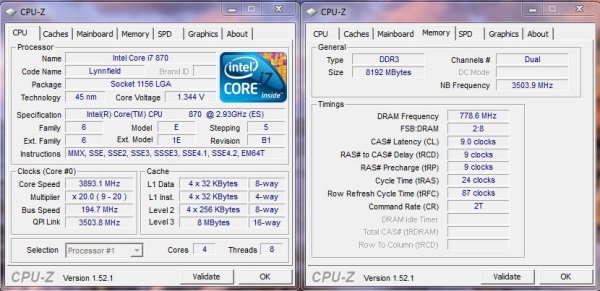 Using nothing more than Asus's Turbo Evo we insantly got a no-brainer overclock of 3.893GHz that was totally stable in Prime 95 for a 4 hour run. You should be aware that using Turbo Evo you need better than stock cooling and we recommend high end Air cooling or even better good water cooling.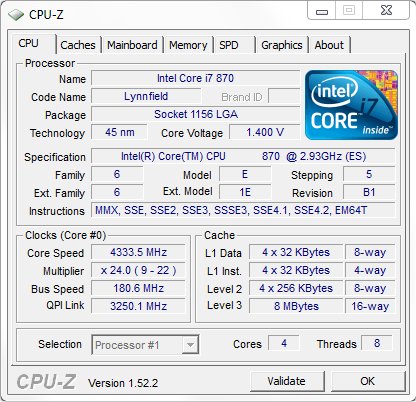 We upgraded CPU-Z to 1.52.2 and ran our BIOS OC and with an entry level water cooling setup (Corsair H50) we got all the way to 4.333GHz on a $200 dollar Asus P7P55D-E board. You just can't ask for much more than that from a board in this price range. Unless memory fails us we got the same (or close to the same ) OC on much more expensive boards.
Conclusion
The Asus P7P55D-E Pro board has shown us that Asus knows how to pack a lot of punch (Overclock and Feature wise) into a fairly affordable board. Priced in the $200 price range with Sata 3 and USB 3.0 that doesn't eat your PCI-E bandwidth, the Asus P7P55D-E Pro is going to be one of the more affordable enthusiast quality boards. We got a great (almost) 3.9GHz OC from Turbo Evo, so for beginners wanting a good OC without all the work of manually overclocking this is very likely one of the boards of choice.
Once we went Old School on overclocking in BIOS we managed a 4.333GHz overclock in just under a half hour and it ran stable on Prime 95 for hours on end. It passed PCMark Vantage complete Suite testing on the first run totally stable. It's hard to ask for more form a board in any price range let alone at $200.
With Stellar performance at an Asus mid-range price the P7P55D-E Pro managed to amaze us with it's features and performance. Overclocking was a dream and with SLI and Crossfire capabilities (Dual Card) you get a lot of performance and feature punch from the board that you wouldn't expect at this price point.
OUR VERDICT: Asus P7P55D-E Pro
| | |
| --- | --- |
| Performance | 9 |
| Value | 10 |
| Quality | 10 |
| Features | 9 |
| Innovation | 10 |

We are using an addition to our scoring system to provide additional feedback beyond a flat score. Please note that the final score isn't an aggregate average of the rating system.

Pros
Cons

Overclocks well

Turbo Evo is a great beginners Overclocking tool

Clocked the i5 870 to 4.333GHz and we had limited time to play with the OC

Feature Packed

$200 price range for Asus Quality

So many features it can be a challenge to work through which ones will be useful for you

 
Summary: The Asus P7P55D-E Pro managed a hard feat, it surprised seasoned veteran overclockers with it's OCing ability and feature set. It's not a hard fast rule but generally you can guess a boards overclocking ability by it's price range. Once in a great while we see exceptions to that rule and the P7P55D-E Pro is one of those exceptions. The stellar performance and ease of overclock make it a board destined for the OCer hall of fame and it won't break the bank on the way to the award ceremony.