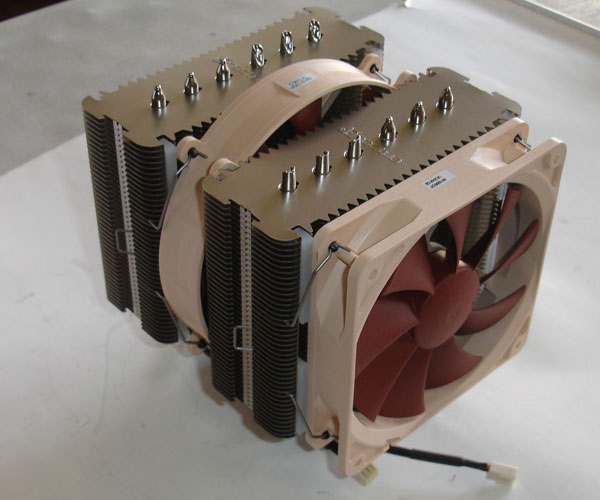 Noctua NH-D14 is the biggest air-cooling heatsink with its dual cooling fins and two fans (120mm and 140mm). How it stands against the Prolimatech's Megahalem? Let's find it out.
INTRODUCTION
We have been quite impressed by Noctua's heatsinks over the years. I, personally, have tested a few of their heatsinks such as the NH-C12P (https://bjorn3d.com/read.php?cID=1285) and was quite impressed, not simply by its performance, but also by it's attention to the details and their craftsmanship.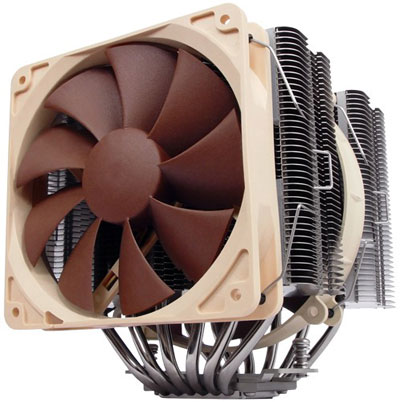 Their latest heatsink, NH-D14, is designed for the enthusiasts, as it incorporates 2 large heatsinks and two 120mm fans. Noctua has been kind enough to send Bjorn3D a sample to review. We intent to put this heatsink in direct comparison against one of our favorites, Prolimatech's  Megahalem, to see whichever comes out on top as the clear winner. Let's find out shall we.
FEATURES AND SPECIFICATION
Heatsink Specification
Dimension (HxWxD) without fan (with fan)
160x140x130 mm (160x140x158mm)
Weight
900g /1.240g with NF-P12 and NF-P14
Socket Compatibility
Intel LGA1366, LGA1156, LGA775 & AMD AM2, AM2+, AM3 (backplate required)
Fan compatibility
140x140x25 & 120x120x25mm
Scope of Delivery
1x NF-P14 premium fan
1x NF-P12 premium fan
2x Ultra-Low-Noise Adaptor (U.L.N.A.)
Y-Split Cable
4x Vibration-Compensators (for using NF-P12 as case fan)
4x Fan screws (for using NF-P12 as case fan)
NT-H1 high-grade thermal compound
SecuFirm2™ Mounting Kits
Noctua Metal Case-Badge
NF-P14 Fan Specification
Bearing
SSO-Bearing
Rotational Speed (+/-10%)
1200 RPM
Rotation Speed with U.L.N.A.
900 RPM
Airflow
110.3 m3/h
Airflow with U.L.N.A.
83.7 m3/h
Acoustical Noise
19.6 dB/A
Acoustical Noise with U.L.N.A.
13.2 dB/A
Input Power
1.2W
MTBF
>150,000 hr
NF-P12 Fan Specification
Bearing
SSO-Bearing
Rotational Speed (+/-10%)
1300 RPM
Rotation Speed with U.L.N.A.
900 RPM
Airflow
92.3 m3/h
Airflow with U.L.N.A.
63.4 m3/h
Acoustical Noise
19.8 dB/A
Acoustical Noise with U.L.N.A.
12.6 dB/A
Input Power
1.08 W
MTBF
>150,000 hr
6 heatpipe dual radiator design
Providing more surface area, better heat-distribution and superior airflow efficiency than conventional tower style heatsinks, the NH-D14's six heatpipe dual radiator design was developed to provide ultimate quiet cooling performance in dual fan mode.
Dual NF-P14/NF-P12 fan setup
The NH-D14 sports a premium quality, dual fan setup consisting of Noctua's award-winning NF-P12 (120mm) and NF-P14 (140mm) fans, both of which feature Vortex-Control Notches, SCD technology and SSO-Bearings in order to achieve a perfect balance of performance and quietness.
Asymmetrical design for high compatibility
An asymmetrical design that gives more clearance towards the RAM slots ensures good compatibility despite the cooler's size. The NF-P12 fan can be moved upwards or taken off in order to further improve compatibility.
Excellent component cooling
Hanging out at the bottom of the fin-stacks, the NF-P14 fan not only contributes to the NH-D14's superb CPU cooling capabilities, but also provides massive airflow over surrounding motherboard components and heatsinks; thus ensuring excellent component cooling performance.
SecuFirm2™ multi-socket mounting system
Noctua's enthusiast grade SecuFirm2™ multi-socket mounting provides broad socket compatibility (LGA1366, LGA1156, LGA775, AM2, AM2+ and AM3) and meets the highest demands in safety, contact pressure and ease-of-use.
NT-H1 thermal compound
Noctua's much-acclaimed NT-H1 is a well proven pro-grade TIM solution that provides minimum thermal resistance, excellent ease-of-use and outstanding reliability.
NOCTUA NH-D14 CLOSER LOOK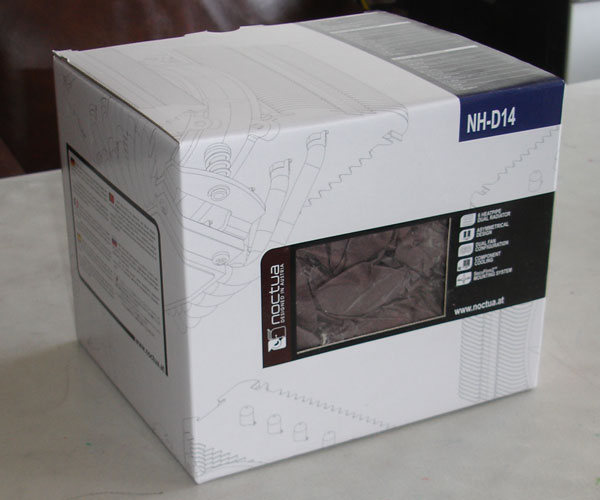 As always, Noctua packages the heatsink in a very elegant box. There is an opening on the front of the box, but you can not see the heatsink, because it is covered by shipping paper, to protect it from being damaged during shipping. We are not sure if this is only our review unit that is packaged this way.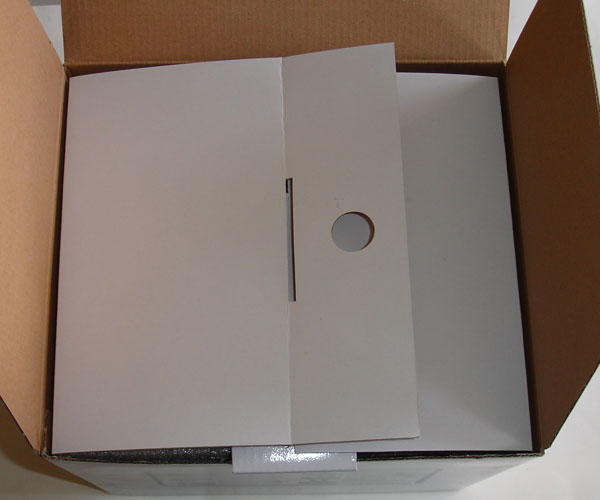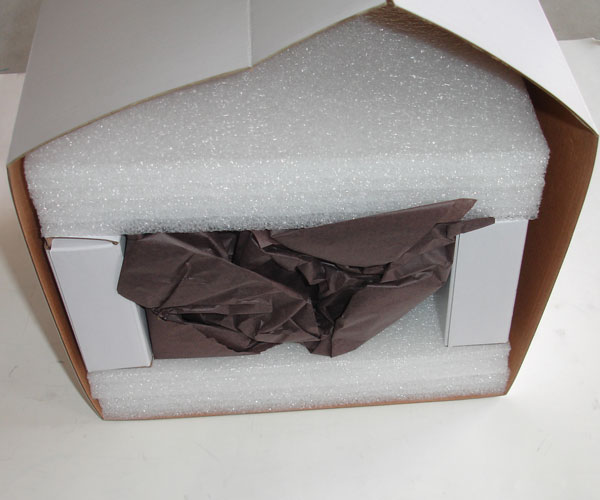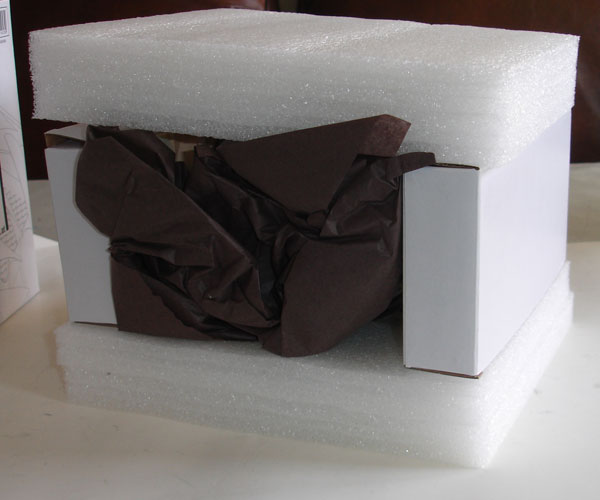 Opening up the cover of the box, cansee how well Noctua packages their heatsink. The heatsink is being protected by two pieces of Styrofoam plastic. The accessories boxes is placed on either side to further cushion the heatsink during shipping.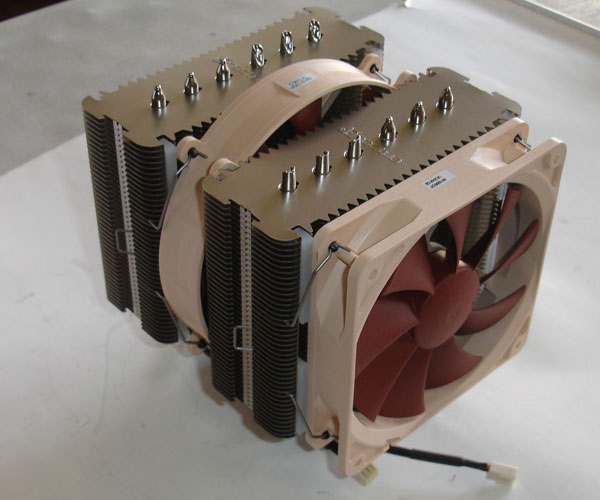 The Noctua NH-D14 is one word, monstrous. This is by far the biggest air-cooled heasink that I have ever seen. It measures 160x140x130 mm (HxWxD) and weighs 900g without the fans. The two fans that are included add an additional 340g. Putting things into perspective, the Prolimatech Megahalem only weighs 800g and the humongous Cooler Master V10, with its hybrid TEC cooler, weighs only 1,200g. The NH-D14 definitely wins in the weigh department.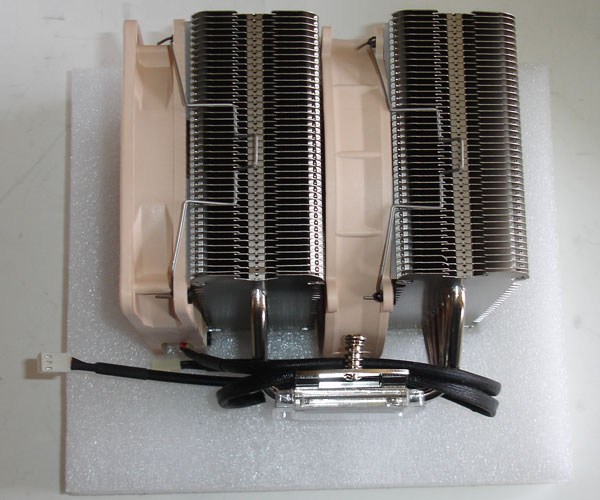 The heatsink is comprised of two large cooling fins connected to the base. The base and the heatpipes are made of copper with nickel plating, for better heat conduction; and the cooling fins are made of aluminum. Six heatpipes extend out of the base, through the cooling fins. While the Prolimatech also has 6 heatpipes that extend out of the base of the heatsink, the Noctua's heatpipes are more spaced out and the cooling fins are farther apart from each other. This design would be more effective in heat dissipation.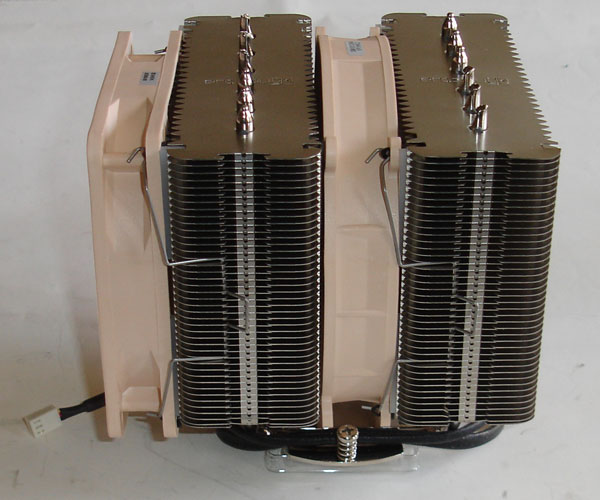 In addition, the heatsink has an asymmetrical design. You can see from the picture above, that one side of the heatsink is protruding further than the other side. This asymmetrical design allows the heatsink to extend over the motherboard components, such as RAM or  the Northbridge heatsink to provide added cooling. Although such design is good with overclockers, it can cause problems with RAM modules that come with tall heatpipes.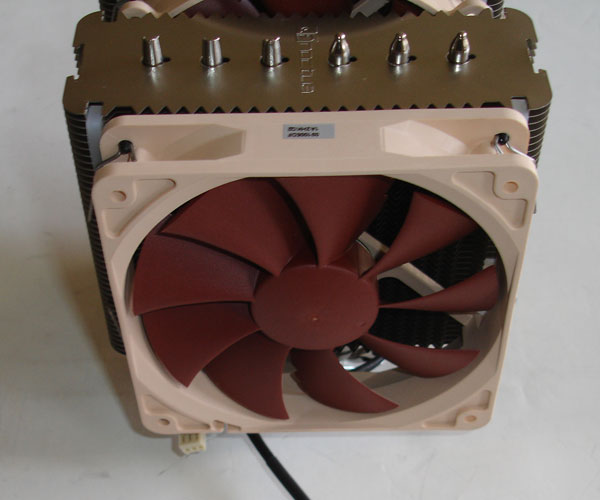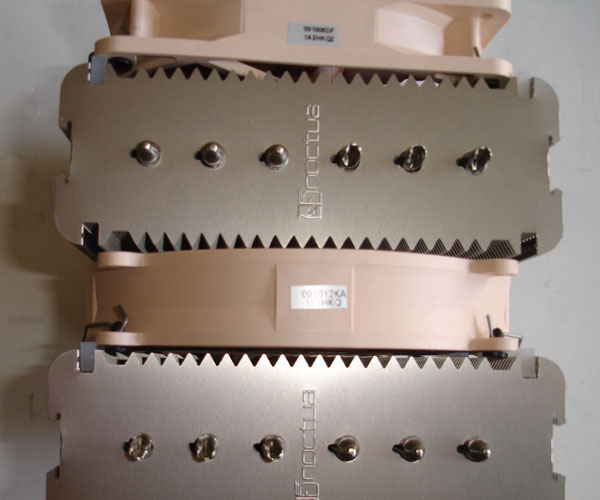 Not only are the cooling fins farther apart from each other, the NH-D14 supports not one, but two fans to further assist in cooling. One of the fans is Noctua's NF-P12, a 120mm fan running at 1300 RPM and is placed right between the two cooling fins. The fan is rated at 92.3m3/h airflow with a 19.8 dB/A noise-level rating. Noctua pairs the heatsink with the NH-P14, a 140mm exhaust fan. The fan runs at 1200 RPM with 110.3m3/h airflow and 19.6 dB/A noise level rating. Both fans feature SSO bearings, Vortex-Control Notches, and SCD technology.  For those who wish to have a quiet system, Noctua included a ULNA adapter to further reduce the rotational speed of the fan (of course it will also reduce the cooling ability of the fan). Users can replace the fans if they choose to, as long as the fans are 120x120x25mm and 140x140x25mm.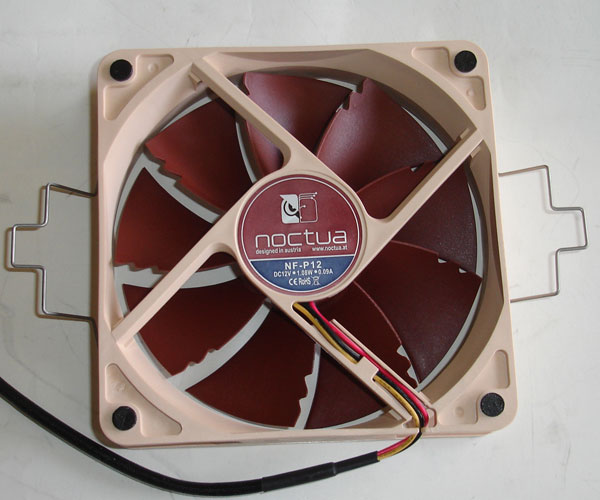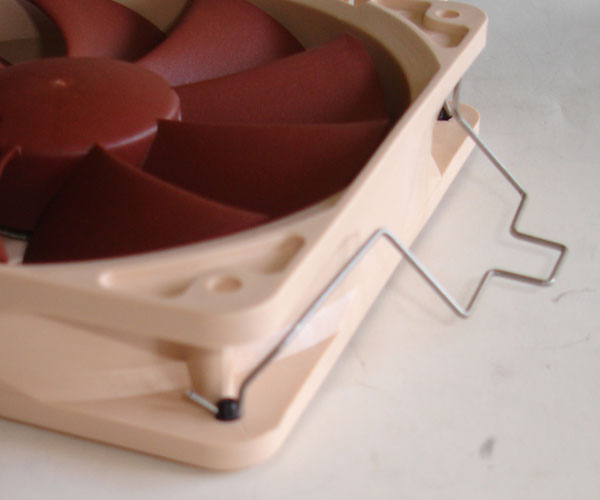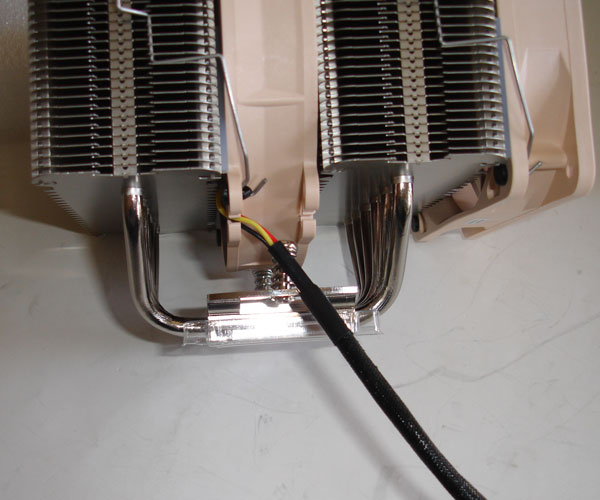 The fans are easily removed, as it is clipped onto the heatsink via the two metal wires. Rubbers are used to hold the fan clips to reduce any vibration noise. Noctua also includes a few screws for those who wish to use other fans. As you can see from the image above, the wires are completely sleeved.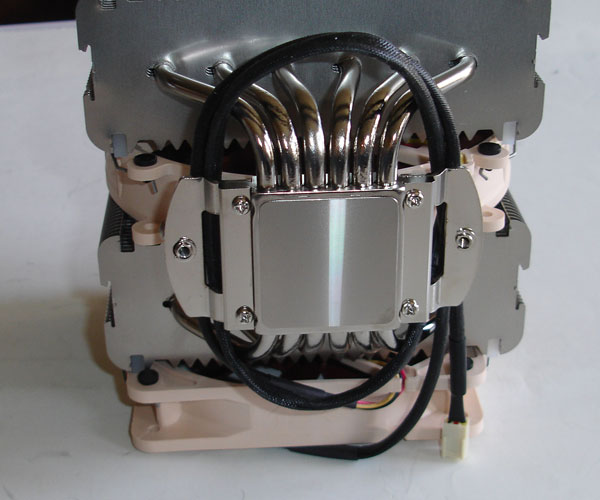 Noctual did a very good job keeping the base of the heatsink smooth. The heatsink also is shipped with a protective cover on the base.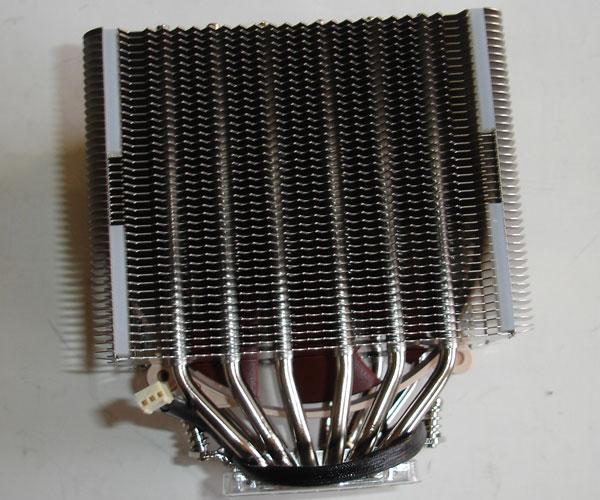 Noctua placed small rubber strips where the fan comes in contact with the heatsink, to help reduce any vibrations that can cause noise.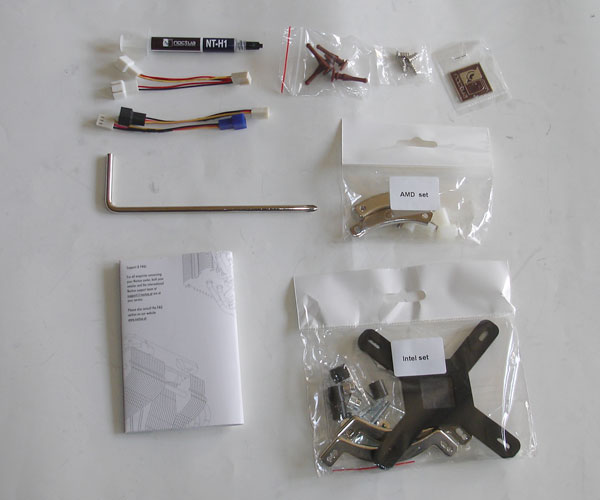 Noctua ships the heatsink with the following accessories:
1x NF-P14 premium fan
1x NF-P12 premium fan
2x Ultra-Low-Noise Adaptor (U.L.N.A.)
Y-Split Cable
4x Vibration-Compensators (for using NF-P12 as case fan)
4x Fan screws (for using NF-P12 as case fan)
NT-H1 high-grade thermal compound
SecuFirm2™ Mounting Kits
Noctua Metal Case-Badge
Our unit came with both Intel and AMD mounting kits. In addition, a very nice, colored installation guide and a screw driver was included, for the installation. The screwdriver is a very nice touch in our opinion. Although, many of us probably have a screwdriver already, it is just nice to see it being included. Once you have purchased the heatsink, you can simply install it without having to fumble around your toolbox, in search of one, during installation.
INSTALLATION
Parts for AMD motherboards and Intel motherboards
Installation of the NH-D14 was fairly easy. The colored manual from Noctua makes installation of the heatsink much easier than the black and white version from other manufacturers (Cooler Master, if you are listening, it's time to give us a better manual). We installed the heatsink to a Gigabyte EX58-UD4P motherboard. Since this is an Intel based board, we had to install the included backplate.
We did verify with Noctua regarding the installation to a AMD motherboard. According to the manual, the heatsink requires the backplate that is included with a AMD motherboard. Noctua will provide the backplate if your particular board did not come with such backplate.
The backplate that is included will work with all Intel motherboards. Since we are using a Socket 1366 board, we had to remove the internal spacer. Luckily, Noctua designs the backplate to be installed without the removal of the backplate that was attached to the motherboard, so you simply have to screw the backplate onto the board. For the weight of this heatsink, we really appreciate the backplate, despite the need to remove the motherboard from the case during installation.
No problem here with the backplate. As you can see it fits quite nicely on our Gigabyte board.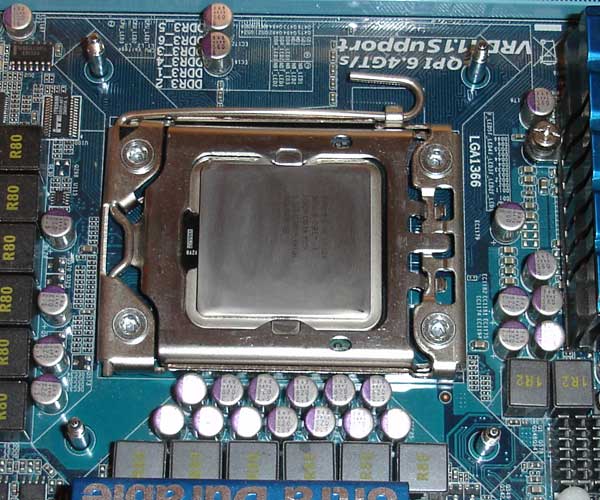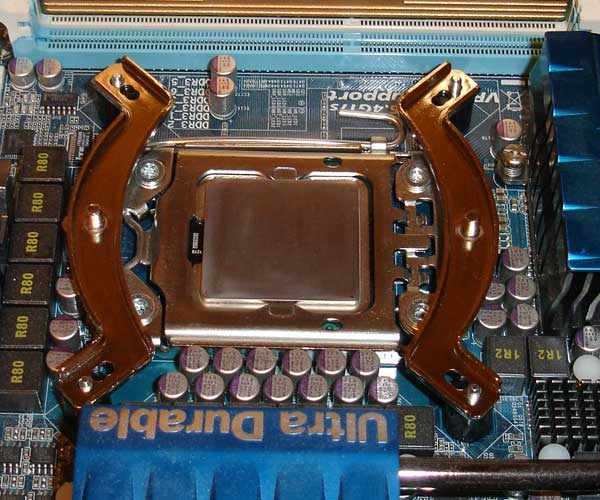 After we installed the backplate, we simply have to install the two mounting bars. As you can see they pose no issue with our motherboard components.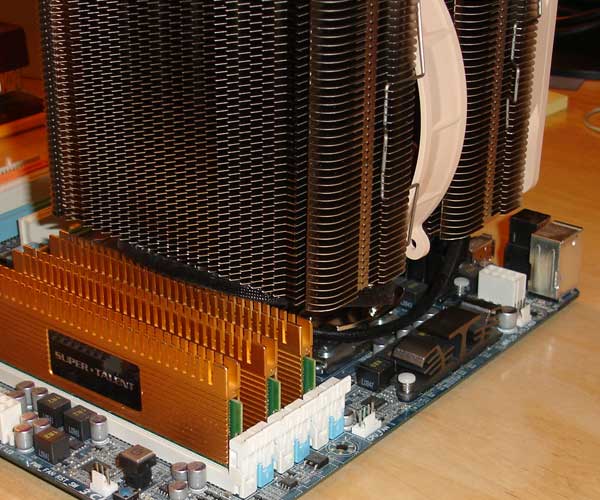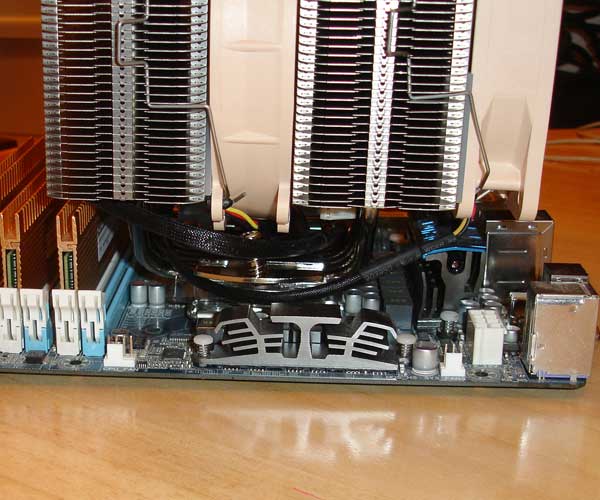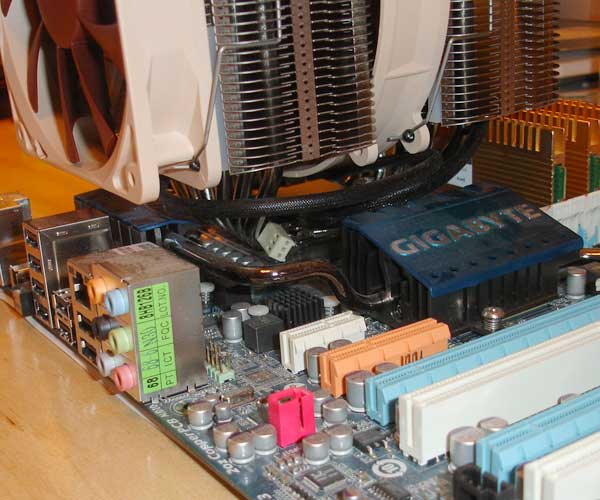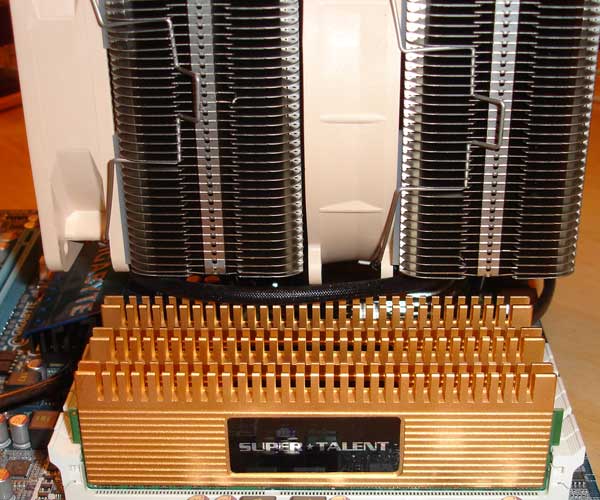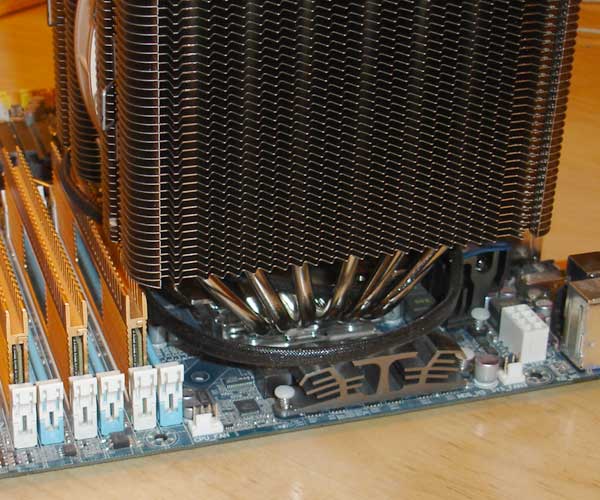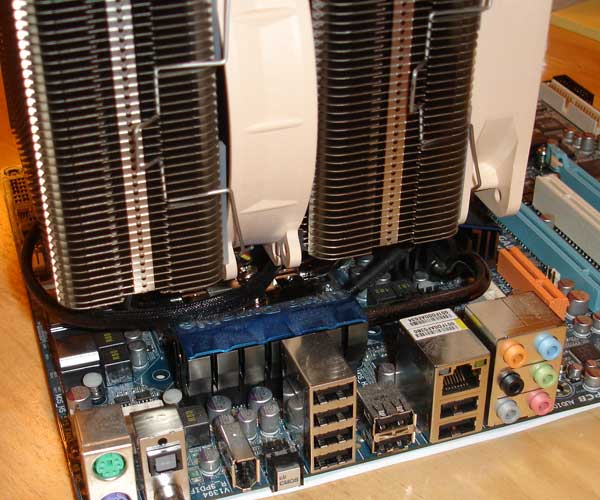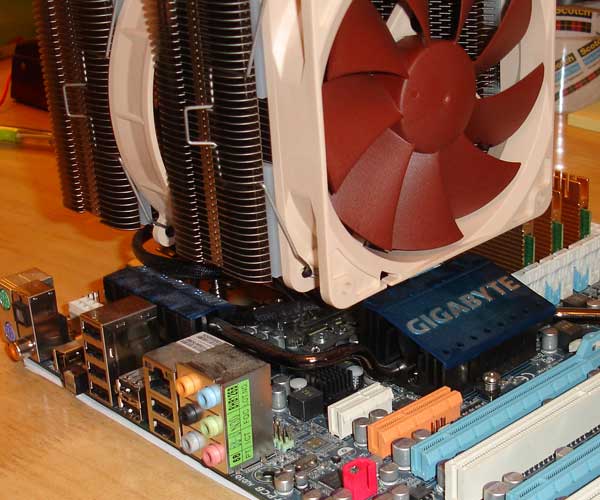 We tried to orient the heatsink in two different positions to see if there will be any issues with our top-of-the-line board. We had no issue installing the heatsink in either orientation. As you can see with it installed, the first and second memory slot are not readily accessible, so be sure to install the RAM before installing the heatsink. Luckily, the heatsink does not have any issue with our slightly taller Super Talent RAM heatspreader. We envision that this cooler will not have a problem with the majority RAM out there. Nor do we envision that there will be a problem with the majority of the motherboards out there, unless your board comes with an unusually large chipset cooler or MOSFET heatsink.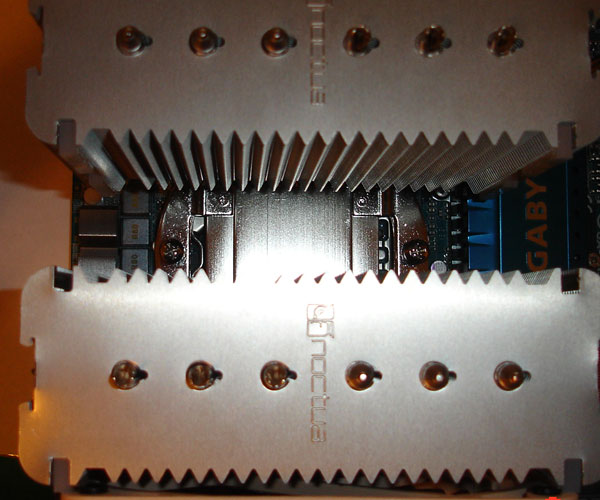 We did encounter a minor annoyance with when we tried to screw the heatsink onto the mounting bar. To get to the screws, we had to remove the 120mm fan. It's odd to us why Noctua shipped the heatsink with the fan attached. They knew very well that it needs to be removed in order to screw the heatsink to the mounting bar. Luckily the fan is easy to remove.
As you can see with the heatsink mounted, it gets quite close to the back of the case. We appreciate Gigabyte for using a low height MOSFET heatsink.
TESTING CONFIGURATION
Test Rig

Case Type
None
CPU
Intel Core i7 920
Motherboard
Gigabyte EX58-UD4P (BIOS F8)
RAM
Kingston HyperX KHX12800D3LLK3/6GX
CPU Cooler
Prolimatech Megahalems with SilenX IXP-74-11 fan

Cooler Master Hyper N620

Noctua NH-D14

Hard Drives
Seagate Barracuda 7200.11 1.5TB
Optical
Nec DVD-RW ND-3520AW
GPU Tested
EVGA GTX 285 FTW
Testing PSU
SilverStone Decathlon SST-DA1000 (1000W)
Legacy
Floppy
Mouse
Logitech G7
Keyboard
Logitech Media Keyboard Elite
Test Candidates
Prolimatech Megahalems
Cooler Master Hyper N620
We have decided to put the Noctua NH-D14 against the Prolimatech Megahalem because of the excellent performance we obtained with it previously. Since the Megahalem does not come with a fan, we paired it with a SilenX IXP-74-11 fan.
We decided to test the Noctua NH-D14 in three different configurations: one 120mm fan mounted in the middle of the two cooling fins, one 140mm fan mounted on the back, and two fans mounted (120mm in the middle and 140mm at the back).
The test was conducted in an open-air environment without any additional cooling. We tested the heatsinks with our Core i7 920 processor at stock setting and with the processor overclocked to 3.6 GHz (FSB 175×21) at 1.4v vCore and 1.64v DIMM voltage. All other voltages settings are set to auto or default.
The temperature was monitored using Everest v 5.01.1700. The Idel temperature was measured with the system idle in Windows for 15 minutes. The Load temperature was taken with the Prime 64 v259 running at the maximum load for 15 minutes. The highest temperatures were reported.
RESULTS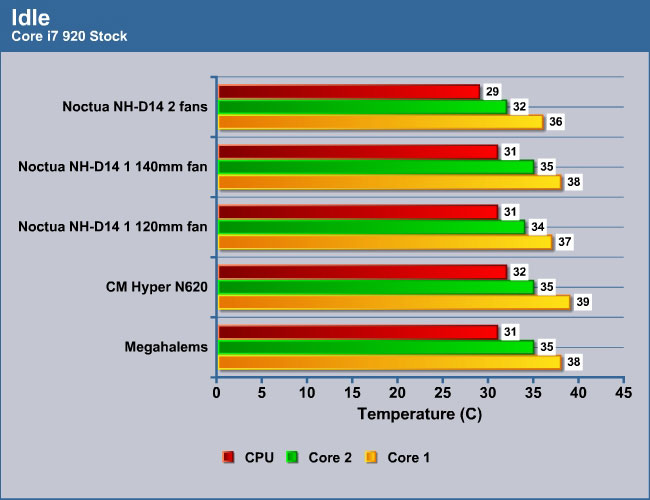 All three heatsinks gave decent cooling at stock speed under idle condition. The Noctua NH-D14 with two fans is able to further lower the CPU temperature by 2 °C compared to the single fan configuration.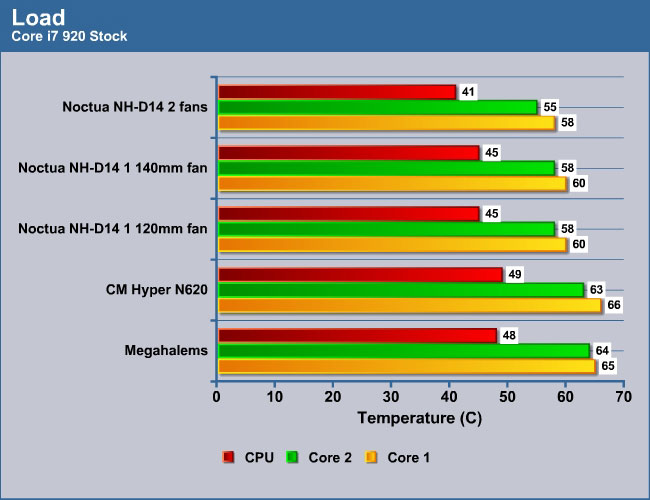 Under load, the Noctua NH-D14 really shines. It is able to further lower the CPU temperature by 3°C with a single 120mm or the 140mm fan. In addition, with both fans attached, our Core i7 920 is able to run at 41°C "cool", which is a whopping 7°C lower than the Megahalem. The core temperature is even more impressive where we see the NH-D14 is able to further lower the core temperatures by as much as 9°C.
Overclocked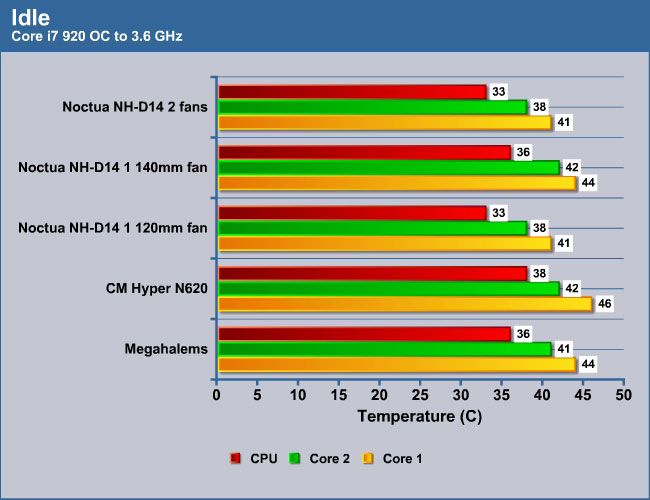 The overclock result shows a more noticeable result. Here we also oberved that the NH-D14's cooling ability is better with the fan sandwiched between the two cooling fins than attached at the back of the heatsink. Here we also observed the cooling performance of the NH-D14 with a single 140mm fan attached at the back of the heatsink is comparable to the Megahalem. However, with the 120mm fan attached, we get a further cooling of 3°C. Thus, if you plan to use only a single fan, be sure to install it between the two cooling fins.
We are not too certain if this is simply the fan placement or the fact that the 120mm fan has higher RPM, which is able to move larger volume of air. However, we suspect it is a combination of both. We believe by having the fan in the middle of the cooling fins, the hot air can more effectively be pulled through both cooing fins. As opposed to a single rear fan, which effectively only cools one section of fins.
In fact, the cooling performance of a single 120mm fan is identical with the two fan configuration. Let's see if we get any better cooling under load.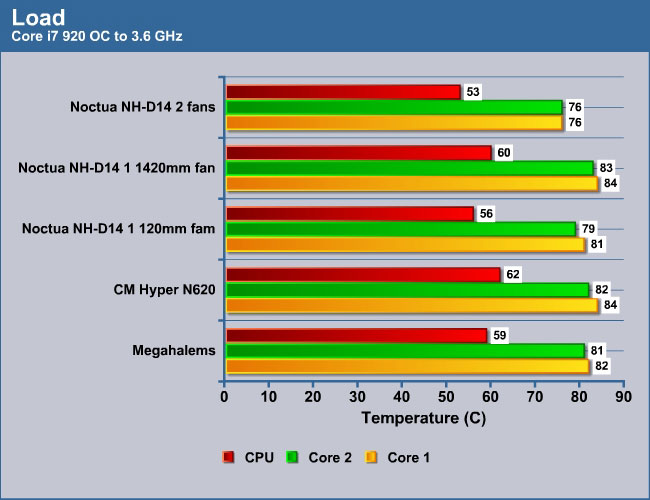 The result is even more impressive with our overclocked CPU. Here we see the NH-D14 is able to further lower the CPU temperature by 3°C with the 120mm fan. Using a single 140mm fan on the rear rusults in 1°C higher temperature than the Megahalem. This again, confirms our speculation that the placement of the fan between the two cooling fins is the best configuratin.
The most impressive result is when we mounted both fans. The NH-D14 is simply unstoppable, where it is capable of lowering the CPU temperature by as much as 6°C compared to the Megahalem. With our CPU running at 3.6GHz, it just barely breaks 50°C, leaving plenty of headroom to overclock. To say that we were impressed is a bit of understatement. This heatsink is definitely one of the best heatsinks in terms of cooling performance that we have seen.
Noise
Bjorn3D does not yet have a decimeter to measure the sound level of the heatsinks, so we have to rely on our own ears to give our subjective opinion. The NH-D14, in my mind, is slightly louder in our open air environment than other heatsink/fans we have tested. The noise-level of the NF-P12 (120mm fan) is noticeable louder than the NF-P14 (140mm fan), but both fans are quieter than the SilenX SilenX IXP-74-11 fan we paired with the Megahalem. However, the good news is that when both fans are running, the added noise is not too noticeable to our ears. Despite the heatsink not being the quietest unit we have tested, the noise-level does not bother us too much and we believe that once it is installed in a case, the noise will be drown out by other components in the system.
For those who are more sensitive to the noise-level, remember, Noctua includes an Ultra-Low-Noise adapter that lowers the rotational speed from 1,300 RPM to 900 RPM. Noctua's own internal rating states that the adapter will lower the noise-level from 19.6 dBA to 13.2 dBA.
CONCLUSION
There are two phrases that sum up the Noctua NH-D14: monstrous size and impressive results. We sort of expected the NH-D14 to perform well because of its unusual size and what we had experienced in the past with other Noctua heatsinks. However, we were not prepared to see 6~7°C decrease in cooling over one of the best coolers we have tested—the Prolimatech Megahalems. Our tests also show that even with a single 120mm fan placed right between the two cooling fins, its performance marvels that of the Megahalem. Making this the best cooler we have ever tested for Core i7 CPUs.
We are glad to see that Noctua actually designs the heatsink with user adjustable fan placement. Users have the option to install one or two fans and the fan can be installed either between the heatsinks or on the back. Depending on your cooling needs and space around your CPU socket, this versatile fan placement makes the NH-D14 and ideal choice for those who choose components that may not adhere to the standard dimension, such as taller RAM heatspreader or taller chipset/MOSFET cooler.
Furthermore, it is fully compatible with all current AMD motherboards (AM2/AM2+/AM3) and Intel boards (Socket 775/Socket 1156/Socket 1336) making it an all-around best heatsink. Despite its size, we had no problem installing the heatsink onto our Gigabyte X58 board in either orientation. However, we do envision a few motherboards out there that may pose some clearance issues due to oversized MOSFET or Northbridge coolers.
We know about the performance of the Noctua NH-D14, now what about its performance to price ratio. The Noctua NH-D14 has a MSRP of $84.90, which is $15 more than the Megahalem (MSRP of $69.99). Now, we must take into consideration that the NH-D12 comes with two fans (NH-P14 and NH-P12 which according to Noctua retails for $24.90 and $21.90). If we shop around, we can find some quiet and high efficient 120mm fans selling at around $10, putting the Megahalem's total to $80. For an extra $5, the Noctua NH-D14 is definitely a better choice due to its versatility and cooling performance. We think that for any hardcore overclockers who wish to stay with air-cooled heatsinks, the NH-D14 should definitely be the top choice for you, provided that it will fit into your budget and board.
OUR VERDICT: Noctua NH-D14
| | |
| --- | --- |
| Performance |  10 |
| Value |  8.5 |
| Quality |  10 |
| Features |  9 |
| Innovation |  9 |

We have updated our scoring system to provide additional feedback beyond a flat score. Please note that the final score isn't an aggregate average of the new rating system.

Pro

Cons

Excellent cooling performance

Two fans that are user configurable

5 year warranty

Easy to follow installation guide

Very easy installation process

Size, which can pose some clearance issue

Need to remove motherboard for installation

Price






Summary: The NH-D14 is one of the best heatsink we have tested. For its excellent cooling performance and versitile configuration, it has earned Bjorn3D's coveted Golden Seal Award.