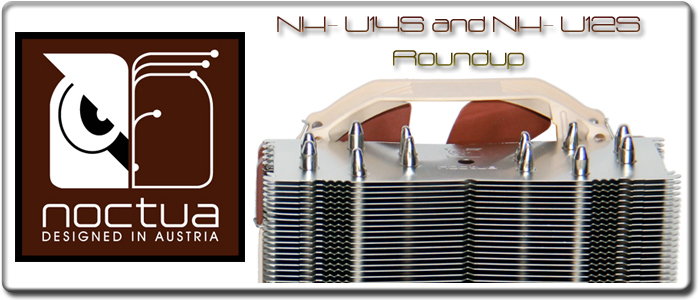 The juggernaut of elite air-cooling solutions, Noctua unleashes two new heatsinks.  Let's examine the pair and see how they perform. 
Noctua products pay special attention to engineering and design. From serious over-clockers that desire a premium air-cooled solution, to gaming enthusiasts, their products have in the past been synonymous with performance, quality, and safety. Today the evaluation encompasses four products: the Noctua NH-U12S and NH-U14S heatsinks; and their accompanying optional counterparts the NF-F12 and NF-A15 PWM fans (used for the purpose of a dual-fan setup).  MSRP on the NH-U12S is ~$65 and the NH-U14S is ~$75; for the optional fans the NF-F12 is ~$20 and the NF-A15 is ~$25.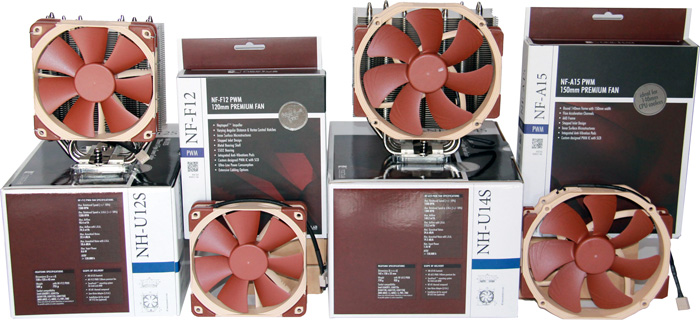 Features and Specifications
Both of the Noctua heatsinks share many common characteristics highlighted in the chart below.  Physical dimensions and fan size do vary between the two and are listed after. 
| | | | |
| --- | --- | --- | --- |
| | Heatsink will not block the RAM slots even with two fans installed. Tall heat spreaders are also compatible. | | PWM is supported for automatic speed control; furthermore, the max fan speed can be reduced from 1500 to 1200rpm using the Low-Noise Adaptor. |
| | Provides better compatibility for SLI and crossfire setups. *See below for detailed dimensions on each. | | Both heatsinks include extra clips with anti-vibration pads that allow to off-set the rear fan by 5mm to improve acoustics in dual-fan push/pull mode. |
| | The NF-F12 combines superb static pressure with quiet operation. *Included with NH-U12S. | | Noctua's SecuFirm2 mounting systems support Intel LGA115x, LGA2011, and AMD (AM3+, AM2+, FM1, FM2). |
| | The NF-A15 features Flow Acceleration Channels, an advanced aerodynamic design. *Included with NH-U14S. | | Compatibility is possible with older LGA1366 and LGA775 sockets using the NM-13 mounting kit, provided by Noctua free of charge. |
| | | |
| --- | --- | --- |
| Specifications: | Noctua NH-U12S | Noctua NH-U14S |
| Dimensions (H x W x D) | 158 x 125 x 45 mm | 165 x 150 x 52 mm |
| Weight | 580 g | 770 g |
| Weight w/fan | 775 g | 935 g |
Noctua was also thoughtful enough to include two matching fans, one for each of the heatsinks so we can test them in a dual fan push-pull configuration. The common characteristics between the NF-F12 120mm and the NF-A15 150mm fans are listed below with what sets the two fans apart charted after. 
| | | | |
| --- | --- | --- | --- |
| | Stepped Inlet Design reduces tonal intake noise and increases suction capacity in space restricted environments. | | The Low-Noise Adaptor reduces the max fan speed from 1500 to 1200rpm. |
| | Inner Surface Microstructures reduces blade passing noise as well as improves airflow pressure efficiency. | | A 30cm extension provides extra reach while a 4-pin Y-cable connects a second fan to the same PWM fan header. |
| | The bearings' rear magnet is placed closer to the axis to provide stabilization, precision, and durability. | | The NF-F12 draws only 0.6W while the NF-A15 consumes only 0.96W. |
| | To guarantee the highest degree of manufacturing precision, a CNC milled bearing shell made entirely of brass is used. | | All fans feature an MTBF rating of more than 150,000 hours and come with a 6 year warranty. |
    Noctua NF-F12 and NF-A15 Core Differences
The NF-F12's stator guide vanes are set out in Varying Angular Distance and feature Vortex-Control Notches for noise dispersion.
While the NF-A15 has a 150mm width, its 140mm height doesn't make it extend on top for best case compatibility.
The NF-F12's 7 blade Heptaperf impeller is optimized to balance between power and quietness.
The NF-A15's impeller features Flow Acceleration Channels: Speeding up the airflow at the outer blades leads to lower vortex noise.
| | | |
| --- | --- | --- |
| Specifications: | Noctua NF-F12 | Noctua NF-F14 |
| Rotational Speed (+/- 10%) | 1500 rpm | 1500 rpm |
| Speed w/Low-Noise Adapter | 1200 rpm | 1200 rpm |
| Airflow | 93.4  m3/h | 140.2 m3/h |
| Airflow w/Low-Noise Adapter | 74.3 m3/h | 115.5 m3/h |
| Acoustical Noise | 22.4 dB/A | 24.6 dB/A |
| Acoustical Noise w/Low-Noise Adapter | 18.6 dB/A | 19.2 dB/A |
| Input Power | 0.6 W | 0.96 W |
 A Closer Look 
The packaging the Noctua products come in are all no-nonsense; you get the specs and very secure inner packing totally surrounding the heatsink. All of the accessories are right on top and sorted neatly into 3 boxes: Intel mounting brackets, AMD brackets, and the universal pack that includes special thermal paste and tools.

(Click on Images for Larger View)
Noctua's fans are also presented in a very similar, scientific manner, delving into the fine engineering that went into crafting each model. It is apparent that research and development is taken very seriously and there is no room for cosmetic fluff or pretty lights.

Noctua NF-F12 120mm Fan
Noctua NF-A15 150mm Fan
(Click on Images for Larger View)
In the four profile shots below, the NH-U12S is always on the left and the larger NH-U14S is on the right. The key thing to note here is that while U12S possesses five liquid cooled heat pipes per side, the U14S is equipped with six per side. Instead of highly polished surface where contact is made with the CPU, Noctua implements a type of finely grooved micro-surface,  so fine that even with dragging your fingernail across it you can barely feel it; however, if you look closely and have good eyes you can see it. With the finely regulated tension pressure of the SecuFirm2 mounting kit provided and Noctua's specially formulated thermal paste, barely 1-2 drops of the paste is needed for an acceptable heatsink mounting, worry free.
(Click on Images for Larger View)
Included Accessories
NH-U12S / NH-U14S
NF-F12 / NF-A15

Intel & AMD mounting brackets
Extra thick anti-vibrational pads
Additional fan mounting brackets
Noctua thermal paste (NT-NH1)
Screwdriver tool
Noctua metal owl badge

Anti-vibrational pegs for case mount
Regular case screws
Y-cable
30cm extension cable
Low-Noise Adapter cable
Additional rubber edge strips
(Click on Images for Larger View)
Testing and Results
First off let it be known that the Noctua heatsinks are going head-to-head with a personal favorite, the Thermaltake Venomous X, which is simply a Goliath of a heatsink, sporting six heat pipes per side, 2 x 120mm fans, and a nickel-plated mirrored contact surface . At the time the Venomous X was one of the few on the market that could dissipate heat fast enough for this "moderate" overclock at the mid-high range price. The test rig is pretty bare-bones but was designed purely as a gaming enthusiast machine. Keep in mind that the tests are not to see how high the overclock can go, but how well the heatsinks perform under a constant load. 
Test Rig Code Name: "Meson Paradox"
Case
Cooler Master HAF 932 Advanced
CPU
Intel Core i5 2500K Sandy Bridge @ 4.2GHz
Motherboard
GIGABYTE GA-Z68XP-UD5
RAM
Corsair Vengeance 8GB (4x2GB) 1866Mhz 9-10-9-27 2T Dual-Channel Kit
CPU Coolers
Noctua NH-U12S / Noctua NH-U14S / Thermalright Venomous X
Hard Drive
Western Digital WD VelociRaptor 500GB 10000RPM 64MB Cache SATA III 6.0Gb/s
SSD
Kingston V+200 120GB SATA III 6.0Gb/s
Optical
Sony Blu-Ray Burner
GPU
Gigabyte Geforce GTX 670 OC
PSU
Cooler Master Silent Pro M800
Prime95 was used to stress all the cores simultaneously, while HWiNFO64, a highly customizable monitoring application, was used to collect data from the motherboard during the test.  Prime95 was run three times for each heatsink and a minimum time of approximately 4 minutes (or until it was apparent that the CPU's temperature was not getting any hotter). On this particular sample (the Intel 2500k) anything that reached beyond 72 Celsius crashed the test rig out (no matter what the vcore was set at), so for testing validity, all successful runs where conducted at a safe and stable 4200Mhz across all cores.
Before we get to the results, let's take a quick look at how much physical space the Noctua heatsinks take up on a standard ATX form factor motherboard. In the panel immediately below, the NH-U12S fits perfectly, even with the extra high heat spreaders on the RAM. The cabling on the main fan that comes with the heatsink is extra short to prevent cable clutter. The fan on the rear has had it's inner anti-vibrational pads replaced with thicker ones to aid in the stability concerning air flow. Actually there's plenty of room all around it and there would not be any issues with even using the NH-U12S on a micro ATX motherboard.
(Click on Images for Larger View)
Noctua's behemoth of a cooler, the NH-U14S, is one of the largest (and intelligently designed) heatsinks forged in Austria. Yet despite of how mammoth it is, as you can see in the pictures below, all RAM slots are easily accessed. RAM with extended heatsink spreaders are still totally compatible and with the NF-A15 mounted immediately behind them, there's the bonus of a steady cool breeze wafting gently across the RAM. Note how very close this comes to the first video card slot, so a personal recommendation would be either to stick with standard ATX form factor motherboards, or check the compatibility list at Noctua's website found here. It is possible to use it with smaller micro ATX motherboards, but be forewarned that the most likely scenario is sacrificing the first video slot if using a discreet video solution. 
(Click on Images for Larger View)
The results were quite impressive with NH-U12S gaining a 13% performance bump over the Thermalright Venomous X (which is being used as a baseline), and the NH-U14S gaining a monster 18% in cooling. Past situations with upgrading heatsinks has normally only seen a difference in a couple degrees Celsius, so this was a pleasant surprise. Again keep in mind that all of these test where conducted in a dual fan push/pull configuration. The case itself was outfitted with 3 x 230mm very low rotational fans in addition to 2 x 140mm fans for creating positive pressure — ensuring a constant and consistent air flow. Max speed on the fans where approximately 1380rpm, which fits into the range of +/- 10% variance on max rating of 1500rpm. This was the only time the fans were audible above the other fans inside the case and as for the larger NH-U14S, the fans were barely audible.  As a matter of fact, any rotational speed below 1100rpm on all fans reviewed yielded such little noise a person would have to place their ear right up to the case to hear them.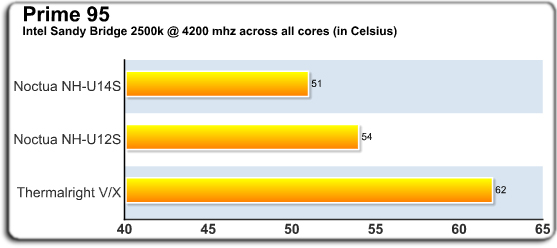 Conclusion

Noctua's heatsink performance overshot expectations by quite a margin: the heat was dissipated so efficiently under maximum loads on this particular test, the NH-U14S could do even better under much more strenuous situations — a real bonus to those who are looking for a serious overclocked air-cooled solution. If you want the best cutting edge tech with the best performance, par for the course, it's going to cost a bit more: dual fan push/pull configurations are going to be approximately $85 for the NH-U12S (that is total including heatsink and additional fan) and $100 for the NH-U14S. The advantage of such an investment is that Noctua is future-proofing future socket configurations (where technically possible) with appropriate socket back-plates. Noctua also gets top scores for not only the ease of use for installation, but including accessories for all possible scenarios. The attention to engineering and design infused into the core characteristics of these tech masterpieces highlights unparalleled innovation. 
Pros
Cons

Intelligently designed not to block RAM slots.
Maximum airflow with minimum noise emission (close to none).
Dual fan mode excellently implemented.
Review Overview
Performance - 9
Value - 7
Quality - 9
Features - 9
Innovation - 9
8.6
The Noctua NH-U12S and NH-U14S prove not only to be more than effective as overclocked air cooled solutions, but also provide excellent noise control emissions. They earn the Bjorn3D Golden Bear Award.