The Asus EAH5670 1GB brings DirectX 11 to the $100 price range. Is it worth upgrading to?
Introduction
The average person doesn't spend three to four hundred of dollars on a graphics card. This is evident by the large percentage of cards sold that are in the $100 price range. Unlike us hardcore geeks, some people have better things to do with their money. Paying the mortgage, buying food, and filling up the gas tank are probably at the top of that list. But once you've scrounged up some money, you have to figure out what to buy. With the slew of new cards that are being released on what seems like a daily basis, which do you choose? When I've determined that I absolutely must have a new graphics card, my main goal is to get as much of a performance boost as I can, with the money I have. The hard part…comparing what's currently being sold to my old card.
Each month, Steam collects data about what kinds of computer hardware their customers are using. According to that Survey, the Geforce 8800 series of graphics cards has the biggest market-share. 9.41% of all their users are currently running one right now. Needless to say, that's a lot of cards running on ~3 year old tech. With the release of AMD's fancy new 5000 series of cards, you may be wondering. Is the one that's in my budget, any better than the 8800gt that's in my computer now? I was anxious to find out the answer to this question when Asus sent me the EAH5670.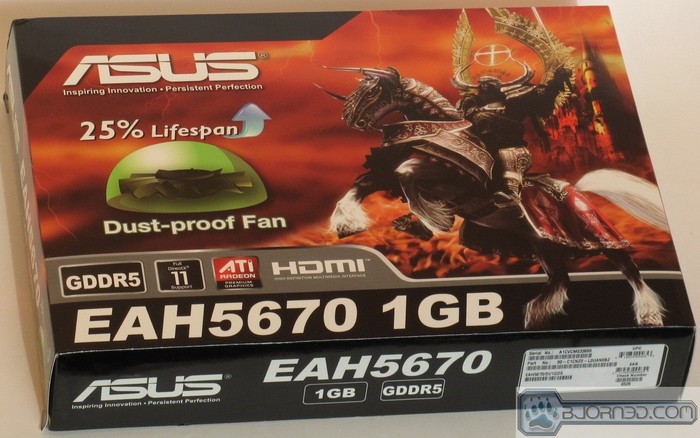 Features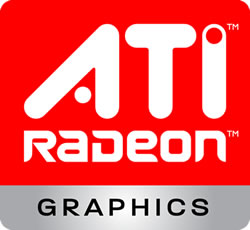 ATI Radeon™ HD 5670 GPU Feature Summary
627 million 40nm transistors
TeraScale 2 Unified Processing Architecture

400 Stream Processing Units
20 Texture Units
32 Z/Stencil ROP Units
8 Color ROP Units

GDDR5 memory interface
PCI Express 2.1 x16 bus interface
DirectX® 11 support

Shader Model 5.0
DirectCompute 11
Programmable hardware tessellation unit
Accelerated multi-threading
HDR texture compression
Order-independent transparency

OpenGL 3.2 support1
Image quality enhancement technology

Up to 24x multi-sample and super-sample anti-aliasing modes
Adaptive anti-aliasing
16x angle independent anisotropic texture filtering
128-bit floating point HDR rendering

ATI Stream acceleration technology

OpenCL support15
DirectCompute 11
Accelerated video encoding, transcoding, and upscaling4,5

Native support for common video encoding instructions

ATI CrossFireX™ multi-GPU technology6
ATI Avivo HD Video & Display technology7

UVD 2 dedicated video playback accelerator
Advanced post-processing and scaling8
Dynamic contrast enhancement and color correction
Brighter whites processing (blue stretch)
Independent video gamma control
Dynamic video range control
Support for H.264, VC-1, MPEG-2, and Adobe Flash9
Dual-stream 1080p playback support 10,11
DXVA 1.0 & 2.0 support
Integrated dual-link DVI output with HDCP12

Max resolution: 2560×160013

Integrated HDMI 1.3 output with Deep Color, xvYCC wide gamut support, and high bit-rate audio

Max resolution: 1920×120013

Integrated VGA output

Max resolution: 2048×153613
3D stereoscopic display/glasses support14
Integrated HD audio controller

Output protected high bit rate 7.1 channel surround sound over HDMI with no additional cables required
Supports AC-3, AAC, Dolby TrueHD and DTS Master Audio formats

ATI PowerPlay™ power management technology7

Dynamic power management with low power idle state
Ultra-low power state support for multi-GPU configurations

Certified drivers for Windows 7, Windows Vista, and Windows XP
Specifications
| Specification | 5670 | 4830 | 8800GT |
| --- | --- | --- | --- |
| Core Clock (MHz) | 775 | 575 | 660 |
| # of Shaders | 400 | 640 | 320 |
| Shader Clock (MHz) | 775 | 575 | 660 |
| Memory Size (MB) | 1024 | 512 | 512 |
| Memory Bus (bit) | 128 | 256 | 256 |
| Memory Clock (MHz) | 1000 | 900 | 950 |
| Memory Type | GDDR5 | GDDR3 | GDDR3 |
It's hard to tell by the specs which would be the fastest. The 5670 has a superior core clock speed and DDR5 memory. But will the 128bit memory bus and the 400 shader count be it's failing?
Pictures & impressions
Here's what came in the box. I'm not sure why there was a second disc. It only has the manual on it. For one, who reads the manual for a graphics card? Secondly, the manuals are also on the other disk, which has the driver and Asus' SmartDoctor. And then there's the paper manual, fourty-two pages worth. Two of which are in english. Oh well. All that stuff goes in the trash, when I buy a graphics card anyways. The one thing that caught my eye, was the words "Dust-proof Fan". My first thought was, "How can a fan be dust-proof?" But what I think they mean is, it has a sealed motor, that doesn't allow dust to get in it. While I've never lost a fan to dust build up. I tend to keep my computer very clean. I'm sure there's plenty of people out there that have. So there ya go.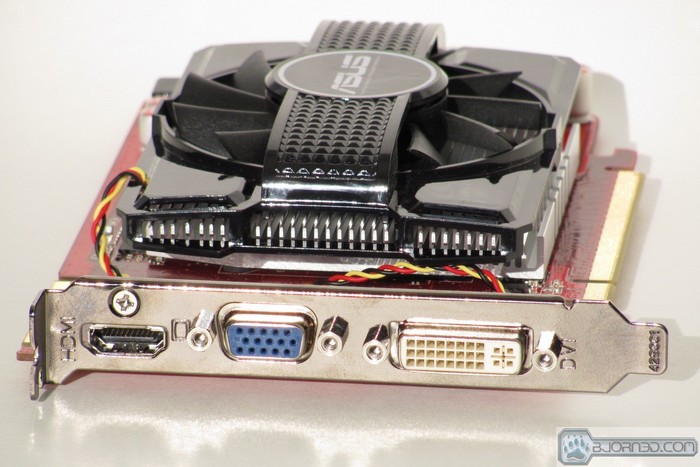 Here's the back panel. What's interesting is the inclusion of the VGA D-sub connector. The other 5000 series Radeon cards that we've seen previously, have a Display Port in place of this. Since Eyefinity is supposed to be the big selling point for ATI, I hooked a monitor up to all three of them. The display control panel recognized all of them, but only 2 could be used at any given time. I have to assume their thinking was that most people who buy this level of card aren't likely to be using 3 monitors anyways. There have been quite a few LCD monitors sold that only connect via a D-sub over the years. The people who own these must be the one's they were thinking of when this choice was made.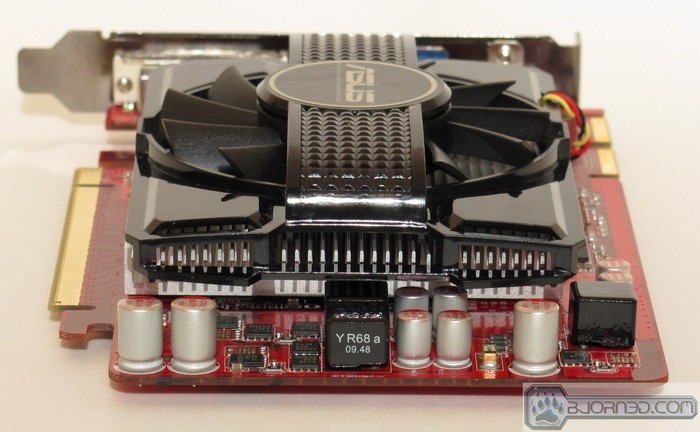 Notice anything missing from this side of the card? No power supply connectors! You don't need to worry about upgrading your power supply because you bought this graphics card. It gets all the juice it needs, right from the motherboard.
Methodology
To test this card, we did a fresh load of Windows 7 Ultimate 32 bit and applied all the patches and updates for the OS, then we updated all the motherboard drivers and made sure that we had the latest 9.12 Catalyst drivers. We didn't install any video drivers on the test rig at first, we just installed the basics and then cloned the hard drive using Acronis. That way when we switch from the ATI GPU to the Nvidia GPU we can have a fresh load with no old drivers hanging around to bugger up our benchmark numbers.
We ran each test 3 times and averaged the results, the average of those results are reported here. Below is a detailed list of the components used during testing.
Test Rig
Case
Thermaltake Element T
CPU
Intel Core 2 Quad QX9650
Motherboard
Asus P5NE-SLI
Ram
(2x2GB) Mushkin DDR2 800
CPU Cooler
Thermalright Ultra 120
Hard Drives
Seagate 1.5 TB
2x Western Digital 250 GB
Optical
LiteOn DVD-R
GPU's Tested
Asus EAH5670
MSI Geforce 8800GT
Sapphire Radeon HD4830
Testing PSU
Ultra X4 850
Synthetic Benchmarks & Games
 
Synthetic Benchmarks & Games
3DMark 06
Resident Evil 5
Crysis
Street Fighter 4
Far Cry 2
Hawx
Dirt 2
Unigine
Overclocking

To overclock the Asus EAH5670, I used Asus' SmartDoctor, that comes on the disc, that is included in the box. I slowly increased the clocks, expecting the system became unstable at some point.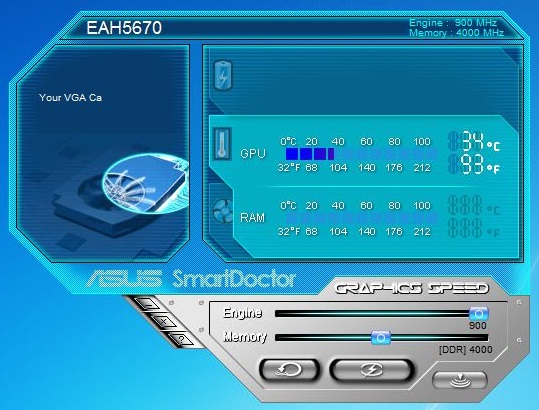 What a great suprise it is to get all the way to the end of the slider and still not have a single problem. I didn't increasing the memory speed though. Without heatsinks on all of them, I was afraid of burning them up. They were already pretty warm to the touch at stock speed.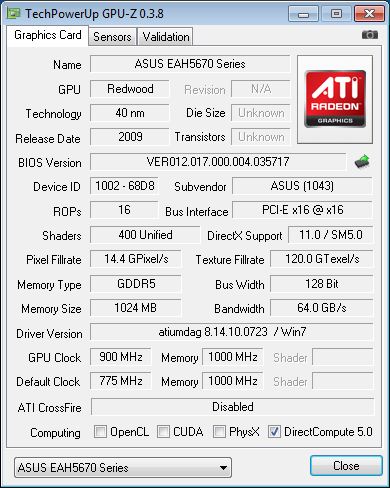 Uncertain if what I was seeing was true, I called on the services of GPU-Z. Yes indeed, this card is running 225mhz above the stock speed of 775mhz. Since the overclock tool had reached it's limits, I'm left wondering how much faster it can go?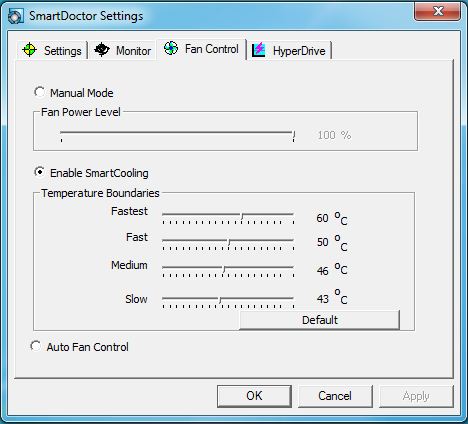 I found that the fan speed doesn't change, ever. At stock speeds, while running Furmark, the GPU got all the way up to 64°C. It was still stuck at ~%30. After enabling SmartCooling in SmartDoctor with the settings above, the GPU generally ran at 55°C. It never got above 60°C when overclocked to 900mhz.
3DMARK06 V. 1.1.0

3DMark06 developed by Futuremark, is a synthetic benchmark used for universal testing of all graphics solutions. 3DMark06 features HDR rendering, complex HDR post processing, dynamic soft shadows for all objects, water shader with HDR refraction, HDR reflection, depth fog and Gerstner wave functions, realistic sky model with cloud blending, and approximately 5.4 million triangles and 8.8 million vertices; to name just a few. The measurement unit "3DMark" is intended to give a normalized mean for comparing different GPU/VPUs. It has been accepted as both a standard and a mandatory benchmark throughout the gaming world for measuring performance.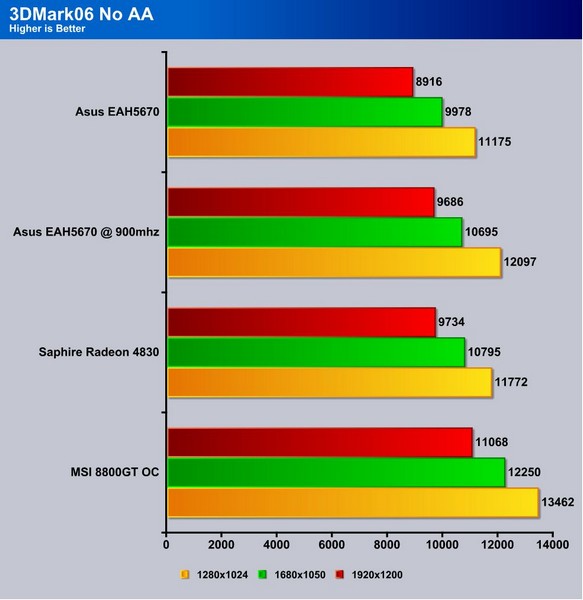 The overclock really helps the Asus EAH5670 quit a bit, here. It brings it up to par with the 4830. But the 8800gt has a pretty nice lead.
Dirt 2

Dirt 2 is the squeal to the popular racing game Colin McRae Dirt. The game is a racing game, but with an off road twist. Instead of racing Bugattis and Porsches your going to be racing trophy trucks and rally cars. The newest addition adds DirectX 11 effects, and modified physics from the original game.
The 5670 is quite the contender here. Not too bad for a $100 card.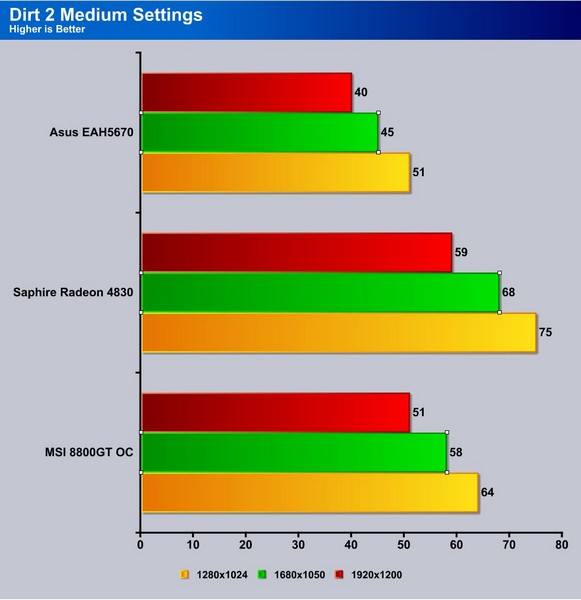 Ouch! I guess the hill was just too steep. This is where the 128bit memory bus shows it's limitations.
Resident Evil 5

Resident Evil 5 is the latest addition to the popular Resident Evil franchise. Set in Africa, you play as Chris Redfeild who is part of the Bio-terrorism Security Assessment Alliance (BSAA). You are sent to capture Ricardo Irving who is trying to bring a bio-organic weapon to the black market. However you quickly unravel something bigger…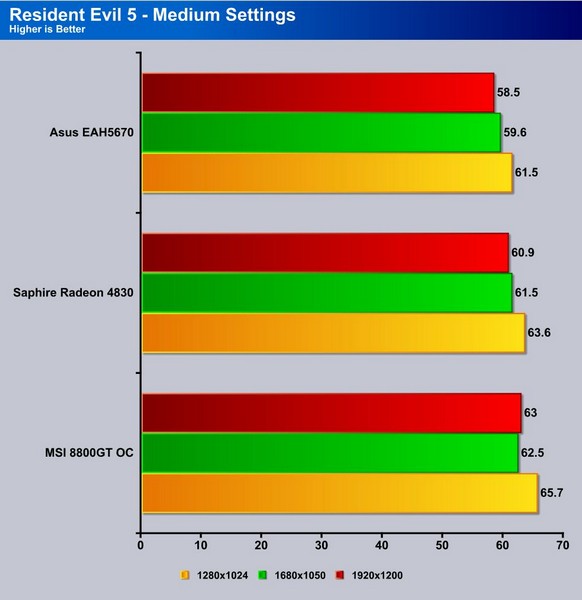 These are pretty good frame rates across the board, for this level of card.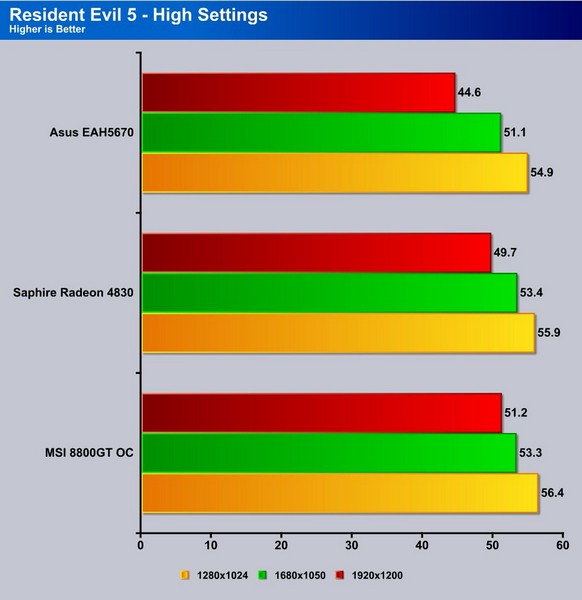 I don't think you're going to want to play on a large monitor with this card. Other than that I'd say we're pretty even here.
HawX

The story begins in the year 2012. As the era of the nation–state draws quickly to a close, the rules of warfare evolve even more rapidly. More and more nations become increasingly dependent on private military companies (PMCs), elite mercenaries with a lax view of the law. The Reykjavik Accords further legitimize their existence by authorizing their right to serve in every aspect of military operations. While the benefits of such PMCs are apparent, growing concerns surrounding giving them too much power begin to mount.
Tom Clancy's HAWX is the first air combat game set in the world–renowned Tom Clancy's video game universe. Cutting–edge technology, devastating firepower, and intense dogfights bestow this new title a deserving place in the prestigious Tom Clancy franchise. Soon, flying at Mach 3 becomes a right, not a privilege.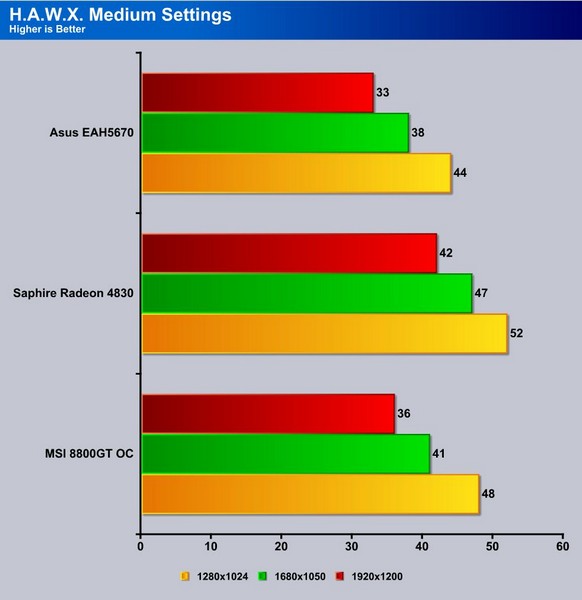 The 5670 didn't take too bad of a beating this time.
Crysis v. 1.21

Crysis is the most highly anticipated game to hit the market in the last several years. Crysis is based on the CryENGINE™ 2 developed by Crytek. The CryENGINE™ 2 offers real time editing, bump mapping, dynamic lights, network system, integrated physics system, shaders, shadows, and a dynamic music system, just to name a few of the state-of-the-art features that are incorporated into Crysis. As one might expect with this number of features, the game is extremely demanding of system resources, especially the GPU. We expect Crysis to be a primary gaming benchmark for many years to come.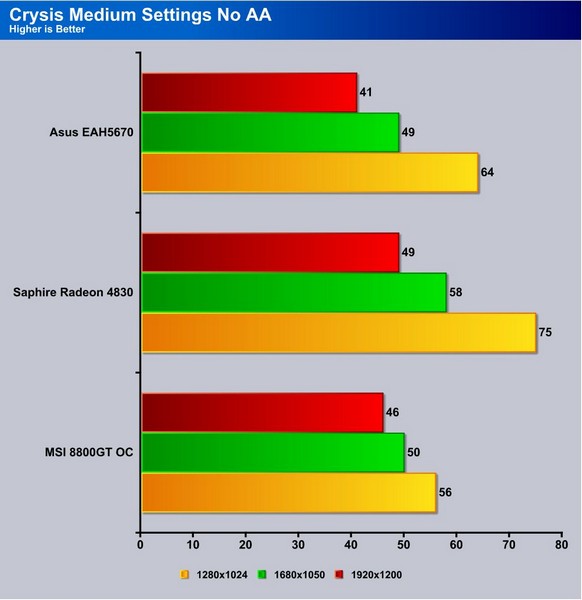 The 8800GT stumbled enough to allow the other two to catch up.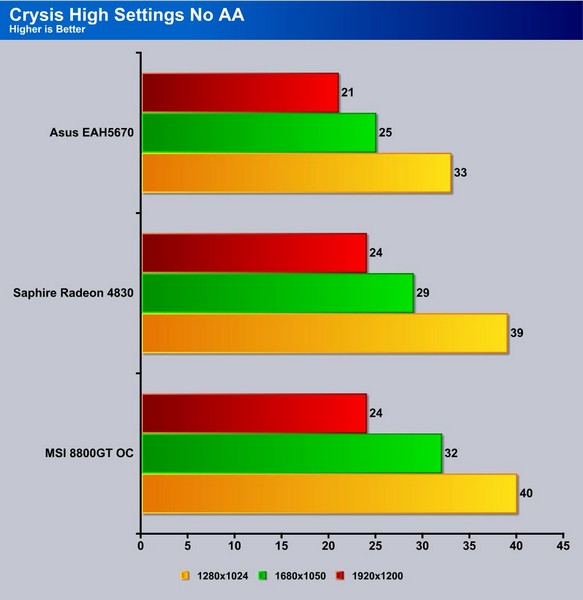 I don't think you're going to want to play with high settings on anything larger than 1280×1024. The lag will be quite noticeable, otherwise.
Unigine Heaven

Unigine Heaven is a benchmark program based on Unigine Corp's latest engine, Unigine. The engine features DirectX 11, Hardware tessellation, DirectCompute, and Shader Model 5.0. All of these new technologies combined with the ability to run each card through the same exact test means this benchmark should be in our arsenal for a long time.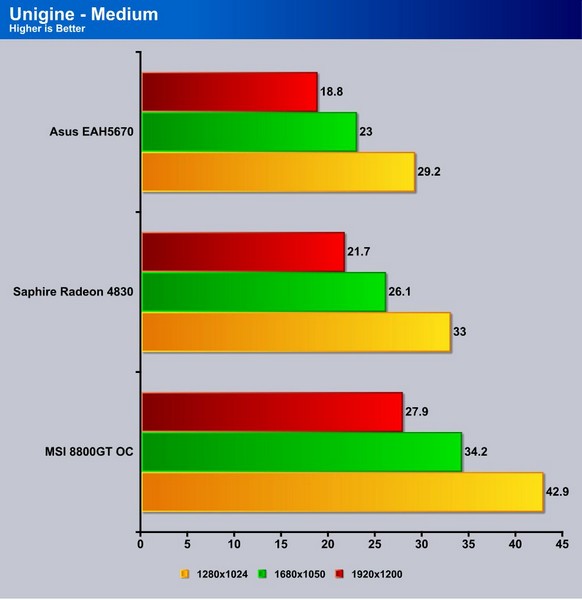 It doesn't look like the Ausus EAH5670 fares too well here. The higher clock speed isn't making up for the low shader count and narrower memory bus.
Far Cry 2

Far Cry 2, released in October 2008 by Ubisoft, was one of the most anticipated titles of the year. It's an engaging state-of-the-art First Person Shooter set in an un-named African country. Caught between two rival factions, you're sent to take out "The Jackal". Far Cry2 ships with a full featured benchmark utility and it is one of the most well designed, well thought out game benchmarks we've ever seen. One big difference between this benchmark and others is that it leaves the game's AI (Artificial Intelligence) running while the benchmark is being performed.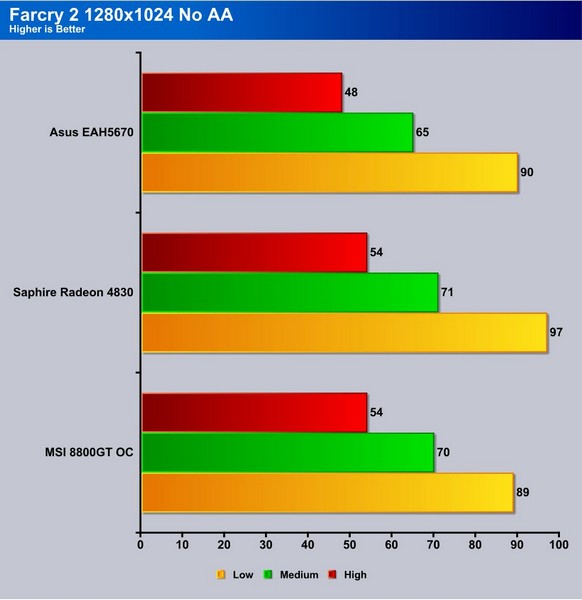 It looks like Far Cry 2 is made for ATI cards. The Nvidia card no longer takes the commanding lead that it took in the previous tests. And at this resolution, you're going to be able to play on high settings.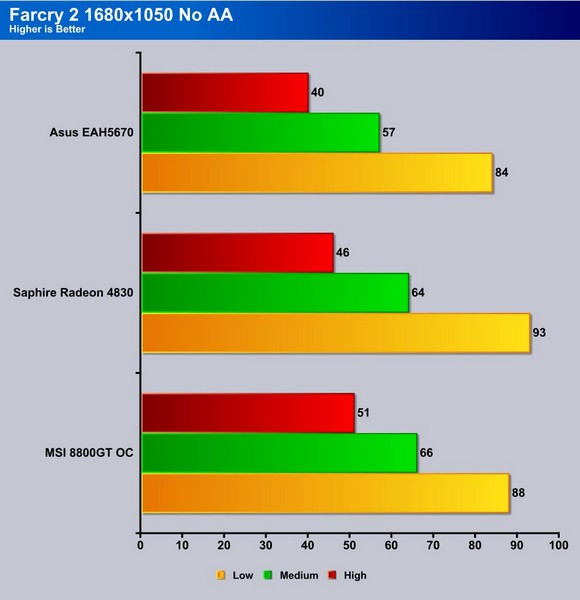 This resolution is a little more demanding on the cards.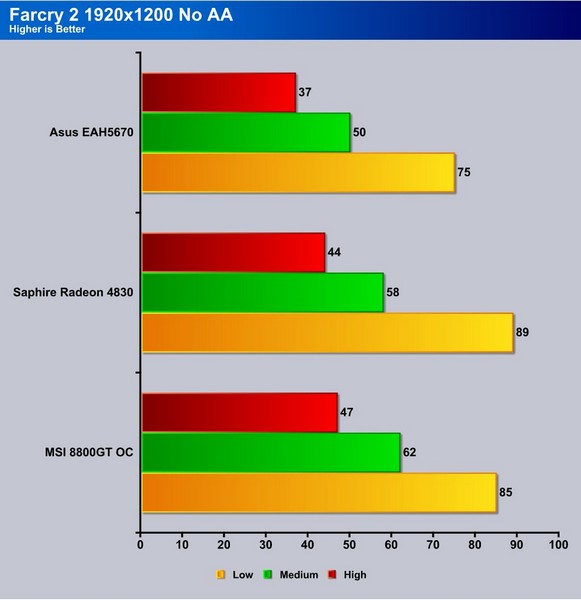 As long as you play on low or medium settings, this resolution is still an option.
Conclusion
If you currently own a 8800GT or something in that performance category, this isn't the card for you. It came up short in nearly all benchmarks. Only with it's great overclocking ability, does it even come close. On the other hand, this would be a great upgrade for those people with on-board graphics or looking to get into PC gaming, on-the-cheap. Don't expect to be able to use a triple monitor set-up with this card. I know ATI has been pushing it. And Eyefinity has been all the talk, everywhere. It just isn't happening with this card. Even if it was possible, it doesn't have enough horse power to push that many pixels. Even on the smallest 1280×1024 monitors, that would be a resolution of 3840×1024. That's 3.9 megapixels! In comparison, a 1920×1200 monitor is 2.3 megapixels.
What the Asus EAH5670 lacks in raw speed, it makes up for in features, most notably Blu-Ray support. Along with video acceleration, they've added the ability to pass the audio bitstream from the disc out through the HDMI port. This will bring your HTPC inline with what stand-alone players have always been able to do. I've been waiting for this for a long time.
OUR VERDICT:  Asus EAH5670

| | |
| --- | --- |
| Performance | 6 |
| Value | 8 |
| Quality | 9 |
| Features | 7 |
| Innovation | 7 |

We are using an addition to our scoring system to provide additional feedback beyond a flat score. Please note that the final score isn't an aggregate average of the rating system.

Pro
Cons

Overclocks like a champ

Cooler is great at keeping the temps down

Great Blu-Ray support

No 6 Pin PCIE Needed

Fan speed stuck around 30% unless you use SmartDoctor

Only 2 monitors at once

More speed can be had from older cards that can be bought at similar prices

 
Summary: The Asus EAH5670 1GB is a great card if you're upgrading from onboard graphics and don't want to spend a bunch of money. Just don't expect to game on a big monitor with it. It's great card to watch Blu-Ray discs from your PC.
---
Help us continue to bring you great reviews like this. If you decide to buy the item featured here, please use the link below to purchase from one of those fine companies.