If you are fed up with your sub par onboard audio it may be time you consider picking up a sound card. A sound card takes a little load off of the CPU along with providing more advanced audio effects.
Introduction
While most motherboards come with great onboard sound, some of us feel it just isn't enough. This is especially apparent in the so called "audiophile" type of people. If you crave the most realistic sound then you just might fall into this category. The audio that comes with any motherboard is generally far from the best, but recently the quality has been improving. Almost all onboard sound is 24 bit, which is considered high quality. The ASUS Xonar D1 that we are reviewing today is also 24 bit but what makes it any better than onboard audio?
The secret lies in the SNR (signal to noise ratio). Audio cards such as the Xonar D1 have a much better ratio when compared to onboard sound. According to Asus, the D1 has 35x cleaner audio quality than most motherboard audio. This of course does not apply to all motherboard audio, so you will find the occasional exception. Today we have a Asus P6X58D motherboard, which can be considered to have high end audio. Lets see if the D1 has enough to beat out the P6X58D's onboard audio.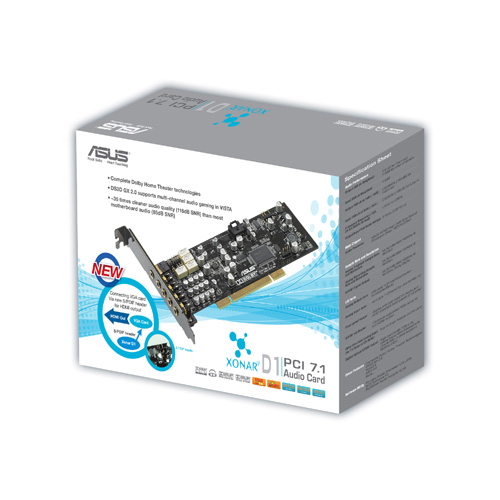 Features
Complete Dolby Home Theater Technologies:
Inheriting features from the DX and D2X, the Xonar D1 also provides complete Dolby Home Theater Technologies for games and home entertainment
Dolby Digital Live:
Real-time 5.1 Dolby Digital surround sound encoders
Dolby Pro-Logic IIx:
Converts stereo or 5.1 sound to seamless 7.1 surround soundfield

Dolby Headphone:
Delivers a realistic and spacious 2-to-5.1 surround or 3D positional soundfield over any set of stereo headphones

Dolby Virtual Speaker:
Simulates a highly realistic 5.1-speaker surround sound listening environment from as few as two speakers
Supports latest DS3D GX 2.0 for gaming on Vista & XP
DS3D GX 2.0 not only revives EAX and DirectSound effects in games on Windows Vista as GX 1.0, but also incorporates Dolby Home Theater Technologies (Dolby Virtual Speaker, Dolby Headphone, Dolby Digital Live, Dolby PrologicIIX) to provide the best gaming audio experience.
Innovative VocalFX makes gaming and online chat more lively and attractive
VocalFX is an innovative voice processing technology to let your voice get into the realistic game landscape (VoiceEX) or to emulate the background scenes in online chat (ChatEX). It also allows you to change your voice pitch to disguise who you are (Magic Voice). These features dramatically increase the fun for voice communication on PC.
Delivers about 35 times cleaner audio quality (116dB SNR) than most motherboard audio (85dB SNR)
The noise on Xonar D1 audio card is only 1/35 (2.8%) of the noise level from most motherboard onboard audio. In addition, Xonar D1 also produces as little as 1/32 (-105dB) of the total harmonics distortion from motherboard audio does (-75dB).
S/PDIF header for combining audio with video through a VGA card's HDMI output
The new S/PDIF header allows connectivity with supporting VGA cards, facilitating merged output of audio and video through a VGA card's HDMI port. This provides a clean, simple solution for Home Theater PC builders.
Package Contents

Xonar D1 7.1 Channel PCI Audio Card

Driver CD (including RMAA V6.0.6 utilities)

Low-profile bracket

S/PDIF TOSLINK optical adaptors *1

Quick Start Guide

Driver CD (including RMAA V6.0.6 utilities)
System Requirements

One PCI slot for the audio card

Microsoft® Windows® Vista(32/64bit)/XP(32/64bit)/MCE2005

Intel® Pentium®4 1.4GHz or AMD Athlon 1400 CPU or faster CPU

>256 MB DRAM system memory

>60 MB available HDD space for driver installation package

CD-ROM drive (or DVD-ROM drive) for software installation

High-quality headphones, powered analog speakers, or a Dolby Digital or DTS decoder, to enjoy the ultra-high fidelity sounds of the card
We can see that Asus has packed this audio card with features. The graph is pretty interesting, but the ~3% difference does not seem that sizable. We will have to see if this is distinguishable in testing.
Specifications
Audio Performance
Output Signal-to-Noise Ratio (A-Weighted):
116dB for front-out, 112dB for other channels dB
Input Signal-to-Noise Ratio (A-Weighted):
112 dB
Output THD+N at 1kHz:
0.00056% (-105dB) for Front-out
Input THD+N at 1kHz:
0.0004% (-108dB) for Line-in
Frequency Response (-3dB, 24-bit/96kHz input):
<10Hz to 48KHz
Output/Input Full-Scale Voltage
2 Vrms (5.65 Vp-p)
Main Chipset
Audio Processor:
ASUS AV100 High-Definition Sound Processor (Max. 192KHz/24bit)
24-bit D-A Converter of Digital Sources:
Cirrus-Logic CS4398*1 for Front-Out (120dB SNR, Max. 192kHz/24bit), Cirrus-Logic CS4362A*1 for other 6 channels (114dB SNR, Max. 192kHz/24bit
24-bit A-D Converter for Analog Inputs:
Cirrus-Logic CS5361* 1 (114dB SNR, Max. 192kHz/24bit
Sample Rate and Resolution
Analog Playback Sample Rate and Resolution:
4.1K/48K/96K/192KHz @ 16/24bit
Analog Recording Sample Rate and Resolution:
44.1K/48K/96K/192KHz @ 16/24bit
S/PDIF Digital Output:
44.1K/48K/96K/192KHz @ 16/24bit, Dolby Digital, DTS
S/PDIF Digital Input:
44.1K/48K/96K/192KHz @ 16/24bit
ASIO 2.0 Driver Support:
Supports 44.1K/48K/96K/192KHz @16/24bit with very low latency
I/O Ports
Analog Output Jack:
3.50mm mini jack *4 (Front/Side/Center-Subwoofer/Back)
Analog Input Jack:
3.50mm mini jack *1 (Shared by Line-In/Mic-In)
Other line-level analog input (for CD-IN/TV Tuner):
Aux-In (4-pin header on the card)
Digital S/PDIF Output:
High-bandwidth TOS-Link optical transmitter (shared with Line-In/Mic-In jack) supports 192KHz/24bit
S/PDIF Header:Connecting to supported VGA cards with HDMI outputDriver FeaturesOperation System:
Windows Vista/XP(32/64bit)/MCE2005
Dolby® Technologies:
Dolby® Digital Live
Dolby Digital Live encodes any audio signal on PC in real-time to Dolby Digital (AC3) 5.1 surround sounds to your home theater environment through one single S/PDIF connection
Dolby® Headphone
Dolby Headphone technology allows users to listen to music, watch movies, or play games with the dramatic 5.1-channel surround or realistic 3D spacious effects through any set of stereo headphones.
Dolby® Virtual Speaker
Dolby Virtual Speaker technology simulates a highly realistic 5.1-speaker surround sound listening environment from as few as two speakers.
Dolby® Pro-Logic IIx
Dolby Pro-Logic II is the well-known technology to process any native stereo or 5.1-channel audio into a 6.1- or 7.1- channel output, creating a seamless, natural surround soundfield.
Smart Volume Normalizer™:
Smart Volume Normalizer™
Normalizes the volume of all audio sources into a constant level and also enhances your 3D sound listening range and advantages in gaming
Xear 3D™ Virtual Speaker Shifter:
Virtual 7.1 speaker positioning
Magic Voice™:
Xonar D1 provides VocalFX, the latest vocal effect technologies for gaming and VoIP, including: -VoiceEX: produces vivid environmental reverberation for your voice in EAX games -ChatEX: emulates different background environment effects when you chat online -Magic Voice: changes your voice pitch to different types (Monster/Cartoon…) for disguising your real voice or just for fun in online chatting
Karaoke Functions:
Music Key-Shifting and Microphone Echo effects like professional Karaoke machine
FlexBass™:
Professional Bass Management/Enhancement system
3D Sound Engines/APIs:
Vista: DirectSound3D® GX 2.5, DirectSound® HW, DirectSound SW, A3D®1.0, OpenAL generic modes, 128 3D sounds processing capability
XP: DirectSound2.5 SW, A3D®1.0, OpenAL generic modes, 128 3D sounds processing capability
DS3D GX2.0:
DS3D GX 2.5 gaming sound effects and DirectSound 3D hardware enhanced functions on Windows Vista. (DirectX/DirectSound 3D compatible)Bundled Software UtilityRightMark Audio Analyzer 6.0.6:
Easy but powerful software intended for testing the quality of audio equipmentsAccessories1 x S/PDIF optical adaptors
1 x Low-profile Bracket
The specs give us a closer look at what this card has under the hood. We can see here that there are a lot of things the drivers are capable of. This should improve the audio quality dramatically if the drivers function well.
Pictures & Impressions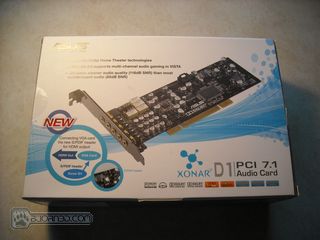 Here we have the box for the sound card. Asus has chosen to go with a simple picture of the card in the center of the box. Around the picture are highlights of different features the card has. Lets take a look and see whats inside.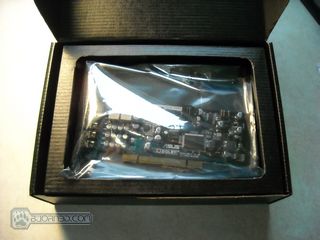 The card was wrapped completely in a static proof bag. This insures that you don't fry the card while pulling it out of the box. Under the card are the included accessories. This puts the accessories in a position where they should not be able to damage the card.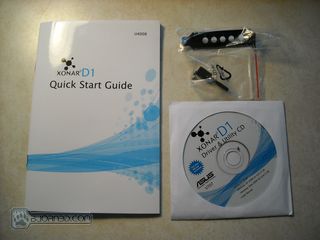 The D1 does not come with a plethora of accessories, but there is more than enough here to get you off the ground. The manual will help anyone who is not sure how to install the card. There is a low profile adapter included so you can install the card into a slimmer case. Right below the adapter we see another adapter, only this one is called a TOSLINK adapter. This is so you can use a TOSLINK optical cable to plug in a surround system. Below that is the driver disc.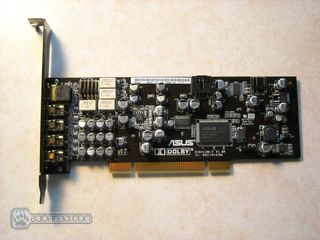 The D1 looks ordinary from a top view. We can see that the card uses a PCI interface. This should not pose any issues since just about every motherboard made in the last ten years has at least one PCI slot. Asus has decided to not go with a flashy cover for the card, and instead show the bare capacitors and other electronics.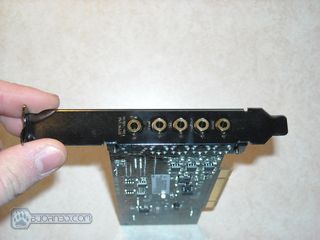 There are plenty of connections for a 7.1 system which should be expected, this is a 7.1 compatible card after all. I wish Asus would have color coded the holes though, this makes it hard to tell which hole is which. The gold connection is nice, but is overkill.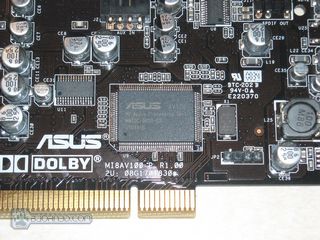 This is the brains of the sound card. Everything passes through this chip and is manipulated differently depending on the software settings. This chip also takes a small load off from the CPU since the CPU no longer has to process sound.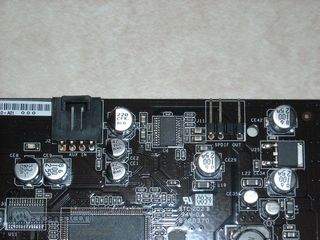 The connector on the right is for CD/DVD players. Some models of CD/DVD players have an option to run audio straight from the drive to the card. The right connector is plugged into your audio card if you are using HDMI and want sound to travel to your TV (If you happen to be using a card that does not already output sound through HDMI automatically)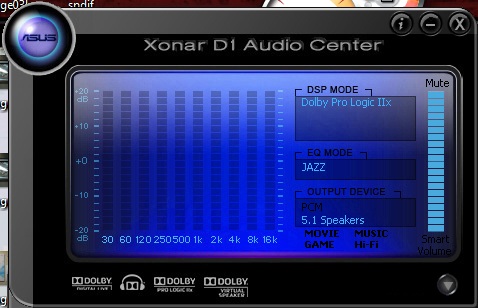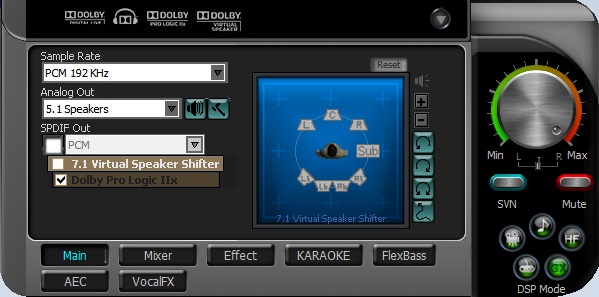 These are a couple of screen shots to give you an idea of what the software looks like. It is pretty simple to use and can run everything for you if you wish. In the second shot, in the bottom right hand corner, you will see the different automated settings. Playing with these settings can net you better sound. There are also many menus where you can play around with the individual settings.
Methodology
We loaded up the latest drivers prior to testing the audio card. The tests where conducted in an isolated room away from any outside noise which may distract us. The room used is approximately eight feet by ten feet. I listened to a variety of different content to explore the strengths of the card, and find its faults. The onboard sound was treated to the same exact environment to ensure equal testing. Below is a detailed list of the computer used.
Test Rig
Test Rig
"G 182"

Case Type
Cooler Master HAF932
CPU
Core i7 920 @ 3.9
Motherboard

Asus P6X58D

RAM
(6×2 GB) DDR3 1600 CAS 9
CPU Cooler
Liquid
Hard Drives
Corsair P64
Optical
LiteOn DVD R/W
GPU(s)
Sapphire 5970 Redline
Testing PSU
Corsair HX1000w
Mouse
Logitech MX-518
Keyboard
Dell "Teh Pwn" Loudie

Heatset



ABS AZ1
Speakers
Logitech X-540
To test the sound card I used Logitech X-540 speakers, which operate in 5.1 surround sound. My testing will be divided up into three different sections; gaming, movies, and music. I will try a variety of items in each of the respective categories to get a good idea of how each sound device works.
Gaming
The first game we are going to try is Dirt 1. Codemasters put a lot of care into their in-game audio, and this is a perfect game to demonstrate the ability of the card to create a multitude of different sounds. We will then move onto GTA 4, which features a ton of environmental sound coming from all directions. This should be a great test of the 5.1 capabilities of the card. Finally we will test the audio devices on Gears of War. We enjoy this game a lot, and playing it loud only makes the gaming experience that much sweeter. Gears of War will provide a great test of how well the different audio devices perform at higher sound levels.
Dirt 1
When we first entered the game we didn't notice a difference, but the title screens are always a poor thing to judge by. Once we entered a race we felt like we were there. Every time the accelerator was pressed a sweet tone came out the speakers. When we slide into a corner we could clearly hear the dirt kick up. We could even hear some of it being kicked onto the car behind us.
Now, to compare this to the onboard audio. To put it simply, there isn't a whole lot of difference. The D1 seemed to be putting out a few more sound effects at once, but you would never notice this unless you were perilously listening for them. This makes the D1 look like it may be only for the enthusiast, but lets keep going and see if this changes.
GTA 4
Immediately upon entering the world we were greeted with some jerk trying to run us over. We quickly swung the camera away from the car so we could see where we were going to run and hide. A careful listen showed that the car certainly sounded like it was behind us. After stealing some poor chaps car we raced off to a park. We then proceeded to stand in the middle of a group of talking people. The next part may seem a little strange, but we swung the camera like a mad man to see if the voices sounded like they were moving. They certainly sounded like it, and some even went onto the rear speakers making the effect even more realistic.
The sound card sounded similar to the onboard audio. While the onboard audio accurately manipulated the voices, it didn't seem to do it as well as the D1 did. Again, the differences were minimal at best, so you may be pretty upset if you bought this card and were expecting more.
Gears of War
Surely Gears of War will turn the luck of the D1 around, won't it? The game certainly has some pretty awesome effects if the sound is maxed. Most notable is the crushing of an enemies head aka the curb stomp. No matter how demented it seems, the crush of their skull is just that much sweeter when you are totally surrounded by it. There are of course other things that are appealing such as the gun fire, and body hits. The surround sound also makes the moments when Locust suddenly pop out of the ground that much more engaging.
Here is where the D1 pulled ahead a little bit. The onboard sound was a little distorted when it was turned up at intense audio levels. The D1 however, kept on chugging along. This may be a reason for buying this audio card, but don't expect to keep your ears in good shape if you have the audio this intense 24/7.
Movies
Movies are a great way to test audio cards since they provide music, environment sounds, and talking. They single handedly provide content for every category. First up we have Tupac: Resurrection. This movie will focus more on voices, as it is a documentary about the late rapper told by the man himself. Next up we have an all around movie called Gang Related. Since most movies have environment sounds we decided to instead pick a movie that has just about everything. Finally we have Man on Fire. This is clearly an action movie which will test how well the audio devices handle louder effects.
Tupac: Resurrection
This movie is a great test of how well voices sound, because Tupac is explaining his life through the whole movie. They also mix some of his music in the movie, so it almost doubles as a two for one deal. I decided to mess with the built in equalizer in this movie since its pretty much all music and voice. This produced some noticeable results. After finding the right settings the voices were much clearer.
The D1 certainly excelled here. The equalizer helped propel it past the onboard audio which has no such feature. The ability to easily set the equalizer back to its defaults for normal use was also a nice feature. So far its looking like the D1 would be a great option for an HTPC.
Gang Related
This movie provides the perfect balance of action, suspense, and plot twists to keep you interested in the movie. It also provides us with a wide variety of different sounds and voices to judge how well the audio devices perform. The action includes gun shots which tests if the audio device has lower distortion compared to the other. There are also parts in the movie (like in so many other movies) where music is played. As with the previous movie, this is sort of a two for one deal. In the movie there are also plenty of moments where background noise is noticeable. This gives us a great look at how well it sounds.
Again, the D1 was a little bit better than the onboard sound. The loud noises were better due to less distortion. The D1 did a great job of making the background noises come alive. Again, I experimented with the equalizer and found that Asus's built in setting specifically for movies was great.
Man on Fire
This movie is great for turning the speakers up to 110%. There are plenty of loud noises especially when the action starts. Specifically the explosion in the Rave was very engaging. It was almost like the Rave was right next door. In many other parts of the movie the main character is shooting, and beating up people to find the little girl. This gives us a little more louder noises to judge by. There is also plenty of talking, so I was able to see the effects of how voices reacted with increased volume.
As with the other two movies, the D1 pulls ahead in this one. Just like the previous tests, the D1 really excelled with the louder noises. The D1 equalizer certainly has something to do with this as well. Its a shame that the onboard does not have the software that the D1 has, otherwise things would have been much closer.
Music
Arguably one of the most important things when you look for an audio card is the quality of music. First off we are going to listen to Old School by Tupac. This song like many other rap songs features repeating beats with heavy bass. Then we will move onto Emo by Blink 182. Like the previous song I have been listening to this song for over 10 years, so I know exactly how it should sound. This song will focus more on drums and guitar. We will be using Nothing Else Matters by Metallica for our loud song. The drums in this song will be a great test since they hit quite hard.
Old School
As soon as the bass started a puzzled look came upon my face. The bass just did not sound right at all. Even after messing with the equalizer I could not get it to sound right. After awhile I did get it sounding decent, but it was still off. The vocals came in quite clear. The onboard on the other hand had much better sounding bass. The vocals however where not as clear as on the D1.
Emo
Despite being an early Blink 182 recording well before their million dollar studio days, the quality is quite good. The D1 really seemed to bring a new light to the guitar. This was a pleasant surprise after the bass disaster on the last track. Since this song is not packed with a ton of bass like the last one, I did not notice any issues with the bass. The drums on this sound also sounded nice, but I could not tell any difference between the onboard and the D1 as far as quality goes.
Nothing Else Matters
Even all the way turned up the songs vocals were perfect. The bass on the other hand was similar to that of Old School. Every time it would hit the bass would become severely distorted. The guitar sounded better just like in Emo though. This bass issue is really confusing me. It sounded completely fine in movies, but in music it is down right terrible.
Conclusion
The Asus Xonar D1 is good with a mixed bag of errors. While the sound in both games and movies was as good, and in some cases better than onboard, the music showed the weakness of the card. Overall in gaming, the D1 was not a whole lot better than onboard, and since this card is marketed for gaming this is a bad thing. The D1 managed to manipulate environment noise a bit better than the onboard, but the difference was minimal at best. The movie tests were the only place where the D1 really shined. It especially did so when any loud explosions or similar events took place.
Then we have the music tests. While the D1 really brought the guitar to life, it struggled with bass. The distortion sounded like the card was having a hard time hitting a certain frequency. This happened at the lower frequencies which make up bass. Not even messing with the equalizer made up for this distortion, this leads me to believe that this may be a hardware issue. The latest drivers were used so this is certainly not a software related issue.
OUR VERDICT:  Asus Xonar D1

| | |
| --- | --- |
| Performance | 6 |
| Value | 4 |
| Quality | 7 |
| Features | 6 |
| Innovation | 5 |

We are using an addition to our scoring system to provide additional feedback beyond a flat score. Please note that the final score isn't an aggregate average of the rating system.

Pros
Cons

Medium Flow

Compact

Plenty Of Accessories

None
Summary: The Asus Xonar D1 had its moments, but overall the card did not offer much at all over the onboard sound which comes at a cost of nothing. The D1 on the other hand has a price of ~$90 USD. If you absolutely demand to have a sound card, this at least fits the bill, but for normal Joe's the onboard sound is more than enough.