Looking for a PSU with a little flair while still packing plenty of voltage for a high end PC? Well the Kingwin Lazer series is certainly an attractive PSU, lets see how it performs.
Introduction
Many users do not want an average PSU. They like to have flashy features, as well as plenty of power. Well, those users certainly won't be dissapointed by Kingwin's Lazer 850W PSU. This PSU features a sleek design with a black paint job. It also has a three way LED switch which can turn on a white LED, blue LED, or turn the LED's off. Im sure that you will want the LED's on to show off this great looking PSU.
If a PSU only focused on the looks, then its performance would certainly make it unattractive, but Kingwin has packed some excelent performnace in this PSU. This includes an 80+ Bronze efficiency rating, but enough with the vague details about the PSU, lets take a look at the specifications.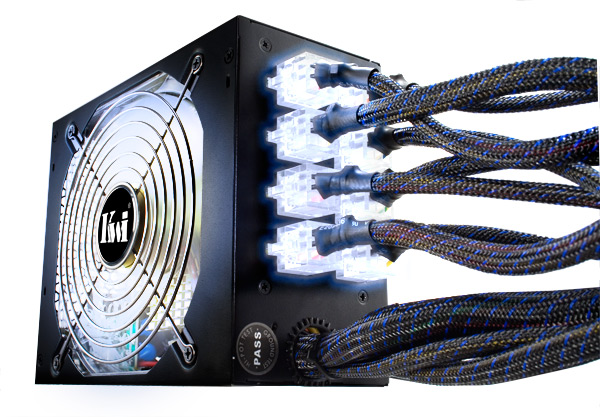 Features
Model: LZ-850
80 Plus Bronze certified
Special patented cable management system
Crystal cube modular connectors
LED connector indicators ensure correct installation
3 – Way LED switch: White LED / Blue LED / Off
Universal modular connector concept
More than 2,000 times On/Off test
Full range design from 100V~250V (Active PFC)
More than 87 % efficiency (At 230V, the average data in 20%, 50%, and 100% load)
Over power/under power/over voltage/short circuit protections
Stable +12V current
Comply with Intel ATX/BTX standard
Two PCI express connectors 6 pin
Two PCI express connectors 8 pin (6 +2 Pin)
Eight SATA connectors
Six 12V rails
140 mm blue & white switch LED fan
Support for Intel Core i7 / Core 2 Quad / Core 2 Duo &
AMD Phenom X4 / Phenom X3 / Athlon 64 X 2 High Performance CPU
Support High Performance Nvidia SLI GPU
Compliance with ATX 12V v2.2, EPS 12V v2.91, and SSI EPS 12V v2.92 Specification
Output gold-coated connector
Output over / under voltage protection
Black coating finish
Intelligent auto fan-speed control
Compatible with Crossfire/SLI
3 Year Warranty
We see some great features here such as the 87% + efficiency, multi GPU support, and a three year warranty.
Specifications
Maximum power:
850 Watts
Version:
SSI EPS 12V v2.92
CPU:

Intel Core i7/Core 2 Quad/Core 2 Duo &
AMD Phenom X4/Phenom X3/Athlon 64 X2

Efficiency:

Up to 87% (At 230V, the average data)

AC Input:
Full range 115V-230V (Active PFC)
Frequency range: 
50/60 Hz
Temperature:
0 C ~ 40 C
Humidity:

10%-90%

Safety:
UL/CE/TUV/CB/FCC/C-Trick/BSMI
Housing color:
Black
Input waveform:
Sine wave, modified sine wave or square wave

Input maximum current:

115 Vac ~ 240 Vac : 15A

Overpower protection:

105% ~ 150%

Over voltage protection:

+5V output is between 5.74V to 7.0V
+12V output is between 13.4V to 15.6V
+3.3V output is between 3.76V to 4.3V

Unit dimension:

6 1/2"(180 mm) D x 5 7/8"(150 mm) W x 3 3/8"(86 mm)H

Unit weight:
6 lbs (2.7kg) / unit
MTBF:
100,000 hours under the following conditions full-rated load
Switches:
ATX Logic power rocker switch
Fan size:
One 140 mm x 140 mm x 25 mm bottom blue & white switch led fan
The overpower protection is nice, so your PSU doesn't blow up and destroy everything in your computer. The fan is a 140mm fan, which is great to see on a PSU of this wattage since additional cooling is needed. The 140mm fan can spin at lower RPMs (and thus lower the noise level), but still be able to cool the unit.
Pictures & Impressions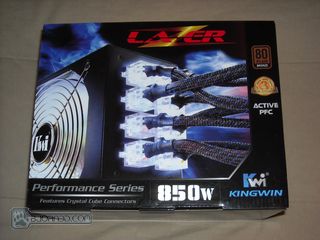 The box is very appealing to the eye. The LEDs seem to light the whole front of the box. The Z in Lazer is an interesting design that kind of reminds us of a laser pointer moving back and forth. Kingwin puts all of the essential information on the front of the box to show the consumer what this PSU offers.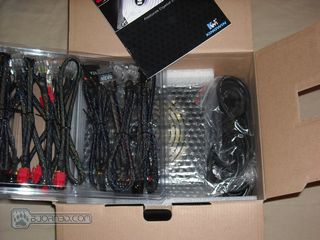 When we open the box we are greeted with the included accessories as well as the PSU itself. The cables are all in a plastic container to keep them from moving around the bottom of the box. We see that the cables that are directly connected to the PSU are in a bunch on the side of the PSU. The PSU itself has a bubble wrap cover to keep it from being scratched.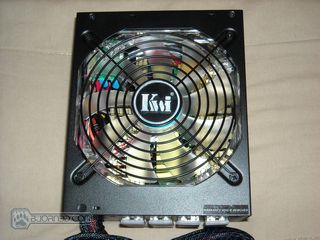 Here we have the 140mm LED fan. In the middle of the fan is the Kingwin logo, which adds a nice touch. From here we can also see the black finish. The finish has a little bit of texture to it which generally helps keep the paint from chipping.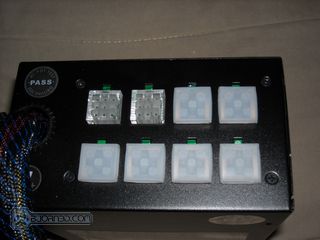 This angle gives us a great view at where all of the cables plug in. This PSU is designed like the Corsair PSUs, with the main cables connected directly onto the PSU. The expansion cables simply clip into the holes pictured here. The holes will light up once the PSU is turned on.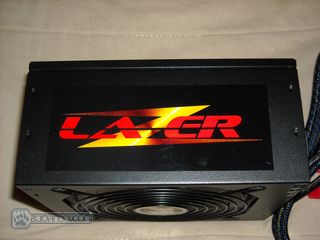 Moving onto the side we see the Lazer logo that was on the box. I like the design of this, and since it is the main thing you will see from the PSU (If your case has a window), this is a good thing.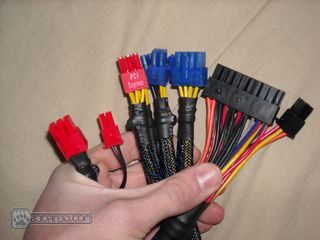 These are the cables that are connected directly onto the PSU. As you can see there is a 20+4 pin main power connector, two PCIE 6 pin connectors (one being of the +2 variety), and a 4 pin, and 8 pin CPU power connector. These are the majority of cables that you will need. Depending on your configuration you may not need all of these connectors.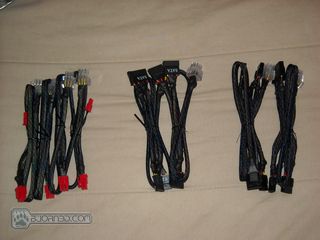 This PSU comes with a large variety of cables. We have them pictured here. They include another 4 PCIE 6 pin connectors (2 of which are +2), two SATA cables (multiple connections), and two Molex connectors (also have multiple connections). Even though there are only two Molex connectors, you should have plenty enough headers on each cable to plug in any extra fans, pumps, or anything else you use Molexs for.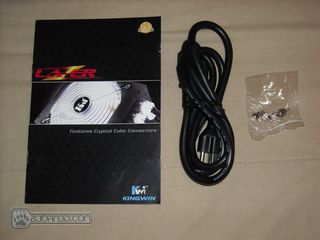 Moving onto the included accessories, we see that Kingwin included just the basics. This includes an instruction manual, power cord, and thumb screws. These are basic things we have come to expect included with a PSU, so its not really a big surprise.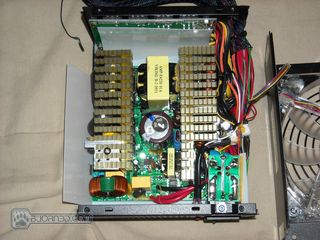 Finally we have the inside of the PSU. The heatsink is of the perfect size, so we shouldn't see any overheating issues. Now lets see how this PSU stacks up against its competitors.
Methodology
The OS we use is Windows 7 Ultimate with all patches and updates applied. We also use the latest drivers available for the motherboard and any devices attached to the computer. We don't disable a bunch of background tasks or particularly tweak the OS or system for bigger numbers. We do turn off drive indexing and daily defragging. We also turn off Prefetch and Superfetch. This is not an attempt to produce bigger benchmark numbers. Drive indexing and defragging can interfere with testing in that one test might occur without defragging going on and the next test defragging might be active, the same thing goes for drive indexing. We can't control when defragging and indexing occur precisely enough to guarantee that they won't interfere with testing, so we turn them off.
Prefetch tries to predict what you will load the next time you boot the machine. We disable it because we want to know how the program runs without any of the files being cached, otherwise each test run we'd have to clear pre-fetch to get accurate numbers. Lastly we disable Superfetch, Superfetch loads often used programs into memory and is one of the reasons people consider Vista to be such a memory hog. Vista fills the memory in an attempt to predict what you will load. Having one test run with files cached, and another test run with the files being un-cached would result in skewed numbers. Again since we can't control it we turn it off. Other than those 4 things which can potentially interfere with benchmarking, and do so out of our control, we leave everything else running.
Test Rig
Test Rig
"G 182"

Case Type
Cooler Master HAF932
CPU
Core i7 920 @ 3.9
Motherboard

Asus P6X58D

RAM
(6×2 GB) DDR3 1600 CAS 9
CPU Cooler
Liquid
Hard Drives
Corsair P64
Optical
LiteOn DVD R/W
GPU(s)
Sapphire 5970 Redline
Testing PSU
Corsair HX850w
Thermaltake Evo 750w
Mouse
Logitech MX-518
Keyboard
Dell "Teh Pwn" Loudie

Heatset



ABS AZ1
Speakers
Logitech X-540
For the tests I used 3DMark Vantage to achieve a game like experience, which should lead to the maximum load possible. For the idle tests I manually turned the PSU on with nothing attached to it. A Kill-A-Watt watt meter was used to measure the wattage being drawn by the computer from the wall socket. A Craftsman digital multimeter was used to measure the voltages on the connector to ensure that the most accurate result were obtained. To get the idle Power Factor Correction, I had to run the PSU with the minimal components, since it will not give this with nothing plugged into the PSU.
The current ATX 2.2 specifications allow for the following variation in voltage outputs:
3.3 Volt Rail:   3.135 – 3.465V
5 Volt Rail:      4.75V – 5.25V
12 Volt Rail:   11.4V – 12.6V
RESULTS
Corsair HX850


Thermaltake Evo 750




Kingwin Lazer 850



OutPut Power
Idle
Load
OutPut Power
Idle
Load
OutPut Power
Idle
Load
12 volt
12.18
12.21
12 volt
12.19
12.17
12 volt
12.17
12.14
5 volt
5.1
5.1
5 volt
5.14
5.15
5 volt
5.14
5.11
3.33 volt
3.34
3.324
3.33 volt
3.412
3.14
3.33 volt
3.41
3.38
PFC
0.99
0.99
PFC
0.98
0.99
PFC
0.95
0.97
The Lazer's voltages easily fall within normal voltages. The 12 V rail is a little higher which is always good to see. The PFC is also pretty good. It tended to jump around a lot which was kind of weird, but not really anything to worry about. Overall the Kingwin PSU has done a great job in testing.
Conclusion
The Kingwin Lazer 850 watt PSU is a great addition to Kingwin's sprawling line of PSU's. The Lazer line of PSU's adds styling as well as performance. The PSU's side sticker has an interesting design, and the use of a Z instead of a S adds a bit of personality to the PSU. This is also the side that you will see if you have a window in your case, so you can show it off to the world. The addition of the lights that turn on are an even better. Of course if you do not like the LED's you can simply turn them off. This is a feature that many PSU's don't have. If you think about it though, they don't really need it since the majority of people buy a PSU with LEDs because they want a PSU with LEDs.
As far as performance goes, the Lazer has done a great job. All of the voltages were well within standards, and were even a little higher. It is always a good thing to have higher voltages because the power is there if the system suddenly needs more power. The inclusion of a 140mm fan is always a great idea for a PSU. This larger fan can move more air than a 120mm fan while being quieter. A modular design also boosts the Lazer ahead of many non-modular PSUs. A modular design allows unused cables to simply not be used. This not only frees up space inside the case, but it also helps airflow which could lead to lower temperatures.
OUR VERDICT:  Kingwin Lazer 850w

| | |
| --- | --- |
| Performance | 8 |
| Value | 8 |
| Quality | 8 |
| Features | 8 |
| Innovation | 7 |

We are using an addition to our scoring system to provide additional feedback beyond a flat score. Please note that the final score isn't an aggregate average of the rating system.

Pros
Cons

Modular

Adjustable LEDs

140mm Fan

 
Summary: The Kingwin Lazer 850w is a great PSU that combines styling with performance. The adjustable LED is a great option that most other PSUs don't have, and the overall look of the PSU is great.