Thermaltake has released a new version of their SpinQ cooler, the SpinQ VT. The original SpinQ was a horizontal design. The SpinQ VT is a vertical (Tower) design.
Introduction
Thermaltake has been in the CPU cooler game since just about as long as CPU coolers began to aftermarket. They tend to have a lot of non-standard coolers that feature as much style and flair as they do performance. The Thermaltake SpinQ VT is the successor to the popular Thermaltake SpinQ we reviewed a while back, see the SpinQ review here.
The SpinQ VT rotated the CPU from a horizontal aspect to a Vertical aspect. While the original SpinQ didn't provide stellar performance it did provide stellar bling. A very large portion of end users aren't in the overclocking community and the SpinQ fit their bill very well, it did well for a baby overclock but it wasn't really an enthusiast cooler per say.
Sometimes all you need to do to a cooler is reorient the heat pipes for a more efficient coolant liquid/aerosol cycle and it can make a huge difference. Just for fun we tossed the SpinQ VT on our LGA 1366 i7 965 and took it for a drive. Given the more style than performance linage of the SpinQ VT's older brother we were a little surprised.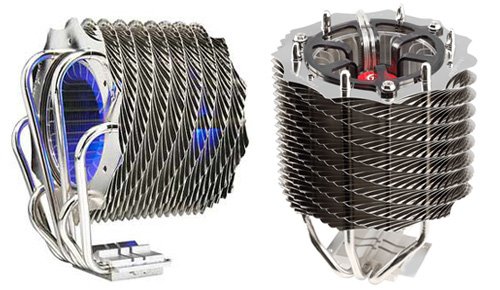 SpinQ (Left) SpinQ VT (Right)
We tested the SpinQ (original) on the LGA 775 Q6600 so we won't be running it against it's younger brother on the LGA 1366 i7 965. The SpinQ held the Q6600 pretty well at stock speeds and a baby OC wasn't out of the question but the i7 965 is hyperthreaded and a little much for the SpinQ. Since the Q6600 is getting a little long in the tooth we don't really test with it anymore so we went to our current test platform the i7 LGA 1366 series and gave the SpinQ VT a Sunday drive. We didn't go for uber high overclocking but took it up to 3.6GHz on the SpinQ VT which we feel is aimed more toward aesthetics than uber performance.
Specifications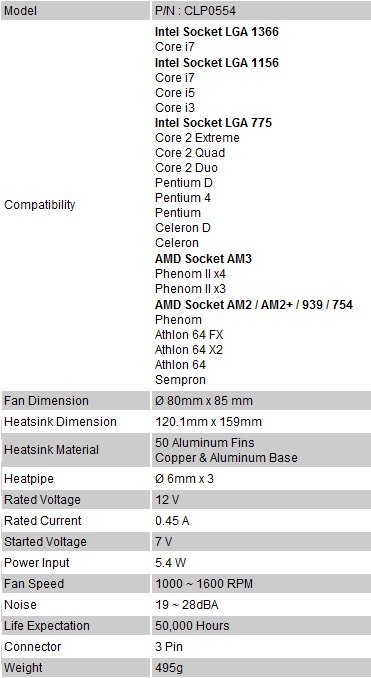 As you can see the SpinQ VT has a universal design which will weigh heavily in it's acceptance and success. It fits everything from LGA 1366 to LGA 775 on the Intel side and AMD from AM3 to Socket 754 making it one of the most universal CPU coolers out there. Interestingly enough Thermaltake has gone with an 80mm fan but given the coolers design any larger fan would probably cause the SpinQ VT to be to large and cause it to overhang vital components. We tried it on our Asus P6T6 (LGA 1366) and an Asus P7P55D-E Pro (LGA 1156)and we were able to use both short and tall ram kits in every ram slot on both boards. The SpinQ VT was a little close to the top PCI-E 1x slot on the P7P55D-E but there was room to install a PCI-E 1x card without direct contact.
While testing we noticed the almost total lack of sound coming from the SpinQ and that is going to make it popular among the non-overclocking silent PC fanatics. When we cranked the fan up to high we did notice a little sound coming from the SpinQ VT but not enough to annoy anyone but the most sound intolerant. One omission on Thermaltake's part we did notice is the cooler doesn't have a 4pin connector, they did however include a manual fan controller on the SpinQ but it resides inside the chassis so to adjust the fan you have to remove the chassis's side. A back panel expansion port controller would have made the package sweeter. We prefer a 4 pin power connector that allows us to adjust fan speed from BIOS. We do realize though that a lot of non-overclockers could care less about BIOS fan speed control so we are on the fence about the lack of a 4 pin controller.
Features
Universal Socket Compatibility & Easy Installation Support latest Intel socket LGA1366 & LGA1156
Excellent Cooling Capacity
supports 180W 3pcs U shape heat pipes ensure ultra high efficiency Classic cylinder heat sink and spiral aluminum fins 80mm blow fan with brilliant Red LED 
Optimized Structure & Smart Airflow Design VR Fan allows the users to adjust the fan speed from 1000 to 1600 RPM Dissipating the heat with Multi-direction
Premium thermal grease sample included
We don't particularly like the Intel push pin design CPU hold downs and prefer a backplate on our CPU coolers but we have to say the install on the SpinQ was ultra easy. We just set it in place and pushed on the pins and it easily snapped into place and we were ready to go. Thermaltake even included enough Thermal Paste to use on one or two CPU installs and that will help keep the cost down for most end users.
Pictures & Impressions
Click Image For a Larger One
Like we mentioned earlier the SpinQ VT has a lot of bling right out of the box, the circular cheese grater looking design has an interior fan that sports Red LEDs and lights up the cooler quite nicely.
Click Image For a Larger One
The six heatpipe 360° design is supposed to dissipate heat in a complete circle as opposed to a traditional tower cooler Uni-directional design. Once again we are on the fence about 360° heat dissipation because for some reason it makes more sense to our brains to orient the cooler to push heat to the rear exhaust fans that are in most modern chassis.
One nice thing about the circular design is that no matter how you orient the SpinQ VT the heatpipes conduct the coolant to the correct area to draw heat from the CPU coolers base go aerosol and return to the cooling area in liquid form. A lot of tower coolers are just plain oriented wrong for the correct coolant dispersion and work best when the motherboard is flat but most tower chassis have it oriented on it's side.
Click Image For a Larger One
The specific SpinQ we received had a nice shiny base but we did see machine marks on the base that were obvious. It really doesn't matter much how shiny the CPU coolers base is it's the CPU coolers flatness where it contacts the CPU IHS that matters. For our money, less effort could have been put into making it shiny/pretty and more into making it perfectly (within reason) flat and that would involve polishing out the machine marks. The end user can LAP the base of the SpinQ and possibly get better performance but it's something that should be done at the factory freeing the end user from the hassle. Other than the slight machine marks on the base the whole SpinQ VT extrudes a quality look and feel.
Testing & Methodology
To test the Thermaltake SpinQ VT we mounted it on our Asus P6T6 WS with the Core i7 965 for the CPU. We didn't bother with a fresh load of Vista 64 because it's not important in CPU cooler testing. As long as we can fire up Prime95 for 30 minutes without the rig crashing and idle at the desktop for 30 minutes we're good to go. The P6T6 is one of the boards with a lot of cooling implements around the CPU socket so if a cooler fits on this board, chances are it'll fit yours.
We Idled the machine for 30 minutes and took the Idle temperatures. Then, without shutting it down we ran Prime95 for 30 minutes and took the load temperature. After getting the load temperature we shut it down for 30 minutes to cool it off then repeated the process three times for each cooler. The average of the three test runs are reported here.
Please note that we included our Swiftech Custom Water Loop in testing but only for informational purposes. Comparing air cooling to water cooling isn't something we do but we wanted you to have the information about the water loop temperatures. Keep in mind the custom water loop is valued in excess of $200 (USD) and the air coolers cost much less. That's another reason comparing custom water to air just isn't fair. However, if you're looking for better cooling than air the testing numbers are there for you.
It is important to note that we used the Thermaltake SpinQ VT with the fan at 100% in well ventilated chassis. Since we like to shoot for a nice quiet environment we used 53CFM Yate Loon fans in a dual fan configuration on all the tower coolers.
We had an Intel Stock cooler from a i7 940 laying around and while it is an i7 CPU cooler it came with an Intel i7 940. There may be differences between the i7 940 and i7 965 stock coolers that produce different results. We didn't receive an Intel i7 965 stock cooler so we are using the i7 940 cooler because it is as close as we can get.
Test Rig
"Quadzilla"
Case Type
Thermaltake Armor
CPU
Intel Core i7 965 Extreme (3.6 GHz 1.275v for overclock testing)
Motherboard
Asus P6T6 WS
Ram
Kingston HyperX 1600MHz 12GB
CPU Cooler
Thermaltake SpinQ VT
Thermalright Ultra 120 RT
Intel i7 940 Stock
Custom Water Loop
Hard Drives
OCZ Vertex 60GB SLC Boot Drive
2 x WD Velociraptor in Raid0 for Games
Seagate Barracuda LP 5900 RPM for Media
Kingston V+ 128GB SSD for the boot drive clone
Optical
Sony DVD R/W
GPU
Asus 5970/Visiontek 5870 in Crossfire
Case Fans
Two 120mm Thermaltake Front/Rear Push/Pull
250mm Side fan
90mm Rear Exhaust
90mm Top Exhaus
Docking Stations
Thermaltake BlackX USB W/Seagate 80 Gig Sata 2
Testing PSU
Thermaltake Toughpower 1200w PSU
Legacy
Floppy Drive
Mouse
Razer Lachesis
Keyboard
Everglide Aluminum Lighted Gaming Keyboard
Gaming Headset
Razer Megladon
Speakers
Logitec Dolby 5.1
Any Attempt Copy This System Configuration May Lead to Bankruptcy
Test Results

You should note that we have switched fans and retested the charted CPU coolers with a different TIM since previous CPU cooler reviews. Results here are different than in previous testing. We had been using Artic Silver but the curing time it requires is 200 hours and not a good choice for CPU cooler testing. Instead we are using Artic Céramique which doesn't have as long a cure time. Even then we can't afford to let a machine run for weeks to cure the TIM so what you see here is freshly applied uncured TIM results.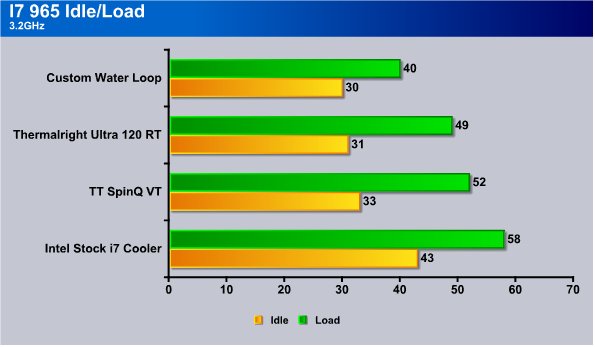 At the stock 3.2GHz speed the idle on the Thermaltake SpinQ was looking good at 33° C and the load temperature while not enthusiast level was pretty good at 52° C.Compared to the Stock i7 940 CPU cooler (which we also used the Artic product on) the Thermaltake SpinQ VT is doing a great job.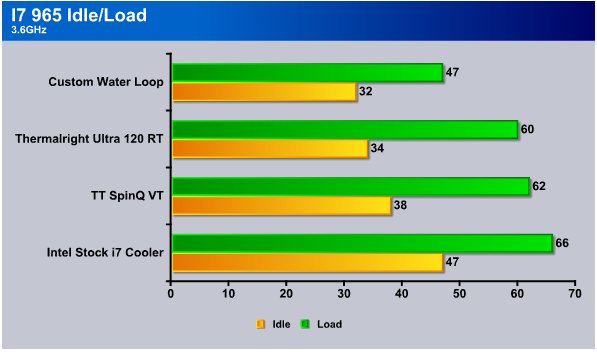 We just went for a baby OC because we don't really see the SpinQ VT as enthusiast material for an i7 965 CPU. It will likely be a killer cooler for say an LGA 1156 i7 870 or one of the new Intel i5 dual core CPU's, but the i7 965 with it's hyperthreaded nature almost wants a live fire hose to keep it under control when heavily overclocked.
At 3.6GHz which we consider a mild OC on the i7 965 the SpinQ VT surprised us and held the CPU to 62° C. We tested each cooler at 1.275v CPU voltage so the CPU voltage wasn't very high but still the SpinQ VT held the line at 62° C so for a baby OC even on the mighty i7 965 it's good to go. The Intel stock cooler is already running the i7 965 higher than we like to see and we stopped that test after 8 minutes because rising temperatures were showing no indication of slowing down. The Thermalright Ultra 120 RT (which admittedly could use a good cleaning but wasn't overly dusty) produced similar results to the SpinQ VT and beat the SpinQ VT's idle temp by 4° C and it's load temperature by 2° C. You would be ok with the Intel i7 965 at this mild overclock using the Thermaltake SpinQ VT, but we can't say we would recommend going higher.
Conclusion
Since we completed testing we tried out the Thermaltake SpinQ VT on our Intel i5 661 3.33GHz dual core CPU (newly acquired) and it does a killer job of keeping the i5 661 cool. We successfully overclocked the i5 661 to 4.3GHz with the SpinQ VT so it makes a real difference moving from hyperthreaded Quad i7 965 to hyperthreaded Dual core i5 661. We expected better performance from the SpinQ VT on the dual core than we did the Quad and we got it in a big way. The newer Intel i5 dually was a snap for the SpinQ VT, but we only got a baby OC on the i7 965 which has a much more demanding thermal envelope.
We like the style of the Thermaltake SpinQ VT, and fully realize that the majority of end users are non-overclockers. We tend to forget that being overclock enthusiasts to the core. For the vast majority of end users the Thermaltake SpinQ VT provides a better cooling solution (by far) than the Intel or AMD Stock coolers that come with CPU's. The SpinQ VT also provides more bling than stock coolers and it's one of the most stylish coolers we've seen. The down side of that bling is that the interior design of the fan makes it non-replaceable, it does have a MTBF of 50,000 hours but that doesn't mean it will last 50k hours before failure. If the fan happens to go (after warranty) your pretty much stuck with getting a new CPU cooler.
Performance wise the SpinQ VT handled a baby overclock on the i7 965, and a stellar OC on the i5 661 so we can't say it's not suitable for overclocking. We can say on the high powered Quads it's only good for a baby OC, on the Intel Dual cores it's a great cooler. We don't think most i7 965 end users would go for the SpinQ VT because if you spend that kind of money on a processor your probably going to overclock it. On the i7 series in general if your overclocking this probably isn't the cooler for you. On the i5 or AMD AM2/AM3 platform it's a pretty good cooler that provides plenty of bling and enough cooling to let you dabble in overclocking. That's a combination that's hard to find.
OUR VERDICT: Thermaltake SpinQ VT
| | |
| --- | --- |
| Performance | 7.5 |
| Value | 8 |
| Quality | 9.5 |
| Features | 8 |
| Innovation | 9 |

We are using an addition to our scoring system to provide additional feedback beyond a flat score. Please note that the final score isn't an aggregate average of the rating system.

Pros
Cons

Lots of Bling

Good Cooling on I5 Dual cores

Baby OC on the i7 965

Unique Design

Quiet Operation

Did we mention that every person that's seen the SpinQ VT has liked the stylish good looks

Push Pin Mounting System

Sharp Edges

Not an Enthusiast Overclocker Cooler

Slightly Pricey for the performance

Non-Replaceable Fan

 
Summary: The Thermaltake SpinQ VT is a mix of decent performance and tons of Bling. The combination of functionality and great looks is hard to find in CPU coolers and Thermaltake delivered on that in a big way. Addressing the Enthusiast Overclocking community, your probably going to be better off with a large ugly tower that sounds like a hurricane. For the other 95% (ish) percent of end users the Thermaltake SpinQ VT offers better than stock performance and does it with style.