Looking for a enclosure that is both cheap and flexable enough to be used on either E-SATA or USB? Then the INEO I-NA301Ue HDD enclosure will fit your bill perfectly.
Introduction
There is one thing that we can not have to much of when pertaining to our computers, disk space. We keep wanting and needing more and more space to house all of our software or to stire all of our precious data files. A HDD enclosure also allows users to transport large files from one computer to another computer effortlessy as well as allow users to revitalize and use older HDD's that otherwise would just get thrown away or forgotten.
The reasons why you would like to use a external enclosure varies from having a to small HDD in your computer to having to few SATA-connectors on the motherboard. Regardless of the reason we can always use a spare HDD to transport large files from our computers to friends and faimiles computers.
Today here at Bjorn3D.com, we are going to look at another HDD enclosure that accommodates 3.5″ SATA HDD's: the INEO 3.5.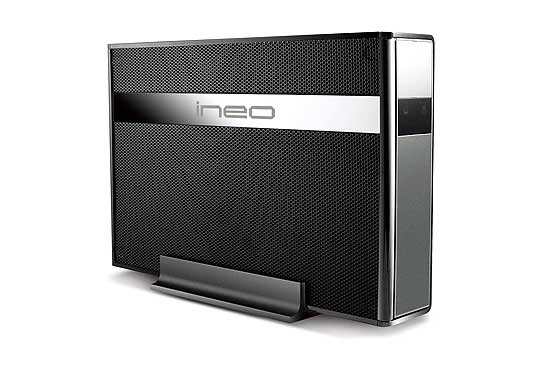 Specifications
| Feature/Specification | Product Name |
| --- | --- |
| Model | I-NA301Ue |
| Interface | USB2.0 + eSATA for SATA HDD |
| Supports | USB 2.0: 480Mbps, eSATA: 3Gbps |
| Support Plug & Play | Yes |
| Material | Aluminum Alloy |
| USB Cable | USB2.0 Cable 90cm A to B |
| Operating Temperature | 0o C to 50o C |
| Operating Humidity | 5% to 95% non-condensing |
| Power | Universal Power Adapter: 12V/2A, 100-240V |
| System Requirements | Windows Me/98/NT/2000/2003/XP/Vista, Mac, Linux |
| Instruct Light | Blue and Red LED Lights |
| Support Hard Drive Capacity | Up to 1TB |
| Dimensions (W x D x H) | 87 x 195 x 131 (mm) |
| Warranty | One Year Limited Warranty |
The only true limitation you have with this HDD enclosure is the 1TB (Terra-Byte) capacity. This enclosure can be used on multiple OS's, and computers that support E-SATA or USB 2.0.
PackAging
Starting off on the packaging of the INEO 3.5″ HDD enclosure. On the front of the package INEO lists the capabilities of this enclosure. This HDD enclosure can be used with USB 2.0 and E-SATA.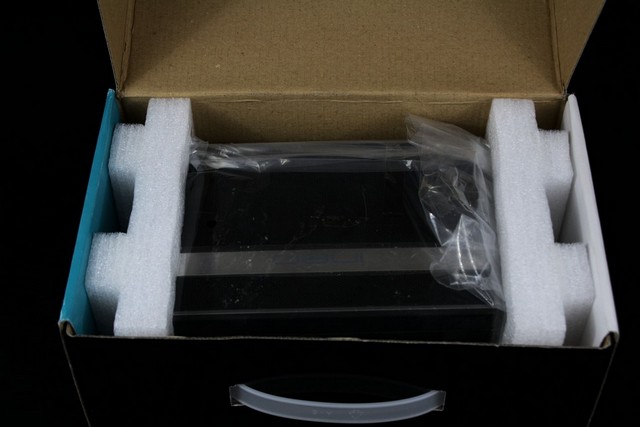 INEO uses two foam end caps to keep the enclosure from moving around inside the packaging during transport.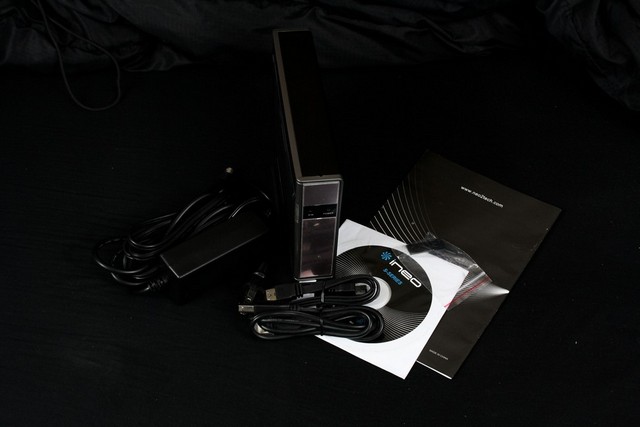 Everything laid out that comes inside of the box. We get the HDD enclosure, a power cable that will be needed to power up the HDD, an E-SATA cable, and a USB cable. There is an added item that comes inside of the small zip lock bag that is soft rubber feet, and a key device that will open the enclosure up.
Overview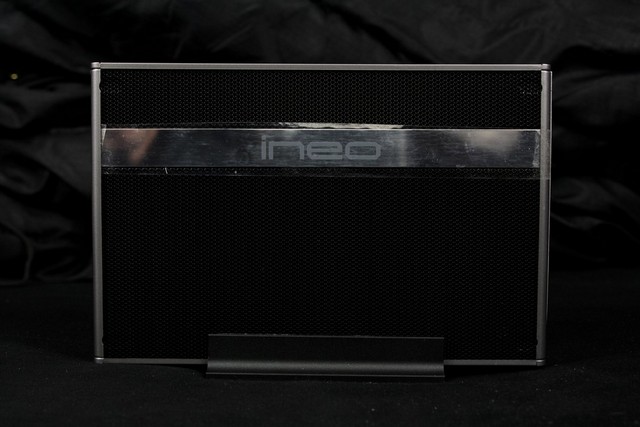 The enclosure has a mesh like covering on one side.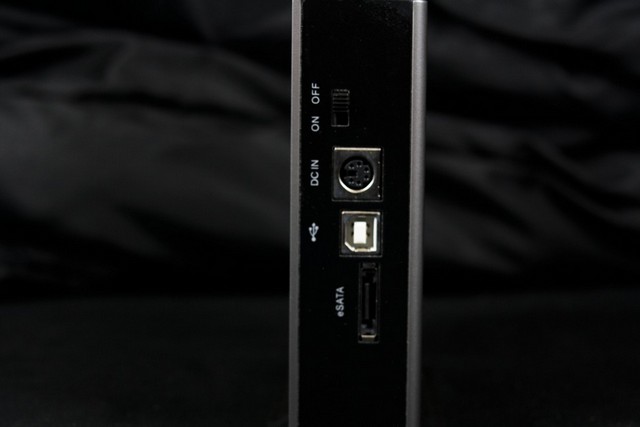 On the backside of the enclosure where INEO placed all of the connections. There is a E-SATA, USB 2.0 and the power connector. There is also a on/off power switch on the backside.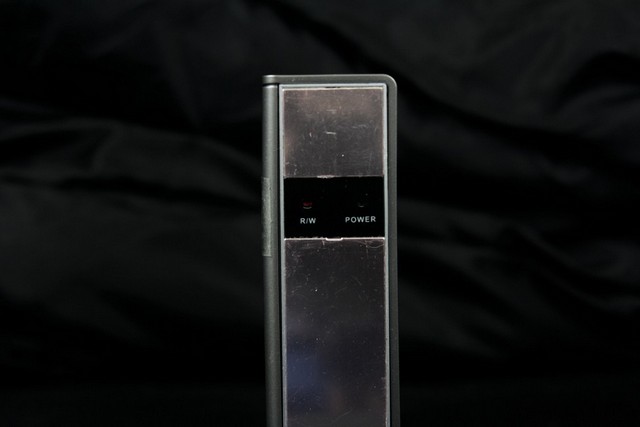 Looking at the front side of the HDD enclosure, there are 2 indicator lights. One of these is to let you know if the unit is being powered on which is shown by a blue light, and the other light is red and informs you when it is being accessed. There is also a door that opens up so we can put the HDD into this unit.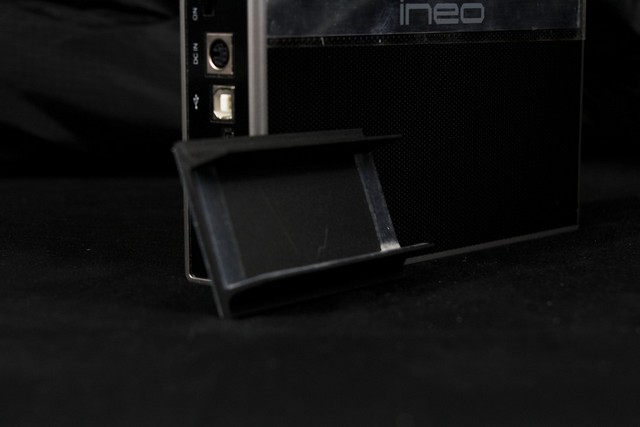 This is the included cradle, I prefer to try and use up least amount of space as I can on my desktop.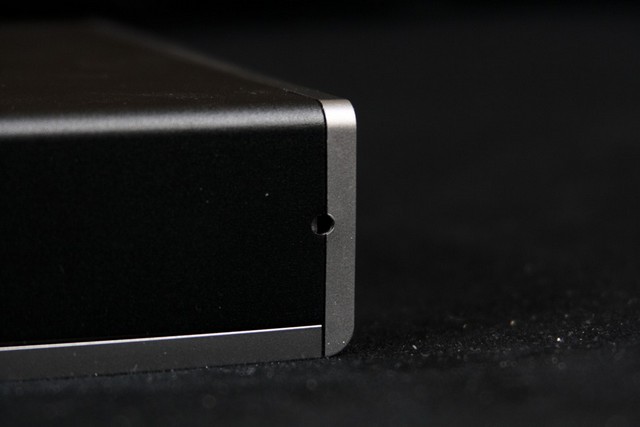 On the very top of the HDD enclosure towards the front is a small hole. This is where we need to use the included key to open the enclosure up.
This is how you will open up the enclosure, just insert the small key into the small hole then press lightly on the key downwards, and the door opens right up. Then insert the HDD into the unit with the rear of the HDD facing the rear of the enclosure, then close the door.
And there you have it. No special tools, no special techniques, just open stick in HDD and close.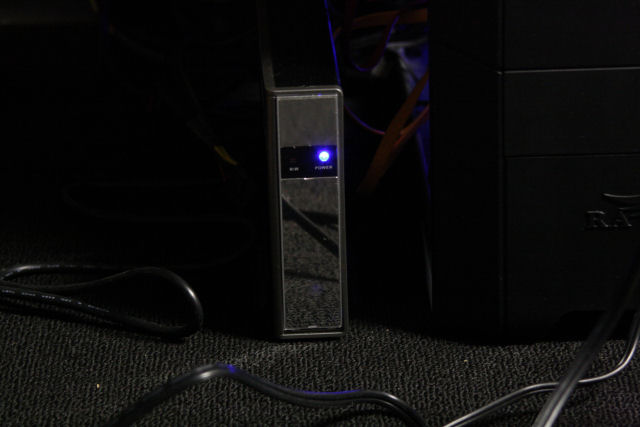 Here what the INEO HDD enclosure looks like all powered up.
Testing Methodology
Since the performance of a HDD enclosure mostly is dependant of the controller in the enclosure there is no need to state the specifications of the computer I tested it with. You will get roughly the same results regardless of computer. Each of the following programs were run a minimum of 3 runs per benchmark to ensure that my results were consistent. Only the e-SATA capabilities of the enclosure was used. The HDD used during testing was my back up 160 Gig Western Digital SATA II 8 meg cache HDD and the same drive was also attached to the main SATA-port of the motherboard for comparison.
Programs used for testing
Crystal Disk Benchmark
ATTO
HD Tune
HD Tach
Results
Crystal Disk Benchmark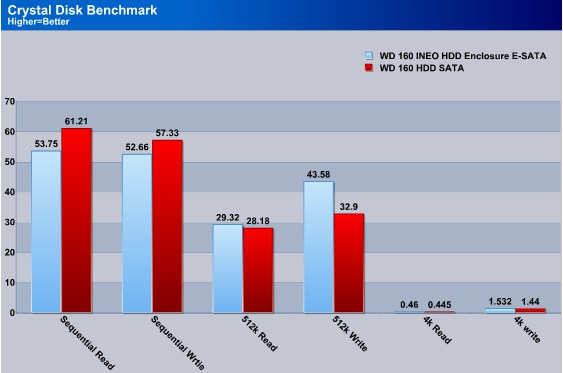 Starting our HDD testing with Crystal Disk Benchmark. The INEO HDD enclosure is able to put up some pretty good transfer rates despite on having to go through a non native E-SATA controller. During the Sequential read and write testing when I ran the WD 160 Gig HDD on the Native SATA controller has a roughly 6-7 MB/s lead over the INEO HDD enclosure. Now things change drastically once we start the 512K portion of testing, the INEO HDD enclosure starts to outperform the native SATA run.
ATTO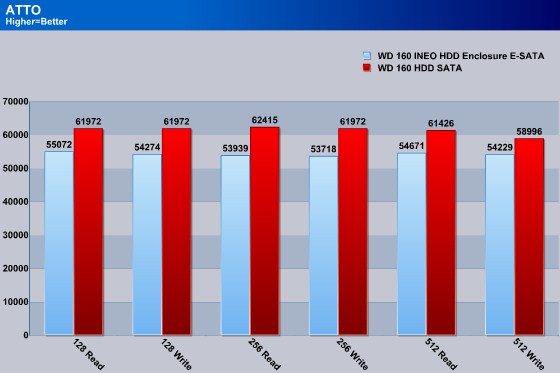 During ATTO testing, when I ran the HDD on the native SATA controller performed the best. But again the INEO enclosure is using a non native E-SATA controller to the motherboards chipset. I will say the performance is quite good.
HD Tune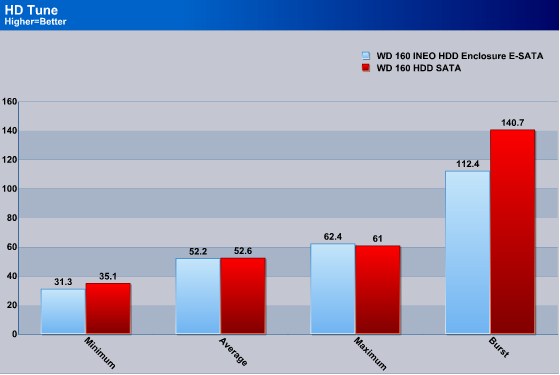 With HD Tune testing the number we should be paying close attention is the Average numbers. Here we see that no matter what controller I used the WD 160 Gig HDD on I still get identical performance. Which this performance coincides with my real world testing of transferring large files from one drive to the tested WD 160 Gig HDD.
HD Tach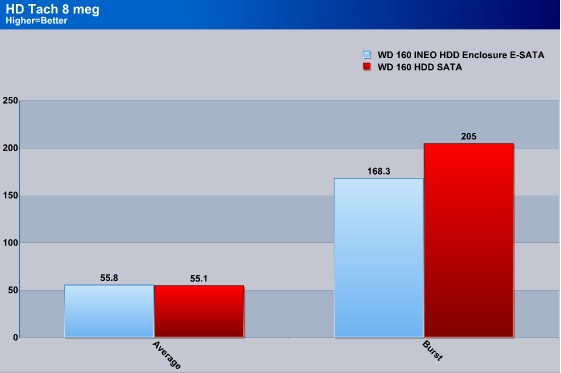 Once again like HD Tune, the Average transfer rates are right on par with one another and also coincides with my real world file transferring testing.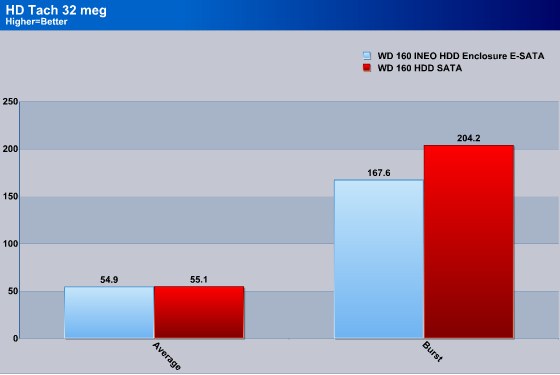 Once I tested on the 32 meg portion of testing in HD Tach we see the INEO take a slight dip in performance from the 8 meg test, but a 0.9MB/s transfer rate difference is not enough to be concerned with.
Conclusions
All in all, the INEO I-NA301Ue HDD enclosure is a easy to set up, and easy to use enclosure that also adds some stylish design to our desktops. The performance of the E-SATA enclosure is on par to the native motherboards SATA ports, which should make transferring files to and from this device quick and painless.
HDD enclosures, are perfect for just about anyone in any category. Whether you are in collage, or sitting at home we could all need the use of some from of a device that can transfer our large files from one computer to other computers. Looking around the web, I saw this enclosure is around the $28 USD mark. if you are needing a HDD enclosure for your extra HDD's you have floating around the house (or room) then this will make a perfect candidate.
OUR VERDICT: INEO I-NA301Ue HDD Enclosure

| | |
| --- | --- |
| Performance | 8 |
| Value | 8 |
| Quality | 9 |
| Features | 8 |
| Innovation | 8 |

We are using an addition to our scoring system to provide additional feedback beyond a flat score. Please note that the final score isn't an aggregate average of the rating system.

Pro
Cons

Easy to set up

Easy to use

Performance is on par to my Native SATA controller

None

 

 
Summary: The INEO I-NA301Ue HDD Enclosure will make a perfect addition to any one needing a external HDD to transport their large files.