For those who want a high end system, but also want USB 3 and SATA 3 didn't have much choice except to opt for an 1156 rig. That is no more, Asus has finally introduced a X58 based motherboard with these features called the P6X58D.
Introduction
The X58 chipset is currently the flagship of Intel's chipset line, but it was lacking a couple of key features due to its launch date. These where of course SATA 3 and USB 3. This is no longer true thanks to Asus. They have put a SATA 3 Controler onboard as well as adding two USB 3 ports on the back of the motherboard. This gives the X58 chipset a much needed modernization, since its little brother the P55 already has these features. If you happen to not be an Asus fan then you will have other options as well. Gigabyte plans to have a new X58 board out that will also support these features.
Other than the adding of these two features there is not much else thats different from the P6T, but lets take a look at the features to give you a refresh of what Asus has to offer.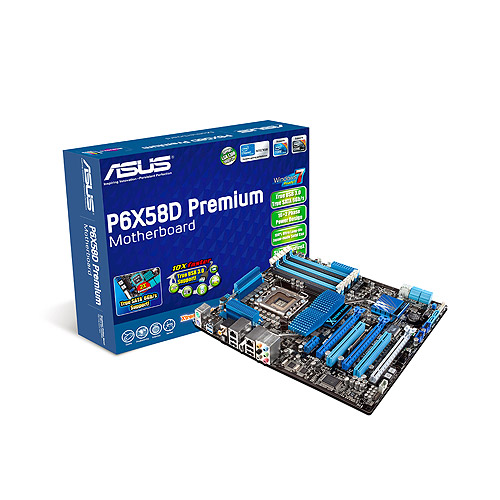 Features
LGA1366 Intel® Bloomfield Processor Ready


This motherboard supports the latest Intel® Core™ i7 processors in LGA1366 package with integrated memory controller to support 3-channel (6 DIMMs) DDR3 memory. Supports Intel® QuickPath Interconnect (QPI) with a system bus of up to 6.4 GT/s and a max bandwidth of up to 25.6 GB/s. Intel® Core™ i7 processor is one of the most powerful and energy efficient CPUs in the world.
3-Way SLI and Quad-GPU CrossFireX Support!


Flexible Multi-GPU solutions, Your Weapon of Choice!
The P6X58D Premium breaks the boundaries to bring you the multi-GPU choice of either SLI™ or CrossFireX. The motherboard features a dedicated graphics engine on the most powerful Intel X58 platform to optimize PCIe allocation in multiple GPU configurations. Expect a brand-new gaming style you've never experienced before!
Intel X58

The Intel® X58 Express Chipset is one of the most powerful chipset designed to support the Intel® Core™ i7 Processors with LGA1366 package and Intel® next generation system interconnect interface, Intel® QuickPath Interconnect (QPI), providing improved performance by utilizing serial point-to-point links, allowing increased bandwidth and stability. It also supports up to 36 PCI Express 2.0 lanes providing better graphics performance.
PCIe 2.0

Double Speed; Double Bandwidth
This motherboard supports the latest PCIe 2.0 devices for double speed and bandwidth which enhances system performance.
Future Transfer Technology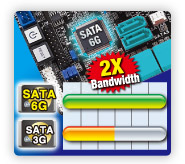 True SATA 6Gb/s Support
Experience the Future of Storage!
Supporting next-generation Serial ATA (SATA) storage interface, this motherboard delivers up to 6.0Gb/s data transfer rates. Additionally, get enhanced scalability, faster data retrieval, double the bandwidth of current bus systems.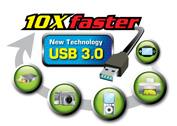 True USB 3.0 Support
10X Faster Date Rates!
Experience ultra-fast data transfers at 4.8Gbps with USB 3.0—the latest connectivity standard. Built to connect easily with next generation components and peripherals, USB 3.0 transfers data 10X faster and is also backward compatible with USB 2.0 components.
Memory Feature
Triple-Channel DDR3 2000(O.C.) / 1333 / 1066 support
The motherboard supports DDR3 memory that features data transfer rates of 2000(O.C.) / 1333 / 1066 MHz to meet the higher bandwidth requirements of the latest 3D graphics, multimedia, and Internet applications. The triple-channel DDR3 architecture enlarges the bandwidth of your system memory to boost system performance.
ASUS Xtreme Phase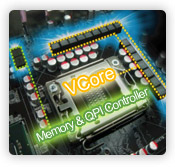 True ASUS 16+2 Phase Power Design
Unprecedented Innovation with the Best Quality Component for Best Performance
The groundbreaking 16+2 phase VRM design is brrought to the ASUS motherboards. 16+2 phase power design, 16-phase for vCore and extra 2-phase for QPI/Memory controller inside CPU, can provide the highest power efficiency, and hence generates less heat to effectively enhance the overclocking capability. With the high quality power components such as low RDS (on) MOSFETs, Ferrite core chokes with lower hysteresis loss and 100% Japan-made high quality conductive polymer capacitors, ASUS 16+2 phase VRM design also ensure longer component life and minimum power loss.
ASUS Exclusive Overclocking Feature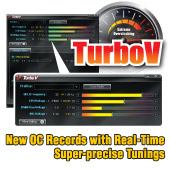 ASUS TurboV
New OC Records with Real-Time Super-precise Tunings
Feel the adrenaline rush of real-time OC – now a reality with the ASUS TurboV. This extreme OC tool lets you set new ambitions on the OC stage with an advanced and easy-to-use interface – allowing you to overclock without exiting or rebooting the OS. With micro adjustments of the CPU PLL, NB, NB-PCIe, and DRAM voltages in 0.02v intervals, there are no limits – only extreme results to break new OC records!
ASUS Exclusive Features
ASUS EPU

System Level Energy Saving
The new ASUS EPU – the world´s first power saving engine, has been upgraded to a new six engine version, which provides total system power savings by detecting current PC loadings and intelligently moderating power in real-time. With auto phase switching for components (which includes the CPU, VGA card, memory, chipset, drives and system fan), the EPU automatically provides the most appropriate power usage via intelligent acceleration and overclocking – helping save power and money.
ASUS Express Gate SSD

0 to Internet in Seconds!
Express Gate™ is an ASUS exclusive OS that provides you with quick access to the Internet and key applications before entering Windows®.
MemOK!

Any Memory is A-OK!
MemOK! quickly ensures memory boot compatibility. This remarkable memory rescue tool requires a mere push of a button to patch memory issues. MemOK! determines failsafe settings and dramatically improves your system boot success. Get your system up and running in no time!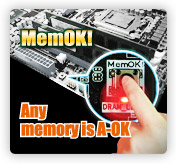 ASUS Quiet Thermal Solution
ASUS Fanless Design – Heat-pipe solution

The Heat Pipe design effectively directs the heat generated by the chipsets to the heatsink near the back IO ports, where it can be carried away by existing airflow from CPU fan or bundled optional fan. The purpose of the innovative heat pipe design on this motherboard is that the groundbreaking fanless design does not have lifetime problems as a chipset fan does. Furthermore, it provides options for users to install side-flow fan or passive cooler. The Heat Pipe design is the most reliable fanless thermal solution to date.
Fan Xpert

Active Quiet & Cool
ASUS Fan Xpert intelligently allows users to adjust both the CPU and chassis fan speed according to different ambient temperature , which is caused by different climate conditions in different geographic regions and system loading.Built-in variety of useful profiles offer flexible controls of fan speed to achieve a quiet and cool environment.
Up to 20°C(36°F) Cooler – Stack Cool 3+

Effective Fanless Heat Dissipation at 0dB
Stack Cool 3+ is a fanless cooling solution offered exclusively by ASUS. It effectively and noiselessly transfers heat generated by the critical components to the other side of the specially designed PCB (printed circuit board) for effective heat dissipation – making temperatures cooler by up to 20°C.
ASUS Crystal Sound
DTS Surround Sensation UltraPC
DTS Surround Sensation UltraPC delivers exceptional 5.1 surround experience through the most common PC audio setups – your existing stereo speakers or headphones. In addition to virtual surround, "Bass enhancement" provides stronger low frequency bass sound, and "Voice clarification" provides clear human dialogue even with loud background sound. With these technologies, you may experience a better home-theater audio with ease.
Noise Filter

Eliminate background noise while recording
This feature detects repetitive and stationary noises like computer fans, air conditioners, and other background noises then eliminates it in the incoming audio stream while recording.
ASUS EZ DIY
ASUS Onboard Switch

With an easy press during overclock, this exclusive onboard switch allows gamer to effortless fine-tune the performance without having to short the pins!
Q- Shield

Easy and Comfortable Installations
The specially designed ASUS Q-Shield does without the usual "fingers" – making it convenient and easy to install. With better electric conductivity, it ideally protects your motherboard against static electricity and shields it against Electronic Magnetic Interference (EMI).
EZ-Flash 2

Simply update BIOS from a USB flash disk before entering the OS
EZ Flash 2 is a user-friendly BIOS update utility. Simply launch this tool and update BIOS from a USB flash disk before entering the OS. You can update your BIOS only in a few clicks without preparing an additional floppy diskette or using an OS-based flash utility.
ASUS Q-Design

DIY quickly, DIY easily!
ASUS Q-Design enhances your DIY experience. All of Q-LED, Q-Slot and Q-DIMM design speed up and simplify the DIY process!
Q-Connector

Make connection quick and accurate!
The ASUS Q-Connector allows you to connect or disconnect chassis front panel cables in one easy step with one complete module. This unique adapter eliminates the trouble of plugging in one cable at a time, making connection quick and accurate.
O.C. Profile

Conveniently store or load multiple BIOS settings
Freely share and distribute favorite overclocking settings The motherboard features the ASUS O.C. Profile that allows users to conveniently store or load multiple BIOS settings. The BIOS settings can be stored in the CMOS or a separate file, giving users freedom to share and distribute their favorite overclocking settings.
Industry Standard
IEEE 1394a interface

IEEE 1394a interface provides high speed digital interface for audio/video appliances such as digital television, digital video camcorders, storage peripherals & other PC portable devices.
S/PDIF-out on Back I/O Port

This motherboard provides convenient connectivity to external home theater audio systems via coaxial and optical S/PDIF-out (SONY-PHILIPS Digital Interface) jacks. It allows to transfer digital audio without converting to analog format and keeps the best signal quality.
RoHS
GreenASUS

The motherboard and its packaging comply with the European Union´s Restriction on the use of Hazardous Substances (RoHS). This is in line with the ASUS vision of creating environment-friendly and recyclable products and packaging to safeguard consumers´ health while minimizing the impact on the environment.
This really shows how much Asus packs into their boards. They include valuable features such as TurboV which makes overclocking easy for someone who is just looking to make their computer a little faster. They also include the latest USB 3.0 and SATA 6 Gb/s (the first X58 motherboard to feature both standards). This alone makes the board one of the most attractive deals out there with a price of ~$290 USD.
Specifications
Specifications
CPU
Intel® Socket 1366 Core™ i7 Processor Extreme Edition/Core™ i7 Processor
Supports Intel® Turbo Boost Technology
Chipset
Intel® X58 / ICH10R
System Bus
Up to 6400 MT/s
Memory
6 x DIMM, Max. 24 GB, DDR3 2000(O.C.)*/1600/1333/1066 Non-ECC,Un-buffered Memory
Triple channel memory architecture
Supports Intel® Extreme Memory Profile (XMP)
*Hyper DIMM support is subject to the physical characteristics of individual CPUs.
*Refer to www.asus.com or this user manual for the Memory QVL (Qualified Vendors Lidts).
Expansion Slots
3 x PCIe 2.0 x16 (at x16/x8/x8 or x16/x16/x1 mode)
1 x PCIe x1
2 x PCI
Multi-GPU Support
Supports NVIDIA® 3-Way SLI™ Technology*
Supports ATI® Quad-GPU CrossFireX™ Technology
Storage
Intel ICH10R controller
6 xSATA 3.0 Gb/s ports
Intel Matrix Storage Technology Support RAID 0,1,5,10
Marvell® PCIe SATA 6Gb/s controller
– 2 x SATA 6.0 Gb/s ports
LAN
Dual Gigabit LAN controllers 2*Marvell 88E8056® PCIe Gigabit LAN controller featuring AI NET2
Audio
Realtek® ALC889 8-Channel High Definition Audio CODEC
– DTS Surround Sensation UltraPC
– BD audio layer Content Protection
– Supports Jack-Detection, Multi-streaming, Front Panel Jack-Retasking
– Coaxial / Optical S/PDIF out ports at back I/O
IEEE 1394
VIA® VT6308 controller supports 2 x 1394a port(s) (one at mid-board; one at back panel)
USB
NEC® USB 3.0 controller
– 2 x USB 3.0/2.0 ports (at back panel)
Intel® ICH10R Southbridge
– 8 x USB 2.0/1.1 ports (4 ports at midboard; 4 ports at back panel)
ASUS Unique Features
True USB 3.0 Support
True SATA 6Gb/s Support
ASUS Xtreme Design
ASUS Xtreme Phase
– ASUS 16+2 Phase Power Design
ASUS Exclusive Overclocking Features
– ASUS TurboV
ASUS Exclusive Features
– MemOK!
– ASUS EPU
– Express Gate SSD
ASUS Quiet Thermal Solution
– ASUS Fanless Design: Heat-pipe solution
– ASUS Fanless Design: Stack Cool 3+
– ASUS Fan Xpert
ASUS Crystal Sound
– ASUS Noise Filter
ASUS EZ DIY
– ASUS Q-Design: Q-Slot
– ASUS Q-Shield
– ASUS Q-Connector
– ASUS O.C. Profile
– ASUS CrashFree BIOS 3
– ASUS EZ Flash 2
– ASUS MyLogo 2
– Multi-language BIOS
Overclocking Features
Intelligent overclocking tools
– ASUS TurboV
Precision Tweaker 2
– vCore: Adjustable CPU voltage at 0.00625V increment
– vChipset 31-step chipset voltage control
– vCPU PLL: 36-step reference voltage control
– vDRAM Bus: 49-step DRAM voltage control
– vNB-PCIe: 65-step chipset-PCIe voltage control
SFS (Stepless Frequency Selection)
– PCI Express frequency tuning from 100MHz up to 180MHz at 1MHz increment
Overclocking Protection
– ASUS C.P.R.(CPU Parameter Recall)
Back Panel I/O Ports
1 x IEEE 1394a
2 x LAN(RJ45) port
8 -Channel Audio I/O
1 x PS/2 Keyboard (Purple)
1 x PS/2 mouse port (Green)
1 x Clear CMOS button
1 x Coaxial S/PDIF Output
1 x Optical S/PDIF Output
2 x USB 3.0/2.0 ports
4 x USB 2.0/1.1 ports
Internal I/O Connectors
2 x USB connectors support additional 4 USB 2.0/1.1 ports
1 x IEEE 1394a connector
1 x CPU Fan connector
1 x Power Fan connector
System Panel (Q-Connector)
2 x SATA 6.0 Gb/s connectors (gray)
6 x SATA 3.0 Gb/s connectors (blue)
3 x Chassis Fan connectors (1 x 4-pin, 2 x 3-pin)
Front panel audio connector
1 x S/PDIF Out Header
CD audio in
24-pin ATX Power connector
8-pin ATX 12V Power connector
1 x MemOK! Button
1 x Power on switch
1 x Reset switch
BIOS
16 Mb Flash ROM , AMI BIOS, PnP, DMI 2.0, WfM 2.0, SM BIOS 2.3, ACPI 2.0a, Multi-language BIOS, ASUS EZ Flash 2, ASUS CrashFree BIOS 3
Manageability
WfM 2.0,DMI 2.0,WOL by PME,WOR by PME,PXE
Accessories
User's manual
4 x Serial ATA 3.0Gb/s cables
2 x Serial ATA 6.0Gb/s cables
ASUS Q-Shield
2 in 1 Q-connector
1 x Optional Fan for water-cooling or passive-cooling only
1 x ASUS 3-Way SLI bridge connector
1 x ASUS SLI bridge connector
Support Disc
Drivers
Anti-virus software (OEM version)
ASUS Update
ASUS Utilities
Form Factor
ATX Form Factor
12 inch x 9.6 inch ( 30.5 cm x 24.4 cm )
A more detailed look reveals some improtant information on this board. For one there are only two 6 Gb/s SATA ports which isn't bad if you only have two SATA 6 Gb/s drives, but if you don't then you will have to buy a seperate add in card. There are also only two USB 3.0 ports on the back of the motherboard. You will probably have to use these less often, so the inclusion of only two is most likely going to be enough for anyone. We still give credit to Asus for finaly putting SATA 6 Gb/s and USB 3.0 on a high end motherboard. Lets take a closer look at the product.
Pictures & Impressions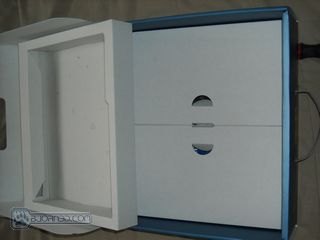 This is the inside of the box. The motherboard sits in the white box to the left. To the right we have the compartments which hold the included accessories.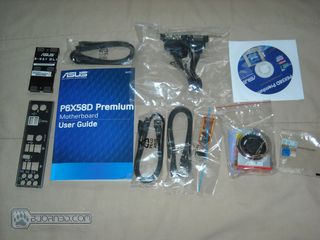 The P6X58D comes with a large variety of accessories. These include a Tri SLI connector, a single SLI connector, rear I/O shield, manual, SATA cables, cage fan, Q connectors, and finally a driver disk. Its worth mentioning that two of the included cables are SATA 6 GB/s cables. The rear I/O shield is interesting as it has a foam layer with a thin sheet of light metal around it. The Q connectors are of course for those of us who have trouble connecting the front panel buttons and LED's up to the motherboard.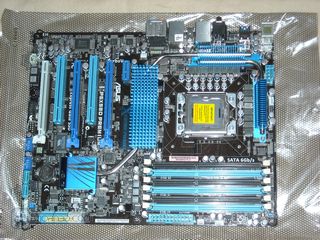 Here we have a birds eye view of the whole board. We see that Asus has decided to drop the traditional dark blue, and instead has opted for a lighter baby blueish color. The color isn't that bad, but I feel the dark blue would be a better choice. The IOH heatsink design looks much better than the P6T Deluxe. The P6T has large fins, but this one has smaller ones thus increasing the overall area of the heatsink. The fins are similar to the ones on the Rampage II, but there are more of them on the P6X58D.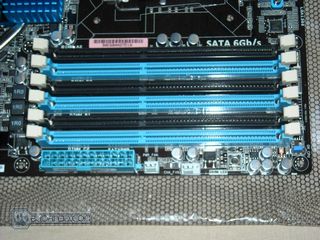 If we take a closer look at the RAM slots we clearly see there are a total of 6. This is very good for anyone who has 6 RAM sticks like me. This is also a board that supports 24 GB of RAM, so if you are using 4 GB sticks will be happy to note this. You also get a glimpse of the 24 pin connector, which is the same baby blue color. There are also two fan headers here. one happens to be a 4 pin, so you can plug in a fan and control the speed through the BIOS when you use this header.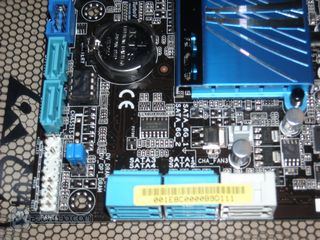 Here we have the SATA ports. The two whitish ones to the right are the SATA 6 GB/s ports. These ports use a Marvell HDD controller. The other two 90 degree ports are just your average SATA 2 ports. There are also two more 180 degree ports at the bottom of the board. You can see the battery just above the bottom SATA 2 ports. This battery is in a great position, and can be easily taken out if you need to clear the CMOS the hard way. If you look right next to the SATA ports, you will see two jumpers. When activated these jumpers will allow you to select ridiculously high QPI and RAM voltages in the BIOS.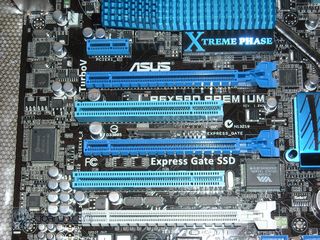 Now we can get a good look at all of the expansion slots. As you can see there are two normal blue PCIE slots which run at 16x when in SLI/Crossfire. When you are useing three cards you can either choose a 16,8,8x configuration or a 16,16,1x configuration. Whats kind of disappointing is the fact that the white PCIE slot is too close to the bottom of the board, and you will not be able to run a dual slot card if your PSU happens to be right below this. This was a poor design choice especially considering that the top PCIE 1x slot can be moved up one more slot to create room for another bottom slot below the white PCIE slot. This would have been a great layout if Asus would have done that, but since they didn't they would have been better off adding another slot between the top two PCIE slots so the top card in a dual card configuration would run cooler.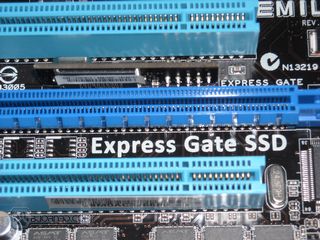 Just like with the P6T Deluxe, Asus has added Express Gate to this motherboard. This OS allows you to browse the internet, chat with friends, or do a quick skype call without booting into Windows or whatever OS you normally use. Express Gate uses an onboard SSD to store the OS, so needless to say it boots extremely fast. This is a handy feature for those who are always on the go, and want to quickly boot up their computer and check out the latest news before they go to work.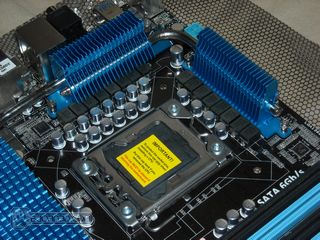 Finaly we have a close up of the CPU socket. Asus decided to go with their 16+2 Phase system on this board. This ensures that the CPU gets plenty of power, as well as stable power which can lead to higher overclocking. The heatsinks are covering the VRM's, which are essential to keep cool for a large overclock. This view gives you a great look at the Japanese solid caps. These caps give you great stability, as well as a longer life than non solid caps. Asus's included fan goes over the heat sink to the far back. This is really a great position because it falls right in between the top VRM heat sink, and the IOH heatsink.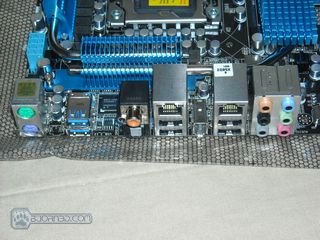 The back I/O panel has plenty of goodies. Asus has brought back both PS/2 ports, but where not realy sure why, as most users have at least a USB keyboard or mouse. To the right of that are the USB 3 ports. These are color coded blue so you can easily identify them even in lower light conditions. To the right of that are fancy audio connectors, otherwise known as S/PDIF connectors. These include an RCA connector as well as a Optical connector. To the right of that are two USB ports and the second LAN port. Then we have your standard Firewire 1392 port, then another two USB ports and the first LAN port. Finally we have the onboard audio connectors with support for up to 7.1 surround sound.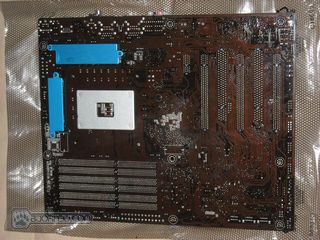 Last but not least here is a picture of the back of the motherboard. As you can see the VRM sinks also have a bottom back plate which not only hold the heatsink on, but cool the back of the board as well. From this side you can clearly see the brown PCB, but on the other side the PCB appears to be black. Other than that it looks like the back of your average motherboard.
Bios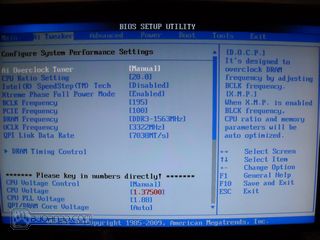 We like to pass right over the simple BIOS options, and instead bring you the overclocking options. After all why would you buy a $300 motherboard and not even touch the overclocking options? Lets start off with the main overclocking screen. This is under the AI Tweaker tab. From here you can adjust a wide array of options including RAM timings, voltages, and most importantly, speeds.
There are a few options here. The Manual option is what I recommend since it gives you control over everything. XMP is of course for the RAM. This will work with XMP approved modules. If you do not have XMP RAM then you can use the DOCP setting which will accomplish the same thing.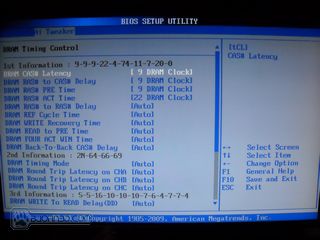 Here we have the DRAM Timing Control menu. From here you can adjust just about every RAM timing option including the generally unused options. I recommend leaving most of this on auto unless you want to crank the absolute most out of your RAM. The triple channel memory controller already gives your RAM a ridiculous amount of bandwidth, so this destines most of this for the person who is trying to set a new world record.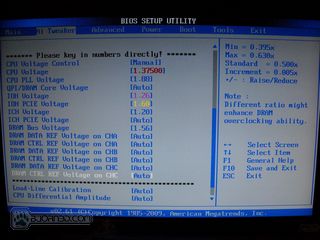 These are the voltage adjustments. You can set the motherboard to set them manually which is just fine for a newer users, but you can probably run at lower voltages if you adjust them yourself. The most important voltages here are the CPU, RAM , and IOH voltages. If you are running an ATI card you should give a little bump to your IOH PCIE voltages, as this generally helps the card. In our case we are running a 5970 which is right on the edge of the power envelope, so it helps to give it a little more power.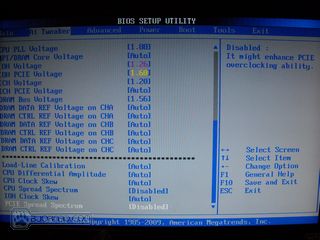 Now for the last of the options. We have both Spread Spectrum options down here, which we recommend you set to disabled before overclocking. Clock skew is a complicated setting, but basically it will slow things down a bit to make sure that two pieces of data will arrive at the correct times. Ok so that was kind of a bad explanation. If you increase this then you may be able to reach higher clocks. I recommend just leaving it on auto until you have tried every other thing imaginable. If you still feel that your CPU is not fast enough then you can give this option a shot.
Last but not least we have the Advanced tab which holds some of the features of the CPU. I recommend using the settings shown in this picture for the max overclock. You can turn of HT if you so choose which should improve your OC, but you will probably loose some performance.
Methodology
We've expanded our testing suite considerably for X58 and will continue to use the same tests across most of the motherboards and CPU's we test. We run each test a total of at least three times minimum, some tests we run more than 3 times. We average the total of all the tests from each benchmark then report the average here.
The OS we use is Windows 7 Ultimate with all patches and updates applied. We also use the latest drivers available for the motherboard and any devices attached to the computer. We don't disable a bunch of background tasks or particularly tweak the OS or system for bigger numbers. We do turn off drive indexing and daily defragging. We also turn off Prefetch and Superfetch. This is not an attempt to produce bigger benchmark numbers. Drive indexing and defragging can interfere with testing in that one test might occur without defragging going on and the next test defragging might be active, the same thing goes for drive indexing. We can't control when defragging and indexing occur precisely enough to guarantee that they won't interfere with testing, so we turn them off.
Prefetch tries to predict what you will load the next time you boot the machine. We disable it because we want to know how the program runs without any of the files being cached, otherwise each test run we'd have to clear pre-fetch to get accurate numbers. Lastly we disable Superfetch, Superfetch loads often used programs into memory and is one of the reasons people consider Vista to be such a memory hog. Vista fills the memory in an attempt to predict what you will load. Having one test run with files cached, and another test run with the files being un-cached would result in skewed numbers. Again since we can't control it we turn it off. Other than those 4 things which can potentially interfere with benchmarking, and do so out of our control, we leave everything else running.
Test Rig
Test Rig
"G182"

Case Type
Cooler Master HAF932
CPU
Core i7 920 @ 2.66, 3.9
Motherboard

Asus P6X58D
Asus Rampage II Extreme
Intel DX58 SO

RAM
(6×2 GB) DDR3 1600 CAS 9 (3.9 RAM is at 1560 CAS 8)
CPU Cooler
Liquid
Hard Drives
Corsair P64
Optical
LiteOn DVD R/W
GPU(s)
Sapphire 5970 Redline
Testing PSU
Corsair HX1000W
Mouse
Logitech MX-518
Keyboard
Dell "Teh Pwn" Loudie

Heatset



ABS AZ1
Speakers
Creative 5300
Test Suite
Benchmarks
Excel 2007
Blender
SiSoft SANDRA XII Professional SP3
Everest Ultimate Edition v. 5.0
Cinebench R10 64 bit
WinRar v. 3.71
POVRay
Pro Show Gold
Hard Drive Test Suite
Benchmarks
ATTO
HDTach
Crystal DiskMark
HD Tune Pro
Sisoft Sandra
Everest Ultimate
Overclocking
 Overclocking was not particularly hard on this motherboard. Some experience with the Rampage II certainly helped with this one. The motherboards are essentially the same, only the Rampage II has a few extreme overclocking features such as the manual voltage monitor spots. Both boards overclocked the same, which is quite good. Lets take a look at some of the results below.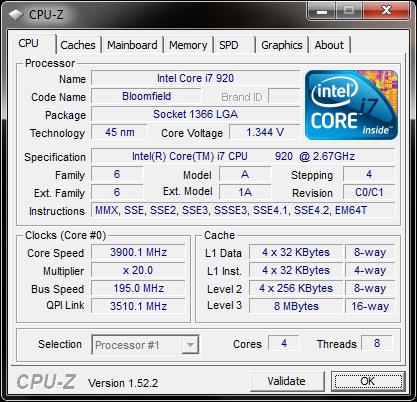 This is our result that we tested with. We feel that this is getting to the point of diminishing returns on this particular chip. This of course was not our highest result. Keep looking below.
The highest bus speed we reached with this board was 212 MHz. Beyond this the board refused to boot. We have a limited amount of time to reach the highest overclock, so we do not always achieve the max possible on this board. If you have some extra time on your hands it is very possible that you will be able to take this board over 212 MHz, but 212 MHz is a very respectable result for a 1366 motherboard.
ATTO
ATTO is a little long in the tooth but still provides a good method of checking hard drive
performance. Since your comparing results from the same benchmark to other drives benched on the same software it provides a basis for comparison and in most cases provides reliable and reproducible results.
All of the motherboards are pretty even here. The overclock did not make a huge difference at  all. Overclocking raised the QPI bus, which is probably where the added speed comes in since the CPU can communicate with the rest of the components faster.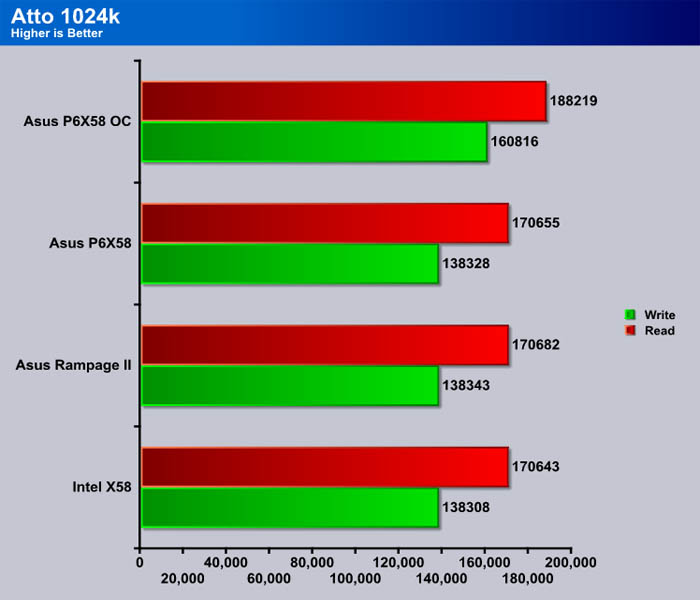 We see the same gap as before when the size is increased. Once again this is probably due to the added speed on the QPI bus.
HD TUNE PRO
HD Tune Pro is an extended version of HD Tune which includes many new features such as: write benchmark, secure erasing, AAM setting, folder usage view, disk monitor, command line parameters and file benchmark. HD Tune Pro is a computer benchmarking application that can test the performances of any PC.
Here are some key features of "HD Tune Pro":
Benchmark: measures the raw performance
Transfer Rate
Access Time
CPU Usage
Burst Rate
Hard Disk information which includes firmware version, serial number, disk capacity, buffer size, transfer mode
Hard Disk Health
S.M.A.R.T. Information (Self-Monitoring Analysis and Reporting Technology)
Temperature
Power On Time
Copy text to clipboard
Copy screenshot to clipboard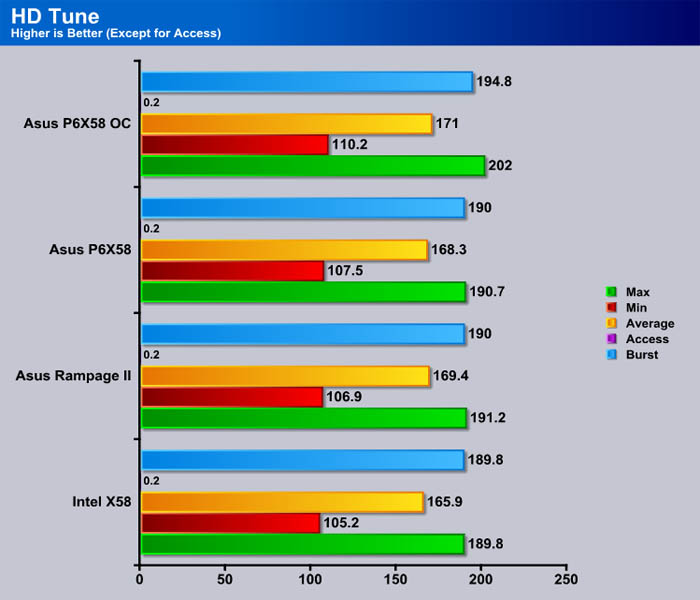 We see less of a difference when we use HD Tune to test the HDD. All of the stock clocked boards are neck and neck, which is to be expected since there is not a whole lot of difference between different motherboards.
HDTach
HD Tach is a physical performance hard drive test which utilizes a special kernel mode VXD in order to get maximum accuracy by bypassing the file system. A similar mechanism is used in Windows NT/2000.
The HD Tach sequential read test is a little bit different from other benchmarks. Most benchmarks create a file on the hard drive and test within that file.
The problem is that modern hard drives use a zone bit recording technique that allows different read speeds depending on where the data is located. Data on the outside of the drive is much faster than data recorded on the inside. SSD's are freed from this limitation due to their Nans Flash technology.
HD Tach reads from areas all over the hard drive and reports an average speed. It also logs the read speeds to a text file that you can load into a spreadsheet and graph to visually read the results of the test.
In addition to sequential read, HD Tach tests the drive's random access time. Random access is the true measure of seek speed. Many drives advertise sub 10 millisecond seek speeds, but seek speeds are misleading.
Finally, HD Tach tests the drive burst speed. The burst speed is the speed that data can be accessed from the drive's on-board read-ahead memory. This measures the speed of the drive and controller interface.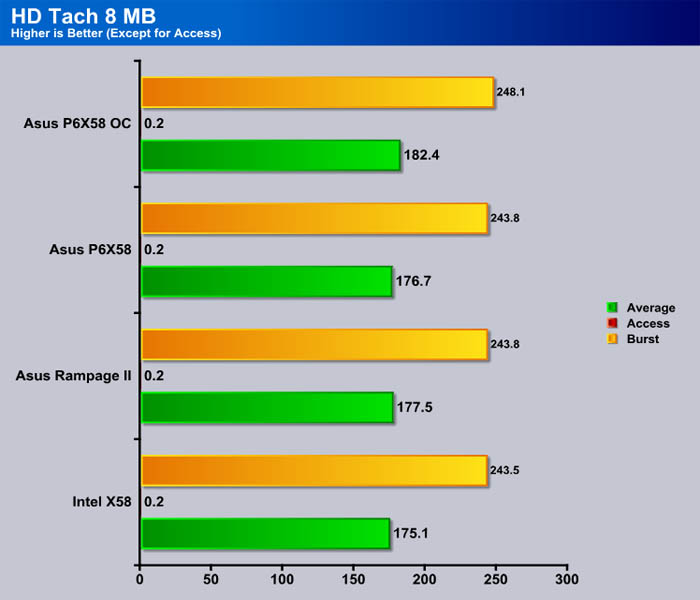 Again we see very little difference between stock clocks and overclocked results. The SSD is near its speed limit, which explains the results being near each other.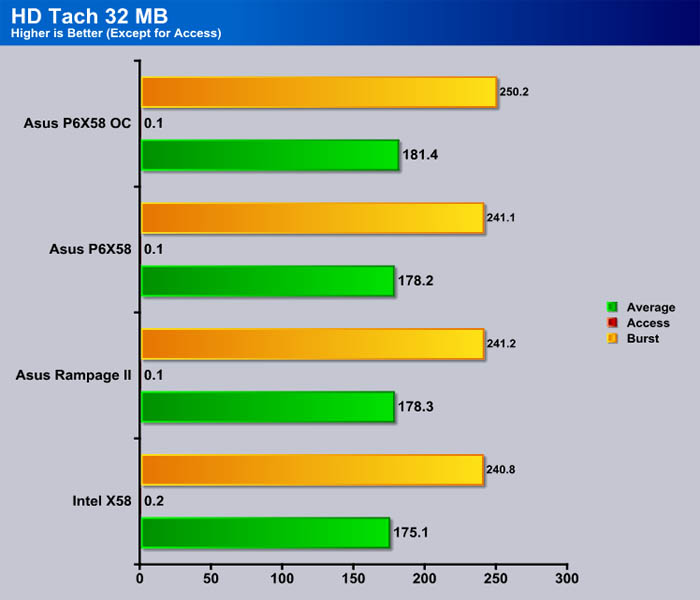 When we move up to the 32 MB test we see that the results are pretty identical, but the access times have been cut in half, which comes up to a meager .1 ms lower.
Crystal Disk Mark
Crystal DiskMark is a simple hard disk benchmarking software that can perform sequential or random read/write tests on a selected drive. You can select the number of read/write operations as well as the size of the data sample. The program presents you with easy to read MP/s results for each test. Standalone software, no installation required.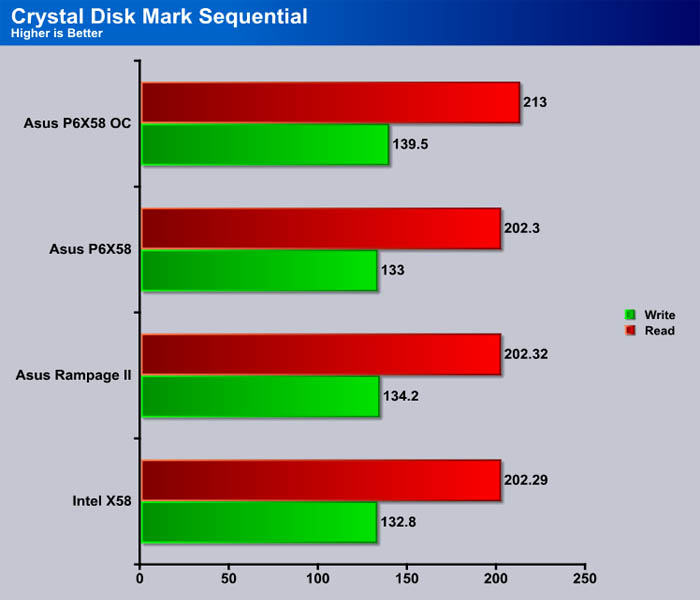 As with the other tests we see the overclocked board coming just a smidgen ahead of the other boards.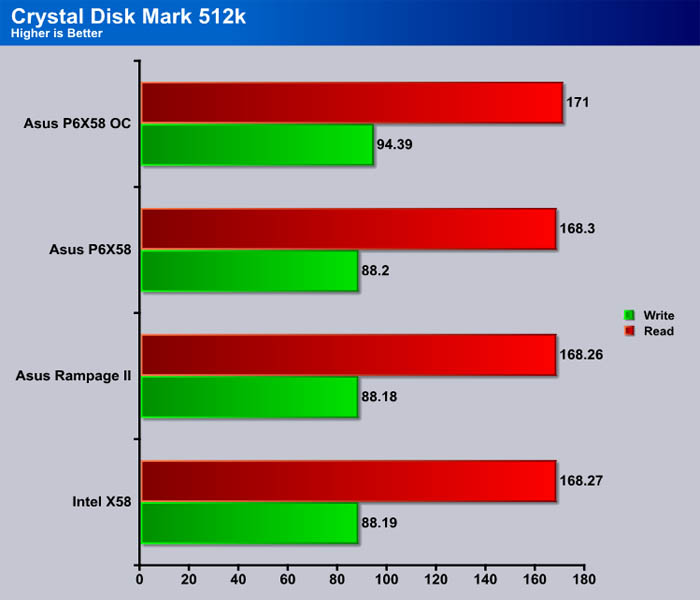 We see the numbers drop as we move to the somewhat brutal 512k test. These scores are still excelent.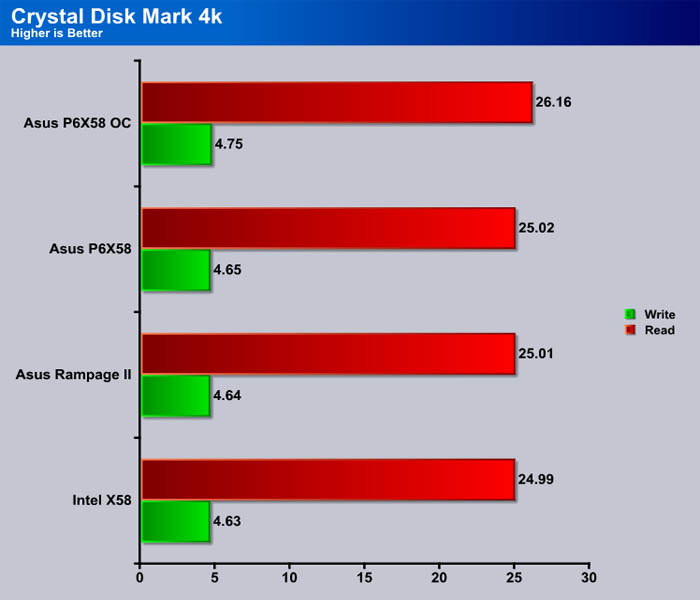 Finally we have the most brutal test of them all, the 4k! This test always manages to bring any HDD to its knees, and if your using a traditional HDD it seems to not be doing anything most of the time. With the speed of the SSD we actually see some pretty respectable numbers, with the overclocked board out ahead once again.
PCMark Vantage
This new version of PCMark shifts its focus away from only providing pure hardware performance-analysis results, to generating accurate performance ratings based on popular Windows Vista Consumer Scenarios ranging from media and entertainment to productivity and communication. PCMark Vantage incorporates an updated interface with easier access to test details and selections, results, system info and other features for 32 and 64-bit computers.
In this case we are primarily looking at the HD suite in PCMark Vantage and since we run the professional version we can select just that Suite. Since PCMark Vantage is based on Windows Vista workloads, and Windows 7 is (forgive us oh Microsoft deities) very similar to Vista it should provide some interesting non-synthetic drive transfer results.
Be warned that non-synthetic drive transfer rate results are often shocking when compared to standard synthetic benchmarks which tend to shoot for top end performance numbers.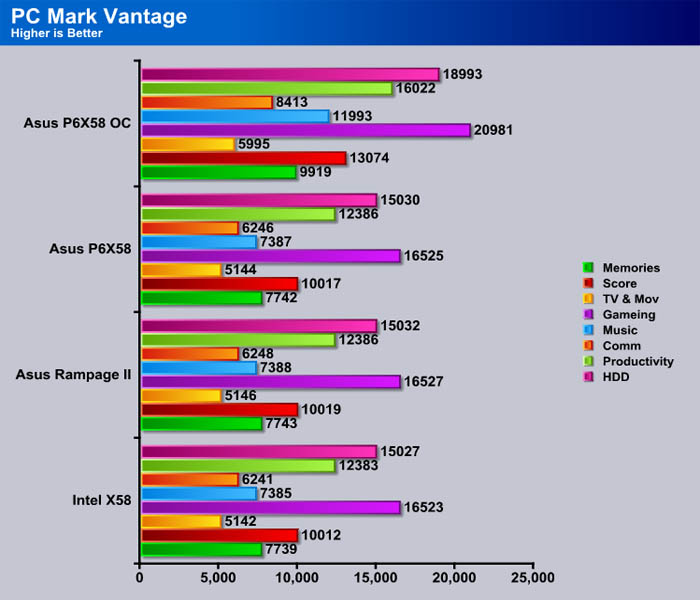 No surprises here as the overclocked board clearly comes out in front. The PCMark test is far more dependent on CPU speed, so its increased speed led to it becoming the clear winner. All of the stock clocked boards are sitting in the same general area. The Rampage II does have a slight advantage over both the P6X58 and Intel boards however.
Everest Ultimate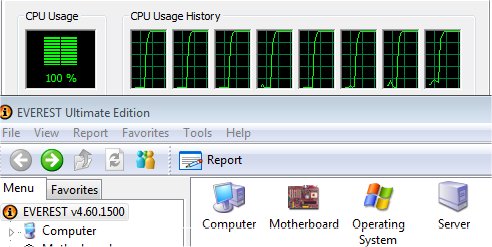 "EVEREST Ultimate Edition is an industry leading system diagnostics and benchmarking solution for enthusiasts PC users, based on the award-winning EVEREST Technology. During system optimizations and tweaking it provides essential system and overclock information, advanced hardware monitoring and diagnostics capabilities to check the effects of the applied settings. CPU, FPU and memory benchmarks are available to measure the actual system performance and compare it to previous states or other systems. Furthermore, complete software, operating system and security information makes EVEREST Ultimate Edition a comprehensive system diagnostics tool that offers a total of 100 pages of information about your PC."
CPU AES
This integer benchmark measures CPU performance using AES (a.k.a. Rijndael) data encryption. It utilizes Vincent Rijmen, Antoon Bosselaers and Paulo Barreto's public domain C code in ECB mode.
CPU AES test uses only the basic x86 instructions, the test consumes 48 MB memory, and it is Hyper Threading, multi-processor (SMP) and multi-core (CMP) aware.
CPU PhotoWorxx
This integer benchmark performs different common tasks used during digital photo processing.
It performs the following tasks on a very large RGB image:
• Fill
• Flip
• Rotate90R (rotate 90 degrees CW)
• Rotate90L (rotate 90 degrees CCW)
• Random (fill the image with random colored pixels)
• RGB2BW (color to black & white conversion)
• Difference
• Crop
This benchmark stresses the integer arithmetic and multiplication execution units of the CPU and also the memory subsystem.
CPU PhotoWorxx test uses only the basic x86 instructions, and it is Hyper Threading, multi-processor (SMP) and multi-core (CMP) aware.
CPU Queen
This simple integer benchmark focuses on the branch prediction capabilities and the misprediction penalties of the CPU. It finds the solutions for the classic "Queens problem" on a 10 by 10 sized chessboard.
CPU Queen test uses integer MMX, SSE2 and SSSE3 optimizations. It consumes less than 1 MB system memory and it is Hyper Threading, multi-processor (SMP) and multi-core (CMP) aware.
CPU ZLib
This integer benchmark measures combined CPU and memory subsystem performance through the public ZLib compression library Version 1.2.3 (http://www.zlib.net).
CPU ZLib test uses only the basic x86 instructions, and it is Hyper Threading, multi-processor (SMP) and multi-core (CMP) aware.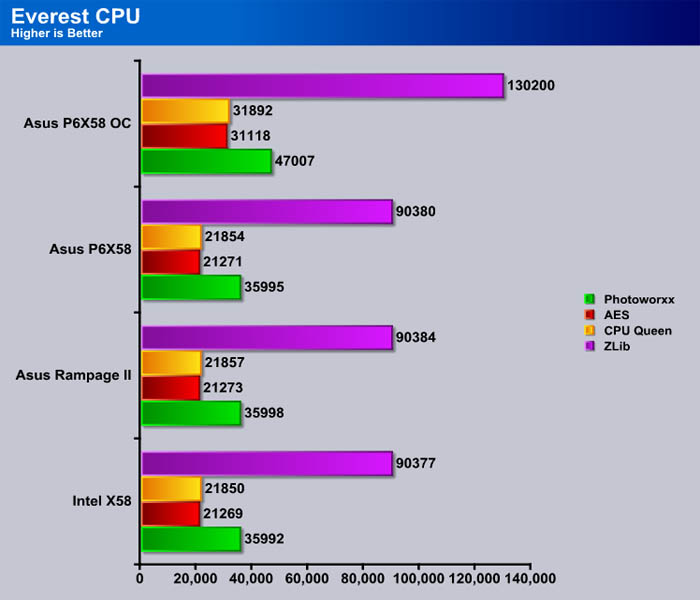 Once again the overclocked board clearly beats out the other boards. All of the other boards are in the same spot just like in previous tests. The Rampage II does have a slight lead like before.
Everest Memory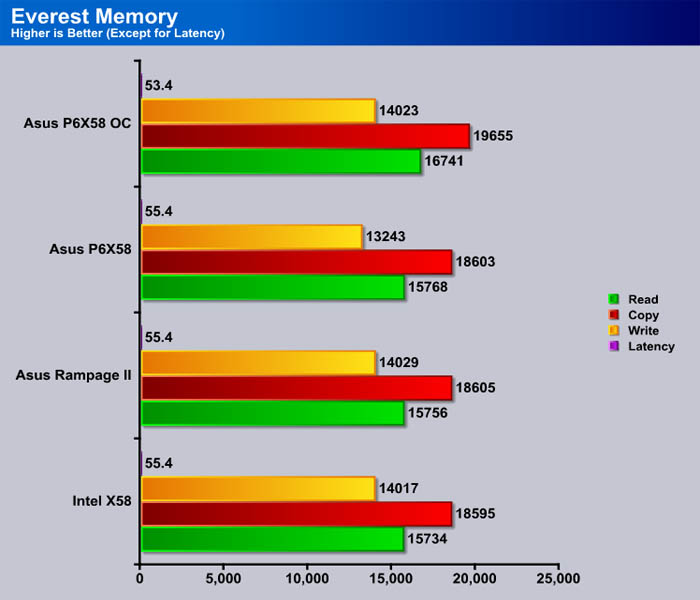 We see a much smaller gap when we move to the memory tests. This is due to the memory actually being a little bit slower, but the tighter timings and higher QPI bus make up for that disadvantage.
Cinebench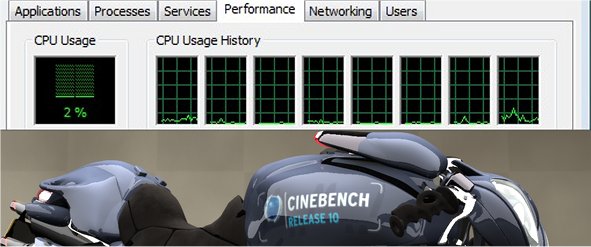 "CINEBENCH is a real-world test suite that assesses your computer's performance capabilities. MAXON CINEBENCH is based on MAXON's award-winning animation software, CINEMA 4D, which is used extensively by studios and production houses worldwide for 3D content creation. MAXON software has been used in blockbuster movies such as Spider-Man, Star Wars, The Chronicles of Narnia and many more. MAXON CINEBENCH runs several tests on your computer to measure the performance of the main processor and the graphics card under real world circumstances. The benchmark application makes use of up to 16 CPUs or CPU cores and is available for Windows (32-bit and 64-Bit) and Macintosh (PPC and Intel-based). The resulting values among different operating systems are 100% comparable and therefore very useful with regard to purchasing decision-making. It can also be used as a marketing tool for hardware vendors or simply to compare hardware among colleagues or friends."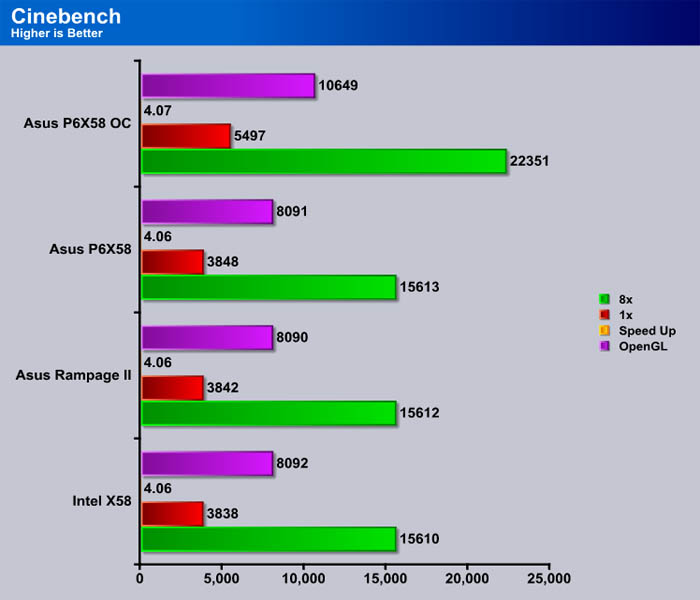 Video editing is highly dependent on the CPU speed as well as the amount of RAM. Since all of the motherboards tested have the same exact amount of RAM, the CPU speed becomes a huge factor. This is why the overclocked board came out in first. We see the P6X58 take a slight lead ahead of the other two stock clocked boards.
WinRar v. 3.9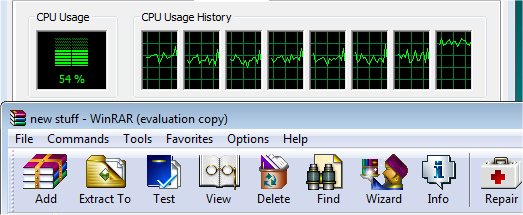 This module in WinRar generates random data, which contains specially introduced redundancy, increasing the load to both the processor and memory. Data is then passed through RAR compression and decompression algorithms, and the output of the decompression algorithm is compared to the source data. If any differences are found, WinRar then reports "Errors found – Yes" in the command window. WinRar displays a size of processed data and compression speed, current and resulting, in kilobytes per second.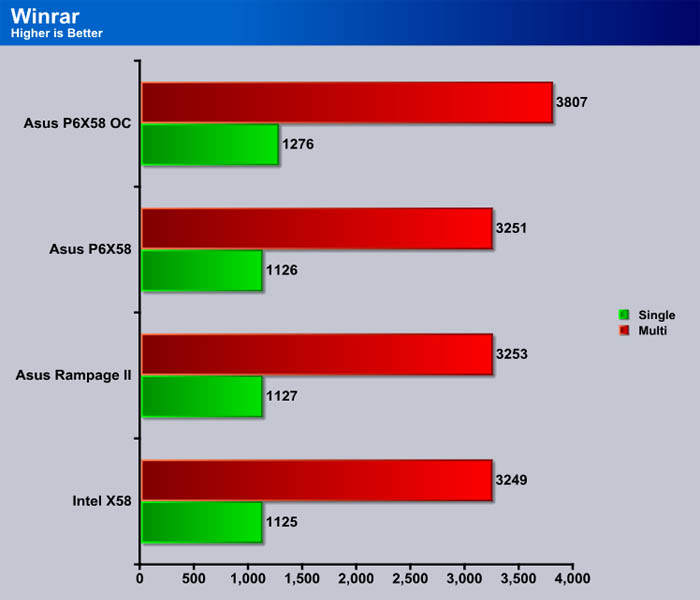 The single threaded tests are all pretty similar since the CPU speed was just increased, and the program is only using a single core. We see the overclocked board pull out far ahead due to the adding affect the increased speed has spread out over the additional cores. This time the Rampage II takes a slight lead over the other stock clocked boards.
Sisoft Sandra
"SiSoftware Sandra (the System Analyser, Diagnostic and Reporting Assistant) is an information & diagnostic utility. It should provide most of the information (including undocumented) you need to know about your hardware, software and other devices whether hardware or software. It works along the lines of other Windows utilities, however it tries to go beyond them and show you more of what's really going on. Giving the user the ability to draw comparisons at both a high and low-level. You can get information about the CPU, chipset, video adapter, ports, printers, sound card, memory, network, Windows internals, AGP, PCI, PCI-X, PCIe (PCI Express), database, USB, USB2, 1394/Firewire, etc."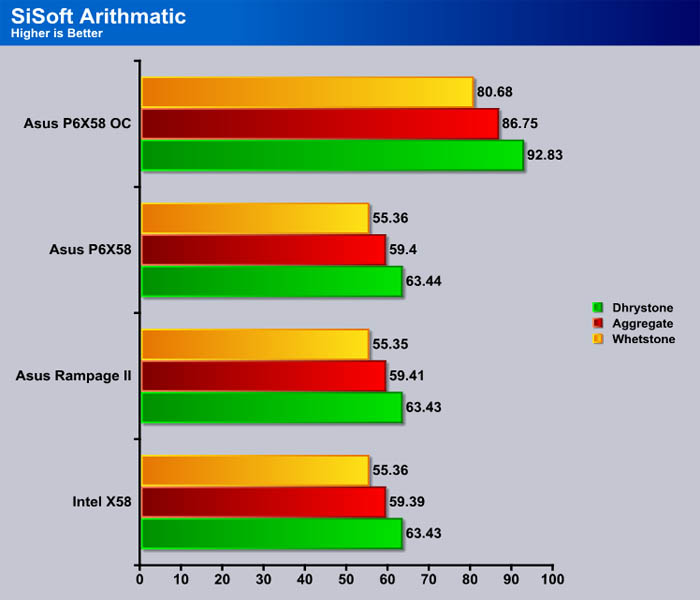 Similar to the Everest CPU tests Sandra uses all of the cores, so we see large gains especially if the CPU has been overclocked. We see that the P6X58 takes the lead back from the Rampage II for the time being.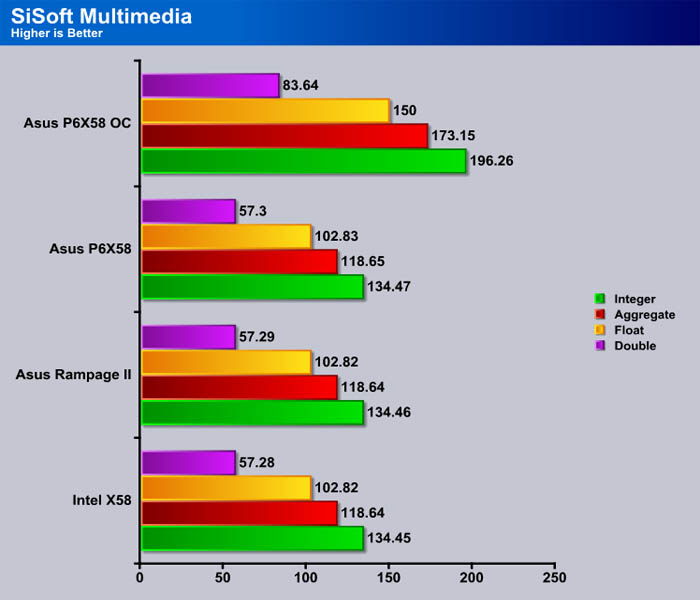 As before the overclocked board takes a commanding lead. The Rampage II takes the lead back from the P6X58. This has been a back and forth battle between the Rampage II and P6X58 all day with the Intel X58 sitting back just behind the two.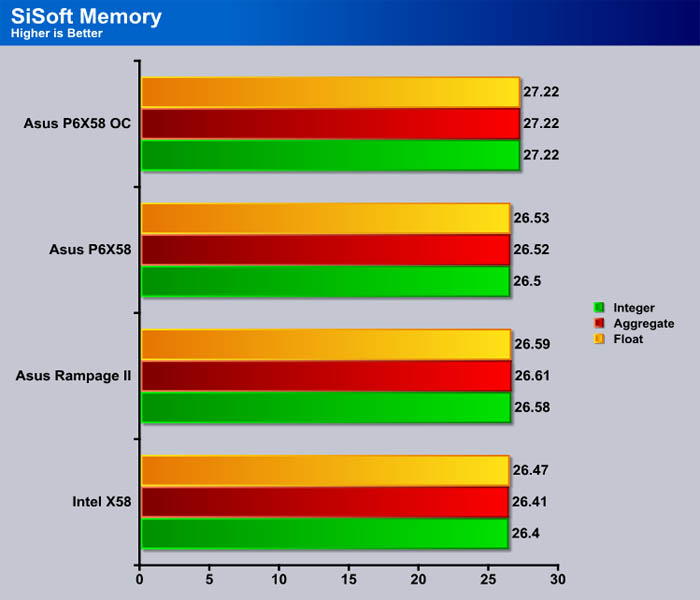 We see all of the boards pretty close. The Asus boards pull ahead of the Intel a bit which is to be expected since Asus boards generally do a bit better in the memory department. The overclocked board did not post much of an improved score, but still enough to beat out the stock clocked boards.
POV-Ray 3.7 Beta 25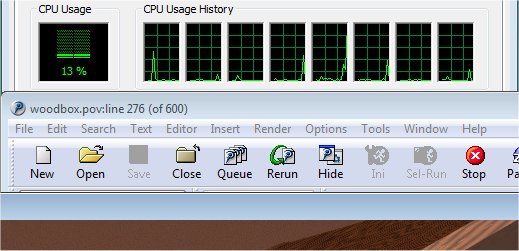 The Persistence of Vision Ray-Tracer was developed from DKBTrace 2.12 (written by David K. Buck and Aaron A. Collins) by a bunch of people (called the POV-Team) in their spare time. It is a high-quality, totally free tool for creating stunning three-dimensional graphics. It is available in official versions for Windows, Mac OS/Mac OS X and i86 Linux. The POV-Ray package includes detailed instructions on using the ray-tracer and creating scenes. Many stunning scenes are included with POV-Ray so you can start creating images immediately when you get the package. These scenes can be modified so you do not have to start from scratch. In addition to the pre-defined scenes, a large library of pre-defined shapes and materials is provided. You can include these shapes and materials in your own scenes by just including the library file name at the top of your scene file, and by using the shape or material name in your scene. Since this is free software feel free to download this version and try it out on your own.
POV ray is highly dependent on CPU clock speeds, and less so of the amount of cores. The program generally sticks to one core a little while after starting. we see that the overclock drastically improved the score of the motherboard. We see the Rampage II just ahead of the P6X58, and the Intel board with a little less PPS which slows its overall time.
Microsoft Excel 2007
Monte Carlo Black-Scholes Option Pricing Test
Microsoft Excel is the widely known and most used spreadsheet application for the manipulation and calculation for number crunching. With Excel you can analyze and share information on small scale or the largest scale you can imagine. We've seen spreadsheets in every day use that contain literally tens of thousands of numbers and hundreds of equations. Bjorn3D uses two tests in Excel to determine CPU and Motherboard performance.

Big Number Crunch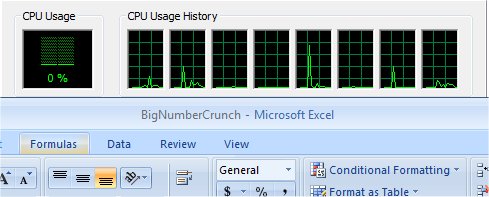 This workload is from a 6.2 MB spreadsheet and executes about 28,000 sets of calculations. It uses the most common calculations in Excel, addition, subtraction, division, rounding and Square Root. It also analyzes statistical functions such as Min, Max Median, and Average. The calculations are done after the spreadsheet with a large data set is updated with new values and must recalculate a large number of data points.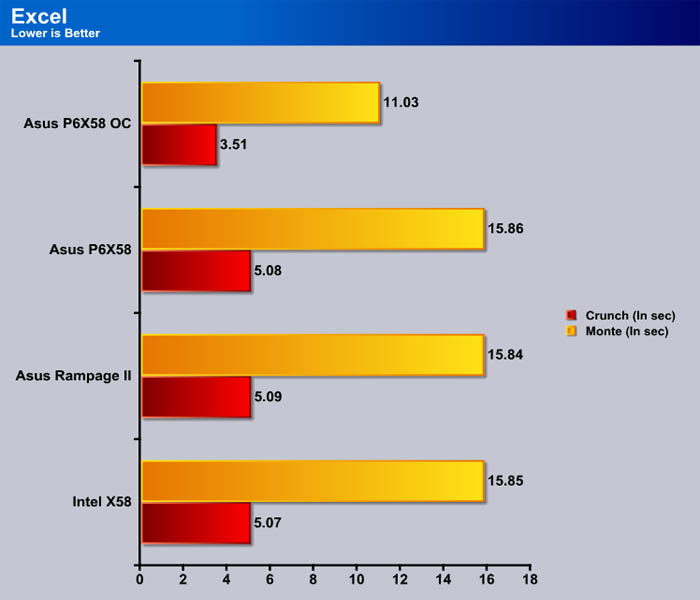 As you can see from the screen shot above Excel uses all of the cores to compute its calculations, so its no surprise that the overclocked CPU put a beating on the stock clocked CPUs. Once again the Rampage II takes a slight lead over the P6X58, and the Intel actually manages to beat out the Rampage II in the Crunch test.
Photodex ProShow Gold 3.2
ProShow Gold allows you to combine videos and photos and music to create slide shows, depending on the end user results can be spectacular. The application allows the end user to share photos and memories with friends in a unique and spectacular way, the different formats supported are, DVD, PC and Web. Still Photos are brought to life by adding motion effects. Supported effects include, Pan, Zoom, and rotate. You can also add captions and over 280 transition effects.

The workload we use consists of 29 high resolution images in JPG format and converts them to MPEG2 wide-screen DVD quality. The end result is a 3 minute 9 second video file in slide show format. The images are in 3872×2592 resolution and have a combined total size of about 170 MB.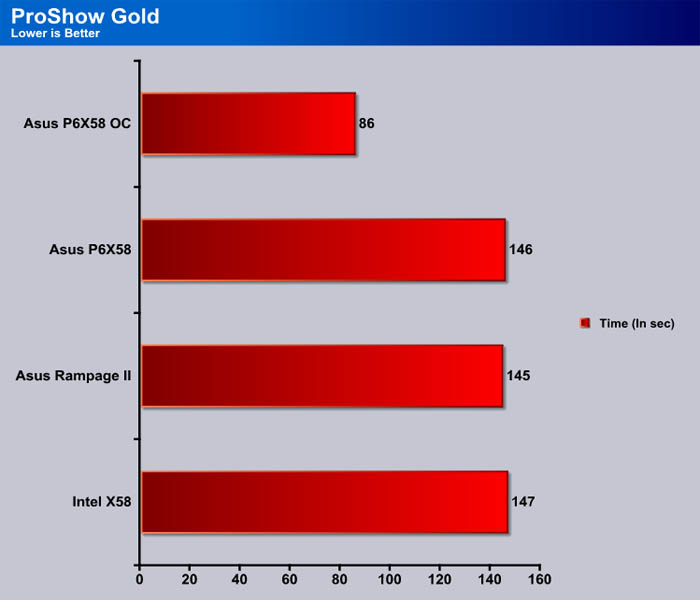 As with Excel, ProShow uses all of the cores. We see the Rampage II coming out in front, and the P6X58 following close behind with the Intel board taking up the rear. The speedup with the overclock is quite amazing. Makes you wonder why Intel doesn't clock these chips higher.
Conclusion
The Asus P6X58D is an exceptional board that not only overclocks well, but has the latest features. These features include the brand new USB 3.0 and SATA 6 Gb/s. Asus proudly makes the claim to be the first motherboard manufacturer to put both on a X58 based board. Asus also has added support for the future 32nm chips from Intel. For many users this helps future proof the machine a bit, which is something that is hard to come by these days. Other motherboard manufactures should take note. The fact that USB 3.0 and SATA 6 Gb/s are available on P55 boards, but not on Intel's so called enthusiast system is pretty sad.
Now that we have that out of the way lets take a look at the overclocking of the board. In my experience with both the Rampage II and P6X58D, I have to say they overclock identically. Sure the Rampage II has flashy features  like the ability to read the actual voltages with a voltmeter, but these really don't help with overclocking. Thats not to say the features are totally useless. If you happen to be setting world records I am sure the added features of the Rampage II are nice, but if you are just a normal user or an experienced overclocker there is no need to pay a premium for features that you will most likely never use.
When you look at the performance between the boards you will see that the Asus boards pulled ahead of the Intel by a little bit most of the time, but this difference will not be noticeable in the real world. In this sense you are really paying for the individual features of the motherboard instead of a board that performs better than the other. The P6X58D certainly beats the Intel X58 on this front. For one the cooling solution for the VRM's and IOH is much better. Stack Cool is a great solution that allows everything to run much cooler, and the IOH heatsink on the P6X58D puts the one on the Intel X58 to shame.
OUR VERDICT:  Asus P6X58D

| | |
| --- | --- |
| Performance | 9 |
| Value | 9 |
| Quality | 9 |
| Features | 9 |
| Innovation | 8 |

We are using an addition to our scoring system to provide additional feedback beyond a flat score. Please note that the final score isn't an aggregate average of the rating system.

Pros
Cons

Excelent Cooling

SATA 6 Gb/s

USB 3.0

Not Really A Con, But I Liked The Looks Of The Rampage II More
Summary: The Asus P6X58D is an amazing addition to the X58 chipset family of motherboards which provide enthusiast performance, and finally enthusiast features like USB 3.0 and SATA 6 Gb/s.