Ever wonder how two of the smallest Direct X 11 cards performed while in Crossfire? Lets find out shall we.
Introduction
Whats better then just having one single sub 150USD powerful video card? Well the answer of coarse is, having two powerful sub 150 USD video cards. The 5750 video cards, have proven themselves to provide any one the performance and overclockability that is on a rather tight budget.
As they say, dynamite comes in smaller packages, they could not be more correct when it comes to the 5750 video cards. Just recently I brought you a look at ASUS's offering of the 5750 video card, and that little video card  shocked and awed me with its performance (review can be found HERE), Today we are going to take a look at VisionTek's 5750 offering. This time I will be pairing these two video cards up with one another for some crossfire action. I am pretty sure the results that you will see in this review, will definitely put these video cards in that, "You just got owned by my budget 5750 video card computer."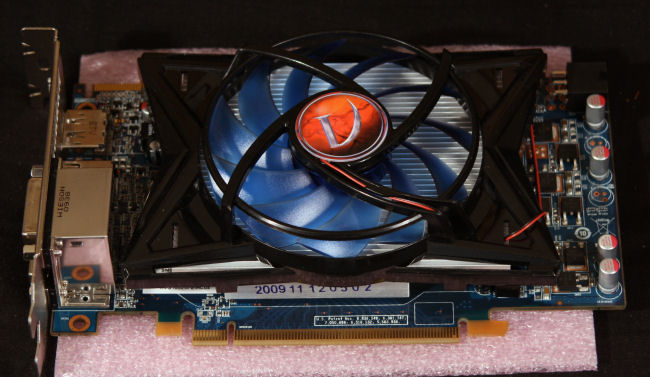 So lets stick these bad boys in my ever faithful, always ready, ever powerful computer "Mini Me", and start the carnage. "Lets get ready to Rumble."
Specifications
Key Features

1GB GDDR5 memory
ATI Eyefinity technology with support for up to three displays
ATI Stream technology
Designed for DirectCompute 11 and OpenCL
Accelerated Video Transcoding (AVT)
Compliant with DirectX® 11 and earlier revisions
Supports OpenGL 3.1
Dual-mode ATI CrossFireX™ technology support for highly scalable performance
ATI Avivo™ HD video and display technology
Dynamic power management with ATI PowerPlay™ technology
DL-DVI, DisplayPort, HDMI (outputs may require adapter)
PCI Express® 2.0 support

Supported Operating Systems

Windows 7
Windows Vista (all versions)
Windows XP

Supported Configurations

Single DVI-D
 Dual DVI-D (adapter may be required)
 HDMI video and audio (adapter may be required)
Single VGA (adapter may be required)
Display Port
Hardware crossfire

 

 

Box Contents

ATI Radeon™ HD 5750 graphics card
Set-up CD
Manuals
Adapters may be included for additional output configurations

System Requirements

PCI Express® based PC is required with one X16 lane graphics slot available on the motherboard
420 Watt or greater power supply with one 75W 6-pin PCI Express® power connectors recommended (550 Watt and two 6-pin connectors for ATI CrossFireX™ technology in dual mode)
Certified power supplies are recommended. Refer to http://ati.amd.com/certifiedPSU for a list
Minimum 1GB of system memory
Installation software requires CD-ROM drive
DVD playback requires DVD drive
Blu-ray™ playback requires Blu-ray drive
For an ATI CrossFireX™ system, a second ATI Radeon™ HD 5750 graphics card, an ATI CrossFireX Ready motherboard and one ATI CrossFireX Bridge Interconnect cable ( not included) per graphics card are required
Prepare to experience a riveting high-definition gaming experience with ATI Radeon™ HD 5750 Series graphics processors.  Expand your visual real estate across up to three displays and get lost in the action with revolutionary ATI Eyefinity Technology. Using ATI Stream technology, accelerate even the most demanding applications and do more than ever with your PC. The first to deliver full support for Microsoft DirectX® 11, these GPUs enable rich, realistic visuals and explosive HD gaming performance so you can dominate the competition.
Get unrivalled visual quality and intense gaming performance and for today and tomorrow with support for Microsoft® DirectX® 11
With ATI Eyefinity technology get the ultimate immersive gaming experience innovative wrap around' multi-display capabilities
Tap into the massive parallel processing power of your GPU with ATI Stream technology and tackle demanding tasks like video transcoding with incredible speed
Experience the speed, responsiveness and performance of ultra-high bandwidth GDDR5 memory
ATI CrossFireX™ technology in dual-mode offers advanced scalability
Microsoft DirectX® 11 Support
ATI Radeon™ HD 5750 Series GPUs fully support Microsoft DirectX® 11, enabling the following:
Tessellation is now available to PC developers for real-time rendering with ultra-realistic characters and an incredible level of detail with 3D images
HDR Texture compression delivers an intense level visual detail without increasing graphics memory footprint with efficiency and incredible image quality
Multi-threading support for DirectX® 11 accelerates rendering by leveraging all the CPU cores to enable overall faster gaming performance
DirectCompute improves PC performance by taking on some or all of a DirectX 11-enabled application's processing load, freeing up the computer's main processor to take on additional tasks. Get intense gaming performance and unrivalled image quality with stunning 3D visual effects, realistic lighting and lifelike imagery.
Expand with ATI Eyefinity Technology
ATI Eyefinity technology maximizes your field of view across up to three displays, fully engaging your peripheral vision and putting you right IN the game. Unleash the massive parallel processing power of your GPU to help speed up your PC and do more. Extend your view of a game across up to three displays, that's as much as 12 megapixels for the ultimate gaming environment. Create the ultimate flight or racing simulation platform by extending supported games across multiple displays for a panoramic view that gives you a true sense of height and speed. Get a bird's-eye view and spread out game information across multiple screens and still stay in the center of the action.  See more of the battlefield without having to zoom. Get a better view of what's going on around you, use your peripheral vision so you can see the enemy before they see you. The perfect solution for your home or office, ATI Eyefinity technology makes multi-tasking a snap by eliminating the need to flip between windows. Surf the internet, email, edit photos or videos, track your stocks and much more all at the same time. ATI Eyefinity technology is ideal for multimedia applications; it allows you to keep several 'palettes' or 'panels' open while you edit images or videos so video playback, editing and transferring content to portable media players is quick and easy.
DirectCompute 11
DirectCompute 11, helps improve PC performance by taking on some or all of a DirectX 11-enabled application's processing load, freeing up the computer's main processor to take on additional tasks. DirectX® 11-enabled applications are designed for fast performance on your PC running Windows® 7. For example, there are programs designed for Windows 7 that can convert (i.e. transcode) a digital media file to a different size or format faster with Windows 7 than previous versions of Windows. Windows® 7 with built-in drag and drop transcoding is a great example how ATI Radeon™ HD 5750 Series GPUs provide an exceptional experience for the upcoming operating system.
ATI CrossFireX™ Technology
 Increase your gaming performance up to 180% with ATI CrossFireX™ Technology in dual-mode5
Enhanced Anisotropic Filtering
New anisotropic filtering method Ultimate image quality and visuals for more immersive gaming
Accelerated Video Transcoding
Native support for common transcoding instructions in each shader for motion estimation that accelerates video encoding
Display Flexibility
 Enjoy a full range of display options natively on the board, including dual-link DVI-I, DisplayPort and HDMI
More flexibility with the highest level of connectivity for the latest display technologies
HDMI 1.3
HDMI 1.3 with Deep Color and 7.1 High Bitrate Audio Support Ensures you get the full Blu-ray and PVR experience from your PC
Dolby® TrueHD and DTSHD Master AudioTM Support
Support of content protected, high bandwidth, 7.1 channels of surround sound over HDMI
Get a fully immersive high-definition audio experience with the latest Blu-ray movies.
ATI PowerPlay™Technology – Enhanced Support for GDDR5 memory
Improved ATI PowerPlay™ technology capabilities with GDDR5 based boards including memory clock switching. Power draw scales according to activity so when GPU activity is low, the power draw is minimal.
Packaging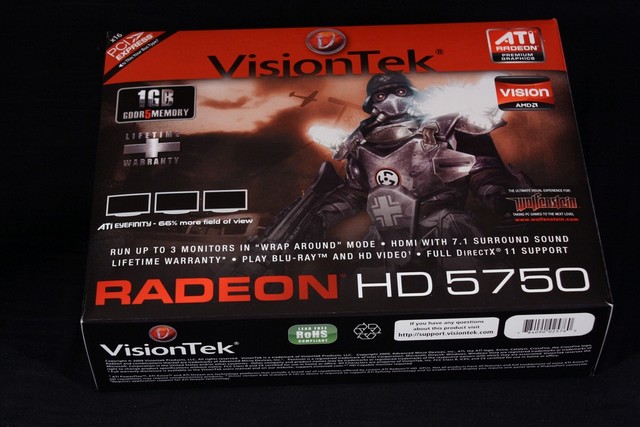 VisionTek puts one of the characters off of ID software's games, Wolfienstien onto the front portion of the box that houses the 5750 video card. It appears VisionTek is also offering a Lifetime warranty on this video card as well. This is definitely a nice addition for those who are concerned about the warranty coverage. This 5750 video card also has 1 gig of GDDR5 memory on board.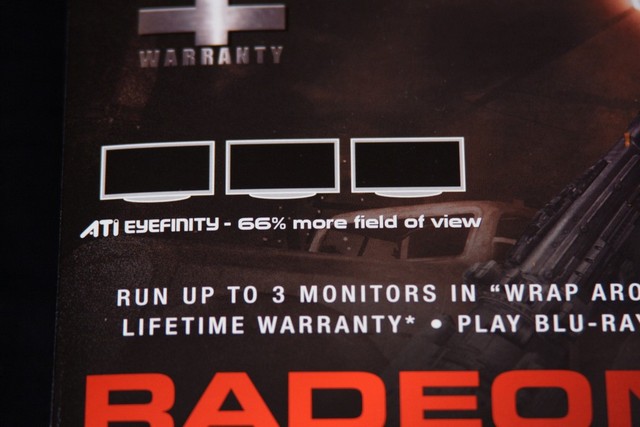 Unlike ASUS 5750 video card VisionTek also adds support for ATI's multi-monitor gaming experience, "Eyefinity". Eyefinity can support up to 3 monitors, and span our game across all three of them.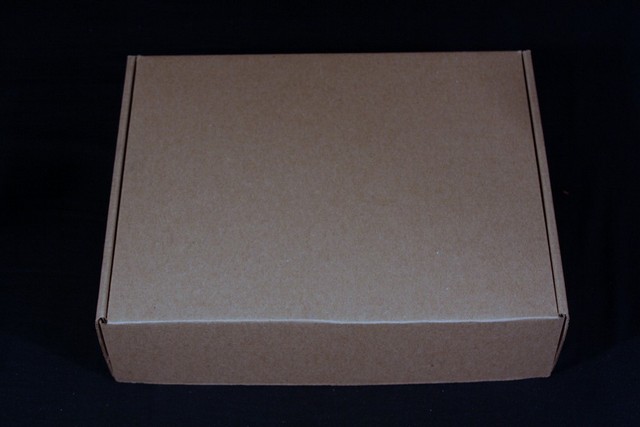 Like most video card manufacturers, VisionTek, puts a box inside of box.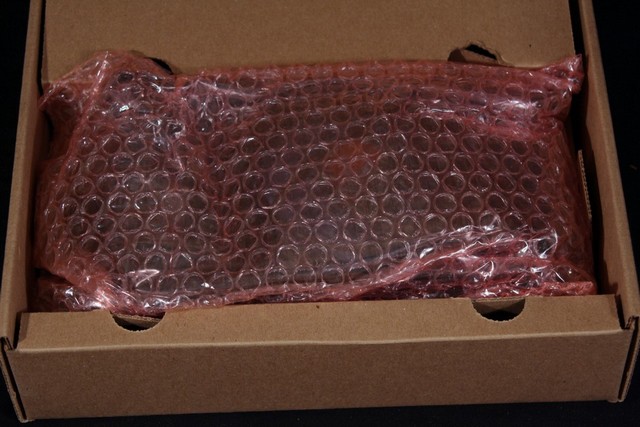 VisionTek, does do a decent job on making sure the 5750 video card would not get damaged during transport.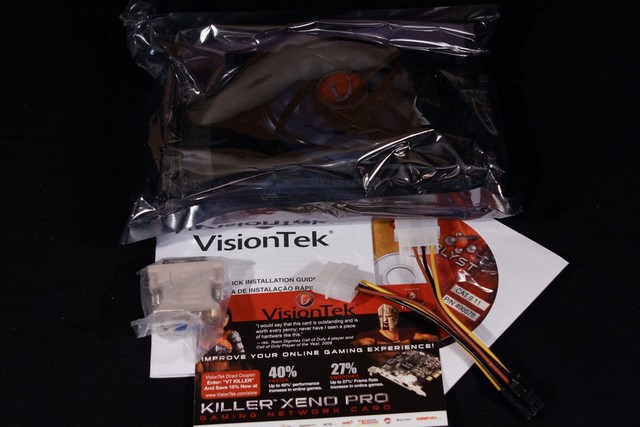 Here are all of the goodies that come included into the VisionTek 5750 video card. We get the 5750 video card, a installation manual, a flier about VisionTeks newer addition to their computer components a Big Foot network card Xeno Pro. A Molex to PCI-E power adapter, finally a DVI to D-SUB adapter. There is no cross-fire interconnect bridge included. Well thank fully I have a half dozen floating around here.
Overview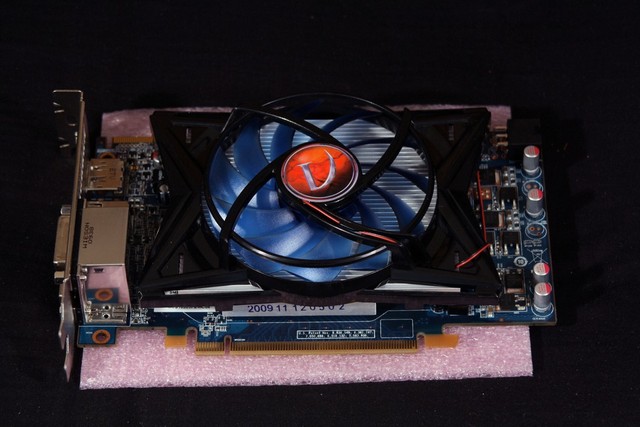 Time to start the overview of the VisionTek 5750 video card. As we can see the heatsink is similar to the ASUS 5750 video card, the fan is placed directly over the heatsink itself, but that where the similarities end.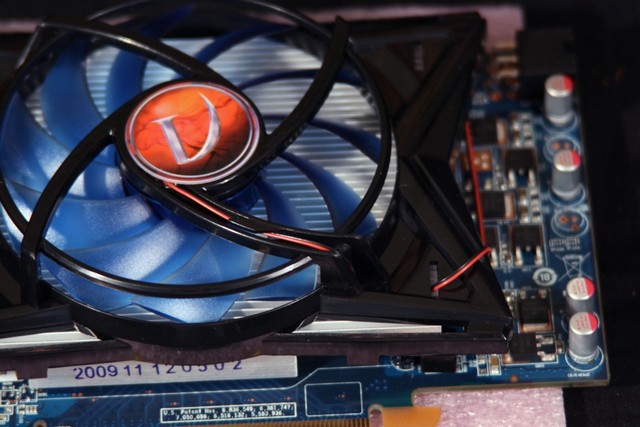 Getting a quick look at the fins of the heatsink that VisionTek used to help cool the 5750 video card, the fins appear to be evenly spaced and spaced out far enough to provide plenty of cooling with out reducing over all airflow from the fan.
Looking at the side of the VisionTek 5750 video card.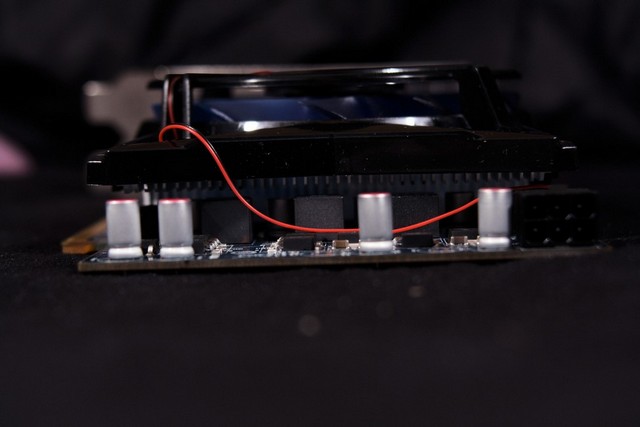 The PCI-E power connector faces to the rear of the video card, I personally liked how ASUS did their 5750 video card and placed the PCI-E power connector to the side. As I suspected the there are enough fins to provide amble cooling and spaced evenly apart not to hinder the air flow from the fan.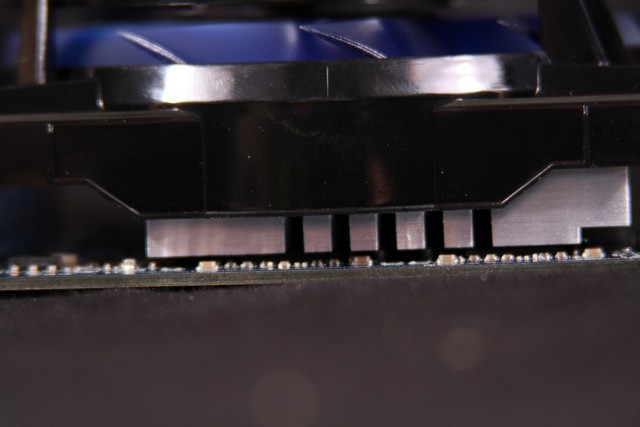 The heatsink did not warp the PCB of the 5750 video card, which I personally like.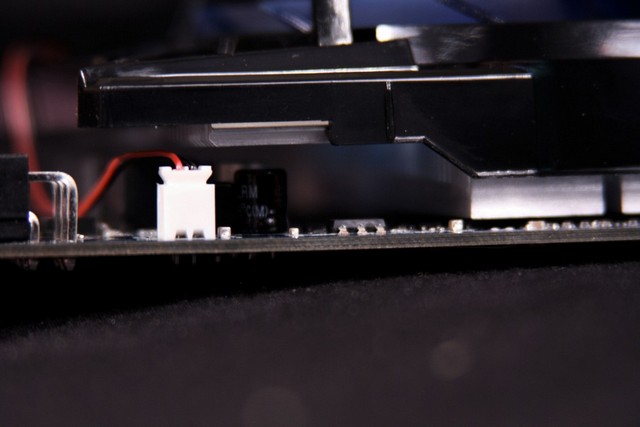 There was enough room from the heatsink to allow memory sinks to be used, but VisionTek decided not to use any. The ASUS 5750 memory gets rather warm when I seriously start to overclock it, I get that feeling this memory will be doing the same.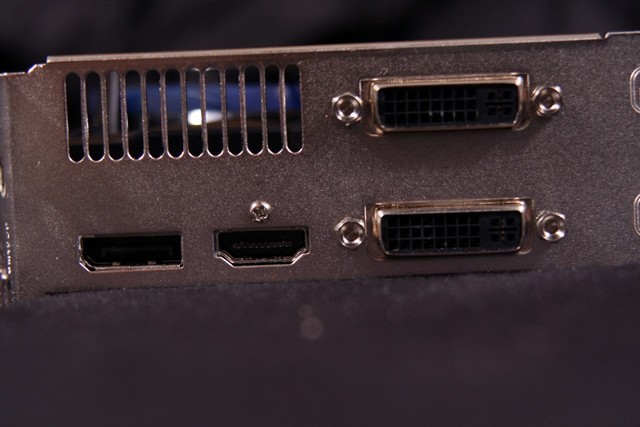 Now where have we seen this before? Oh, yea I remember this is the exact same layout as the 5870/5850 video card on the rear IO ports. VisionTek uses 2 DVI ports (stacked on top of each other), 1 HDMI port, and a display port. Unfortunately until I get 2 more monitors I cannot fully test out Eyefinity, but keep your eyes peeled for an article because it wont be too long till I start playing with Eyefinity.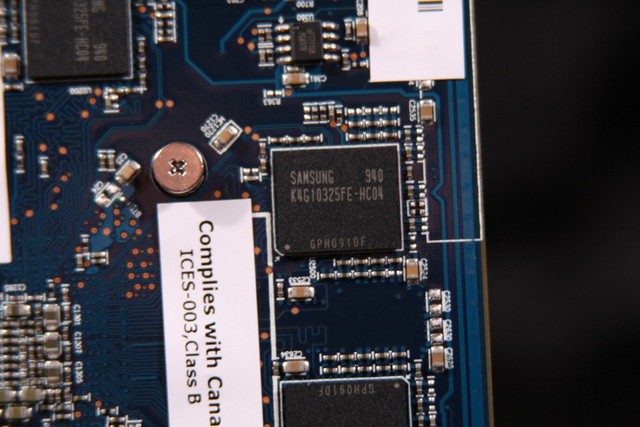 In case you want to know what VisionTek used for memory, here is an upclose shot of one.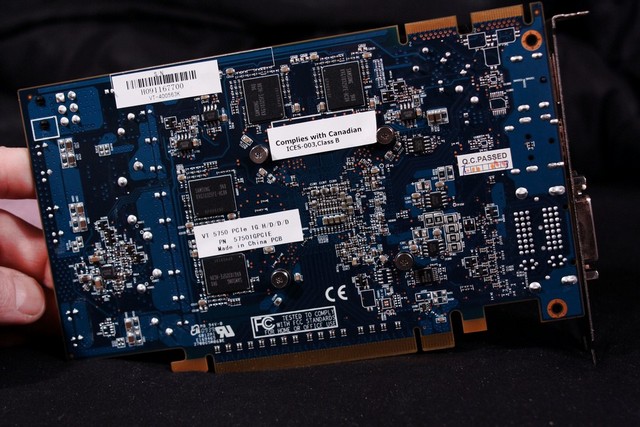 Pretty standard layout on the backside, for the 5750 video cards.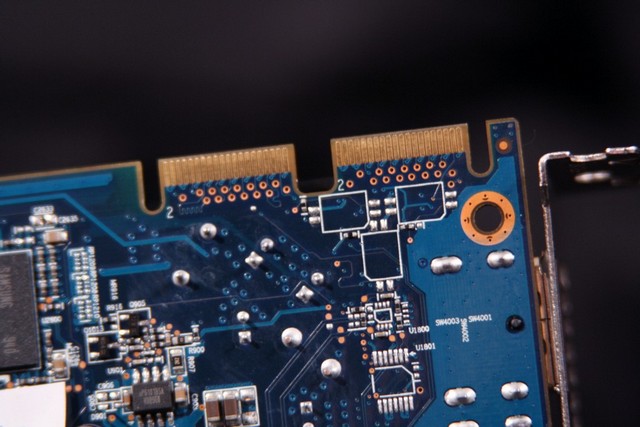 Again you don't need to use both crossfire ribbons to make crossfire work. But it is advisable to hook both of the interconnects for optimal performance.
Installation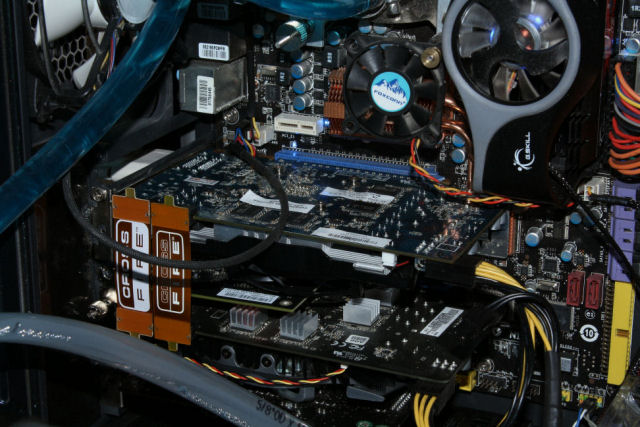 What the two 5750's look like all nestled up inside of "Mini Me". Now the red lights are emulating from another one of VisionTek's products. But you will have to wait for that review.
Testing Methodology
Test Setup &Testing Methodology
CPU
Intel Core i7 920 C0 2.66GHz, @ 4.11GHz
Motherboard
MSI X58 Platinum
Case
Cooler Master Cosmos 1000
Memory
GSkill trident 2000MHz
Video Card's
HD4770, 5750
Hard Drives
2x Seagate 320Gig 2.5″ Momentus HDD's
CDRom Drive
Lite On Blue Ray
Power Supply
SilverStone 1200 Watt Zeus
CPU Speeds Used
3990MHz
Operating System Used
Microsoft Windows 7
Video Card Cooler

Original coolers used on both the 4770, 5750
CPU Cooler

Koolance 340 CPU water block
The last time I brought to you a 5750 video card (Review can be found HERE). I quickly found out, that the 5750 video card had no issues on running with a semi high resolution of 1680×1050. for this review I am going to drop off the 1280×1024 resolution testing, mainly because again the VisionTek 5750 video had no issues on running some of the most demanding games out there while using a 1680×1050 resolution.
I will be including the VisionTek 4770, and the ASUS 5750 video card as comparison video cards. For single card comparisons, I will only be overclocking the VisionTek 5750 video card. This will give you an idea of the performance gain you will get once the VisionTek video card is overclocked. Now I did mention I will include crossfired 5750 video cards.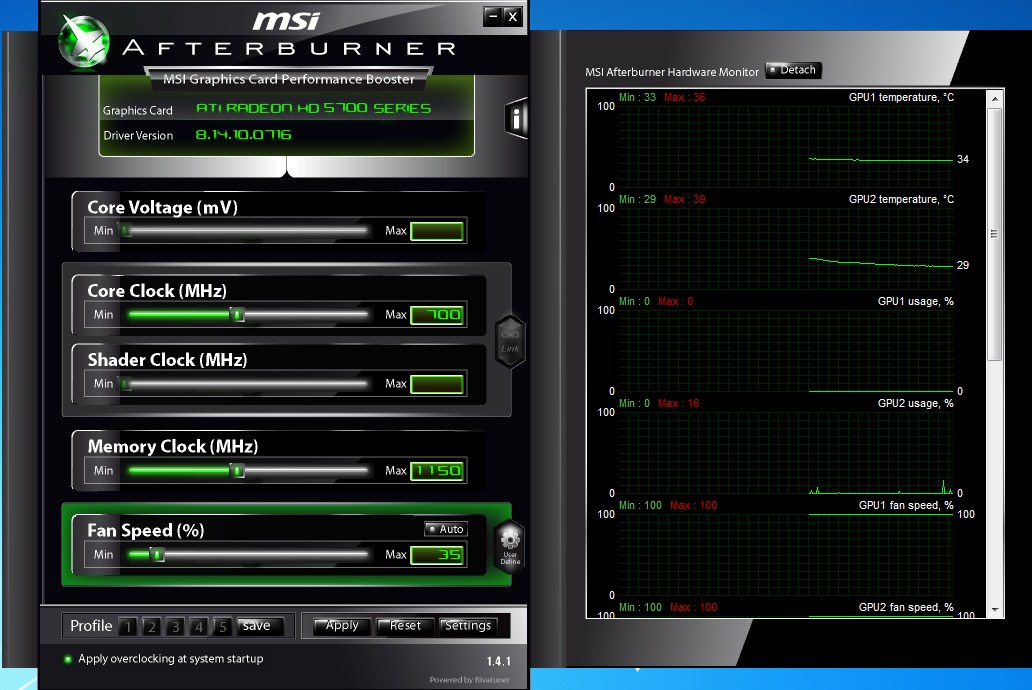 I ran each program listed here a minimal of 3 times to ensure my results were consistent, and that I had stability throughout testing. I will only be using a resolution of 1680×1050 with both AA/AF and No AA/AF (application specific). The Direct X 11 testing will only be tested on the 5750 video cards, as this is a video card specific capability.
DirectX 10/10.1 runs
Far Cry 2: Direct X 10 No AA, x4AA
Hawx: Direct X 10.1 No AA, x4AA
Darkest Of Days: Direct X 10 No AA, x4AA/x16AF
3DMark Vantage: Direct X 10
Unigine Heaven: Direct X 10 No AA, x4AA/x16AF
Stalker Call Of Pripyat Direct X 10.1 Screen Shots Only, no AA
Direct X 11 Runs
Dirt 2 Demo: Direct X 11, No AA, x4AA
Unigine Heaven: Direct X 11 No AA, x4AA/x16AF
Stalker Call Of Pripyat Direct X 11, No AA Screen Shot only
Overclocking
Overclocking the VisionTek 5750 was not much different from the ASUS 5750 video card. Only this time I had an idea on where the maximum clock speeds were going to be roughly at. Started up MSI Afterburner, and set the GPU/Memory core speeds to 800/1250 from 700/1150. I ran a few tests, to check for stability which I had with this video card, so I proceeded to max out the cards GPU/Memory clock speeds. It was not long till I able to hit the maximum GPU/Memory frequencies of 850/1311 MHz. This was identical to the ASUS 5750 video card. For the Crossfired configuration, I allowed MSI Afterburner to set both video cards GPU/Memory frequencies in sync with one another.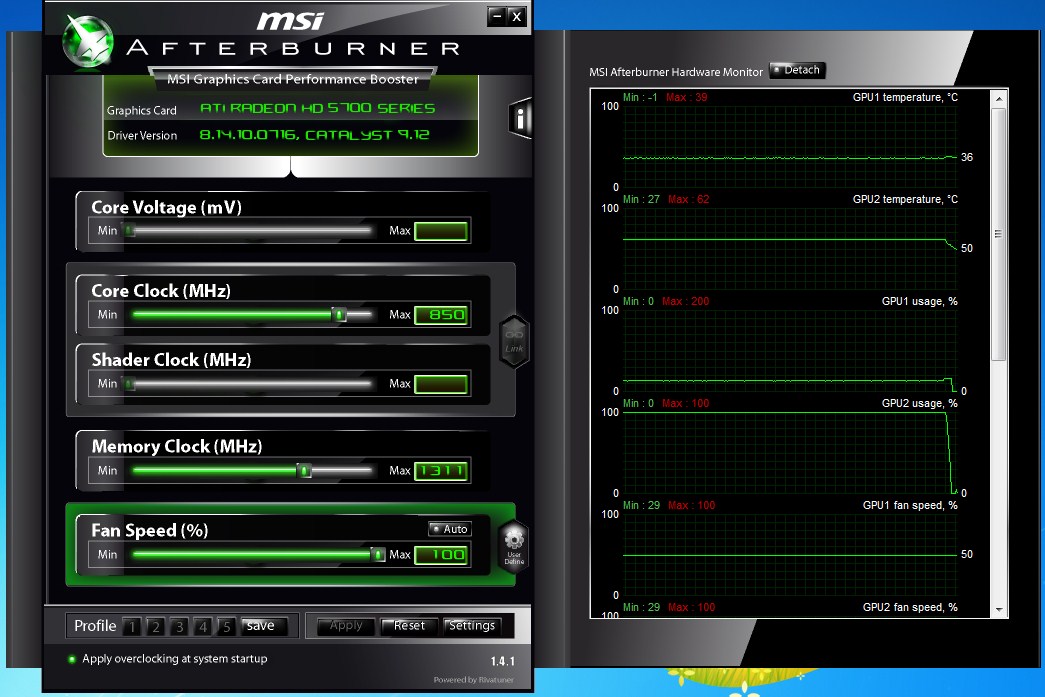 Overclocked VisionTek 5750.
3DMARK VANTAGE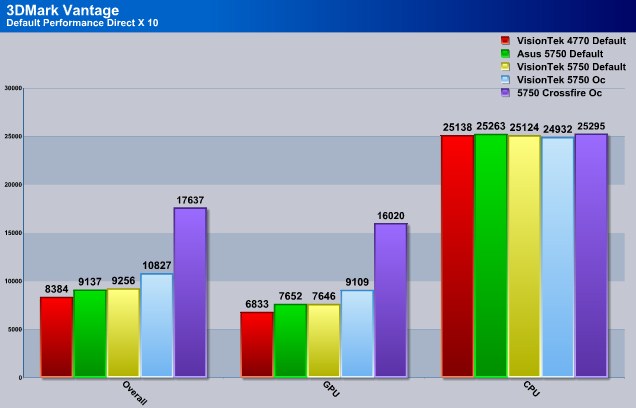 When it comes to our video cards and trying to get an idea on how they perform, most of us will start up Futuremarks popular 3DMark Vantage. Looking at how the 5750's perform compared to the 4770, we see that the 5750's are vastly superior in all out performance. Overclocking the VisionTek 5750, gives us another slight increase of performance. No matter how high we can go with a single 5750 video card, it is still no match for two seriously overclocked 5750's.
Darkest Of Days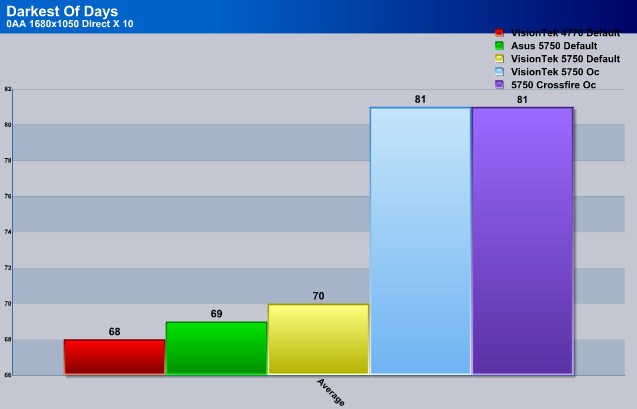 With Darkest Of Days testing, it shows the 4770 and the two 5750's are dead even on performance. Overclocking the VisionTek 5750 does give us a nice performance boost. As we can tell Darkest Of Days does not properly see Crossfire at all.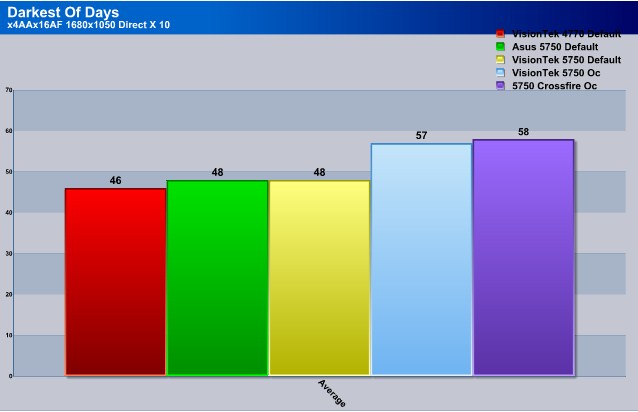 Turning on AA, we see that the three video cards tested here start to struggle a bit, But this should still provide us with decent frame rates. Overclocking still provides us with a good frame rate boost. Similar to the no AA run, Darkest Of Days does not recognize Crossfire.
Far Cry 2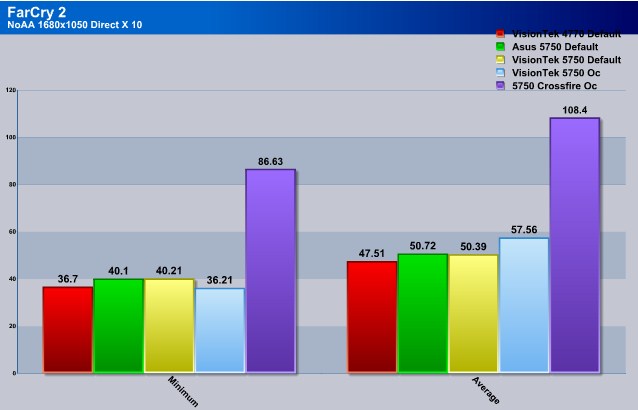 Now turning our attention over to Far Cry 2 testing, both of the default 5750 video cards perform identical. For some odd reason when I overclocked the VisionTek 5750 my frame rates dipped slightly.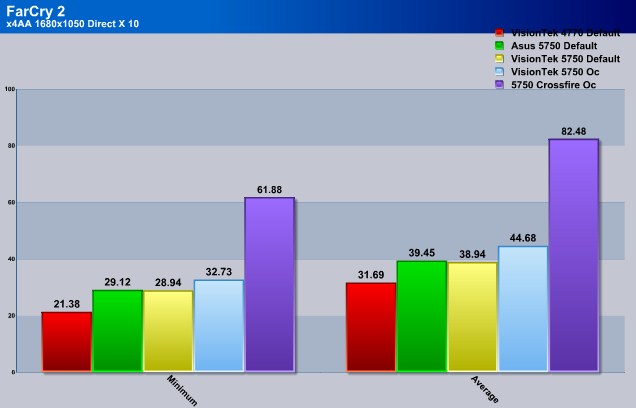 Time to see how things turn out once AA gets applied. The 5750's still show strong signs that these video cards have no issues handling Far Cry 2.
Hawx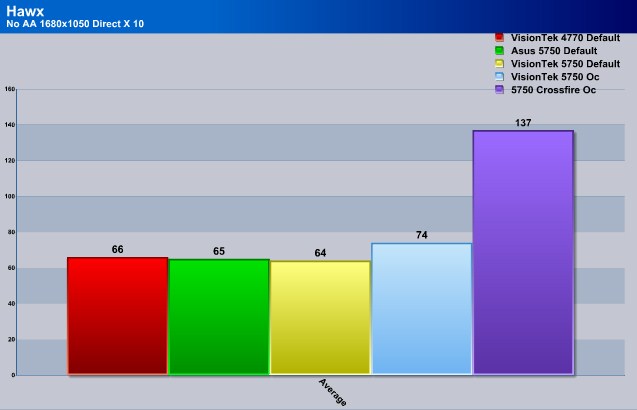 This is one of the few times the 4770 is able to keep up with the 5750 video card. As we can tell Hawx still likes to have multi GPU's at its disposal.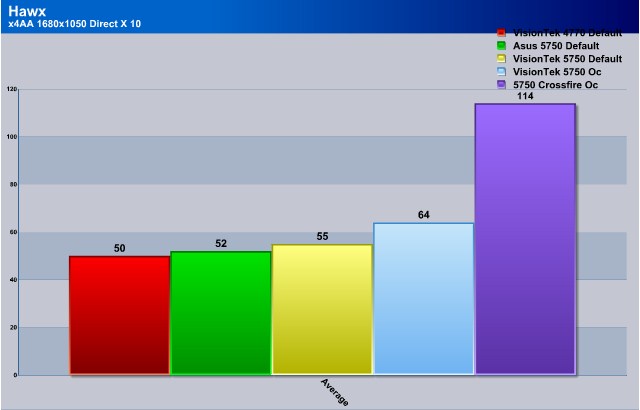 Turning on AA, all three video cards shows no signs of struggling.
Unigine Heaven
Unigine Heaven Benchmark, I am starting to feel that the makers might have gone a bit overboard or have not optimized this benchmark properly. As we can see the 5750 Crossfire clearly decimates the 4770 video card.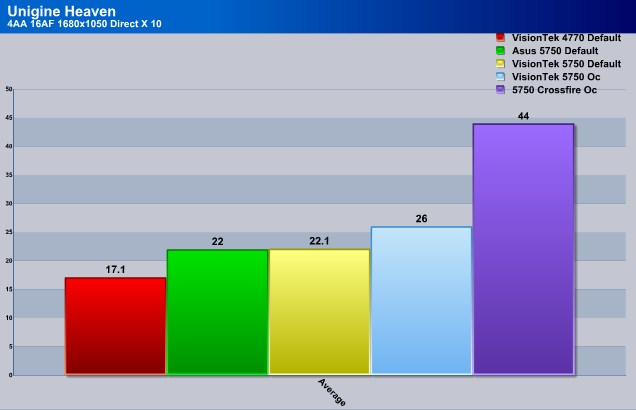 By turning on AA the 5750's frame rate lead starts to increase. the only time we seen playability with Heaven benchmark was when I Crossfired both the 5750's together.
Stalker Call Of pripyat
<
VisionTek 4770
ASUS 5750
VisionTek 5750
VisionTek 5750 Oc
 
5750 Crossfire
 The 4770 video card still manages to out perform the 5750's in Stalker Call Of Pripyat. It is not until the VisionTek 5750 video card is overclocked before it can remotely keep up with its older brethren the 4770.
Direct X 11 Titles
Since there are more and more Direct X 11 titles out today it only seems right to start including these into our normal everyday routine benchmarks.
Unigine Heaven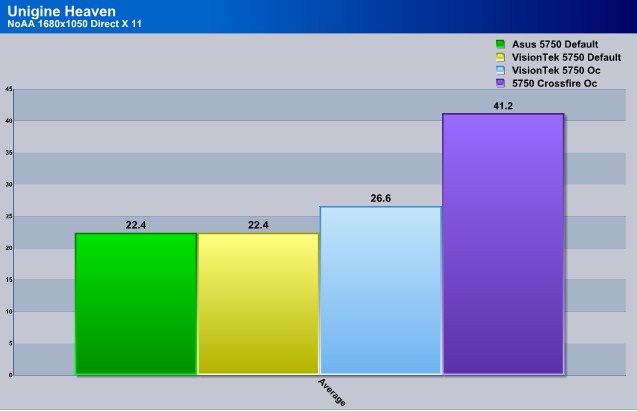 Unigine Heaven shows it can still pumle on the VisionTek 5750.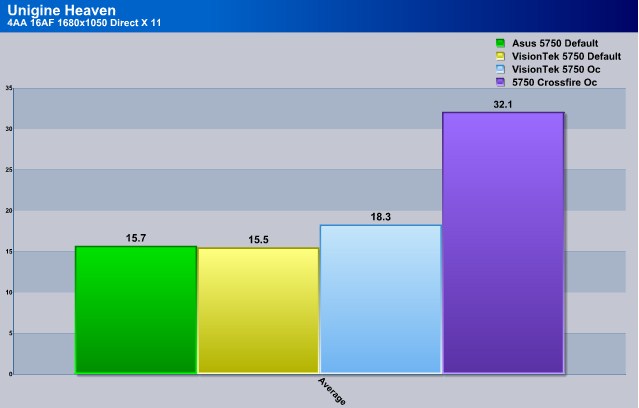 Things turn to the worst once we turn on the AA and AF. I would not take these results too seriously, this is more to show you the performance of the video cards and how they relate to one another.
Dirt 2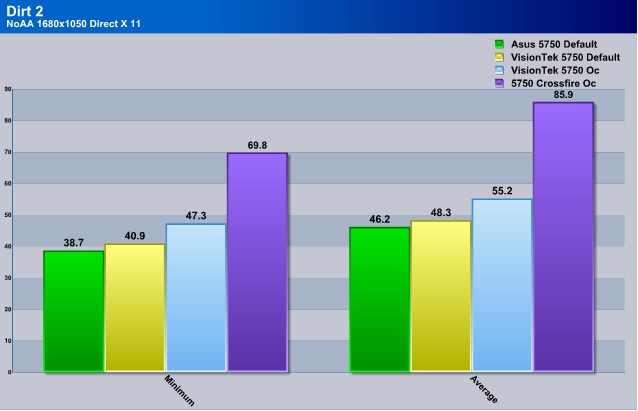 Kicking up our newest benchmark member Dirt 2, we see that the neither of the 5750's have any trouble rendering this game in Direct X 11 mode. By pairing the two up we see a significant increase in our frame rate.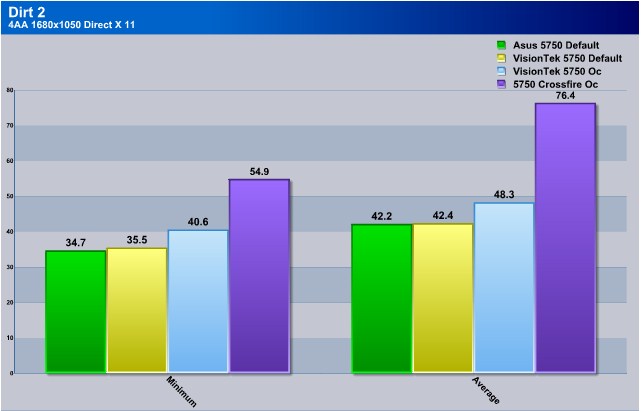 Even turning on AA the VisionTek, and ASUS 5750 have no trouble handling Dirt 2. The frame rates seen here almost warrant an increase in resolution to 1920×1080.
Stalker Call Of Pripyat
| | |
| --- | --- |
| | |
|  ASUS 5750  |  VisionTek 5750 |
| | |
|  VisionTek 5750 Oc |  5750 Crossfire |
As we all ready knew from previous benchmarks the VisionTek and the ASUS 5750 perform almost identical to one another.
Conclusions
The VisionTek 5750 proves once again it is a video card that is a force to be reckoned with. The VisionTek 5750 also shows us it is a video card that can do both provide a great gaming experince, with out making a big dent in our wallets. In a nut shell, "We can have our cake and eat too."
By VisionTek giving users the ability to be able to span their games across three monitors (Eyefinity) also makes this little video card an even sweeter deal. Looking around the web, I seen this video card still going on or around the 150USD mark, this is a perfect companion for anyone who needs a serious performing video card but may be on a tight budget. And if you one of the lucky ones who already has a 5750 video card, adding a second 5750 will only add more pleasure to your gaming experience.
OUR VERDICT: VisionTek 5750

| | |
| --- | --- |
| Performance | 8.5 |
| Value | 8 |
| Quality | 9 |
| Features | 8 |
| Innovation | 9 |

We are using a new addition to our scoring system to provide additional feedback beyond a flat score. Please note that the final score isn't an aggregate average of the new rating system.

Pro
Cons

Support Direct X 11

Good price

Overclocks Extremely well

Support for Eyefinity

Performance still seems it can be improved upon

No included Crossfire interconnect

 

 
Summary: VisionTeks 5750 video card performs extremely well, and is a perfect companion for just about anyone.