Here is a guide that shows you how to overclock your video cards with MSI Afterburner.
MSI Afterburner Overclocking How To
On October First of 2009, MSI has released a RivaTuner based Overclocking utility, that will allow us to overclock our video cards. You can see the Article HERE. This guide Is based on how to use MSI Afterburner on our video cards. Unlike RivaTuner MSI Afterburner is a lot simpler to use and navigate.
Before we start off with this article we first need to download and install MSI Afterburner, this program can be found HERE. After you get this program installed lets get on with the How To Guide.
This guide will be broken up into sub sections,Overclocking and Fan control to simplify things a bit.
Overclocking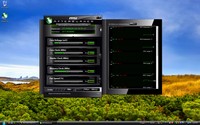 After you get MSI Afterburner downloaded and installed, we need to execute it. The icon should be placed on your desktop. After double clicking the icon you should have a window just like mine. Your video card will be listed in the upper center window in green lettering as well as the driver version you are using. If you have multiple GPU's I will show you how to flip from one GPU to the next during this portion of the guide.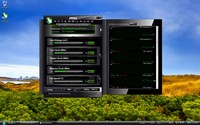 The 4870X2 video card runs at a 2D speed while in windows and ramps up to 3D speed while running a game. The voltage shown here is the default 2D speed, we need to reset MSI Afterburner to properly set the 3D speed of the 4870X2 (this will be GPU specific). Notice the core voltage is at 1064mV (1.064 volts)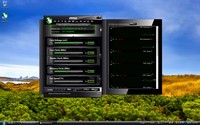 This is what you should have after resetting the default settings. Notice now the Core Voltage is now at 1262mV. (1.262 Volts). After the GPU 1 has been reset, locate the Settings Button located towards the bottom right hand side of the main window.
After clicking on that button, we will see a page with a few tabs. Pay attention to the General Tab, we are not going to mess with the other tabs just yet. In the first drop down menu you will see your video card listed here, since a 4870X2 video card has 2 physical cores I need to switch to the GPU 2 core.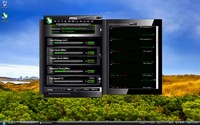 Which brings us back to the primary page we just left. Notice the Core Voltage is at 1064mV? we need to reset this to 3D state just like we did on the first GPU core.
Like so, now we can adjust the frequency. Pretty straight forward here, locate the Memory/Core clock sliders and then move them to the right until we reached our target clock speed, or you can use your arrow keys to fine tune the clock speed. I set the GPU core speed to 820MHz, and the memory to 950MHz.
Then Click apply. Now go back into the settings page reselect the first GPU (or other) then set that core speed accordingly. If MSI AfterBurner did not already do this for you.
Voltage tweaking is done exactly the same way as upping the Core/memory speeds. Locate the Core Voltage slider then slide it to the right till you reach your target Voltage you want.
Overclocking the video cards with MSI Afterburner is pretty straight forward. But word of WARNING: Please do this gradually, if you go to far you can and will cause lock ups. If you are using a stock air cooler going to far can result in a burnt video card.
Fan Control
For the Fan controlling portion, we need to go to the Settings button then click on it. Then we will get another window with a bunch of tabs. The tab we need to move to is the Fan tab. Then check then box, after doing so we get a small window with a green line and some square dots. To adjust the fan speed you click on the dot then drag that dot up down to increase the fan speed. Or we can really customize the fan speed of the video card a lot more fine by double clicking in the window to bring up more square dots. Each dot represent the fan speed to the video card temperature. The more dots we add the finer of an adjustment we get.
Here is a You Tube Video demonstrating this portion of Fan controlling.