With multi-GPU configurations becoming popular in todays gaming rigs, quality power delivery has become a necessity. Being no stranger to PSU's, we review Topower's latest 1200W offering.
Introduction
If you happen to be new to quality power supplies (PSU's), you may actually have no clue who Topower (AKA Epower) is. With brands like Antec, Thermaltake, PC Power & Cooling, and Corsair dominating the power supply market, Topower is easily overlooked. The fact is, Topower has been making quality power supplies since 1986 when the company first formed. Being no stranger to power supplies, Topower is definitely a brand to keep on your list when building that next rig. If your current rig or future rig will have a demand for 1000+ watts, Topower's Tiger 1200W PSU might just be the PSU that fits your bill.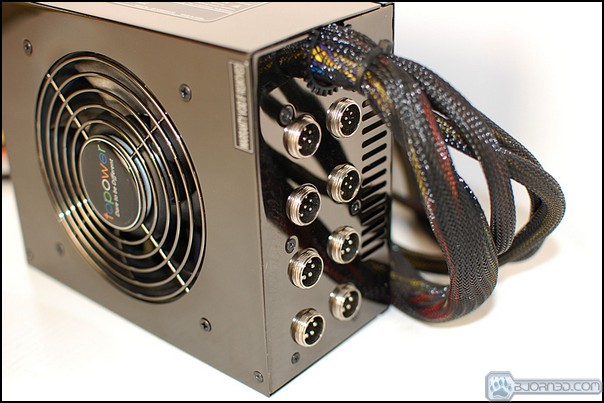 Topower's Tiger Series 1200W power supply is an affordable 1200W 80Plus certified PSU that comes with plenty of unique features. The most notable features are the modular power connections and much needed SATA to Molex adapters. Along with a very nice modular system, Topower made sure to give plenty of length with their cables, a massive 26 inches of length per cable. Aside from those features, this PSU is Quad SLI ready, has an Active PFC, comes with six 12v+ rails and even has a rail switch to toggle between six and single rail modes. Considering this PSU goes for $259, its hard to see why you would look elsewhere when you see that price. With so much history behind Topower, we were curious to see how the Tiger Series 1200W PSU compared to Sapphire's new 1250W PSU and Thermaltake's TR2 1000W PSU. Before moving onto testing, lets check out the specifications to see what this PSU is capable of.
Features & Specifications
 

Patented ATX 20+4 slide-in socket for motherboards supporting Intel and AMD multi-processors.
Patented +12V Single and Multiple Rail Switch
Easily convert extra SATA connectors to 4pin molex connectors
12 Serial ATA power lead for SATA devices
Patented EMI filter added to enhance video performance by stablizing the output current to video cards
6+2 PCI-Express pin design providing 300W power per rail.
Active PFC (Power Factor Correction) – High PFC Rate at 0.99
Safety & EMI
Thermally controller fan
Silent Engine Technology (Sanyo Denki 120mm 2-ball bearing fan)
High Air Flow and Pressure for heat dissipation
Full Range AC Input
Circuit Protection (Over volt, over load, over current and short circuit protection)
Three Year Warranty
Cables & Accessories Included
ATX 24 Pin & 20 Pin (x1)
ATX 8 Pin (x1)
ATX 4 Pin (x1)
PCI-Express 6+2 Pin (x2)
PCI-Express 6 Pin (x2)
SATA (x8)
Molex 4 Pin (x6)
FDD (x2)
SATA to Molex Adaptors (x4)
Four Screws for mounting
Four Cable Management Straps
Owner's Manual
Dimensions: (W X H X D) 5.8″X 3.5″X 6.825″ (150mm x 86mm x 175mm)

Weight: 9lbs

Model Number: EP-1200W-P10-T2

100-120 Vac / 200-240 Vac 60 / 50Hz

Tiger 1200 XLR

Voltage

3.3V

5V

12V1

12V2

12V3

12V4

12V5
12V6

-12V

5Vsb

Max spilt current

30A

30A

20A

20A

20A

20A

20A

20A

0.8A

6.5A

Max combine Power

200W

1008W(84A)

9.6W

17.5W

Total Wattage

1200W

 
A specific feature to keep in mind about this PSU is it's Nvidia SLI certification. To meet Nvidia's standards, PSU's are put through vigorous testing to ensure electrical, mechanical, and thermal compatibility. Receiving this certification is no easy task. If you look at this link, you can see that not many companies have products meeting this certification. Topower has proven to Nvidia that their Tiger Series 1200W PSU is capable of meeting their strict standards, which says a lot about the build quality & performance of the PSU.
Along with receiving Nvidia's SLI certification, the Tiger Series 1200W PSU has an Active PFC allowing the PSU to maintain quality power delivery no matter the circumstance. If you happen have to have dirty power in your area, you can be rest assured that the Active PFC will do its best to keep the power clean without degrading power delivery in the process.
Other than certifications and a wonderful modular design, the Tiger Series 1200W PSU also packs a total of six 12V+ rails. Having multiple 12V+ rails ensures stability when overclocking, using multiple graphics cards or doing a combination of both. Power delivery across the rails is very, very important. Lets move on to the next page to get a better understanding of why quality power delivery is vital when powering expensive hardware.
WHAT ABOUT THEM RAILS?
 

We have all, no doubt, been told that when purchasing a power supply that the number to look for is the amps on the 12V rail. What are each of the different rails for though, and why is the 12V rail typically the most important? Why the heck are they called rails? Let's take at look at each and see.
-12V – This rail is pretty much obsolete now and is only kept on to provide backward compatibility with older hardware. Some older types of serial port circuits required both -12V and +12V voltages, but since almost no one except industrial users use serial ports anymore you as a typical home user can pretty much disregard this rail.
-5V – Again this is another obsolete rail, the -5V was used for old school floppy controllers and some ISA bus cards. Again, no need for the typical home user to worry about this rail.
0V – Though not listed on any manufacturer spec sheet, every power supply
 has a 0V ground line. The ground signal is used to complete circuits with other voltages and provide a plane of reference against which other voltages are measured.
+3.3V – Finally we are starting to get into something useful! The +3.3V rail was introduced with the ATX form factor in order to power second generation Pentium chips. Previously the CPU was powered by the +5V rail (along with the system memory and everything else on the motherboard), but a reduced voltage was needed in order to reduce power consumption as the chips got faster. Until just recently, the +3.3V was used to exclusively power the CPU as well as some types of system memory, AGP video cards and other circuits.
+ 5V – As mentioned above, the +5V used to run the motherboard, CPU and the majority of other system components on older pre ATX based systems. On newer systems, many of the components have migrated to either the +3.3V or +12V rails, but the motherboard and many of its onboard components still use the +5V rail so it is of importance to the typical home user.
+5V SB – The +5V Standby or "Soft Power" signal carries the same output level as the +5V rail but is independent and is always on, even when the computer is turned off. This rail allows for two things. First, it allows the motherboard to control the power supply when it is off by enabling features such as wake up from sleep mode, or wake on LAN technology to function. It also is what allows Windows to turn your computer off automatically on shutdown as opposed to previous AT supplies where you had to bend over and push the button. Every standard ATX power supply on the market will include this rail.
+ 12V – The +12V, also known as the mother of all rails, is now used to power the most demanding components in your system including the CPU, hard drives, cooling fans, and graphics cards. Historically the +12V rail was used only to power drives and cooling fans. With the introduction of the 4-pin CPU plug on P4 motherboards and then eventually AMD based motherboards, in order to supply newer power hungry CPUs, the +12V rail suddenly started to grow in importance. Today, dual core based motherboard require an 8-pin +12V connector to supply their power needs. High end GPU cards have also jumped on the +12V rail, which has required PSU makers to adapt. Where previously there was only a single +12V rail, there are now two or more, each designated to power specific devices in order to ensure that nothing is underpowered.
Now as to why they are called rails, the best explanation that I can find is that the term comes from the wacky world of electronics and it refers to a long metal bar or strip that is used to provide a particular voltage level. Perhaps someone with a deeper understanding of all things electrical could let me know whether or not that is true.
Pictures & Impressions
Click Image For a Larger One
Topower used a very nice packaging setup with the Tiger Series 1200W PSU. From the pictures above you can see Topower used a drawer style box which houses everything needed to utilize the PSU. The PSU itself was neatly tucked into the top drawer while the accessories, cables and manual were stuffed into the bottom drawer. The material used to construct the box itself is similar to the material used on synthetic leather jewelry boxes. On the exterior of the box the typical specifications are listed on all sides. Very nice packaging from Topower.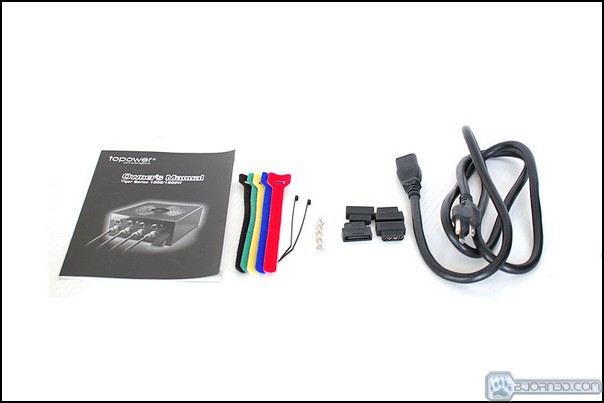 Bundled with the PSU is an owners manual, cable management straps & zip ties, screws for mounting, patented SATA to Molex adapters, and a very thick & beefy power cable.
Click Image For a Larger One
The Tiger Series 1200W PSU has a nickel mirror finish that is certainly pleasing to the eye. Before receiving our review sample, we didn't think the PSU would look as good as it did in person. After unboxing it and seeing the PSU first hand, we were surprised at how good it actually looked. The pictures don't do the PSU justice, you'd really have to see it in person to fully appreciate it aesthetically.
Topower paid a great deal of attention to detail when making this PSU. The modular design of the power connections is fantastic. The cables, which you can view below, are simply awesome. Instead of using traditional plastic clips to seat the cables into the PSU, Topower decided to use a screw on method which works very well. The cables screw on with ease and aesthetically it looks and feels very nice.
Click Image For a Larger One
Click Image For a Larger One
Above you can see the patented 20/24-pin switchable motherboard power cable, 4/8-pin CPU power cable, and the very awesome 6-pin & 6+2-pin PCI-Express power cable. The 6-pin with 6+2-pin PCI-Express power cable allows you to power a card requiring 6-pin and 8-pin PCI-E power with a single cable. Powering a multi-GPU setup requiring 6 & 8-pin PCI-E power per card would need only two cables unlike most PSU's which would require four cables. This helps cable management greatly. Topower is managing to cover every area with this PSU. Aesthetics, cable management, power delivery, and build quality. It's time to test this Tiger out.
Testing Methodology
 
Station_i7
Case
Custom made tech station
CPU
Intel Core i7 920 2.66Ghz @ 3.6Ghz (1.16v)
Motherboard
DFI LANParty X58 UT-T3EH8
Memory
Kingston HyperX 3x1GB DDR3 2000 @ 1800 (8-8-8-18 Timings)
CPU Cooler
Noctua NH-U12P w/ 120mm Scythe 86CFM Fans (Push/Pull)
Hard Drives

OCZ Vertex 60GB SSD
Seagate Barracuda 7200.11 320GB

Optical Drive
Samsung DVD R/W+/-
GPU
XFX 4870 X2
Case Fans

Noctua NF-P12 120mm Fans (x2) – Side Cooling
Noctua NF-B9 92mm Fan – HD Cooling       

Tested PSUs

Topower Tiger Series 1200W
Thermaltake TR2 1000W
Sapphire PURE 1250W

Mouse
Razer DeathAdder
Keyboard
Razer Lycosa
For testing, a Kill-A-Watt wall socket meter was used to measure the total wattage consumed and a Ideal Multimeter was used to measure the voltages. To stress the hardware, we used Prime95 for voltage measuring and Crysis Warhead for system load stressing.
Click Image For a Larger One
The current ATX 2.2 specifications allow for the following variation in voltage outputs:
3.3 Volt Rail:   3.135 – 3.465V
5 Volt Rail:      4.75V – 5.25V
12 Volt Rail:   11.4V – 12.6V
 
RESULTS
Topower Tiger Series 1200W

Thermaltake TR2 1000W

Sapphire PURE 1250W

OutPut Power
Idle
Load
OutPut Power
Idle
Load
OutPut Power
Idle
Load
12 volt

12.22

12.22

12 volt

11.97

11.94

12 volt

12.24

12.24

5 volt

5.07

5.08

5 volt

5.14

5.15

5 volt

5.05

5.04

3.3 volt

3.38

3.38

3.3 volt

3.31

3.30

3.3 volt

3.30

3.29
Topower Tiger Series 1200W
Watt Usage
Idle: 242W
Load: 485W
From the results you might guess that we possibly goofed up our testing. No power variations except on the 5v readings, not possible? Well, believe us, its possible. We ran our tests multiple times to make sure we weren't crazy, but the same results were reported. Not only did the Tiger Series 1200W PSU compete well, it had almost no power variation whatsoever. Only on the 5v readings did the power delivery change, a measly 0.01v increase when under load. We would have liked to see lower a little lower idle readings but the full load readings look fantastic. Considering the variation is basically null, we can't really complain about how this PSU performed. Power delivery doesn't get much better than this.
Conclusion
Topower has without a doubt, created a competitively priced 1200W PSU that is worth every dollar of the $259 asking price. Touting 1200 watts, a very modular design, an Active PFC, useful SATA to Molex adapters, quiet operation and killer looks. There isn't much to dislike about the Tiger Series 1200W PSU.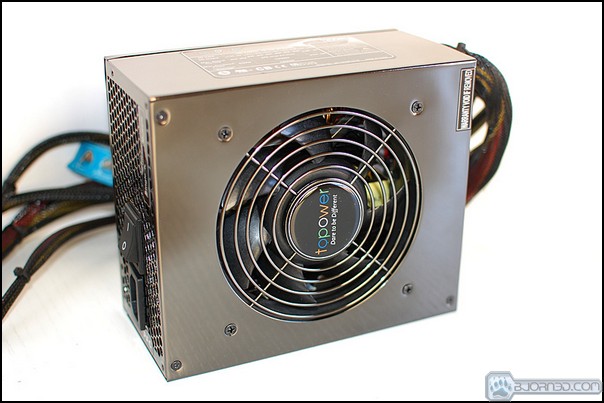 It performs like a Topower PSU should, its priced lower than its competitors, and its even backed by a three year warranty. The only reason not to recommend this PSU is if you don't need 1200 watts of power. The fact is, no quality 1200W PSU is going to be 'cheap' but Topower has managed to build a high quality 1200W PSU that is affordable and has many features that its competitors don't have. If you're looking for a 1000W+ PSU that won't empty the bank account, look no further.
OUR VERDICT: Topwer Tiger Series 1200W PSU
| | |
| --- | --- |
| Performance | 9 |
| Value | 9 |
| Quality | 9 |
| Features | 9 |
| Innovation | 8.5 |

We are using this scale with our scoring system to provide additional feedback beyond a flat score. Please note that the final score isn't an aggregate average of the rating system.

Pro
Cons

Basically no variation between idle and load voltages

Very modular design

Quiet Operation

26″ long cables

Active PFC

80 PLUS Certified

Nvidia SLI Certified

It doesn't grade cheese

 
Summary: The Topower Tiger Series 1200W PSU is an affordable 1000W+ PSU that delivers quality power with little to no power variation. The patented features make this PSU stand out, as does the modular design, Active PFC, quiet operation and overall aesthetics. There really is no reason not to recommend this 1200W PSU if you're in the market for a PSU of this caliber.