Just when you think we reached the apex of a specific video card performance, GIGABYTE shows us that their is still plenty of improvements that can be made. Lets find out how GIGABYTE improved upon the 275GTX video card.
Introduction
Once again we are finding companies optimizing their already proven hardware. For video cards, companies on average just change out the GPU cooler, up the clock speeds, to maybe changing the rear IO ports on the video card itself. With an occasional make over we see, for instance the 295GTX went through a complete make over from the screwy sandwich design that Nvidia originally used, to a single PCB design, too doubling of the video memory on the 285GTX video card. All the while the smaller yet still very powerful video cards the 260GTX, 275GTX video cards get no change at all.
Until now, this time around the 275GTX did not just see an incrase of clock speeds, GIGABYTE doubled the overall video memory from 896 megs to 1792 megs. Having this added extra of memory is definetly a welcomed sight for these mid/high ranged video cards, GIGABYTE also promises a 9% gain in performance from an reference design 275GTX.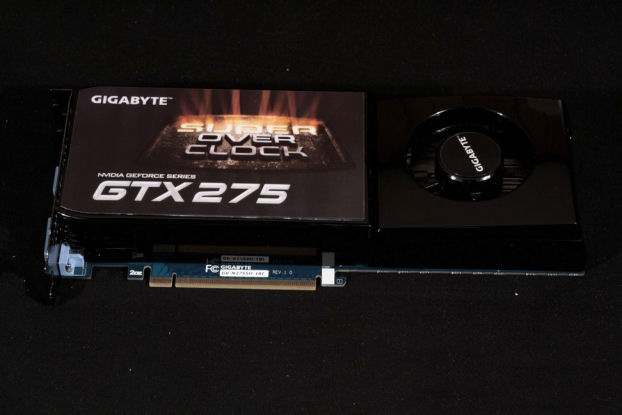 Lets stick this video card into "Mini Me" and see how the 275GTX Super Overclock performs against the orginal 275GTX reference design. Since curiousity always takes the better part of me, lets have some fun with it as well, while tring out Nvidias very own Ageia Physx.
Specifications
Title of the table
NVIDIA GeForce GTX 275 GPU
Super Overclock : core/mem clk 715 (std 633)/2520 MHz
9% better performance than generic GTX 275
3% better performance than generic GTX 285
GPU GaunletTM Sorting Process Technology
Ultra Durable VGA High Quality Components
Integrated with the 1792MB/448-bit GDDR3 memory
240 Stream Processors
Features Dual-Link DVI-I/ D-Sub/ HDMI
Supports Window7
Microsoft DirectX 10.0 and OpenGL 2.1 support
Supports NVIDIA Pure Video HD Technology
Support NVIDIA PhysX / CUDA Technology
550 Watt or greater power supply with
w/o 2×3-pin PCIe® power connector
More information about GIGABYTES GPU Gauntlet/Ultra Durable can be found HERE
Quick Comparison
GPU
Comparison Table
 
Nvidia GeForce GTX 285
GIGABYTE 275GTX Super Overclock
Nvidia GeForce GTX 275
Nvidia GeForce GTX 260 Core 216
ATI Radeon HD4870 1GB
GPU
GT200b
GT200b
GT200b
GT200/GT200b
R700
Process (nm)
55
55
55
65/55
55
Core Clock (Mhz)
648
715
633
576
750
Shader Clock (Mhz)
1476
1550
1404
1242
750
Memory Clock (Mhz)*
1242
1260
1134
999
900
Memory Size
(MB)
1024
1792
896
896
1024
Memory Type
GDDR3
GDDR3
GDDR3
GDDR3
GDDR5
Unified Shaders/ Stream Processors
240
240
240
216
800
Texture Mapping Units
80
80
80
74
40
Raster Operation Units
32
32
28
28
32
Memory Interface
(bits)
512
448
448
448
256
Outputs (on reference design)
2x Dual-Link DVI
S-Video

1x Dual-Link DVI
1x D-SUB 1xHDMI

2x Dual-Link DVI
S-Video
2x Dual-Link DVI
S-Video
2x Dual-Link DVI
S-Video
Power Connectors
2x 6-pin
2x 6-pin
2x 6-pin
2x 6-pin
2x 6-pin
Looking at the 2 275GTX video card listed in the above table. The GIGABYTE 275GTX Super Overclock does have a higher GPU/Shader/Memory frequencies, also this video card contains twice the amount of onboard video memory.
Packaging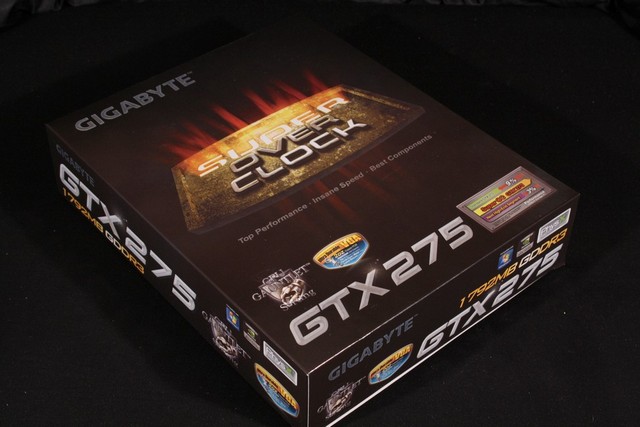 It makes only sence to start off on the out side of the box that GIGABYTE used on the Super Overclocked 275GTX video card. GIGABYTE, did not use their brightly colored look at me box they normally use. Instead, GIGABYTE uses a rather more subutle look to the packaging for the 275GTX Super Overclock.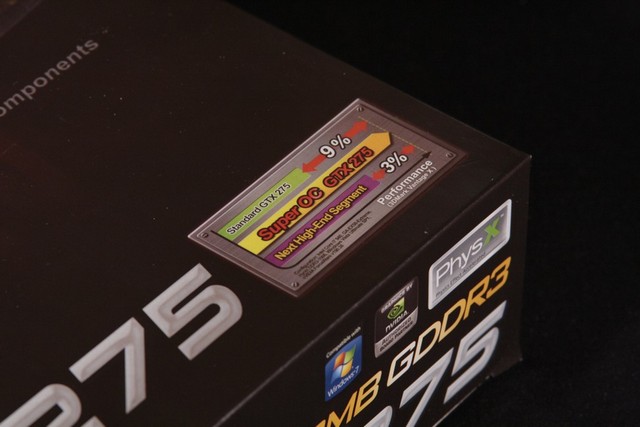 Now GIGABYTE states on the box that this video card is 9% faster then previous reference designed 275GTX video cards and also is 3% faster then the next higher video card, which we all know is the 280/285GTX video cards.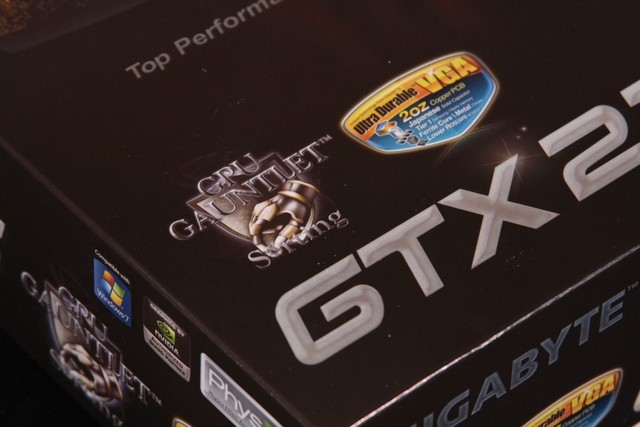 Like all of GIGABYTE's newer video cards this one also contains their very unique Ultra Durable design feature. Also GIGABYTE hand picked the 275GTX cores for there GPU Gauntlet feature.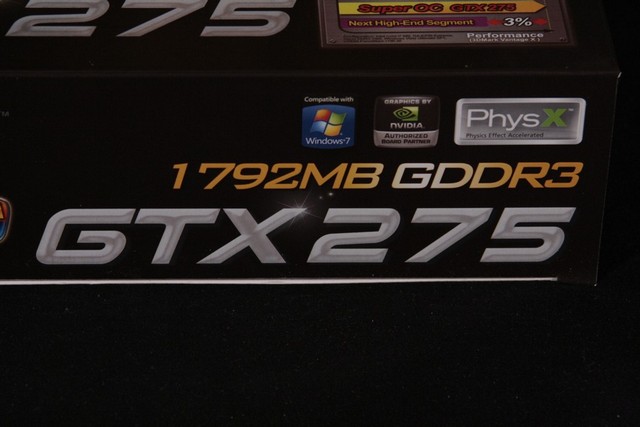 Besides just having an increased hand picked GPU core and memory speeds, this 275GTX video contains 1792 megs of video memory vs the standard 896 megs of video memory.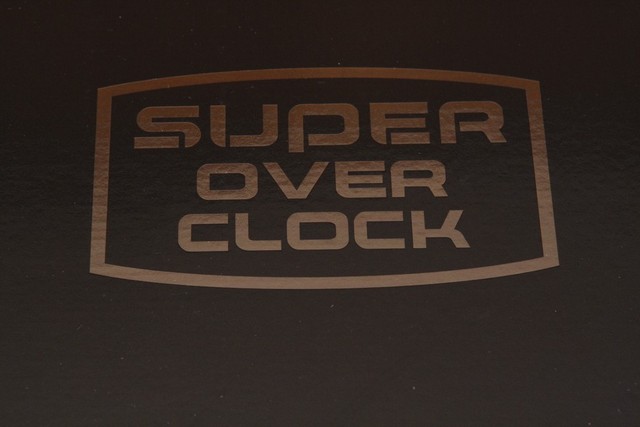 When you remove the inner box from the outer box, GIGABYTE puts in gold lettering the name of this video card Super Overclock.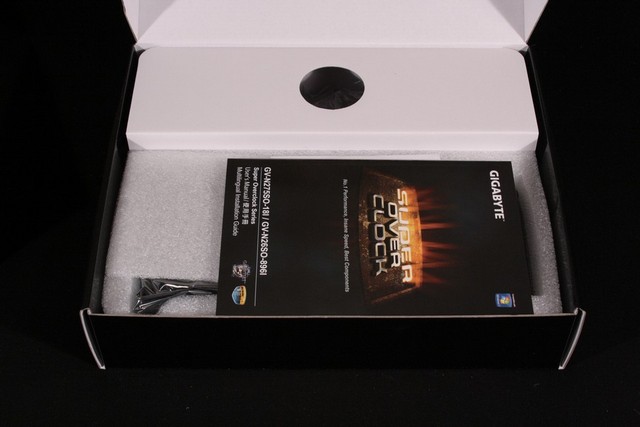 GIGABYTE like always does a great job on packaging up the video card. by using a foam encasing to ensure the video card will not get damaged during packaging or shipping.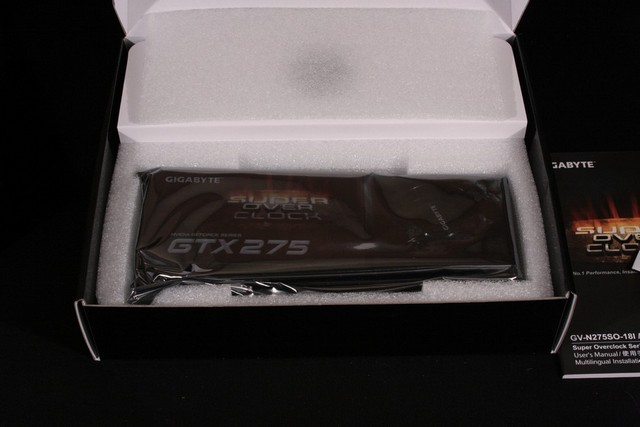 The GPU cooler is nothing new from the stock standard everyday reference design 275GTX. Its not what the hood looks like, its whats underneath of it that matters.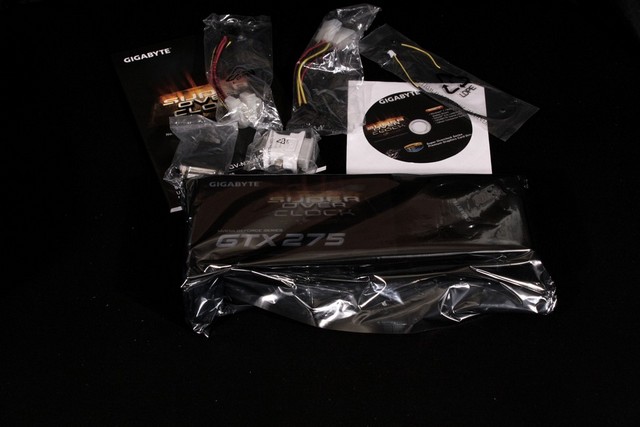 What comes in with the 275GTX Super Overclock. An instruction manual, and DVI-HDMI adapter, 2x 2 molex to PCI-E 6 pin power adapters, a DVI to D-SUB adapter, an internal SPDIF audio cable (this cable will be needed to get sound through the HDMI cable to our HDTV's from the video card), and the Driver Disk.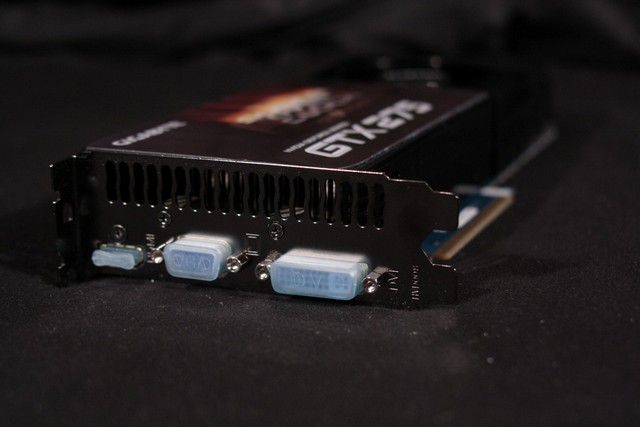 The money shot.
OVERVIEW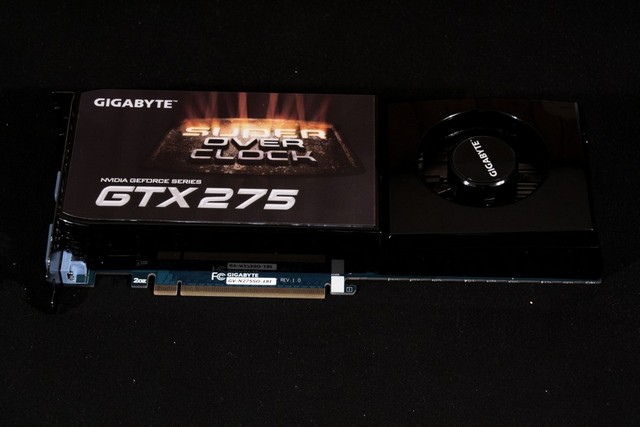 Time to start the overview of the Super Overclock 275GTX video card. Instead of using the standard black PCB that other Nvidia card manufacturers used, GIGABYTE uses their signature blue PCB. The heatsink again is nothing new from other reference design 275GTX video cards.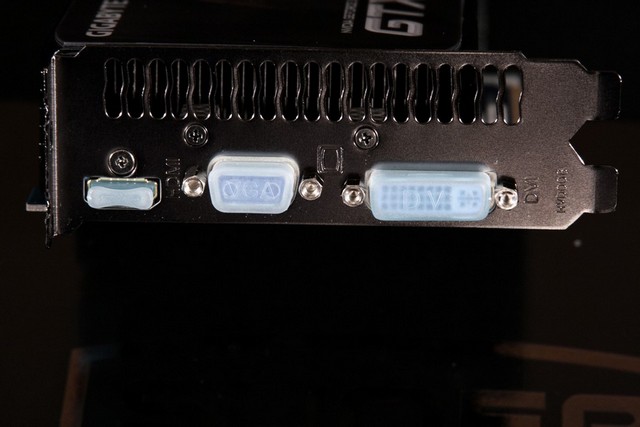 But unlike other 275GTXs GIGABYTE ditched 1 DVI out put and placed a D-SUB adapter and a HDMI outputs.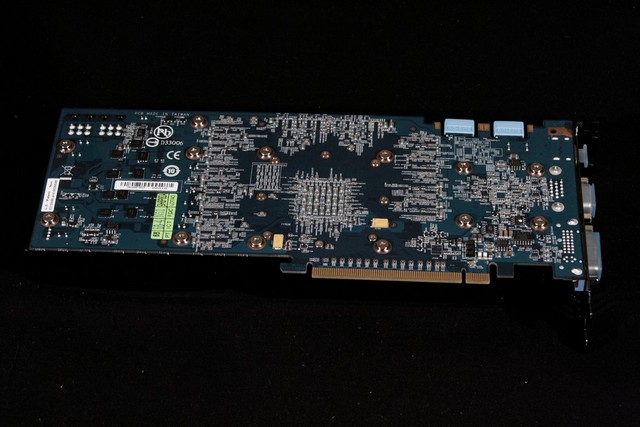 Yep the video cards PCB is definitely blue.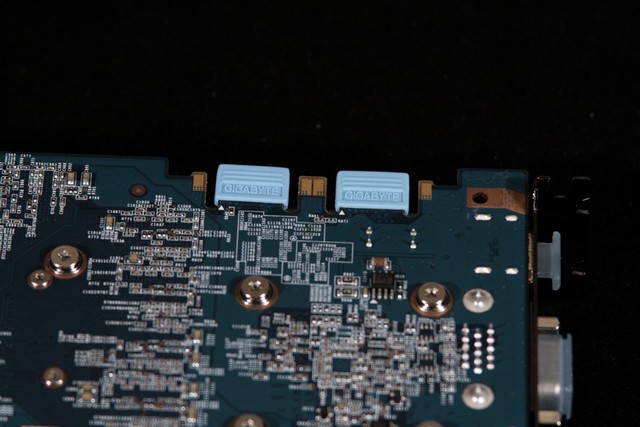 Like all other 275GTXs, this video card can also be used in a TRI-SLI configuration.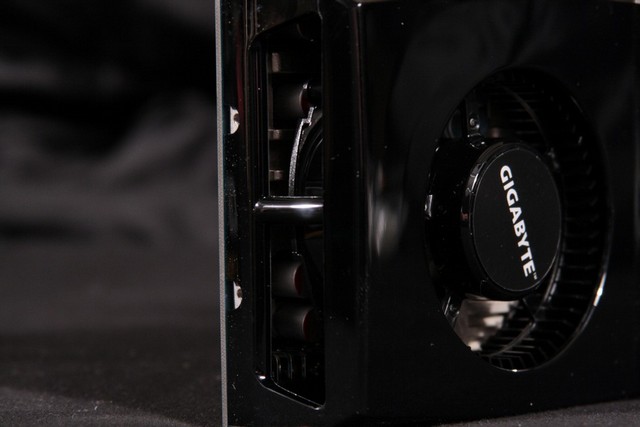 Looking at the rear intake of the 275GTX cooler. This is one area I liked about how Nvidia designed the reference cooler, this will allow more fresh air to be taken in from the back of the video card.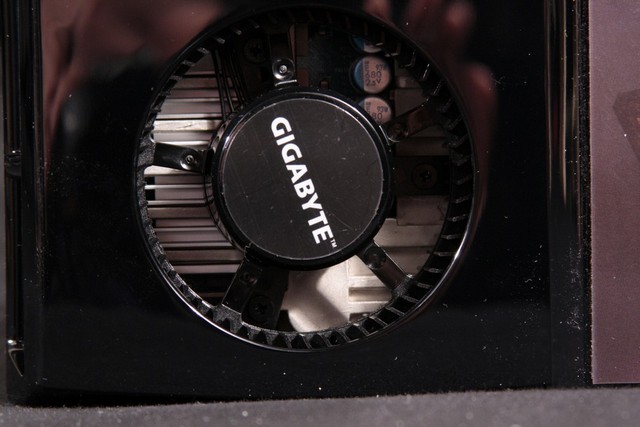 Peeking through the fan of the GIAGBYTE Super Overclock 275GTX video card, we can make out the digital VRM heatsink that GIGABYTE uses.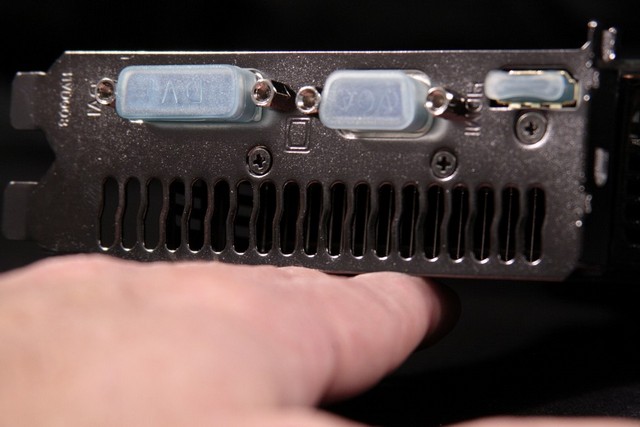 Looking at the fins of this cooler, these are evenly spaced apart to provide with plenty of cooling for the GPU core and memory.
<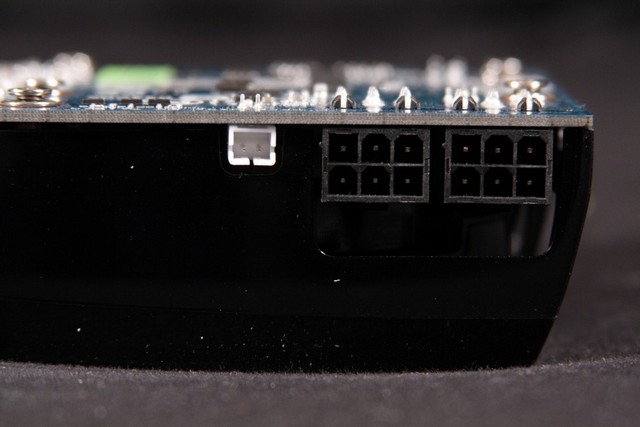 Another feature I like, is how the PCI-E power ports are to the side, instead coming out of the back side of the video card. Also we can see where the SPDIF connector is located at, if you are going to use the HDMI port located at the rear of this video card you will need to hook up the SPDIF to your sound card to get sound through the HDMI cable.
Installation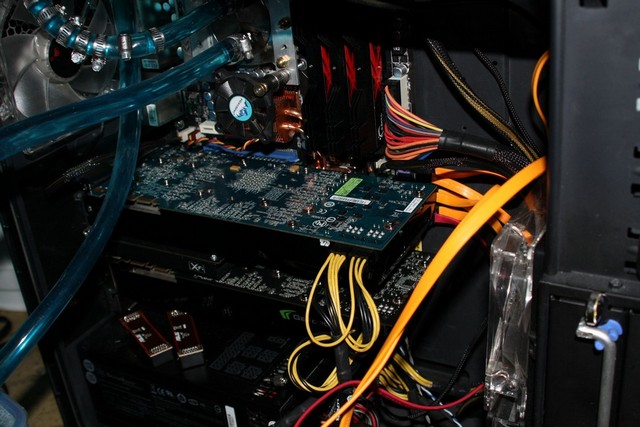 What the 275GTX Super Overclock looks like inside of Mini Me. The bottom video card is indeed another 275GTX reference video card. I could not run SLI (motherboard limitation mostly, I am using a standard BIOS of the MSI X58 Platinum, and I do not plan on flashing the BIOS any time soon.)
Testing Methodology
Test Setup &Testing Methodology
CPU
Intel Core i7 920 C0 2.66GHz, @ 3.99GHz
Motherboard
MSI X58 Platinum
Case
Cooler Master Cosmos 1000
Memory
GSkill trident 2000MHz
Video Card's
HD4870, EVGA 275GTX, GIGABYTE 275GTX Super Overclock
Hard Drives
2x Seagate 320Gig 2.5″ Momentus HDD's
CDRom Drive
Lite On Blue Ray
Power Supply
SilverStone 1200 Watt Zeus
CPU Speeds Used
3990MHz
Operating System Used
Microsoft Windows 7
Video Card Cooler

Water cooled 4870, Standard Air Cooler for 275GTX, GIGABYTE Super Overclock 275GTX Standard Air cooler
CPU Cooler

Koolance 340CPU water block
The only true way of seeing if there is an increase of performance with the 275GTX Super Overclock to the reference 275GTX video card, is to run the games/benchmarks at their absolute maximum resolution. Which in this case puts that resolution at 1920×1080, oh yea I should mention I am going to max out each games visual quality. I will include a No AA run and a 4xAA 16xAF (game/benchmark specific), the games and or benchmarks will be listed below. Since I am running an Nvidia set of video cards I felt it be nice to include some individual Ageia benchmarks comparing the 275GTX reference to the 275GTX Super Overclock, then I will also include runs where I ran the 275GTX Super Overclock as a primary video card, while using the reference design 275GTX as a dedicated physx card (secondary) being my motherboard does not officially support Nvidia SLI. I will remind you that I did not flash the BIOS of my MSI X58 Platinum motherboard and I do NOT plan on flashing the BIOS in the near future (if i do it will be because I have no choice in the matter, if it aint broke don't fix it, instead just overclock it till you start to see smoke, lol). For the actual game runs, I will be turning off Physx on the Nvidia card(s), as I will be compareing these two 275GTX video cards with a ATI 4870 video card.
Normal Benchmarks and or games used and settings.
Far Cry 2: Direct X 10, Ultra High Settings
Batman Arkham Asylum: Direct X 9 Maxed Visual Quality
Hawx: Direct X 10 Max Visual Quality
World In Conflict : Direct X 10 Max Visual Quality
Darkest Of Days: Direct X 10, Max Visual quality
Resident Evil 5: Direct X 10, Max Visual Quality
3DMark Vantage: Direct X 10, Default Performance Run
3DMark06: Direct X 9, Default Performance Run
Unigine Heaven: Direct X 10 Max Visual Quality
Ageia Phsyx, I will be including 3 separate types of Physx runs. A reference 275GTX, GIGABYTE 275GTX Super Overclock, and include a run with both 275 GTXs with the GIGABYTE Super Overclock as the leading video card (Primary) and the reference 275GTX (EVGA) as the dedicated physx card. No AA settings were applied with these added games.
Batman Arkham Asylum: Direct X 9 Maxed Visual Quality, Max Physx
Darkest Of Days: Direct X 10, Max Visual quality Max, Physx
3DMark Vantage: Direct X 10, Default Performance Run, Phsyx enabled
Mirrors Edge: Direct X 9 Max Visual quality, Max Physx
Unfortunately I will not be including overclocked settings, mainly because overclocking an already overclocked video card proved to be pointless, because the frame rate gains was not significant enough of a gain to account for the extra clock speeds. 1-2 frames a second gain is not enough to see a difference.
Since GIGABYTE claims a 9% gain of performance I figured to give you an idea what this entails in frame rate increases. I am going to use a simple 1-100 frame rate scale with respected frame rate increase of 9% per setting.
100FPS x 0.09 = 9FPS increase, 75FPS x 0.09 = 6.75FPS increase, 50FPS x 0.09 = 4.5FPS increase, 25FPS x 0.09 = 2.25FPS increase, 12FPS x 0.09 = 1.125FPS increase.
As we can see putting a 9% (0.09) increase is not a whole lot. So lets keep this scale in mind when the benchmarks are performed.
Temperature
| | | |
| --- | --- | --- |
| Temperature | Idle | Load |
| Reference EVGA 275GTX | 38°C | 62°C |
| GIGABYTE 275GTX Super Overclock | 39°C | 69°C |
For temperature testing I left the fan on each video card run at its default BIOS state. These temperatures were performed with only a single video card installed. I ran a looped Resident Evil 5 test for 1 hour then allowed the video card to idle down for 30 minutes to get my full load and idle temperatures. Also the ambient temperature in my room is around 18°C, your results will vary greatly from my own. As we can see the reference design heatsink that GIGABYTE used does manage to keep the video card cool during operation. I like to try and keep the video card with in a 70°C temperature range (+/- a few degrees).
The only area we should be paying attention to is the minimum and average frames rates, as these two frame rate points will greatly tell us if that game is even remotely enjoyable. Target frame rate to have is anything above 30FPS on the Minimum.
batman arkham asylum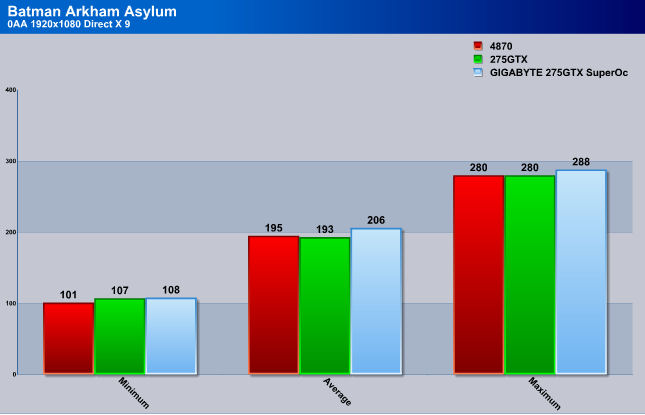 As we already knew that Batman Arkham asylum is really no challenge for either of the 275GTX video cards. but between the two video cards (reference, Super Oc) on the minimum frame rates these two video cards performed identical, during the average frame rates, is when we start to see the Super Oc 275GTX pull out ahead.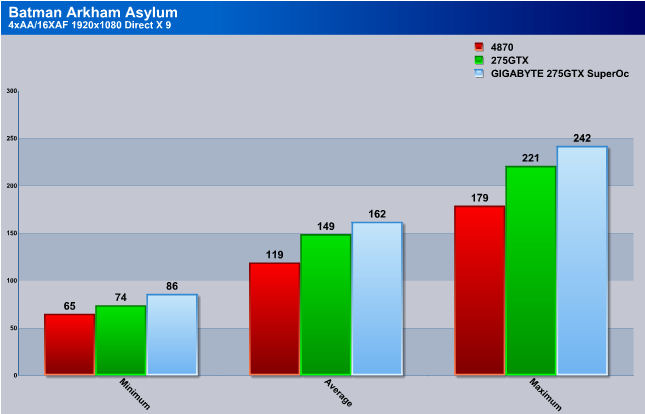 This is where having double the amount of on board memory comes into play. Once the AA is applied the 275GTX Super Oc, clearly decimates the reference 275GTX.
Far Cry 2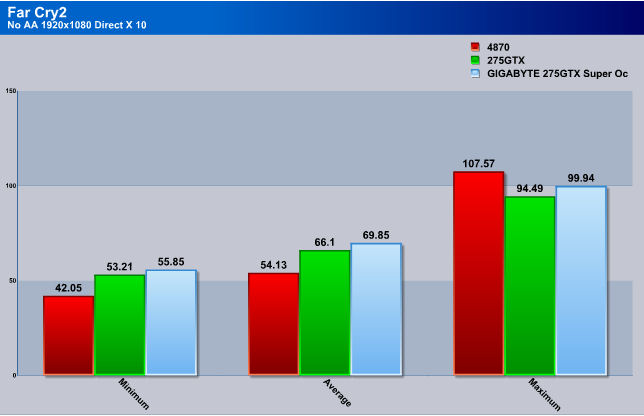 During Far cry 2 testing having the advantage of a higher core speed and having double the amount of memory does help out. But again Far Cry 2 still prefers using multiple GPU's.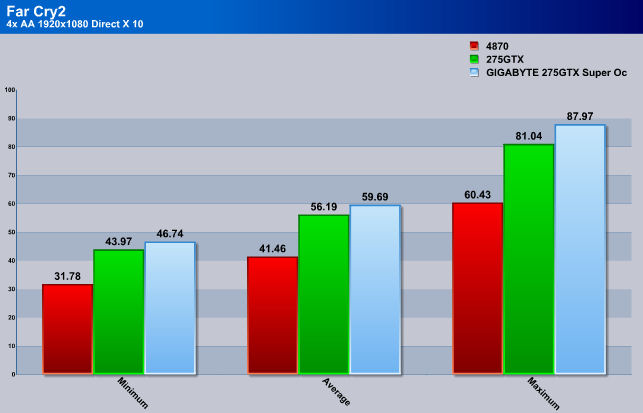 The Super Overclock 275GTX does manage to hold its own through out the Far Cry 2 testing during the 4x AA runs.
Hawx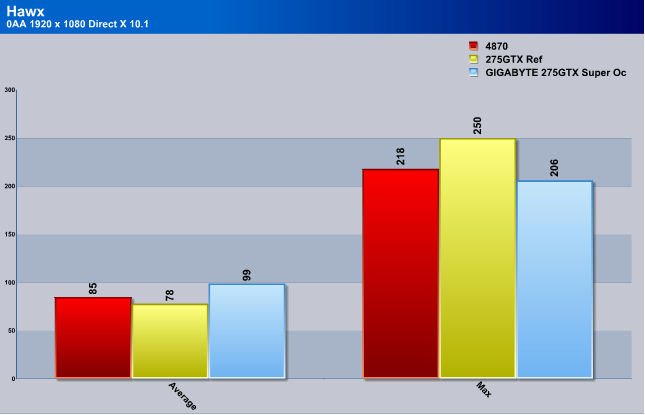 In Hawx testing, the 275GTX Super Overclock having a larger amount of onboard memory clearly is the victor.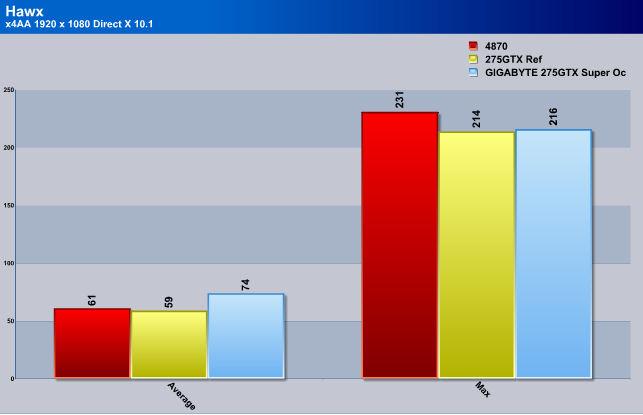 The 275GTX Super Oc, still holds on to its supremecy even when the AA gets applied.
world in conflict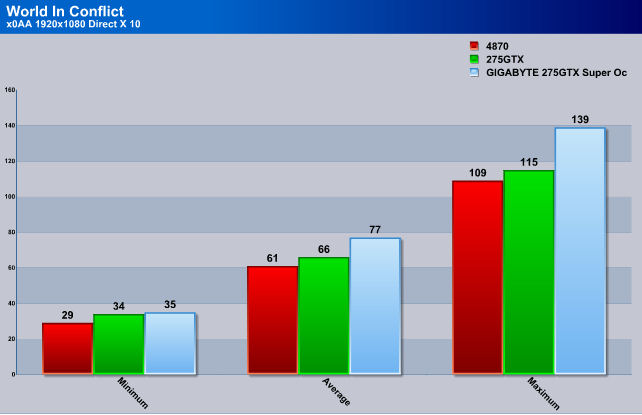 During the minimum frame rate testing, neither of the 275GTX video cards out performed the other, its not until the average when we see the 275GTX Super Oc starts to increase its lead, and quite significantly.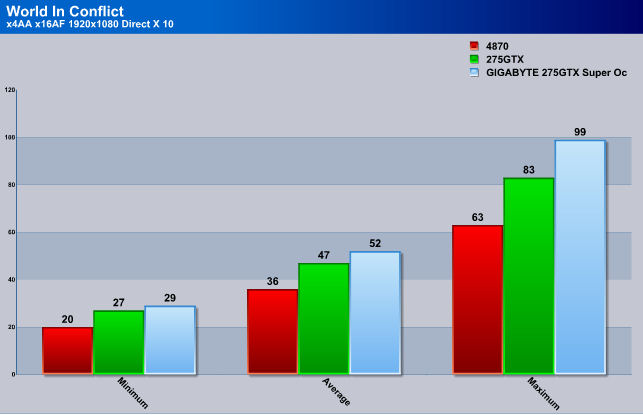 Once we turn on AA and AF the 275GTX Super Oc loses some of its momentum, but it still manages to give us some pretty nice frames rates.
Darkest Of days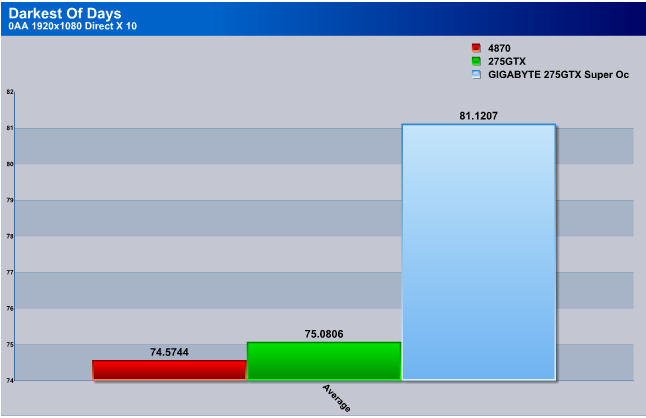 The reference 275GTX video card did not stand a chance up against the 275GTX Super Oc.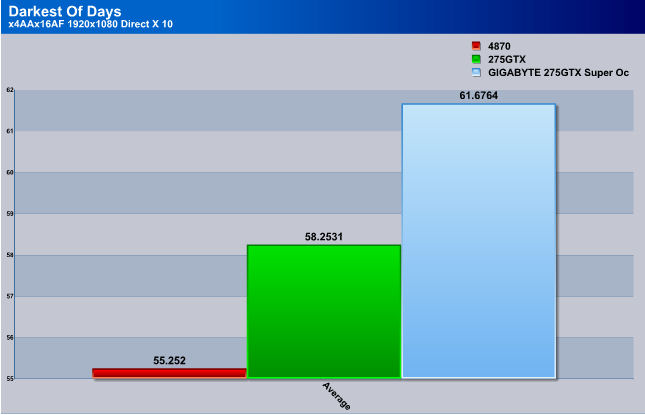 Once again that large gap the 275GTX Super Oc had with no AA decreases once AA is applied, but still manages to maintain its lead.
Resident Evil 5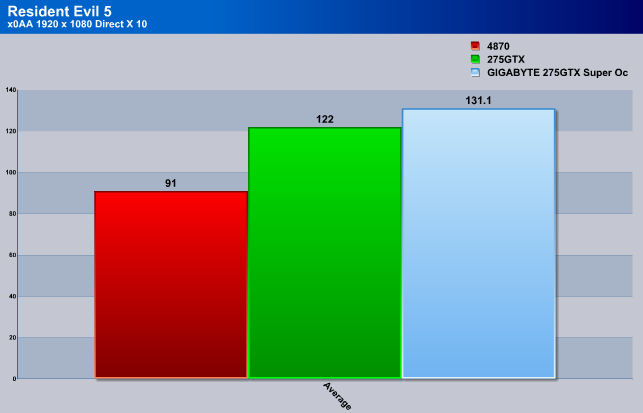 Resident Evil 5 testing, was not much of a challenge for either of the 275GTX video cards. But once again the 275GTX Super Oc, manges to stay way ahead of the reference 275GTX.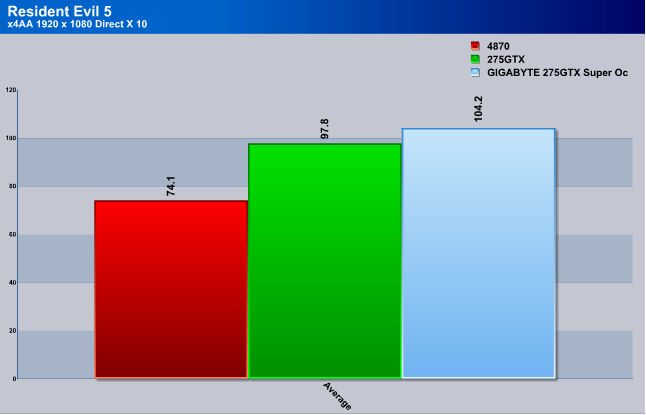 The 275GTX Super Oc video card manages to hold on to its lead. This time though by barely holding on to it.
Unigine Heaven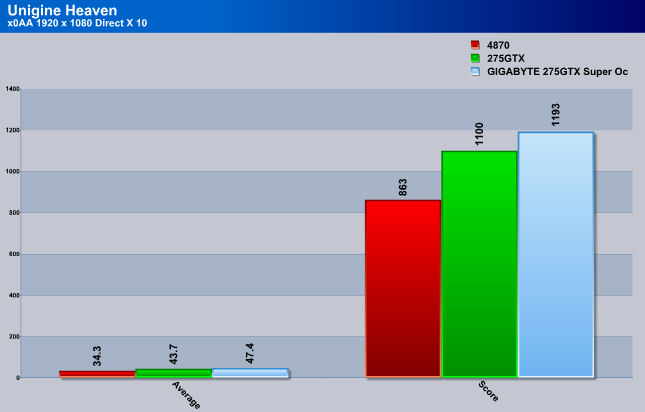 Unigine Heaven benchmark is just plain brutal to any video card. I am starting to wonder if this game engine is even optimized properly. Either way the 275GTX Super Oc manages to hold its own.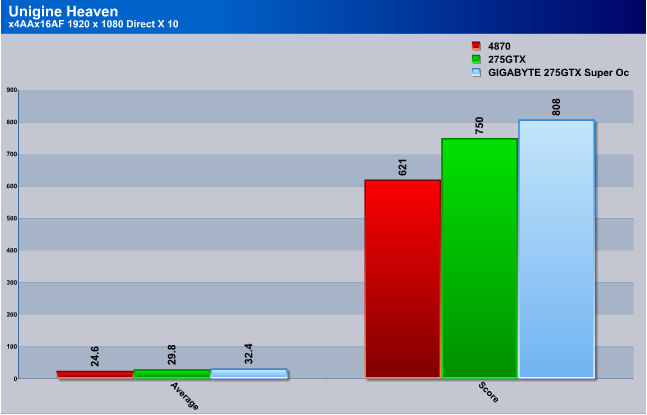 The 275GTX Super Oc, once AA gets applied manges to desperatly hold on to its slight lead. Keep in mind I am having doubts about this game engine optimizing.
3dmark vantage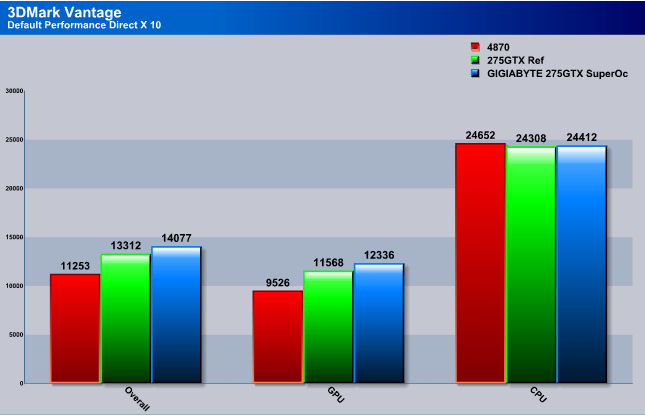 3DMark Vantage testing prefers the 275GTX Super Oc higher clock speeds over the refernce 275GTX video card default clock speeds.
3dmark06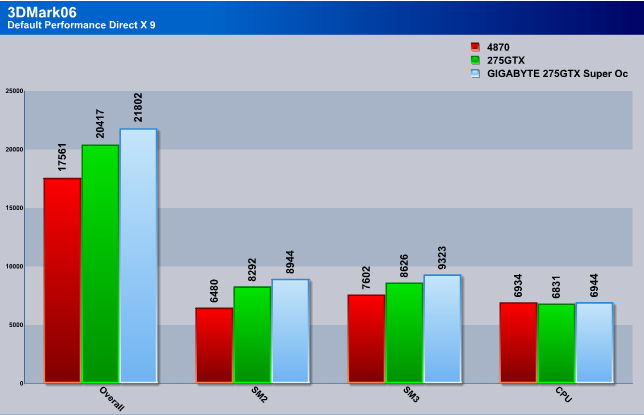 Pretty much the same story here with 3DMark06 as we seen with 3DMark Vantage, the video card with the highest clock speeds comes out ahead.
Nvidia Ageia Physx

Batman Arkham Asylum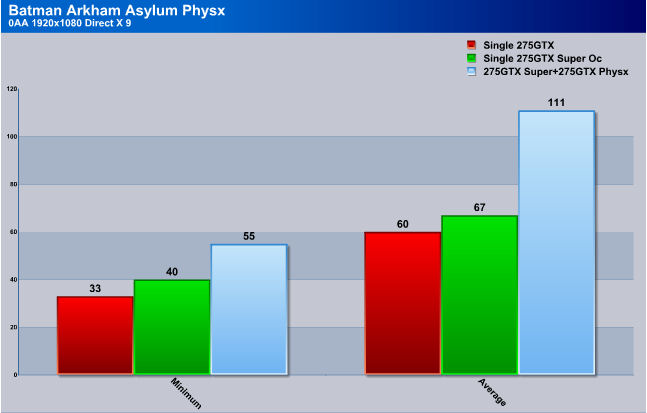 Darkest Of Days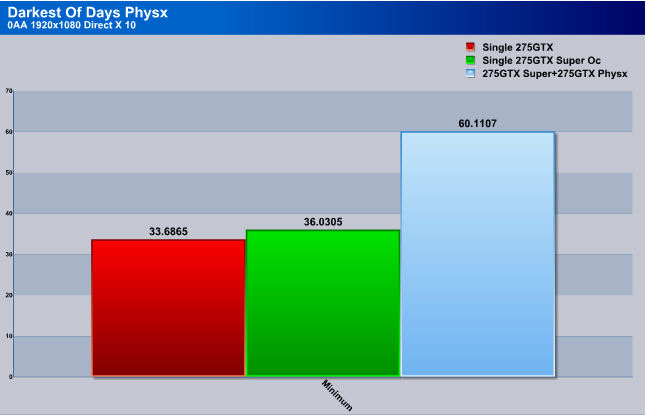 3DMark Vantage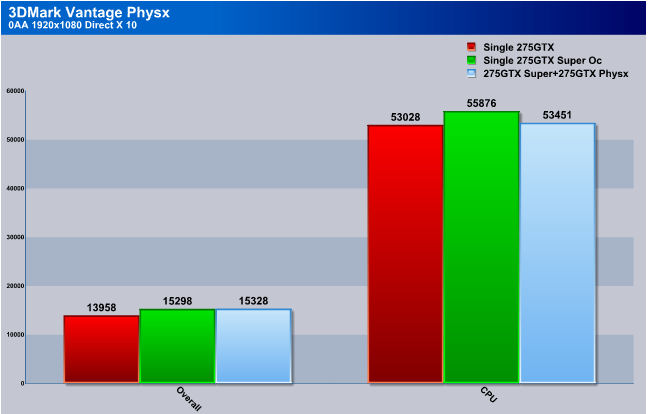 Mirrors Edge
During our Physx testing, the Super Oc 275GTX does out perform the reference 275GTX video card. By sticking the reference 275GTX as a dedicated Physx card we see a serious frame rate boost in our gaming sequences. This shows that Nvidia's very own Agiea Physx is scalable, the more powerful dedicated Physx card the higher the frame rates will be.
Conclusions
The GIGABYTE Super Overclock 275GTX video card performance during the non Physx testing portion ranges from 5% to 25% increase on average frame rate scores. During the Physx testing portion I was getting anywhere from 5% to 11% increases during the average frame rate scoring, while comparing the reference 275GTX video card to the Super Overclock 275GTX. Now once I started using the 275GTX as a dedicated Physx card with the 275GTX Super Overclock video card as a primary video card during the Physx testing my percentage range increased to 58% to 65% when compared to just using the single 275GTX Super Overclock.
I could not find a current pricing of the GIGABYTE 275GTX Super Overclock, anywhere on the web. But instead I did find out how much other similar video card offerings are currently going for and these range any where from 330 USD to as high as 380 USD. Which brings us to the real question of, is it worth buying the GIGABYTE 275GTX Super Overclock? This question cannot be truly answered by myself, because this question greatly depends on the individual looking at video cards.
I will add this, if you already have a 275GTX, 285GTX video cards then the answer is no. If you are in the market for needing a powerful video card and you are not really loyal to a specific brand (ATI/Nvidia) again I have to say no again because of the current 5850/5870 video card out performs the 275GTX Super Overclock, not to forget the ATI 5870 is roughly in the same price range. If you have a reference 275GTX and wanting to try your hand out in SLI then again the answer is no, mainly because of Nvidia's inflexibility when dealing with multiple GPU's of different memory sizes but same exact series, ie 512meg 9600GT will not SLI with a 1gig 9600GT. But once again if you are a loyal Nvidia fan and need a powerful video card right this second then your answer would be yes, the GIGABYTE 275GTX Super Overclock is worth it. Or if you looking to buy a video card to perform as a dedicated Physx card (pertains to only Nvidia video card users) to help give you an added frame rate increase you are needing (which in my cases i gotten a large frame rate increase on an NON SLI capable motherboard), then again the answer would be yes. So it really, greatly depends on your personal standing when it comes to video cards, weather or not if the GIGABYTE 275GTX Super Overclock is truly worth it.
OUR VERDICT: GIGABYTE 275GTX Super Overclock

| | |
| --- | --- |
| Performance | 8 |
| Value | 7.5 |
| Quality | 8 |
| Features | 7.5 |
| Innovation | 8 |

We are using a new addition to our scoring system to provide additional feedback beyond a flat score. Please note that the final score isn't an aggregate average of the new rating system.

Pro
Cons

Does offer us more performance over a reference 275GTX

Nice and quiet

Little late to offer larger amount of onboard memory

Pricing is comparable to a much higher performing video card

 

 
Summary: GIGABYTE has brought to us a much needed performance increase to the 275GTX reference video card.