Lets look at one GIGABYTEs first SATA III/USB III/USB Power III (Being Dubbed 333) capable motherboard the P55A-UD4P.
Introduction
When we first heard about the 1156 socket CPU motherboards (P55), these newer motherboards were supposed to carry a newer SATA  controller. This new SATA controller was supposed to handle the new and faster SATA III (or SATA 6gb/s) HDDs. Unfortunately something was wrong with the initial SATA III controller, which inevitably delayed the arrival of SATA III capabilities. After a few months passed, and the SATA III controller issue was resolved, motherboard manufacturers can now bring us SATA III capabilities.
GIGABYTE is one of the first motherboard manufacturers to adopt this newer type SATA III HDD interfacing. One of these motherboards to get this new standard is GIGABYTE's P55A-UD4P. This motherboard is not much different from the original P55-UD4P, review can be found HERE, except this one carries a SATA III controller, and uses an a designation in the name to differentiate between these two motherboards. (actually GIGABYTE will be adding an a designation to all of their motherboards containing the newer SATA III interface, all Giga boards with the P55A will have Sata 3 and USB 3.0)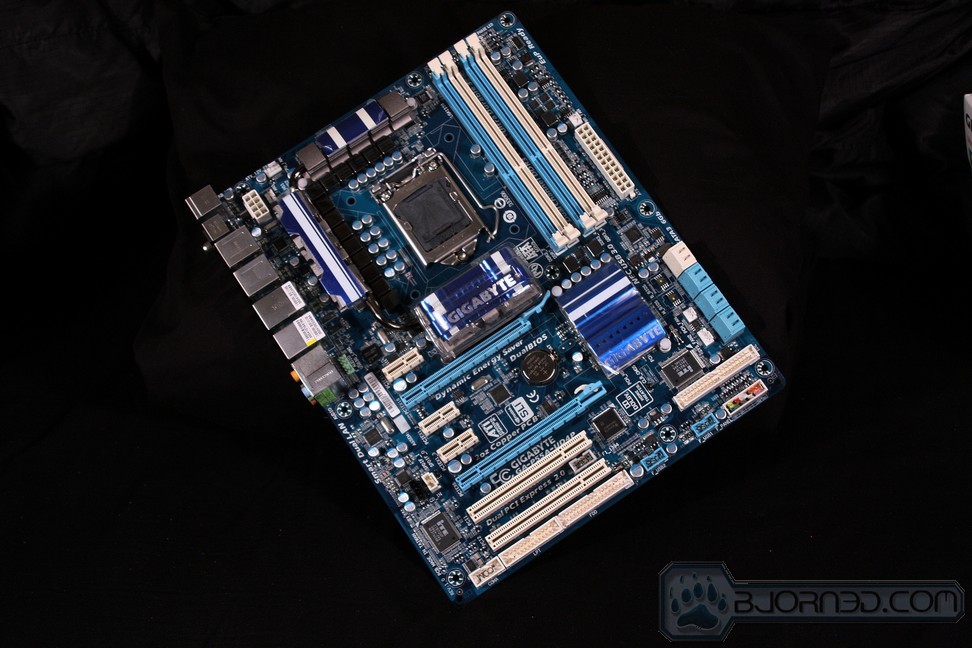 I am going to run the GIGABYTE P55A-UD4P through the everyday normal benchmark routines, overclock this motherboard to its absolute maximum capabilities that I could possibly go to. I did not get a full retail motherboard, so I will not be listed what comes in with the box
Enough chit chatting, lets get on with the torture session.
Specifications
Industry leading 12 phase power VRM design for optimum power efficiency and thermal solution
Leading quality standard of Ultra Durable™ 3 technology with 2oz copper PCB design
Supports newest NEC SuperSpeed USB 3.0 with superfast transfer rates of up to 5 Gbps
3X USB power delivery for greater compatibility and extra power for USB devices
Provides newest Marvell SE9128 high speed SATA3 storage interface with superfast 6Gbps link speed
Support Intel Core i7/ Core i5 processors with LGA 1156 socket
New Dynamic Energy Saver™ 2 technology enables best energy efficiency
Innovative Smart 6 technology for smarter PC management
Support both ATI CrossFireX and NVIDIA SLI for ultimate graphics performance
Smart TPM provides 2048 bits key via Bluetooth cellphone
Smart DualLAN with Intelligent LAN port auto-switching
XHD technology accelerating hard drive performance with ease
Patented GIGABYTE DualBIOS™ technology delivering highest level failure protection
Supports Dolby Home Theater audio to create a stunning surround sound listening experience
The Precision OV provides more precision voltage control for system
Compatible with Windows 7 to deliver the best operation experience
Features
 
 
 

Industry leading 12 Phase Power VRM Design


GIGABYTE's leading 12 phase power VRM design utilizes the highest caliber components to provide unadulterated, smooth power delivery for the CPU. GIGABYTE's 12 phase power design enables better delivery of power to supercharge your system, giving power users unparalleled overclocking ability and lower temperatures to reach maximum performance levels.
The 12 phase power VRM has been designed and engineered to deliver fast transient response times through quick and seamless power delivery during extensive CPU loading variations. In addition, heat from the VRM is effectively reduced by spreading the load between the 12 power phases, resulting in a cooler and more stable platform.
 

USB 3.0 Support


The GIGABYTE P55A-series motherboards support the latest generation SuperSpeed USB 3.0 technology made possible through an onboard NEC uPD720200 host controller. With superfast transfer rates of up to 5 Gbps, users are able to experience an almost a 10x improvement over USB 2.0. Additionally, backwards compatibility with USB 2.0 assures users of long term use of their legacy USB 2.0 devices. The onboard NEC SuperSpeed USB 3.0 technology also provides new power management features that include increased maximum bus power and device current draw to better accommodate power-hungry devices.

 

SATA 6 Gbps Support


Yet another onboard feature of GIGABYTE P55A motherboards are Marvell's new SE9128 chips for high-speed SATA Revision 3.0 compatibility, delivering superfast 6Gbps link speeds for twice the data transfer rates of SATA Revision 2.0 (3 Gbps). When used in RAID 0 (Stripe) mode, GIGABYTE P55A series motherboards offer even faster data transfer rates of up to 4x the speed of current SATA interfaces.
 

3x USB Power Boost


GIGABYTE P55A-series motherboards feature a 3x USB power boost, delivering greater compatibility and extra power for USB devices. GIGABYTE's unique USB power design is also able to efficiently regulate output over the full voltage range, which greatly enhances USB device compatibility. In addition, dedicated lower resistance fuses ensure lower voltage drops, and provide more stable and plentiful power delivery.

 
 

Ultra Durable 3


GIGABYTE Ultra Durable 3 design, featuring 2 ounces of copper for both the Power and Ground layers which dramatically lowers system temperature by delivering a more efficient spreading of heat from critical areas of the motherboard such as the CPU power zone throughout the entire PCB. GIGABYTE's Ultra Durable 3 also lowers the PCB impedance by 50%, which helps to reduce electrical waste and further lowers component temperatures. A 2oz Copper layer design also provides improved signal quality and lower EMI (Electromagnetic Interference), providing better system stability and allowing for greater margins for overclocking…more

 
 

Benefits of 2 oz Copper PCB

• Cooler than traditional motherboards
• Enhanced durability
• Improved energy efficiency
• Greater margins for overclocking… more

 
 

Smart 6- A Smarter way for PC system Management


GIGABYTE Smart 6™ is designed with user-friendliness in mind, and offers a combination of 6 innovative software utilities that provide easier and smarter PC system management. Smart 6™ allows you to speed up system performance, reduce boot-up time, manage a secure platform and recover previous system settings easily with a click of the mouse button.

Smart QuickBoot
No more waiting for PC Boot up

Smart DualBIOS
Smart personal reminder
Smart QuickBoost
One-click Overclocking
Smart Recorder
Your PC's Watch Dog
Smart Recovery
Reverse time for you
Smart TimeLock
Time Controller for PC

 
 
Windows® 7 WHQL Certified
The motherboard has obtained WHQL (Windows Hardware Quality Labs) certification for Windows 7 from Microsoft® for an Intel-based motherboard, setting the standard for future Windows 7 certified motherboards…more
 

Smart Dual LAN


GIGABYTE Smart Dual LAN technology features intelligent LAN port auto-switching between the 2 physical Gigabit LAN chips; offering hassle free, zero downtime, high speed network connectivity.
 

Dynamic Energy Saver™ 2


GIGABYTE Dynamic Energy Saver™ 2 incorporates a host of intelligent features that use a proprietary hardware and software design to considerably enhance PC system energy efficiency, Reduce power consumption and deliver optimized auto-phase-switching for the CPU, Memory, Chipset, VGA, HDD, and fans with a simple click of button.
 
 
Intel® Core i7/ Core i5 LGA 1156 Processors

The Intel brand new computing architecture based on the innovation of micro-architecture transforms 3-chip solutions to a 2-chip platform. The next generation Intel® Core i7/ Core i5 ™ processors with LGA1156 package integrate graphics and memory controller to support dual channel DDR3 memory. Supporting Intel Turbo Boost technology and Hyper-Threading Technology, Intel® Core i7/ Core i5 ™ processors provide the overwhelming performance with optimized power efficiency.

 

DDR3 2200+ Support


P55A-UD4P support Intel Core™ i7/ Core™ i5 processors delivering native support for DDR3 memory up to 2200+MHz by the enhanced design of GIGABYTE, Intel Core™ i7/ Core™ i5 processors feature the memory controller integrated directly into the processor die, rather than as part of the Northbridge as in previous generations, allowing for faster memory performance.
* Please refer "Memory Support List" for memory support information
 

Smart TPM – A smarter , better way to protect your data


TPM function is optional due to different regional policy
GIGABYTE Smart TPM provides the industry's highest level of data protection with 2048 bit hardware encryption. Smart TPM allows users to store their digital key on a USB thumb drive. In addition, Smart TPM allows users to lock the protected data remotely using a Bluetooth® enabled mobile phone.
 

XHD (eXtreme HardDrive)-Accelerating hard drive performance with ease


Accelerating system performance is made easy with the user friendly GIGABYTE eXtreme Hard Drive (X.H.D). GIGABYTE eXtreme Hard Drive (X.H.D) provides a quick and easy way to boost your hard drive performance simply by adding another hard drive.
 

AutoGreen- Greening your PC via Bluetooth cellphone


AutoGreen technology can automatically save power for you simply by your bluetooth cell phone when you are away from your computer
 
 

Multi-display support with ATI CrossFireX and NVIDIA SLI™


P55A-UD4P supporting both ATI CrossFireX and NVIDIA SLI™ delivers the ultimate in graphics performance for gaming enthusiasts who demand the highest frame rates without compromising on resolution.

 
 

Thermal Design


Inspired by the performance and sleek lines of today's modern racing vehicles, GIGABYTE's stylish thermal solution is designed for extreme performance and ultra coolness
 

Dolby Home Theater Support


Delivers vivid surround sound for music, movies, and games, using two to eight speakers or any set of headphones
 

Norton™ Internet Security


Fast, comprehensive, and up-to-the-minute protection against online threats. It safeguards your computer, identity, and home network without slowing you down. It sets a new standard for speed and makes online shopping, banking, and browsing safer and more convenient than ever.
 

EuP Lot 6 support


The EuP (as known as Energy Using Products Directive) is part of new European Union's environment regulations. EuP established is based on the concern of environmental issues regards electronic devices been gained popularity and how to improve energy efficiency for better and greener life. GIGABYTE presents standard motherboards to help you effectively improving system performance and saving more energy.
The only real differences between the P55A-UD4P and the previous motherboard P55-UD4P, is that the P55A-UD4P uses SATA III (SATA 6 gb/s) USB 3.0, and also has USB power 3.0 (this is dubbed GIGABYTE 333 design).
GIGABYTES 333
All of GIGABYTES P55A motherboards, will be sporting the new 333 design. What we get is USB III for faster transfer rates over previous generation of USB II. USB III Power up to 3 times more power from the USB port,  basically what this is instead of having to use 2 or more USB plugs to power up our external Devices (ie, HDDs) all we will need is one. Too finally doubling the overall HDD bandwidth from 3gb/s (SATA II) to 6gb/s (SATA III), which of coarse you have to have a SATA III Compliant HDD. All of these newer types of ports will be backwards compatible to previous generation components. For instance SATA II HDD will work in a SATA III port or a USB II drive will work in a USB III port. If you want information on the performance of USB 3.0 and Sata III you'll need to take a look at our review of the P55A-UD6 which was fully tested with USB 3.0 and Sata 3 HERE Currently Sata 3 and USB 3 devices are scarce and we expect to see more devices to test with after CES 2010.
OVERVIEW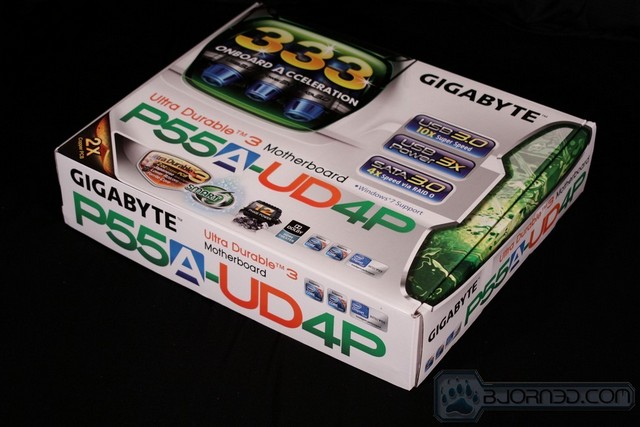 Even though this is not a full retail package from GIGABYTE, I did get the box that GIGABYTE will use for the P55A-UD4P.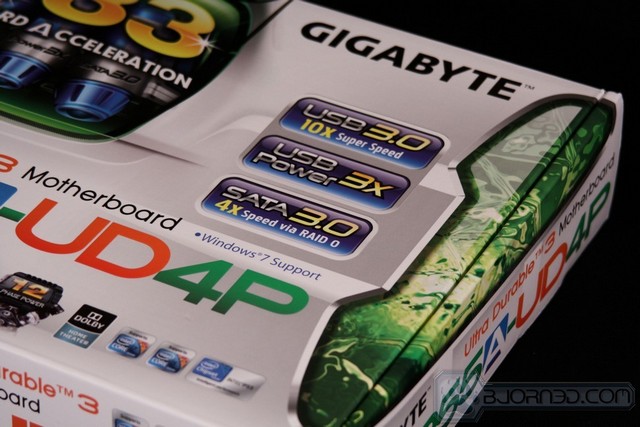 GIGABYTE's very own 333 design, USB 3.0, USB power 3.0, also SATA III HDD interfacing.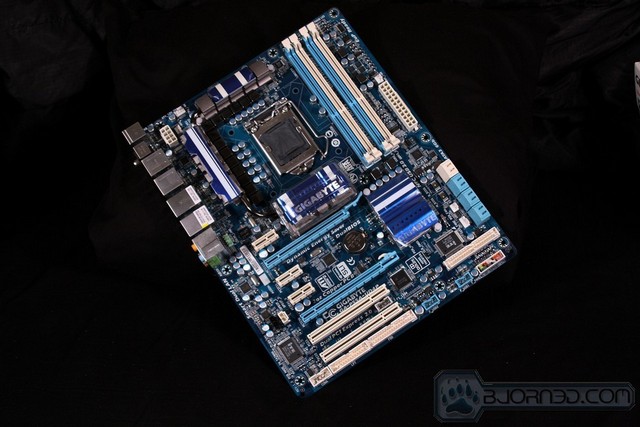 Lets start the Overview, As we can see this is not much different from the original P55-UD4P motherboard, as far as layout is concerned.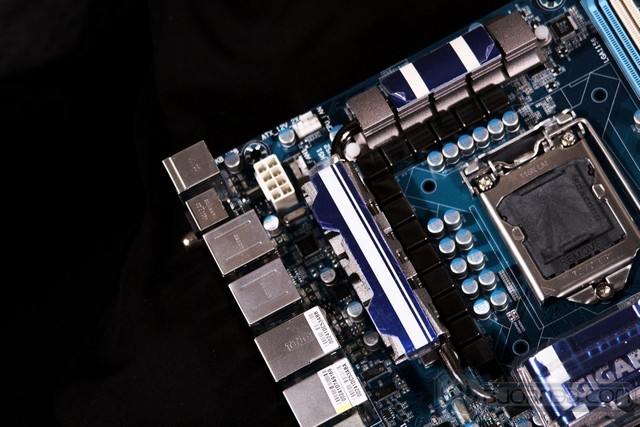 Starting off where the EPS CPU power plug is mounted to the motherboard, we can see it sits right behind the rear IO ports and the VRM mosfet heatsinks that GIGABYTE used. This power plug is still in a rather difficult spot to gain access to, every time I tried hooking up the EPS CPU power cable I kept hitting the power mosfet heatsinks with my fingers. Counting up the chokes, this motherboard uses a 14 Phase power distribution for the CPU. We can also see fan header #1,2, like always just counting them as I see them.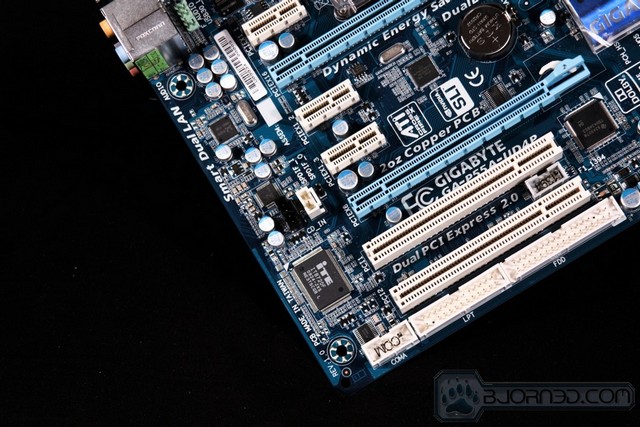 Moving our way down the back of the motherboard towards the bottom left hand corner, we can see the layout of the expansion slots, starting up working our way down, we have a PCI-E 1x, a PCI-E 16x, two more PCI-E 1x, then a second PCI-E 16x (when using 2 video cards your bandwidth will be reduced to a 8×8 PCI-E configuration due to the nature of the limited PCI-E lanes available). Then Finally we have 2 PCI expansion ports. On the very bottom edge of the motherboard, we can see a com port, the ever aging and still ancient Floppy/LPT (printer) port. In between the bottom two PCI expansion ports is where a extra 1394 front FireWire port lay hidden. You should take note that the Paralell and COM ports on motherboards are generally left there for testing purposes for RAM and other vendors to use when testing the boards for compatibility.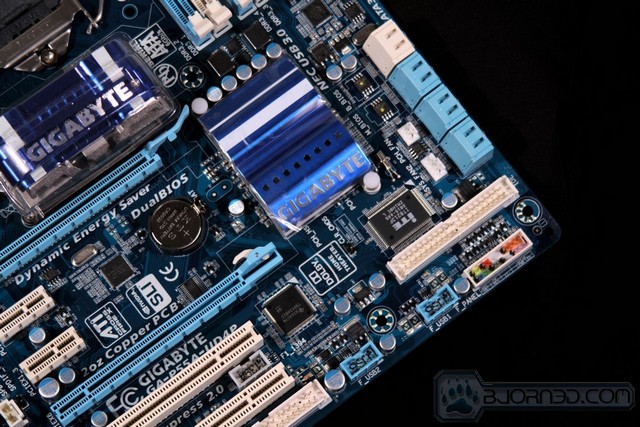 Moving to the PCH heatsink, on the bottom edga of the motherboard we see two more front USB headers, the front IO port header, We can make out the IDE port that sits right above the front IO port header. GIGABYTE has used the same racing stripe design on all of their P55 based motherboards. So their is no mistaken what motherboard you are using. The SATA ports are 90° ports, the 6 blue SATA ports are SATA II only and is native to the ICH (P55) only. The 2 white 90° SATA ports are the SATA III connectors and is only supported by the G-SATA controller (Marvel).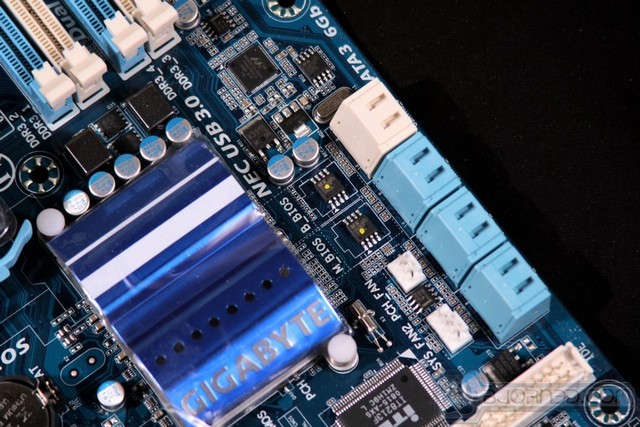 An up-close image of the Dual BIOS design that GIGABYTE has been using for years on their motherboards. We can also make out fan headers #3,4 as well. #5 fan header is located right below the main 24 pin power plug, not shown.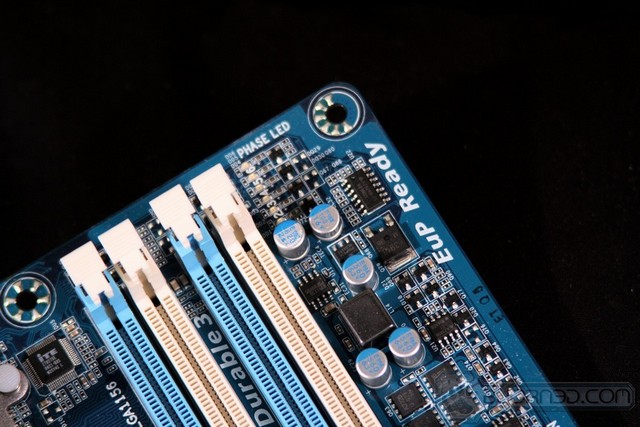 Making our way to the last corner of the P55A-UD4P motherboard, This motherboard also uses only 4 memory DIMMs because the 1156 Socket CPUs only support dual channel. Also right below the last DIMM port is where GIGABYTE located the 6 phase power LED lights. These LEDs tell us what phase the CPU is in while we are using this motherboard.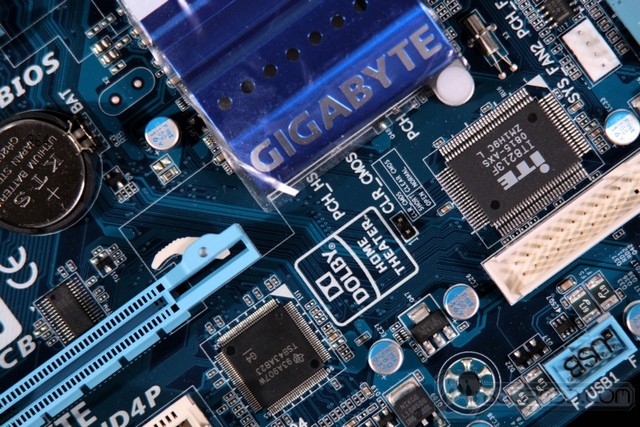 No buttons, no on-board power on,off/reset switches, just this single clear CMOS jumper. Oh OK, now I need to go dig up a jumper from somewhere, just in case I go a little overboard. The CMOS battery sits right behind the last PCI-E 16 port, near the PCH heatsink. For some of you old schoolers, it is time to break out them clear CMOS extensions that's been collecting dust since the Athlon XP days. If you don't have one then if you using a multi GPU the last video card will have to be removed in order to clear the CMOS.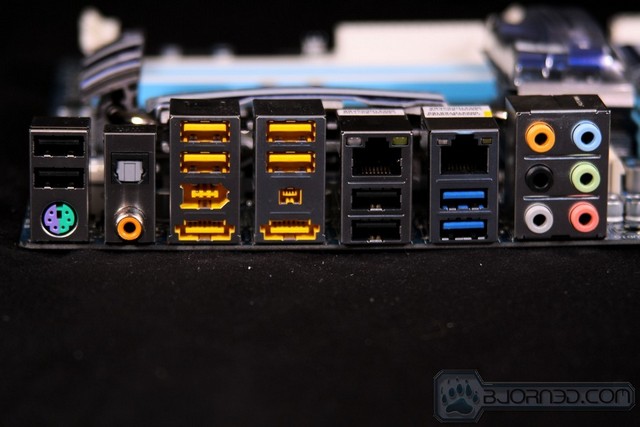 Time to look at the rear IO ports. Lets start left then work to our right, GIGABYTE includes a single PS2 port with 2 USB headers, moving to our right we have the Audio Optical out puts, Followed by 2 USB/1394 FireWire/E-SATA header. On the next header we have 2 more USB/Firwire (this Firewire port looks like whats used on digital camcorders, just what I wanted another FireWire port that I can't use, still looking for a 1394 800) and finally another E-SATA . Moving right once again, we have a 1gb/s Ethernet port followed by 2 USB header, then we have another 1gb/s Ethernet port followed by 2 USB 3.0 headers. The two blue ports are for USB 3.0 and GIgabyte uses 3x the normal amount of power for the USB 3.0 ports to support voltage hungry devices. Last but just as important, is the 8 channel analog Audio ports.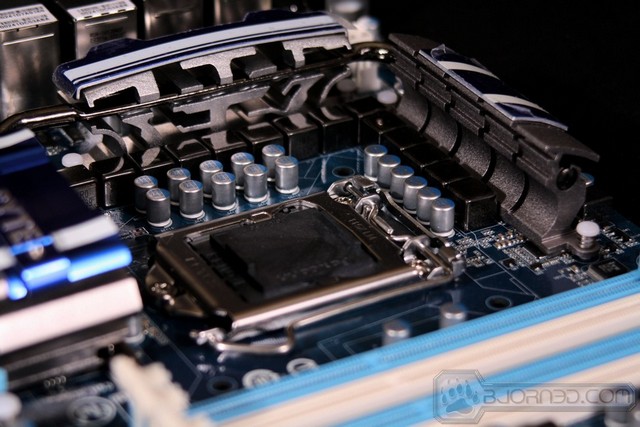 Looking at the CPU socket area, this area is clear of any major obstacles so use of large CPU coolers should not be a major issue, except for the bolt hole that is in the far corner nearest to the power mosfets heatsinks.
Extras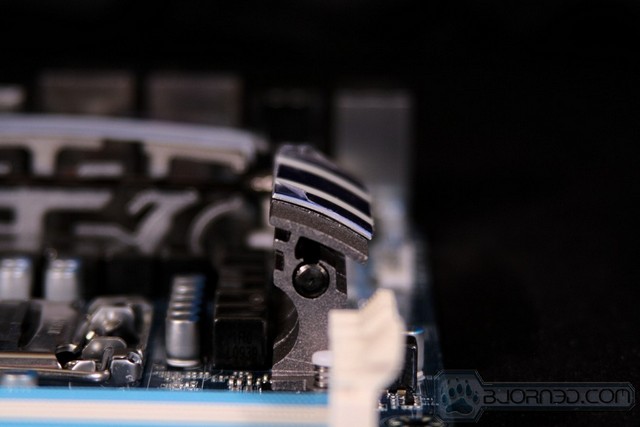 These are some images of the P55A-UD4P motherboards heatsink honeycomb design. It would not be right if I did not do the extra images displaying GIGABYTEs quality.
Installation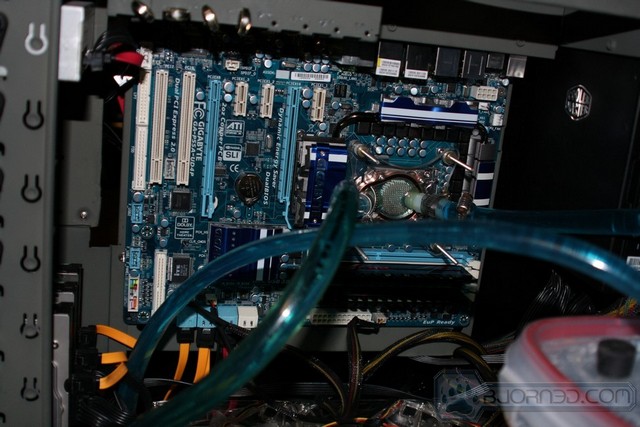 Installation of this motherboard in my SilverStone Raven RV02 chassis, minus the video cards.
SATA III Enabling
Since the overall layout of the P55A-UD4P BIOS is not much different from the original P55-UD4P motherboard (Again our very own John Armstrong did an excellent review HERE). I felt no real need to do an in depth overview of the BIOS, I will how ever, show how to enable the SATA III interfacing in the BIOS itself, on the P55A-UD4P motherboard.
Here is a word from an email I received from our Editor/Review Manager Mark.
"According to Colin and engineer team, that is the limitation of the P55 chipset, no native SATA3 support and PCIe 2.0 limited to 1×16 or 2×8.
Due to PCI-e Gen 1 bandwidth limitation, we need to use a PCI-e Gen 2 bandwidth (since SATA3 transfer is 6Gb/s (600MB/s), PCIe Gen 1 x1 lane from the P55 has a limitation, as it's only able to offer 2.5Gb/s (300MB/s), therefore, we need to get a Gen 2 lane, which offers 5Gb/s (600MB/s). As we don't see much of a performance difference of x16 graphics vs x8 graphics, we use that lane for SATA3 and USB 3.0.
Keep in mind, users are able to turn on and off Turbo SATA and Turbo USB, so if they want to use the full x16, graphics they can, however, it will switch x1 Gen1 lane off the P55, which will limit to 2.5Gb/s. We feel this is a fair trade off, as it means we are able to give users the option to use SATA 3 and USB 3.0 on our entire lineup of P55 motherboards, unlike our competitor who only has support for their very highest end P55."
A lot of people may have issues regarding this particular issue regarding enabling the SATA III capabilities. If you are a single video card user and you enable the SATA III Turbo feature then you will lose your primary PCI-E video port from 16x to a 8x. Now you are probably thinking this is a bad thing, when I first heard about this limitation I too thought it was a bad trade off. But reality has a strange way of raring its head from time to time, with this cold splash of hard reality, I never noticed any performance degradation with a 4870X2 video card from switching from a 16x to an 8x PCI-E lanes while using a PCI-E 2.x compliant port.
Now for those with a multi GPU set ups (Like mine) we have to ask ourselves whats more important. And from the initial numbers I am seeing, SATA III still needs to mature a bit more before I conclude if its worth it or not worth it.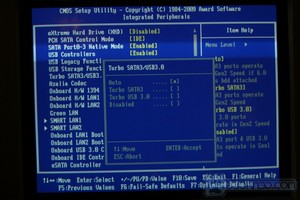 Now here is how to enable the SATA III/USB III capabilities, inside of the BIOS of the P55A-UD4P motherboard. As you can see we have the option of completely disabling the SATA III or USB III individually or disable both at the same time. This enabling of these features is called Turbo.
the torture session begins
Test Setup &Testing Methodology
CPU
Intel Core i5 750 Lapped
Motherboard

GIGABYTE P55-UD4
ASUS Maximus 3 Gene
GIGABYTE P55A-UD4P

Case
SIlverStone Raven RV-02
Memory
GSkill RipJaw
Video Card's
EVGA 275GTX x 2 (for some SLI action)
Hard Drives
Patriot SSD 128 Gig
CDRom Drive
Lite On Blue Ray
Power Supply
Cooler Master Ultimate 1000 Watt PSU.
CPU Speeds Used
2.66GHz, 4.2GHz
Operating System Used
Microsoft Windows 7 Retail
Video Card Cooler

Stock cooled
CPU Cooler

Modified Danger Den MC-TDX custom water cooled
 For the base line performance of all of the above listed motherboards, I set the BCLK to 133, turbo off, memory timings and or the frequency was set to AUTO in the BIOS. Any and all power saving settings were also set to disabled for the CPU default speed of 2.66GHz with a memory frequency of 1333MHz. So these results will vary greatly from review to review. I will be using a Nvidia SLI'd 275GTXs for the graphics testing portion of each motherboard. I ran each benchmarking and or program a total of three times to ensure that stability was present and that my results were consistent with one another. Those programs and how they were respected runs will be listed below.
Unfortunately I was unable to test the SATA III capabilities of this motherboard at this time, SATA III HDD's are few and far between. Since GIGABYTE is using the same exact controller on all of their motherboards I will link to a review done by Mark Taliaferro with a SATA III drive that was performed on a P55A-UD6P (HERE), the performance will be roughly the same.
Programs Used through out testing.
AutoMKV: A 426 meg AVI file was converted to an MKV type of file. Time it took to convert this movie was measured. MultiThreaded.
Blender: Rendering of an Squirrel, time it took to render the image was recorded. MultiThreaded
Excel Monte Carlo: Time it took to fully calculate a specific set of numbers. MultiThreaded
Excel Number Crunch: Time it took to complete a fixed set of calculations. MultiThreaded
POV Ray: Time it took to render 2 still images @ 1280×1024 00,3aa resolution, also to render two animation images @ the same resolution. MultiThreaded

Everest: Memory Read, Write, Copy, & Latency, CPU Queen, FPU Julia were used for testing. MultiThreaded
SiSoft: Arithimetic, Multimedia, & memory was used for testing. MultiThreaded
wPrime: Time it took to complete 32 million calculation of PI, and 1024 Million calculation. MultiThreaded
3DMark Vantage: No Physx, default Performance run. MultiThreaded
Unigine Heaven: 1920×1080 No AA
World In Conflict: 1920×1080 No AA
Far Cry 2: 1920×1080 No AA

Overclocking
Overclocking the P55A-UD4P, was not much different from the last P55 based motherboards I have tested personally. With a small minor exception, Even though I was able to actually use a 21 Multiplier with me Intel Core i5 750 CPU I was limited to a 200 BCLK. No matter what I tried to get above this limitation I was greeted with instability with in Windows 7. I tried dropping the CPU multiplier to the absolute lowest multiplier of 9 leaving the CPU volts @ 1.40 on the CPU, upping the QPI volts to 1.3, PCH volts to 1.25 volts, to dropping the memory divider from 10 to 6. No matter what I tried The P55A-UD4P motherboard would not hold anything above a 200 BCLK for any lengthy period of time.
So I had no real options but to stay with the 200 BCLK while using a 21 multiplier on the CPU. But this time My memory was able to use its full frequency of 2000 MHz with 9-9-9-24 2T timings. But even myself have to understand that even a 200 BCLK x 21 multiplier giving me a total of 4.2GHz is not exactly slow. Just wish I could have gotten a 210 or higher BCLK.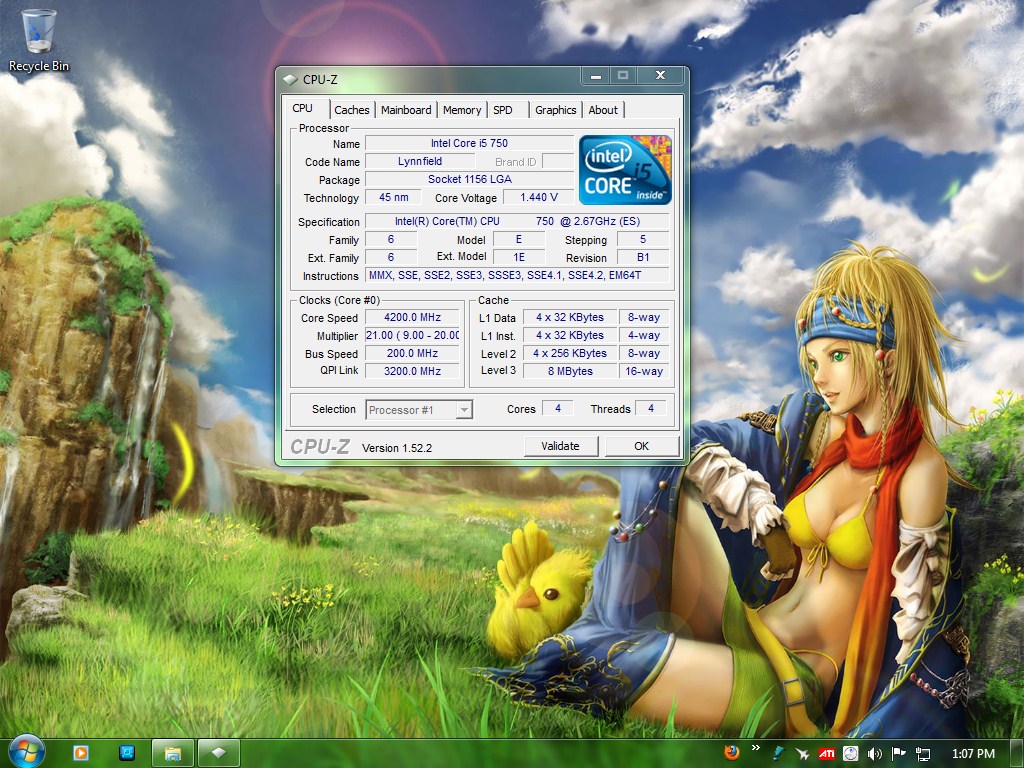 Final result of the overclocked P55A-UD4P motherboard.
SISOFT
"SiSoftware Sandra (the System Analyser, Diagnostic and Reporting Assistant) is an information & diagnostic utility. It should provide most of the information (including undocumented) you need to know about your hardware, software and other devices whether hardware or software. It works along the lines of other Windows utilities, however it tries to go beyond them and show you more of what's really going on. Giving the user the ability to draw comparisons at both a high and low-level. You can get information about the CPU, chipset, video adapter, ports, printers, sound card, memory, network, Windows internals, AGP, PCI, PCI-X, PCIe (PCI Express), database, USB, USB2, 1394/Firewire, etc."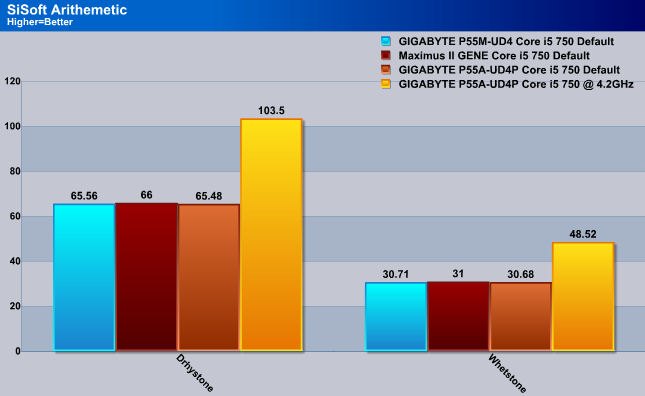 SiSoft has always been a good benchmark to start off with, since I use it so much when overclocking computers, it helps me properly guage on how the computers performance been affected. Lets look at the Arithmetic portion of SiSoft testing, here we can tell that each motherboard while using a default CPU speed, and I do mean absolute base line performance (133×20 CPU, 133 x10 memory), all perform identical with one another.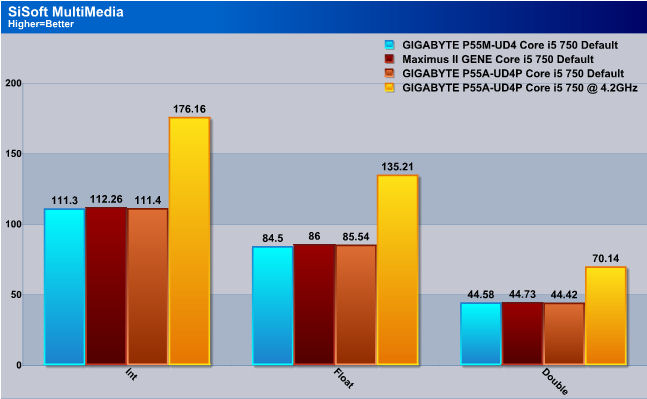 Turning our attention over to the Multimedia testing portion of SiSoft, again each motherboard performs identical to one another.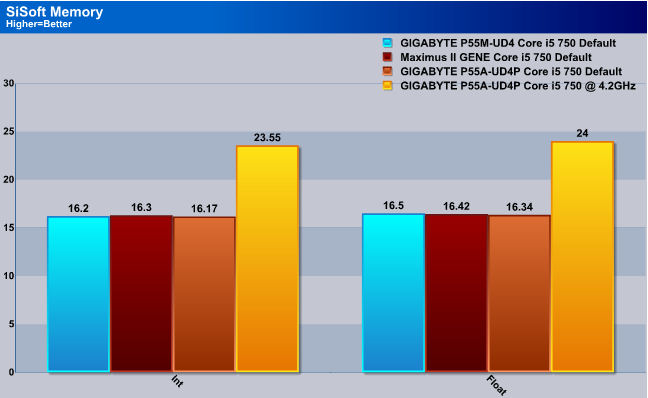 Now lets see how the memory bandwidth stacks up to one another. We can already tell since Intel put the IMC on the CPU die itself this pattern of same performance is repeating itself. I can not say a mere 0.13 through 0.16 GB/s separation is enough of a gain to declare a clear winner. As most programs and the user will even be able to tell the difference.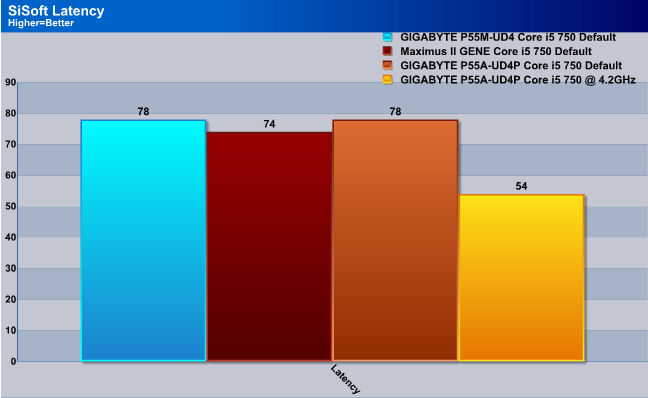 Latency on the other hand, is normally motherboard specific. The P55M-UD4 and the P55A-UD4P handle the memory latency identical. The ASUS Maximus III GENE however, is able to get a much lower latency rating.
EVEREST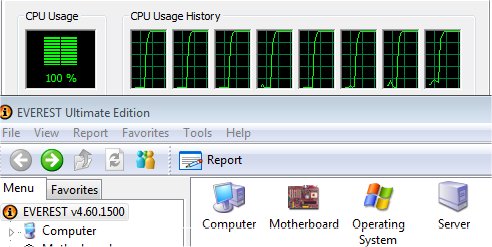 "EVEREST Ultimate Edition is an industry leading system diagnostics and benchmarking solution for enthusiasts PC users, based on the award-winning EVEREST Technology. During system optimizations and tweaking it provides essential system and overclock information, advanced hardware monitoring and diagnostics capabilities to check the effects of the applied settings. CPU, FPU and memory benchmarks are available to measure the actual system performance and compare it to previous states or other systems. Furthermore, complete software, operating system and security information makes EVEREST Ultimate Edition a comprehensive system diagnostics tool that offers a total of 100 pages of information about your PC."
Everest Memory bandwidth testing, starts to differentiate between each motherboard. the P55A-UD4P motherboard is the superior motherboard to have during the read testing. Write portion of testing, each motherboard performed identical to one another. then during the Copy portion of testing, the P55M-UD4 motherboard comes in first place.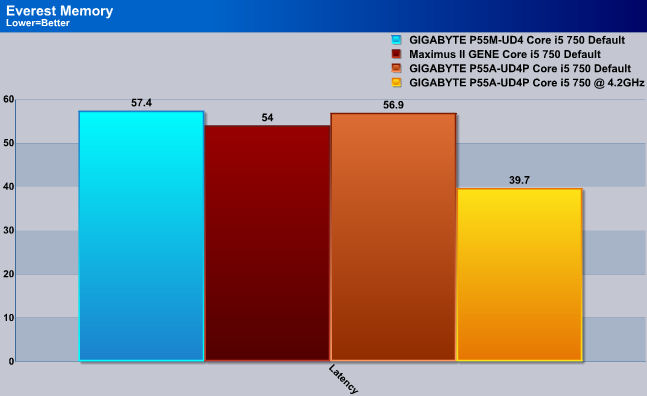 Once again it seems that the ASUS Maximus III GENE motherboard has the best overall memory latency then the two other motherboards tested.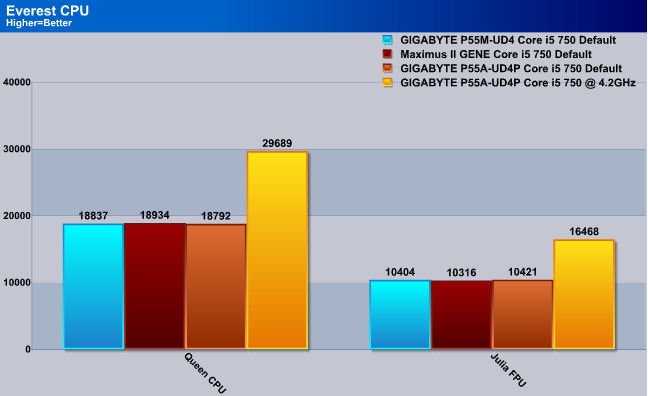 Now once we started testing the CPU portion of Everest, each motherboard continues to show an identical performance.
wprime
wPrime is a benchmarking application designed to use a highly multithreaded approach to calculating the square-roots of large amounts of numbers (up to 32 billion)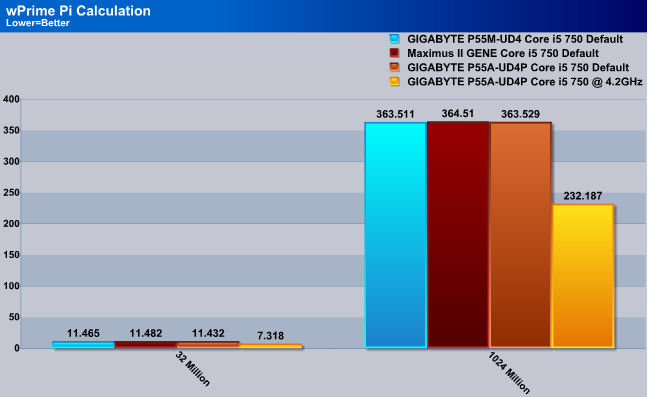 To close to declare a clear winner here. Naturally once the CPU gets bumped up to 4.2 GHz we see our times get reduced.
blender
Blender is a free open source 3D content creation suite that is available for various operating systems. The application is popular among many independent animation studios and game makers. For more information, please visit http://www.blender.org/.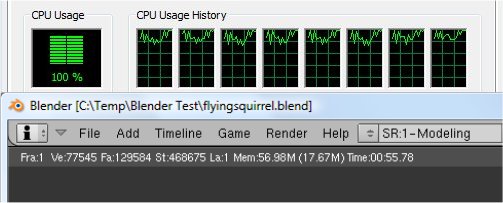 The workload consists of a ~6.9 MB character model of a flying squirrel. Due to time constraints we didn't render the entire image which would be time consuming and rather pointless except to yield larger benchmark numbers. A portion of the image, the right arm is what we render. it's a large enough portion to show differences in CPU performance, yet small enough that we don't have to grind through a 45 minute Render waiting for a single result.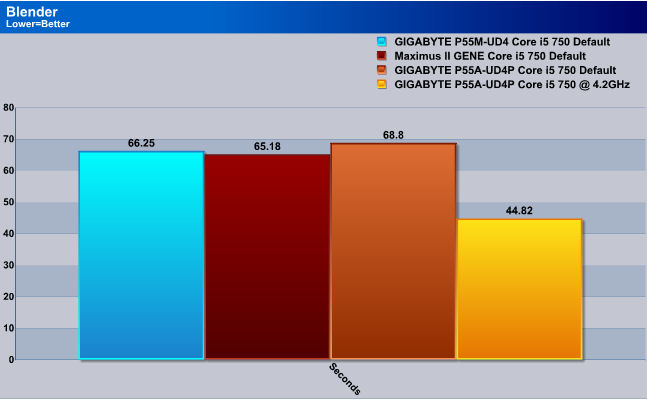 For some odd reason when it came to Blender testing, the P55A-UD4P came in dead last.
auto mkv
AutoMKV is an application aiming for easy media conversion between various media formats using various third party codecs. With improved internet speed and enhanced computing power, more users are interested in encoding to different media formats for their various multimedia needs. With AutoMKV and x264 codec, a freeware H.264 encoder, users can easily create media files. For more information and to obtain AutoMKV 0.95c and AviSynth* 2.5.7, please visit (http://forum.doom9.org/showthread.php?t=134478). We create a media file using AutoMKV and x264 codec. The input file used in the document is a raw 416 MB 720×480 DV file and the output is a 253MB H.264 media file.

But in Auto MKV testing all three motherboards came in way to close to be able to say one wins over the other.
excel
Microsoft Excel is the widely known and most used spreadsheet application for the manipulation and calculation for number crunching. With Excel you can analyze and share information on small scale or the largest scale you can imagine. We've seen spreadsheets in every day use that contain literally tens of thousands of numbers and hundreds of equations. Bjorn3D uses two tests in Excel to determine CPU and Motherboard performance.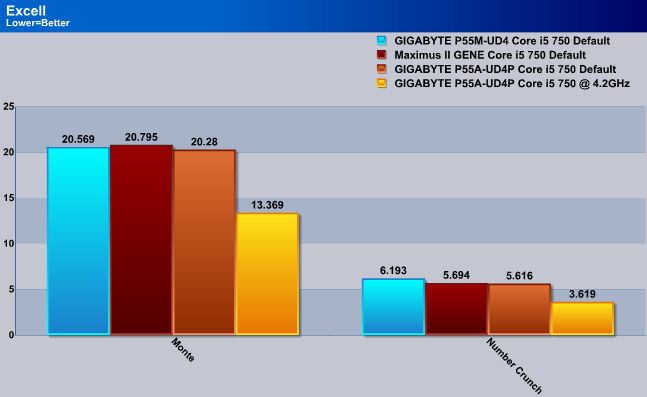 In the Excel testing, during the Monte testing the P55A-UD4P was best performer, during the number crunching both the P55A-UD4P and Maximus III GENE tied.
POV Ray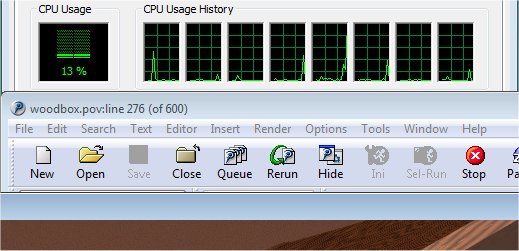 The Persistence of Vision Ray-Tracer was developed from DKBTrace 2.12 (written by David K. Buck and Aaron A. Collins) by a bunch of people (called the POV-Team) in their spare time. It is a high-quality, totally free tool for creating stunning three-dimensional graphics. It is available in official versions for Windows, Mac OS/Mac OS X and i86 Linux. The POV-Ray package includes detailed instructions on using the ray-tracer and creating scenes. Many stunning scenes are included with POV-Ray so you can start creating images immediately when you get the package. These scenes can be modified so you do not have to start from scratch. In addition to the pre-defined scenes, a large library of pre-defined shapes and materials is provided. You can include these shapes and materials in your own scenes by just including the library file name at the top of your scene file, and by using the shape or material name in your scene. Since this is free software feel free to download this version and try it out on your own.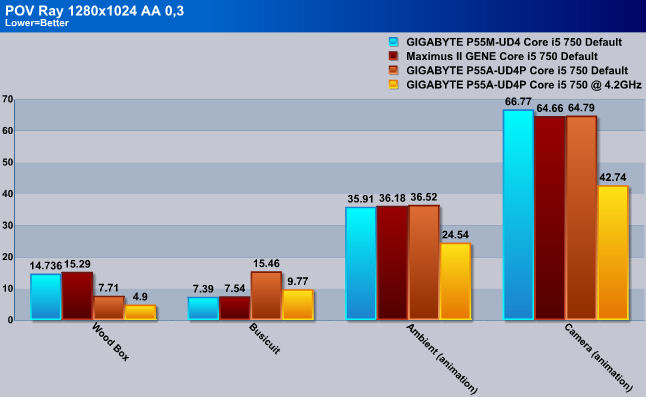 When it came time for POV Ray testing, we find out that all motherboards tied each other on the first three tests, in the final Camera animation testing the Maximus III GENE and the P55A-UD4P once again tied each other.
The Games
Unigine Heaven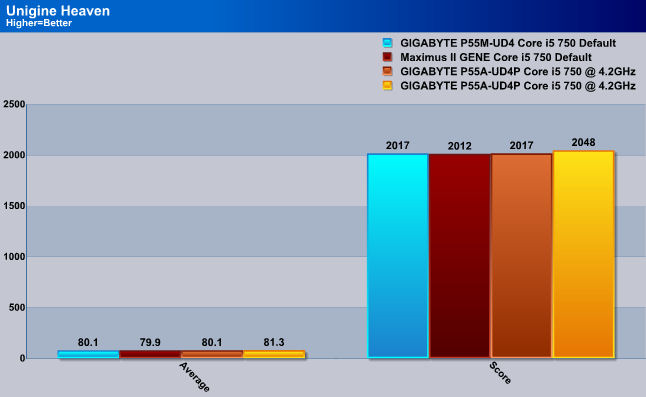 No matter what I did with the P55A-UD4P moptherboard with Unigine Heaven benchmark, I gotten the same exact performance across all motherboards. Overclocked or not.
3DMark Vantage

For complete information on 3DMark Vantage Please follow this Link:
www.futuremark.com/benchmarks/3dmarkvantage/features/
The newest video benchmark from the gang at Futuremark. This utility is still a synthetic benchmark, but one that more closely reflects real world gaming performance. While it is not a perfect replacement for actual game benchmarks, it has its uses. We tested our cards at the 'Performance' setting.
Currently, there is a lot of controversy surrounding NVIDIA's use of a PhysX driver for its 9800 GTX and GTX 200 series cards, thereby putting the ATI brand at a disadvantage. Whereby installing the PyhsX driver, 3DMark Vantage uses the GPU to perform PhysX calculations during a CPU test, and this is where things get a bit gray. If you look at the Driver Approval Policy for 3DMark Vantage it states; "Based on the specification and design of the CPU tests, GPU make, type or driver version may not have a significant effect on the results of either of the CPU tests as indicated in Section 7.3 of the 3DMark Vantage specification and white paper." Did NVIDIA cheat by having the GPU handle the PhysX calculations or are they perfectly within their right since they own Ageia and all their IP? I think this point will quickly become moot once Futuremark releases an update to the test.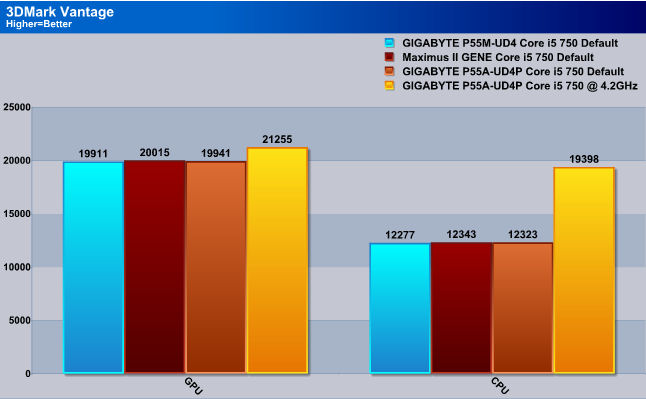 As expected, pretty much the same performance across all motherboards.
World In Conflict

World in Conflict is a real-time tactical video game developed by the Swedish video game company Massive Entertainment, and published by Sierra Entertainment for Windows PC. The game was released in September of 2007. The game is set in 1989 during the social, political, and economic collapse of the Soviet Union. However, the title postulates an alternate history scenario where the Soviet Union pursued a course of war to remain in power. World in Conflict has superb graphics, is extremely GPU intensive, and has built-in benchmarks. Sounds like benchmark material to us!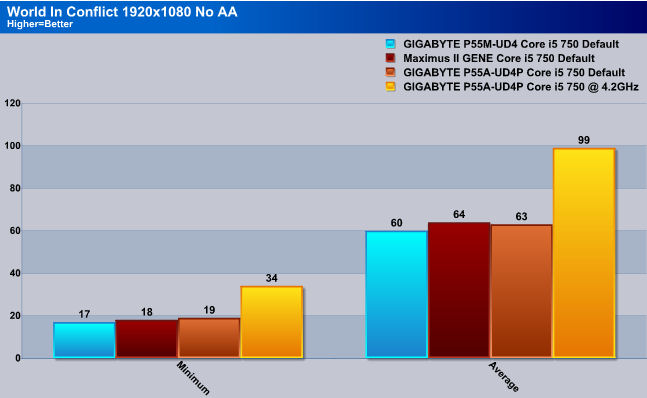 World In Conflict Is givng us the same performance levels, on all motherboards tested.
Far Cry 2

Far Cry 2, released in October 2008 by Ubisoft, was one of the most anticipated titles of the year. It's an engaging state-of-the-art First Person Shooter set in an un-named African country. Caught between two rival factions, you're sent to take out "The Jackal". Far Cry2 ships with a full featured benchmark utility and it is one of the most well designed, well thought out game benchmarks we've ever seen. One big difference between this benchmark and others is that it leaves the game's AI (Artificial Intelligence) running while the benchmark is being performed.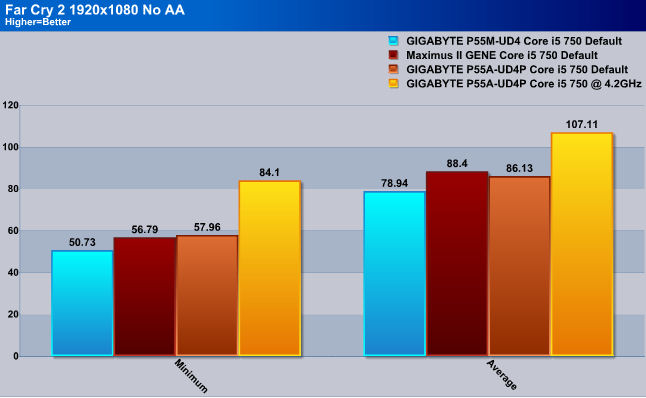 It was not up until Far Cry 2 when we started to see a little bit of difference between each of the motherboards. The P55M-UD4 was the motherboard that came in dead last.
Ending Thoughts
We all knew that most P55 based motherboards all perform almost identical to one another. What separates one manufacturer from the other is features, what comes with the motherboard. In GIGABYTE's case this motherboard the P55A-UD4P comes with SATA III, USB Power III, and USB III. Now as most of you already know that by utilizing the full bandwidth of SATA III (Turbo) our PCI-E video card expansion ports will be reduced from a 16x X 1 (x8 X 2 for mutli GPU configurations) to an single x8 PCI-E lane rendering the second PCI-E utterly useless, because the SATA III controller is borrowing the extra 8 PCI-E lanes. Now my problem is this, do I nail the P55A-UD4P to a proverbial cross because of this issue? Or do I overlook it? Things that make me go hmm.
Instead of "Nailing" the P55A-UD4P to a proverbial cross, I will add this. Most users are only using a single video card solution for their computer systems, so losing your primary PCI-E from 16x to an 8x you are not going to even notice the difference. And you would like to try your hand out on SATA III HDD's then the GIGABYTE P55A-UD4P is right up your alley. If you are one of the few (but growing number) of multi GPU users like myself, we have to make a choice, is that minor addition of bandwidth we get from our HDD's worth losing so we can still keep our multi GPUs? If the answer is Yes, then the GIGABYTE P55A-UD4P motherboard again is right up your alley. If you answer is no, it is unfortunately you will have to seek another motherboard. Myself, I can make small sacrifices from time to time, and can wait until the new technology has become more of a standard.
OUR VERDICT: GIGABYTE P55

A

-UD4P

| | |
| --- | --- |
| Performance | 7.5 |
| Value | 8 |
| Quality | 9 |
| Features | 8 |
| Innovation | 9 |

We are using a new addition to our scoring system to provide additional feedback beyond a flat score. Please note that the final score isn't an aggregate average of the new rating system.

Pro
Cons

14 Phase CPU power distribution

SATAIII, USB III, USB Power III

Decent Lay Out

The Use Of SATA III Full bandwidth will reduce Overall PCI-E lanes

Could not go above 200 BCLK

 
Summary: GIGABYTE has come up with a motherboard that features most of newer capabilities that we all been waiting for.