Razer has combined a little old school with a lot of high tech in the Abyssus Mouse. While it only has 3 buttons it also has 3500DPI, and a 3.5G infrared sensor.
Introduction
For a while now we've been seeing mice with a horde of buttons and programming interfaces to program that flock of buttons hanging all over the mouse. We've been wanting to see a regular 3 button mouse with enough high tech to make it deadly accurate, a nice infrared sensor capable of picking up swift movement, high to mid-range adjustable DPI and with adjustments that can be made without going back into the operating system to make changes.
We get a lot of feedback on products we've reviewed and one of the top responses we get is on gaming mice. A lot of people tell us they want just 3 buttons on a high tech mouse, or they tell us they have a 9 button mouse and only use 3 buttons. They still want the high tech bells and whistles, precision control, and above all else they want it from a major player in the gaming field at a reasonable price.
Apparently Razer has been hearing the same things we've been hearing because we received a Razer Abyssus mouse with those features and a lot more.
Razer has combined simplicity in use with a high tech design and brought the Abyssus in under $50 which is pretty good for a high end gaming mouse.
3500dpi Razer Precision™ 3.5G infrared sensor
1000Hz Ultrapolling™ / 1ms response time
Mechanical dpi/polling rate switches
On-The-Fly Sensitivity™ adjustment
No Drift Control
Always-On™ mode
Ultra-large non-slip buttons
16-bit ultra-wide data path
60-120 inches per second and 15g of acceleration
Three independently programmable Hyperesponse™ buttons
Ambidextrous design
Scroll wheel with 24 individual click positions
Zero-acoustic Ultraslick™ Teflon feet
Seven-foot, lightweight, non-tangle cord
Approx. size in mm: 115(L) x 63(W) x 40(H)
System & Hardware Requirements
PC with USB port
Windows® 7 / Windows Vista® / Windows® XP
Internet connection (for driver installation)
At least 35MB of hard disk space
With a 3500DPI capable design you can lower the Abyssus down to 1800DPI  and 450DPI from the switch on the bottom or switch from Ultra Polling at 1000Hz to 125Hz. In most cases you will want 1000Hz Ultra Polling but if your running on your laptop on battery power 125Hz will give you better results with battery longevity. Along with the 3500DPI you get 1ms response time which we've seen in the past ensures that your mouse responds instantaneously as soon as you move your hand.
You might have skipped this specification because a lot of vendors use it but don't talk about it. Drift Control, Drift Control is a mechanical process of using predictive software/hardware to let you draw a straight line. In gaming the last thing you want is the software taking a 5 degree slope and turning it into a straight line. Doing that compromises accuracy so Razer left Drift control off the Abyssus. Another annoying feature we see on mice is the off mode where after a second or two the mouse goes into power saving mode, we like to call it the Oh Crud were getting killed mode because shaking the mouse to wake it up takes just enough time to put you in an embarrassing situation when gaming. Embarrassing like taking a sniper shot to the head.
The pictures don't do the surface of the Abyssus justice they are a rubberized surface that provides a lot of anti-slip grip capability. Of course non-slipping is a big plus but it won't do you much good if the data can't get to the machine fast enough so Razer built in a 16bit (2Byte) wide data path as opposed to the 8 bit data path a lot of mice use.
How fast can you move the Abyssus without losing tracking on the sensor, how about 60 – 120 inches a second with 15G of acceleration. You'd almost have to be a genetic mutation to exceed those specs. You can also rely on the Abyssus to translate your clicks in real time because each button is a hyper response button and with the 1000Hz Ultra polling and 1ms response time traveling across the 16 bit data path your movements and commands reach the machine before your brain has time to realize what's happened.
We also get a lot of email from lefties complaining about the lack of switch hitter mice, well the Abyssus is ambidextrous so your covered if you happen to be a lefty. No matter which hand you use the Zero Acoustic Ultraslick Teflon feet will glide across the pad of your choice like wind caressing your face. Some Razer peripherals have a braided cord over the wires but the Abyssus doesn't and as long as it isn't tangle prone we are ok with that because sometimes the braided cord is a little stiff.
There you have it a little old school (3 button) with a lot of high tech to make your gaming shrine a more accurate more lethal instrument of "rein down hot lead on all those that oppose you" than you've ever thought possible.
Pictures
The Abyssus comes in a sturdy black box that will protect your gaming mouse and the box has plenty of information and specifications to inform the consumer about it's purchase.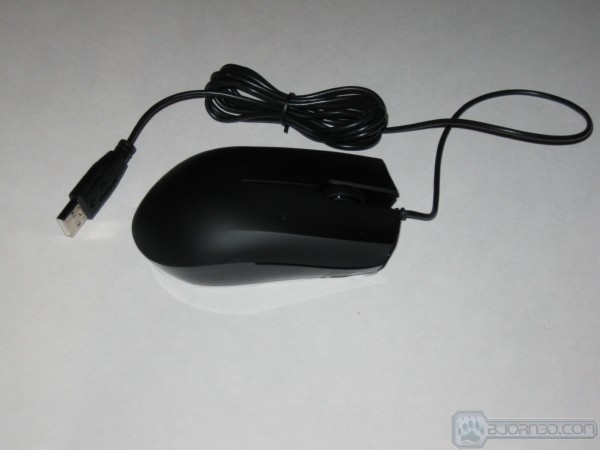 When we first looked at the Abyssus we were worried about the fold you see on the chassis and that it might cause a pressure point on our hands when gaming. That turned out not to be the case and the fold helps to position your fingers better to grip the mouse.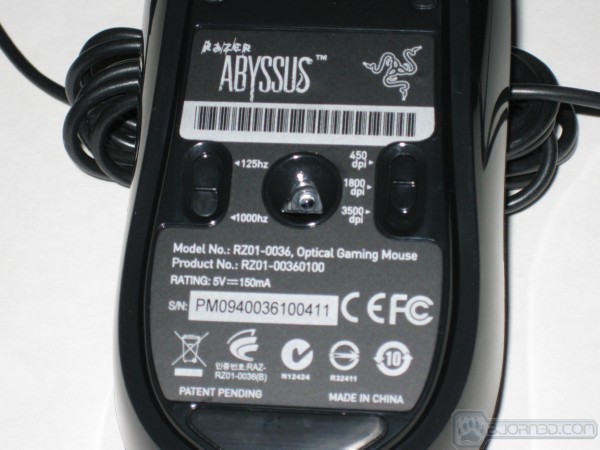 While in game you can flip the Abyssus over and switch from 450DPI to 1800DPI and up to 3500DPI which is a nice feature we like to see on mice. We also like to see finer control on the software included with the mice but we'll get to that later. You can also switch from 1000Hz Ultra Polling to 125Hz polling to save laptop battery power and we did just that on our lab laptop and while we did notice some difference it wasn't enough to stop us from using 125Hz while running on battery power.
Notice to keep the costs down the Abyssus doesn't have a gold plated USB connector, while a gold connector is a nice "Mental" feature we really haven't seen any performance gain from having the connector gold plated and suspect that gold plated USB connectors look better on paper than they perform in real life. The reality is the gold connector isn't running to gold wires and while we know that it might make a slight difference that's not noticeable to the human eye we aren't sure it's worth the extra money you pay for it.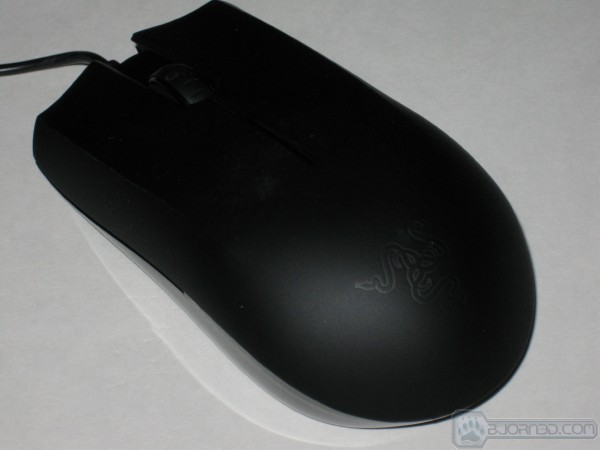 The butt of the mouse has one of those nice Razer Logo's that light up Blue when plugged in, unfortunately the blue glow freaks out our camera's and we decided to spare you that shot.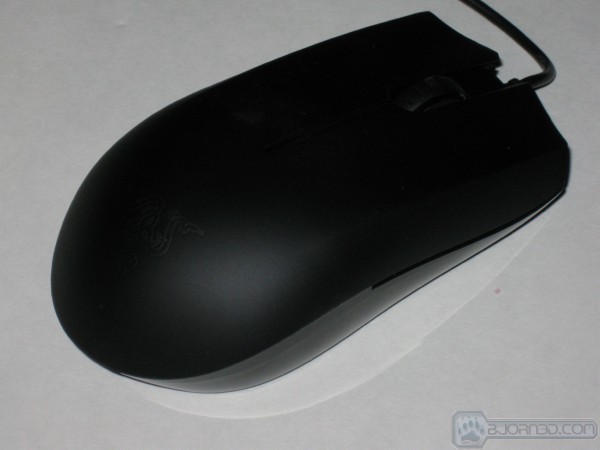 Some mice we've seen lately are ginormous but the Abyssus is more of a medium sized mouse that should be comfortable in large or small hands.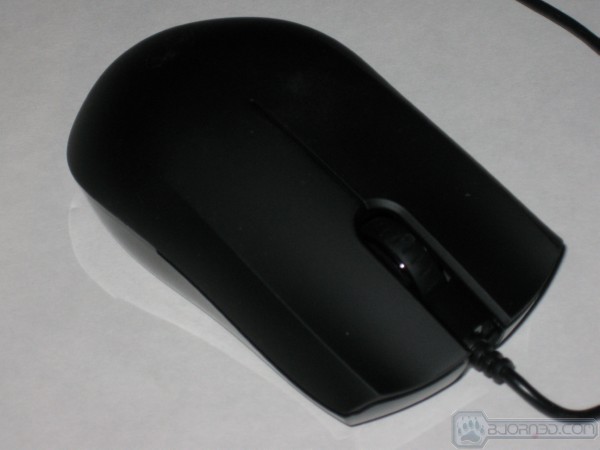 The one thing we would criticize the Abyssus for is the one piece cowling. We haven't had this problem with the Abyssus but have on another one piece cowling mouse (not one of Razer's). What happens if you drop the mouse and it hits right on the split between the buttons and cracks like a turtle shell? While we haven't had that specific problem with the Abyssus we suspect that someone will eventually.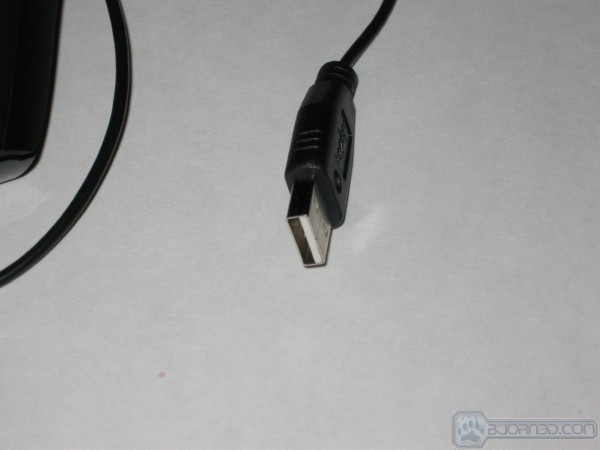 It's a standard USB 2.0 connector and we aren't sure that moving mice to USB 3.0 will have any effect on performance given the amount of data being passed.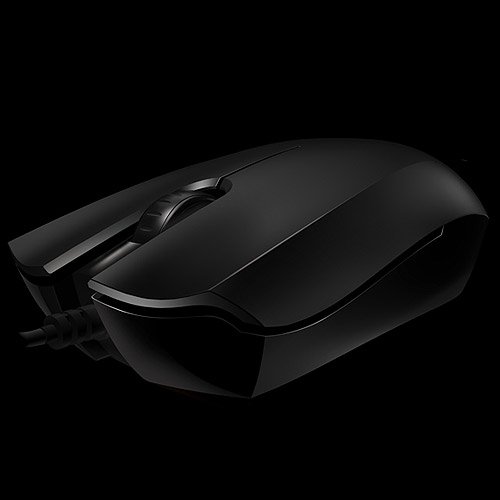 For those that like a little more polished shot we have a few of the Abyssus pictures we snagged off the Razer Webby.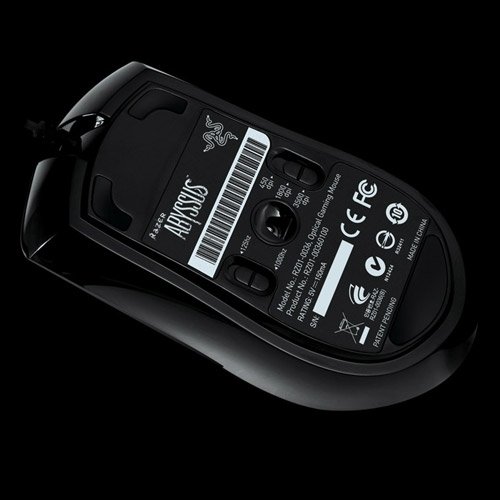 Notice the size of the Ultraslick Teflon feet, while they are large we highly recommend using a decent quality mouse pad with the Abyssus because abusing Teflon feet (on any mouse) by running them directly on your desks surface will cause them to thin and wear out exponentially faster. We happen to like Razer's Destructor, it's a little large but the Abyssus glides on the Destructors Teflon like surface so smoothly it's almost like gliding on a cloud.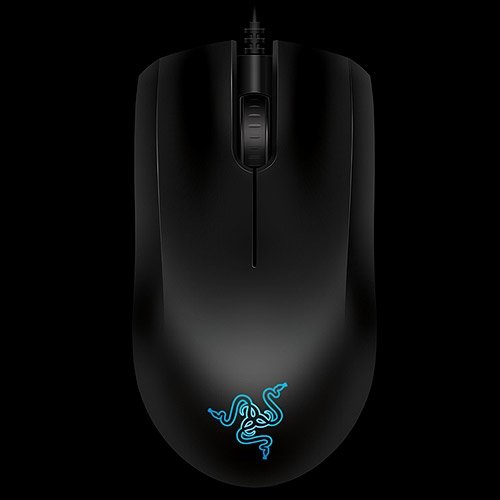 Here's a nice shot of the Blue LED Razer Logo that lets everyone know this is a Razer mouse and that your a serious gamer.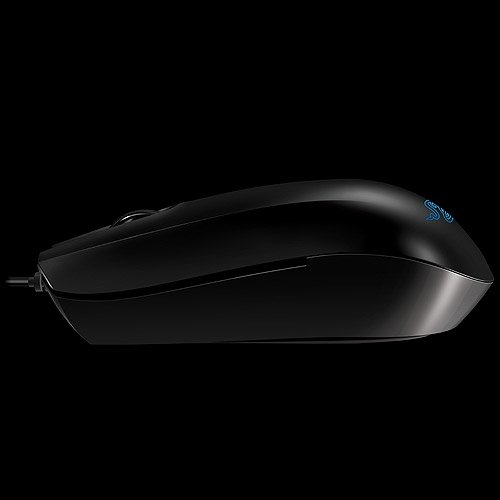 Profile wise the Abyssus is pretty short which we like because those mice that have the large hump on the back frankly make your hand tired after a while.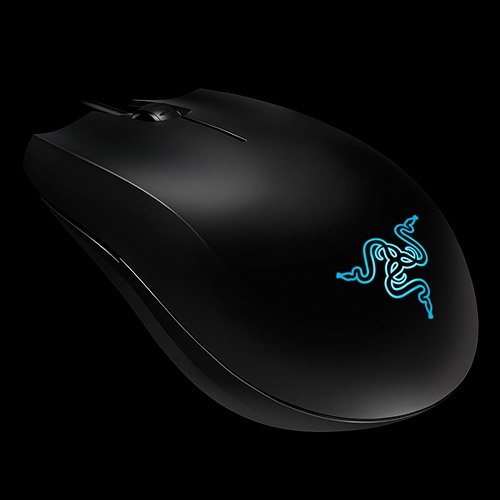 Here's what we were talking about on the fold on the side. Notice the crease on the top left of the mouse? Your index finger is on the left button and your thumb hangs over the left fold making it easier to grip the Abyssus. Same thing for the right side, your middle finger is on the button and your ring and little finger can hang over the fold for an easier steadier grip on the Abyssus. It's perfect for a person that prefers a clinch type grip but works well for a non-clincher.
The Software
Like most Razer Mice the Abyssus comes with configuration software. We went ahead and loaded and tested the software so you can get a look at it prior to making up your mind about getting one.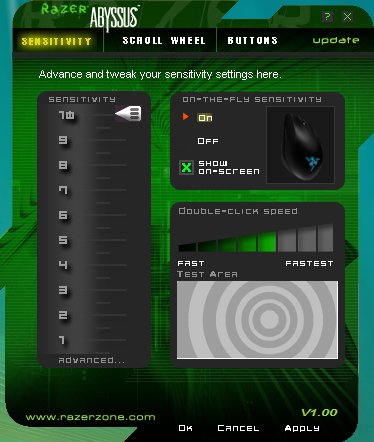 On the sensitivity page you can turn on the fly sensitivity on and off, show it onscreen or hide it and set the sensitivity. You can also set the double click speed and test the click speed on the gray pane. Simple but highly functional.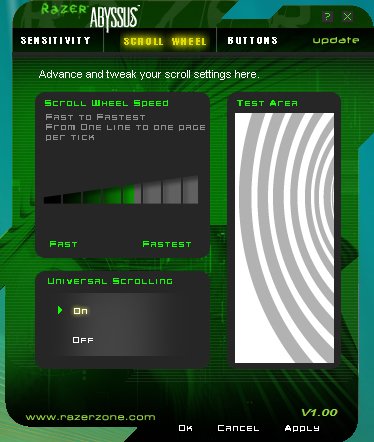 On the Scroll wheel page you can set scroll sensitivity and turn on/off universal scrolling and of course test the scrolling speed.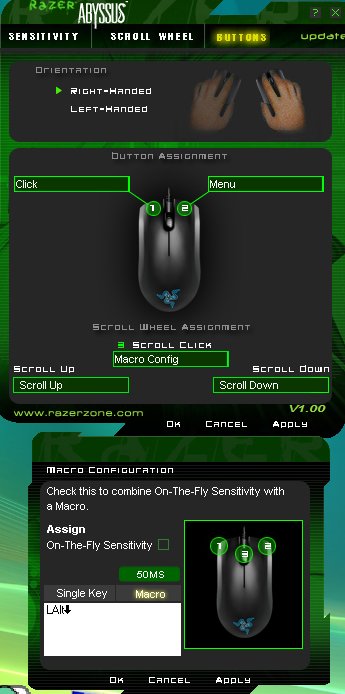 On the buttons page you can change the 3 available buttons to suit your gaming needs but with only 3 buttons we aren't sure how much functionality you'll get out of this.
Testing
We've never found any way to test a mouse other than to fire up one of our favorite games and play for a few hours. Then go back to the mouse across several gaming sessions and see how it works for us. In this case we happened to be playing Sacred 2 and part timing a game of Crysis so we used those for in game testing. We tested on a machine (core i7 965) that has enough CPU and GPU (ATI 5970) power that we could play on the highest settings at 1920×1200 and not lag or drag during any game play. We wanted to play on a powerful enough machine that we could determine if lag and drag was mouse or machine related and on Quadzilla running at 4GHz with an i7 965 Extreme and the ATI 5970 we knew there wouldn't be any machine lag or drag involved. We gamed for 6 – 8 hours on each game across a week, we wish we had more time for gaming but the never ending pile of hardware thrown at us will build up if we take longer.
Results
We started off on Sacred 2 Fallen Angel in a mountainous region fighting flying dragons and mechanical jackals. We quickly graduated to a 5 boss fight with some T-Mutant spiders that were close to impossible to kill at our level 36 character.
What we noticed most with the Abyssus was that the rubberized grip kept the mouse solidly in our hand while gaming. We also noticed that the Ultraslick Teflon feet were gliding across the Destructor so easily that it helped decrease drag and we were able to move to our targets much easier. The ultra-response keys were easy to hit and it barely took a slight flexing of our finger to click the mouse ensuring that fatigue wouldn't be an issue in gaming.
Sacred 2 is an endurance game and you can end up spending hours wandering the 22 square mile terrain so fatigue and comfort is a big issue and we mainly use it for mouse testing for that reason. Like most sword combat games it can turn into a clickfest and the Abyssus performed admirably while we were whacking away on the boss creatures.
In Crysis we were entering the Call Me Ishmael level and quickly faded into the jungle to perform a little sneak and creep on the enemy. We like to circle an encampment and pick off as many enemy as we can from a distance with the Sniper rifle before moving in with the assault rifle for a little up close wet work.
We faded into the jungle and switched our assault rifle out for the Sniper Rifle and settled in for a little head shot action. We've played Crysis enough that during Sniper Rifle action we consider anything less than a Head shot a loss. With the 3600DPI setting the Abyssus was a little to sensitive for Sniper Rifle shots so we quickly flipped it over and switched to 1800DPI which turned out to be perfect for Sniper operations. We easily moved around the camp and picked off the bulk of the non-respawning enemies as we could find then moved in for a little up close and personal wet work.
During our enemy infested camp insertions we like to find a relatively unguarded part of the camp and rush into cover in the camp itself. Check our clip then run amok gunning down everything that moves. At 1800DPI we were snapshotting enemies that we rushed past and that DPI turned out to be best for us. We easily traversed the screen in search of warm bodies to make cold and once we found them stopping with the Abyssus to snap off those single kill shots was a breeze.
We have pretty high standards for hardware in general but when it comes to mice all we have on hand is high end mice. You won't find a single Microsoft $20 dollar model or low end Logitech mouse anywhere in the lab. We have high expectations from mice and keyboards and the lower quality mice and keyboards we generally take to the target range and put holes in them. The Abyssus is in no danger of meeting the business end of our rifles. The Enemy in Crysis however all met the business end of our rifles driven by the Abyssus's precision and accuracy.
Conclusion
We found the Abyssus to be a deadly accurate gaming Mouse and the 3 button design kept us focused on what we were doing in game without having to think about what each of 9 buttons does. Movements were swift, key clicks were fast and required minimal effort. We clickfested in Sacred 2 for hours and fatigue wasn't an issue. We precision Sniped in Crysis for hours then run and gunned our way to victory in Call Me Ishmael a lot easier than when we ran the same scene with a borrowed low end 800 DPI optical mouse. Having so many high end mice around the lab it's nice to revisit the 90s 800DPI version mice to refresh our memory on how spoiled we've become when gaming with the Razer Abyssus.
Now if you happen to like 4 or 5 or 35 buttons on a mouse the Abyssus probably isn't for you; but if you find yourself wondering what all those buttons do and hesitating in game then the Abyssus with it's 3 button old school design and high tech guts is likely a good solution for you.
OUR VERDICT: Razer Abyssus
| | |
| --- | --- |
| Performance | 9 |
| Value | 8.5 |
| Quality | 9 |
| Features | 8 |
| Innovation | 8.5 |

We are using a new addition to our scoring system to provide additional feedback beyond a flat score. Please note that the final score isn't an aggregate average of the new rating system.

Pros
Cons

Precise

Teflon Feet

Ergonomic Shape

Wads of High Tech, 3500DPI, 1000Hz Ultra Polling, 1ms Response time, 3.5G sensor

Midrange Price

Some People Like More Than 3 Buttons

 
Summary: The Razer Abyssus performs nicely and the precision it provides is an essential asset when raining destruction on all those that stand in your path.