When that 500 watt or so power supply just isn't enough anymore its time to step it up. Thermaltake is competing heavily for your dollar with their Evo series of PSU's. Today we have the Evo_Blue 750 watt.
Introduction
There comes a time when your old power supply just can't put out enough power. Whether this is due to a new component, or just the natural aging of the PSU you just need a new PSU. Those running a higher end system with a single graphics card will probably find a sweet spot around the 750-850 watt area. Those who have previously used a modular PSU probably would not like to desert this luxury. Many people including me also like to have a bit of style. Thermaltake has combined all of these into one product, the Evo Blue 750 watt PSU.
This PSU features blue LED lights with creative designing, and 750 watts of power. Not only that, but it also has a modular design, so you can easily manage all of the cables in your case for efficient airflow. This will not only help your temperatures, but it can also make it easier to work in your case when you switch out components. Lets take a closer look at the Thermaltake Evo Blue 750 and see if its the right fit for you.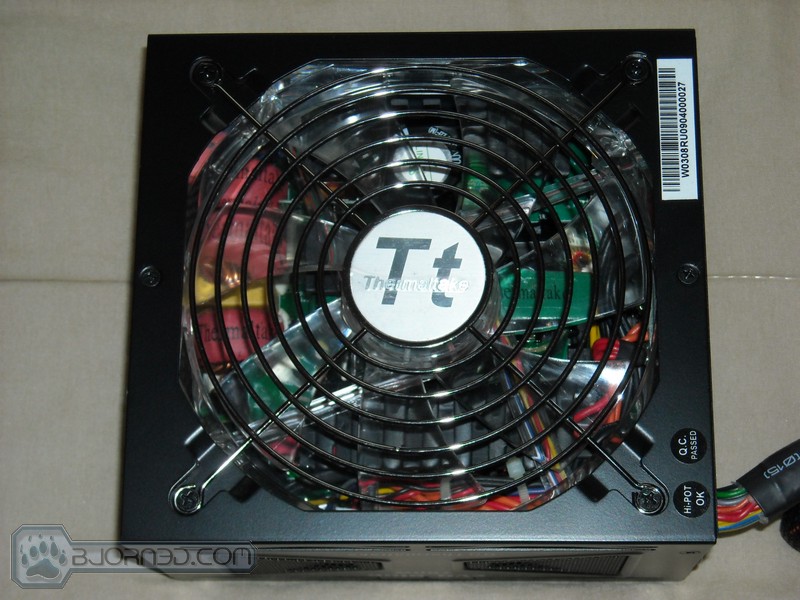 Features

Oversized 14cm whisper-quiet ball bearing fan dramatically reduces overall PC noise, increase system thermal efficiency.
Intelligent variable speed controlled fan automatically increases or decreases fan speed to adjust to different system loading.
Modular cable sockets with blue LEDs backlight & five user-adjustable LED environmental lighting effects Active PFC (PF>0.9) reduces heat build-up and energy loss to promote a more stable and efficient power conversion.
Robust and dedicated single +12V output provides superior performance under all types of system loading.
Cable Management improves internal airflow by reducing cable clutter within PC to promote accelerated heat removal.
Features dual 8-pin PCI-E & dual 6-pin PCI-E connectors to support latest Nvidia 2-way / 3-way SLI & AMD 2-way / 3-way CrossFire X technologies.
Uncompromised compatibility with all current and future system setup with Intel ATX 12V 2.3 & SSI EPS 12V 2.91 standards compliance.
Individually tested to guarantee rock-solid continuous operation at 50℃ environment.
Industrial-grade safety protections: Over Power, Over Voltage, and Short-Circuit protections.
TT5Years Warranty:Thermaltake quality 5-years parts and labor warranty. Safety / EMI Approvals: UL,TUV, CE, FCC,BSMI and GOST certified.
DIMENSION:150mm(W) x 86mm(H) x 160mm(L).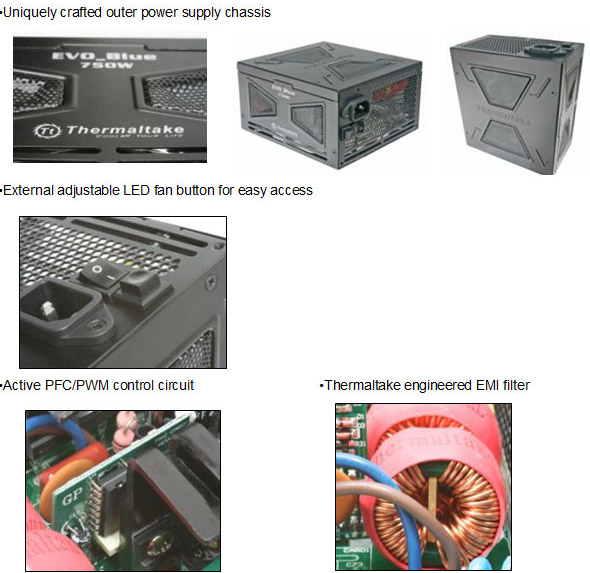 The 140mm fan is always a nice thing to see on a PSU. This ensures that a lot of airflow is going through the PSU, thus leading to lower temperatures. The extra size also means that the fan can spin at a lower RPM and still move the same amount of air as a smaller fan at a higher RPM. This makes the PSU more quiet.
Specifications

| Connector Type | Connectors & Cable Length |
| --- | --- |
| 24pin | 1 x 20+4pin Main connector(650mm) |
ATX 12V 4pin
1 x ATX 12V 4pin connector(650mm)
EPS 12V 8pin
1 x EPS 12V 8pin connector(650mm)
Molex & FDD
3 x Peripheral & 1 x FDD connectors (500mm + 150mm + 150mm + 150mm)
3 x Peripheral (500mm + 150mm + 150mm)
SATA
3 x S-ATA connectors (500mm + 150mm + 150mm) 3 x S-ATA connectors (500mm + 150mm + 150mm)
PCIE 6pin
2 x 6pin PCI-E connectors (500mm)
PCIE 8pin
2 x 8pin PCI-E connectors (500mm)
PCIE 8pin to 6pin
2 x 8pin to 6pin PCI-E adapter (100mm)
These specs are pretty common for a PSU of this size. There are plenty enough connectors to run any dual GPU setup, and some of the lower power tri and quad GPU setups.
Pictures & Impressions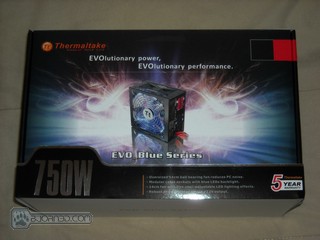 The packaging is pretty basic. Thermaltake chooses to promote their 5 year warranty, which is a pretty good warranty. They also clearly display the wattage, and a picture of the product. Lets crack open the box and see whats inside.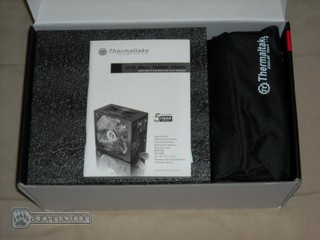 Thermaltake neatly packaged the PSU. Right on top is the manual, so you wont have to dig around if you want to read up a bit on the product. To the right of that is the cable bag. The bag does not have the quality of the Corsair bags, but it is not too bad.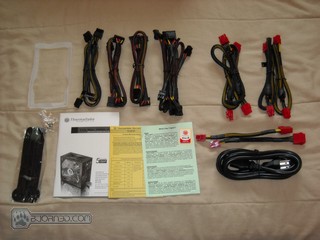 Here is a picture of all the included accessories. You can turn back to the Features & Specs page if you would like to see a list of all of the included cables. As with almost every PSU manufacturer, TT has included a case badge, a power cable, and some wire ties. There is also a rubber piece to keep your PSU from vibrating the case.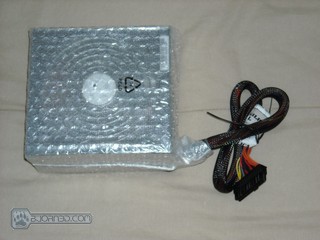 Thermaltake did a pretty good job of packaging the PSU. On top of the two side Styrofoam pieces they have wrapped the PSU in bubble wrap. This will ensure that the PSU is not going to get all scratched up before you get to drop it into your system.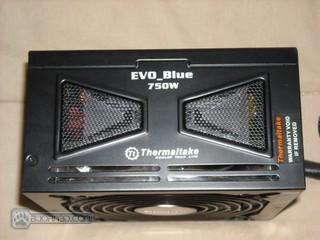 The side of the PSU looks pretty cool. I like the design of the vents especially . If you have a bottom mounted PSU and you face your PSU downward then this is exactly what you will see when you look at your PSU. TT could have picked a better spot to put the warranty sticker though. It kind of sticks out like a sore thumb.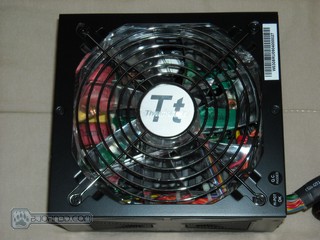 Now lets take a look at the top of the PSU. As you can see the fan is as large as it can be while still fitting in the PSU enclosure. This is a good thing, since the fan will not only be quieter, but it will be able to move more air through the PSU. The improved air flow will help keep the PSU cooler, and thus reduce the stress on the components inside the PSU.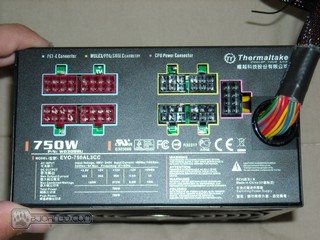 Here is a shot of where you plug in the cables. As you can see, there are 4 total PCIE power connectors. This allows a maximum of two 6 pin, and two 8 pin, or four 6 pin PCIE connectors. This also allows any combination of four Molex and SATA power connectors.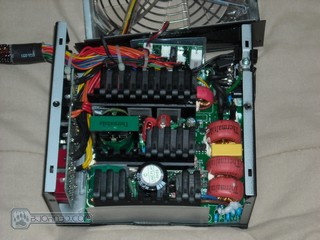 Time for a look at the PSU guts. It looks like TT did a pretty good job on the inside. Nothing looks like it was cheaply made, and the heatsink is big enough to cool the unit. Lets see how this PSU does in testing.
METHODOLOGY
Test Rig

Case Type

Cooler Master HAF932

CPU
Intel I7 920 @ 2.66
Motherboard
Asus P6X58D
Ram
12 GB DDR3 1600 @ 1560, 9-9-9-22
CPU Cooler
D-Tek Fuzion w/ acrylic top
Hard Drives
 Corsair P64 64 GB
(2x) WD SE16 750 GB
Optical
Lite-On DVD R/W
GPU

Sapphire 5970 Redline

Case Fan

One Front 230mm Intake
One Back 140mm Exhaust
One Side 230mm Intake
Three Top 120mm Exhaust

Testing PSU

Corsair HX850W
Ultra X4 500W
Thermaltake Evo Blue 750W
For the tests I used 3DMark Vantage to achieve a game like experience, which should lead to the maximum load possible. For the idle tests I manually turned the PSU on with nothing attached to it. A Kill-A-Watt watt meter was used to measure the wattage being drawn by the computer from the wall socket. A Craftsman digital multimeter was used to measure the voltages on the connector to ensure that the most accurate result were obtained. To get the idle Power Factor Correction, I had to run the PSU with the minimal components, since it will not give this with nothing plugged into the PSU.
The current ATX 2.2 specifications allow for the following variation in voltage outputs:
3.3 Volt Rail:   3.135 – 3.465V
5 Volt Rail:      4.75V – 5.25V
12 Volt Rail:   11.4V – 12.6V
RESULTS
Corsair HX850


Thermaltake Evo 750




Ultra X4 500



OutPut Power
Idle
Load
OutPut Power
Idle
Load
OutPut Power
Idle
Load
12 volt
12.18
12.21
12 volt
12.19
12.17
12 volt
12.19
12.16
5 volt
5.1
5.1
5 volt
5.14
5.15
5 volt
5.14
5.16
3.33 volt
3.34
3.324
3.33 volt
3.412
3.14
3.33 volt
3.41
3.38
PFC
0.99
0.99
PFC
0.98
0.99
PFC
0.95
0.97
The Corsair had no issue matching up with the Silverstone, and even had a great Power Factor Correction! Overall the Evo Blue easily was within ATX 2.2 standards, which is exactly what you should look for in a PSU.
Conclusion
The Thermaltake Evo_Blue 750 watt PSU definitely packs some quality. This should almost be expected though, after all Thermaltake has been making PSU's for quite awhile now. The Thermaltake PSU's also happen to be about the same price, or cheaper as some of their counterparts. Combine that with their 3 year warranty, and you have a pretty good deal for a PSU that you know won't blow up in your face. As always you should never cheap out on a PSU, because yes they can quite literally blow up, sending all of your components to an early grave.
The Evo_Blue also doesn't look half bad. The LEDs add a bit of color to the inside of your case. The design of the PSU itself distinguishes it a bit from your plain gray metal PSU. The black finish should match the outside on the majority of cases, plus its the textured finish, so you know it won't simply flake off upon install.
The modular design is also something that shouldn't be looked over. This PSU of course costs a bit more than some similar non-modular models of the same wattage, but with the price you receive a few little cosmetic extras, as well as a modular cable system. The modular system can free up a lot of space in your case, and improve the airflow. This can even lead to lower temperatures.
OUR VERDICT: Thermaltake Evo_Blue 750 watt PSU

| | |
| --- | --- |
| Performance | 8 |
| Value | 7.5 |
| Quality | 8 |
| Features | 8 |
| Innovation | 7 |

We are using an addition to our scoring system to provide additional feedback beyond a flat score. Please note that the final score isn't an aggregate average of the rating system.

Pro
Cons

Modular

LEDs

750 watts

None
Summary: The Thermaltake Evo_Blue 750 watt PSU is another great addition to the Thermaltake PSU line, which provies stable power with a modular system.