The ASUS EAH5750Formula is powerful sub 150USD video card, that supports Direct X 11, and can provide just about any gamer a cheap effective video card.
Introduction
ATI is well known for releasing affordable video cards for just about anyone, in every price point. ATI is also well known for supporting some of the most up to date Direct X versions.
Today we going to look at the 5750 from ASUS, the EAX5750 Formula video card sits in the sub $150 (USD) price bracket. Do not under estimate this small video card, just because it is currently ATI's smallest offering does not mean it can't play today's games. The 5750Formula video card supports all of Microsoft's newest API Direct X 11, this video card can also be ran in a multi GPU platform, ATI's very own Crossfire X.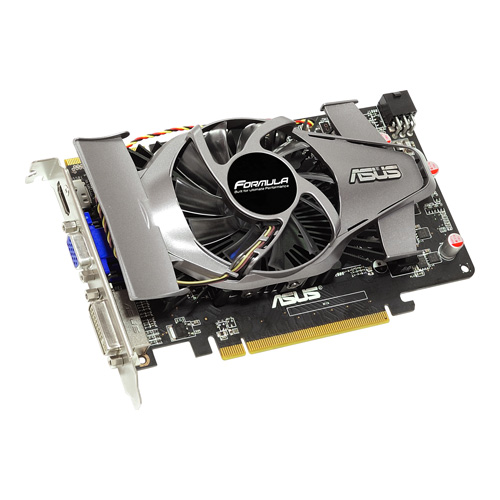 The Asus EAX5750 Formula video card provides good performance at a reasonable price. Not only does it provide good performance like usual Asus has done the card up with some nice style. Featuring a race card inspired theme the EAX5750 delivers performance at a good price and does it with unique styling.
Specifications
Graphics Engine
ATI Radeon HD 5750
Video & Color Engine
ASUS Splendid HD
Bus Standard
PCI Express 2.1
Video Memory
DDR5 1G
Engine Clock
700 MHz
Memory Clock
4.6 GHz ( 1150 MHz DDR5 )
RAMDAC
400MHz
Memory Interface
128-bit
CRT Max Resolution
2048 x 1536
DVI Max Resolution
2560 x 1600
D-Sub Output
Yes x 1
DVI Output
Yes x 2 (via HDMI to DVI adaptor x 1 )
HDMI Output
Yes x 1
HDCP Support
Yes
Adapter/Cable Bundled
1 x CrossFire cable
1 x Power cable
1 x HDMI to DVI adaptor
Software Bundled
ASUS Utilities & Driver
ASUS Features
Xtreme Design
Formula Series
Note
The card size is 7.18 inches x 4.65 inches
ASUS Exclusive Formula Fansink
-13% Cooler than generic Radeon HD5750
-Aerodynamic Cover Design
-Micro Surface Treatment Technology
-Durable Dust-proof Fan Design
No.1 Performance
No.1 Safety
No.1 Reliability
ASUS Splendid:
Watching movies on PC is as good as on Top-of-the-line consumer television
ASUS Gamer OSD:
Real-time overclocking, benchmarking and video capturing in any PC game!
ASUS Smart Doctor:
Your intelligent hardware protection and overclocking tool
Graphics GPU Features
ATI Radeon™ HD 5750 GPU
Microsoft® DirectX®11 & OpenGL® support
Microsoft® Windows 7 Ready
Dual DVI Support
ATI CrossFire Support
I/O Specifications
PCI-Express 2.1
2 DVI-I (HDMI to DVI-I)
VGA
HDCP Compliant
HDMI (Native)
Packaging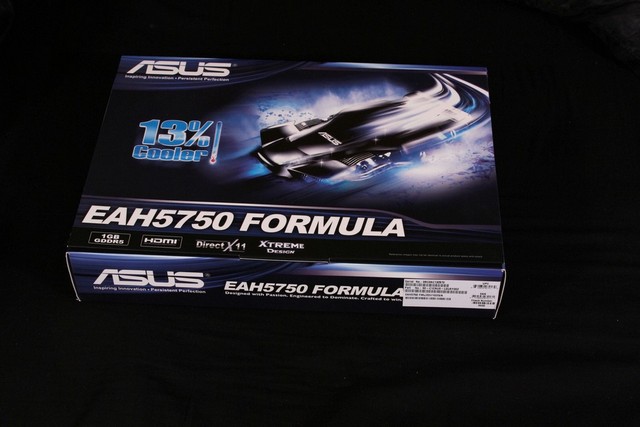 ASUS has always used eye catching packaging for their products. Quick glance over the box, we see ASUS claims their GPU cooler will run 13% cooler then the traditional reference cooler. Also that this 5750 comes with 1 gig of DDR5 memory, and that the video card fully supports DX 11.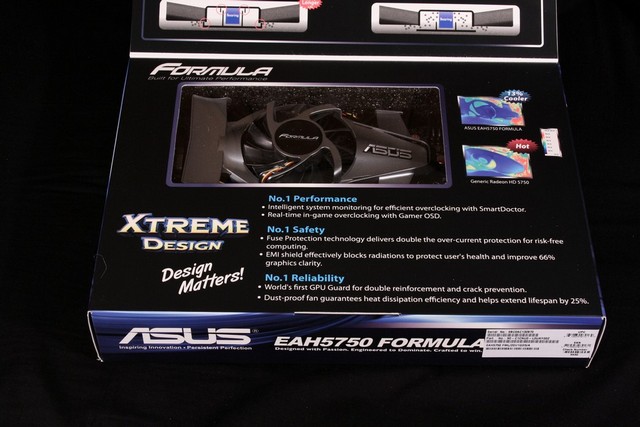 Upon opening the top lid, we can see the video card inside of a small window. Now what I thought was unique about this video card, is the heatsink ASUS used looks like a Formula race car.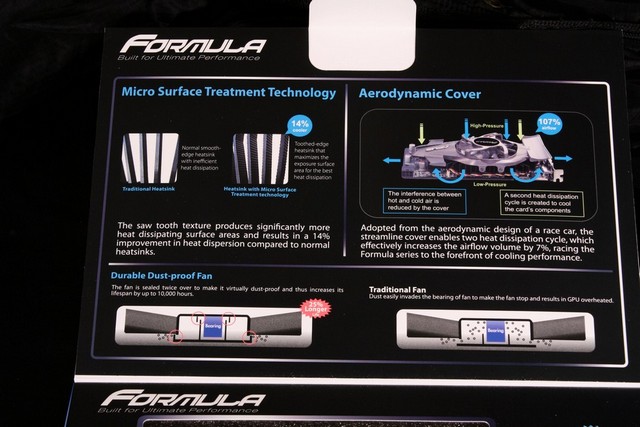 On the bottom side of the lid, ASUS puts general features that what makes their heatsink unique.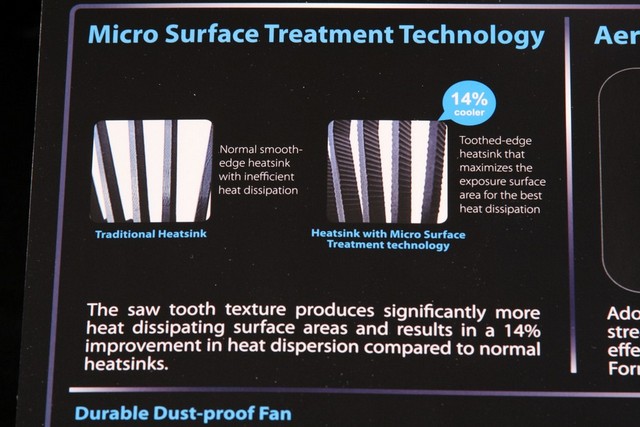 The heatsink fins are not smooth, ASUS uses a ribbed design to increase the over all surface area.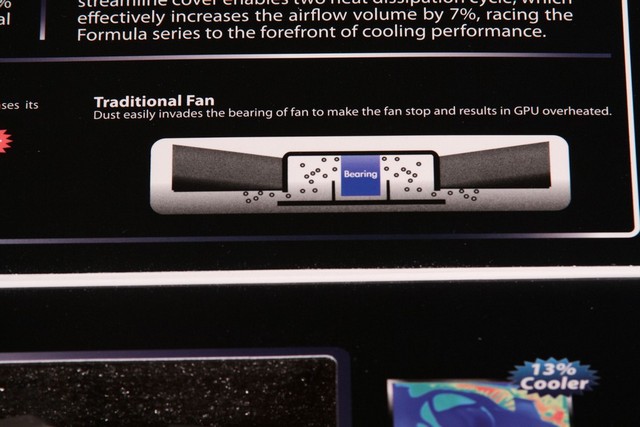 This is what a traditional fan looks like, as we all know that traditional fan innards are completely exposed to the outside. And that dust particles (and lint) can enter the internal workings of the fan causing slow downs of the blades or complete fan failure.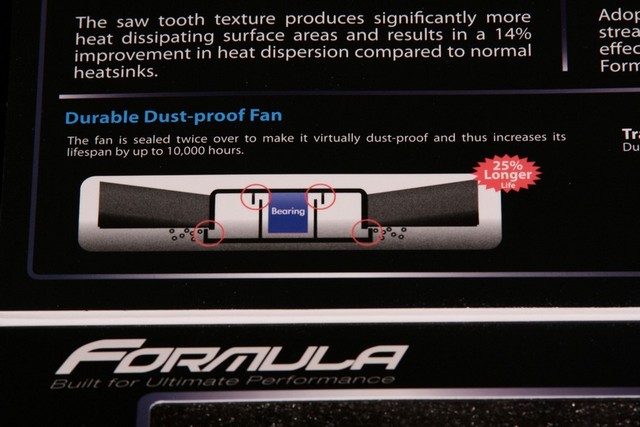 ASUS, uses a fan that is more enclosed therefore decreasing the chances of dust and or lint getting into the fan inner workings.
ASUS does an excellent job on packaging the 5750Formula video card by completely encapsulating the video card with a soft foam.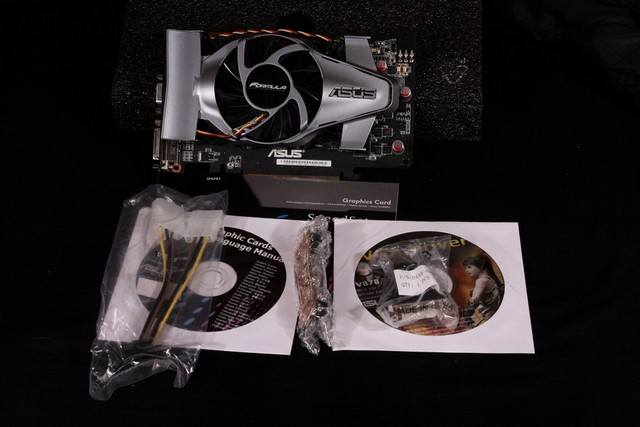 What comes with the 5750 Formula video card. Of coarse the video card, an instruction manual, a driver disk. A multi-lingual installation disk, a ATI crossfire ribbon (you get one with each video card you purchase and you will need to use both for optimal multi GPU performance). We get a molex to 6 pin PCI-E power adapter, and then finally an HDMI to DVI adapter.
Overview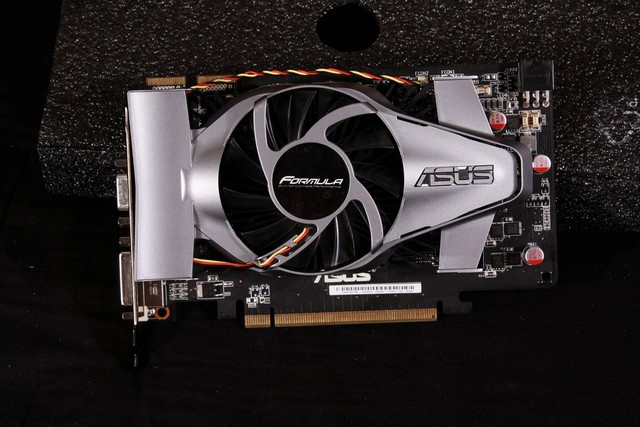 Time to start the overview. What the EAX5750 Formula looks like outside of all that packaging.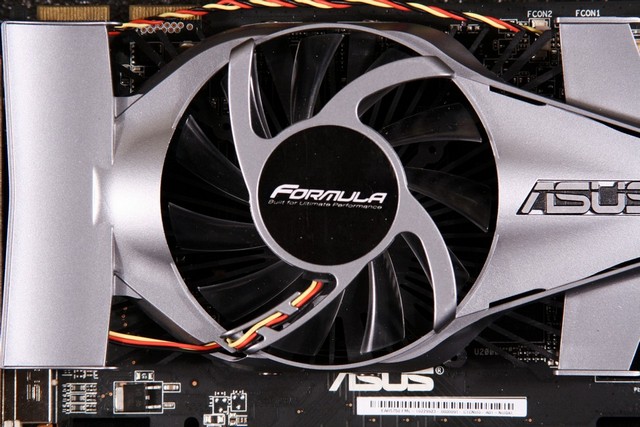 A close up shot of the offset radial heatsink pattern that ASUS uses for this video card. also notice the heatsink itself, is black and the fan blades are a smoked color.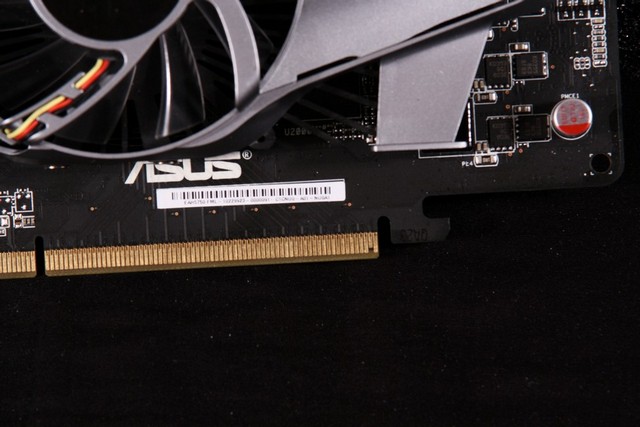 Instead of using the normal coloring scheme on the PCB, ASUS basically laminated over the entire PCB black to hide the traces. We can see the raised PCB traces but we cannot physically see the traces themselves.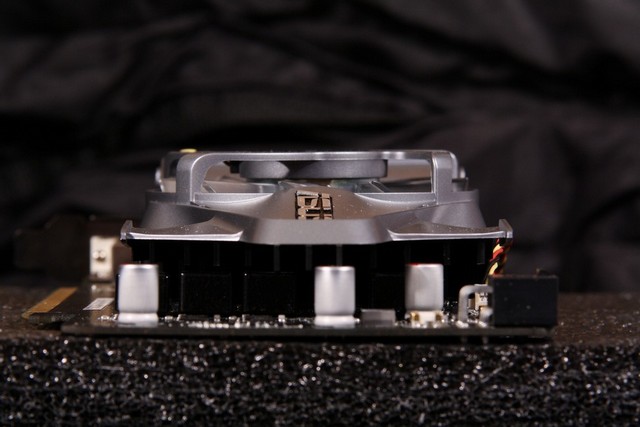 Looking from the front part of the video card, the heatsink cover that ASUS uses does resemble a Formula race card.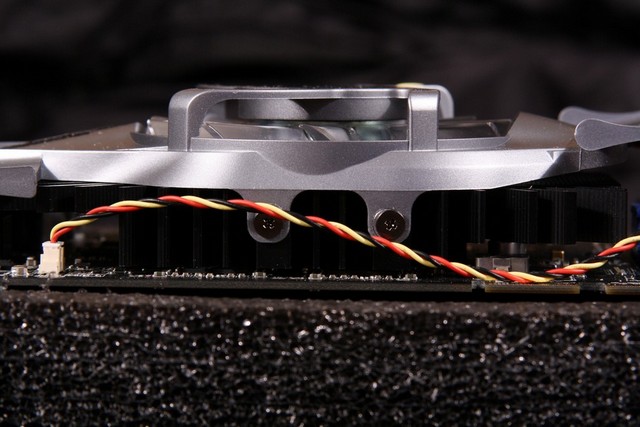 Looking at the side of the video cards heatsink, the cover is screwed directly to the heatsink.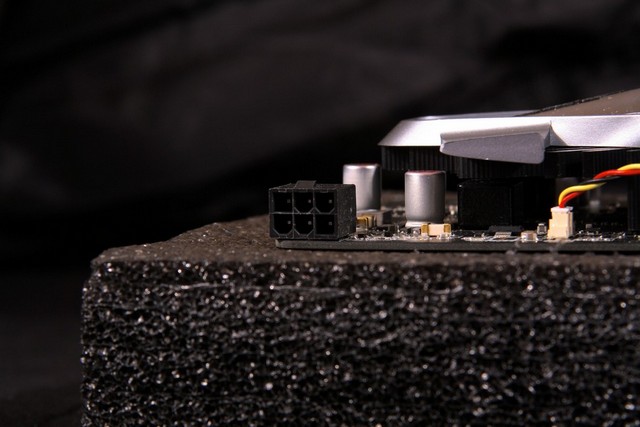 Similar to the HD4770 video card the 5750 video card requires an available PCI-E power cable. but instead of pointing the PCI-E power plug to the rear, this time its pointing to the side of the video card.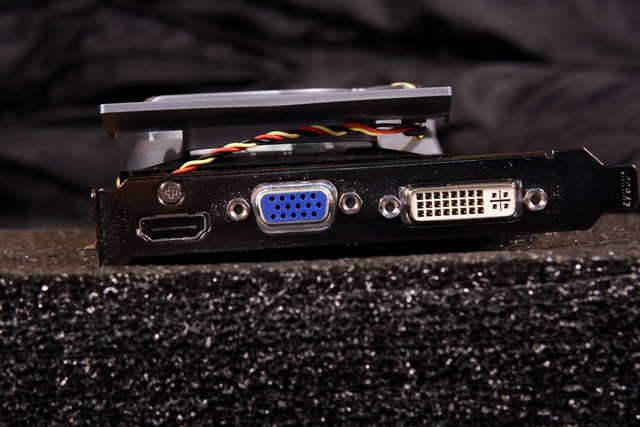 Time to turn our attention over to the back side of the video card. ASUS includes 1 HDMI output, 1 D-SUB connector, and finally a DVI monitor output.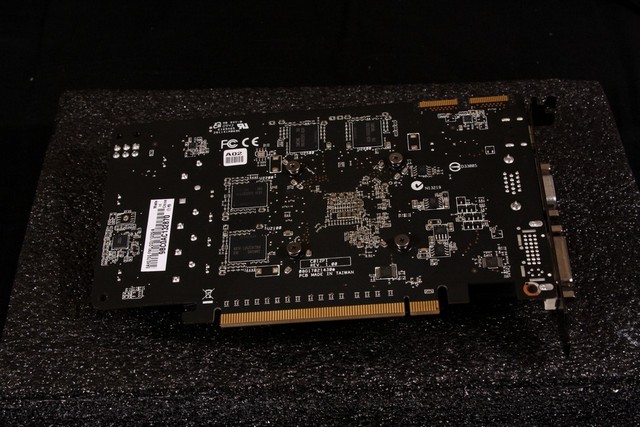 Looking at the backside of the video card itself. As we can already tell this video card is fairly small in size, so it should fit in a lot of different types of chassis.
Again ASUS laminated over the PCB to hide the traces.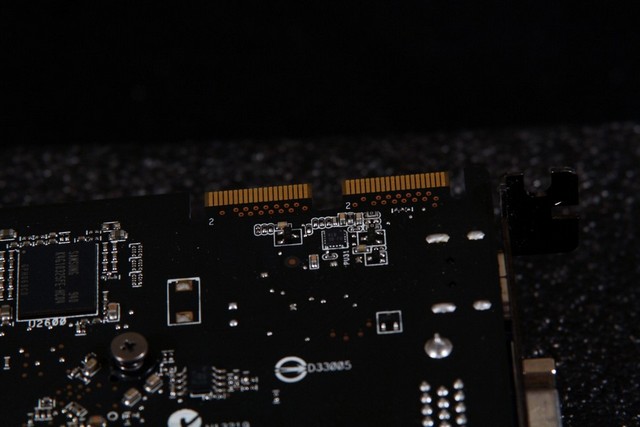 The two internal Crossfire ribbon connector on the video card. Now a lot of people say all you need is one ribbon to properly use Crossfire. Yes this is true, but in order to get the maximum performance out of Crossfire, I recommend that you use both internal Crossfire ribbons.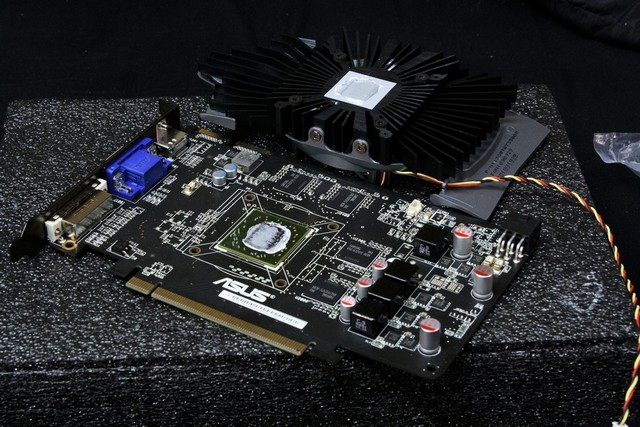 I tore off the Heatsink on the 5750 video card to see what the core looks like also to show you the ribbed fin design that ASUS uses on this heatsink. Now this got me all kinds of confused, on the heatsink, we can make out the grey thermal pad, but there is also thermal paste on both the core of the GPU and the heatsink as well. Me I wish companies just use thermal paste instead of using that grey thermal pad.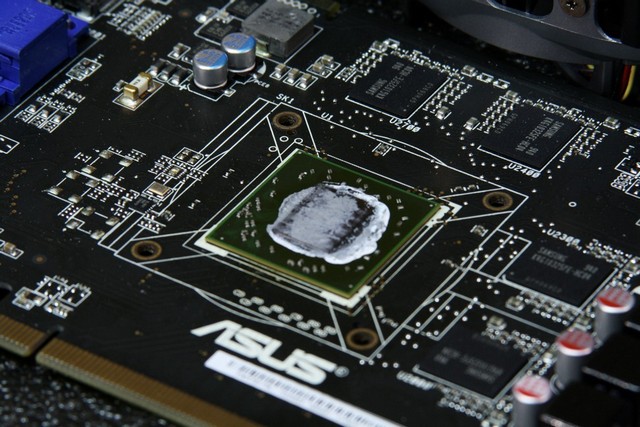 The core of the 5750, this core is not square instead it is rectangular in shape. Again, I need to point out the amount of thermal paste used, IMO is a tad over board.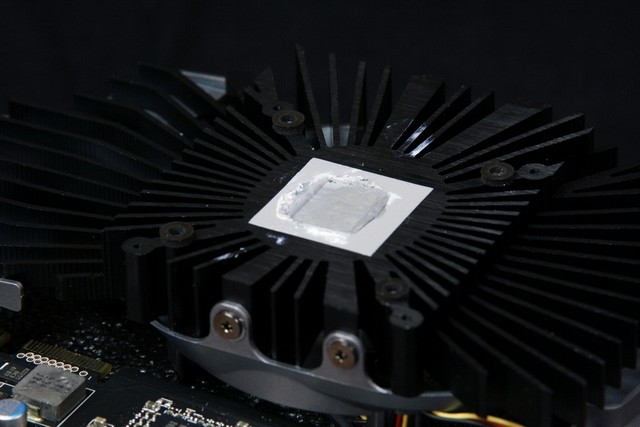 Despite the amount of thermal paste, and the crappy grey thermal pad used, the GPU core was hitting the heatsink evenly. Looking out towards the fin array, of the heatsink we can see the ribbed fins that ASUS used on this heatsink.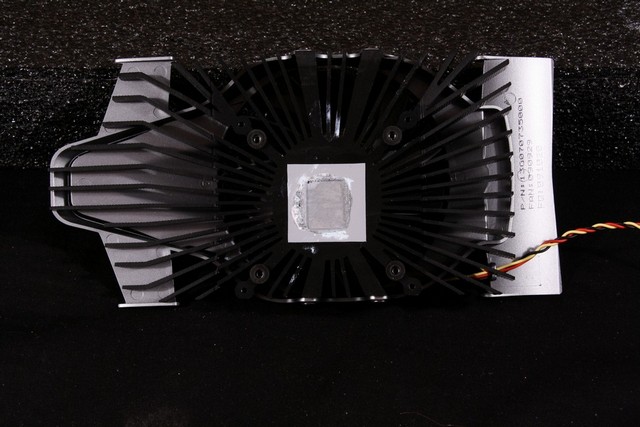 Looking at the base of the GPU heatsink, this heatsink has an offset radial pattern to it.
Installation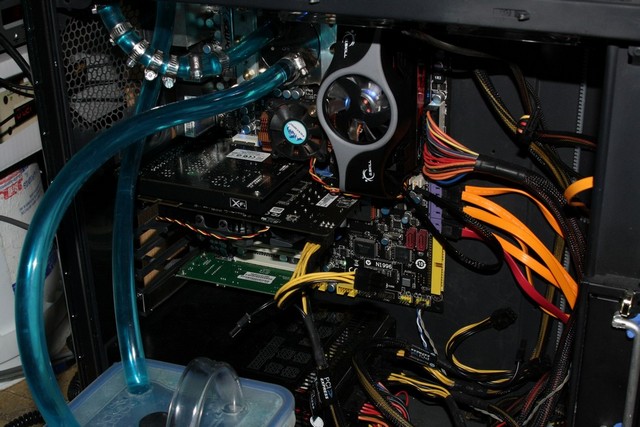 What the EAX5750Formula video card looks like inside of "Mini Me". Man this video card is small.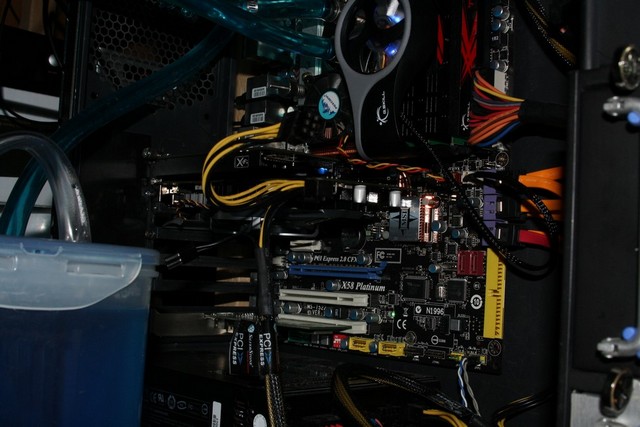 A different angle of the EAX5750Formula video card inside of the chassis.
Testing Methodology
Test Setup &Testing Methodology
CPU
Intel Core i7 920 C0 2.66GHz, @ 4.11GHz
Motherboard
MSI X58 Platinum
Case
Cooler Master Cosmos 1000
Memory
GSkill trident 2000MHz
Video Card's
HD4770, 5750
Hard Drives
2x Seagate 320Gig 2.5″ Momentus HDD's
CDRom Drive
Lite On Blue Ray
Power Supply
SilverStone 1200 Watt Zeus
CPU Speeds Used
3990MHz
Operating System Used
Microsoft Windows 7
Video Card Cooler

Original coolers used on both the 4770, 5750
CPU Cooler

Koolance 340 CPU water block
I was only able to compare the ASUS 5750Formula video card with my HD4770 video card. Mainly because the 9600GT was giving me fits during its testing. I will be doing two resolutions, with both AA/AF (application specific) through out this review. I will list the resolutions and games ran below. I ran each benchmark and or game a total of three runs per resolution and per AA/AF run, to ensure my results were consistent and accurate as possible. I will only be listing the worst possible frame rate out of the three runs. As computers vary from one to another your results will vary greatly from my own.
Normal Benchmarks and or games used and settings.
Far Cry 2: Direct X 10, Ultra High Settings
Batman Arkham Asylum: Direct X 9 Maxed Visual Quality
Hawx: Direct X 10 Max Visual Quality
World In Conflict : Direct X 10 Max Visual Quality
Darkest Of Days: Direct X 10, Max Visual quality
3DMark Vantage: Direct X 10, Default Performance Run
3DMark06: Direct X 9, Default Performance Run
Unigine Heaven: Direct X 10 Max Visual Quality
I will be running an extra set of benchmarks these will be ran in both DX10.1 and in DX 11. I will not be including an AA/AF runs with these next few benchmarks.
Hawx: Direct X 10.1 Max Visual Quality
Stalker Call of Pripyat DX 10.1, and DX 11 5750 Only, Screen Shot will only be used.
Unigine Heaven: Direct X 11 5750 only Max Visual Quality
Overclocking
Overclocking the 5750Formula video card was quick and painless. As soon as i got the video card installed I was overclocking it. The program I used to overclock this video card was none other then MSI Afterburner. At first I started upping the clock speeds up by 5 and run benchmarks, but this got boring really fast and taking way to long. So I just upped the clock speeds from 700/1150, too 800/1200 ran some benchmarks checked for artifacts. I had none so i continued upping Clock speeds, until I hit the max clock speeds that MSI Afterburner allowed me which was 866/1350. After a few minutes of hard benching, the 5750 video card was starting to show signs of artifacting. So I backed off the clocks to 850/311 and ramped the fan on the video card from auto to 54%. The video card remained nice and cool through out testing and gaming for several hours, and convinced me it was ok to start the official runs of the benchmarks.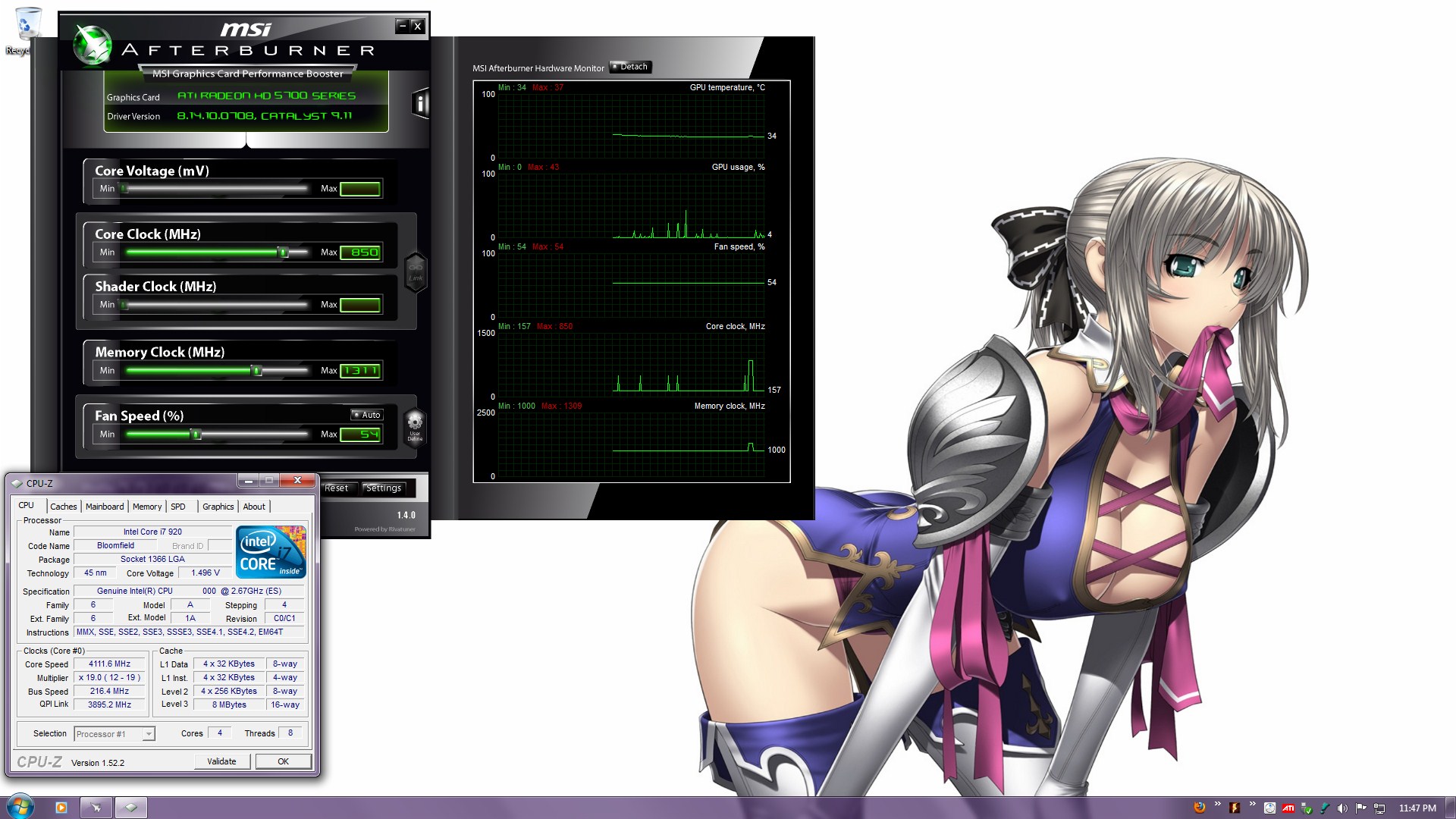 The Screen Shot of MSI Afterburner with the 5750Formula video card.
FAR CRY 2

Far Cry 2, released in October 2008 by Ubisoft, was one of the most anticipated titles of the year. It's an engaging state-of-the-art First Person Shooter set in an un-named African country. Caught between two rival factions, you're sent to take out "The Jackal". Far Cry2 ships with a full featured benchmark utility and it is one of the most well designed, well thought out game benchmarks we've ever seen. One big difference between this benchmark and others is that it leaves the game's AI (Artificial Intelligence) running while the benchmark is being performed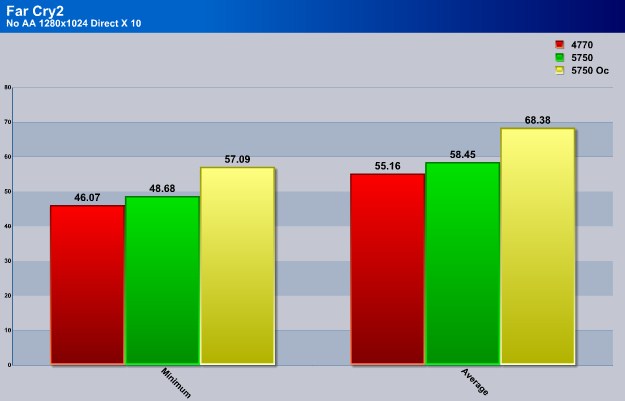 Far Cry 2 has always been one my favorite game to start off with. It is challenging enough for the biggest video cards, but well optimized to be ran on the smaller video cards. Starting off with the resolution of 1280×1024 we can see that both video cards 4770 & 5750 are just about even with one another. Having only be separated by tow to three frames is not enough to really declare a winner. By overclocking the 5750 video card we see a significant increase of our frame rates.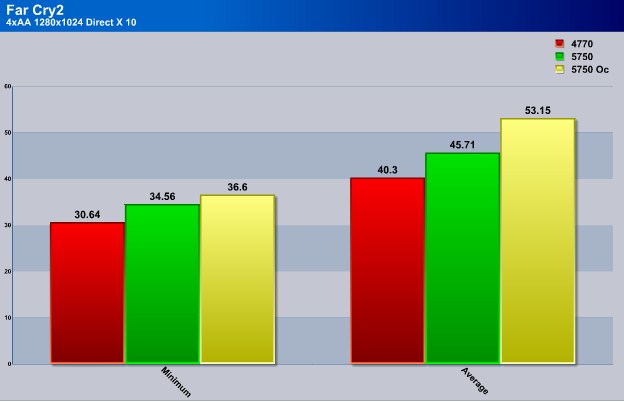 Lets see how things fair once we start turning on AA while holding the resolution at 1280 x 1024. Now we start to see a minor difference between the 4770 and the 5750 video cards. The overclocked 5750 sees an improvement in frame rates, its not a whole lot. I got a feeling it be best to keep AA turned off with this video card.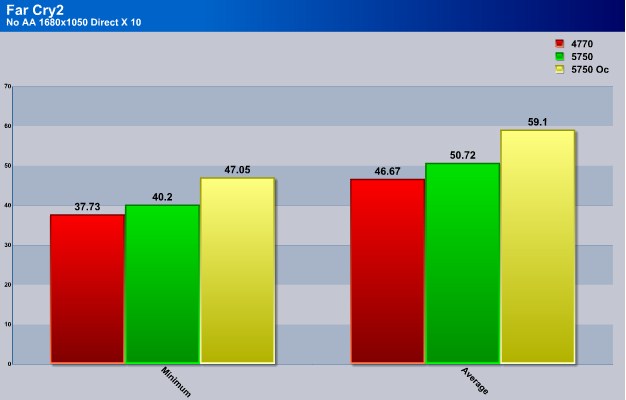 Dropping the AA and increasing the resolution to 1680 x 1050, we only see a 3 through 4 frame rate increase between the 4770 and the 5750 video cards. Once the 5750 is overclocked the frame rates get a pretty significant boost.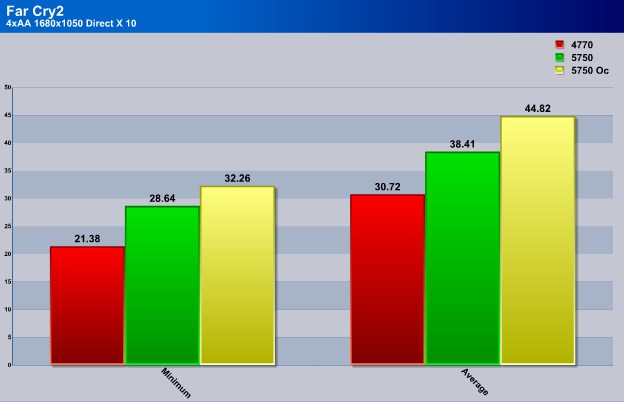 Keeping the 1680 x 1050 resolution but this time I turned on the AA to 4x. Now this is where the ASUS 5750 video card soars over its competitor the 4770.
Batman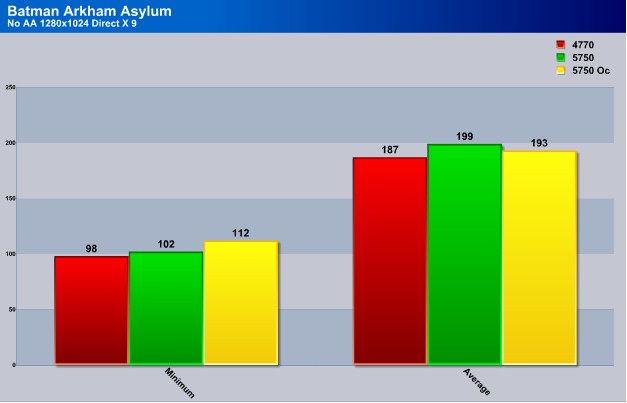 Batman is starting out similar to Far Cry 2. not enough of an increase between the two video cards to declares clear winner. But then again Batman is a Direct X 9 game, and clearly both video cards have no issues rendering this game with ease.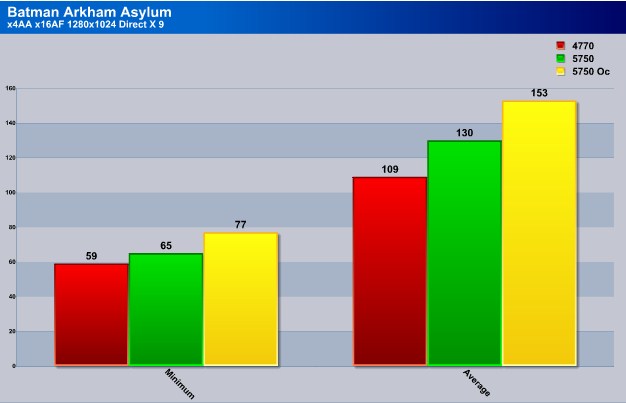 Turning on the AA and AF we start to see the superiority of the 5750 over the 4770 video card.
 Not even raising the resolution to 1680 x 1050 (No AA) can bring the 5750 to its knees. The 5750 still is pummeling its competitor the 4770 video card.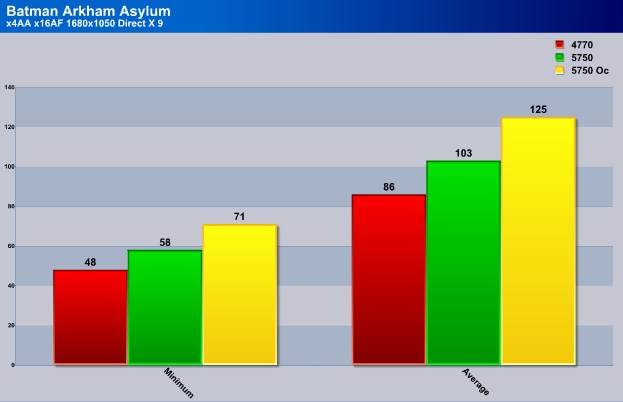 The ASUS 5750 video card just slaps the 4770 around like a red headed step child. During the AA/AF run at 1680×1050 resolution.
Hawx

The story begins in the year 2012. As the era of the nation–state draws quickly to a close, the rules of warfare evolve even more rapidly. More and more nations become increasingly dependent on private military companies (PMCs), elite mercenaries with a lax view of the law. The Reykjavik Accords further legitimize their existence by authorizing their right to serve in every aspect of military operations. While the benefits of such PMCs are apparent, growing concerns surrounding giving them too much power begin to mount.
Tom Clancy's HAWX is the first air combat game set in the world–renowned Tom Clancy's video game universe. Cutting–edge technology, devastating firepower, and intense dogfights bestow this new title a deserving place in the prestigious Tom Clancy franchise. Soon, flying at Mach 3 becomes a right, not a privilege.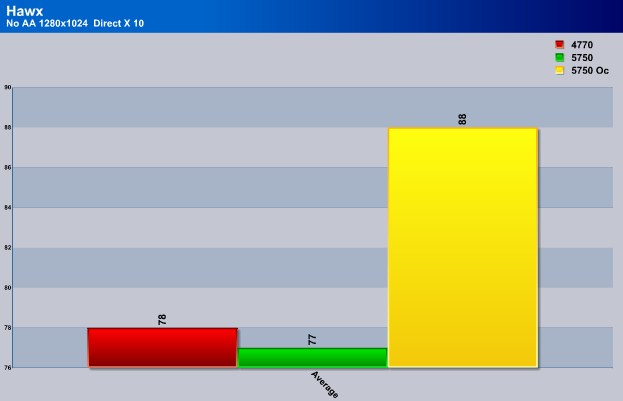 We going to call this one even. one frame rate separating the two not enough to write home about.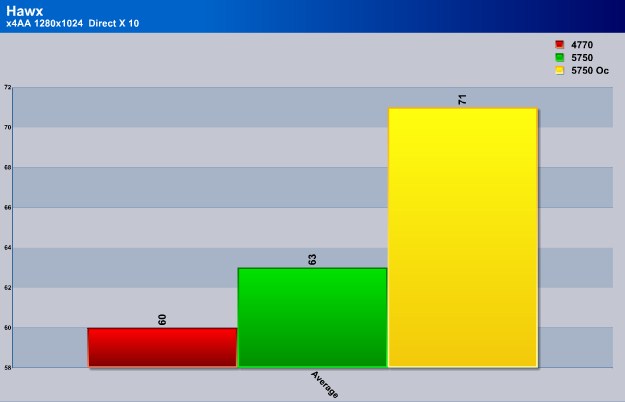 Turn on AA, we start to see the 5750 pull out ahead. Again its not enough of a gain to write home about.
 The 4770 is putting up one heck of a fight. this is the second time the on Hawx testing the 4770 showing, that it is not going down quietly.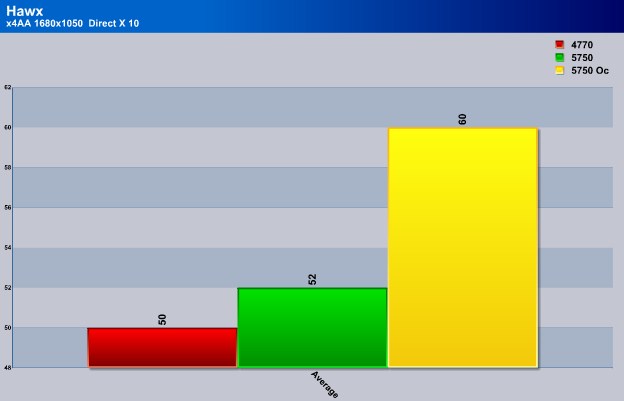 Hmm, being separated by two frames the 5750 does have a lead but it is a small lead over the 4770 video card. this is not the first time a prior series video card is able to keep up with the newer series video cards. I have seen this pattern before with the 5870 and the 4870/4870X2 video cards. Which is telling me ATI needs to work on their drivers a bit more.
Unigine Heaven
 Heaven Benchmark is just plain brutal to all video cards. The 5750 video card clearly out performs the 4770 video card.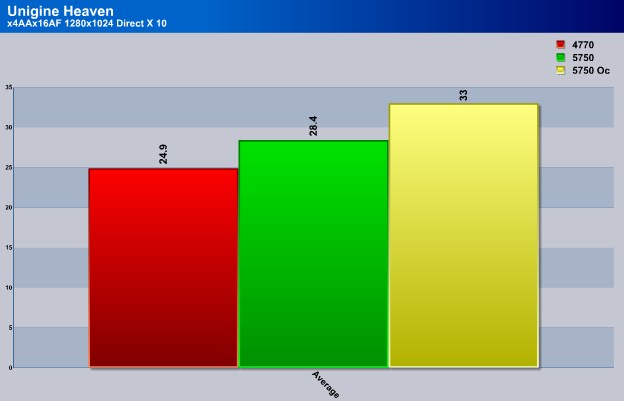 Turning on AA and AF, the 5750 maintains its lead over the 4770.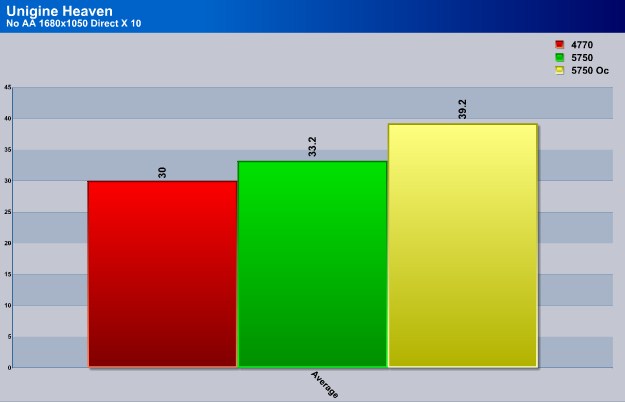 Upping the resolution and dropping the AA/AF the 5750 still giving its all out assault towards the 4770 video card.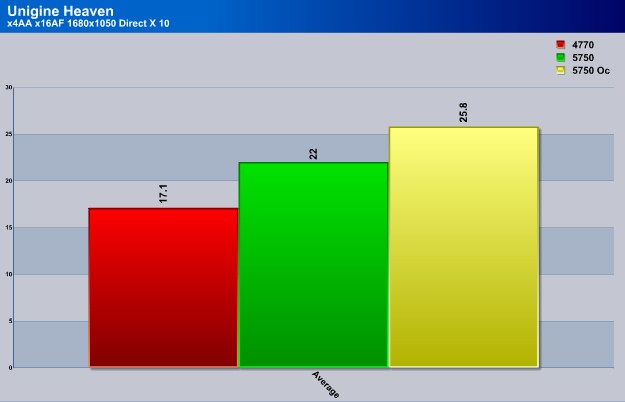 Keeping the resolution of 1680×1050 and turning on the AA/AF. The 5750 crushes the 4770 in all out performance.
3DMark vantage

For complete information on 3DMark Vantage Please follow this Link:
www.futuremark.com/benchmarks/3dmarkvantage/features/
The newest video benchmark from the gang at Futuremark. This utility is still a synthetic benchmark, but one that more closely reflects real world gaming performance. While it is not a perfect replacement for actual game benchmarks, it has its uses. We tested our cards at the 'Performance' setting.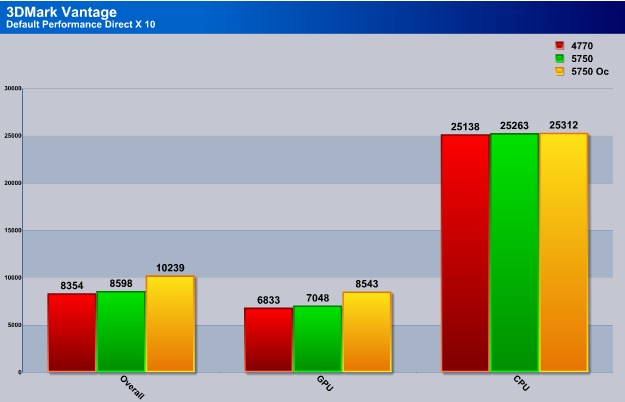 3DMark Vantage testing, the 5750 maintained a small lead over the 4770. this is one of the first times i seen a mid-ranged video card pull 10 thousand points in 3DMark Vantage, of course overclocking the 5750 did help out a bit too.
3DMARK06 V. 1.1.0

3DMark06 developed by Futuremark, is a synthetic benchmark used for universal testing of all graphics solutions. 3DMark06 features HDR rendering, complex HDR post processing, dynamic soft shadows for all objects, water shader with HDR refraction, HDR reflection, depth fog and Gerstner wave functions, realistic sky model with cloud blending, and approximately 5.4 million triangles and 8.8 million vertices; to name just a few. The measurement unit "3DMark" is intended to give a normalized mean for comparing different GPU/VPUs. It has been accepted as both a standard and a mandatory benchmark throughout the gaming world for measuring performance.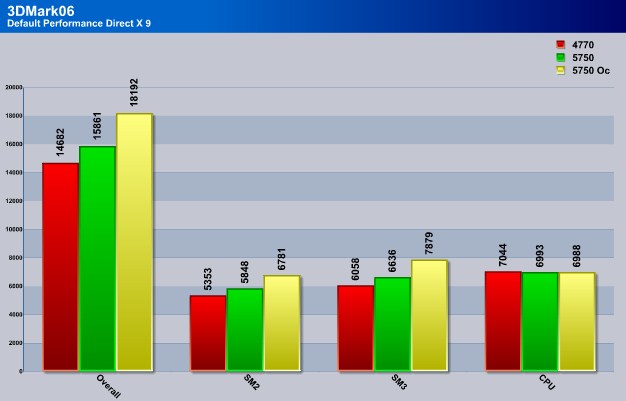 The 5750 video card is absolutely relentless in its beating the poor 4770 video card.
World In Conflict

World in Conflict is a real-time tactical video game developed by the Swedish video game company Massive Entertainment, and published by Sierra Entertainment for Windows PC. The game was released in September of 2007. The game is set in 1989 during the social, political, and economic collapse of the Soviet Union. However, the title postulates an alternate history scenario where the Soviet Union pursued a course of war to remain in power. World in Conflict has superb graphics, is extremely GPU intensive, and has built-in benchmarks. Sounds like benchmark material to us!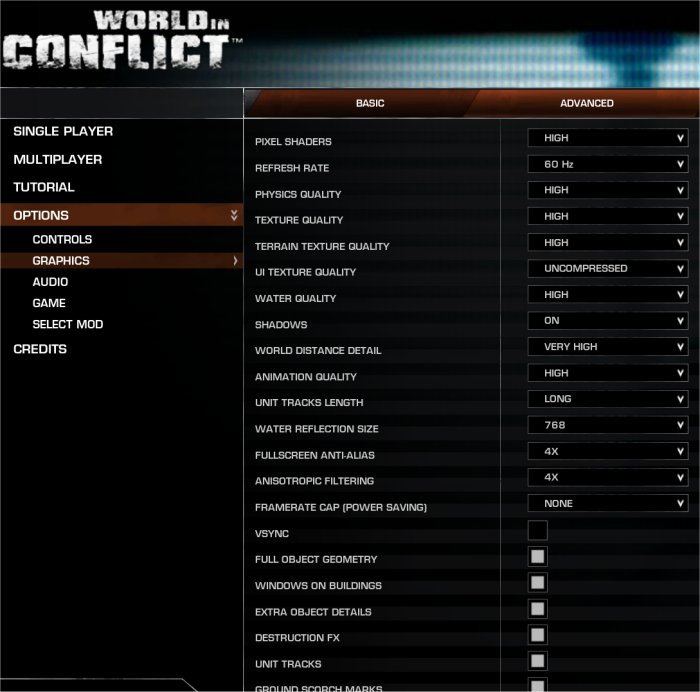 The Settings we use for benchmarking WiC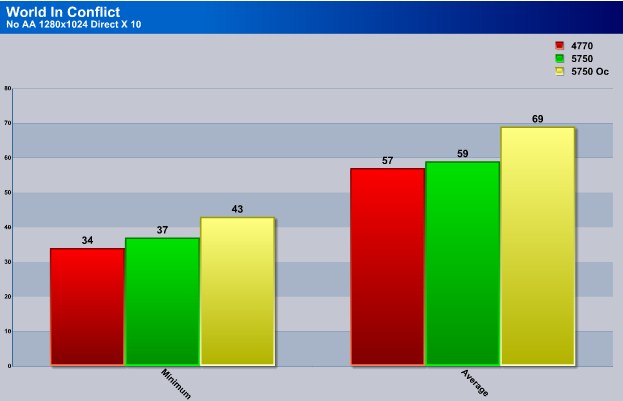 World In Conflict is another one of those games that can show performances of both the GPU and CPU. The 5750 video card does maintain a slight lead, its not a significant lead.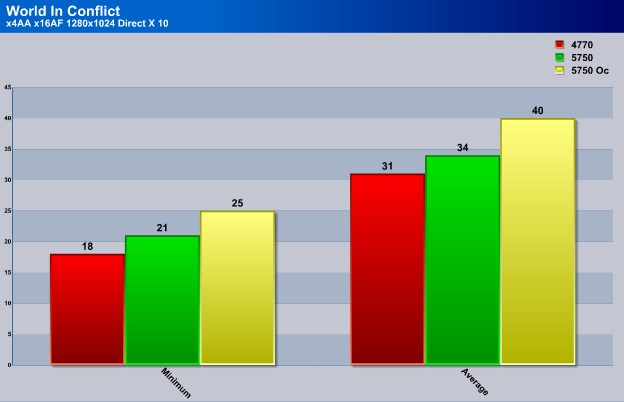 Turn on the AA and AF starts to really work the two video cards tested here. The ASUS 5750 holds on to its small three FPS lead over the 4770.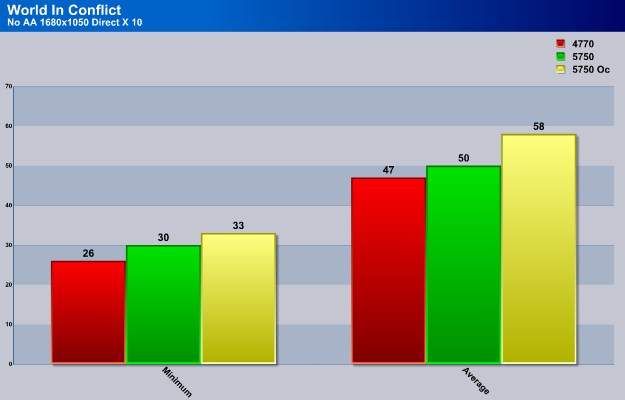 Dropping AA/AF and then increasing the resolution to 1680×1050, we finally can tell the difference between the 4770 and the 5750 video cards.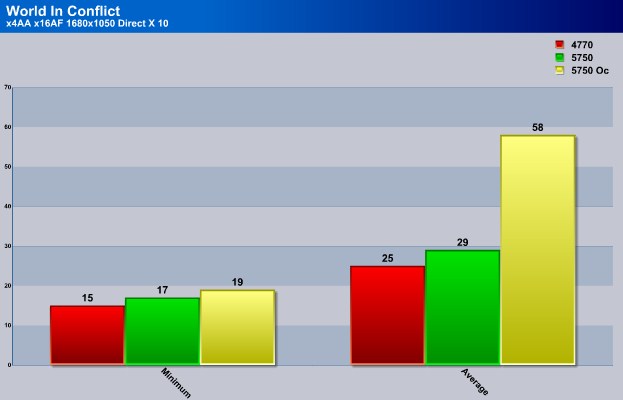 Keeping the 1680 resolution, and turning on the AA/AF makes it impossible for either of the video cards to have a playable frame rate.
Darkest Of Days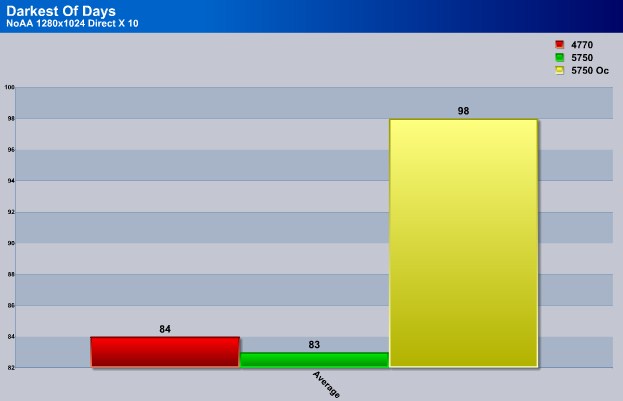 The 4770 desperately trying to hold back the 5750. But the 4770 can only manage to tie the 5750.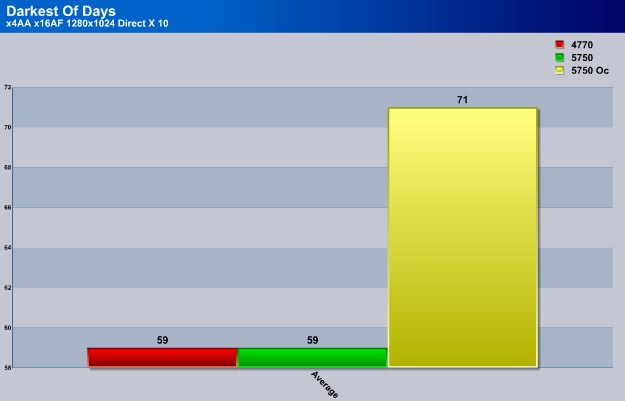 The only real gain we see was when I upped the clock speeds of the 5750 video card.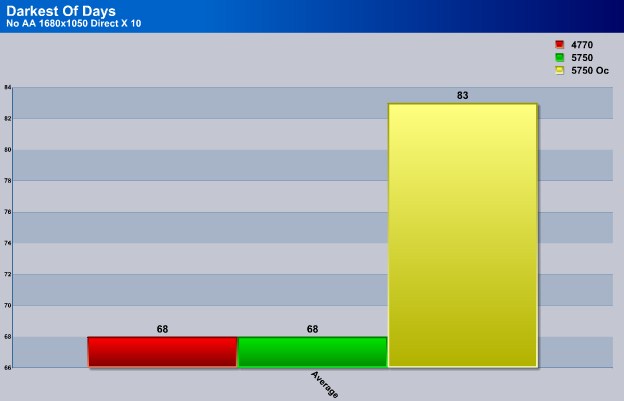 Both video cards turned in the same FPS in this test but OCing the 5750 gave good results..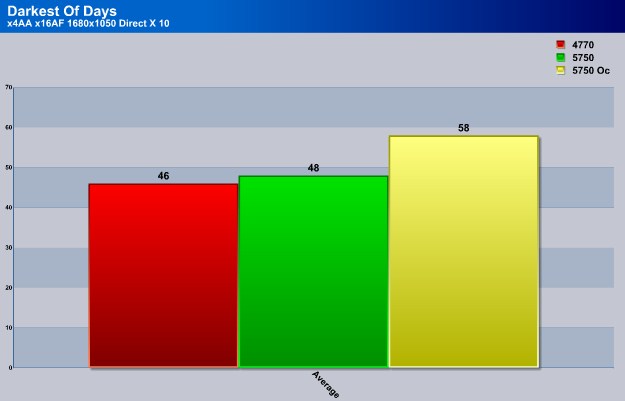 Looking at the last three tests with Darkest Of Days, I am gonna have to call this a tie.
Direct X 10.1
Hawx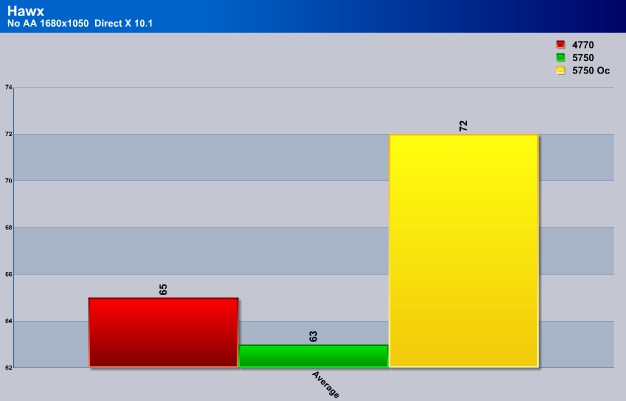 One of few times the 4770 is able to hold back the 5750 video card. Hawx seems to favor the older generation video cards over the newer 5xxx series video cards.
Stalker Call Of Pripyat
| | |
| --- | --- |
| | |
| ASUS EAH5750Formula | VisionTek 4770 |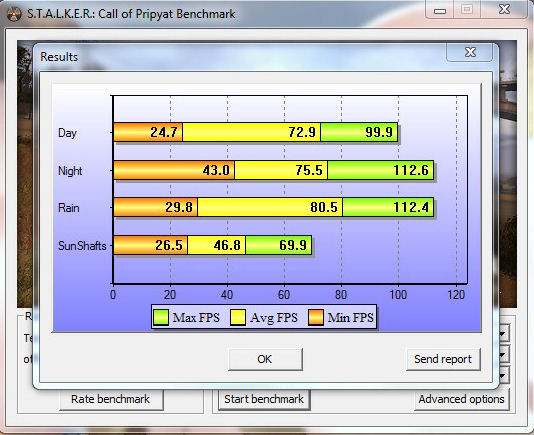 ASUS EAH5750Formula Overclocked
Stalker benchmarking has me all kinds of confused on the results. This is showing the 4770 pulling out way ahead of the 5750 video card. This test is done without AA or AF and at 1680×1050. We would suspect the problem to be immature drivers for the 5750.
Direct X 11
Ungine Heaven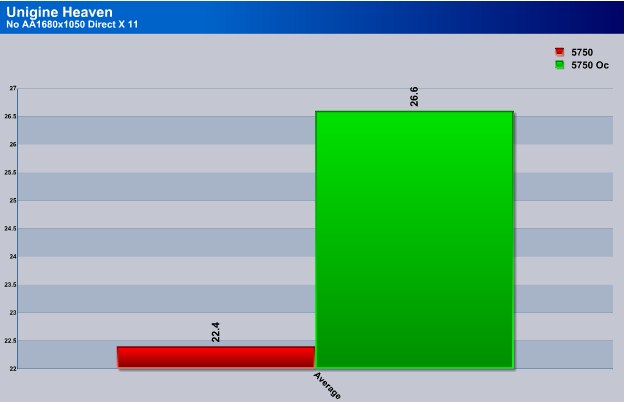 But no matter how powerful the 4770 is, or its ability to keep up with the 5750 in some games. The 4770 still can not and will not render in Direct X 11.
Stalker Call Of Pripyat
| | |
| --- | --- |
| | |
| Default Clock Speed 5750 | Overclocked 5750 |
Stalker Has shown that it is no where near as demanding as Unigine Heaven benchmark while rendering in Direct X 11. This test is done without AA or AF and at 1680×1050.
COnclusions
Through out the testing portion of the ASUS EAH5750Formula video card I could not help thinking to myself "There seems to be something missing." The only thing I can possibly think of is the actual drivers themselves are somewhat lacking. There is a lot of potential in this little video card, as we could tell this little beastie clocks like there is no tomorrow, unlike most overclocking endeavors with video cards we received quite a bit of a performance boost when overclocking the ASUS EAH5750Formula video card. My ambient temperatures were fluctuating anywhere from 12°C to 16°C (this winter has been extremely cold for some odd reason). Almost making it impossible to get a accurate reading, The highest I saw the 5750 video card temperature at was 51°C with a 45% fan utilization, this temperature reading was from when the video card was overclocked.
Looking at Newegg.com, I see that this video card goes for on or around the $150 (USD) mark. Now I will take into consideration the somewhat lacking performance (again I am thinking it is driver related), the video cards unique cooler design, and include the pricing, I will say this is a fair price to pay for such a high performance mid range video card, that fully supports Direct X 11.
OUR VERDICT: ASUS EAH5750Formula

| | |
| --- | --- |
| Performance | 8.5 |
| Value | 8 |
| Quality | 9 |
| Features | 8 |
| Innovation | 9 |

We are using a new addition to our scoring system to provide additional feedback beyond a flat score. Please note that the final score isn't an aggregate average of the new rating system.

Pro
Cons

Support Direct X 11

Good price

Unique cooler

Overclocks Extremely well

Performance seems somewhat lacking.

 
Summary: The ASUS EAH5750Formula video card will make a perfect addition to anyone's gaming rig that is on a tight budget, while at the same time provide excellent overclocking abilities