The release of the ASUS ENGT240 video card fills in the gap between the higher mid-range video cards and the lower end GT220 video cards. This is a very affordable solution for mainstream gamers!
introduction
With the introduction of the GT220s a few weeks ago, the GT220 was a great video card for HTPCs and other systems that were able to play all the new video games on lower settings. But, for some the GT220 might not just cut it due to their higher gaming settings and other reasons. This is why nVidia came out with the new GT240 line-up of video cards to filfill the needs of those that don't need extreme settings in video games but want to get decent amount of performance on higher settings. ASUS sent us their ENGT240 512MB GDDR5 video card to test out on our testbench.
The ASUS ENGT240 512MB GDDR5 video card runs in a very affordable price at $99 on Newegg. In our opinion it is a great card for mainstream gaming PCs. The ENGT240 is a very quiet, small, and power efficient mainstream card that won't be a dissapointment to HTPC users and mild gamers. This video card also comes very handy for those looking forward for some PhysX action. You might have a powerful card that renders your games but by having one of these little beast in your system as a dedicated PhysX card, it could bring up your framerates tremendously.
There are two editions of this ASUS ENGT240 video card. One of them is the 512MB GDDR5 model which you are reading about right now and the other is a 1024MB DDR3 model which we are going to also review in the next few days. Both of these edition come with the new Xtreme Design that ASUS has implemented on their cards. These Xtreme Design cards come with Performance, Safety and Reliability. For Performance ASUS has included SmartDoctor, a utility that we will go into more depth on the following pages, and GamerOSD, a real-time in-game overlcocking tool. Next up the Safety features implemented on the card are fuse protections which deliver double the over-current protection for risk-free computing, and EMI shild that blocks radiations to protect user's health and improve 66% graphics clarity. and finally the Reliability brings double reinforment and crack prevention for the GPU, and dust-proof fan that helps extend lifespan by 25%. Now with all this said, let's take a look how this card will keep up with a few other cards similar to the GT240 on our Core i7 system.
Features
| | | | | | | | |
| --- | --- | --- | --- | --- | --- | --- | --- |
| | | | | | | | |
Powered by NVIDIA GeForce GT240
NVIDIA PhysX Ready
NVIDIA CUDA Technology
NVIDIA PureVideo HD technology
Dual-link DVI Support
Full Microsoft DirecX 10.1 Support
Microsoft Windows 7 Support
ASUS Exclusive Innovations
Native HDMI support
ASUS Xtreme Design Delivers:

No.1 Performance
No.1 Safety
No.1 Reliability

PCI Express & PCI Express 2.0 Support
ASUS Splendid
ASUS GamerOSD
ASUS SmartDoctor
| | | |
| --- | --- | --- |
| | | |
No.1. Performance
 
| | |
| --- | --- |
| | Intelligent system monitoring for efficient overclocking with SmartDoctor |
| | Real-time in-game overclocking with GamerOSD |
No.1 Safety

| | |
| --- | --- |
| | Fuse Protection technology delivers double the over-current protection for risk-free computing |
| | EMI shield effectively blocks 66% radiations to protect user's health and improve graphics clarity |
No.1 Reliability

| | |
| --- | --- |
| | GPU Guard doubles structural reinforcement. Cracks free! |
| | Dust-proof fan efficiently dissipates heat while extending lifespan by 25% |
Specifications
Here are some of the basic specifications of the ASUS ENGT240 512MB GDDR5 video card.
Specifications
ASUS ENGT240 512MB GDDR5
GPU

NVIDIA GeForce GT 240

Graphics BUS

PCI Express 2.0 (fully backwards compatible with PCI Express)

Memory Size

512MB GDDR5

GPU/Memory Clock

550/850MHz

Memory data rate
3.4Gbps
Output

Dual-Link DVI, VGA, HDMI

Memory Interface

128-bit

Stream Process

96

RAMDACs (MHz)

400MHz

Package contents

ASUS ENGT240 512MB GDDR5 Video Card

Driver and Manual CD

Quick Installation Guide

System Requirements

Windows XP/ Vista/ 7

PCI Express or PCI Express 2.0-compliant motherboard with one x16 graphics slot

DVD ROM drive for software installation

A VGA or DVI compatible monitor

Software Bundled

GamerOSD, SmartDoctor, Splendid

Parts Warranty

3 year limited
Labor Warranty

3 year limited
DirectX

DirecX 10.1
We can see that the ASUS ENGT240 comes with a Driver CD, Manual CD, a quick installation guide and that's it. We would think that perhaps ASUS would throw in a adapter with the card, however, this is not the case. In my opinion it is not needed since most of the monitors now use DVI connector anyway, and the card is compatible with HDMI as well. This means that you can also use your home theatre HDTV with the video card.
The GDDR5 memory is a nice addition to this video card. Even though this video card only has 96 stream processors, the GDDR5 memory will help a bit. We can already see that this video card will be a great overclocker. We will take a look at that in the following pages with some results as well.
Unfortunatelly the ENGT240 does not come with SLI capability. It would have been nice to see how well it would compare to its higher end GTS 250 and 260 video cards.
| | | |
| --- | --- | --- |
| Model | ENGT240 512MB GDDR5 | ENGT240 1024MB DDR3 |
| Graphic Bus | PCI-Express 2.0 | PCI-Express 2.0 |
| GPU | NVIDIA ® GeForce® GT 240 | NVIDIA ® GeForce® GT 240 |
| Core Clock | 550MHz | 550MHz |
| Memory Data Rate | 850MHz (3.4Gbps) | 1580MHz |
| Memory Size | 512MB GDDR5 | 1024MB DDR3 |
| Memory Bandwidth | 128bit | 128bit |
| RAMDACs | 400MHz | 400MHz |
| Output | Dual-Link DVI, VGA, HDMI | Dual-Link DVI, VGA, HDMI |
There are two models of the ASUS ENGT240. The 512MB GDDR5 model and the 1024MB DDR3 model. While the 512MB GDDR5 video card will probably be faster in most cases than the 1024MB DDR3 video card, the 1024MB video card will come handy in memory intensive gaming where tons of textures and geometry need to be loaded into the memory.
Let's take a look at what we will be comparing in our review.
Major GPU Specifications
GPU
8500 GT
 GT 220
GT 240
GTS 250
GPU frequency
 450MHz
 625MHz
 550MHz
756MHz
Memory frequency
 400MHz
 790MHz
 850MHz
1100MHz
Memory bus width
 128-bit
 128-bit
 128-bit
256-bit
Memory type
 DDR2
 DDR3
 GDDR5
GDDR3
Memory quantity
 512MB
 1024MB
 512MB
1024MB
Number of ALUs
 16
 16
 96
128
Number of ROPs
 8
 8
 8
16
Memory bandwidth
 12.8GB/s
 28.8 GB/s
 54.4 GB/s
71.9 GB/s
Number of transistors
 210 million
 486 million
 133 million
754 million
Process
 80nm
 40nm
 40nm
65nm
Die surface area
 mm²
 100 mm²
 727 mm²
330 mm²
Generation
 2007
 2009
 2009
2008
While some of these video cards are not the perfect comparison for the ENGT240, it will give us a good overview of the performance difference between the different models.
Driver CD

The Main Menu of the Driver CD is very user friendly. It allows you to easily install the nVidia GT240 drivers as well as install some utilities that come with the ASUS ENGT240.
Some of these utilities that come with the video card are GamerOSD, SmartDoctor, and Splendid. Please read ahead to find out more about these different utilities that ASUS decided to include with this video card.
Gamer OSD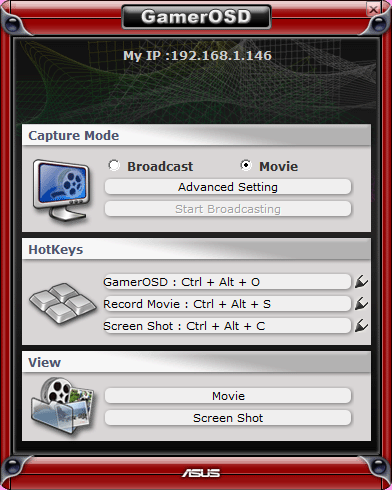 GamerOSD is a basic application advertised by ASUS to be a "real-time overclocking, benchmarking and video capturing" tool. It has three functionalities activated by hotkeys in-game, which allow for screen capturing (picture or video) and GamerOSD's main functionality, overclocking and benchmarking.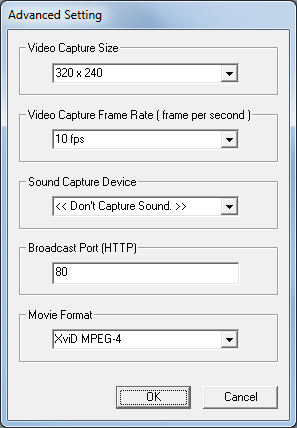 The main hotkey brings up an in-game overlay which allows for adjusting the display (gamma, brightness, and congrast) and other dignostic features.
SmartDoctor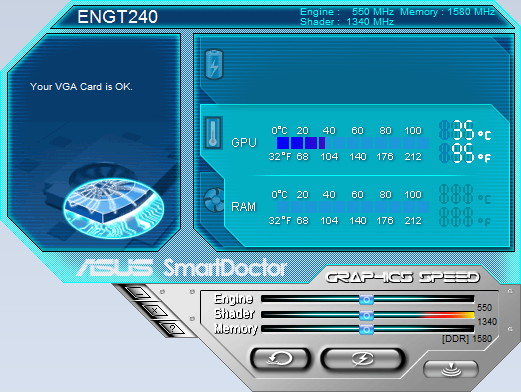 ASUS SmartDoctor is a program which contains a group of tools which have various features and monitors.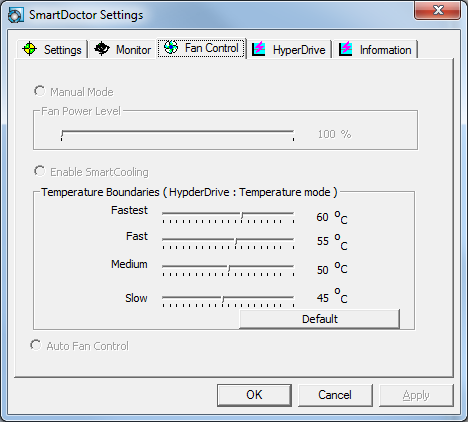 Users are able to monitor fan speed, power level, and temperature, and are able to quickly control overclocking speeds with a manual slide bar.
Splendid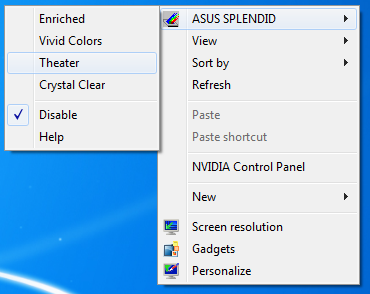 Finally, Splendid is a somewhat hidden tool which claims to enhance viewing experience when watching DVDs or playing back MPEG/WMV files. When put to the test, Splendid did make a visible different, but it was minimizing at best.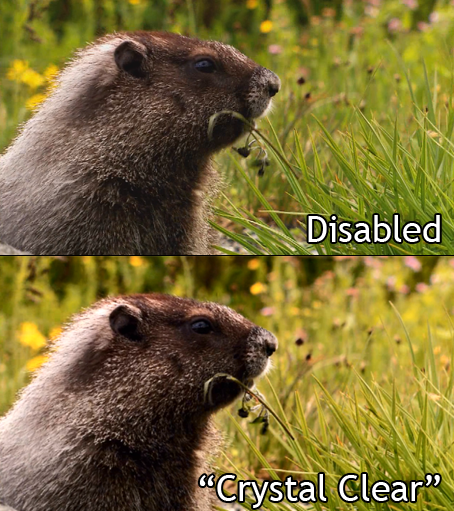 As seen in the given example, Splendid simply distorts picture levels in an attempt to make viewing more pleasant and clear for the user. Its purpose is interesting, but its execution is poor.Results may vary on different monitors and settings.
A closer look
Click Image For a Larger One 
The ASUS ENGT240 comes in a very small but colorful box. The shipping box was a standard brown shipping box with tons of filling to make sure the cards arrive without any damage. As you can see the box is not damaged at all which proves how well it was shipped. The first thing we can see on the front of the box is the ENGT240 and a GDDR5 title. We can also see some of the key features of the video card like the Extreme Design, the 512MB GDDR5 memory, HDMI output connector and PhysX compatibility.
Click Image For a Larger One 
Here are few more angles of the boxing of the ENGT240 video card. On the second picture we can see that there is a very sturdy white box inside the main boxing.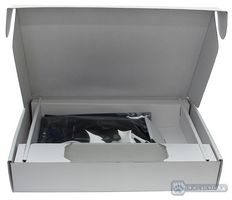 Click Image For a Larger One 
Here we are taking a look at the white boxing and how it is organized inside. When I opened up the box, the first thing that showed up was the video card. Right under the video card, you need to lift the inside of the box up in order to reveal the Driver CD, the Manual CD, and the Quick Installation Guide.
Click Image For a Larger One 
This is the small monster we will be testing today. The ENGT240. You can see that it is a small card and also kept cooled with a large fan and heatsink. Other manufactorers include small fans with their mainstream video cards which are a big problem if you do not like noise. With a larger fan and heatsink you can cool down the same card effectively and without any necessary noise.
Click Image For a Larger One 
Here is the top and bottom view of the card. We can now clearly see that the fan is much bigger than what would usually be included with the video cards. The back of the card shows a simple 4-screw installation for the heatsink and fan on the ENGT240.
Click Image For a Larger One 
Looking from the side, we can see that the heatsink does not cover up the memory. Unfortunatelly this is not the best thing, however the way the fan is designed allows plenty of air circulation over the memory.
Click Image For a Larger One
Two more pictures show the card from all angles. On the second picture we can see all the output connectors. We can see a dual-link DVI connecotor, a VGA connector, and a HDMI connector which will come very handy for those using HDTVs or HDMI compatible monitors.
Click Image For a Larger One
If we lay down the cards, we can see that the heatsink and fan design isn't completely single slot based. It is a bit more than a single slot, but not a complete 2-slot design. From what we have tested. Some other cards that do not stick out on their back side can still fit in the other PCI/PCI-E slots.

Click Image For a Larger One 
Here is the Quick Installation Guide, the Driver CD, and the Manuals CD included with the ENGT240 512MB GDDR5 video card. Let's take a look at the video card in action.
Click Image For a Larger One
Finally, these two images take a look at the actual size of the video card. According to the measurements, the video card is about 7.4 inches in length.
Testing Methodology
To test this card, we did a fresh load of Windows 7 Professional 64-bit and applied all the patches and updates for the OS, then we updated all the motherboard drivers and made sure that we had the latest video card drivers.We ran each test 3 times and averaged the results, the average of those results are reported here. Below is a detailed list of the components used during testing.
Test Rig
Case
Silverstone Temjin Series TJ10B
CPU
Intel Core I7 920 Extreme 2.66Ghz @ 3.8Ghz (vcore 1.35v)
Motherboard
ASUS P6T SE X58 Motherboard
Ram
OCZ DDR3-12800 1600Mhz (7-7-7-18 1.66v) 12GB Kit
CPU Cooler
Custom Water Cooling Loop from AcousticPC
Hard Drives

2x Western Digital RAID Edition 3 1TB Hard Drives

2x Seagate Barracuda 7200.11 500GB Hard Drives

Optical
Sony DVD R/W
GPUs Tested


EVGA GeForce GTS 250 1024MB

ASUS EN8500GT TOP 512MB

Leadtek WinFast GT 220 1024MB

ASUS ENGT240 512MB GDDR5

Case Fans

2x Noctua NF-P12 120mm Fans – Top on Radiator

1x Silverstone 120mm Fan – Back

1x Silverstone 120mm Fan – Front

1x Noctua NF-P12 120mm Fan – Hard Drives Front

Additional Fans

1x Cool-It Memory Fan Cooler

PSU

Sapphire PURE 1250 Watt Modular Power Supply

Mouse
Logitech G5
Keyboard
Logitech G15
Overclocking
To overclock the Leadtek GT220 I used RivaTuner. I slowly increased the clocks by 10 MHz until the system became unstable, then I backed down the clocks a bit and tested for stability. I kept lowering the clocks until the system was rock solid. Below where my results. 
| Core Clock | Shader Clock | Memory Clock |
| --- | --- | --- |
|  610MHz |  1486MHz |  2180MHz |
The ASUS ENGT240 512MB GDDR5 card has overclocked by a tremendous amount. This is because of the GDDR5 memory instead of a lower DDR3 memory. Here are some pictures of the stability tests on this card:
Click Image For a Larger One
TEMPERATURES
Temperature is one of the parts that some current manufacturers don't really pay attention too. It is time to come out with new technologies allowing us to further develop our chips and maintain low temperatures. This is why we at Bjorn3D pay close attention to making sure that each product is measured and reported with accurate temperature readings.
Stock
| Idle Temperature (Fan Speed: Auto) | Load Temperature (Fan Speed: Auto) |
| --- | --- |
|  35C  |  70C |
We can see that the ENGT240 idles at 35C which is very nice for an idle temperature. The load however goes up to 70C. This is cause due to the Fan Speed being set to Auto. Even at 70C, however, the fan was still silent.
Overclocked
| Idle Temperature (Fan Speed: 100%) | Load Temperature (Fan Speed: 100%) |
| --- | --- |
|  30C  |  64C |
The reason why the temperatures are lower when the video card was overclocked is because of the fan speed set to 100%. This made sure the card was well ventilated during overclocked settings. Even though the fan speed was set to 100%, the fan noise was only audible a little. Other larger cards make a lot of noise, however this one was quiet compared to its 100% fan setting.
Synthetic Benchmarks & Games
The benchmarks we ran to test for the performance of the card compared to other two cards.
Synthetic Benchmarks & Games
3DMark 06
3DMark Vantage
Crysis
Crysis Warhead
Far Cry 2
H.A.W.X.
S.T.A.L.K.E.R. Clear Sky
Unigine Heaven
Call of Duty 4: Modern Warfare
3DMARK06 V. 1.1.0
3DMark06 developed by Futuremark, is a synthetic benchmark used for universal testing of all graphics solutions. 3DMark06 features HDR rendering, complex HDR post processing, dynamic soft shadows for all objects, water shader with HDR refraction, HDR reflection, depth fog and Gerstner wave functions, realistic sky model with cloud blending, and approximately 5.4 million triangles and 8.8 million vertices; to name just a few. The measurement unit "3DMark" is intended to give a normalized mean for comparing different GPU/VPUs. It has been accepted as both a standard and a mandatory benchmark throughout the gaming world for measuring performance.
The results of the ASUS ENGT240 were a bit lacking in my opinion compared to the GTS 250, however once the card was overclocked the results were much better. I was actually quite a lot surprised howe well this card overclocked compared to the previous cards I have tested in the past. Let's take a look at Vantage.
3DMark Vantage
For complete information on 3DMark Vantage Please follow this Link:
www.futuremark.com/benchmarks/3dmarkvantage/features/
The newest video benchmark from the gang at Futuremark. This utility is still a synthetic benchmark, but one that more closely reflects real world gaming performance. While it is not a perfect replacement for actual game benchmarks, it has its uses. We tested our cards at the 'Performance' setting.
Currently, there is a lot of controversy surrounding NVIDIA's use of a PhysX driver for its 9800 GTX and GTX 200 series cards, thereby putting the ATI brand at a disadvantage. Whereby installing the PyhsX driver, 3DMark Vantage uses the GPU to perform PhysX calculations during a CPU test, and this is where things get a bit gray. If you look at the Driver Approval Policy for 3DMark Vantage it states; "Based on the specification and design of the CPU tests, GPU make, type or driver version may not have a significant effect on the results of either of the CPU tests as indicated in Section 7.3 of the 3DMark Vantage specification and white paper." Did NVIDIA cheat by having the GPU handle the PhysX calculations or are they perfectly within their right since they own Ageia and all their IP? I think this point will quickly become moot once Futuremark releases an update to the test.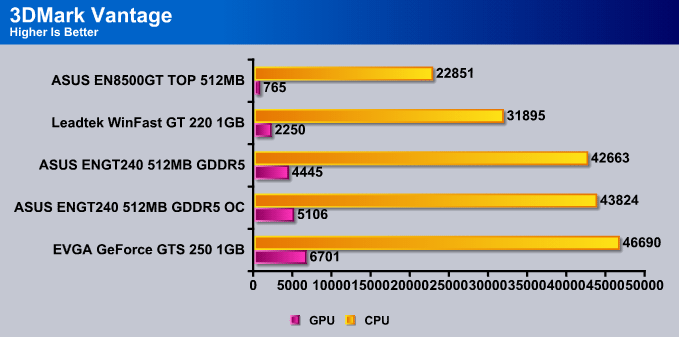 In the 3DMark Vantage, the video card finally started showing some bigger performance increase. We can see that the overclocked version of the ENGT240 got very close to the GTS 250. The stock ENGT240 was still twice as fast as the Leadtek Winfast GT220 video card which was amazing.
Crysis v. 1.21
Crysis is the most highly anticipated game to hit the market in the last several years. Crysis is based on the CryENGINE™ 2 developed by Crytek. The CryENGINE™ 2 offers real time editing, bump mapping, dynamic lights, network system, integrated physics system, shaders, shadows, and a dynamic music system, just to name a few of the state-of-the-art features that are incorporated into Crysis. As one might expect with this number of features, the game is extremely demanding of system resources, especially the GPU. We expect Crysis to be a primary gaming benchmark for many years to come.

The Settings we use for benchmarking Crysis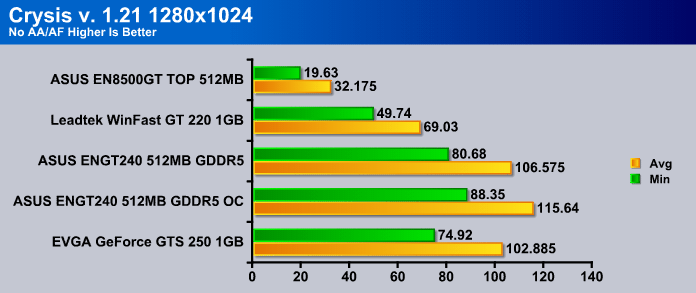 Wow, I was very surprised with the results in the Crysis Benchmark. We retested both the GTS 250 and the ENGT240 if the results were correct, and yes, they were. The interesting thing was that the results were better than the GTS 250 in the low settings, however, once the settings were changed to a higher setting, we could see that the ENGT 240 was starting to fall back behind the GTS 250. Overall if you are considering playing the game on lower settings, crysis will do very well in it even in higher resolutions.
CRYSIS WARHEAD
Crysis
Warhead is the much anticipated sequel of Crysis, featuring an updated CryENGINE™ 2 with better optimization. It was one of the most anticipated titles of 2008.
The Settings we use for benchmarking Warhead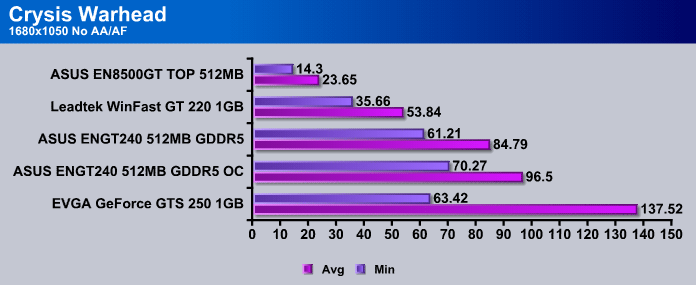 Crysis Warhead did a bit different from Crysis. We can see that the way Crysis reacted with the ENGT240 and the GTS 250 does not play the same way in Crysis Warhead. This is actually what I thought of how Crysis will perform compared to the GTS 250, but I guess I was wrong. The GTS 250 fell a bit short on the Minimum frames per second while it kept up with a higher average frames persecond. The ASUS ENGT240 had a higher minimum frames per second while it was overclocked.
Far Cry 2
Far Cry 2, released in October 2008 by Ubisoft, was one of the most anticipated titles of the year. It's an engaging state-of-the-art First Person Shooter set in an un-named African country. Caught between two rival factions, you're sent to take out "The Jackal". Far Cry2 ships with a full featured benchmark utility and it is one of the most well designed, well thought out game benchmarks we've ever seen. One big difference between this benchmark and others is that it leaves the game's AI (Artificial Intelligence) running while the benchmark is being performed.
 The Settings we use for benchmarking FarCry 2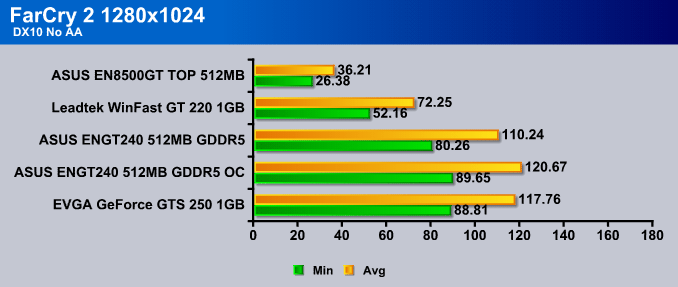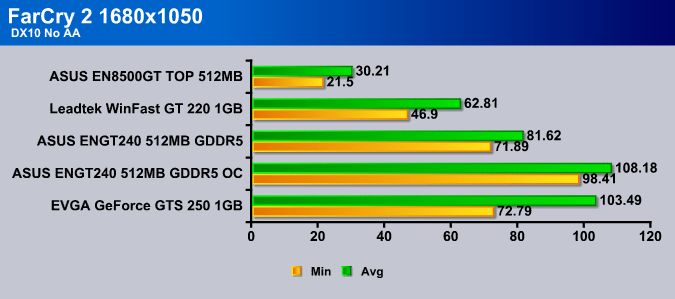 FarCry 2 had the same characteristics with the benchmarks like Crysis had. Higher frames per second on lower settings but high resolutions, while lower frames per second on higher settings and same resolutions compared to the GTS 250. We could only see the higher frames per second on the overclocked ENGT240, but I was quite amazed how well the overclocked card had a big impact on the FPS under higher resolutions.
HawX
The story begins in the year 2012. As the era of the nation–state draws quickly to a close, the rules of warfare evolve even more rapidly. More and more nations become increasingly dependent on private military companies (PMCs), elite mercenaries with a lax view of the law. The Reykjavik Accords further legitimize their existence by authorizing their right to serve in every aspect of military operations. While the benefits of such PMCs are apparent, growing concerns surrounding giving them too much power begin to mount.
Tom Clancy's HAWX is the first air combat game set in the world–renowned Tom Clancy's video game universe. Cutting–edge technology, devastating firepower, and intense dogfights bestow this new title a deserving place in the prestigious Tom Clancy franchise. Soon, flying at Mach 3 becomes a right, not a privilege.
All the settings where set to low.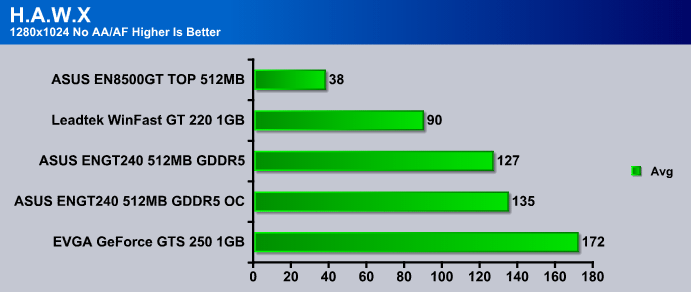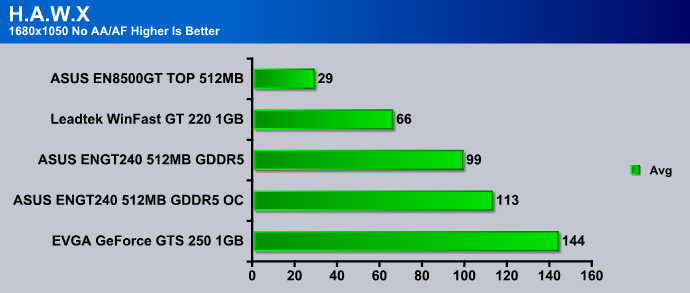 For H.A.W.X we only have the Average frames per second because I don't think the Maximum FPS is really necessary for the benchmark. H.A.W.X does not let us know about the minimum frames per second which is why we also don't have those results.
S.T.A.L.K.E.R. Clear Sky
S.T.A.L.K.E.R. Clear Sky is the latest game from the Ukrainian developer, GSC Game World. The game is a prologue to the award winning S.T.A.L.K.E.R. Shadow of Chernoble, and expands on the idea of a thinking man's shooter. There are many ways you can accomplish your mission, but each requires a meticulous plan, and some thinking on your feet if that plan makes a turn for the worst. S.T.A.L.K.E.R. is a game that will challenge you with intelligent AI, and reward you for beating those challenges. Recently GSC Game World has made an automatic tester for the game, making it easier than ever to obtain an accurate benchmark of Clear Skie's performance.
The Settings we use for benchmarking Stalker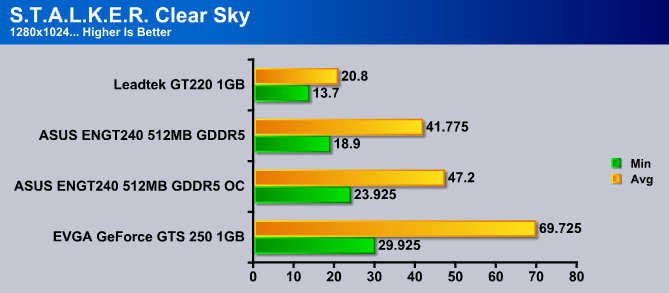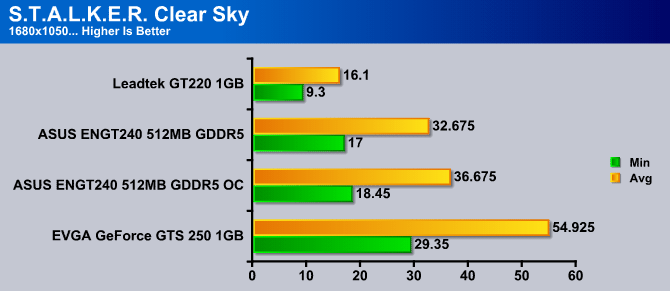 S.T.A.L.K.E.R Clear Sky was a good benchmark that showed a very clear overview of the performance of the cards. The ENGT240 was able to maintain playable framerates even on 1680×1050 under standard settings, however, it fell short on its minimum FPS. This just means that while the game might play smooth at some parts, there might be other parts that might lag a bit.
unigine heaven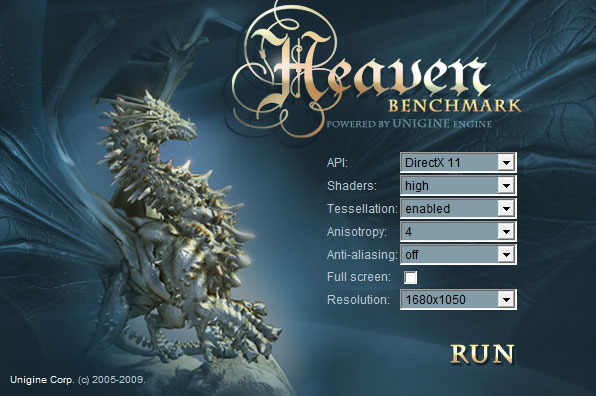 The settings we use for benchmarking Unigine Heaven


Unigine Heaven is a very exciting benchmark we are going to be using more often here at Bjorn3D.com. This benchmark allows us to bench newer cards under DX11 settings. These cards are not DX11 compatible just yet which is why for our test we have set the settings to DX10 instead. The ENGT240 was not able to maintain good enough performance so we could recommend this card for future games, however at the settings it performed quite well.
CAll of duty modern warfare 2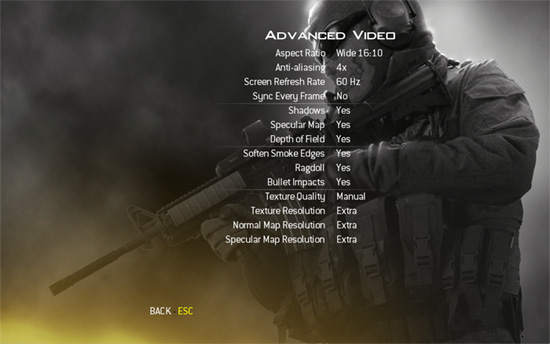 The settings we use for benchmarking Call of Duty Modern Warfare 2

The release of Call of Duty Modern Warfare 2 made me curious how well will the ENGT240 keep up with the highest settings we can throw at the card. We noticed that even on 1680×1050 and with 4x AA, the game was still very playable at an average of 36.611 frames per second. The benchmark was done through fraps in the second mission of the game. Overall I didn't feel that there is a big necessity for more performance, however in multiplayer games where everybody is battling to survive, this might not be the case. But by simply disabling the AA, we can get much higher FPS that won't be a dissapointment to anybody.
Conclusion
I was very satisfied with the new ASUS ENGT240 512MB GDDR5 video card. Overall it was a very good mainstream card that performed exceptionally especially when it was overclocked. While it might not be powerful enough for some gamers using higher resolutions and higher settings, it will satisfy most of the mid-range gamers not looking for quality settings.
The card's temperatures were in a reasonable range especially with its silent operation fan. The fan can be changed with the included software. Once we put the fan at 100%, the noise was a bit audible, however, it was still not annoying. With a solid side cover on your case, the noise is mostly inaudible.
The size of the video card and the power consumption is excellent which makes this video card excellent for HTPCs. The silent fan is also another reason why a HTPC user should go with this card instead of other GT 240's that come with smaller fans and coolers.
Overall, here is our verdict on the card:
OUR VERDICT: ASUS ENGT240 512MB GDDR5 Video Card
| | |
| --- | --- |
| Performance |  7 |
| Value |  8 |
| Quality |  9 |
| Features |  9 |
| Innovation |  8 |

We are using an addition to our scoring system to provide additional feedback beyond a flat score. Please note that the final score isn't an aggregate average of the rating system.

Pro

Cons

40nm GPU, and small video card

Decent Performance for a mainstream video card

HDMI port

Silent Operation, and quiet when set to 100% fan speed

Low Power Consumption

Utilities included with the Video Card

Excellent Overclocker

Not powerful enough for enthusiast gamers.

GamerOSD has problems with games such as GTA4. (lagging issues even if program is not running)



Summary: The ASUS ENGT240 512MB GDDR5 Video Card is a must have for all HTPC users and mild gamers. While it is not up to part with some of the lower high-end video cards, it is a good entry video gard into the higher-end mainstream video cards. Overall the ASUS ENGT240 deserves 8 out of 10 and Bjorn3D's Silver Bear Award! For it's good price the ENGT240 also deserves Bjorn3D's Best Bang for the Buck Award as well!