Gskill has brought to us another set of memory that comes with a memory fan cooler to help keep the memory cool during our overclocking endeavors
introduction
We all know memory is one of the most important components of our computers today. We also know that having too little of memory can raise complete and total havoc on our current OS's, especially when we are trying to load large applications like editing large movie files. DDR3 memory been around for a few years now, and since Intel went with an on board IMC (Integrated Memory Controller), last year on the socket 1366 CPUs, similar to AMDs CPU design, this has significantly boosted our memory bandwidth. Finding a set of memory that runs in the 2000+ MHz range with a limitation of 1.65 volts has been either a pain to locate or requires us users to mortgage our homes just to get a set of high speed memory.
GSkill, on the other hand has found a balance of high speed memory and pricing, that should not cause you to start mortgaging our homes. This memory has a base speed of 2200 MHz, with 7-10-10-28 2T timings only needing the required voltage limitation of 1.65 volts that Intel has placed on their CPU's integrated memory controller. In my experiences with GSkill memory, they may not be the absolute fastest memory on the planet, but their memory sticks are one of the most reliable on the planet.
This particular set of memory comes included with a memory fan cooler. This is especially great for those with water cooled rigs, because of the lack of an air cooler on our CPUs we don't get the necessary air flow on or even around the memory itself.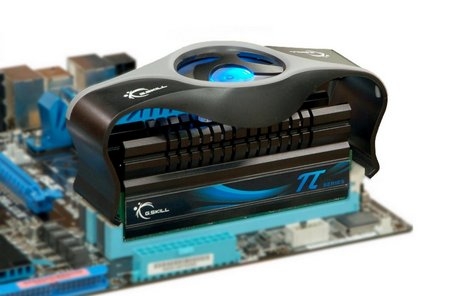 Say hello to the GSkill PI Blue series, Hello. Time to see what these memory sticks are made of.
Specifications
| Feature/Specification | GSkill PI Blue |
| --- | --- |
| Main Board | Intel |
| System | Desktop |
| System Type | DDR3 |
| M/B Chipset | Intel P55* |
| CAS Latency | 7-10-10-28-2N |
| Capacity | 4GB (2GB x2)/8GB (2GB x4) |
| Speed | DDR3-2200 (PC3 17600) |
| Test Voltage | 1.65 Volts |
| Registered/Unbuffered | Unbuffered |
| Error Checking | Non-ECC |
| Type | 240-pin DIMM |
| Warranty | Lifetime |
Just a quick glance over the Specifications, this memory does have a nice low CAS timing, but the other three primary timings are fairly high. Also this memory is specifically designed for the Intel P55 chipset motherboards.
| Qualified Motherboard  List | GSkill PI Blue |
| --- | --- |
| ASUS | Maximus III Formula |
| ASUS | Maximus III Gene |
| ASUS | SABERTOOTH 55i |
| ASUS | P7P55D Premium |
| ASUS | P7P55D Deluxe |
| EVGA | P55 Classified 200 |
| EVGA | P55 FTW 200 |
| Gigabyte | P55 UD6※ |
| Gigabyte | P55A UD5※ |
| Gigabyte | P55A UD6※ |
| MSI | P55-GD80 |
Looking at the Qualified Motherboard List, it lists both of my motherboards, the GIGABYTE P55-UD6, and the ASUS Maximus III GENE. Pay real close to that, because it will come up later.
Packaging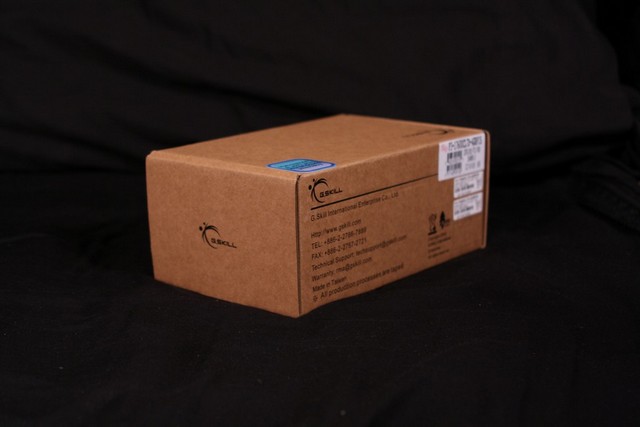 Starting off on the packaging that GSkill used. GSkill been opting for the everyday cardboard box, instead of their brightly colored boxes they used in the past.
Looking at a couple of stickers that GSkill placed on the box, this particular set of memory is optimized for the Core i7 860/870 socket 1156 CPU's. We also get a the exact timings these memory sticks need to operate at, at their rated speed of 2200 MHz. The only that gets me is the odd timings that GSkill uses of 7-10-10-28.
Once we open the box, we will see the memory fan cooler for the memory sticks.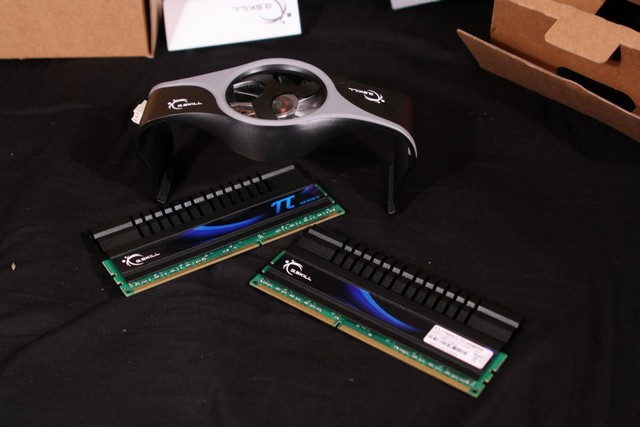 GSkill put the memory sticks in a foam cushion to keep them from getting damaged during transport. Looking at the fan cooler that GSkill sent with the PI Blue memory, this just clips right over the memory.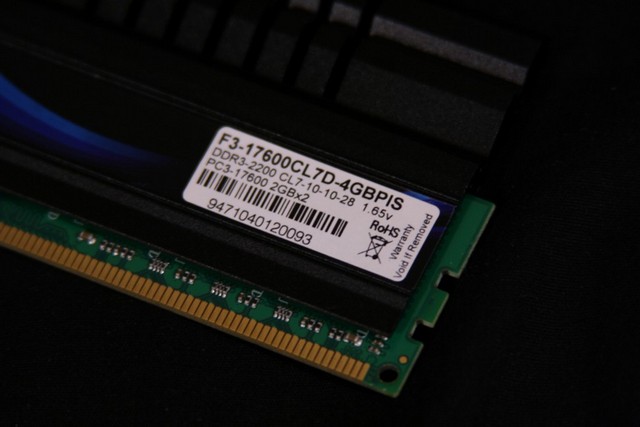 Looking at the rating sticker that GSkill uses on the memory itself, this corresponds to the same rating sticker that is on the box itself. I wish memory manufacturers use a clear rating sticker with white lettering or not use one at all, because that white rating stickers mars the look of these memory sticks.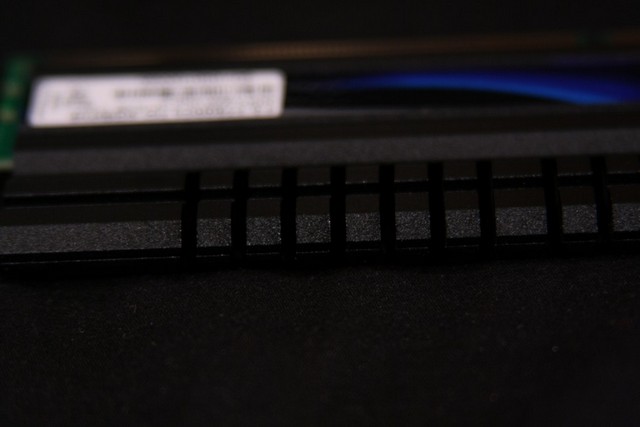 The heat spreader that GSkill uses is vented to provide maximum cooling efficiency.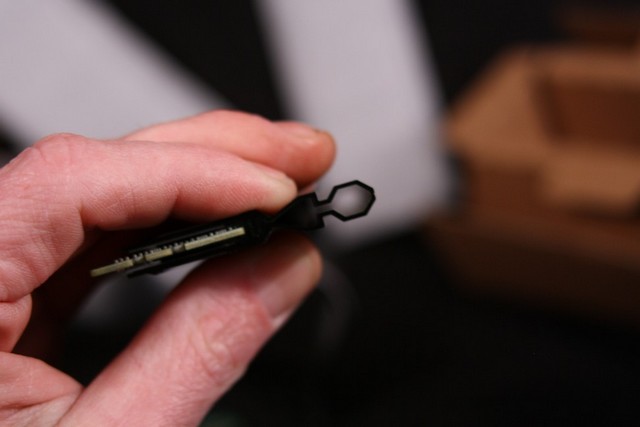 The heat spreader is not solid, instead it is looped to provide even greater air flow on the memory heat spreaders.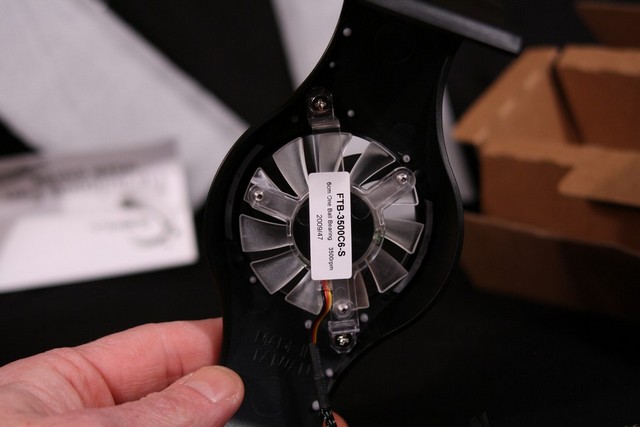 Time to turn our attention over to the fan cooler that GSkill uses. This fan is a 60mm fan, mounted directly in the center of the housing.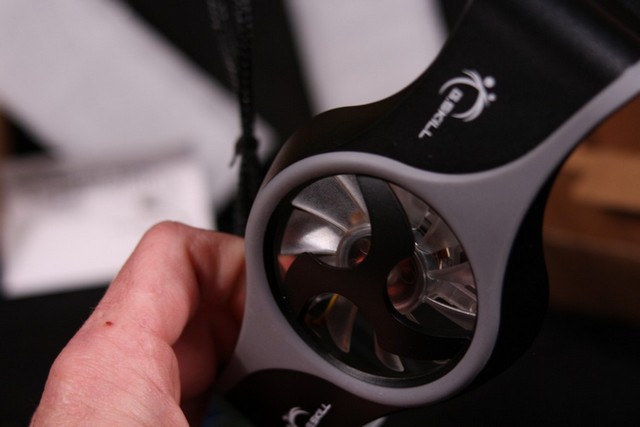 Looking at the blades of the fan cooler, I wonder if it lights up?
These next few images will confuse you, I explain later. memory installation has not changed since SDRAM came into existence. These PI Blue memory looks right at home on the ASUS Maximus III GENE motherboard.
Like I said earlier, the fan cooler that Gskill uses just clips right over the memory. Looking even better.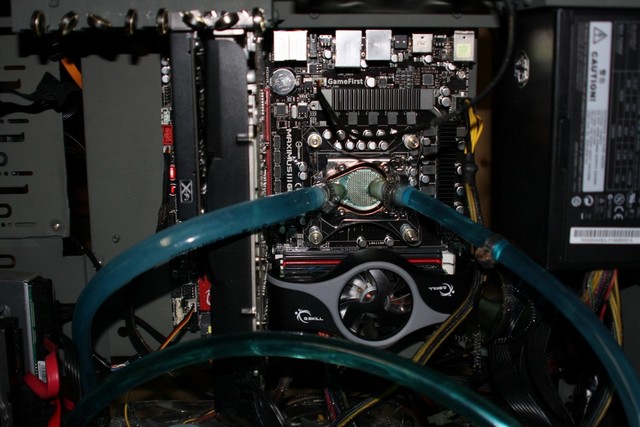 What it looks like just before hitting the power button. I quickly found out the Maximus III GENE motherboard did not particularly liked this set of memory set. I could post with a default timing of 9-9-9-24 1333MHz CPU @ 133 x 21 = 2793 MHz but if I even attempted or even thought about adjusting the BCLK or use the XMP profile of the memory I get a continuous reboot of the Maximus III GENE motherboard. I threw in the old GSkill Rip Jaw 2000 MHz memory I had, everything was good to go. Just it did not like the PI Blue memory. Even though on GSkill web site it is listed as compatible.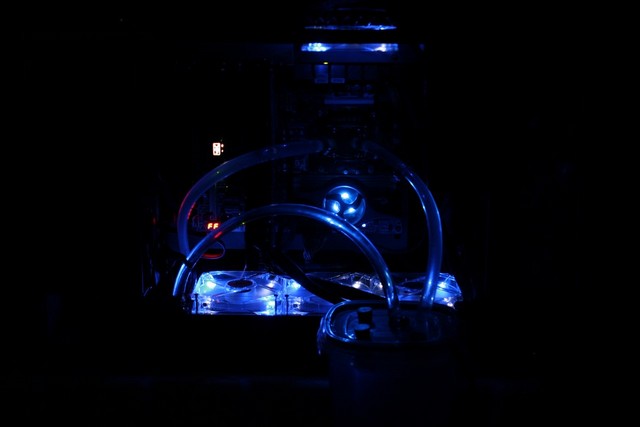 The GIGABYTE P55-UD6 motherboard was also listed as well. And I happen to have one just flopping around the room. So i quickly changed out motherboards from the Maximus III GENE to the P55-UD6, then install the PI Blues onto that motherboard. I had no issues, I'm one happy overclocker, now. The fan on the memory fan cooler lights up blue, it goes perfectly with my blue/white modded Rosewill LED 120mm fans I already have installed, in "Minor Me".
Testing Methodology
"Minor Me"

CPU
Intel Core i5 750 Lapped
Motherboard
GIGABYTE P55-UD4
Case
SIlverStone Raven RV-02
Memory
GSkill RipJaw, Corsair Dominators, GSkill PI Blue
Video Card's
EVGA 275GTX
Hard Drives
Patriot SSD 128 Gig
CDRom Drive
Lite On Blue Ray
Power Supply
Seasonic 850W
CPU Speeds Used
2.66GHz, 4.2GHz
Operating System Used
Microsoft Windows 7 Retail
Video Card Cooler

Stock cooled
CPU Cooler

Modified Danger Den MC-TDX custom water cooled
As I found out real quick the ASUS Maximus III GENE motherboard did not particularly like this set of memory, so I had to break out the GIGABYTE P55-UD6 motherboard to test the PI Blue memory. This Minor issue "could be" resolved with a BIOS flash from ASUS.
For testing purposes, I ran several different programs to try and guage how the memory influenced each application. Some of these programs I used shown a little improvement others just were not consistent enough with their numbers for me to get a proper reading, I could not tell if it was normal program fluctuation (3DMark series notorious for this) or if it was the memory. Normally on the high fluctuating programs I would run that program three times, get an average score, then run that program three more times and get an average from that run then see how the two averages stacked up with one another. I was still getting an average of 75-150 point fluctuation between each of the average scores. Making gauging performance a complete nightmare. I used the programs I can think of at this time, that better measure memory performance and also provides a bit more consistent runs. For these programs listed in this review, I ran each benchmarking program three times, and I will be using the worst possible score each set of memory gotten as the official run. As always, there is a margin of error, so your results can and will vary from my own.
Overclocking
To overclock the GSkill PI Blue memory, I first set the XMP of the memory in the BIOS, well since my CPU (Core i5 750) does not have a memory divider higher then a ten, the motherboard set the BCLK to 220, and the CPU multiplier to 12 giving me a 2640 MHz on the CPU. Well I know for a fact that the CPU is BCLK& limited to 210 BCLK, (several reboots and several overclocking attempts proved to be a futile exercise) I set the BCLK to 212, then set the CPU multiplier to 19 and left the XMP profile in play. I could load into windows but like always I was greeted with serious instability, I ended up dropping the BCLK to 210 upped the CPU multiplier from 19 to 20, made some minor adjustments (CPU voltages, and Memory Voltage to 1.64 volts) physically set the memory timings to their rated speed of 7-10-10-28, and then set the memory divider to 10 (it was still properly reading the right memory divider I just wanted to make sure it was).
Loaded up Windows 7, ran a half of dozen or so benchmarking programs, made sure the memory was stable. I re-entered BIOS, then set the timings from 7-10-10-28 to 7-9-9-24, after entering Windows 7, I again ran a few benchmarks, checked stability which I had, re-entered BIOS, tried 7-8-8-20. This did not go over to well, The GIGABYTE P55-UD6 would just continually reboot itself. Turned off the computer restarted computer, the GIGABYTE P55-UD6 motherboard re-setted it self to a "Safe" setting and allowed me to readjust the memory timings to 7-9-9-24.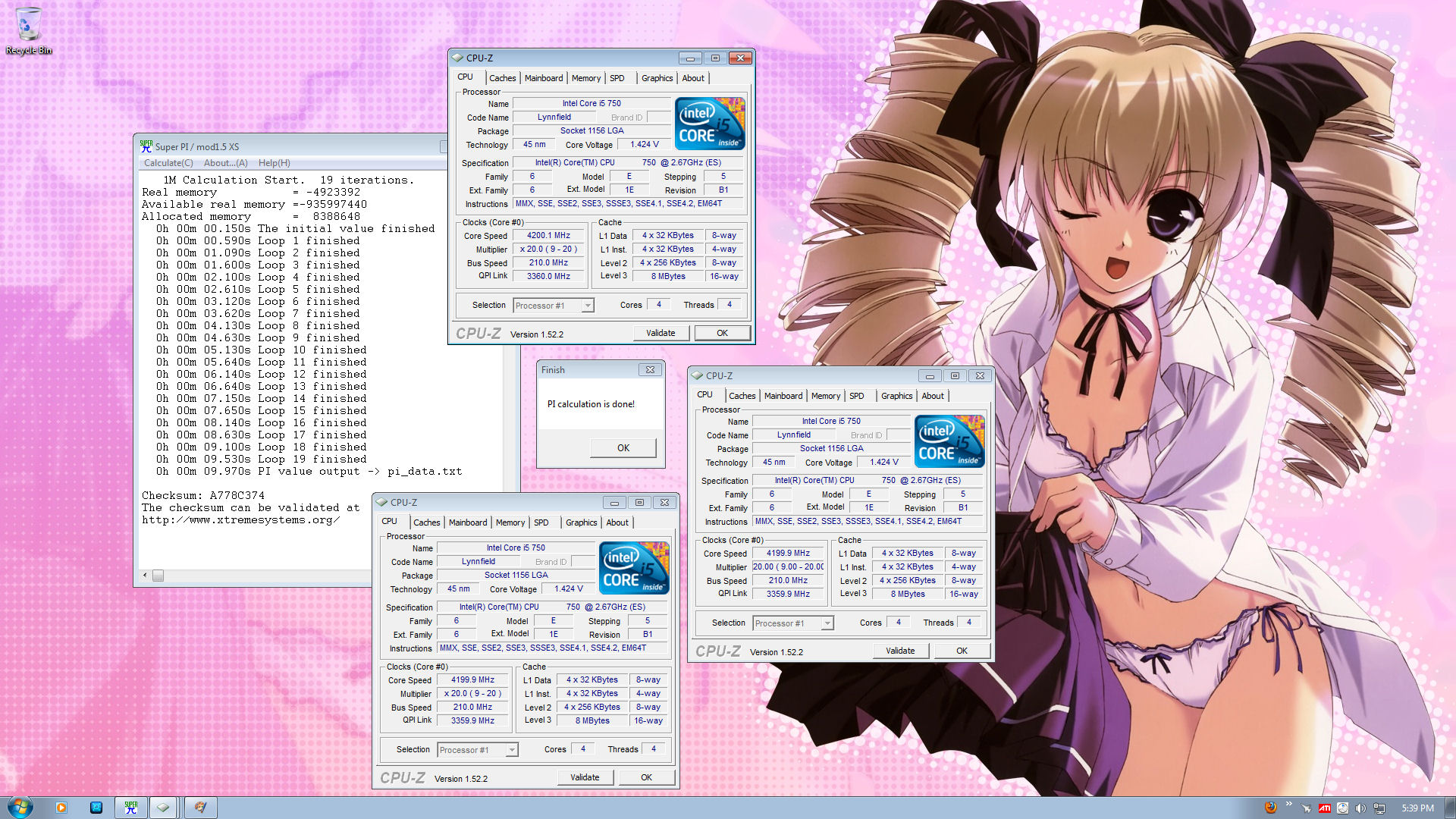 What I used during the overclocked settings.
The default memory timings and settings. Unfortunately since I could not use a 220 BCLK or use a memory divider higher then ten, the default CPU speed was crippled by more then 80MHz, too the compared memory's CPU speed of 2.6GHz. A 12 CPU multiplier was to low and the 13 CPU multiplier was to high.
Keep this in mind during the testing phase of this review. The GSkill PI Blue 2200MHz memory is both not running at its full capability of 2200MHz, because of a limitation of the CPU I am unable to go above 210BCLK. And last The CPU is being crippled by 80MHz, again because of the CPU multipliers available to me I had to use the closest one to 2.6GHz.
SISOFT
"SiSoftware Sandra (the System Analyser, Diagnostic and Reporting Assistant) is an information & diagnostic utility. It should provide most of the information (including undocumented) you need to know about your hardware, software and other devices whether hardware or software. It works along the lines of other Windows utilities, however it tries to go beyond them and show you more of what's really going on. Giving the user the ability to draw comparisons at both a high and low-level. You can get information about the CPU, chipset, video adapter, ports, printers, sound card, memory, network, Windows internals, AGP, PCI, PCI-X, PCIe (PCI Express), database, USB, USB2, 1394/Firewire, etc."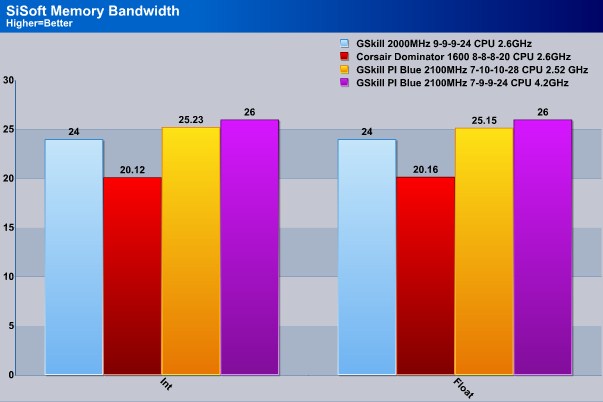 The best to start our memory testing is with none other then SiSoft. SISoft has always proven to be one of the best memory performance measurement programs. Now with the Memory Bandwidth testing, we can see the higher frequency of the PI Blue 2200MHz (actual speed 2100) memory had the highest memory bandwidth. Also keep in mind the memory is not running at its full capability of 2200 MHz, and the CPU speed is being crippled by 80MHz.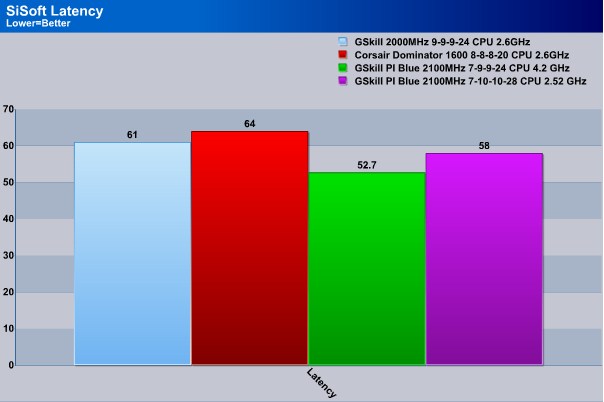 SiSoft Latency Testing, shows that the higher the memory frequency obtained the lower the latency received. Once i was able to bring down the timings of the GSkill PI Blue memory, my latency was able to improve by another 5.3 ms.
EVEREST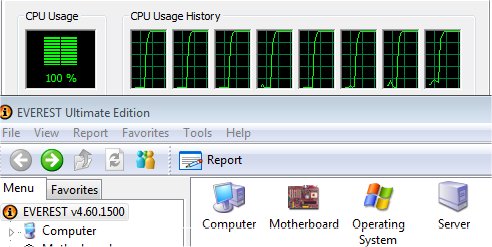 "EVEREST Ultimate Edition is an industry leading system diagnostics and benchmarking solution for enthusiasts PC users, based on the award-winning EVEREST Technology. During system optimizations and tweaking it provides essential system and overclock information, advanced hardware monitoring and diagnostics capabilities to check the effects of the applied settings. CPU, FPU and memory benchmarks are available to measure the actual system performance and compare it to previous states or other systems. Furthermore, complete software, operating system and security information makes EVEREST Ultimate Edition a comprehensive system diagnostics tool that offers a total of 100 pages of information about your PC."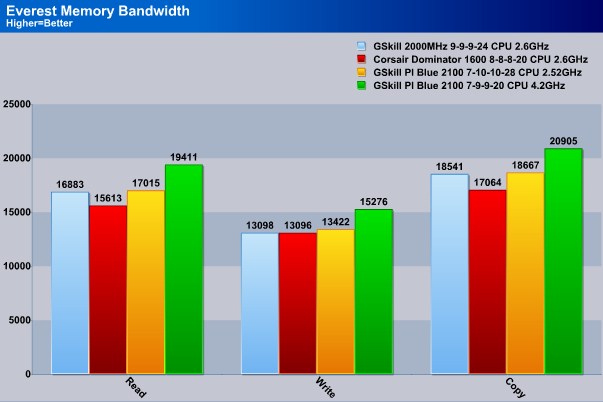 Despite the Memory not running at its full capability of 2200MHz and the CPU having a 80Mhz cripple. During the Everest Memory testing, the GSkill PI Blue 2200 MHz memory performed the best.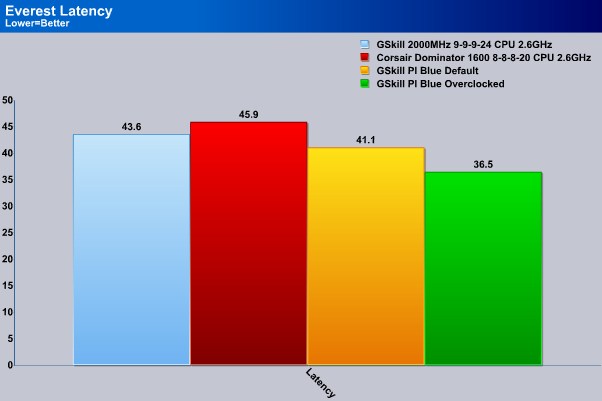 Once again Everest reconfirms what we seen in SiSoft Memory Latency testing, the higher the memory frequency obtained the better the latency we received.
Keep this in mind during the testing phase of this review. The GSkill PI Blue 2200MHz memory is both not running at its full capability of 2200MHz, because of a limitation of the CPU I am unable to go above 210BCLK. And last The CPU is being crippled by 80MHz, again because of the CPU multipliers available to me I had to use the closest one to 2.6GHz.
Wprime
wPrime is a benchmarking application designed to use a highly multithreaded approach to calculating the square-roots of large amounts of numbers (up to 32 billion)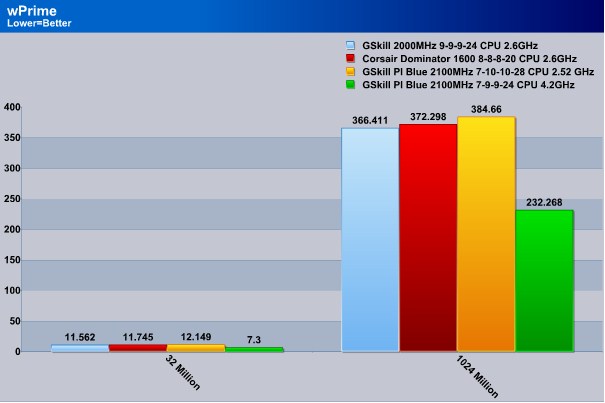 wPrime is another perfect program that is memory sensitive. But at the same it is also CPU sensitive as well. Now we start to see that the GSkill Rip Jaws & the Corsair Dominators out perform the GSkill PI Blue memory in both the 32 Million and the 1024 Million testing. I suspect this speed difference is due to the rather odd timings of the GSkill PI Blue memory of 7-10-10-28.
SUPER PI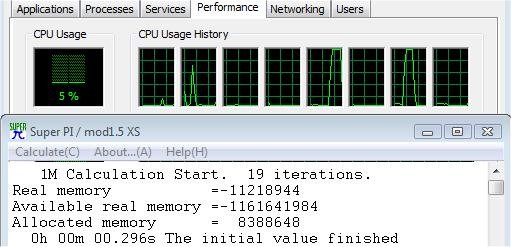 Super PI is the "Gold standard" for many when it comes to judging system performance. We ran 1 and 4 Million calculations.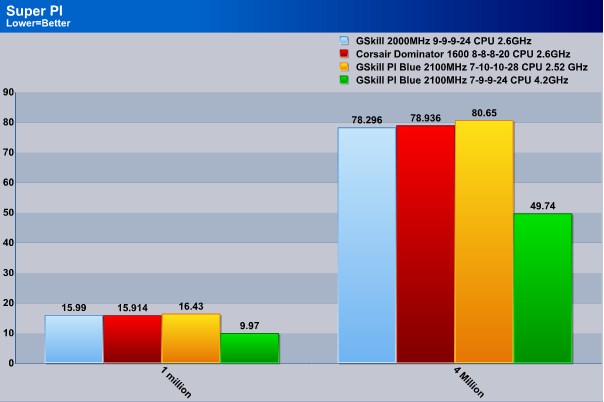 Super PI testing, the GSkill PI Blue memory is coming into last place, despite the having higher memory bandwidth and or the lowest memory latency from our Everest and SiSoft testing.
POV Ray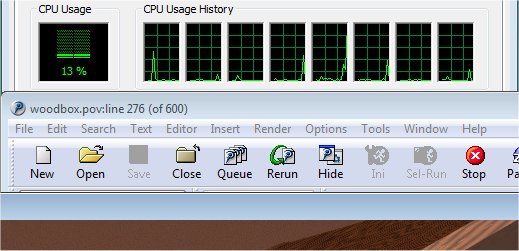 The Persistence of Vision Ray-Tracer was developed from DKBTrace 2.12 (written by David K. Buck and Aaron A. Collins) by a bunch of people (called the POV-Team) in their spare time. It is a high-quality, totally free tool for creating stunning three-dimensional graphics. It is available in official versions for Windows, Mac OS/Mac OS X and i86 Linux. The POV-Ray package includes detailed instructions on using the ray-tracer and creating scenes. Many stunning scenes are included with POV-Ray so you can start creating images immediately when you get the package. These scenes can be modified so you do not have to start from scratch. In addition to the pre-defined scenes, a large library of pre-defined shapes and materials is provided. You can include these shapes and materials in your own scenes by just including the library file name at the top of your scene file, and by using the shape or material name in your scene. Since this is free software feel free to download this version and try it out on your own.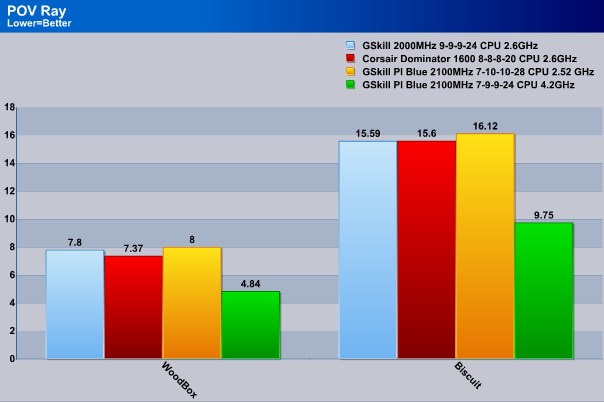 In POV Ray, the Corsair Dominator memory performed the best in the Wood Box rendering. During the Biscuit rendering both the GSkill Rip Jaw and Corsair performed identical. Bringing up the rear is the GSkill PI Blue 2200 MHz memory.
CONCLUSIONS
The performance of the GSkill PI Blue memory was not at all what I was expecting. The rather strange timings of 7-10-10-28 2T timings I think did not help matters much when it comes to the performance. I do know the GSkill PI Blue memory had two things against it, one of them being I was unable to actually bring the memory to its full 2200MHz ratings and the second one was the CPU was 80MHz slower then the other memory tested. In my experiences when dealing with memory timings and frequencies, 100 MHz does not make that big of an improvement, what makes the big difference in how memory performs is the timings, the PI Blue 2200MHz tested here does have a low CAS of 7, but having an higher timings on the tRCD, tRP, and finally tRAS will affect on how the memory performs. Which again I feel that is what holding this memory back some.
I left out the temperature readings out for a reason, because where "Minor Me" is located at in the "Dungeon" (down stairs in the basement), the ambient temperatures during winter time can go as low as 14°C and as high as 16°C. Because of these low temperatures and that the computer that performed the testing was on the floor, gave me some rather interesting results, trying to get a temperature reading, when trying to use a IR temperature reader. This was when I didn't even use the included memory fan cooler, when put the memory fan cooler on my results where rather cold.
Looking around the web I seen that the GSkill PI Blue 2200MHz w/fan memory goes on or around the $200 USD mark. To me this is a tad high considering the performance and that the GSkill Rip Jaws go for $100 USD and then purchase the memory fan cooler for $14 USD, which performs just as good as the PI Blue 2200MHz memory.
The included fan memory cooler is definitely a nice addition for us water cooled computer types, as this helps give the memory the necessary air flow needed to keep these cool during our high overclocking endeavors. But for those with air coolers, may find that the included fan memory cooler may be more of an hindrance then helpful because it will add some more height to the memory moduals.
OUR VERDICT: GSkill PI Blue 2200 MHz Memory

| | |
| --- | --- |
| Performance | 7.5 |
| Value | 7.5 |
| Quality | 9 |
| Features | 8 |
| Innovation | 7.5 |

We are using a new addition to our scoring system to provide additional feedback beyond a flat score. Please note that the final score isn't an aggregate average of the new rating system.

Pro
Cons

Looks good

The Added fan is a plus for those who are using water cooling

Wierd timings

 Performance was not up to par

 
Summary: GSkill PI Blue will allow some decent overclocks on our 1156 CPUs while keeping the CPU optimized at its default memory divider of 10