OCZ has stepped into the Single Level Cell SSD market and has an Agility 60GB SSD that provides blazing speed and 10 times the longevity of MLC SSD's. Expect fast very fast.
Introduction
SSD's come in a lot of flavors and capacities but they only come in two basic types. Single level cell and Multi-Level cell. Multi-Level cell SSD's store two bits of information per cell and are less expensive. The storage of 2 bits of information in each Nand flash cell is harder on the drive and typically each cell can be written and erased 10,000 times. Multi level cell SSD's still last a good long time and provide up to 10 years static storage without power running to the drive. They take a little longer to write because of the complexity of writing two bits of information to one cell.Single level cell SSD's only write one bit of information to each cell and they are considered enterprise class drives and have a much longer longevity. They also write faster because of the simplicity of writing one bit of information to each cell. How much longer do they last you ask, well like we mentioned typical MLC drives write and erase each cell approximately 10,000 times, Single level cell drives write and erase each cell up to 100,000 times. Hence our deduction that Single level cell SSD's can have 10 times the longevity of MLC drives. That longevity comes at a premium price but it's not ten times more for a SLC drive than a MLC drive.
The OCZ Agility EX 60GB drive we are looking at today runs about $400 so they are pricey drives. That works out to $6.67 per Gigabyte of storage which is expensive compared to ordinary platter drives. Take your run of the mill 500GB platter drive which can easily be found for about $59.99 for a 7200 RPM 16MB cache drive, those run about $0.11 a gigabyte. The platter drives tend to run in the 60 – 70MB/s range and most end users settle for that and are happy with the considerable savings.
Not everyone is a typical end user. Blade and other servers depend on rack after rack of very expensive power hungry hard drives. Most are mission critical servers that have to have the utmost in dependability and speed. Enter what has become to be known in the industry as Enterprise class drives. The first Enterprise class drives that we saw were platter based drives and ran about 30MB in size, 30MB ran about $269 and dependability was spotty. Way down the line after the Dinosaurs died off we started seeing SCSI drives that ran up to 10K RPM and had higher platter density.
SCSI or Small Computer Serial Interface drives could daisy chain 8 synchronized platter drive on a chain of up to 8 drives. The higher platter density meant that the physical hard drive read heads had to travel less distance to fetch information and the 10k RPM drive speed meant that it got there faster. However imagine rack after rack of SCSI drive generating heat and pushing the power bill ever higher. We've worked on SCSI racks and the noise and heat on a 48 drive rack can be considerable, not to mention the failure rate and expense of powering all those drives.
Now imagine those same hundred drives converted to reliable enterprise class SSD's sipping a mere fraction of a watt (.5w idle 2w active) per drive, with no moving parts, and a minimum of heat, designed to last 100,000 write/erase cycles. Then when they do decide to fail the firmware on the drive will stop allowing the data to be written on the drive and revert to a read only state. That's a server farm operators dream come true.
Well now the average end user can have Enterprise class storage in their desktop, OCZ has the EX series drives and we are going to take a look at the OCZ Agility EX 60GB SSD. Designed with the Indilinx Barefoot controller found in most of OCZ's offerings it's by far our favorite controller. Seated in the Agility EX drive it can push the Nand flash up to 255MB/s read and 195MB/s write (100MB/s sustained write).
The OCZ Agility SLC 60GB drive promises great performance and excellent longevity. With the read speed advertised at up to 255MB/s and the write speed up to 195MB/s we expect big things from the Agility EX SSD. How OCZ managed to squeeze all that speed into this little package, and do it with the most affordable 60GB SLC SSD we've seen is a mystery to us. Being the least expensive 60GB SLC around is sure to make it a popular choice amoung the most demanding enthusiasts.
Specifications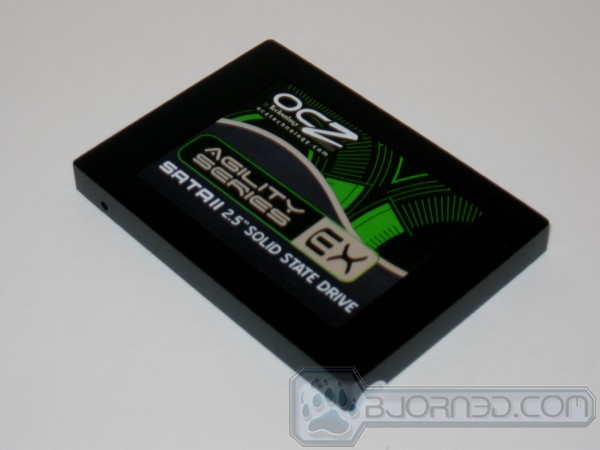 Specs
Available in 60GB (64) capacities*
64MB Onboard Cache
SLC NAND
Seek Time: <.1ms>Slim 2.5″ Design
99.8 x 69.63 x 9.3mm
Lightweight 77g
Operating Temp: 0C ~ 70C
Storage Temp: -45C ~ +85C
Low Power Consumption: 2W operation, .5W standby
Shock Resistant 1500G
RAID Support
MTBF 1.5 million hours
3-Year Warranty
The Agility EX is only available in one capacity and that's 60GB it utilizes the Indilinx Barefoot controller, which in our experience is the fastest controller to date, and has a whopping 64GB onboard cache. Average seek time is under 0.1ms and it has the common 2.5 inch SSD form factor. Operating temperatures run at 0&deg C ~ 70&deg C and apparently you can store one of the Agility EX in a blast freezer because they can store at -45&deg C and as hot as 85&deg C.
Idle power consumption is an attractive 0.5w and while in active operation it merely sips at power and uses 2w total. The drive supports Raid (Drool) and has an average MTBF of 1.5 Million hours and a 3 year warranty. Hard drive MTBF has been losing confidence in the computing world and is generally highly over-estimated. We mean face it 1.5 million hours mean time before failure that's what 62,500 days, or 171 years, not many electronic items around today will be in operation in the year 2180. Sorry it's just not likely to happen, more realistically we'd say 4 – 6 years dependable operation. If anyone would like to dispute that feel free to show us a 170 year old SSD still in operation. Besides in 4 – 6 years current SSD's will be so obsolete it's a moot point.
Performance Expectations
60GB Max Performance
Read: Up to 255MB/s
Write: Up to 195MB/s
Sustained Write: Up to 100MB/s
Part Number 60GB – OCZSSD2-1AGTEX60G

Performance wise we'd like to see 255MB/s or approaching that, 195MB/s write we'll have to see it to believe it, 100MB/s sustained, we can believe that but we still want to see it. Give us 200MB/s sustained read and 100MB/s sustained write and tear of joy will flow like water. Okay maybe not but we'd probably crack open a brew and celebrate.

Pictures

The OCZ Agility EX SLC 60GB Drive arrived in a nice retail package and inside the package the drive was securely protected by resiliant foam.

When we cracked the box open we found our prize unscathed by it's long journey here. Featureing a professional looking exterior with a flat black top and attractive sticker on it. We find ourselves wondering if the sticker will last the entire 171 year projected lifetime of the drive. (Wink)

The Agility EX 60GB SLC has the normal 2.5 inch form factor. Overall the drive looks to be very sturdy and should sustain shocks up to 1500G. We suppose the 1500G shock would be spread across the surface of the drive, surely a 1500G shock in the form of an nail gun would penetrate the chassis and damage something.

The back of the drive is an attractive brushed aluminum and promises to be as durable as the top of the drives chassis.

TESTING & METHODOLOGY

To test the Agility EX 60GB SSD we cloned our test rig drive to the SSD, it's the same test drive we've been using on all our drive testing and is nothing more than a clean Windows load with all the drive testing software installed, as well as all the current drivers and patches for the OS. It's the equivelent of doing a fresh load of Vista from disk but takes a lot less time and ensures that every drive tested uses exactly the same OS load and drivers. Nothing that may affect the outcome of the testing procedure can creep in. We ran all of the tests a total of 3 times and averaged those results. The Average of the three results are presented here. In the case of a pictorial benchmark we ran the bench 3 times and picked the median result. As with most SSD testing differences from run to run are minimal and the median result is a good indication of what you can expect from the drive.

We ran our usual battery of tests on the drive, and used it as the primary boot drive during testing. All of the drives tested were used as the primary boot drive during testing. That's a more realistic test than strapping the drive in and testing it with a bare format or as a non-boot drive and it represents real life transfer rates, much like you can expect when you install and operate the drive in your own system. Each test was performed 3 times and the average of the 3 test run is reported here.

Test Rig

Test Rig
"Quadzilla"
Case Type
Top Deck Testing Station
CPU
Intel Core I7 965 Extreme (3.74 GHz 1.2975 Vcore)
Motherboard
Asus P6T6 (SLI and CrossFire on Demand)
Ram
Corsair Dominator (9-9-9-24 1.5v) 6GB Kit
CPU Cooler
Thermalright Ultra 120 RT (Dual 120mm Fans)
Hard Drives

OCZ Agility EX 60GB (SLC)
Kingston SSDNow V 40GB (MLC)
Kingston SSDNow V+ 128GB (MLC)
G.Skill Titan 256 GB SSD (FM-25S2S-256GBT1) (MLC)
Patriot 128GB Warp SSD (MLC)
Intel 80 GB SSD X25-M
G.Skill 64GB SSD (FM-25S25-64GB) (MLC)
2 WD VelociRaptor's 300GB (In single and Raid0)
WD 160 GB SATA 2
Maxtor 160 GB SATA 2
WD & Maxtor in Raid 0

Optical
Sony DVD R/W
GPU
BFG GTX-260 MaxCore
Case Fans
120mm Fan cooling the mosfet CPU area
Docking Stations
None
Testing PSU
Thermaltake Toughpower 1200 Watt
Legacy
None
Mouse
Razer Lachesis
Keyboard
Razer Lycosa
Gaming Ear Buds

Razer Moray
Speakers
None
Any Attempt Copy This System Configuration May Lead to Bankruptcy

Test Suite

Benchmarks

ATTO

HDTach

Crystal DiskMark

HD Tune Pro

AS SSD Benchmark

HD TUNE PRO

HD Tune Pro is an extended version of HD Tune which includes many new features such as: write benchmark, secure erasing, AAM setting, folder usage view, disk monitor, command line parameters and file benchmark. HD Tune Pro is a computer benchmarking application that can test the performances of any PC.

Here are some key features of "HD Tune Pro":

Benchmark: measures the raw performance
Transfer Rate
Access Time
CPU Usage
Burst Rate
Hard Disk information which includes firmware version, serial number, disk capacity, buffer size, transfer mode
Hard Disk Health
S.M.A.R.T. Information (Self-Monitoring Analysis and Reporting Technology)
Temperature
Power On Time
Copy text to clipboard
Copy screenshot to clipboard

The OCZ Agility remains at the top of the charts in the HD Tune Pro read test and with 223.8MB/s the performance is higher than any drive we've seen to date. Being the least expensive 60GB SLC drive we could find, combined with this stellar performance bodes well for this rock star of drives.

The MAx speed we got on HD Tune Pro from the Agility EX drive was 224.3 MB/s and the drive fell in the top 2 on the chart. The Intel X25-M topped the Agility by a hair but as you've seen in most of the charts the X25-M belongs in a nursing home when it comes to write speeds.

The Agility pulls a 217.2 MB/s and the Kingston SSDnow MLC drive is about 20.1MB.s behind it. Still you need to keep in mind that if the Agility lasts 100k R/E cycles and the MLC drive lasts 10k R/E cycles the Agility EX will be around long after the Kingston drive has gone past it's useful life.

THe Burst test in HD  Tune Pro shows 199.2MB/s, burst tests usually consist of a cache only hit and the Agility has a whopping 64MB cache but what puzzles us is that read speeds have exceeded the burst speed.

Crystal DiskMark

Crystal DiskMark is a simple hard disk benchmarking software that can perform sequential or random read/write tests on a selected drive. You can select the number of read/write operations as well as the size of the data sample. The program presents you with easy to read MB/s results for each test. Standalone software, no installation required.

Any 4K test we've seen is brutal to both the drive and performance, the Agility Ex easily topped the chart coming in with a transfer speed of 28.42MB/s. Enterprise class drives typically do well on small reads and writes that are common to server environments.

The CDM 4K write test is just as brutal as the 4k read test and the Agility EX drops back a little in the charts but still turns out a respectable 21.42MB/s write speed. Most of the other drives we've charted had trouble making 3MB/s so 21.42MB/s is a pretty good result.

The 512K test shows the Agility Ex drive back at 206.1MB/s and the closest competitor at 179.4 or 27MB/s slower than the Agility Ex 60GB drive.

This is another fantastic write preformance from the Agility EX 60GB drive, we see it topping out the chart at the unheard of speed of 191.5MB/s and if this were a Nascar race the Agility EX wouldn't even be able to see the other cars (drives) in it's rear view mirror.

In the Sequential read test in CDM we generally see almost theoretical speeds from most of the drives we've tested and the Agility EX is no exception, The Sequential test sees it just 10.8MB/s away from it's top rated speed.

We get even closer to the theoretical top write speed and the Agility EX came within 1.9MB/s from achieving the top end rated speed. At 193.1MB/s we have literally nothing to complain about here.

ATTO

Just a little interruption before we get on to the chart fun, we have two drives highlighted on the charts, the SSDNow and the OCZ Agility, this is not intended as a direct comparison. We just had two drives on the bench and charted them together. You can't compare a Value based MLC drive with an expensive SLC drive it's too apples and oranges for us. The only reason both are highlighted is the limited amount of time we have with vendors beating down the doors of Bjorn3D with high end product. In order to have more time to review that tide of product we charted both drives at once.

ATTO is a little long in the tooth but still provides a good method of checking hard drive performance. Since your comparing results from the same benchmark to other drives benched on the same software it provides a basis for comparison and in most cases provides reliable and reproducible results.

Frankly we don't have any other SLC drive on the charts to compare to, we have another SLC loaner drive on the way but until then we can only compare to our best MLC drives. Most end users are much concerned with what type drive as overall performance so until we get a loaner drive to compare to we'll have to make do. 

The OCZ Agility EX SLC 60GB drive topped the chart in read performance in the Atto 512k 8MB test and fell a little short of the theoretical top speed of 255MB/s. We don't really expect 255MB/s in most tests so 231.4MB/s is looking pretty good to us and it beats the closest competitor by about 13MB/s.

This was an amazing result for the Agility EX drive, hitting 211.3MB/s we find the Agility 63MB/s ahead of the next fastest drive and that performance increase is more than some platter drives achieved overall.

First 3 charts and the Agility is still riding on top the crest of the charts and that consistent high performance is endearing the drive to us quickly.

On the 512k 8MB test we got 211.3MB/s and the 1024K 8MB test shows the drive hitting 211.4MB/s and that's the type of consistent high performance we expected from the Agility EX drive. We see the Agility is still ahead of the it's closest competition by 64MB/s.

HDTach

HD Tach is a physical performance hard drive test which utilizes a special kernel mode VXD in order to get maximum accuracy by bypassing the file system. A similar mechanism is used in Windows NT/2000.

The HD Tach sequential read test is a little bit different from other benchmarks. Most benchmarks create a file on the hard drive and test within that file.

The problem is that modern hard drives use a zone bit recording technique that allows different read speeds depending on where the data is located. Data on the outside of the drive is much faster than data recorded on the inside. SSD's are freed from this limitation due to their Nans Flash technology.

HD Tach reads from areas all over the hard drive and reports an average speed. It also logs the read speeds to a text file that you can load into a spreadsheet and graph to visually read the results of the test.

In addition to sequential read, HD Tach tests the drive's random access time. Random access is the true measure of seek speed. Many drives advertise sub 10 millisecond seek speeds, but seek speeds are misleading.

Finally, HD Tach tests the drive burst speed. The burst speed is the speed that data can be accessed from the drive's on-board read-ahead memory. This measures the speed of the drive and controller interface.

Keeping in mind that the additional spped we are seeing from the Agility EX drive isn't the only benefit of a SLC drive the 100,000 write erase cycles compared to the MLC drives 10,000 W/E cycles isn't hurting our feelings any. The Agility approaches it's theoretical speed of 255MB/s in this test missing that top end speed by a mere 21.9MB/s.

Burst mode usually represents a cache only drive hit and we don't really put much stock in burst modes. SO we can burst 8MB of data at 248.1 MB/s on the Agility EX. We kind of expected the top end theoretical speed from the burst test and the Agility is setting about 6.9MB/s away from that theoretical limit so we are pretty happy with that.

AS SSD Benchmark

We are just starting to use AS SSD Benchmark on a regular basis, now that it's had a few revisions and produces reliable results we will add drives as we go. In the mean time this round we only have the SSDNow and OCZ Agility on the chart, as we mentioned we are not comparing the Value based SSDNow to the more expensive Agility drive but we wanted to have a comparison drive on the new benchmark so we are posting the charts.

AS SSD Benchmark is a new addition to the SSD Testing arsenal at Bjorn, still in development by a German Systems Developer his thread about AS SSD Benchmark can be found on the OCZ Forums. www.ocztechnologyforum.com/forum/showthread.php

The benefits of the AS SSD Benchmark are:

Good precision of results
Simplicity of use
Optimized for SSD
Screenshot-function
It's freeware

Another benefit of the AS SSD Benchmark is it's still in development and being updated as SSD technology advances. We'll have to wait and see if it survives the test of time.

The 4k-64k Thrd test in AS SSD is a threaded test that used multi-threaded reads and writes to test the drive. In this chart it's the read portion and the Kingston drive hit 34.2MB/s which is a great score for a variable write size threaded test.

The 4k-64k Thrd write replaces the Crystal DiskMark 4k test as the most brutal write test we've seen and the Agility scores a 17.84MB/s and compared to most platter drives this is a dream speed in this brutal test.

In the 4k read test which is generally brutal on any drive the Agility Ex turned in a 28.07MB/s, and at this level of testing, from previous experience we know 28.07MB/s is an excellent score for a 4K test.

The Agility turns in a solid 16.22MB/s in the 4K write test and compared to the platter drives we tested (which took in excess of 1 hour to test) the Agility EX scores really well. Typically the platter drives we tested ran about 1.6MB/s in this test but in all fairness the benchmark is designed for newer faster SSD's.

The Sequential read test shows the Agility Ex 60GB drive turning in an amazing 243.2MB/s in the AS SSD Benchmark and a lot of the other tests show about the same sequential read speed so were comfortable with saying this drive reads faster than any drive we've ever seen.

Sequential write speeds on the Agility EX have been fantastic and we think we can sum up it's sequential write speeds with a single word; Drool.

Conclusion

The OCZ Agility EX 60GB SLC drive performs better than any other drive we've tested. The Agility EX Indilinx controller conbined with it's SLC nature and high quality Nand flash does everything but send up smoke signals exclaiming "I'm the fastest".

It's hard to not like a drive that consistantly reads in the 200+MB/s range sequentially. That blazing speed will ensure that application load times will be faster and your rig will be more responsive.

The SLC design ensures that your data will be safe and you'll enjoy a nice long life from the Agility EX.

Beyond life span the drive is just about to good to be true. Read and write speeds were consistantly high, higher than we expected.

OCZ fielded the Agility EX 60GB SLC SSD at $399 and that seems like a lot of cash for that much storage, however that's the least expensive 60GB SSD we could find so prive is subjective. Performance isn't subjective and frankly this is the fastest single drive we've ever seen.

We are using an addition to our scoring system to provide additional feedback beyond a flat score. Please note that the final score isn't an aggregate average of the new rating system.

Performance 8.5
Value 10
Quality 10
Warranty 9
Features 9
Innovation 9

Pros:

+  System Is Snappier
+  Fantastic RAID Like Speed
+  Quiet
+  Never Gets Hot
+  Standard SATA Interface
+  Easy To Hide In The Chassis
+  Did We Mention Fast Really Fast

Cons:

– Price Still Higher Than Traditional Platter Drives
– Platter Drives Will Never Satisfy You Again

The OCZ Agility EX 60GB is a lightning fast SSD and everything about it screams performance, we were so impressed with the Agility EX that we posted a guard on it, okay so all we could afford to guard it was a Hamster but he's a noisy little bugger when people come close, we hear one single squeak from that exercise wheel and all they'll find of the offender will be hamster sized bites. All joking aside the OCZ Agility EX is so fast it's going to be hard moving to another drive, the consistency of that speed amazed us so it earns a:

Final Score: 9 out of 10 and the Bjorn3D Golden Bear Award!.