Kingston has broken the SSD expense barrier and delivered a 40GB boot drive at launch with MIR as low as $85, grab the Kingston SSDNow 40GB while they last (Intel Controller Drive)
Introduction
The biggest obstacle to mainstreaming SSD's has been price per gigabyte and overall cost of individual SSD's. Leave it to Kingston to break the price barrier and deliver a 40GB Kingston SSDNow for a measly $115 (Before MIR). Not only are they delivering a $115 SSD, they are delivering an Intel controller and Intel Nand flash SSD.
You can reach up and close your mouth now, yes it's a $115 SSD with an Intel controller and Nand flash in it. Not only that, it's also not the old 45nm SSD rehashed for Kingston, it's the new 34nm design with a totally new Intel controller that offers marginally better performance than the uber expensive (at launch) Intel X25-M. At launch the Intel X25-M was running in the $600 – $800 range for an 80GB MLC SSD. Short months later you can get a better drive, with 40GB capacity for $115, take the $115 times two and you get the same capacity for $230 pre MIR, after MIR (At Launch) the total cost for 80GB would run a measly $170.
Maybe it's time to change the way we think about SSD's and have a Kingston SSDNow V 40GB boot drive and a secondary platter drive for storage and large programs. All the speed and benefits of an SSD and plenty of inexpensive storage on the backup platter drive.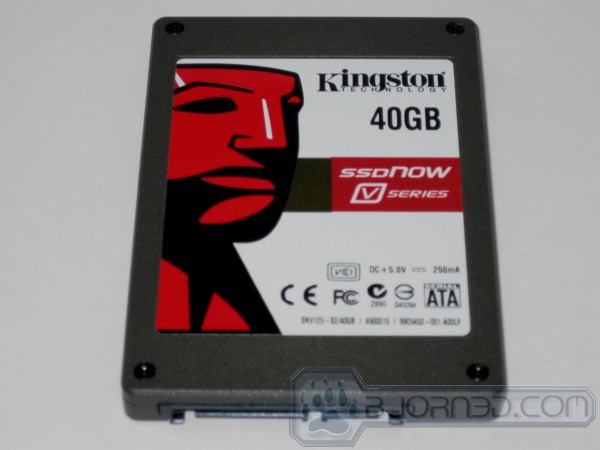 With the Intel controller and Nand flash it would have been more appropriate to call this drive the Kingston SSDNow M series but based on the price, it's a value drive. We're ok with value drives as long as they provide the blazing speed we demand.
Kingston Second Generation SSDNow V+ Series:
Kingston Second Generation SSDNow V+ Series Bundle Kits:
Specifications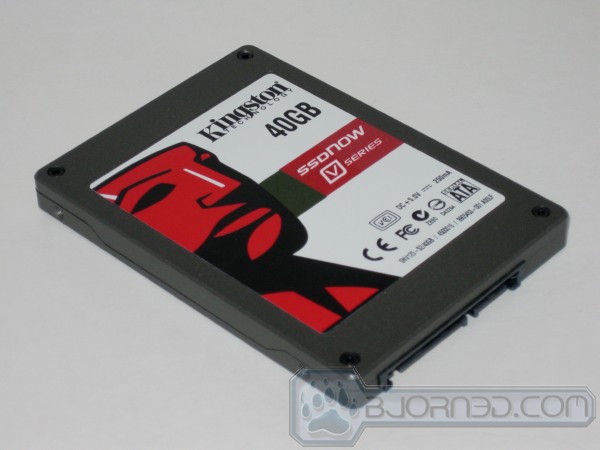 Sequential Speed**: up to 170MB/sec. read
Sequential Speed**: up to 40MB/sec. write
Performance: enhances productivity; makes users more efficient
Innovative: 2.5″ form factor; uses NAND Flash memory components
Silent: runs silent and cool with no moving parts
Reliable: less likely to fail than a standard hard drive
Shock Resistant: no moving parts; handles rougher conditions than a hard drive
Supports S.M.A.R.T.: Self-Monitoring, Analysis and Reporting Technology
Guaranteed: three-year Kingston warranty, 24/7 tech support
Capacity: 40GB
Storage temperatures: -40° C to 85° C
Operating temperatures: 0° C to 70° C
Vibration operating: 2.17G (7-800Hz)
Vibration non-operating: 20G (20-2000Hz)
Power specs: Active: 0.15W (TYP); Sleep: 0.06W
Life expectancy: 1 million hours MTBF
With a read speed of up to 170MB/s the Kingston SSDNow isn't going to be the fastest SSD on the planet, but currently for the quality it's the most affordable SSD. The Write speed leaves a little to be desired and runs at 40MB/s but since we usually write things once and read them many times that's really not much of an issue. Since we generally write from CDROM or DVD which runs much slower than 40MB/s a second that won't deter many people from using a drive that represents this kind of value.
SSD's have no moving parts and run nice and cool thanks to having no motor to drive a read write head, and the Nand flash access time smokes conventional platter drive access times. Since there's no motor they run absolutely silent which is a big plus for us in the lab, having 5 or 6 hard drives whining at you on the bench can lead to an Excedrin day,
The Kingston SSDNow supports S.M.A.R.T. technology and monitors itself. If the drive should become too worn or damaged, the controller will cut off write access and you will be able to read the data from the drive and transfer it to another drive. That's fail safe data storage for mission critical systems. Imaging a blade server with 10 of these puppies serving a single blade, 1.7GB/s potential read speed, 400MB/s potential write speed, and 800GB of storage space for $1150. That's a decently high price per gigabyte cost for storage by most peoples standards, but for enterprise class storage you can spend that much on a single drive that runs much slower, and has less storage space.
Kingston backs the SSDNow with a 3 year warranty and 24/7 tech support, and yes there are people at the tech support desk and not just a recorded "Try this" line. How do we know, we toured the California manufacturing facility and met some of them. Very nice and precise people that knew the answer to our every question. In other words, they weren't reading from a computer screen giving generic answers for the wrong situation. They knew what they were talking about.
Finally, this is a MLC drive and offers 1 million hours MTBF (Mean Time Before Failure).
Now how do we know there's Intel inside the drive even though it's Kingston branded? Well, we broke out the allen wrenches and opened the puppy up.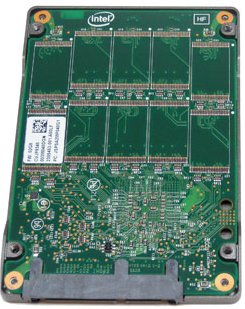 Silk screened right on the PCB, you can see the Intel logo so there's no doubt who manufactured the drive. Kudos Kingston for driving such a hard bargain on the purchasing of the SSDNow V 40GB and bringing it to market for $115.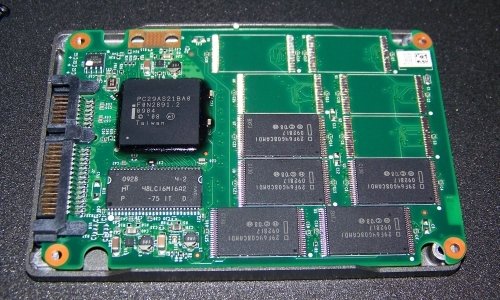 Notice that the drive has five 8GB Nand Flash chips so it's 40GB of storage total, then notice that it has space for another 5 chips so this PCB was designed for an 80GB drive but they only placed 5 chips totaling 40GB.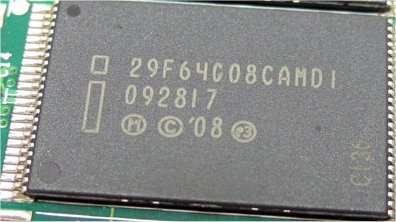 The Nand Flash is the Intel 29F64G08CAMDI 8GB (Multi Level Cell) capacity MLC chip, since there are 5 chips total that's 40GB total capacity. Now imagine if these were as fast as Dram chips, stick 8 of those on a memory stick which would be 64GB single stick, and you might have a glimpse of the not so distant future. This drive with these chips is pretty much bullet proof as it has an operating vibrating tolerance of 2.17G (7-800Hz)! The non-operating vibration tolerance is 20G (20-200Hz), which is amazing when you think about how much force that would be.
The heart of this value based drive is the Intel PC29AS21BA0 controller chip. It might be a value based drive but with hardware like this on the inside we are amazed that any vendor could sell them for this price
Below the Intel controller is a single 32MB Micron 133MHz SDRAM that is used for the cache of the drive. The chip is labeled 48LC16M16A2-75. 
Now to the sticky portion, at this time the Kingston SSDNow V doesn't support Trim but Kingston assures us that it will in a future update.
Kingston: "Currently, the Kingston SSDNow V Series 40GB Boot Drive does not support TRIM. However, we will have it for this drive as it is on our road map." – Kingston PR
From this answer we can make an educated guess and say that the Kingston SSDNow V Series 40GB Boot Drive will support TRIM with a future firmware update. This will likely happen after Intel has officially launched their own 40GB X25-M drives with TRIM.
Pictures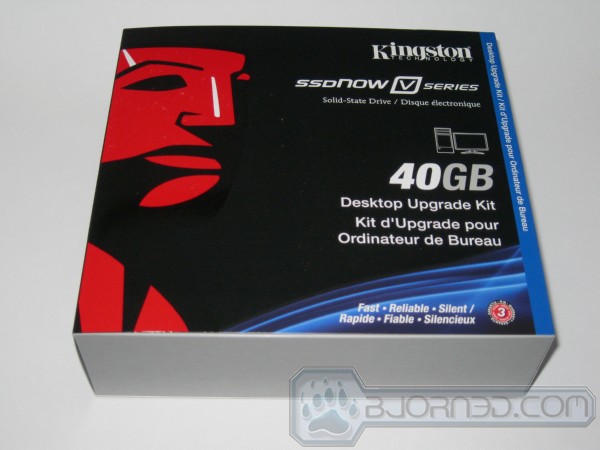 In our case we received a Desktop Upgrade Kit. Initially the Desktop Upgrade Kit runs $115 with a $30 MIR at selected E-Tailors. So the kit wil run you $85 after rebate. However, the bare drive without the upgrade kit will set you bcak $15 less but we don't know about MIR's. So initially the Desktop Upgrade Kit may be less than the bare drive. We can't see letting go of this quality drive for $100 and offering a $30 MIR, there has to be a limit to this insanity.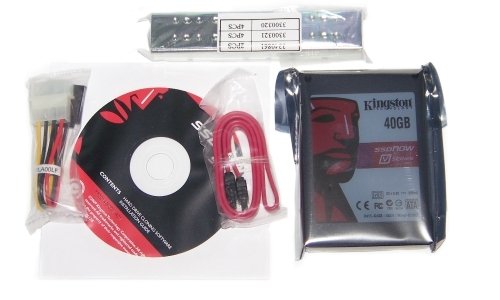 In with the upgrade kit you will find a Molex to SATA power adaptor, an Acronis based drive cloning disk, a SATA data cable, a set of drive rails to adapt the 2.5 inch drive to your existing drive bays, and the drive itself.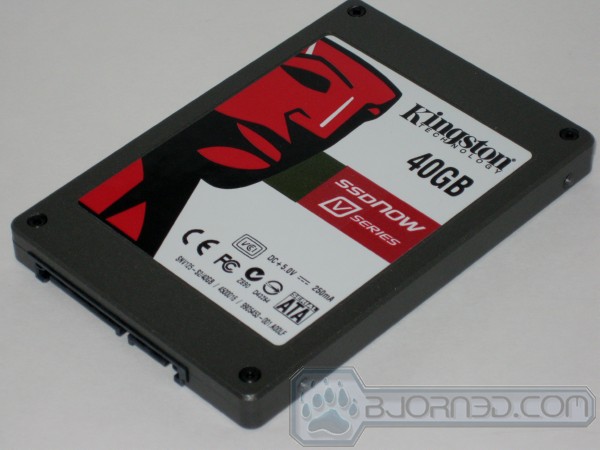 Now we don't recommend this, but we turned our backs for a second and we had a 3 year old little girl in the lab today. She put the Kingston SSDNow on the hardwood floor and stood on it and jumped. With a body weight of around 50 pounds she came about 8 inches off the floor and landed squarely on the drive. We merely wiped the drive off and reconnected it to the test rig and it fired right up with no ill effects what so ever. We dare you to try that with a conventional platter drive. Kingston built the SSDNow V series like little tanks, they can take a beating and keep on trucking.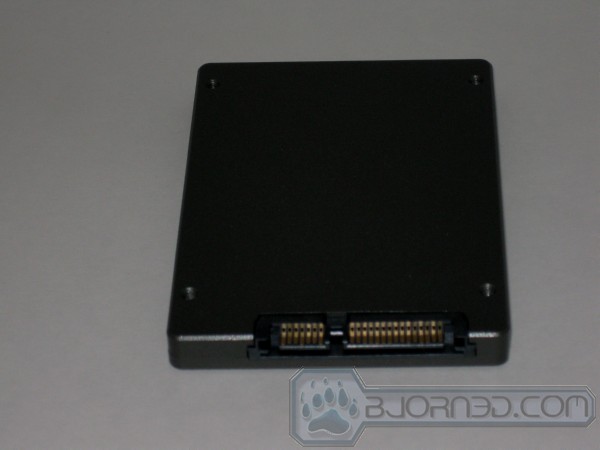 Shown here without the child's footprint, the back of the drive is unremarkable but you get a look at the standard SATA connectors that ensure that the drive will be compatible with your existing SATA controller.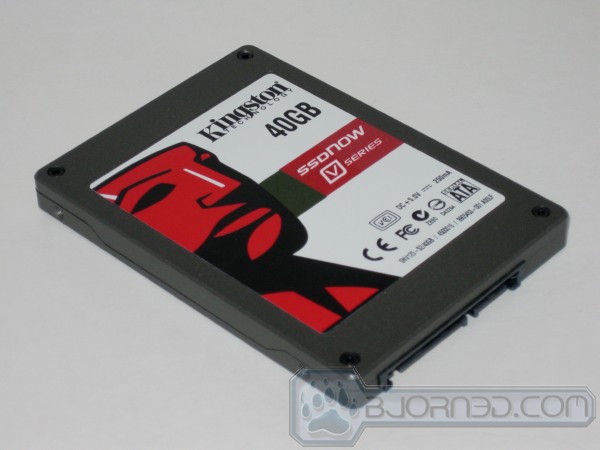 Kingston went with a logo we call the "Kingston Guy" and the name and capacity of the drive on the sticker and the drive isn't going to jump out at you in the rig and steal all the thunder from those carefully selected components that give your gaming shrines their bling. We are alright with that approach because hard drives are generally pretty hidden.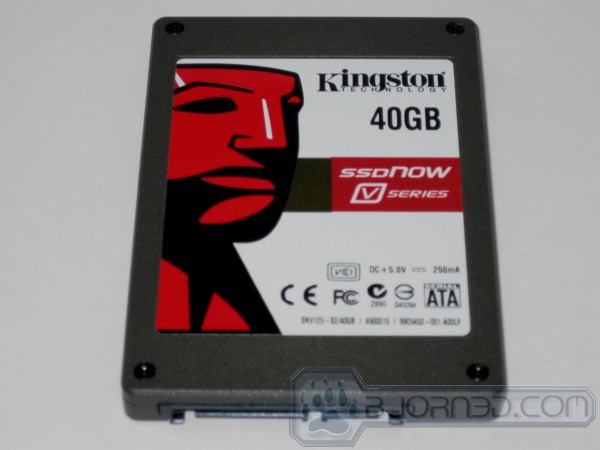 We still find it amazing that the SSDNow has an Intel controller and Nand flash inside. With the Intel X25-M drive that has identical components (80GB capacity) running $289, two of the Kingston SSDNow V 40GB drives after MIR set you back $170 so you would get the same capacity for $119 less. SInce two identical SSD's can be ran in RAID0 with the onboard chip found on most motherboards, that makes this drive an even better value. For some odd reason (probably access time) SSD's and onboard Raid go together like beer and chips.
TESTING & METHODOLOGY
To test the Kingston SSDNow V 40GB SSD we cloned our test rig drive to the SSD, it's the same test drive we've been using on all our drive testing and is nothing more than a clean Windows load with all the drive testing software installed, as well as all the current drivers and patches for the OS. It's the equivelent of doing a fresh load of Vista from disk but takes a lot less time and ensures that every drive tested uses exactly the same OS load and drivers. Nothing that may affect the outcome of the testing procedure can creep in. We ran all of the tests a total of 3 times and averaged those results. The Average of the three results are presented here. In the case of a pictorial benchmark we ran the bench 3 times and picked the median result. As with most SSD testing differences from run to run are minimal and the median result is a good indication of what you can expect from the drive.
We ran our usual battery of tests on the drive, and used it as the primary boot drive during testing. All of the drives tested were used as the primary boot drive during testing. That's a more realistic test than strapping the drive in and testing it with a bare format or as a non-boot drive and it represents real life transfer rates, much like you can expect when you install and operate the drive in your own system. Each test was performed 3 times and the average of the 3 test run is reported here.
Test Rig
Test Rig
"Quadzilla"
Case Type
Top Deck Testing Station
CPU
Intel Core I7 965 Extreme (3.74 GHz 1.2975 Vcore)
Motherboard
Asus P6T6 (SLI and CrossFire on Demand)
Ram
Corsair Dominator (9-9-9-24 1.5v) 6GB Kit
CPU Cooler
Thermalright Ultra 120 RT (Dual 120mm Fans)
Hard Drives

Kingston SSDNow V 40GB (MLC)
OCZ Agility EX 60GB (SLC) Kingston SSDNow V+ 128GB (MLC)
G.Skill Titan 256 GB SSD (FM-25S2S-256GBT1) (MLC)
Patriot 128GB Warp SSD (MLC)
Intel 80 GB SSD X25-M
G.Skill 64GB SSD (FM-25S25-64GB) (MLC)
2 WD VelociRaptor's 300GB (In single and Raid0)
WD 160 GB SATA 2
Maxtor 160 GB SATA 2
WD & Maxtor in Raid 0

Optical
Sony DVD R/W
GPU
BFG GTX-260 MaxCore
Case Fans
120mm Fan cooling the mosfet CPU area
Docking Stations
None
Testing PSU
Thermaltake Toughpower 1200 Watt
Legacy
None
Mouse
Razer Lachesis
Keyboard
Razer Lycosa
Gaming Ear Buds

Razer Moray
Speakers
None
Any Attempt Copy This System Configuration May Lead to Bankruptcy
Test Suite
Benchmarks
ATTO
HDTach
Crystal DiskMark
HD Tune Pro
AS SSD Benchmark
ATTO
Just a little interruption before we get on to the chart fun, we have two drives highlighted on the charts, the SSDNow and the OCZ Agility, this is not intended as a direct comparison. We just had two drives on the bench and charted them together. You can't compare a Value based MLC drive with an expensive SLC drive it's too apples and oranges for us. The only reason both are highlighted is the limited amount of time we have with vendors beating down the doors of Bjorn3D with high end product. In order to have more time to review that tide of product we charted both drives at once.
ATTO is a little long in the tooth but still provides a good method of checking hard drive performance. Since your comparing results from the same benchmark to other drives benched on the same software it provides a basis for comparison and in most cases provides reliable and reproducible results.
The Intel X25-M and the SSDNow V 40GB are the closest in design that we have on the charts and even then the Intel X25-M is the older 45nm design with the version 1 controller and the Kingston SSDNow is 34nm and has the version 2 controller. However they are the closest in design so our primary comparison is those two drives.
In the Atto 512K 8MB test the Kingston 2nd generation drive got us about 56MB/s more than it's older brother the Intel X25-M which is a pretty good generational performance increase. By Generational increase we mean from the last generation to this generation which is just one generation more advanced than the Intel X25-M.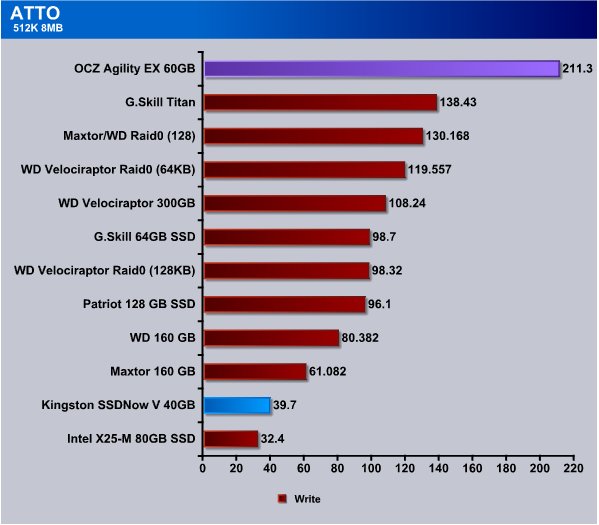 The 512K 8MB write test shows that the new SSDNow V comes in more than 7MB/s faster than the older Intel X25-M. Intel drives are rated to write at 40MB/s which is their one weakness but since we write things once (generally) and read them many times the write speed is less important than the read speed. Look at it this way, you install a video game or operating system once, then read those files hundreds of times and only write small changes back to the drive. So which is more important, reading light lightning, or writing with blazing speed. We feel that since most desktops writes occur from CDROM/DVD to hard drive and that the optical drive can't saturate the 40MB/s bandwidth of the SSD that the read speed is more important.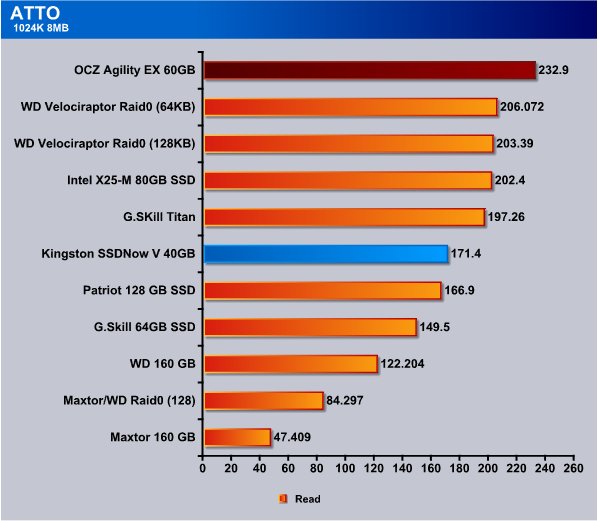 The Kingston SSDNow is rated to read at 170MB/s and we got a 171.4MB/s read speed on the ATTO 1024K 8MB test so the drive actually exceeded written specifications. The Intel 80GB drive have a 16MB cache in this generation drive, the SSDNow has 8MB cache and that might be what is making the difference in read speeds. The only other ways we know of moderating the speed is the controller and since this is a newer controller it should be faster. The other way is varying the densities of the Nand flash chips, since the SSDNow has all 8GB density chips we are assuming that the Nand flash chips are slower in this drive, or the smaller cache is making the difference. With the SSDNow running $119 less for the same capacity (two drives) we don't see 170MB/s as a bad thing.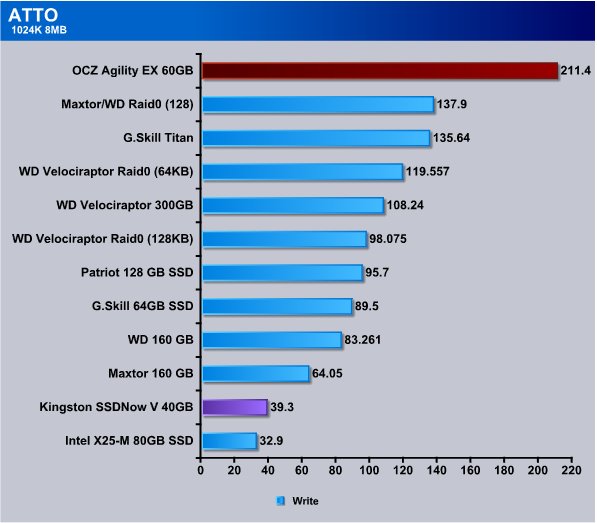 On the 1024K 8MB write test we see the SSDNow churning out 6+ MB/s more than the older Intel X25-M drive and find ourselves wondering what a couple of the SSDNow drives would do in Raid. If only we had a second SSDNow we would so RAID them and enjoy the benefits of relatively inexpensive SSD Raid.
HDTach
HD Tach is a physical performance hard drive test which utilizes a special kernel mode VXD in order to get maximum accuracy by bypassing the file system. A similar mechanism is used in Windows NT/2000.
The HD Tach sequential read test is a little bit different from other benchmarks. Most benchmarks create a file on the hard drive and test within that file.
The problem is that modern hard drives use a zone bit recording technique that allows different read speeds depending on where the data is located. Data on the outside of the drive is much faster than data recorded on the inside. SSD's are freed from this limitation due to their Nans Flash technology.
HD Tach reads from areas all over the hard drive and reports an average speed. It also logs the read speeds to a text file that you can load into a spreadsheet and graph to visually read the results of the test.
In addition to sequential read, HD Tach tests the drive's random access time. Random access is the true measure of seek speed. Many drives advertise sub 10 millisecond seek speeds, but seek speeds are misleading.
Finally, HD Tach tests the drive burst speed. The burst speed is the speed that data can be accessed from the drive's on-board read-ahead memory. This measures the speed of the drive and controller interface.
Once again we see the Intel X25-M drive coming in ahead of it's younger brother but it's hard for us to make a solid comparison between the two drives directly. Initially the X25-M retail cost a first born child and left leg, as opossed to the $115 SSDNow. At this price we don't have any complaints about 174.4 MB/s which again exceeds the drives specifications.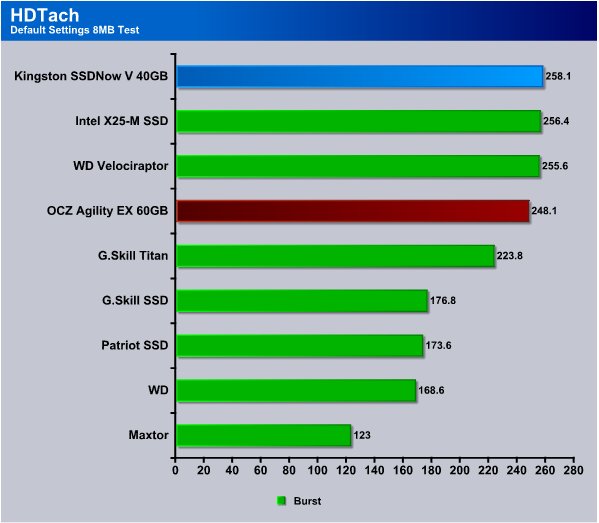 Burst mode usually represents a cache only drive hit and we don't really put much stock in burst modes. SO we can burst 8MB of data at 258.1 MB/s on the SSDNow. After that 8MB we drop back to 170(ish)MB/s so how much will that short burst improve performance on the long run.
HD TUNE PRO
HD Tune Pro is an extended version of HD Tune which includes many new features such as: write benchmark, secure erasing, AAM setting, folder usage view, disk monitor, command line parameters and file benchmark. HD Tune Pro is a computer benchmarking application that can test the performances of any PC.
Here are some key features of "HD Tune Pro":
Benchmark: measures the raw performance
Transfer Rate
Access Time
CPU Usage
Burst Rate
Hard Disk information which includes firmware version, serial number, disk capacity, buffer size, transfer mode
Hard Disk Health
S.M.A.R.T. Information (Self-Monitoring Analysis and Reporting Technology)
Temperature
Power On Time
Copy text to clipboard
Copy screenshot to clipboard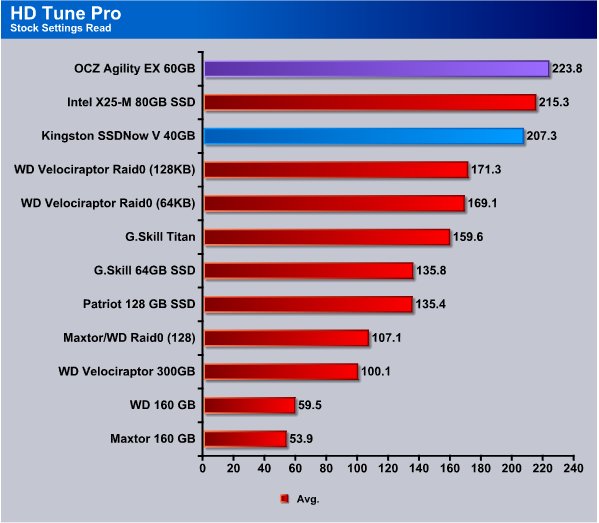 The result we got on HD Tune Pro we confirmed with another reviewer that has the identical drive and he also got above 200MB/s on a drive that officially supports up to 170MB/s so we went ahead and charted it but this has us wondering about the viability of HD Tune Pro for SSD's.
The MAx speed we got on HD Tune Pro from the Kingston drive was 215.2 MB/s and the drive fell in the top 3 on the chart so for a $115 drive it's really fast.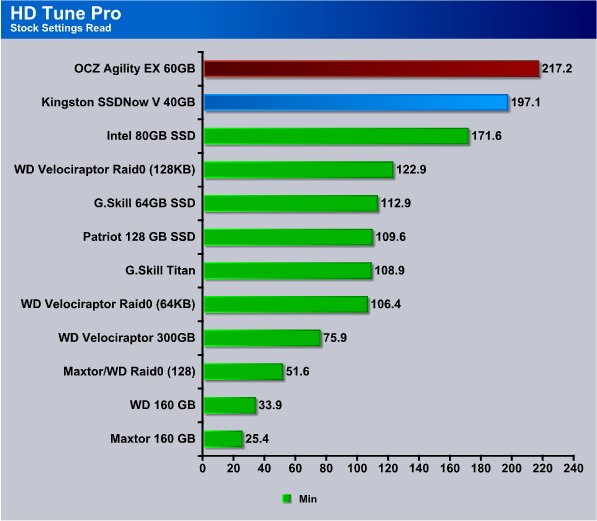 The SSDNow pulls a 197.1 MB/s and beats it's older brother by more than 25MB/s in the mnimum speed test in HD Tune Pro so the SSDNow is looking good here.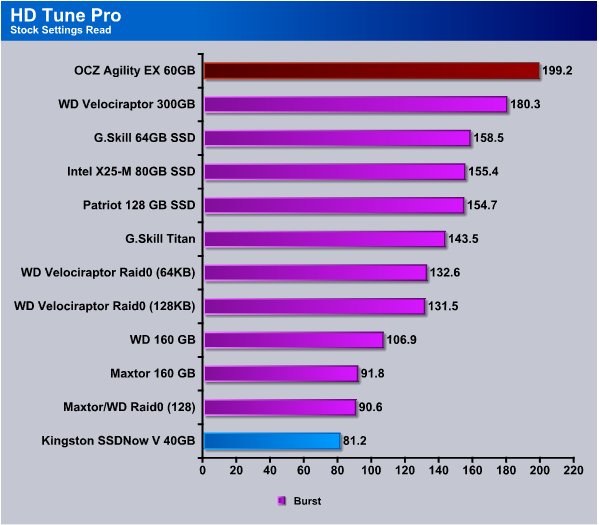 THe Burst test in HD  Tune Pro was a little lacking, since we don't rely on Burst speeds for scoring it's not an issue for us.
Crystal Disk Mark
Crystal DiskMark is a simple hard disk benchmarking software that can perform sequential or random read/write tests on a selected drive. You can select the number of read/write operations as well as the size of the data sample. The program presents you with easy to read MB/s results for each test. Standalone software, no installation required.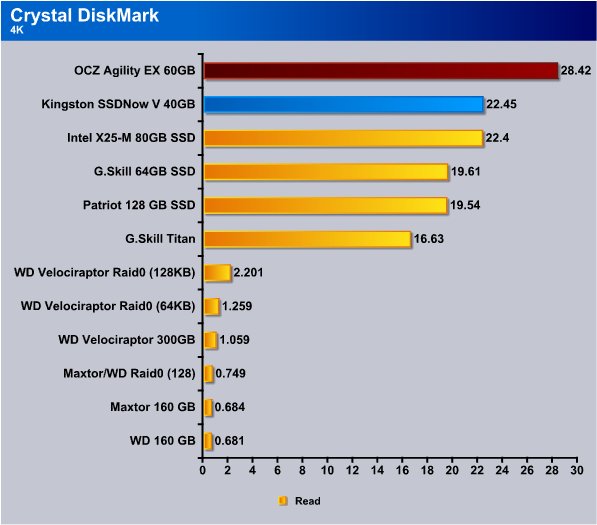 Any 4K test we've seen is brutal to both the drive and performance, the Intel X25-M came in slightly behind the Kingston SSDNow and only by a margin of 0.05MB/s. Both drives turned in better than 22MB/s which is pretty amazing for the 4K read test.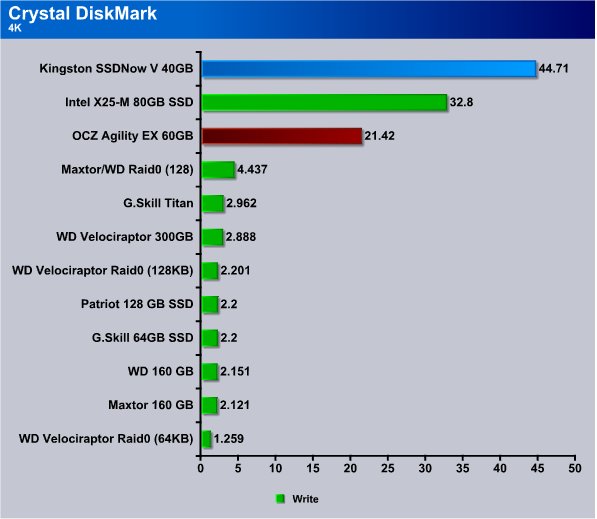 The CDM 4K write test is one of the largest differences we see between the Intel X25-M and the Kingston SSDNow V 40 GB drives. The Kingston SSDNow literally puts a whipping on the Intel drive and churns out twice the performance.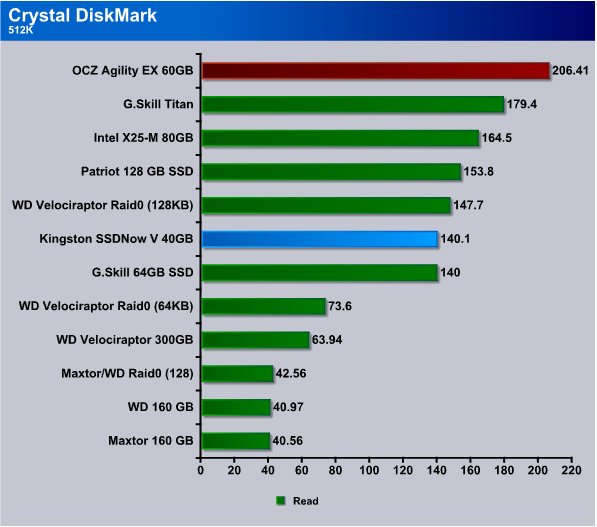 The 512K test shows the Kingston drive back at 140MB/s and the Intel drive at 164.5MB/s and if you notice older traditional platter drives are lucky to hit 40MB/s, that puts the 140MB/s speed in perspective. Newer platter drives will do considerably better due to platter density on the drives, so if your holding on for dear life with an older drive it might be time for a Kingston SSDNow Boot drive and use that older drive for a data drive.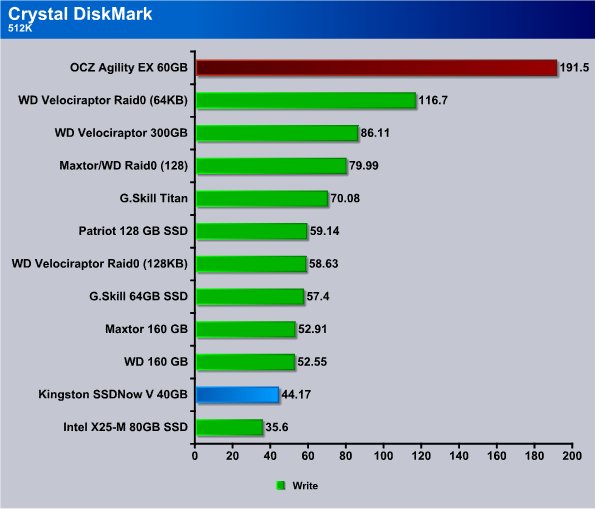 Like we mentioned before write speed is the Archilles heel of the Intel drive family. The newer controller on the Intel drive produces about 9MB/s better performance than the older Intel X25-M but both drives bottom out the chart.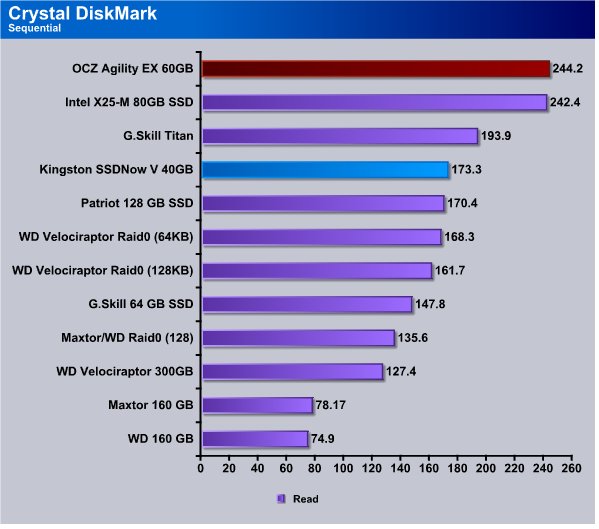 In the Sequential read test the SSDNow came in at a more than respectable 173.3 MB/s and the Intel X25-M drive which did well in all larger writes came in at 242.4. Given the price differences from a price performance standpoint we'd say the SSDNow is still on top. Strictly performance the Intel drive dominated this one and was the fastest Nand Flash based MLC drive we have tested in this particular test.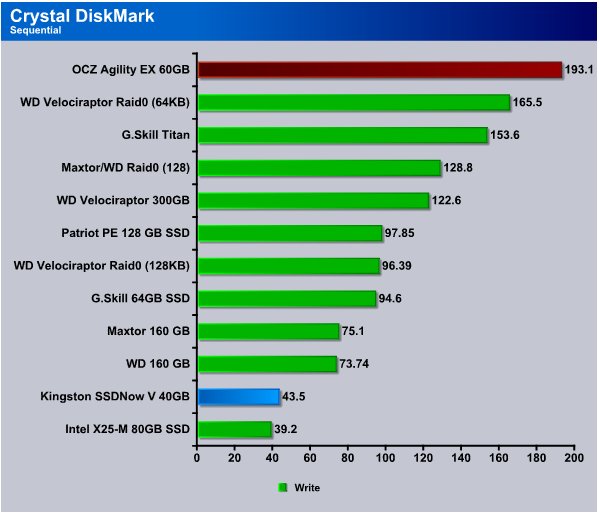 The reality sinks back in and we hit another write test and while intellectually we know an optical drove (CDROM/DVD) can't saturate the bandwidth the SSDNow offers the low write speed still bothers us a little. It doesn't bother us enough to keep from buying a second drive and Raiding them after the drive becomes commercially available. Actually we'll probably buy two and run 3 in Raid0.
AS SSD Benchmark
We are just starting to use AS SSD Benchmark on a regular basis, now that it's had a few revisions and produces reliable results we will add drives as we go. In the mean time this round we only have the SSDNow and OCZ Agility on the chart, as we mentioned we are not comparing the Value based SSDNow to the expensive ($400) Agility drive but we wanted to show the speed of the SSDNow on the new benchmark so we are posting the charts.
AS SSD Benchmark is a new addition to the SSD Testing arsenal at Bjorn, still in development by a German Systems Developer his thread about AS SSD Benchmark can be found on the OCZ Forums. www.ocztechnologyforum.com/forum/showthread.php
The benefits of the AS SSD Benchmark are:
Good precision of results
Simplicity of use
Optimized for SSD
Screenshot-function
It's freeware
Another benefit of the AS SSD Benchmark is it's still in development and being updated as SSD technology advances. We'll have to wait and see if it survives the test of time.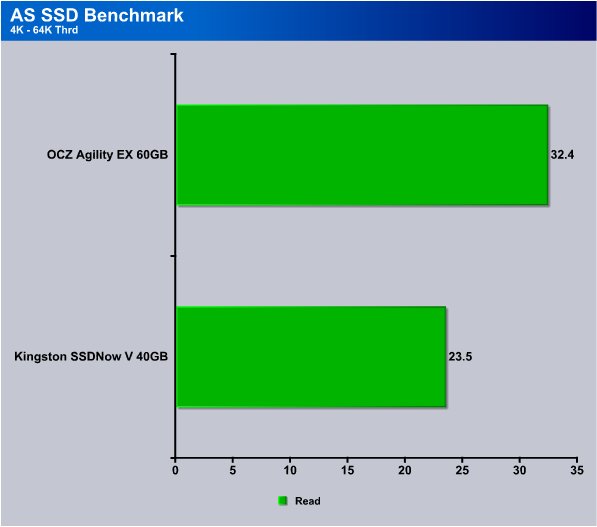 The 4k-64k Thrd test in AS SSD is a threaded test that used multi-threaded reads and writes to test the drive. In this chart it's the read portion and the Kingston drive hit 23.5 which is a decent score for a value based drive.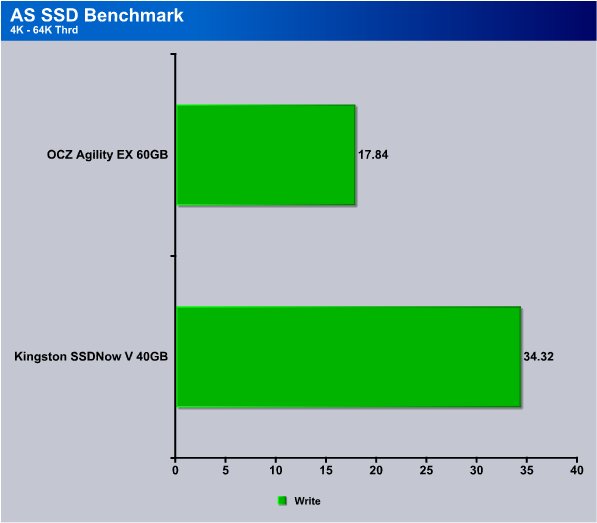 The 4k-64k Thrd write test shows the advantage of the Intel controller in the SSDNow V drive. We believe that when Intel designed the controller they had less expensive server drives in mind. Server applications tend to be a lot of smaller writes and usually Intel M class drives do well with smaller writes.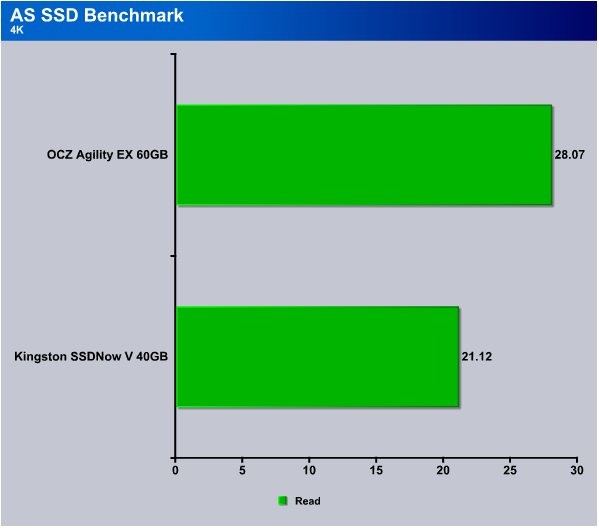 In the 4k read test which is generally brutal on any drive the SSDnow turned in a 21.12, the Agility drive turned in a 28.07 but cost 4x as much so the Kingston drive has a pretty good bank for buck aspect to it.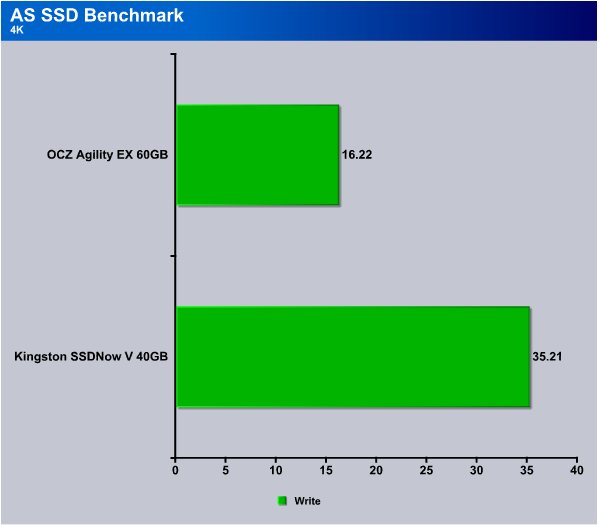 Here again we see the value based Kingston drive turns out 35.21MB/s which is more than double the more expensive Agility drive.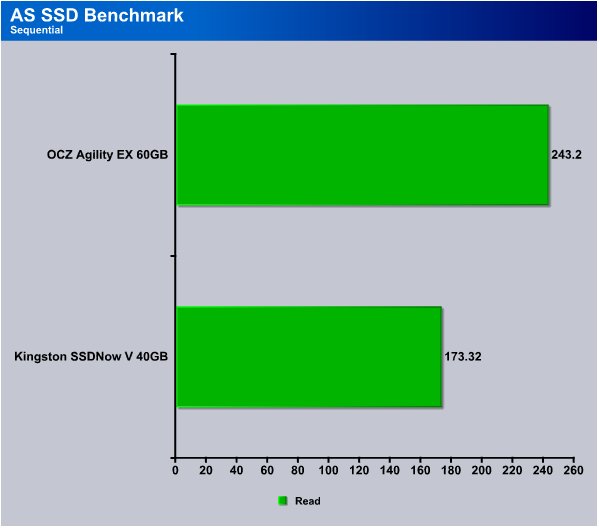 The Sequential read test shows the Kingston SSDNow turning in a slightly higher read rate than it rated at (170MB/s).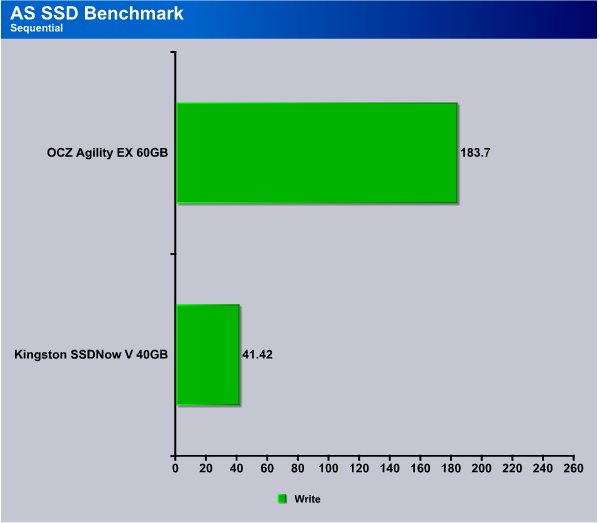 The the same thing that makes the SSDNow effective at small server type writes is it's weak point in sequential writes. Like we mentioned though since we write one and read hundreds of times it's not much of an issue for us.
Conclusion
We've been waiting for SSD's to drop in price so they can mainstream and this may be the first shot in the mainstream war. It's not quite what we were hoping for but with the $85 (after MIR) price tag the Kingston SSDNow V is a major step in the right direction. The 40GB capacity is too small for a primary drive but most of us already have large platter drives so just readjust the thinking and use the 40GB SSD for a boot drive and install large cumbersome programs to the platter drive.
We did just that with a 1TB Barracuda LP green drive and made the Kingston SSDNow the primary boot drive. Previously with the Barracuda LP as the boot drive we got a 5.5 in Windows 7 for the hard drive performance. After we installed the Kingston SSDNow the score jumped to 7.5 on the HD.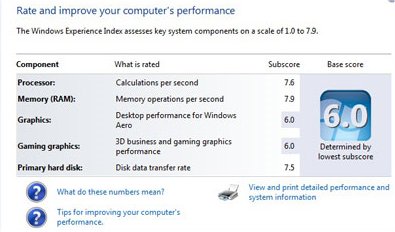 We also ran PCMark Vantage and the HD suite testing on the LP drive had us at around 3k, with the SSDNow we scored well over 7k so there are real life advantages to running a boot drive SSD.
On top of all that, the small price, the upgrade kit made it a snap to clone the existing drive to the SSD and we were up and running in about 16 minutes (14GB data on the LP drive). Then we had the little accident where a 50LB child stood on the drive and did a little bunny hop on it and it's still running like a champ so the Kingston SSD is built like a tank.
For the price we can easily recommend running a Kingston SSDNow V 40GB drive as a primary boot drive. Performance shot off the scale and Windows and the system responded much faster. Leave it to Kingston to bring an SSD into the acceptable price range with quality Intel components inside. Good job Kingston.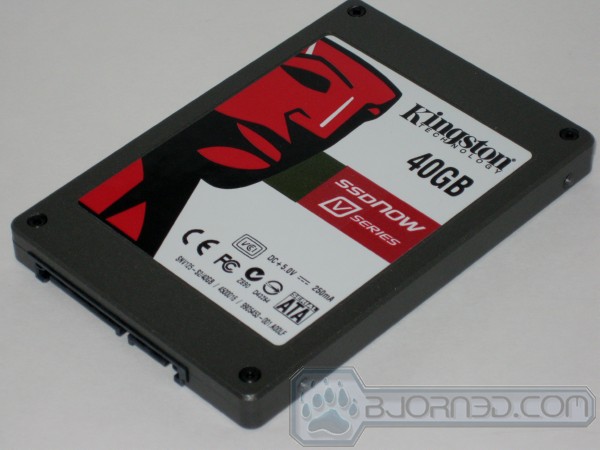 We are using an addition to our scoring system to provide additional feedback beyond a flat score. Please note that the final score isn't an aggregate average of the new rating system.
Performance 8.5
Value 10
Quality 10
Warranty 9
Features 9
Innovation 9
Pros:
+  System Is Snappier
+  Fantastic RAID Like Speed
+  Quiet
+  Never Gets Hot
+  Standard SATA Interface
+  Easy To Hide In The Chassis
+  Did We Mention Fast Really Fast
Cons:
– Price Still Higher Than Traditional Platter Drives
– Write Speed Mediocre
The Kingston SSDNow V 40GB SSD has an Intel controller and Intel Nand flash, read performance was very good, write performance was in the normal range for an Intel SSD but that's not hte big story here. Value and accessibility is the big story, most enthusiasts can afford the 40GB SSDNow and it provides a signifigant upgrade from traditional platter drives so it earns a:
Final Score: 8.5 out of 10 and the Bjorn3D Seal Of Approval.

With the exceptional value it represents it also earns a Bjorn3D Best Bang For The Buck Award!

Kingston Second Generation SSDNow V+ Series:
Kingston Second Generation SSDNow V+ Series Bundle Kits: