Need a small low platform video card for your HTPC? Look no further than the Leadtek GT220! This card will satisfy all your HTPC needs as well as some minor gaming!
Introduction
There are many video cards out there to satisfy gamers, multimedia users and other 3D work related users, however there are not many video cards out there that can be used in low profile system. Not only that, but some low profile video cards are also weak in performance. It is getting hard to find a decent card which will give excellent performance while watching your HD movies or just playing some games. But there might be some good news. The new Leadtek GT220 video card is a small standard or low-profile video card that will allow you to watch your favorite HD movies at home as well as put on some mild gaming every now and then.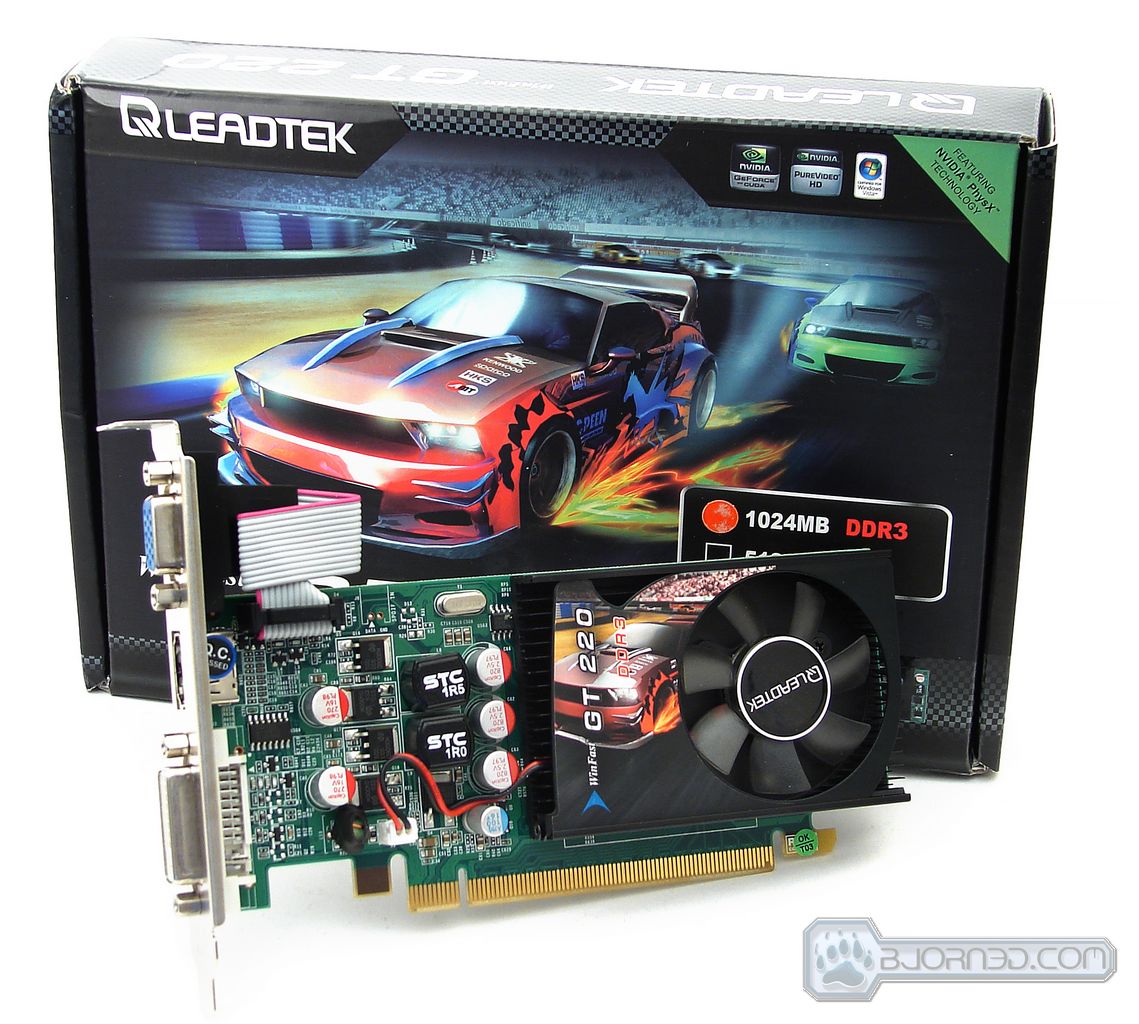 This is not the only reason why the new lineup of the GT220s are exciting. The GT220 is a inexpensive card which means that in the current economy if you are thinking about upgrading from an onboard graphics to a more powerful video card, the GT220 won't break the bank and will perform excellent. This card can handle all the newest games on the market, but of course there is a price to pay… the way your games will look. If you are not too concerned about the bling in the games, then you will enjoy this video card.
Features
Highlight
PCI Express 2.0 provides support for next generation PC platforms and doubles the interconnect bit rate from 2.5 GT/s to 5 GT/s (PCI Express 2.0 card is fully backwards compatible with existing PCI-E 1.0 motherboards)
The 40nm process technology, better performance & power management
Support HDMI output
Compatible with Microsoft Windows 7
NVIDIA® PureVideo™ HD delivers the ultimate HD movie experience when playing Blu-ray and HD-DVD
Support NVIDIA® PhysX technology
Ultra-high speed 1024MB DDR3 memory
Support Dual-Link DVI with awe-inspiring 2560×1600 resolution
Full Microsoft® DirectX® 10.1 Shader Model 4.1、OpenGL®3.1support*
Ultra-smoothly playback H.264, VC-1, WMV and MPEG-2 HD and SD movies
*Requires R190 drivers or later
Features
High-Speed 1024MB DDR3 Memory on Board  
Enhanced memory speed and capacity ensures more flowing video quality in latest gaming environment especially in large scale textures processing
PCI Express 2.0 support
Designed to run perfectly with the new PCI Express 2.0 bus architecture, offering a future-proofing bridge to tomorrow's most bandwidth-hungry games and 3D applications by maximizing the 5 GT/s PCI Express 2.0 bandwidth (twice that of first generation PCI Express). PCI Express 2.0 products are fully backwards compatible with existing PCI Express motherboards for the broadest support.
HDCP Capable
Allows playback of HD DVD, Blu-ray Disc, and other protected content at full HD resolutions with integrated High-bandwidth Digital Content Protection (HDCP) support. (Requires other compatible components that are also HDCP capable.)
Dual-Link DVI
Supports hardwares with awe-inspiring 2560-by-1600 resolution, such as the 30-inch HD LCD Display, with massive load of pixels, require a graphics card with dual-link DVI connectivity.
Support Microsoft® DirectX® 10.1 Shader Model 4.1、 OpenGL®3.1
The standard for today's PCs and next-generation consoles enables stunning and complex effects for cinematic realism.
*Requires R190 drivers or later
NVIDIA® unified architecture
Fully unified shader core dynamically allocates processing power to geometry, vertex, physics, or pixel shading operations, delivering up to 2x the gaming performance of prior generation GPUs.
GigaThread™ Technology
Massively multi-threaded architecture supports thousands of independent, simultaneous threads, providing extreme processing efficiency in advanced, next generation shader programs.
Dual 400MHz RAMDACs
Blazing-fast RAMDACs support dual QXGA displays with ultra-high, ergonomic refresh rates up to 2048×1536@85Hz.
NVIDIA® PureVideo ™ HD technology
The combination of high-definition video decode acceleration and post-processing that delivers unprecedented picture clarity, smooth video, accurate color, and precise image scaling for movies and video.
NVIDIA® Lumenex™ Engine
Delivers stunning image quality and floating point accuracy at ultra-fast frame rates.
16x Anti-aliasing: Lightning fast, high-quality anti-aliasing at up to 16x sample rates obliterates jagged edges.
128-bit floating point High Dynamic-Range (HDR): Twice the precision of prior generations for incredibly realistic lighting effects
High dynamic-range (HDR) Rendering Support
The ultimate lighting effects bring environments.
NVIDIA® nView® multi-display technology
NVIDIA® ForceWare™ Unified Driver Architecture (UDA)
Specifications
Specifications
Leadtek WinFast GT 220
GPU

NVIDIA GeForce GT 220

Graphics BUS

PCI Express 2.0 (fully backwards compatible with PCI Express)

Memory Size

1024MB DDR3

GPU/Memory Clock

625/790MHz

Memory data rate

1580MHz

Output

Dual-Link DVI, VGA, HDMI

Memory Interface

128-bit

Stream Process

48

RAMDACs (MHz)

400

Package contents

WinFast GT 220 1024MB DDR3 graphics card

User manual & Software disc

Quick installation guide

Low Profile bracket

System Requirements

Windows XP/ Vista/ 7

PCI Express or PCI Express 2.0-compliant motherboard with one x16 graphics slot

Minimum 300W or greater system power supply

DVD ROM drive for software installation

A VGA or DVI compatible monitor

Software Bundled

WinFast Graphics Driver DVD (w/WinFox III)
| | | |
| --- | --- | --- |
| Model | WinFast® GT 220 (ATX) | WinFast® GT 220 (ATX) |
| Graphic Bus | PCI-Express 2.0 | PCI-Express 2.0 |
| GPU | NVIDIA ® GeForce® GT 220 | NVIDIA ® GeForce® GT 220 |
| Core Clock | 625 MHz | 625 MHz |
| Memory Data Rate | 1580 MHz | 1000 MHz |
| Memory Size | 1024MB DDR3 | 1024MB DDR2 |
| Memory Bandwidth | 128bit | 128bit |
| RAMDACs | 400MHz | 400MHz |
| Output | Dual-Link DVI, VGA, HDMI | Dual-Link DVI, VGA, HDMI |
| | | |
| --- | --- | --- |
| Model | WinFast® GT 220 (Low Profile) | WinFast® GT 220 (Low Profile) |
| Graphic Bus | PCI-Express 2.0 | PCI-Express 2.0 |
| GPU | NVIDIA ® GeForce® GT 220 | NVIDIA ® GeForce® GT 220 |
| Core Clock | 625 MHz | 625 MHz |
| Memory Data Rate | 1580 MHz | 1000 MHz |
| Memory Size | 1024MB DDR3 | 1024MB DDR2 |
| Memory Bandwidth | 128bit | 128bit |
| RAMDACs | 400MHz | 400MHz |
| Output | Dual-Link DVI, VGA, HDMI | Dual-Link DVI, VGA, HDMI |
The Leadtek Winfast GT 220 video card comes in 4 different forms. Two of these cards are DDR3 which have a higher 1580Mhz Memory Data Rate transfer speed, while the other two cards are DDR2 with 1000MHz Memory Data Rate transfer speed. The DDR3 and DDR2 model comes in either standard profile or low-profile. This allows users to use this card in a low-profile small form facter HTPC or other small form factor PC. Each of these video cards include DVI, VGA and HDMI connectors. The HDMI connector is very useful if you are considering on using this card for your HDTV. These cards also come in 1024MB or 512MB versions.
A Closer Look
Click Image For a Larger One
I was quite surprised when I received the Leadtek GT 220 in the mail. It was shipped from overseas and it only came in a shipping bag, and the box you see on the pictures. You can see that the box got damaged a bit throughout its shipping, however the card itself was well protected in the inside so no damage was done to the video card itself. The GT 220 boxing is quite simple and has a clean look. It shows the size of the memory that the card will have with a little circular sticker.
Click Image For a Larger One
Here is the back side of the box. Here you can see a bit more of the damage being done to the box but the box was sturdy enough to keep the video card intact. The second image shows the WinFast GT 220. This card is very small and only measures about 6.5 inches in lenghth and the fan is about 55mm in size.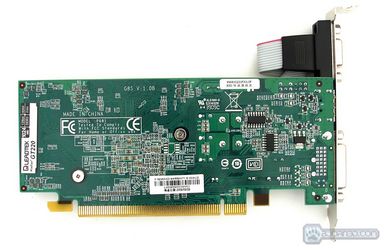 Click Image For a Larger One
This is the back side of the GT 220. We can see here that the card is certified with the CE, which is the certification for the EU consumer safety, health or environmental requirements. This is an interesting part of this video card, because during testing our wireless network was lost completely. The conclusion will explain our findings about this a bit more.



 Click Image For a Larger One
Here are three pictures of the card from the side view. One the first one we can see that the heatsink has an open section on the side allowing cold air to pass through easily. The second picture shows that this card is a single slot card which means that it will not take up dual slots in the back of the system allowing the user to put another card right next this the video card. And finally the back of the card shows that this card comes with a VGA, HDMI and DVI connector.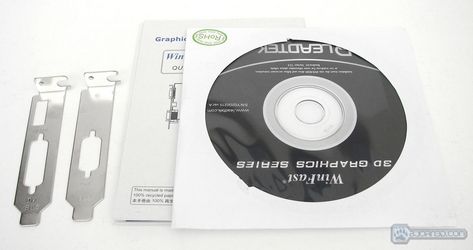 Click Image For a Larger One
Here are the accessories that were included with this bundle. While its not much, it's enough for what it is designed for. There are two low-profile brackets included with this depending on your choice, you might want to use one or both in a low profile configuration. When using both, you cannot have another card right next to the video card, however it allows you to use the GT 220 with VGA, DVI, and HDMI. If you do not need VGA, then you can use only 1 bracket with the DVI and HDMI connector.
Testing Methodology
To test this card, we did a fresh load of Windows 7 Professional 64-bit and applied all the patches and updates for the OS, then we updated all the motherboard drivers and made sure that we had the latest video card drivers.We ran each test 3 times and averaged the results, the average of those results are reported here. Below is a detailed list of the components used during testing.
Test Rig
Case
Silverstone Temjin Series TJ10B
CPU
Intel Core I7 920 Extreme 2.66Ghz @ 3.8Ghz (vcore 1.35v)
Motherboard
ASUS P6T SE X58 Motherboard
Ram
OCZ DDR3-12800 1600Mhz (7-7-7-18 1.66v) 12GB Kit
CPU Cooler
Custom Water Cooling Loop from AcousticPC
Hard Drives

2x Western Digital RAID Edition 3 1TB Hard Drives

2x Seagate Barracuda 7200.11 500GB Hard Drives

Optical
Sony DVD R/W
GPUs Tested


EVGA GeForce GTS 250 1024MB

ASUS EN8500GT TOP 512MB

Leadtek WinFast GT 220 1024MB

Case Fans

2x Noctua NF-P12 120mm Fans – Top on Radiator

1x Silverstone 120mm Fan – Back

1x Silverstone 120mm Fan – Front

1x Noctua NF-P12 120mm Fan – Hard Drives Front

Additional Fans

1x Cool-It Memory Fan Cooler

PSU

Sapphire PURE 1250 Watt Modular Power Supply

Mouse
Logitech G5
Keyboard
Logitech G15
Overclocking
To overclock the Leadtek GT220 I used RivaTuner. I slowly increased the clocks by 10 MHz until the system became unstable, then I backed down the clocks a bit and tested for stability. I kept lowering the clocks until the system was rock solid. Below where my results. 
| Core Clock | Shader Clock | Memory Clock |
| --- | --- | --- |
| 670 | 1623 | 820 |
The card didn't overclock that well, and this overclock probably doesn't make a big difference from what it was previously but it will give 1 or 2 more fps in games.
TEMPERATURES
Temperature is one of the parts that some current manufacturers don't really pay attention too. It is time to come out with new technologies allowing us to further develop our chips and maintain low temperatures. This is why we at Bjorn3D pay close attention to making sure that each product is measured and reported with accurate temperature readings.
| Idle Temperature | Load Temperature |
| --- | --- |
| 25C | 44C |
The video card performed really well in the temperature range. Our ambient temperature was 21C. The fan was a bit loud but overall the temperatures were great. We would like to see the fan being adjusted automatically depending on the work loud however. 
Synthetic Benchmarks & Games
The benchmarks we ran to test for the performance of the card compared to other two cards.
Synthetic Benchmarks & Games
3DMark 06
3DMark Vantage
Crysis
Crysis Warhead
Far Cry 2
H.A.W.K.S.
3DMARK06 V. 1.1.0
3DMark06 developed by Futuremark, is a synthetic benchmark used for universal testing of all graphics solutions. 3DMark06 features HDR rendering, complex HDR post processing, dynamic soft shadows for all objects, water shader with HDR refraction, HDR reflection, depth fog and Gerstner wave functions, realistic sky model with cloud blending, and approximately 5.4 million triangles and 8.8 million vertices; to name just a few. The measurement unit "3DMark" is intended to give a normalized mean for comparing different GPU/VPUs. It has been accepted as both a standard and a mandatory benchmark throughout the gaming world for measuring performance.
We can see a big drop from the GTS 250 to the GT 220, however this is accepted due to the overall stream proceses on the GT220 and the memory speeds. The GT 220 has however impressed us with double the performance of the 8500GT 512mb video card.
3DMark Vantage
For complete information on 3DMark Vantage Please follow this Link:
www.futuremark.com/benchmarks/3dmarkvantage/features/
The newest video benchmark from the gang at Futuremark. This utility is still a synthetic benchmark, but one that more closely reflects real world gaming performance. While it is not a perfect replacement for actual game benchmarks, it has its uses. We tested our cards at the 'Performance' setting.
Currently, there is a lot of controversy surrounding NVIDIA's use of a PhysX driver for its 9800 GTX and GTX 200 series cards, thereby putting the ATI brand at a disadvantage. Whereby installing the PyhsX driver, 3DMark Vantage uses the GPU to perform PhysX calculations during a CPU test, and this is where things get a bit gray. If you look at the Driver Approval Policy for 3DMark Vantage it states; "Based on the specification and design of the CPU tests, GPU make, type or driver version may not have a significant effect on the results of either of the CPU tests as indicated in Section 7.3 of the 3DMark Vantage specification and white paper." Did NVIDIA cheat by having the GPU handle the PhysX calculations or are they perfectly within their right since they own Ageia and all their IP? I think this point will quickly become moot once Futuremark releases an update to the test.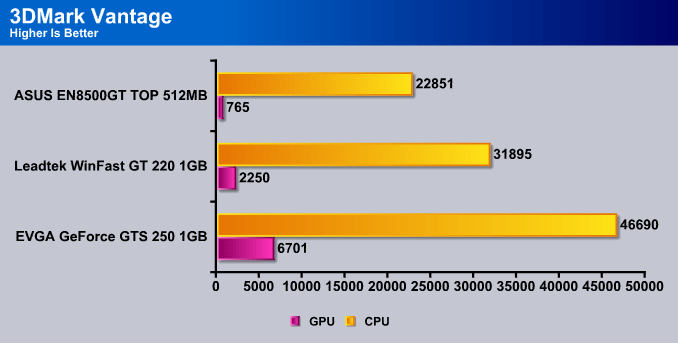 In this test, we can see a bigger drop in performance compared to the previous 3DMark 06 test. This shows that DX10 has a bigger effect on the card than DX9 presented in 3Dmark 06.
Crysis v. 1.21
Crysis is the most highly anticipated game to hit the market in the last several years. Crysis is based on the CryENGINE™ 2 developed by Crytek. The CryENGINE™ 2 offers real time editing, bump mapping, dynamic lights, network system, integrated physics system, shaders, shadows, and a dynamic music system, just to name a few of the state-of-the-art features that are incorporated into Crysis. As one might expect with this number of features, the game is extremely demanding of system resources, especially the GPU. We expect Crysis to be a primary gaming benchmark for many years to come.

The Settings we use for benchmarking Crysis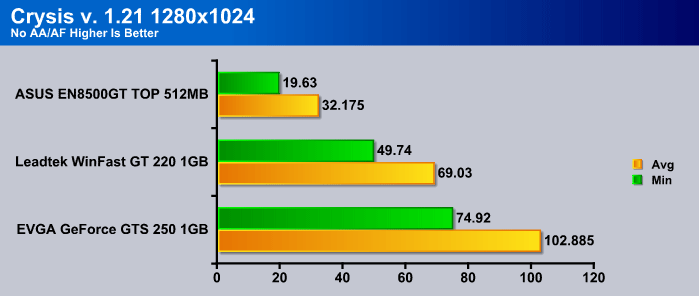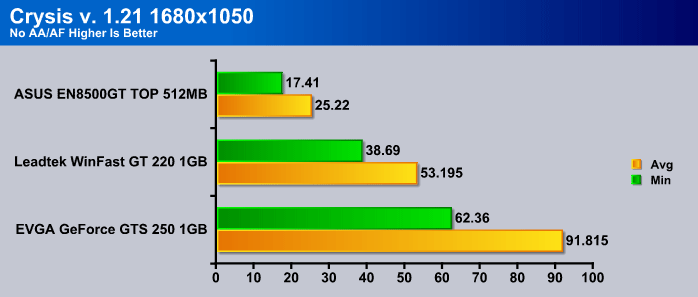 The Leadtek WinFast GT220 was able to keep up with acceptable performance in Crysis even at 1680×1050 under low settings. This only shows that you can crank up the quality a bit more before you start getting lower performance. The 8500GT is struggling here which makes it impossible to play the game with full enjoyment.
CRYSIS WARHEAD
Crysis
Warhead is the much anticipated sequel of Crysis, featuring an updated CryENGINE™ 2 with better optimization. It was one of the most anticipated titles of 2008.
The Settings we use for benchmarking Warhead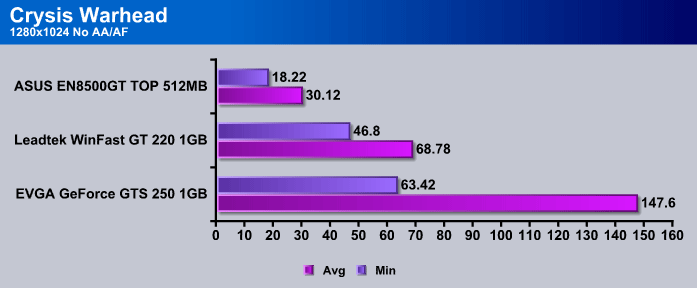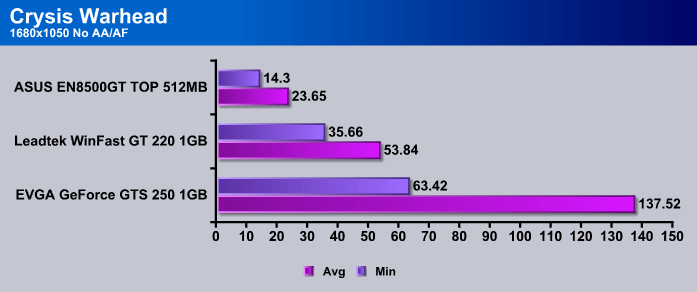 In these results we can see the same thing happeneing than in the previous Crysis test, however the 8500GT has performed even worse in minimum frames per second. The Leadtek WinFast GT 220 was able to keep up with about the same frames per second as in Crysis.
Far Cry 2
Far Cry 2, released in October 2008 by Ubisoft, was one of the most anticipated titles of the year. It's an engaging state-of-the-art First Person Shooter set in an un-named African country. Caught between two rival factions, you're sent to take out "The Jackal". Far Cry2 ships with a full featured benchmark utility and it is one of the most well designed, well thought out game benchmarks we've ever seen. One big difference between this benchmark and others is that it leaves the game's AI (Artificial Intelligence) running while the benchmark is being performed.
 The Settings we use for benchmarking FarCry 2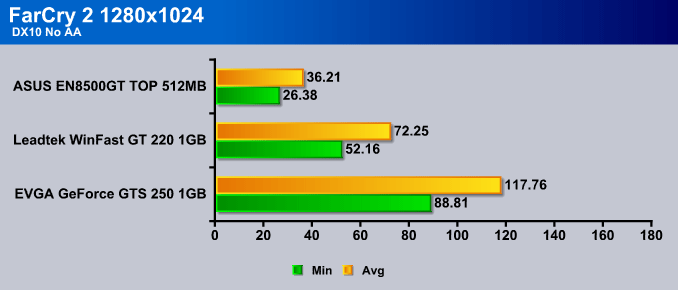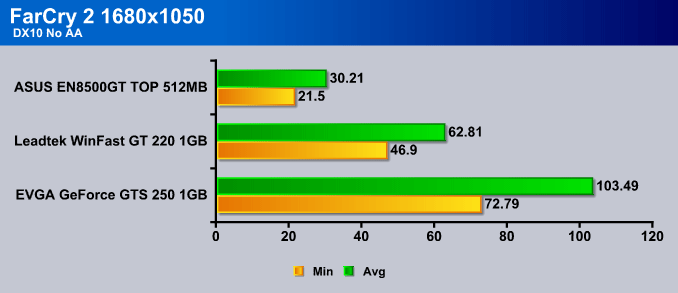 FarCry 2 has performed better than Crysis performance wise, which allows users to up the quality a bit before they start getting low frames per second. Seeing an average of 62.81FPS at low settings is very nice. The Performance to the GTS 250 was close too if you think about it as being faster than half of the performance of the 250.
HawXS
The story begins in the year 2012. As the era of the nation–state draws quickly to a close, the rules of warfare evolve even more rapidly. More and more nations become increasingly dependent on private military companies (PMCs), elite mercenaries with a lax view of the law. The Reykjavik Accords further legitimize their existence by authorizing their right to serve in every aspect of military operations. While the benefits of such PMCs are apparent, growing concerns surrounding giving them too much power begin to mount.
Tom Clancy's HAWX is the first air combat game set in the world–renowned Tom Clancy's video game universe. Cutting–edge technology, devastating firepower, and intense dogfights bestow this new title a deserving place in the prestigious Tom Clancy franchise. Soon, flying at Mach 3 becomes a right, not a privilege.
All the settings where set to low.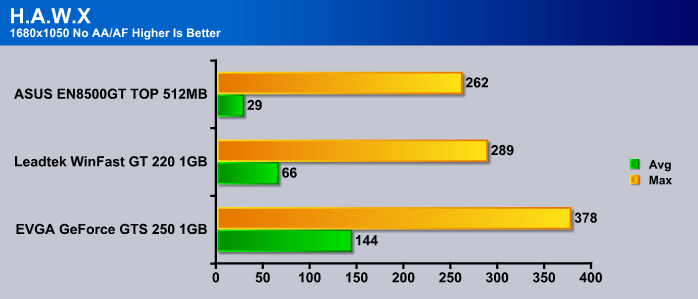 And finally H.A.W.K.S. This game had the same characteristics as any other game that was tested on these video cards, so there is not much to say here.
Conclusion
The Leadtek WinFast GT 220 1GB video card has performed exceptionally compared to what we were expecting. Its speed compared to the ASUS 8500GT was very good, and sometimes it was even more than twice as fast as the 8500GT. These results show that all the latest games can be played on the video card, however you might have to sacrifice quality in the game. For some this might not be a problem but for others it might. On the other hand if you are only interested in mild gaming or no gaming at all, this video card will make an excellent HTPC video card. It's low-profile design makes it easy to even install it in small form factor chassies.
One thing we would like to mention though was the cards weird interference with other hardware like Wireless devices. We have noticed with two different brand wireless network cards from DLink and MyEssiencials, that whenever the Leadtek GT 220 was installed, we have lost internet connection from the wireless network card. To test for interference, we have connected a USB based wireless network card to a long USB cable which we moved around to see how the singnal strength will vary depending on its position. We moved the wireless card away from the computer system but did not notice any difference in signal strenght. Once we started getting close to the system, the signal was the same but the internet connection was lost. We tested the other video cards as well in the same system with no interference at all. This has to mean that there is a higher amount of RF and or EMI interference that prevents the wireless network cards to communicate with the router correctly. The signal is there but it seems to corrupt the data during transfering. Most of the time the wirless network was not even able to establish a connection with the router. This makes us wonder how the card could have passed the CE certification.
This could be a configuration problem on how the cards are positioned in a system. Upon moving the card over to another system with a different WiFi Adapter the issues stopped. Either some cards are effected, or the system configuration is at fault.
Another small thing is this card is pretty loud with its small fan. We recommend using another cooler with this card if you are thinking about using it for a HTPC setup where you woneed a quiet system.
Overall this card was a pleasure to work with. Here is our scoring for the card: 
OUR VERDICT: Leadtek WinFast GT 220 1GB Video Card
| | |
| --- | --- |
| Performance | 8 |
| Value | 9 |
| Quality | 6 |
| Features | 7 |
| Innovation | 7 |

We are using an addition to our scoring system to provide additional feedback beyond a flat score. Please note that the final score isn't an aggregate average of the rating system.

Pro

Cons

Excellent performance compared low-end cards.

Low-Profile Design

Low Power Consumption

Low Heat

RF and or EMI interference with WiFi adapters

Loud Fan




 

Summary: If you are in the market for a low-profile HTPC, or a card that won't break the bank, this card might be it. The Leadtek WinFast GT 220 DDR3 1GB video card will even satisfy HTPC users and mild gamers!