With Win 7 on the shelves raw ram speed might not be the key, the size of the kit might be more important. We tested a Kingston HyperX 8GB kit, but we tested it with 4GB and 8GB
INTRODUCTION
With Windows 7 on the store shelves and shipping we are hearing that raw ram speed might not be the key to better performance in Windows 7. We've always felt that the amount of ram was just as important as raw ram speed but in Windows 7 and all 64bit OS we see advantages to more ram. Most end users end up in the 1333 – 1600MHz range anyway so we got two kits of ram each 8GB in size and running at 1600MHz. We tested both on our normal suite of memory tests, then fired up Windows 7 Professional and tested both kits using a 4GB and 8GB configuration to check and see if the claims of improved performance with larger kits held any truth.
We think you will be somewhat surprised with the results we know we were. While we are using native 8GB kits there's no reason why you can't start with 4GB (2x2GB) and later buy an identical kit and run 8GB. We prefer to run 8GB out of the gate and Kingston was nice enough to send some of our favorite ram for the test. Yes that's right the always popular Kingston HyperX. Easy to run, easy to tune and overclocks like a champion.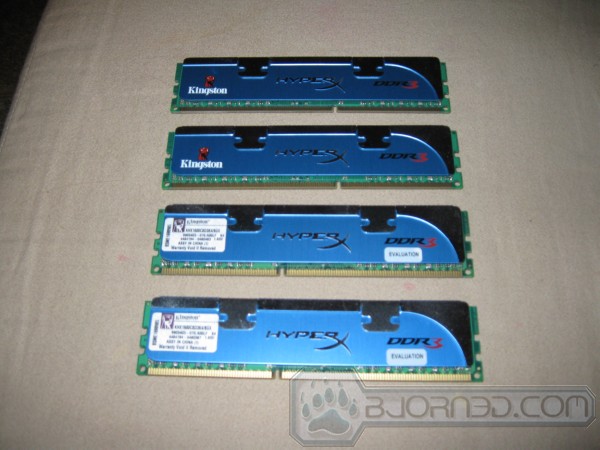 With so many large CPU coolers out there Kingston went with a low profile kit so if the CPU cooler in your rig overhangs the ram banks the kit should still fit. We like both Kingston heatspreader designs, the low profile and newer T1 tall heatspreader, but sometimes you just have to have low profile ram.
Specifications
Kit Number KHX1600C8D3K4/8GX
Timings 8-8-8-24
Density 8GB (4x2GB)
Voltage 1.65v
Speed 1600MHz
Type DDR3 Low Voltage
Pins 240
Heatspreader Yes
Intel XMP Ready
Running at 1600MHz with 8-8-8-24 timings and 1.65v this kit is screaming for our new LGA 1156 Core i7 870 test rig.
Pictures & Impressions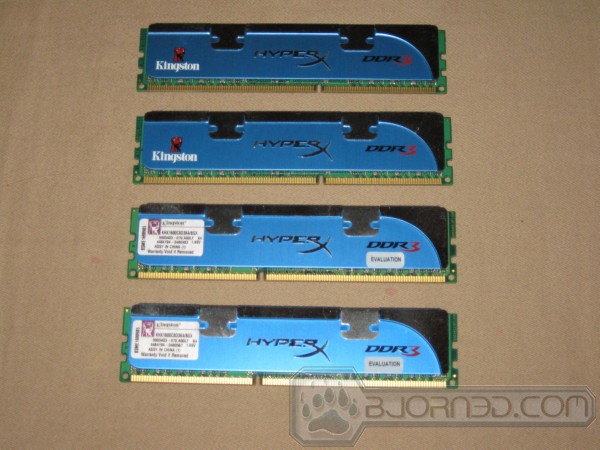 With Kingston's low profile IHS (Integrated Heat Spreader) this kit should be able to fit with almost any CPU cooler out there.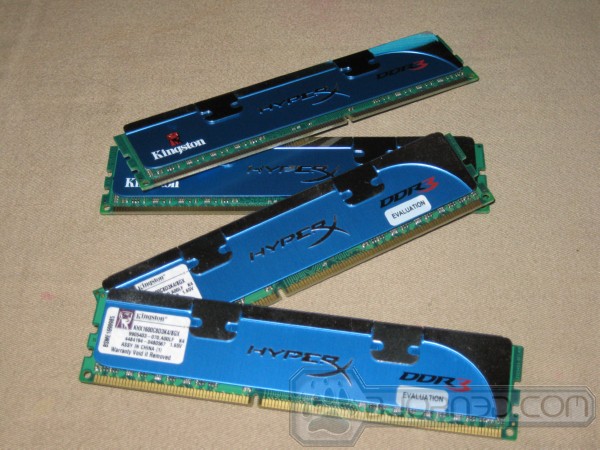 Kingston has a new tall T1 heatspreader on some of their kits and we like both styles, low profile and tall but sometimes if it's a tight fit you just have to have a low profile kit.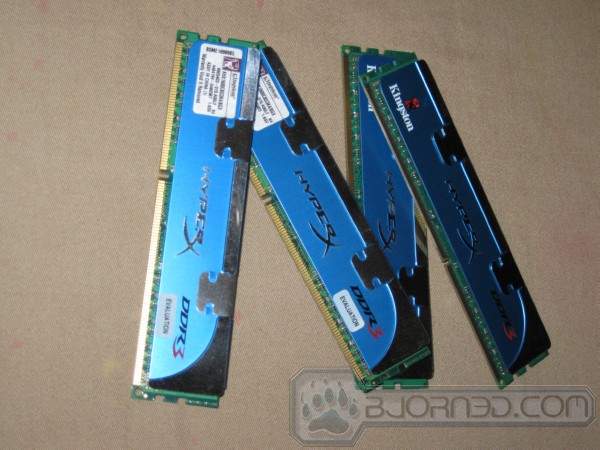 Our kit was so new off the factory line that it says Evaluation on it but we didn't find any traces of evaluation when it came to performance.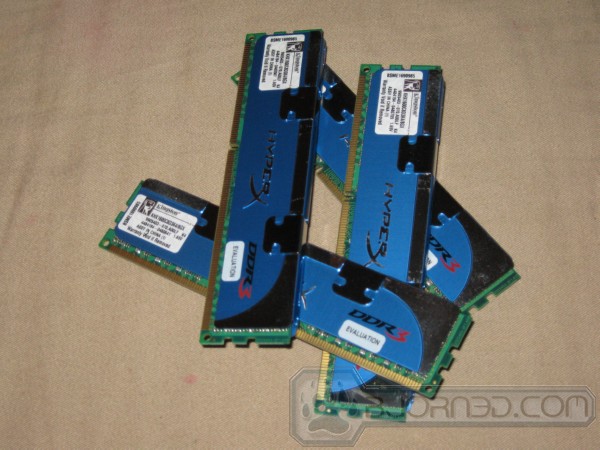 This kit was just screaming at us to get into the test rig and we couldn't wait any longer so lets get to the testing section.
Testing & Methodology
We did a fresh load of Vista Ultimate 64 bit on the Crucial 128GB SSD and loaded all the latest motherboard drivers for the Asus Maximus 3. We updated the BIOS to the newest available BIOS at the time of testing. We ran each test 3 times and report the average of each three pass run here.
Then after we ran our normal testing suite we installed a new HD with a fresh and update load of Windows 7 Professional on it and ran our Windows & tests. That way we can show results with the current OS, Vista, and show some results in Windows 7 which by the looks of it will quickly gain acceptance.
Test Rig
Test Rig
"Quadzilla i5"
Case Type
Sunbeam 9 Bay Acrylic Chassis
CPU
Core i7 870
Motherboard
Asus Maximus 3
RAM

Kingston HyperX DC DDR3 1600MHz 8GB Kit Cas 8 (KHX1600C8D3K4/8GX)

Corsair Dominator DC DDR3 1600MHz 8GB Kit Cas 8 (CMD8GX3M4A4A1600C8)

Patriot Viper 2 Sector 5 DC DDR3 2000MHz 4GB Kit Cas 8 (PVV34G2000LLKB)

Kingston HyperX DC DDR3 2133MHz 4GB Kit Cas 8 (KHX2133C8D3T1K2/4GX)

Corsair Dominator DC DDR3 1600MHz 4GB Kit Cas 8 (CDM4GX3M2A1600C8)

CPU Cooler
Thermalright Mux 120 (Dual 120mm Fans)
Hard Drives
Crucial 128 GB SSD(MLC/Samsung controller)
Optical
Sony DVD R/W
GPU(s)
BFG GTX-260 Maxcore
Case Fans
120mm Fan cooling the mosfet CPU area
Docking Stations
None
Testing PSU
Tagan BZ 700w Modular
Legacy
None
Mouse
Razer Lachesis
Keyboard
Razer Lycosa
Gaming Ear Buds

Razer Moray
Speakers
None
Any Attempt Copy This System Configuration May Lead to Bankruptcy

Test Suite
Synthetic Benchmarks & Games
SANDRA XII Professional
Everest Ultimate Edition v.4.60
SuperPi Mod 1.5XS
WinRar v.3.71 Compression Benchmark
Windows 7 Professional
Everest Ultimate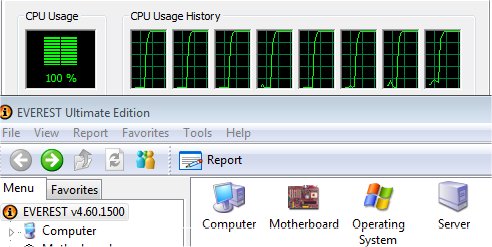 "EVEREST Ultimate Edition is an industry leading system diagnostics and benchmarking solution for enthusiasts PC users, based on the award-winning EVEREST Technology. During system optimizations and tweaking it provides essential system and overclock information, advanced hardware monitoring and diagnostics capabilities to check the effects of the applied settings. CPU, FPU and memory benchmarks are available to measure the actual system performance and compare it to previous states or other systems. Furthermore, complete software, operating system and security information makes EVEREST Ultimate Edition a comprehensive system diagnostics tool that offers a total of 100 pages of information about your PC."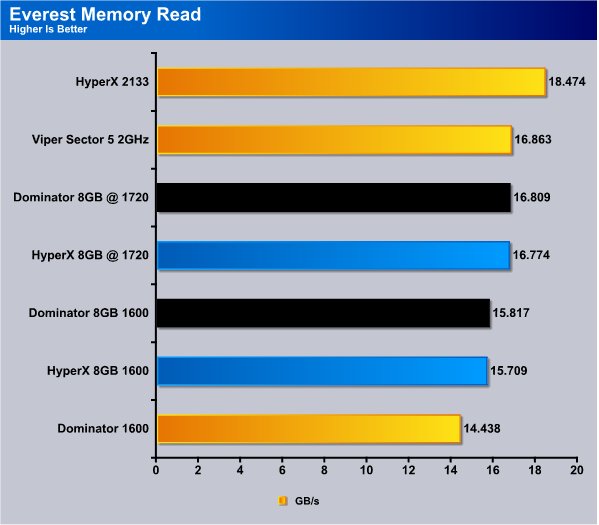 In the Everest Memory Read test the HyperX kit turned in 15.817GB/s which is a pretty amazing score considering that on the LGA775 platform we were lucky to see 9GB/s. When we overclocked the kit we got a nice little performance boost of just over 1GB/s. You should be aware we tested (OC) at 1720MHz which we consider safe for 24/7 operation but we reached astronomical speeds on this kit.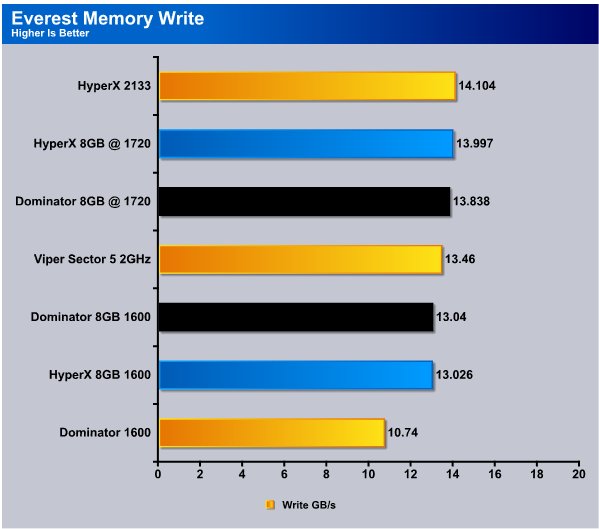 On the Memory Write test we saw the HyperX kit come in at 13.026GB's and overclocking the kit to 1720 got us more than 0.97GB/s performance boost. Almost 1 GB/s additional bandwidth on a no brainer simple ram overclock.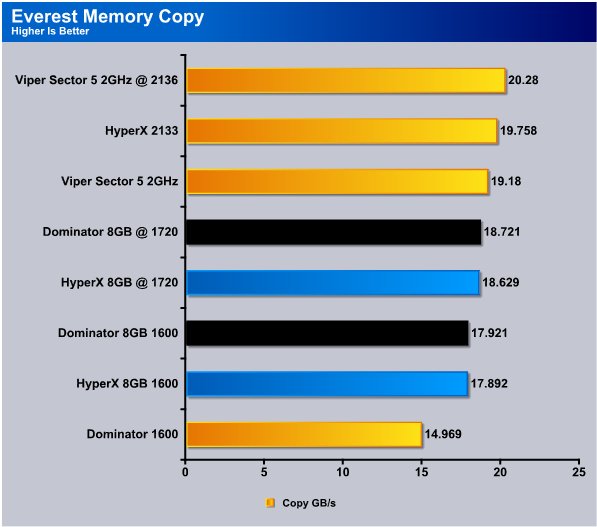 The Memory Copy test saw the HyperX kit come in at 17.892GB/s stock speed and when we overclocked the kit it came in at 18.629GB/s so we saw a nice little performance boost out of the OC.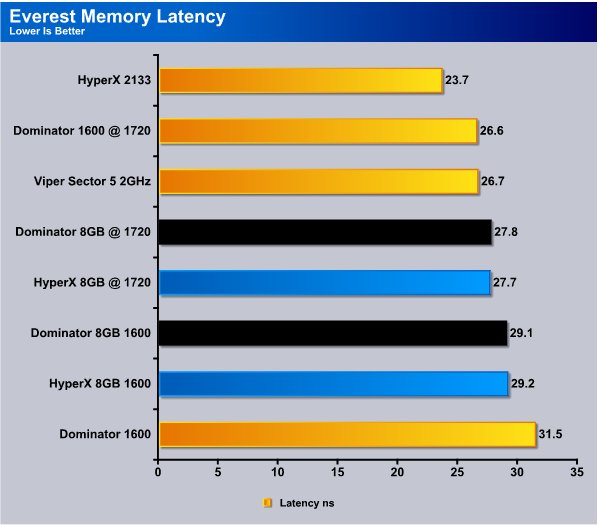 The HyperX 8GB kit turned in a 29.2ns Latency at the stock 1600MHz speed and we get a little better Latency when we overclocked the kit and it came in at 37.7ns running at 1720MHz.
WinRar v. 3.71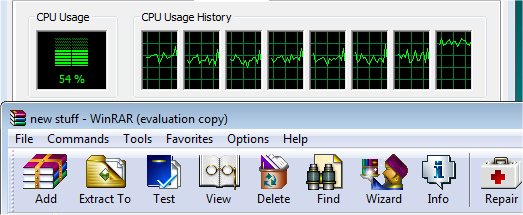 This module in WinRar generates random data, which contains specially introduced redundancy, increasing the load to both the processor and memory. Data is then passed through RAR compression and decompression algorithms, and the output of the decompression algorithm is compared to the source data. If any differences are found, WinRar then reports "Errors found – Yes" in the command window. WinRar displays a size of processed data and compression speed, current and resulting, in kilobytes per second.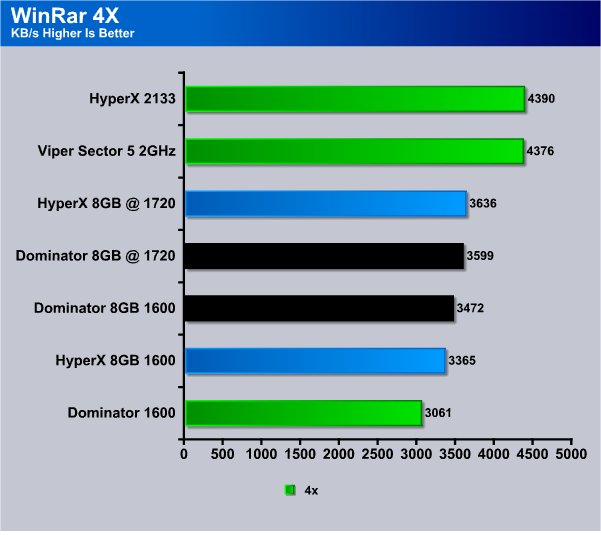 In the Winrar Multithreaded test the Kingston HyperX 8GB kit came in at 3365 KB/s which is a little lower than the Dominator kit but overclocked the Kingston kit came out ahead of the Dominator kit.
Super Pi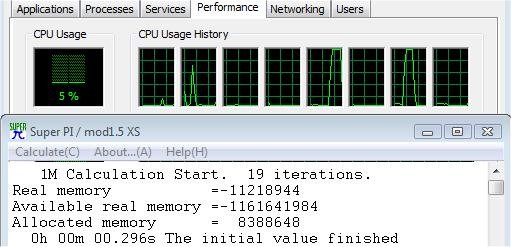 Super PI is the "Gold standard" for many when it comes to judging system performance. We ran 1 and 2 Meg calculations, again running each test three times and reporting the average of the results.
SuperPI turns in scores so close in the 1MB test that we reset the horizontal Axis on the chart to 8 instead of zero so you can actually see the difference. SuperPI 1MB liked the Kingston HyperX kit a lot and the kit topped the chart in this test.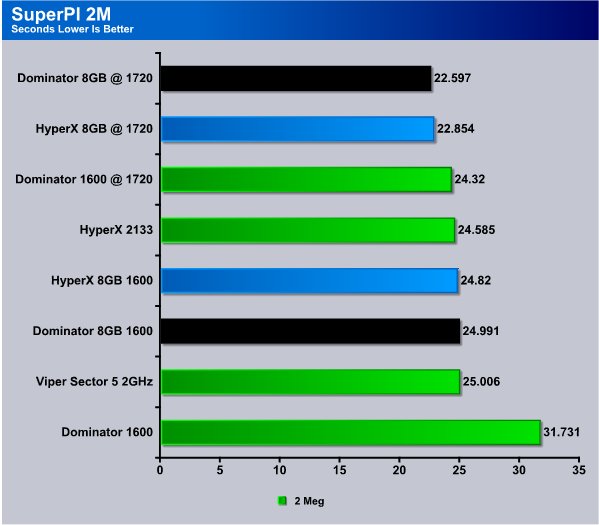 We decided to leave the first kit of Dominator 1600MHz overclocked on this chart. Normally we only show the OC speeds for the comparison kits on the charts but since we are going to be looking at 4GB VS 8GB performance in a few minutes we left it in. Notice we have both 8GB kits clocked to 1720MHz as well as the 4GB kit. Those are the overclocked speeds we used for testing. The Dominator kit came out on top closely followed by the Kingston HyperX kit. At Stock speeds the HyperX kit came out ahead by a hair.
Now why we got better results from the 8GB kits than the Dominator 4GB kit which is identically timed to the 8GB kit we can't say, but we got better performance from more ram.
Sisoft Sandra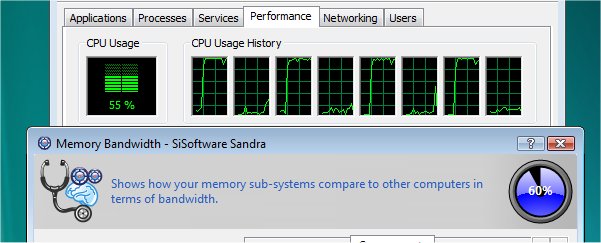 "SiSoftware Sandra (the System Analyser, Diagnostic and Reporting Assistant) is an information & diagnostic utility. It should provide most of the information (including undocumented) you need to know about your hardware, software and other devices whether hardware or software. It works along the lines of other Windows utilities, however it tries to go beyond them and show you more of what's really going on. Giving the user the ability to draw comparisons at both a high and low-level. You can get information about the CPU, chipset, video adapter, ports, printers, sound card, memory, network, Windows internals, AGP, PCI, PCI-X, PCIe (PCI Express), database, USB, USB2, 1394/Firewire, etc."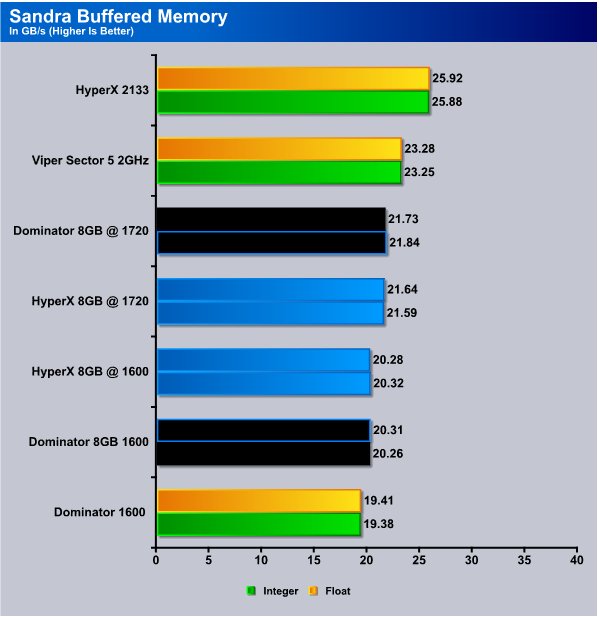 In Sisoft Sandra the HyperX kit came in at 20.28GB/s at the 1600MHz stock speed and overclocked we got 21.64GB/s which is about 1.5GB/s additional bandwidth.
Photoshop
We ran Photoshop under Windows 7 Professional and used a 512MB cluster of 128 photos and opened all the photos at once. We start recording the time from the moment we click open until the time the last photo is opened then record the time it took. We repeat the test 5 times and then toss out the highest and lowest time, then average the remaining 3 runs. We tested with the 8GB kits but we tested with 4GB of the kit then tested with the whole 8GB.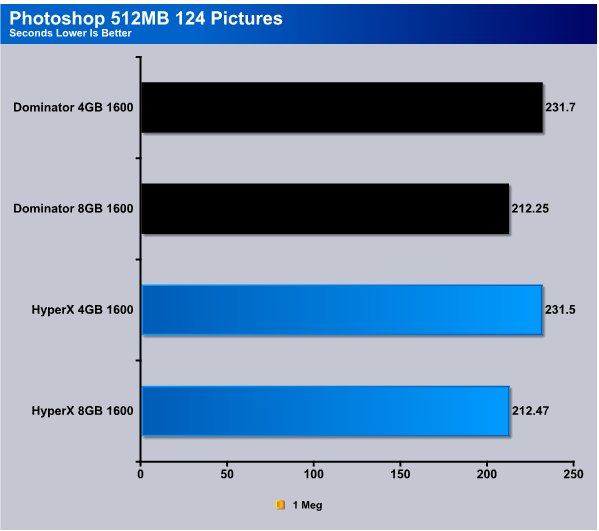 Starting into the Windows 7 testing we used half of the Kingston HyperX kit to test at 4GB then used the whole 8GB to establish performance differences between 4 and 8GB kits. Notice that with 4GB of the kit installed (2 sticks) we got a 231.5 second load time with 124 pictures totaling 512MB. When we went to the 8GB kit we shaved about 19 seconds off that time.
Windows 7 Sleep & Resume
Again this is part of our impromptu Windows 7 testing and what we did was boot into Windows 7 Professional and waited one minute for all the loading processes to complete. Then we checked the Task Manager to make sure everything had settled down. When everything had completed loading we closed task manager and put the machine to sleep. We started timing from the time we clicked sleep until the last power indicator or HD light ceased activity. We recorded the time it took to sleep the machine, then we woke the machine and recorded the time from the time we started waking the rig until the desktop had completed loading. We repeated the tests 5 times tossed out the highest and lowest times and averaged the remaining 3 scores and report those scores here.
Win 7 Sleep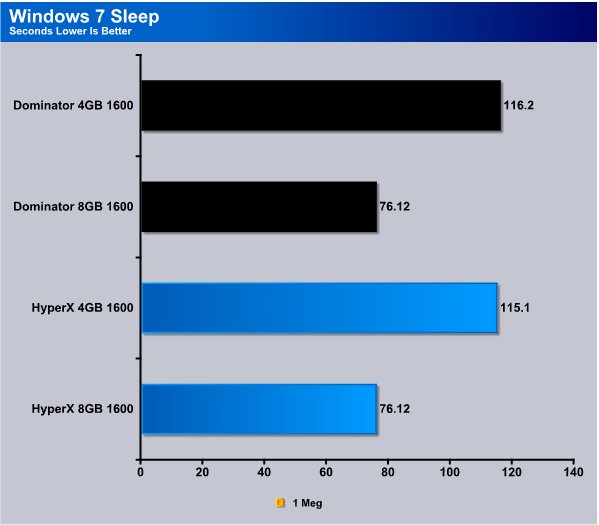 In this test we start from a fresh boot and waited until the initial load processes to completely load. Then we put the rig to sleep and timed it. It took 115.1 seconds to sleep the rig with a 4GB kit. When we went to 8GB it only took 76.12 seconds to sleep the rig. That's a performance boost of about 39 seconds.
Win 7 Resume
This is probably the largest difference we saw in performance. It took 23.72 seconds to wake the rig with a 4GB kit but when we went back to 8GB the rig loaded in only 8.18 seconds. It takes about 1/3 the time to wake a rig with an 8GB kit.
CRYSIS WARHEAD

Crysis Warhead is the much anticipated sequel of Crysis, featuring an updated CryENGINE™ 2 with better optimization. It was one of the most anticipated titles of 2008.

The Settings we use for benchmarking Warhead
Once again we used Windows 7 Professional and Crysis Warhead and what we did was start Crysis Warhead and waited until the game had fully loaded. Then we chose the Call me Ishmael level to record the load time. We started recording the load time when we clicked the Call me Ishmael save game and stopped timing it when we got control of the game. Between tests we rebooted the machine, waited one minute for load processes to complete, then repeated the test. We repeated the test 5 times, tossed out the high and low score and averaged the remaining 3, the average of those 3 scores are reported here.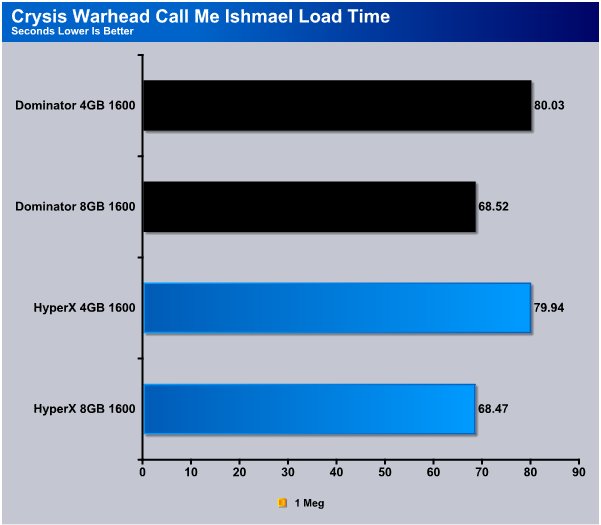 For application load times we spent the better part of a day booting the test rig, then loading different applications and timing the loads with a 4GB and 8GB kit. This is just one of the load tests we did. However in almost every test we did applications loaded faster with 8GB of ram installed. We are reporting on Crysis Warhead load time on the Call Me Ishmael level and as you can see with a 4GB kit it took 79.94 seconds to load. With an 8GB kit installed it took 68.47 seconds to load. So just about every time you load an application or move from scene to scene in a video game 8GB of ram will get you there faster than a 4GB kit. That conglomerate savings makes having more ram well worth it because you might be waiting a total of 11.5 seconds for one application load, but how many application loads will you do over the next 5 years? The amount of time waiting viewed from that aspect is mind staggering.

Lets take a look at the Kingston Kit just like CPU-Z shows on first boot.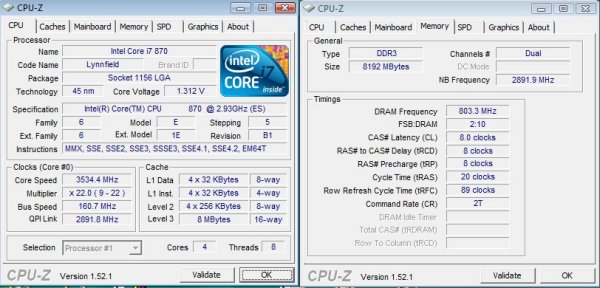 All we did here was set the kits XMP profile, reset the Bclk to 160 and reset the CPU voltage to 1.325v and the kit booted right into Windows and ran great at 8-8-8-20 with a stock speed of 1600MHz.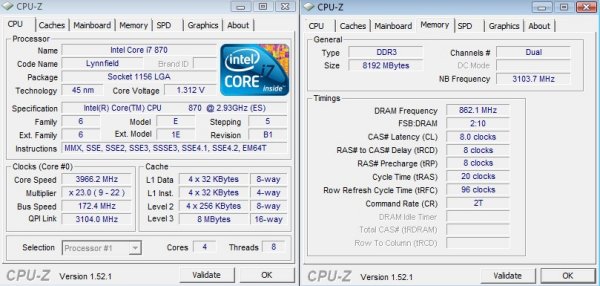 We reached a nice speed of 1720MHz with insane ease by just bumping the Bclk to 172 and the kit ran great at 1720. We tried it at 1T and 2T and the kit ran with 1T and 2T with equal ease.
Was that as high as we got, no it wasn't we reached insane speeds with this kit on just stock voltage. You should keep in mind that overclocking any part is a crapshoot. Your part might not reach this speed. Further Kingston doesn't cherry pick their review samples like some companies, they take the first parts off the assembly line and ship them to review sites with no special screening process. So this is just a straight off the line kit given no special consideration as to being an exceptional kit. In other words Kingston isn't stacking the deck by sending cherry picked parts.
We backed the kit off to 9-9-9-24 and 2T and hit 2GHz on the kit. Again OCing is a crap shoot and this may just be an exceptional kit so there is no guarantee that you can hit 2GHz but let's just say that this isn't the first 1600MHz HyperX kit we've hit 2GHz on. We hit 2GHz on a 4GB kit of HyperX just last week. Pretty amazing for a 1600MHz kit.
Conclusion
We really liked the performance of the Kingston HyperX 8GB kit. We especially liked the performance boost you get moving from a 4GB kit to a 8GB kit. We've known for a long time that the amount of ram you have is just as important if not more important than the speed of the ram you have. We did some testing with a 2GHz kit and in synthetic benchmarks the 2GHz kit smoked, move to real world load times and operating system performance an 8GB kit running at 1600MHz far outperformed the 4GB kit running at 2GHz.
The 8GB kit of Kingston HyperX was plug and play even with 8GB of ram installed. We realize that some people hold to the "A rig won't run 4 sticks of ram well" philosophy. Frankly years ago machines had problems with 4 sticks, in the last 3 or 4 years we haven't seen any machine that won't run 4 sticks of ram just as well as it runs 2 sticks. Now that we've gone out there and said that we should mention that in some cases with 4 sticks of ram you might not be able to run 2GHz, most rigs we have we hit 1866 with 8GB of ram with little or no difficulty. Since we've already proven that 8GB of ram performs better than 4GB, and density (amount) of ram is just as important if not more important than raw ram speed running 1600MHz 8GB or 1866MHz 8GB kits should offer enough of a real performance boost to satisfy anyone.
With a lifetime warranty and rock solid Kingston support the Kingston HyperX 8GB kit is hard to beat. It's a low profile kit that will fit under most ginormous CPU heatsinks. Since benchmarking performance is as high as a 4GB kit, and real life performance is higher than a 4GB kit there's really no reason not to run an 8GB kit if you feel like you need that extra performance. It's real performance you can get every time you load an application or move from scene to scene in a video game.
Kingston has a real winner with the HyperX 160MHz kit, we'll be running an 8GB kit on our test rig and daily driver and that say more for a product than any praise or award we could possibly give.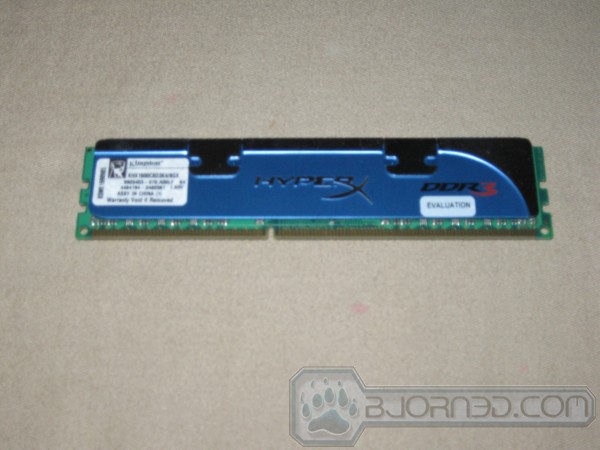 We are using a addition to our scoring system to provide additional feedback beyond a flat score. Please note that the final score isn't an aggregate average of the rating system.
Performance 8.5
Value 8
Quality 10
Warranty 10
Features 9
Innovation

9



Pros:
+  Good Overclocker
+  Rock Solid Stable At Every Setting We Tried
+  Performance Scaled Well With Overclocking.
+  Low Profile Kit
+  Easy To Overclock
+  Kingston Quality
Cons:
–  More Expensive Than A 4GB Kit
–  Getting Spoiled By Kingston HyperX Ram
The Kingston HyperX 8GB 1600MHz kit gave us a nice performance boost across the board by using more ram rather than faster ram and beyond that we liked the performance and ease of use of the 8GB kit so it scores an: 8.5 out of 10 and the Bjorn3D Seal Of Approval.