Looking for a budget card that is actually able to play games? Look no further than the GT220. Today we will put this card to the test.
Introduction
If you happen to be one of the many people affected by the US economy, then you really don't have money to throw around. You may be looking to upgrade from your current onboard graphics, or want to upgrade your card. Either way the GT220 may be a great option for you. This card has the power to play all of the latest games, but does not include the high price tag of higher end cards. Granted this card will not perform as well as a higher end card, but playing the game is enough for some.
The GT220 is certainly a great option for anyone who fits into one of those categories. Today we have the Gigabyte version of the card. Gigabyte has long been known as a quality vender. They have even chosen to include an aftermarket cooler on their GT220. This not only allows the card to run cooler, but it also allows the card to overclock more. This can lead to higher frame rates. These higher frame rates are all free to you, so why not overclock some? Lets take a closer look at this card.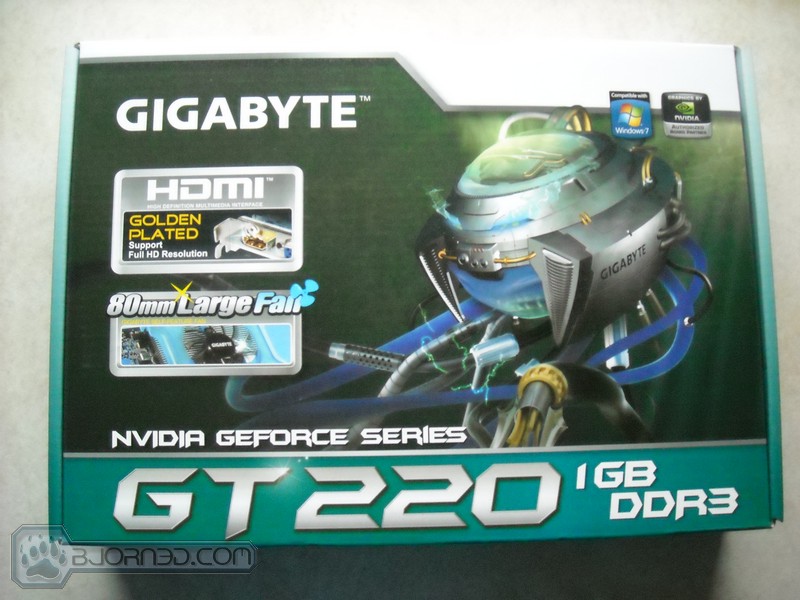 Features
 

Microsoft Windows 7


Microsoft Windows 7 is the next generation operating system that will mark a dramatic improvement in the way the OS takes advantage of the graphics processing unit (GPU) to provide a more compelling user experience. By taking advangate of the GPU for both graphics and computing, Windows 7 will not only make todays's PCs more visual and more interactive but also ensure that they have the speed and responsiveness customers want.
 
Windows Vista®
Enjoy powerful graphics performance, improved stability, and an immersive HD gaming experience for Windows Vista. ATI Catalyst™ software is designed for quick setup of graphics, video, and multiple displays, and automatically configures optimal system settings for lifelike DirectX 10 gaming and the visually stunning Windows Aero™ user interface.
 

RoHS Compliant


As a citizen of the global village, GIGABYTE exert ourselves to be a pioneer in environment care. Give the whole of Earth a promise that our products do not contain any of the restricted substances in concentrations and applications banned by the RoHS Directive, and are capable of being worked on at the higher temperatures required for lead free solder. One Earth and GIGABYTE Cares!
 
 
OpenGL 3.1® Optimizations
Ensure top-notch compatibility and performance for all OpenGL 3.1 application.
 
 
Microsoft® DirectX® 10.1
World's first DirectX 10.1 GPU with full Shader Model 4.0 support delivers unparalleled levels of graphics realims and film-quality effects.
 
 

Shader Model 4.1


Shader Model 4.1 adds support for indexed temporaries which can be quite useful for certain tasks.Regular direct temporary access is preferable is most cases. One reason is that indexed temporaries are hard to optimize. The shader optimizer may not be able to identify optimizations across indexed accesses that could otherwise have been detected. Furthermore, indexed temporaries tend to increase register pressure a lot. An ordinary shader that contains for instance a few dozen variables will seldom consume a few dozen temporaries in the end but is likely to be optimized down to a handful depending on what the shader does. This is because the shader optimizer can easily track all variables and reuse registers. This is typically not possible for indexed temporaries, thus the register pressure of the shader may increase dramatically. This could be detrimental to performance as it reduces the hardware's ability to hide latencies.
 
 

PCI-E 2.0


PCI Express® 2.0 –Now you are ready for the most demanding graphics applications thanks to PCI Express® 2.0 support, which allows up to twice the throughput of current PCI Express® cards. Doubles the bus standard's bandwidth from 2.5 Gbit/s (PCIe 1.1) to 5 Gbit/sec.
 
 

GigaThread™ Technology


Massively multi-threaded architecture supports thousands of independent simultaneous threads, providing extreme processing efficiency in advanced, next generation shader programs.
 

HDCP Support


High-Bandwidth Digital Content Protection (HDCP) is a form of copy protection technology designed to prevent transmission of non-encrypted high-definition content as it travels across DVI or HDMI digital connections.
 

HDMI Ready


High Definition Multimedia Interface (HDMI) is a new interface standard for consumer electronics devices that combines HDCP-protected digital video and audio into a single, consumer-friendly connector.
 

CUDA Technology


NVIDIA® CUDA™ technology unlocks the power of the hundreds of cores in your NVIDIA® GeForce® graphics processor (GPU) to accelerate some of the most performance hungry computing applications. The CUDA™ technology already adopted by thousands of programers to speed up those performance hungry computing applications.
The features are pretty standard on Nvidia cards these days. It is nice to see Nvidia didn't but out any of them even though this is not a high end card.
Specifications
| Specification | G210 | GT220 | 4670 |
| --- | --- | --- | --- |
| Core Clock (MHz) | 650 | 720 | 750 |
| Shader Clock | 1547 | 1566 | 750 |
| Memory Size (MB) | 512 | 1024 | 512 |
| Memory Bus (bit) | 64 | 128 | 128 |
| Memory Clock (MHz) | 800 | 1600 | 2000 |
| Memory Type | GDDR2 | DDR3 | GDDR3 |
On paper the GT220 is pretty close to the 4670, but that is just paper. The G210 deffinatly looks to be very bottlenecked with its 64 bit bus and GDDR2.
Pictures & Impressions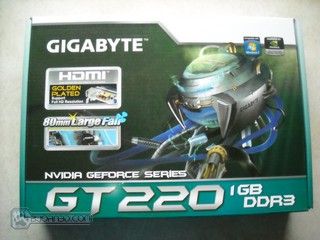 We can see here that Gigabyte has included the octopus like thing on the box. Gigabyte clearly points out some of the key features of the card. Most prevalent is the gold plated HDMI port. Gigabyte also makes sure that you know this card is 100% compatible with Windows 7 and Windows Vista. Even though most cards are, this card has DirectX 10, so you will be able to get the whole experience. They also point out the aftermarket cooling, which is always a selling point.
Gigabyte has chosen to pack in the bare essentials. This is most likely due to Gigabyte making an effort to make the card cheaper. Gigabyte has packed the package to the brim. Unlike the G210, Gigabyte has given the card a little bit of a cardboard pad to help keep it safe.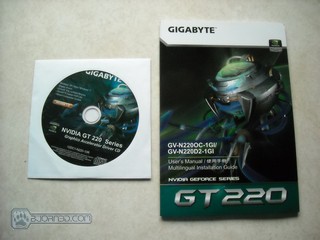 Gigabyte has packed the bare essentials to get you started. Gigabyte has included a manual to help out people new to computers, and a driver disk with their software. The Gigabyte software has long been some of the best in the buisness. Some cards even have an option to increase the voltages of the GPU.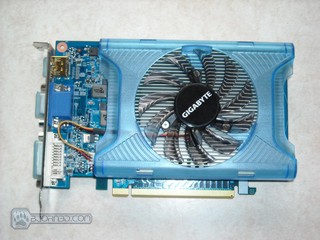 The card has an interesting design. The heatsink is quite large for a card in this price range. The fan looks much larger than 80mm when its on this card as well. Needless to say, this card looks like it will run ice cold.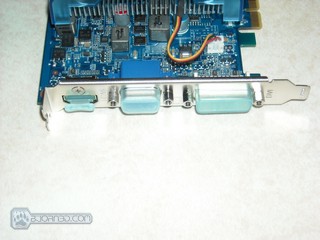 You can see here that Gigabyte has decided to include a variety of different connectors. You should easily be able to find one compatible with your TV or computer monitor. The HDMI is especially useful because this card could easily be used on an HTPC.
Metholdology
To test this card, we did a fresh load of Vista 64 bit and applied all the patches and updates for the OS, then we updated all the motherboard drivers and made sure that we had the latest 9.11 Catalyst and 190.62 Forceware drivers. We didn't install any video drivers on the test rig at first, we just installed the basics and then cloned the hard drive using Acronis. That way when we switch from the ATI GPU to the Nvidia GPU we can have a fresh load with no old drivers hanging around to bugger up our benchmark numbers.
We ran each test 3 times and averaged the results, the average of those results are reported here. The one exception to the 3 run rule is Stalker, this test is just so long so all of the individual tests where averaged together. Below is a detailed list of the components used during testing.
Test Rig
Case
Cooler Master HAF 932
CPU
Intel i7 920 @ 3.7 Ghz
Motherboard
Intel DX58SO
Ram
(3x2GB) DDR3 @ 1482 8-8-8-20
CPU Cooler
D-Tek Fuzion
Hard Drives
Corsair P64
Western Digital 750 GB
Optical
LiteOn DVDR
GPU's Tested

MSI HD 4670
Gigabyte GT220
Gigabyte G210

Testing PSU
Corsair HX1000 Watt
Synthetic Benchmarks & Games
Synthetic Benchmarks & Games
3DMark Vantage
3DMark 06
Stalker Clear Sky Stand Alone Benchmark
Crysis
Crysis Warhead
World In Conflict
H.A.W.K.S.
Far Cry 2
Overclocking

To overclock the Gigabyte GT220 I used Evga Precision. I slowly increased the clocks by 10 MHz until the system became unstable, then I backed down the clocks a bit and tested for stability. I kept lowering the clocks until the system was rock solid. Below where my results.
| Core Clock | Shader Clock | Memory Clock |
| --- | --- | --- |
| 750 | 1631 | 850 |
The card itself did not overclock that great. I was really expecting some more overclocking with this card. This overclock will at least give you a little bit more performance, and its free so why not?
3DMARK06 V. 1.1.0

3DMark06 developed by Futuremark, is a synthetic benchmark used for universal testing of all graphics solutions. 3DMark06 features HDR rendering, complex HDR post processing, dynamic soft shadows for all objects, water shader with HDR refraction, HDR reflection, depth fog and Gerstner wave functions, realistic sky model with cloud blending, and approximately 5.4 million triangles and 8.8 million vertices; to name just a few. The measurement unit "3DMark" is intended to give a normalized mean for comparing different GPU/VPUs. It has been accepted as both a standard and a mandatory benchmark throughout the gaming world for measuring performance.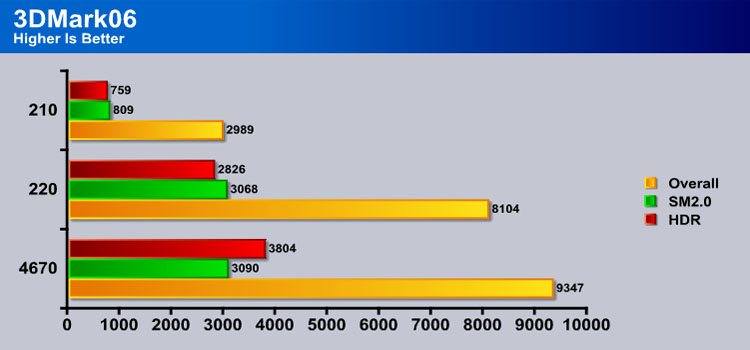 The GT220 did alright here. While the 4670 scored a fair amount higher, the card was still able to come near what can be considered a higher end card.
3DMark Vantage

For complete information on 3DMark Vantage Please follow this Link:
www.futuremark.com/benchmarks/3dmarkvantage/features/
The newest video benchmark from the gang at Futuremark. This utility is still a synthetic benchmark, but one that more closely reflects real world gaming performance. While it is not a perfect replacement for actual game benchmarks, it has its uses. We tested our cards at the 'Performance' setting.
Currently, there is a lot of controversy surrounding NVIDIA's use of a PhysX driver for its 9800 GTX and GTX 200 series cards, thereby putting the ATI brand at a disadvantage. Whereby installing the PyhsX driver, 3DMark Vantage uses the GPU to perform PhysX calculations during a CPU test, and this is where things get a bit gray. If you look at the Driver Approval Policy for 3DMark Vantage it states; "Based on the specification and design of the CPU tests, GPU make, type or driver version may not have a significant effect on the results of either of the CPU tests as indicated in Section 7.3 of the 3DMark Vantage specification and white paper." Did NVIDIA cheat by having the GPU handle the PhysX calculations or are they perfectly within their right since they own Ageia and all their IP? I think this point will quickly become moot once Futuremark releases an update to the test.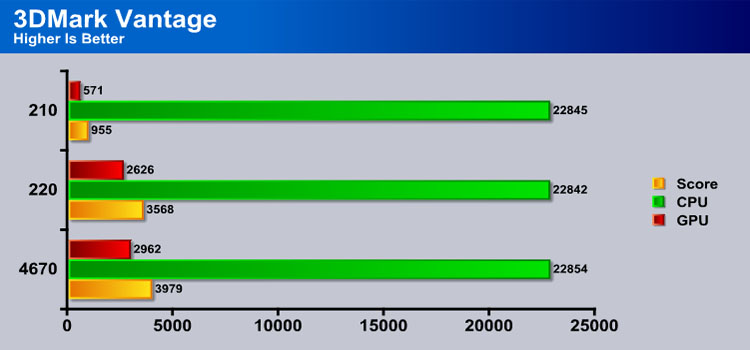 This time the GT220 comes even closer to the 4670. In fact it was almost able to match the 4670, not a bad result at all.
Crysis v. 1.21

Crysis is the most highly anticipated game to hit the market in the last several years. Crysis is based on the CryENGINE™ 2 developed by Crytek. The CryENGINE™ 2 offers real time editing, bump mapping, dynamic lights, network system, integrated physics system, shaders, shadows, and a dynamic music system, just to name a few of the state-of-the-art features that are incorporated into Crysis. As one might expect with this number of features, the game is extremely demanding of system resources, especially the GPU. We expect Crysis to be a primary gaming benchmark for many years to come.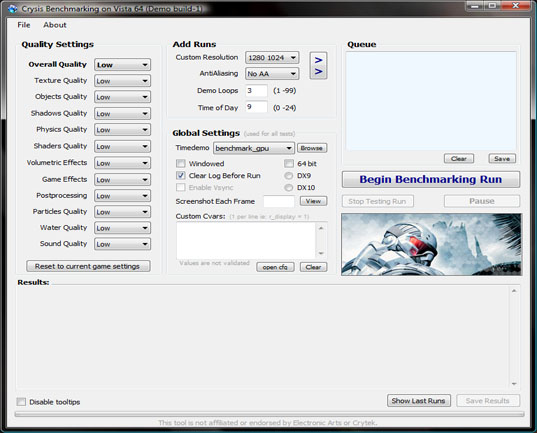 The Settings we use for benchmarking Crysis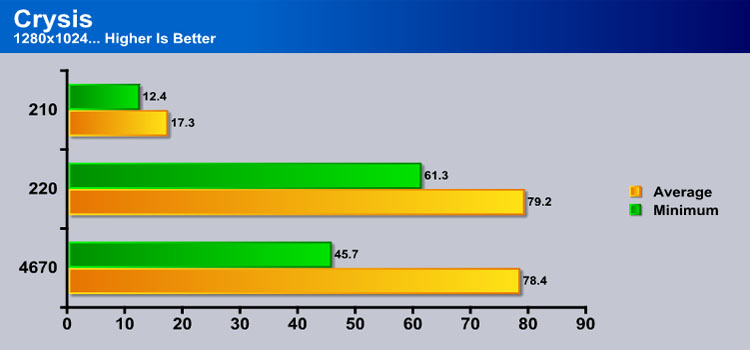 3DMark is only somewhat accurate. To get real world performance you really have to run the card through some games. As you can see here, the GT220 was actually able to beat the 4670.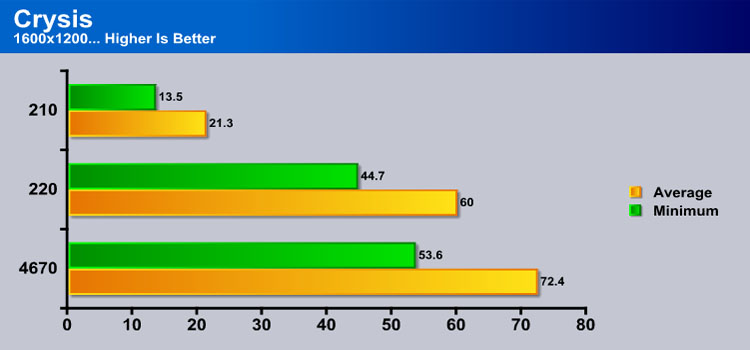 When the resolution is increased the GT220 falls some. This is probably due to the card having lower bandwidth than the 4670.
CRYSIS WARHEAD

Crysis Warhead is the much anticipated sequel of Crysis, featuring an updated CryENGINE™ 2 with better optimization. It was one of the most anticipated titles of 2008.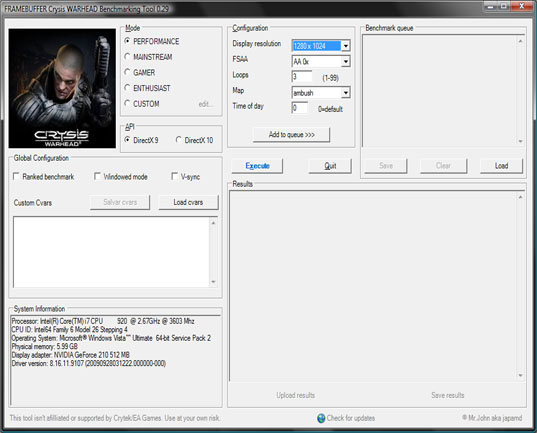 The Settings we use for benchmarking Warhead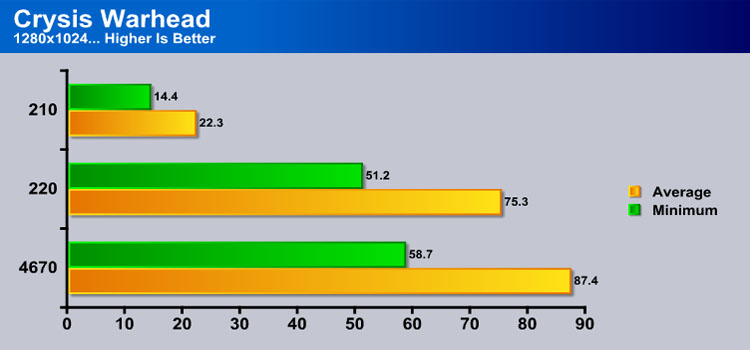 The GT220 has a decent showing here. It is easily playable, but the games settings are set pretty low.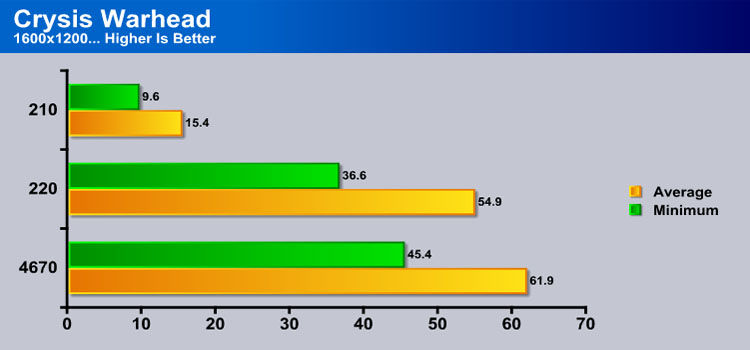 When the resolution is increased, we see that the GT220 still hangs in with the 4670. The card was still way above playable frame rates.
Far Cry 2

Far Cry 2, released in October 2008 by Ubisoft, was one of the most anticipated titles of the year. It's an engaging state-of-the-art First Person Shooter set in an un-named African country. Caught between two rival factions, you're sent to take out "The Jackal". Far Cry2 ships with a full featured benchmark utility and it is one of the most well designed, well thought out game benchmarks we've ever seen. One big difference between this benchmark and others is that it leaves the game's AI (Artificial Intelligence) running while the benchmark is being performed.
 The Settings we use for benchmarking FarCry 2
Far Cry 2 does not treat the G210 any better. It also increases the gap between the GT220 and the 4670. This is kind of odd since Far Cry 2 is considered to be better coded than Crysis.
This was an odd result, but I'll take it. The GT220 manages to beat out the 4670 when the resolution is increased. This is most likely due to the Nvidia drivers kicking in.
S.T.A.L.K.E.R. Clear Sky

S.T.A.L.K.E.R. Clear Sky is the latest game from the Ukrainian developer, GSC Game World. The game is a prologue to the award winning S.T.A.L.K.E.R. Shadow of Chernobyl, and expands on the idea of a thinking man's shooter. There are many ways you can accomplish your mission, but each requires a meticulous plan, and some thinking on your feet if that plan makes a turn for the worst. S.T.A.L.K.E.R. is a game that will challenge you with intelligent AI, and reward you for beating those challenges. Recently GSC Game World has made an automatic tester for the game, making it easier than ever to obtain an accurate benchmark of Clear Sky's performance.
The Settings we use for benchmarking Stalker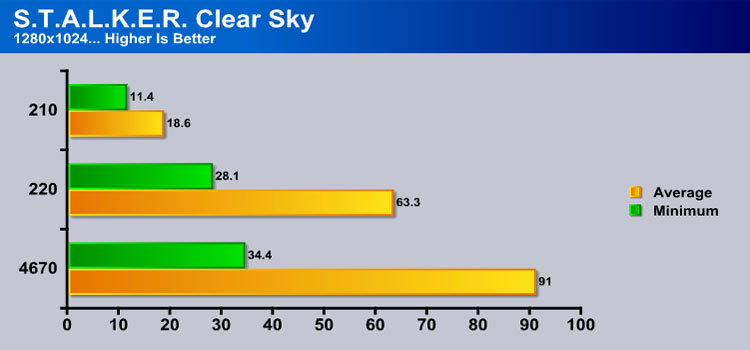 Right off the bat the GT220 is killed by the 4670 by nearly 30 frames. The GT220 was at least able to hold an easily playble frame rate, even when it went to the minimum.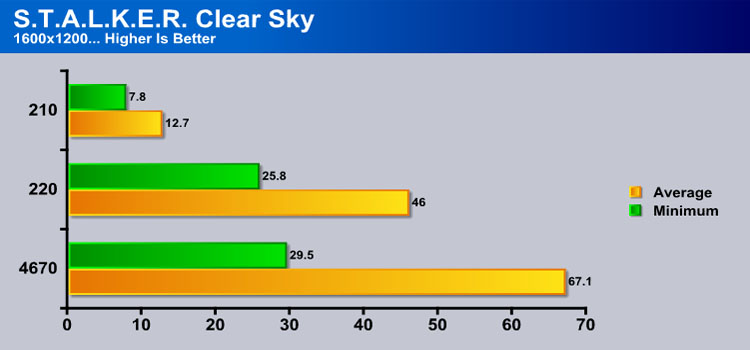 When the resolution is increased we see that the GT220 doesn't do much better. The card was still in the playable range, so we don't have a whole lot to complain about.
HawX

The story begins in the year 2012. As the era of the nation–state draws quickly to a close, the rules of warfare evolve even more rapidly. More and more nations become increasingly dependent on private military companies (PMCs), elite mercenaries with a lax view of the law. The Reykjavik Accords further legitimize their existence by authorizing their right to serve in every aspect of military operations. While the benefits of such PMCs are apparent, growing concerns surrounding giving them too much power begin to mount.
Tom Clancy's HAWX is the first air combat game set in the world–renowned Tom Clancy's video game universe. Cutting–edge technology, devastating firepower, and intense dogfights bestow this new title a deserving place in the prestigious Tom Clancy franchise. Soon, flying at Mach 3 becomes a right, not a privilege.
All the settings where set to low.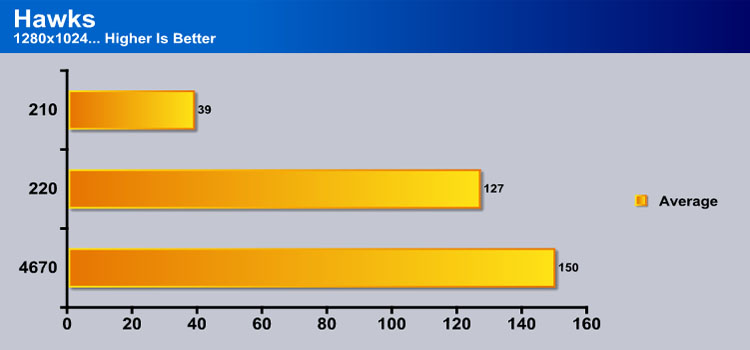 The GT220 was close to the 4670, and yet so far away. Both cards where so far in the green it's not even funny.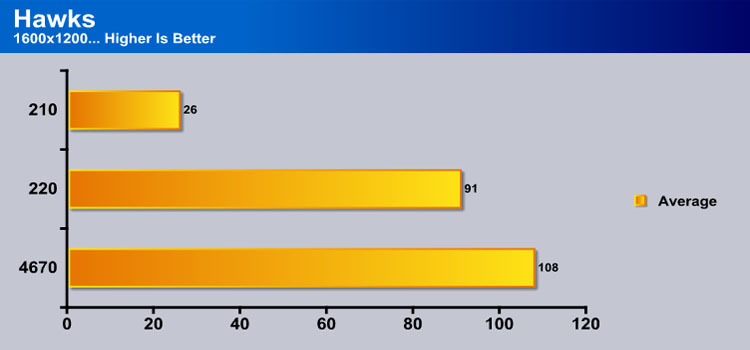 When the resolution is increased we see the same thing. The GT220 easily has enough power to be able to play Hawks at higher settings.
World in Conflict Demo

World in Conflict is a real-time tactical video game developed by the Swedish video game company Massive Entertainment, and published by Sierra Entertainment for Windows PC. The game was released in September of 2007. The game is set in 1989 during the social, political, and economic collapse of the Soviet Union. However, the title postulates an alternate history scenario where the Soviet Union pursued a course of war to remain in power. World in Conflict has superb graphics, is extremely GPU intensive, and has built-in benchmarks. Sounds like benchmark material to us!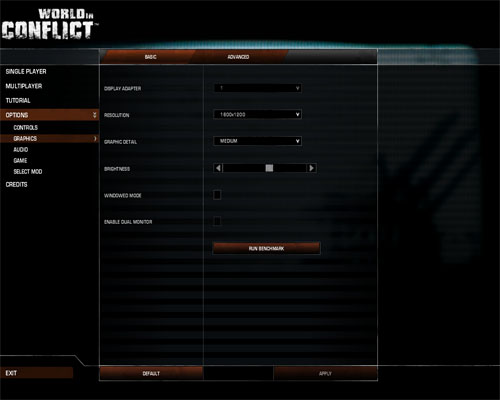 The Settings we use for benchmarking WiC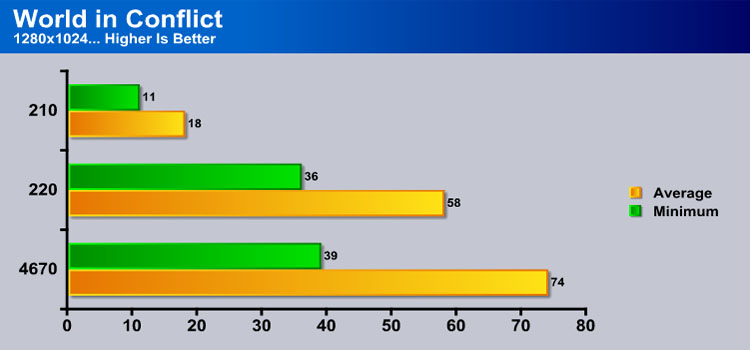 The GT220 again fails to match the 4670, but it had pretty good performance.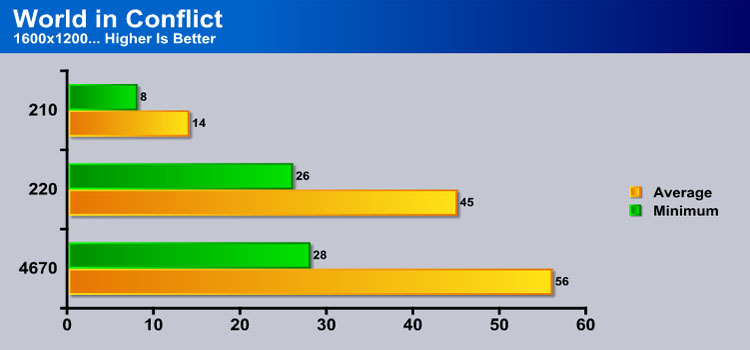 When the resolution is increased we see that again the GT220 looses out, but is still in the playable range.
Temperatures

The Gigabyte GT220 certainly looked like it was going to run cool with its huge fan, and in the end it ran very cool.  I let the fan run at auto speed, which usually gives the sweet spot between noise and performance. Throughout testing the fan was very hard to hear over my case fans. To test the load temperature I loaded up Furmark 1.7, and let it run for 30 minutes. I then recorded the maximum temperature reached. To test the idle temperature I let the card idle with no programs running. Below is a table of the results.
| Idle Temperature | Load Temperature |
| --- | --- |
| 26 | 46 |
These temperatures are almost unbelievable. There are not many cards anymore that run this cool. Even if you are using a case with bad ventilation this card should still be running cool.
Conclusion
There are many things that you can say about the Gigabyte GT220. The card itself is clearly a budget card that will not be able to max out all of the latest games, but you have to look past this. The card really had no issue running any games at a decent resolution. The card's cooling is most definitely first rate. The cooler is simply massive for this kind of card. The fan is also huge, so it is able to push more air while running quieter than the stock fan.
The card did not overclock all that well, but the extra performance you gain from it is free, so you might as well overclock the card some. Something not really addressed in the review was the ability to use this card as a PhysX card. While it may be a little lacking in power, the card certainly has the ability. This would also be the perfect card for a HTPC. The card is small, and runs cool so you should have no issues with this card in a tight HTPC case. These features really make this card quite diverse.
We are using this scale with our scoring system to provide additional feedback beyond a flat score. Please note that the final score isn't an aggregate average of the rating system.
Performance 7.5
Value 8
Quality 9
Warranty 8
Features 8
Innovation 8
Pros:
+  Good Cooler
+  Big Fan
+  1 GB DDR3
Cons:
–  Not Quite As Powerful As The 4670
The Gigabyte G220 is an excellent card that performs well, as well as running extremely cool. This is why the card receives an 8 out of 10 and the Bjorn3D Seal of Approval.