Shappire, the known distributor of large variety of video cards now presents us with their new lineup of their PURE Modular Power Supplies. Based on the 80Plus Bronze standard, this power supply is one of the top of the line performing, stable and power efficient power supplies on the market.
introduction
The introduction of the Sapphire PURE Modular Power Supplies came as a shock to me, due to the fact that Sapphire is a large distributor of video cards but not power supplies. Today we will be taking a look at the Sapphire PURE 1250W Modular Power Supply, which will be enough for some of the most power hungry gaming hardware on the market.
The Sapphire PURE 1250W Modular Power Supply comes with a total of 6 rails with up to 30 amps on each rail and a shocking 104A on all rails in total. 6 rails is a great amount of rails and some might be wondering what is it good for, which is why we will go into more detail about it on the next page.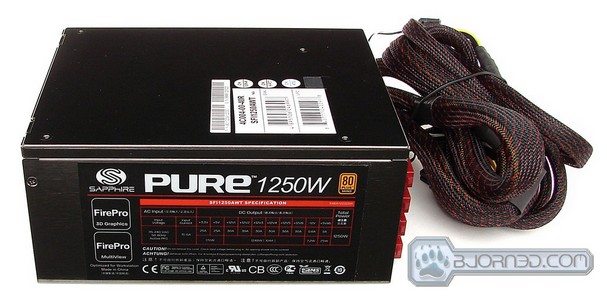 After much experience in the overclocking field, I came to realize that poor quality power supplies tend to often cause system stability problems. This can not only cause unexpected crashes, but it can also keep extreme overclockers from reaching their maximum hardware capabilities. Clean and quality power cannot always be overlooked by the overall wattage of the power supply; as a matter a fact this is just a common misconception.  When picking a quality power supply, the power supply must meet certain requirements in order for it to be qualified. The overall efficiency of the PSU is very important to make sure less power is wasted and turned into useless heat. Power Factor Correction is also another very important feature on new power supplies. This power supply comes with Active PFC, which helps reduce overall harmonics and will lead to higher overall efficiency. The Sapphire PURE 1250W Modular Power Supply also comes with a 80Plus Bronze certification, which means that we will be testing an efficient power supply above 82% efficient. Lets take a look how this power supply will compare to the Thermalright TR2 1000W Power Supply and the Ultra X3 1000W Modular Power Supply.
Features
ATX12V v2.3
Compliant with the newest standard for desktop power supplies.
EPS12V v2.92
Ready for most upcoming CPU generations by using 12P sockets for possible connector changes and complies to latest EPS 12V PSU design guide for compatibility. Also optimized for Multiple Core and workstation processors such as the Intel Xeon and AMD Opteron.
80PLUS Certifield
Compliant with 80 PLUS BRONZE standard. Efficiency up to 91% @ 230VAC helps reduce power consumption and electricity fare.
8 PCI-E power support

Supports PCI Express 2.0 SLI or CrossFireX technology and next generation Graphic cards with 6+2P (8P) PCI-E connectors. 8 PCI-E connectors (upgradeable to 10 by optional modular cables) can easily driver multiple graphic cards with multiple screen graphic workstations.
CPU & Graphic support
Support for newest Intel® Core™2 Quad / Extreme Processors; AMD Opteron™ / AMD Phenom™ X4 Quad-Core / X3 Triple-Core / AMD Athlon™ X2 Dual-Core Processors; ATI CrossFireX™ or SLI™.
Worldwide Power support
Auto-Adjustable for global voltage support: 100VAC~264VAC (Maximum Range)
Active PFC
Active PFC improves the power factor up to 0.99, greatly reducing AC harmonic distortions and save energy.
Complete EMC Solution

Full-Scale electromagnetic filtering protects your system against radiation interferences.
POST Cooling Design
Special power fan post cooling design exhausts the remaining heat inside the system for 30-60 seconds and prevents heat surge after PS-OFF to extend components lifetime.
Circular LED Power Fan
Patent design circular LED 14cm magnetic bearing cooling fan with intelligent thermal control.
Advanced Protection Guard
Advance Protection Guard IC with over loading / current / voltage / temperature, under voltage, short circuit, surge and inrush current protections. Plus additional LED links with protection IC to indicate PSU status.
Heavy-duty Components inside
High quality Japanese Electrolytic Capacitors / HI-FLUX Core / Massive Aluminum Heat Sink / Solid State Capacitors / 120% overpower transformers ensures maximum performance @ 50℃ extreme environment.
| | |
| --- | --- |
| | CrossFireX™ Ready |
| | |
| --- | --- |
| | Works with nVidia® SLI® |
| | |
| --- | --- |
| | Intel® Xeon®, AMD Opteron™ Processors Support |
| | |
| --- | --- |
| | EPS12V v2.92 Support |
| | |
| --- | --- |
| | Silence, Stability, High Efficiency |
| | |
| --- | --- |
| | RoHS Compliant |
| | |
| --- | --- |
| | Modular cable design |
| | |
| --- | --- |
| | Circular LED Power Fan |
Specifications

There are enough connectors for even a Triple-SLI setup with a total of 6 x 8-Pin connectors. Not to mention there is a total of 16 x SATA connectors that can be used. This power supply is prepared for some of the heaviest loads a power system requires.
Let's take a look at the Output Table for the Sapphire PURE 1250W Power Supply.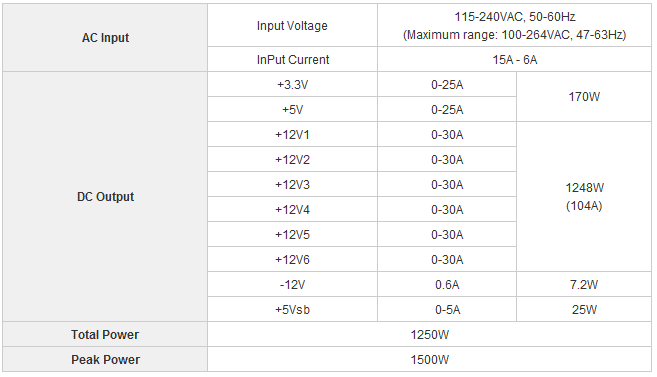 So we can see that this power supply comes with 6 rails, each at 30 Amps and a total of 104 Amps on all rails. What I wanted to point out in this part of the review is that even though this power Supply has 6 rails, there are ways to use 2 rails for one video card for example. Some video cards like the GeForce GTX 295 might require a minimum of 35 Amps on a rail, so to get 35 Amps, all you need to do is plug in another PCI-E connector into the power supply and use two cables on the same video card instead of just the one already prepared. This will give you a total of 60A that can be used. However, this power supply should not have any problem handling powerful video cards.
And here are the rest of the specifications from Protection Circuit specs, to Environmental and other specifications:
Specifications
Sapphire Pure 1250W PSU
Power

1250W

Output Connectors

1 x Main Connector (24Pin)

1 x 12V(4Pin)

1 x 12V(8Pin)

6 x peripheral

16 x SATA

1 x Floppy

6 x PCI-E

Active PFC

Yes

Power Factor
0.99 (Active PFC)
Efficiency

85%-88% @ 115VAC, 85-91% @ 230VAC

Compliant with 80Plus Bronze

Cooling

13.5cm axial fan with 18 white LEDs,

450-2000RPM (Auto Fan Speed Controlled)
 Protection Circuit

Sapphire PURE 1250W PSU

Over Current Protection

DC Rail

OCP trigger range

3.3V

30 – 45A

5V

30 – 45A

12V1/2/3/4/5/6

34 – 45A

(DC) Under Voltage / Over Voltage Protection

DC Rail

UVP trigger range

OVP trigger range

3.3V

2.0 – 2.4V

3.7 – 4.1V

5V

3.3 – 3.7V

5.7 – 6.5V

12V1/2/3/4/5/6

8.5 – 9.5V

13.1 – 14.5V

-12V

-9 – -10.3V

-13.1 – -14.5V

(AC) Under Voltage Protection

Activated when AC input voltage < 70VAC

Over Power Protection

Activated when output power > 110 ~160% of rated max load.

Over Temperature Protection

Activated when PSU heat sink > 90 ~ 110C / 194 ~ 230F.

Short Circuit Protection

Activated when any DC rails short-circuited.

Surge & Inrush Protection

Sustain 2KV surge stroke

Sustain up to 70A inrush current @ 240VAC at cold start.
Environment

Temperature

Operation ambient: 0~50C/32~122F (for full rated output)

Storage ambient: -40~70C/-40~158F

 

Humidity

Operation: to 85% relative humidity, non-condensing at 25C/77F

Storage: to 95% relative humidity, non-condensing at 50C/122F

 

Others

 

Cooling

One 13.5cm fan, speed auto controlled.

 

MTBF

> 100,000 hours at 70% of full rated load, 230VAC/50Hz, 25C

   (MIL-HDBK-217F standard)

 

Dimension

150 (w) x 86 (h) x 190 (d) mm

 

Weight

2.95kg (without modular cables ±50g

 

Safety

UL/cUL(Level 6), TUV, CCC, GOST, CB

 

EMC

CE, FCC

 
We can also see that this power supply has a lot of protections against Over Power, Over/Under Voltage, Over/Under Temperature, etc. This is a must have in today's power supplies since we cannot sacrifice time with damaged hardware if anything goes bad.
And finally, having a power supply that ranges from 85-88% in efficiency is also a must because who wants to waste on their electricity bill and also produce heat from the inefficiently used power. This will also make sure you are getting enough power to your hardware.
WHAT ABOUT THEM RAILS?
We have all, no doubt, been told that when purchasing a power supply that the number to look for is the amps on the 12V rail. What are each of the different rails for though, and why is the 12V rail typically the most important? Why the heck are they called rails? Let's take at look at each and see.
-12V – This rail is pretty much obsolete now and is only kept on to provide backward compatibility with older hardware. Some older types of serial port circuits required both -12V and +12V voltages, but since almost no one except industrial users use serial ports anymore you as a typical home user can pretty much disregard this rail.
-5V – Again this is another obsolete rail, the -5V was used for old school floppy controllers and some ISA bus cards. Again, no need for the typical home user to worry about this rail.
0V – Though not listed on any manufacturer spec sheet, every power supply
has a 0V ground line. The ground signal is used to complete circuits with other voltages and provide a plane of reference against which other voltages are measured.
+3.3V – Finally we are starting to get into something useful! The +3.3V rail was introduced with the ATX form factor in order to power second generation Pentium chips. Previously the CPU was powered by the +5V rail (along with the system memory and everything else on the motherboard), but a reduced voltage was needed in order to reduce power consumption as the chips got faster. Until just recently, the +3.3V was used to exclusively power the CPU as well as some types of system memory, AGP video cards and other circuits.
+ 5V – As mentioned above, the +5V used to run the motherboard, CPU and the majority of other system components on older pre ATX based systems. On newer systems, many of the components have migrated to either the +3.3V or +12V rails, but the motherboard and many of its onboard components still use the +5V rail so it is of importance to the typical home user.
+5V SB – The +5V Standby or "Soft Power" signal carries the same output level as the +5V rail but is independent and is always on, even when the computer is turned off. This rail allows for two things. First, it allows the motherboard to control the power supply when it is off by enabling features such as wake up from sleep mode, or wake on LAN technology to function. It also is what allows Windows to turn your computer off automatically on shutdown as opposed to previous AT supplies where you had to bend over and push the button. Every standard ATX power supply on the market will include this rail.
+ 12V – The +12V, also known as the mother of all rails, is now used to power the most demanding components in your system including the CPU, hard drives, cooling fans, and graphics cards. Historically the +12V rail was used only to power drives and cooling fans. With the introduction of the 4-pin CPU plug on P4 motherboards and then eventually AMD based motherboards, in order to supply newer power hungry CPUs, the +12V rail suddenly started to grow in importance. Today, dual core based motherboard require an 8-pin +12V connector to supply their power needs. High end GPU cards have also jumped on the +12V rail, which has required PSU makers to adapt. Where previously there was only a single +12V rail, there are now two or more, each designated to power specific devices in order to ensure that nothing is underpowered.
Now as to why they are called rails, the best explanation that I can find is that the term comes from the wacky world of electronics and it refers to a long metal bar or strip that is used to provide a particular voltage level. Perhaps someone with a deeper understanding of all things electrical could let me know whether or not that is true.
a Closer Look
Click Image For a Larger One
The Sapphire Pure 1250 Watt Modular Power supply came in a larger box than what was expected, but this just made sure the power supply comes very sturdy and will not get damaged during shipping. Overall I cannot complain about the boxing and it has a very nice stylish black coloring with plenty of information to satisfy the user when they are shopping for a new power supply.
Click Image For a Larger One
This is the Pure 1250W outside of its box. At first look this power supply was bigger than the usual lower wattage power supplies. It came with a very shiny black paint which will reflect the hardware in your PC. There is a 13.5cm chrome fan included with this power supply, which also has 18 built in white LED which will illuminate your computer system beautifully. The side of the power supply shows the label with the power output table and the different certifications. The top of the power supply contains the P/N, the S/N the EAN and the UPC codes. And finally you can see that the Sapphire PURE PSU is not 100% modular. It includes a few cables that could have been made modular, like for example the CPU power cable, because they include two 8-pin connectors. Todays most PC's don't require two 8-pin connectors, but only 1.
Click Image For a Larger One
On the first picture, we can see how the modular power supply can tremendously save space and airflow in a computer. There are 10 extra connectors that can be plugged in for extra leads. On the second picture, we have opened up the Sapphire Pure 1250 Watt Power Supply. At first look, it looks very clean inside and the cables and circuitry are not cluttered.
Click Image For a Larger One
Looking from the top at the internal circuitry of the Sapphire PSU, this PSU looks like a Enermax Evolution 85+ PSU. After taking a look at who is manufacturing this power supply, it came out to be Enermax. Enermax has been viewed as one of the best manufacturers in PSUs in the past, with some of the highest quality Japanese capacitors and powerful PSUs. We can also see that there are plenty of heatsinks distributed all over the internal parts of the PSU, making sure that the fan can efficiently cool down the power supply.
Click Image For a Larger One
The first picture on the left shows the included PSU leads that are hard wired into the PSU. As mentioned before it would have been nice if only one 8-pin CPU connector would have been included in the hard wired cables. We can see a fan connector in this picture as well. The fan connector allows the motherboard to read down the fan speed of the power supply. On the right picture we can see the Users manual, 4 screws and a ATI FirePro Multi-View logo, as well as a power cable and a cable managing pouch.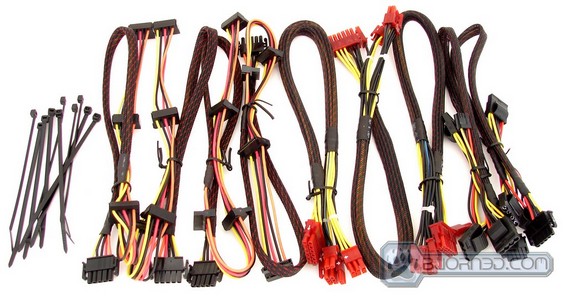 Click Image For a Larger One
These are the cables that are modular. We can see that there are a lot of cables that were made modular to make it possible to keep the system very clean and well ventilated. On the left side we see several cable ties. These ties will help tie together you power supply cables for good wire management. They come extremely handy, and we are glad that Sapphire has included them in this package.
TESTING & METHODOLOGY
When it comes to power supplies, any power supply, what you're really looking for is good clean voltage and plenty of it. Current standards are 5% variance on any rail maximum, which is a little more lax than my personal standard of 3% max everywhere but the +5vSB (+5v stand by) which is always on even when the power supply and computer are off. On the +5vSB it's not unusual to see 5% and since it's only for wake on Lan or by device feature it's not a big deal.
Like a lot of you enthusiasts out there, our PC's are an ongoing work of art that we have a lot of cash invested in. If a PSU won't hold to 2 or 3% load/idle no matter what we do to it, we won't use it or recommend it.
Testing Equipment
Thermaltake TR2 1000 Watt
Testing Equipment
Multimeter
RadioShack Digital Multimeter
Wall Voltage
Craftsman 400A AC/DC Clamp Meter
To test the Voltages on each rail and then measure the overall Wattage used by the whole computer system, we have used two different equipment. We used the RadioShack Digital Multimeter to measure the voltages on each rail (5V,12V,3.3V). To measure the overall wattage used by the computer system we used a Craftsman 400A AC/DC Clamp Meter. We attached the clamp straight to the wall outlet with a special divider to measure the overall Wattage being used accurately. The results were precisely recorded in a word document.
Test Rig
Test Rig
Case
Cooler Master Stacker 830 SE
CPU
Intel Core I7 920 Extreme 2.66Ghz @ 3.8Ghz (vcore 1.35v)
Motherboard
ASUS P6T SE X58 Motherboard
Ram
OCZ DDR3-12800 1600Mhz (7-7-7-18 1.66v) 12GB Kit
CPU Cooler
Thermalright True Black 120 Rev. C (Dual SilenX 120mm Fans)
Hard Drives

2x Western Digital RAID Edition 3 1TB Hard Drives

2x Seagate Barracuda 7200.11 500GB Hard Drives

Optical
Sony DVD R/W
GPU
XFX GeForce 8800GTS G92 512MB Alpha Dog Edition
Case Fans

2x Noctua NF-P12 120mm Fans – Side

1x Noctua NF-P12 120mm Fan – Front

1x Noctua NF-P12 120mm Fan – Back

1x Noctua NF-P12 120mm Fan – Top        

Additional Fans

2x Noctua NF-R8 80mm Fans – Video Card

1x Cool-It Memory Fan Cooler

Testing PSU

Thermaltake TR2 1000 Watt Power Supply

Ultra X3 1000Watt Modular Power Supply

Sapphire PURE 1250 Watt Modular Power Supply

Mouse
Logitech G5
Keyboard
Logitech G15
Two different tests will be done with this testing system. One test will be conducted under stock settings, while the second test will be conducted under overclocked settings on the CPU and Video Card. To put the system under load condition, we used Cinebench R10 to stress the CPU and 3DMark Vantage to stress the video card. Let's take a look at the results.
TESTING RESULTS
Power Output Results(V) – Stock System
Measured With RadioShack Multimeter And
Craftsman 400A AC/DC Clamp Meter

Power Rail

Sapphire Pure 1250W PSU

Thermaltake TR2 1000 Watt

Ultra X3 1000 Watt Modular

Idle

Load

Idle

Load

Idle

Load

3.3v

3.31V

3.30V

3.31V

3.31V

3.22V

3.22V

5v

5.07V

5.06V

 5.15V

5.14V 

5.02V

5.01V

12v1

12.24V

12.24V

11.98V

11.95V

12.17V

12.16V

12v2

12.24V

12.24V

12.04V

12.02V

N/A

N/A

12v3

12.23V

12.22V

12.03V

12.02V

N/A

N/A

12v4

12.23V

12.22V

12.00V

11.98V

N/A

N/A

12v5

12.20V

12.19V

N/A

N/A

N/A

N/A

12v6

12.23V

12.23V

N/A

N/A

N/A

N/A

Wattage Used

178.36W

253.8W

 181.7W

255.3W 

235.75W 

322W 
Power Output Results(V) – Overclocked System (GPU, CPU)
Measured With RadioShack Multimeter And
Craftsman 400A AC/DC Clamp Meter

Power Rail

Sapphire Pure 1250W PSU

Thermaltake TR2 1000 Watt

Ultra X3 1000 Watt Modular

Idle

Load

Idle

Load

Idle

Load

3.3v

3.30V

3.29V

3.31V

3.30V

3.20V

3.18V

5v

5.05V

5.04V

5.14V

5.15V

5.01V

5.00V

12v1

12.24V

12.24V

11.97V

11.94V

12.16V

12.15V

12v2

12.24V

12.24V

12.03V

12.00V

N/A

N/A

12v3

12.22V

12.20V

12.01V

11.98V

N/A

N/A

12v4

12.22V

12.22V

11.98V

11.95V

N/A

N/A

12V5

12.21V

12.20V

N/A

N/A

N/A

N/A

12V6

12.22V

12.23V

N/A

N/A

N/A

N/A

Wattage Used

204.9W

376.5W

 210.45W

380W 

264.5W 

456.5W
We can clearly see that no matter how much load we try to put through this beastly power supply, the results are still fantastic. The slightly higher voltages are not a problem in this case because they would need to be much higher before any hardware is damaged in the system. However we can see that even a systems with much higher load will easily be supported due to the head room in the voltages.
Conclusion
Wow, that is all I can say at the moment! This power supply will meet any computer enthusiasts needs whether they are overclocking, they are using high end SLI/CrossFire video card setups or if they need a high end server based system that draws a lot of power. The Modular cable setup is a very good feature on this Power supply and we are seeing a lot of companies making this move on their latest power supplies. The chrome fan included with the Sapphire PURE 1250 Watt Modular Power Supply is a nice fan that has 18 white LEDs to light up the interior of your PC, however the fan can be heard if it is used in cases like the Silverstone TJ10B. The reason for this is because it intakes the cool air from the bottom of the case which is an open area. If the power supply would be located on the top of the case, it would probably not be heard because it is in a closed environment.
However this 1250 Watt power supply is one of the best power supplies I have encountered recently. The 80Plus Bronze certification will keep your power supply very efficient and will maintain a cool environment in your computer case. I'm very satisfied with this power supply and will recommend it to anyone needing a powerful and efficient power supply.
OUR VERDICT: Sapphire PURE 1250 Watt Modular Power Supply
| | |
| --- | --- |
| Performance | 9.5 |
| Value | 8 |
| Quality | 9 |
| Features | 9 |
| Innovation | 8.5 |

We are using a new addition to our scoring system to provide additional feedback beyond a flat score. Please note that the final score isn't an aggregate average of the new rating system.

Pro

Cons

 Excellent Voltages during tests, never too low or too high.

High Quality Japanese capacitors, and 80Plus Bronze Efficiency!

Modular Power Supply

Included Cable ties

Plenty of leads for even the most advanced systems

Power Guard Indicator LED

RPM detector Cable

Would have been nice to see a 100% Modular Power Supply!


The fan can be heard a little.




 

Summary: Overall the Sapphire PURE 1250 Watt Modular Power Supply is a very high quality and efficient power supply that never caused any problems while we were testing it. It is full of features and the modular power cables make it very easy to route, hide and use only the cables you need in your system. I would like to give this the Sapphire PURE 1250 Watt Modular Power Supply Bjorn3D's Golden Bear Award for it's excellent performance compared to the other power supplies!