OCZ Technologies brought us another set of memory modules for the Core i5/i7 1156 socket CPUs. DO these sticks of memory have waht it takes to give us an advantage over other memory kits?
INTRODUCTION
OCZ Technologies Memory is one of the most preferred types of memory to have in our computers. Who would not want to have memory that performs well, and stable in our computers? Unlike the Intel 1366 socket Core i7 CPUs tring to find a set of low voltage high frequency memory was next to impossible at the starting of this newer CPU type. This time around, memory manufacturers were prepared to have high frequency, low voltage memory for the newer Intel Core i5/i7 1156 socket CPU's.
Today we are going to look at a set of Platinum 1866MHz memory from OCZ Technologies. Intels newer 1156 socket type uses only a dual channel configuration. But unlike the 1366 socket CPUs default memory speed of 1066MHz, the 1156 socket CPUs has a default memory speed of 1333MHz. What does this tell us? The 1156 socket CPUs have a higher memory divider available to us to really get our memory screaming.  
Lets walk on down into the "Dragons Lair", while I put these memory modules into my Core i5 750 CPU setup and see how far the 1866MHz Platinums will go. Now this time around, I am going to add something a bit different to try and answer the age old question, "Whats better, memory frequency or memory timings?" I am going to try and ramp these sticks of memory to their highest possible frequency, then drop the frequency and tighten the timings, while maintaining roughly the same overall CPU core speed of 3.8GHz. The results may shock ya.
TESTING METHODOLOGY
Test Setup &Testing Methodology
CPU
Intel Core i5 750 @ 2.66GHz, 3.8GHz
Motherboard
GIGABYTE P55-UD6
Case
SilverStone Raven RV-02
Memory
GSkill RipJaw, Corsiar Dominators, OCZ Platinums
Video Card's
EVGA 275GTX, GigaByte 9600GT
Hard Drives
Patriot SSD 128 Gig
CDRom Drive
Lite On Blue Ray
Power Supply
Seasonic 850W
CPU Speeds Used
2660 MHz, 3800MHz
Operating System Used
Microsoft Windows Vista 64
Video Card Cooler

Stock cooled
CPU Cooler

Swiftech GTZ water block
To test the OCZ Technologies 1866Mhz Platinum memory, I will be using the below listed programs, to ensure that stabilty was present through out testing. I will also be including 3 different types of memory timings and memory speeds to gain an extra perspective on how memory timings and the memory speeds correlates with one another, these will be listed in the overclocking portion of this review.
I will be comparing the OCZ 1866MHz Platinum memory with the GSkill 2000MHz Rip Jaws, and the Corsair 1600MHz Dominators, both of these memory modules will be using default memory speed with a default CPU core speed of 2.66GHz.
List of Program Used
SiSoft: Memory Bandwidth, Memory Latency, & Memory Cache and Bandwidth
Everest: Memory Bandwidth (Read, Write, Copy), & Memory Latency
wPrime: 32Miilion, & 1024 Million PI calculation
Super PI 1.5: 1Million, 4Million PI Calcualtion
OVERCLOCKING
Here is the default memory speed and CPU speed. I ran the memory at a 1866MHz speed with 9-9-9-24 timings, any attempt I tried on tightening up the timings resulted in instability during testing. I tried upping the BCLK of the CPU to 200 while using a 10 memory divider (same timings) this time resulting in a hard lock up. I adjusted the memory timings to 10-9-9-24 while staying at a 2000MHz speed, again resulted in a hard lock up. I resetted the memory timings to their default state (9-9-9-24) and the memory modules to their default speed of 1866Mhz (10×186). I then upped the BCLK to 195, again I was greeted with a hard lock during wPrime testing.
After getting frustrated, I decided to reduce the BCLK of the CPU down to 190, finally I had stability. I then maxed the CPU multiplier to 20 from the XMP profile of 14, giving me a total CPU core speed of 3.8GHz. At that time I decided to drop the divider on the memory from 10 to an 8, upped the BCLK to 212, adjusted the CPU multiplier down from a 20 to 18, then tightened the memory timings from 9-9-9-24 2T to a 8-7-7-20 1T with a memory frequency of 1696MHz while having a CPU core speed of 3816Mhz. Figured if i can not go any higher then 190 BCLK might as well drop the overall frequency of the memory down, tighten the timings up and see how things faired.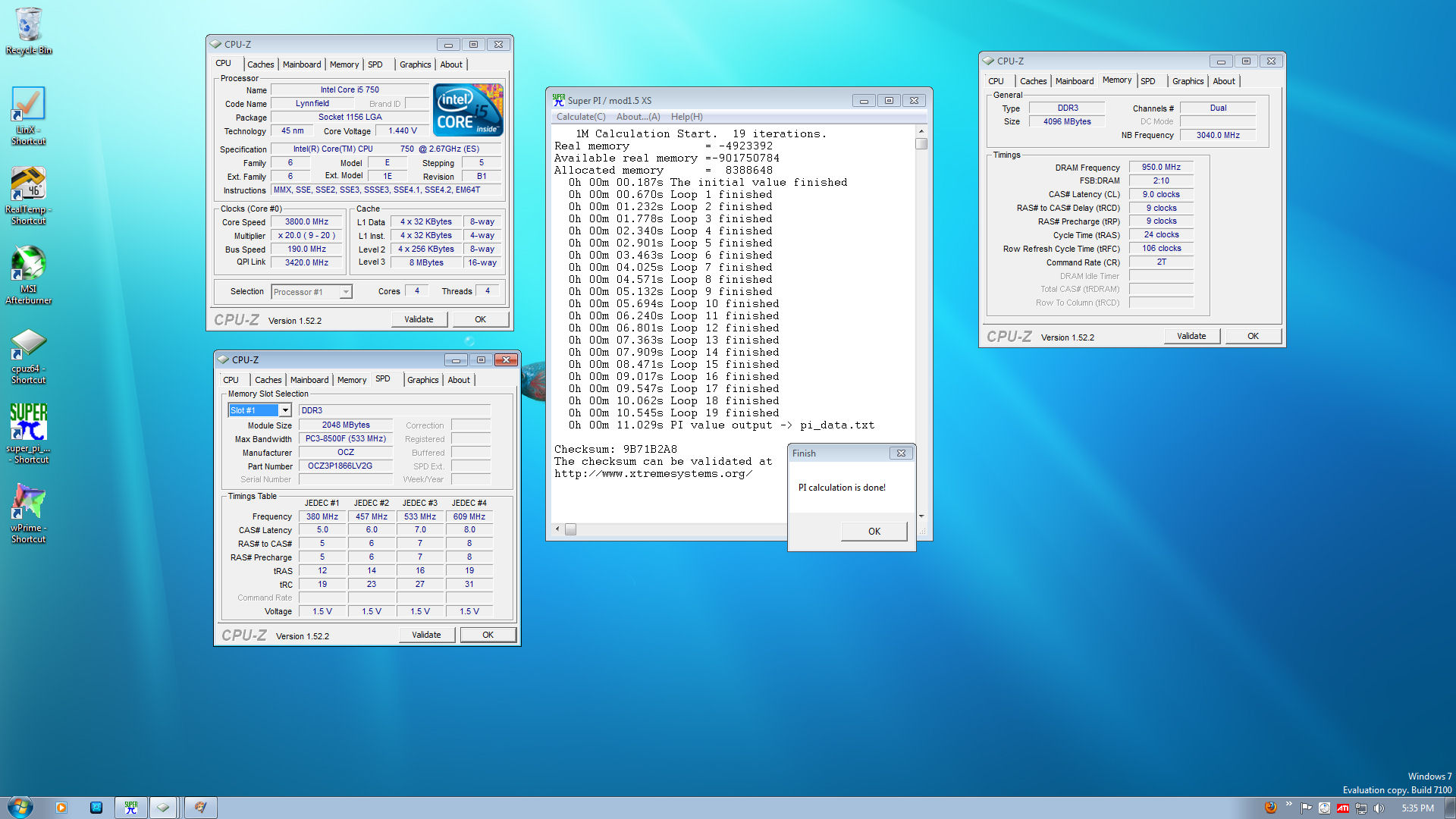 Maxed out overclocking attempt.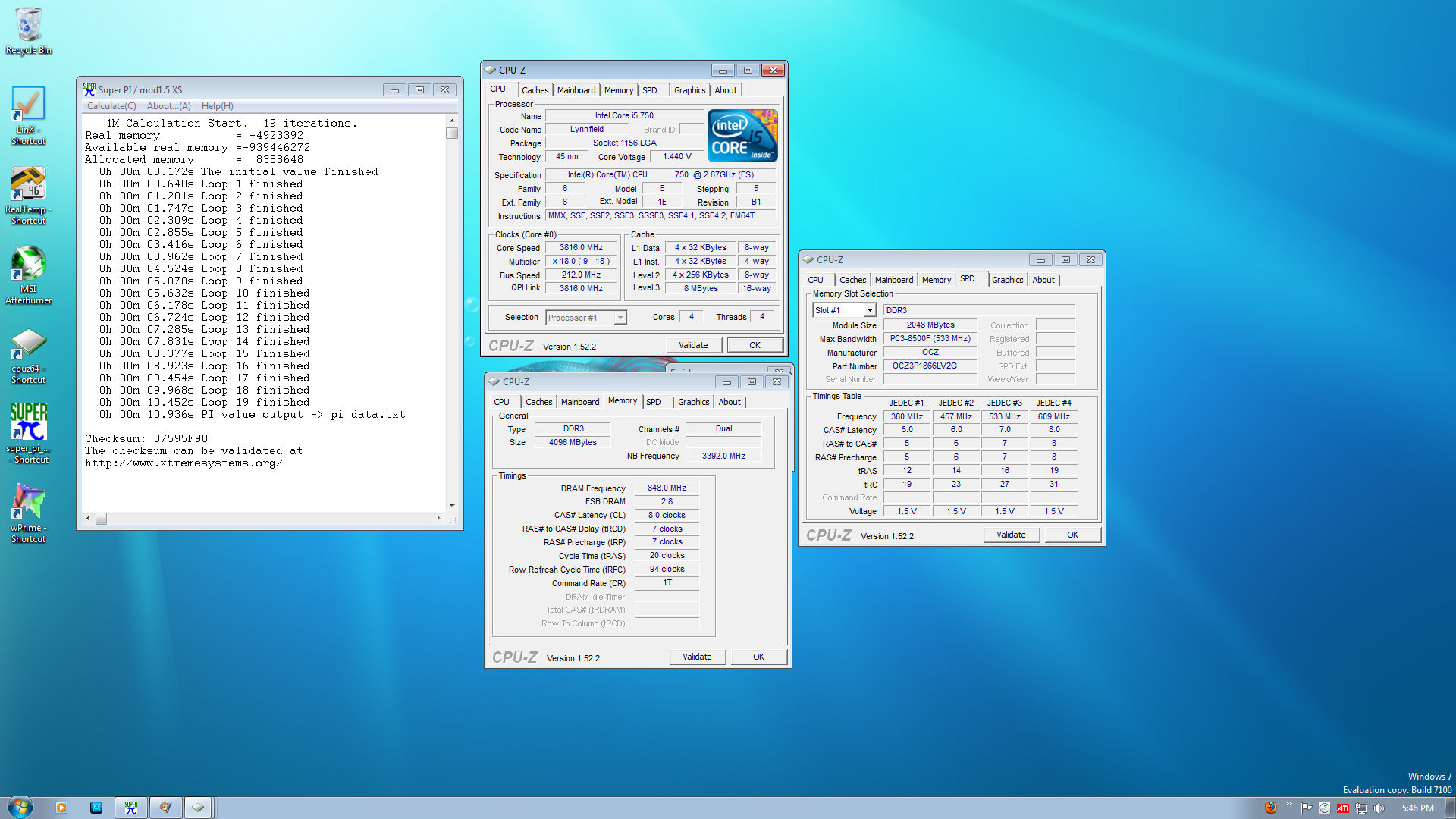 My way of overclocking.
Specifications
1866MHz DDR3       
CL 9-9-9-27
(CAS-TRCD-TRP-TRAS)       
Available in 4GB optimized kits       
Unbuffered       

Platinum Layered Z3 XTC Heatspreader*       

Lifetime Warranty       

1.65 Volts**     

  
240 Pin DIMM

Part Numbers 

      

4GB (2x2048MB) D/C Kit PN – OCZ3P1866LV4GK
Packaging & Installation
OCZ uses a standard blister type packaging with the 1866MHz Platinum memory. We can see the rating sticker on the memory modules is visible enough for anyone to see, These memory sticks are intended for the socket i5/i7 1156 CPUs, so their are only two memory moduals for dual channel.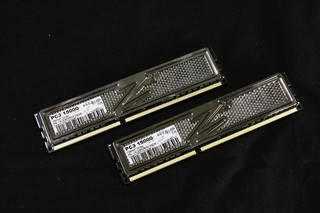 Here are the memory modules out side of the blister packaging. OCZ uses a black PCB and then placed their signature chrome heat spreaders over the memory IC's. Now if OCZ ever got rid of the white rating sticker these memory modules would be perfect.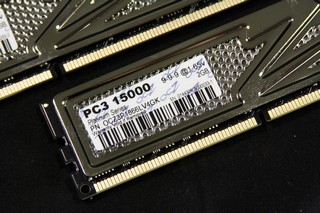 Looking at the rating sticker, these memory modules are rated at 1866MHz with 9-9-9 timings with a 1.65 volt limitation that Intel has placed on all 1366/1156 socket CPUs.
Looking at how OCZ placed the heat spreader on the memory, there are no clips and hold downs holding the heatspreaders on, OCZ uses a thermal tape to secure the heatspreaders onto the memory ICs.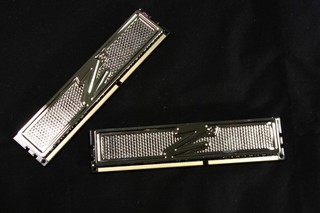 Finally looking at the back side of the memory modules. This is what I would like see on both sides of the memory. Just plain and simple beauty.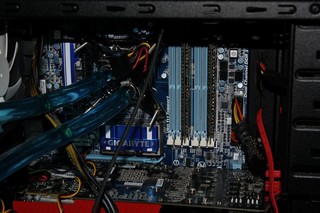 No real need to go into depth on memory installation pretty straight forward installation. Here is what these sticks look like installed into a Gigabyte P55-UD6 motherboard.
SISIOFT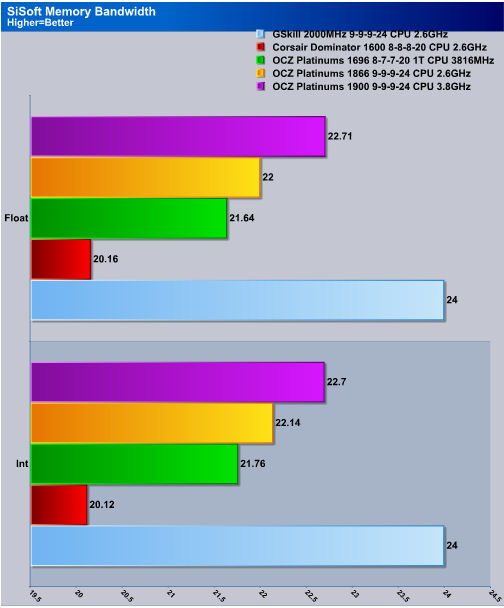 Starting off with SiSoft memory bandwidth testing, we can see the SiSoft still prefers to have high memory frequency vs having a lower memory frequency and tighter memory timings.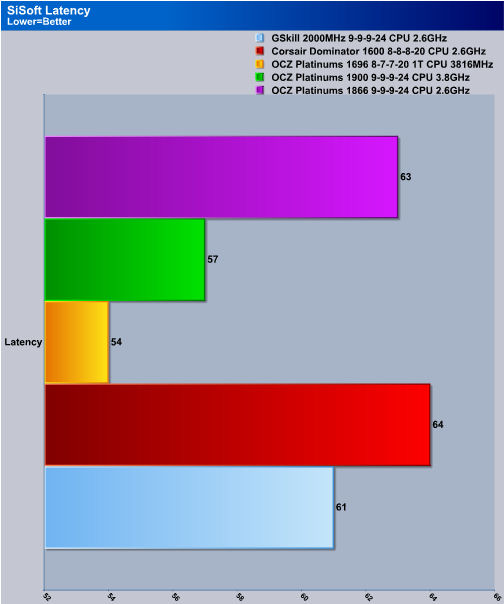 Even though the OCZ 1866 Platinum memory was crippled by almost 300MHz compared to the GSkill 2000 MHz Rip Jaws, running a tighter memory timings resulted in a significant drop of the over all latency.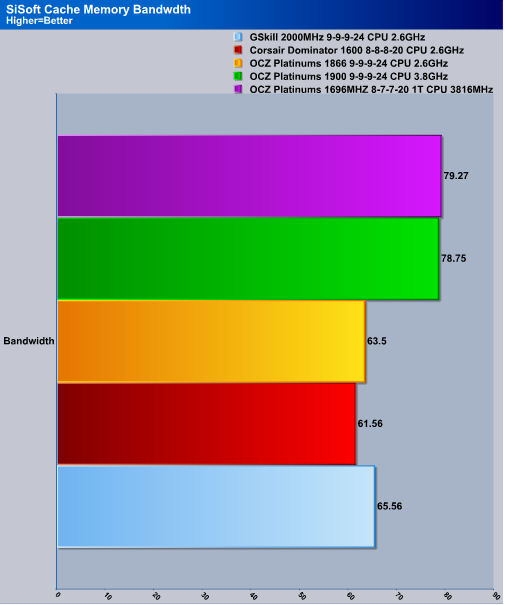 The cache benchmarking shows us the combination of high memory frequencies and CPU frequency results in a higher bandwidth.
everest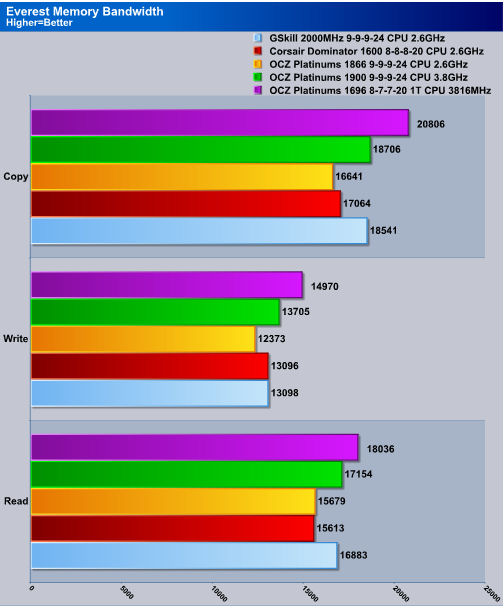 Like SiSoft memory bandwidth, the higher the memory frequency achieved, the higher the memory bandwidth received. But unlike SiSoft, Everest's memory bandwidth testing can be influenced by the CPU frequency.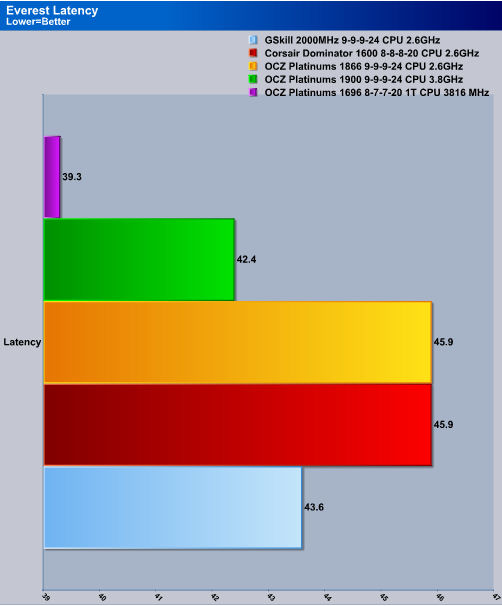 Once again, by running a lower memory frequency with tighter timings gives a significant drop in the overall latency of the memory. Like Everest memory bandwidth testing the CPU frequency can influence the latency as well.
wPrime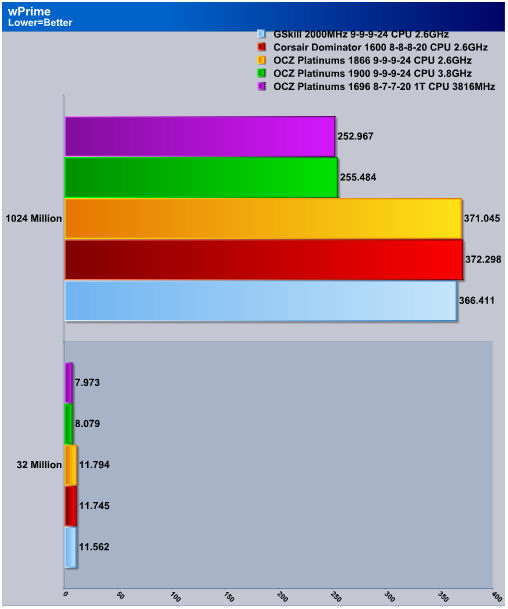 Now its time to see how things fair with two simple PI calculation programs. Calculating with wPrime, the Higher the CPU frequency while having tight memory timings gives us the same performance, as too having a higher memory frequency.
SuperPi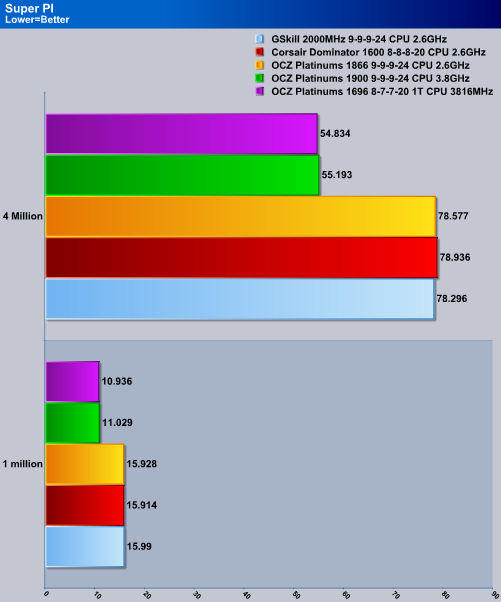 Super PI testing confirms that having both a high CPU speed with lower memory speed with tighter memory timings has the same performance levels compared to when I was using a higher memory frequency.
Conclusions
What does all of this testing tell us when it comes to memory? This question brings us back to our original question, is it better to have a higher memory frequency or is it better to use a lower memory frequency with tighter timings?
Well the answer is not exactly an easy one to answer. It greatly depends on what your applications you use with your computer. As we saw with the OCZ 1866 Platinum memory, if we would have stayed with the default memory divider of 10, I would have seriously undermined the CPU overclock. Granted a 190 BCLK with a 20 CPU multiplier is nothing to sneeze at, but in my case I know for a fact the Core i5 750 CPU is capable of so much more then just a mere 3.8GHz. So by dropping the memory divider to a lower number did hinder the overall memory bandwidth, but at the same time I was able to tighten up the memory timings to get me an even lower memory latency.
For myself I would rather have a higher CPU frequency and lower memory latency then a lower CPU frequency with a high memory bandwidth, if push comes to shove. The OCZ 1866 Platinum memory did not overclock very well. Gaining a mere 36Mhz over rated frequency is not very good, but having the ability to drop the frequency and tighten up the timings is definitely a plus. So it all comes down to price, "How much are these memory modules?"  There are memory kits that go for 100USD, and others go for 125USD, the OCZ platinums go for 115USD which puts these right in the middle for pricing, if you are needing a set of memory that allow some flexability as well as solid performance, the OCZ 1866MHz Platinums will not let you down.
OUR VERDICT: OCZ 1866MHz Platinum Memory

| | |
| --- | --- |
| Performance | 8 |
| Value | 8.5 |
| Quality | 8 |
| Features | 8 |
| Innovation | 7.5 |

We are using a new addition to our scoring system to provide additional feedback beyond a flat score. Please note that the final score isn't an aggregate average of the new rating system.

Pro
Cons

Good price to performance ratio

Flexable enough to be able to tighten up the memory while using a lower memory frequency.

Limited overclockability while using a default memory divder.

 

 
Summary: The OCZ 1866 Platinum memory modules did do the advertised frequency, and also allowed me some flexable options when it came to overclocking the CPU.