Does that new mouse you bought have some issues with tracking? Well maybe you need to run it on a new surface. Today we have Cooler Master's take on the age old mouse pad.
introduction
I am sure that many of you have been in the position where you get your new mouse home, and it's just not as good as you expected. Well it may not be all the mouse's fault. One commonly overlooked peripheral "helper" is the mouse pad. The first thing that comes to mind is the old square piece of rubber with a cloth covering. Well essentially this is what Cooler Master has done. Why not add some new features? Well why not re invent the wheel while your at it. Fact is the age old design works just as good today as it did over a decade ago.
However Cooler Master has not been making mouse pads for over ten years. In fact this is the first mouse pad from Cooler Master ever. Don't discredit Cooler Master as being a "noob", they have had many years of experience in other computer components. I have no doubt that Cooler Master can somehow apply that knowledge to a field that they have never ventured into, and produce a top notch product. After all this mouse pad is in the excellent Storm line of products, so it can't be bad, can it?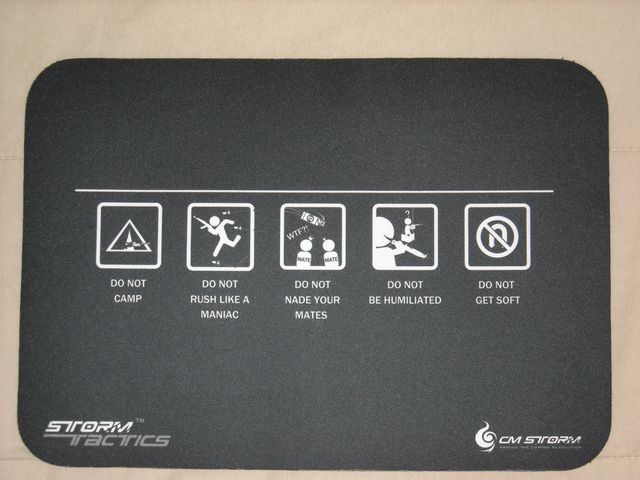 Features
Durable surface for both optical and laser mice
100% rubber construction on the bottom to cling to the surface
Interesting print on the surface
Extra padding
Pictures & impressions
The front of the box is pretty basic. It has the name of the product (and what a long name that is). To the left is a small section of the material used on the top of the mouse pad. Just to the right of that is a small image that happens to also appear on the mouse pad itself. Lets open this up and take a peak inside.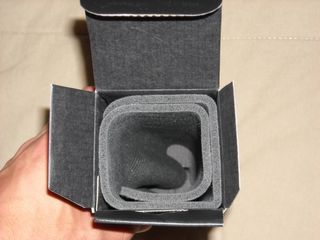 When we open up the box we are greeted with a rolled up pad. Since the pad is made out of rubber, there isn't any need for any padding.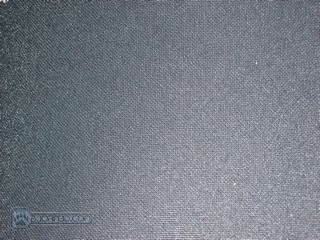 Here is a good look at the material of the mouse pad. As you can see it is similar to fabric, but it feels a lot tougher.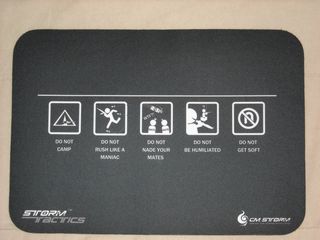 The mouse pad is actually quite large, coming in at 405mm wide by 280mm tall by 5mm thick. On the top are a few entertaining pictures. When you put pressure on the pad you can feel how soft the padding is. This is definitely a plus for any users who like to rest their wrists on the pad. Now lets put this mouse pad to the test!
Testing
As with any mouse, there is not better way to test out the capabilities of a mouse pad than opening up a game. First I opened up GTA4, and started playing where I left off. I noticed that with the pad, my Sentinel mouse was much more accurate. The mouse also started tracking much better, and unlike before, I didn't have any random moments when the mouse decided it was going to fly across the screen. I also noticed that throughout testing, the mouse pad never moved from its original position. This is great since it would be bad if the mouse pad moved all over the table.
GTA4 is fine and dandy for general testing of a mouse pad, but we need something more precise if we really want to test the fine details of the mouse pad. Photoshop is the perfect test for this so I booted it up, and started to edit graphs for an upcoming review. The difference in tracking really showed in Photoshop, where being precise is essential. I had a much easier time selecting the correct area of the image when using the mouse pad.
A mouse pad should not really be judged by its looks, but this is probably the most interesting one I have seen. After a round I cant help but tying each of the pictures to a individual on my team. I then quietly laugh to myself and continue on into the next round. This mouse pad has really excelled in the testing phase. Lets go take a look at the final conclusions.
Conclusion
The Cooler Master Storm Tactics Mouse Pad is a great entry for Cooler Master into the mouse pad market. While the market isn't that large, maybe companies have one or two mouse pads out just for good measure. The ST mouse pad had great tracking for laser mice, something that any enthusiast will appreciate. Like many other mouse pads, Cooler Master has opted to go with a soft rubber padding instead of the thinker material. I prefer the padding because I like to rest my wrist on the pad every once and awhile.
One thing that is really overlooked in many mouse pads is the design. While many have a cool logo of the company, I like to have a bit more entertaining design. This mouse pad does not disappoint. The pictures and captions really bring back memories of some ridiculous rounds of multiplayer. Some of them contain frustration, but many of them make me laugh especially if I was the one to knife a sniper in the back.
While the fabric may not be the best choice of materials for hard core gamers, it is still durable enough to last for quite a long time. This makes the mouse a bit hard to judge, since people like me like the softer mouse pad, while many others like to have extreme durability. In the end this mouse pad is really for someone who has my tastes in a mouse pad, rather than someone who wants a pad that will last for a decade. A few of the detailed scores could not be scored as of writing since the pad has not been released yet.
We are using this scale with our scoring system to provide additional feedback beyond a flat score. Please note that the final score isn't an aggregate average of the rating system.
Performance 9
Value ?
Quality 9
Warranty ?
Features 8
Innovation 8
Pros:
+  Great Performance
+  Soft Surface
+  Good For Laser And Optical Mice
+  Cool Design
Cons:
–  Not The Most Durable Pad
Overall the Cooler Master Storm Tactics Mouse Pad is a great addition to the Storm line of computer components. The mouse pad performed awesomely with laser mice, and its only real downfall is the material durability. This is why it receives a score of 8 out of 10, and the Bjorn3D Seal of Approval.