NZXT has brought us a chassis that is both stylish and small enough to take our computers to lan parties, or for those who are tight on space.
Introduction
NZXT has been around for while in the computer industry. This company has been making some of the most interesting chassis we have seen. NZXT chassis also has been one of the few companies that like adding that little extra that most other chassis manufacturers don't normally add.
The Lexa S chassis is a chassis that fits those who want both a stylish chassis that can also accommodate a medium large sized computer system. This chassis is also small enough for those who has to have a space saving design, with out sacrificing cooling capabilities.
We at Bjorn3D going to take a look at the Lexa S chassis then put in a fairly large computer system in it, and see how things pan out for this chassis.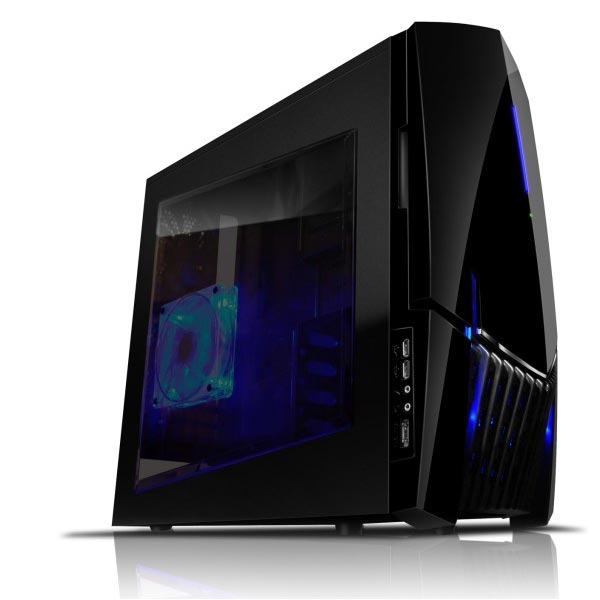 The computer system we going to stick in it is the newest addition to our team, "Minor Me". Minor Me is a Core i5 750 CPU mounted to a Gigabyte P55-UD6 24 phase motherboard, then top this off with a Tri Xfire HD4870 video cards, and a few added extras just because we can.
Can the Lexa S chassis have the right amount of air flow to house these components? Or will we have a thermo-nuclear meltdown?
Specifications
NZXT Lexa S
Specifications
MODEL

Lexa S SERIES

FRONT PANEL MATERIAL

Steel

DIMENSIONS (W x H x D

196 X 480 X 528 mm

COOLING SYSTEM

FRONT, 1 x 120mm , 23db/42CFM (included)

SIDE, 1 x 120mm LED [email protected], 23db/42CFM (included)

TOP, 2 x 140/120mm ( 1 140mm included) REAR, 1 x 120mm, 23db/42CFM (included)

DRIVE BAYS

3 DRIVE BAYS

4 EXTERNAL 5.25″ DRIVE BAYS

7 INTERNAL 3.5″ DRIVE BAYS

MATERIAL(S)

Steel Construction

EXPANSION SLOTS

7

POWER SUPPLY

500 WATT PS2 ATX 12V 2.0 ( OPTIONAL )

WEIGHT

7 KGS (W/O Power)

MOTHERBOARD SUPPORT

MOTHERBOARDS: ATX, MICRO-ATX, BABY AT
Packaging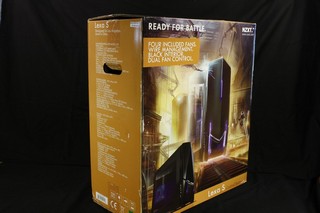 The packaging that NZXT used for the Lexa S chassis is one of the most interesting types I seen. The mid sized box that houses this chassis suggests this would be a perfect candidate for those who like to go to lan parties, and need a portable chassis.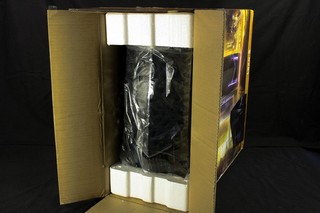 Upon opening the box the Lexa S came in, we see nothing different from what we seen with other chassis. Two styrofoam end caps with a plastic bag covering the entire chassis to help protect it during shipping.
Oops, I got the chassis upside down. Just another picture showing how NZXT packaged the Lexa S.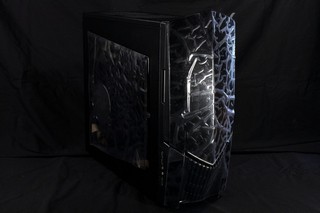 After taking off the styrofoam end caps and removing the plastic bag I then put the chassis in its up right position. NZXT put more plastic covering over the front of the door, and the side window panel to keep these from getting scratched up during the packaging process.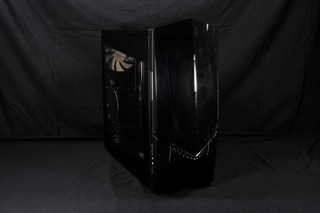 Removed the Plastic covering, I have to admit this chassis does look very nice, and rather unique.
Overview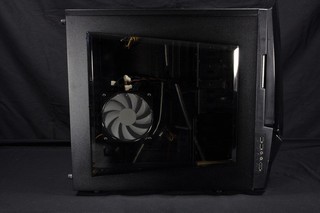 Yes I suspected this chassis is a mid sized tower. The left side, side panel has a smoked window on it with a 120mm fan mounted directly to it. Notice there are no visible bolts or screws? Not even the fan shows bolts. Instead NZXT uses black push pins to secure the 120mm fan to the side panel.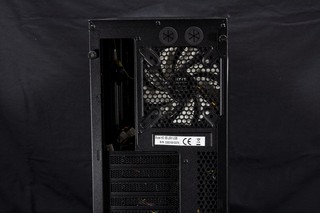 The rear of the Lexa S chassis, can accommodate a full sized ATX and MATX motherboards. The one thing I like to see personally is the bottom mount PSU, NZXT also includes a 120mm fan. The fan blades of all of the fans used in this chassis are white with a black frame. Right above the rear 120mm fan we can see two small holes with rubber grommets, this is for those who use an external water cooling set up. The PCI expansion port covers are vented to improve airflow in the chassis near the video cards.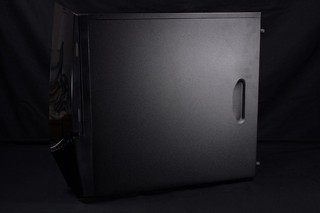 Just looking at the right side of the chassis.
The top of the chassis, The top of the Lexa S chassis can accommodate two 140mm fans (one is included) or two 120mm fans.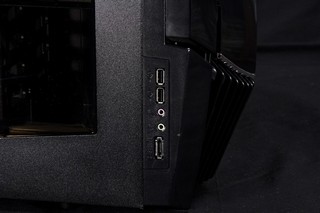 The external USB ports are not located at the top of the chassis. Instead these are placed on the left side towards the bottom of the chassis. This should help keep dirt and other items from entering these ports and raising havoc on our computers.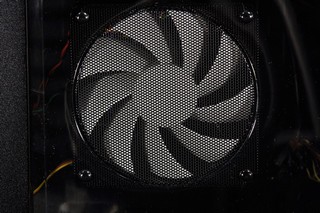 A peek at the left side panal included 120mm fan, as we all ready knew this fan is also white.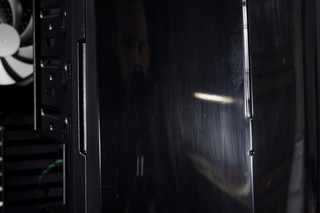 The front of the Lexa S chassis has a mirror finish to it. So be careful you can scratch it easily.
The on/off/reset buttons are located on the inside of the door, as well as two fan controlling knobs. this chassis also uses a front intake fan to help keep the HDD's cool during operation. The front 5.25″ drive bays also use a mesh covering to help improve air flow of the Lexa S chassis.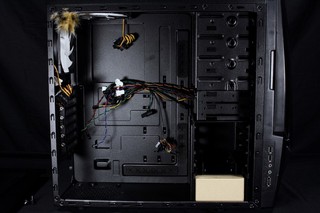 Lets start the Overview of the Interior of the Lexa S chassis.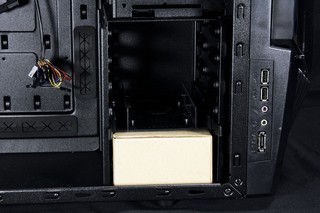 The HDD bays are placed in sideways for easy accessibility,the HDD's use a rail system to slide them in/out for a mush easier installation. NZXT also includes a 3.5″ to 2.5″ adapter for those who use an SSD drive or a lap top drive.
The motherboard mounting plate has a extremely large cut out. This is so we can install our CPU coolers with out having to remove the motherboard. The bundle of wires you see below this cut out are the front IO hookups.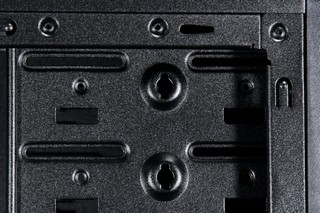 The 5.25″ drive bays looks like these could have been a tooless design.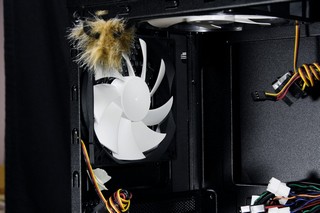 Looking at the rear ward 120mm exhaust fan, the white blades of this fan just jump out at you.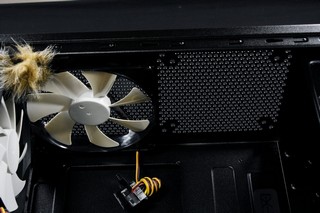 The upper 120/140mm fan mounts. NZXT gives 1 included 140mm fan. We can mount a second 120/140mm fan.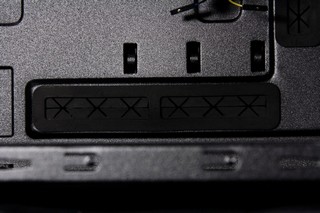 The one area that NZXT emphasises on is the ability of cable management. These are rubber covers that are reliefed cut, so we can route are PSU wires through so we can hide these wires.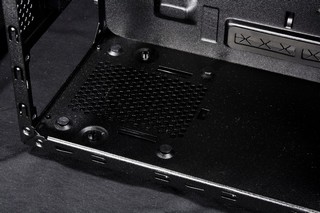 The PSU gets mounted towards the bottom of the chassis. NZXT also uses a filter on the very bottom of the chassis to help keep particles out of our PSU's. The only thing I thought was odd was how the PSU filter gets removed. It moves forward not backwards, this will make removing this a bit harder once all of our components are installed.
Installation
Time to start installing the components into the Lexa S chassis. This is just a little tweak I been doing for years, I reverse two of the motherboard standoffs to make it easier to hold the motherboard in place. The stand offs don't have a whole lot of threads on them, unlike other motherboard offs we use. They still work, but just felt I needed to point this out.
I went ahead and installed of the computer components into this chassis. This is how the HDD/SSD get installed into this chassis. The rail system makes installing HDDs extremely easy.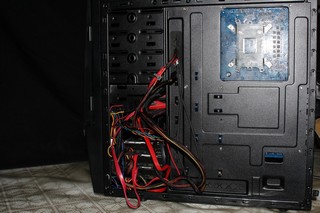 Since the PSU I am using is hardwired (non modular) I was making a small feeble attempt of cable managing. The holes that NZXT included were not very tall, to accept my easy grip Molex connectors, also I did not have enough space behind the motherboard tray to hide the extra wires even if I could fit the Molex/24 main power cable/EPS power cables through the holes. Putting on the side panel on the right side, reminded me of the time me and my ex wife went on vacation, and I had to stand on the suit case to close it shut.
Everything inside of the NZXT Lexa S chassis. Well if a had a modular PSU (or a wireless PSU) things would have turned out better. May wanna be careful on the PSU you would use in this chassis, as things do get cramped fairly quickly. Also notice the [email protected] video card barely fits into this chassis, so if you have a long video card with a large cooler attached to it you may have issues mounting this into this chassis.
The Lexa S all lit up. I kinda like how the LEDs light up the front of the chassis, not to bright but bright enough to add some uniqueness to this chassis.
Testing
To test the Lexa S chassis, I am going to do various tasks and watch the temperature on the CPU and GPUs. The CPU will be at 3.6GHz on a Hyper 212+ CPU cooler, the video cards will be using their stock air coolers. The video cards will remain default clock speeds during testing. I allowed 24 hour break in time to make sure the chassis is running at its peak performance levels, all fans were ran at their maximum speed during testing except for the video cards, these will be ran at 70%. The hottest core temperature reached will be the recorded temperature, ambient temperature is around 19°C. Gotta love fall/winter time.
CPU Temperature
| | | |
| --- | --- | --- |
|  Core i5 3.6GHz | Idle | Load |
| CPU Air Cooling Temperature | 33°C | 63°C |
The NZXT Lexa S chassis does a wonderful job on keeping the temperatures down on the CPU. I like to try and stay with in a 60°C on the CPU limitation, and this chassis manages to keep this temperature limitation quite easily. Showing us that despite the smaller size of this chassis there is still enough airflow to keep our components cool.
CPU Temperature
| | | |
| --- | --- | --- |
|  ATI HD4870X2 | Idle | Load |
| GPU Air Cooling Temperature | 35°C | 76°C |
Now considering I am using ATI Tri Xfire HD4870 video cards, the Lexa S does perform decent enough to help keep the video cards cool. Not being able to fully hide all of the extra wires and not having enough fresh cool air from the front fan definitely does not help matters. I personally like to see my video cards in the 70°C range or lower. Not a complete bad thing, but things could be better.
CONCLUSIONS
NZXT has brought us a chassis that is small and compact enough to be toted around easily for LAN parties while giving enough air flow to keep our computer components cool. The Lexa S also is stylish enough to become a show stopper for our friends and family.
During my time with this chassis the only real noise I heard was from the ATI video card fans running at a 70% utilization, even then this chassis did manage to quieten these down a bit (not a whole lot but a little bit). The only real bad thing I can see with the Lexa S chassis is the so called cable management capabilities. The concept is good, but execution was a bit off. There was not enough room to hide the cables behind the motherboard tray, also I was unable to fit the easy grip Molex plugs through the holes. What little cables I did manage to fit through these holes, caused a slight issue when I tried to put the right side panel back on.
Having a price point from 68-80USD does put this chassis a little on the high side for pricing, but again the cooling capabilities and styling does help offset this cost.
OUR VERDICT: NZXT Lexa S

| | |
| --- | --- |
| Performance | 8 |
| Value | 7 |
| Quality | 9 |
| Features | 9 |
| Innovation | 7 |

We are using an addition to our scoring system to provide additional feedback beyond a flat score. Please note that the final score isn't an aggregate average of the rating system.

Pro
Cons

Decent Cooling Capabilities

Looks good

Small size will make moving from one LAN party to another LAN party easier

 Quiet operation

Included SSD/2.5″ drive adapter

Cable management capabilities needs improvement.

May not fit large video cards with large coolers.

 

 
Summary: The NZXT Lexa S chassis provided my computer components the necessary air flow they needed to keep them cool, all the while making this chassis a lot easier to move around the house.