Ever tring to find that perfect balance of memory frequency and CPU core speed? GSkill has introduced a perfect way to achieve this balance. lets find out how with the 2000MHz Rip Jaw memory.
introduction
With the introduction of the P55 chipest and the new socket type, 1156, comes a old but new standard. Like the CPU's of old, the newer 1156 socket CPUs use a dual channel memory controller.
But that's where it ends as far as similarities. Because unlike the CPUs of old, the newer Core i5/i7 socket 1156 CPUs, use a IMC (Integrated Memory Controller) like the 1366 socket CPU's have. The newer Core i5/i7 socket 1156 CPUs can really handle the memory very well. So well in fact these CPUs can keep up with their tri channel CPUs counter parts.
Which leads us to another question. Why would we need such high memory speed on our computers? The answer is simple, one of the main reasons for having a high frequency memory is it helps the CPU process information going to and from. Memory bandwidth is a byproduct of high frequency (good byproduct by the way). Another reason to have high frequency memory installed in our computers is if you are an avid overclocker like myself, we have a higher ceiling with our FSB's or BCLK without having to slow down the memory to accommodate the high FSB and or BCLK, therefore optimizing our computers even further.
GSkill has introduced a dual channel memory set specifically designed to run and enhance our socket 1156 CPUs experience. Lets take a step inside the "Dragons Lair", start up Minor Me, and see how far the GSkill Rip Jaws 2000 MHz will go.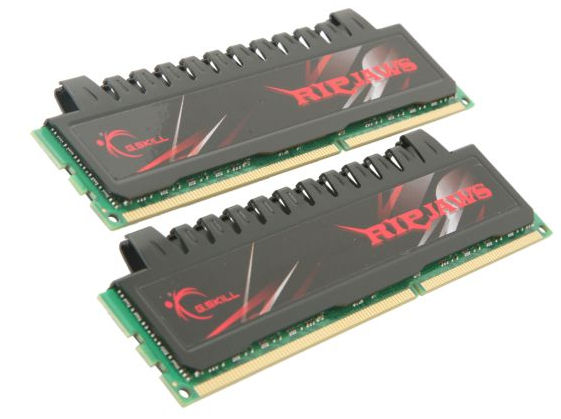 TESTING METHODOLOGY
Test Setup &Testing Methodology
CPU
Intel Core i5 750 @ 2.66GHz, 3.99GHz
Motherboard
GIGABYTE P55-UD6
Case
SIlverStone Raven RV-02
Memory

GSkill RipJaw

Corsair Dominator (TR3X6G1600C8D)

Video Card's
XFX 4870X2, HIS 4870
Hard Drives
Patriot SSD 128 Gig
CDRom Drive
Lite On Blue Ray
Power Supply
Seasonic 850W
CPU Speeds Used
2660 MHz, 3800MHz, 3990MHz
Operating System Used
Microsoft Windows Vista 64
Video Card Cooler

Stock cooled
CPU Cooler

Swiftech GTZ water block
Please note that we are using a Dominator Triple channel kit but only using 2 sticks of the 6GB kit.
Before I go throughout the specifications of the memory and its packaging lets get the testing methods out of the way. I used the below listed programs and ran each one an average of 3 times to ensure that I had stability and the results were consistent with one another. I will be comparing the Corsair Dominators 1600 to these GSkill Rip Jaws. I used the XMP profile listed on each memory type tested. I will include two default GSkill memory runs but the CPU core speed be changed from 2.6GHz, to 3.8GHz. then a final all out memory overclock.  The Corsair memory will only be listed with the default CPU speed of 2.6GHz, and will be running at their default speed of 1600 MHz with an 8-8-8-20 2T timings. The GSkill default memory speed and timings are, 2000MHz with 9-9-9-24 2T.
Benchmarking Programs used
SiSoft: Memory Bandwidth, Latency, Cache And Memory
Everest: Read, Write, Copy, and Latency
wPrime: 32 Million Calculations, 1024 Million Calculations
Super PI: 1 Million Calculations, 4 Million Calculations
OVERCLOCKING
Overclocking the GSkill Rip Jaw memory was fairly easy. At first I used the XMP profile, which allowed the motherboard to set the FSB, CPU multiplier, and timings of these modules to their defaulted states. My default XMP profile set the FSB to 200 with a 10 Memory divider giving me a 2000MHz overall memory speed.
I then adjusted the CPU multiplier up from 13 to 19 and ran the memory with a CPU speed of 3.8 GHz. These memory sticks ran perfect with no ill effects or instability issues. I then tried to up the BCLK from 200 to 205 with the same memory timings of 9-9-9-24 2T, and I was met with hard locks during posting. I then tried a 202 BCLK, and still was met with a hard lock as soon as Windows loaded. Now I know this motherboard is capable of doing at least 215 BCLK easily. I adjusted the memory divider from 10 to an 8 then rebooted the computer to make sure this hard lock was not caused by the motherboard. No issues regarding motherboard came up, so I re-entered the BIOS set the BLCK to 210, and adjusted the memory divider to 10. I then went into the timing screen went from CAS 9 to 10, and left the other timings at their default timings of 9-9-24 2T. I then loaded windows and ran a boat load of benchmark programs to make sure I had stability.
Here is the final result of the overclock on this memory.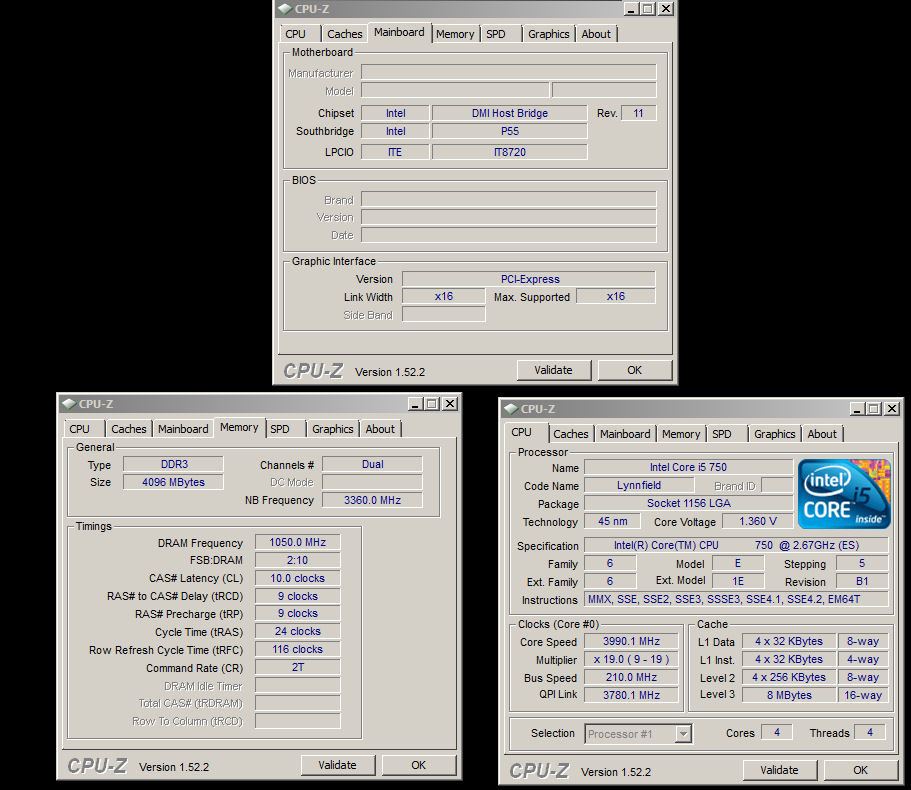 Specifications
| Feature/Specification | Product Name |
| --- | --- |
| Main Board | Intel |
| System | Desktop |
| System Type | DDR3 |
| M/B Chipset | Intel P55 |
| CAS_Latency | 9-9-9-27-2N |
| Capacity | 4GB (2GBx2) |
| Speed | DDR3-2000 (PC3 16000) |
| Test_Voltage | 1.65 Volts |
| Registered/Unbuffered | Unbuffered |
| Error_Checking | Non-ECC |
| Type | 240-pin DIMM |
| Warranty | Lifetime |
Packaging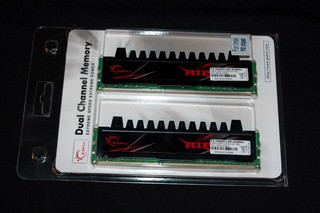 What the G.Skill Rip Jaws look like at peace in their packaging. G.Skill did not go all out on this set of memory as far as packaging, just used a standard blister package.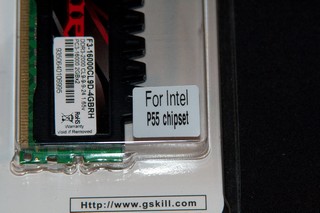 G.Skill also wanted you to know these are intended for the P55 motherboards.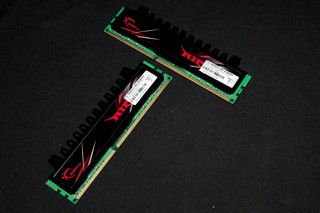 The money shot. The memory outside of their respected packaging. That white sticker takes our attention off of the beauty of the memory modules.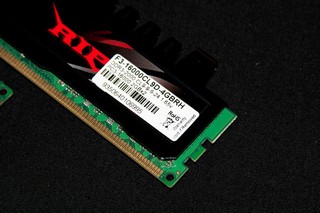 Another close shot of the memory rating sticker that GSkill used.
Me just looking at the memory modules themselves making sure the heat spreader was contacting the memory IC's.
What these memory sticks look like once installed into a GIGABYTE P55-UD6 motherboard.
SiSoft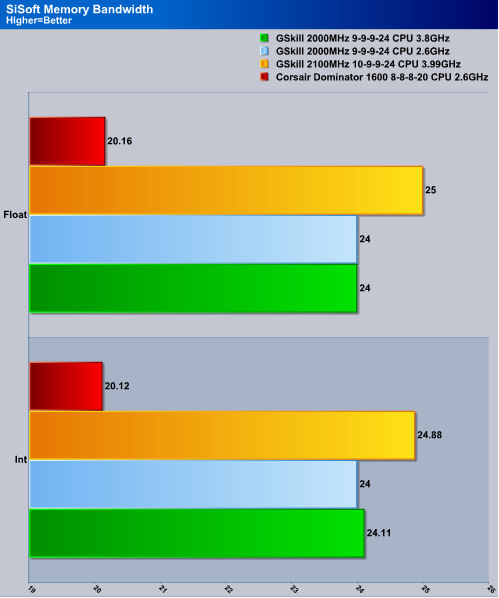 We start off on one of the most popular memory benchmarking programs, SiSoft. SiSoft shows very little fluctuation in the memory bandwidth regardless of the CPU core speed. But we do see a significant change in bandwidth received from running the memory at 1600 8-8-8-20 (Corsair Dominators) to running the memory at 2000MHz with 9-9-9-24 (G.Skill Rip Jaws).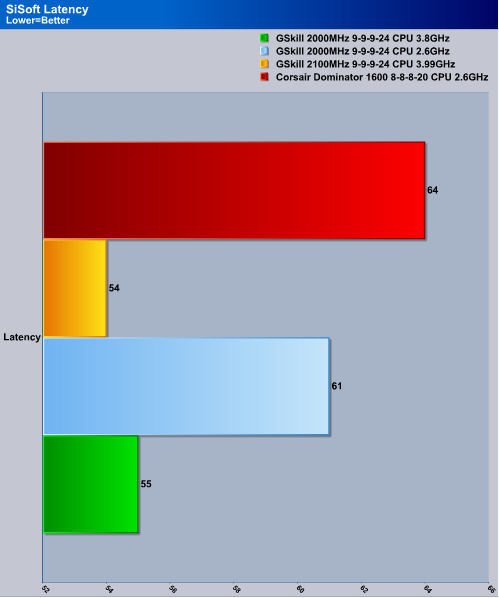 This is where we start to see a difference between the correlation with CPU core speed and the memory frequency. The high CPU core speed does have an effect on how well the memory latency reacts.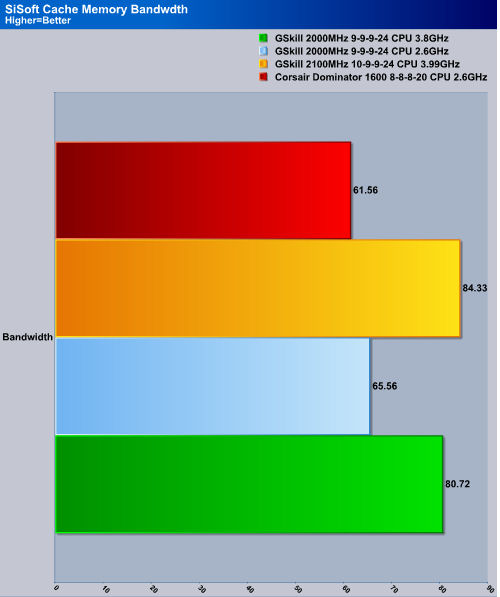 The higher the memory frequency and the CPU core speed achieved, the more bandwidth we received on the SiSoft Cache Memory Bandwidth testing.
EVEREST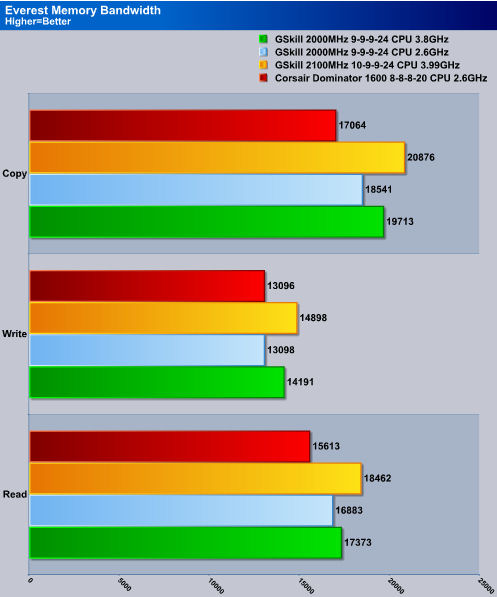 In Everest Memory Benchmarking, we can see how well the high CPU core speed and the high frequency of the G.Skill Rip Jaws gives us a high memory bandwidth. The higher I pushed the G.Skill memory the more bandwidth I recieved.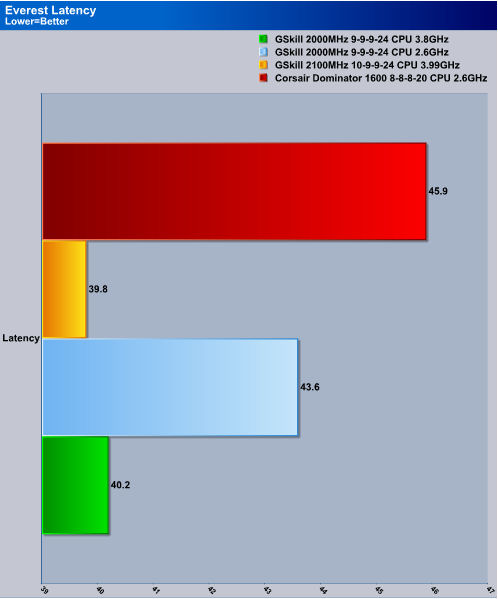 Under the latency testing portion of Everest, we see the even though I am running the G.Skill Rip Jaws at a 2100 MHz with a 10-9-9-24 timings, the increase CAS timing of 10 makes little difference in the latency of this memory.
wPrime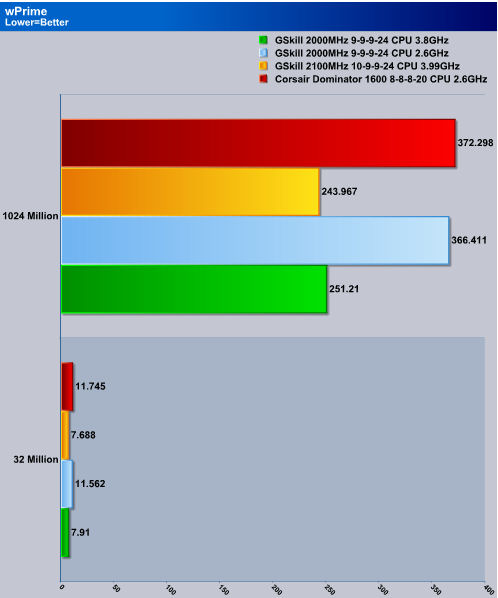 wPrime prefers to have a high memory bandwidth to help calculate the large units of PI. We compare the Corsair Dominators and G.Skill Rip Jaws with a default CPU speed of 2.6GHz.
Super PI
On the short PI calculation of one million having tighter timings is the preferred method. When calculating the higher four million units of PI, having a higher memory bandwidth is the preferred method. Comparing the Corsair Dominators and G.Skill Rip Jaws with a default CPU speed of 2.6GHz.
CONCLUSIONS
By utilizing a higher memory bandwidth, I was not only able to push my CPU to high frequencies, but I was able to optimize the computer better by using both a high memory speed and CPU core speed. By not having to make a sacrifice to my overall memory speed we saw great results.
That is what overclocking is all about, not so much on trying to achieve the highest CPU core speed possible or known to man, but to achieve the perfect balance of memory, motherboard, CPU and our video cards. The G.Skill Rip Jaw 2000MHz memory finally gave me that harmonious balance I been looking for, now all i need is to find a motherboard that will give me a 250+ FSB overclock on my Intel Core i5 750 CPU then I will be truly in heaven.
The only Issue I ran into with this memory is that Bright White memory rating sticks. This stands out like a sore thumb on the black heat spreders that GSkill used on the RIp Jaw memory.
For less then 100 USD for these memory sticks I can live with a white rating sticker marring my memory modules.
OUR VERDICT: GSkill Rip Jaw 2000MHz Memory

| | |
| --- | --- |
| Performance | 9 |
| Value | 9 |
| Quality | 9 |
| Features | 9 |
| Innovation | 9 |

We are using a new addition to our scoring system to provide additional feedback beyond a flat score. Please note that the final score isn't an aggregate average of the new rating system.

Pro
Cons

Great performance to price ratio

Went beyond the rating Frequency of the memory modules

Harmonious overclocking endeavor

White Rating Sticker Sticks out like a sore thumb

 

 
Summary: The G.Skill Rip Jaws finally gave me a great balance of memory frequency, CPU core speed, and motherboard performance.