The new Thermaltake TR2 Standard Series 1000 Watt power supply is here for some of the most power hungry mainstream pc's on the market. While it's a non-modular design, it doesn't mean that this power supply won't be an exceptional one compared to its competition.
Introduction
Thermaltake has been the leader in a number of the top of the line power supplies on the market, including the Thermaltake Toughpower Series power supplies. Many PC enthusiasts use mid or high end computer components from Quad-Core processors to dual or even triple video card setups. Not to mention, as computers get faster, most of the time they also require more power.
Thermaltake's new TR2 Series power supplies are designed for some of the most power-hungry mainstream PCs on the market. Today, we will be conducting a series of tests in our lab on the Thermaltake TR2 Standard Series 1000 Watt power supply.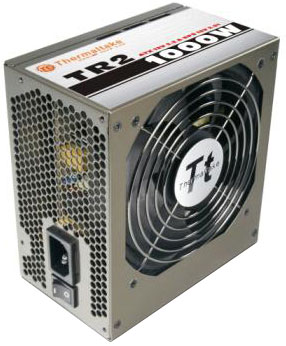 After much experience in the overclocking field, I came to realize that poor quality power supplies tend to often cause system stability problems. This can not only cause unexpected crashes, but it can also keep extreme overclockers from reaching their maximum hardware capabilities. Clean and quality power cannot always be overlooked by the overall wattage of the power supply; as a matter a fact this is just a common misconception.  When picking a quality power supply, the power supply must meet certain requirements in order for it to be qualified. The overall efficiency of the PSU is very important to make sure less power is wasted and turned into useless heat. Power Factor Correction is also another very important feature on new power supplies. This power supply comes with Active PFC, which helps reduce overall harmonics and will lead to higher overall efficiency. The Thermaltake TR2 1000 Watt power supply is also rated at an acceptable efficiently for high-end systems at 80%+ under typical load.
Since the TR2 power supply is rated at 86.16% by 80 PLUS Program under typical load, it will be a great comparison to the Ultra X3 1000 Watt Power Supply which is stated to run at 85% efficient at typical load. Before we continue on to how well the TR2 performs compare to the X3 let's take a look at some of the features and specifications of this power supply.
Features

Complies with ATX 12V 2.2 & EPS 12V version
SLI and Dual Core CPU ready
Next generation four +12V rails(12V1, 12V2, 12V3, 12V4) supports high-end graphic card and PC system (combined loading of 75A)
Independent Voltage Circuit: offers unflappable current delivery under heavy load and makes voltage output more stable
Active Power Factor Correction (PF>0.99) and high efficiency
Extremely good voltage regulation (±3%): provides steady voltage for system
Industrial grade components (capacitor, transformer, etc)
Intelligent temperature control 12cm fan
Protections: Over Current, Over Voltage, and Short-Circuit protection
Safety / EMI Approvals: CE, CB, TUV, FCC, UL, CUL, and BSMI certified
8 pins PCI-E connector for next generation graphic card
Specifications
Specification
TR2 1000 Watt
Wattage

1000 Watts
Fan
120mm Fan 3100RPM ± 10%
Efficiency
80% +
PFC

Active PFC (PF >0.9)
Hold-Up Time

20ms
Switches
ATX Logic on-off additional power rocker switch
Motherboard Connectors


24-pin Main Connector

8-pin Power Connector

4-pin Power Connector

Power Good Signal
100-500 ms
Form Factor

ATX 12v 2.2
Dimension
5.5 x 5.9 x 3.4 inch (L)x(W)x(H)
140 x 150 x 86 mm (L)x(W)x(H)
Warranty
5 Years
Certification
80 Plus Certification
Input Voltage
115 VAC ~ 230 VAC
Input Current
13A
Input Frequency Range
47~63Hz
Inrush Current
Maximum inrush current from power-on (with power on at any point on the AC sine) and including, but not limited to, three line cycles, shall be limited to a level below the surge rating of the input line cord, AC switch if present, bridge rectifier, fuse, and EMI filter components. Repetitive ON/OFF cycling of the AC input voltage should not damage the power supply or Cause the input fuse to blow.
Operating Range
N/A
MTBF
100,000 hours minimum (at 25 ℃)
RFI/EMI

EMI Regulatory

FCC Part 15 Subpart J, class 'B'

CISPR 22 Class 'B'

Operating Temperature
+10 ℃ to +50 ℃
Storage Temperature
-20 ℃ to +80℃
Operating Humidity
5% to 95%, non-condensing
Storage Humidity
5% to 95%, non-condensing
Over Voltage Protection

+3.3V output 3.76V ~ 4.8V

+5.0V output 5.6V ~ 7.0V

+12.0V output 13.5V ~ 16.5V

Over Current Protection
+3.3V range @ 60AMax +5.0V range @ 48A Max +12V range @ 30A Max
Over Load Protection
N/A
Over Temperature Protection
N/A
Under Voltage Protection
N/A
Short Circuit Protection
All Output to GND
This PSU has an operating temperature range from 10C to 50C. This is very impressive, due to the fact that many people still live in a hot environment, or non air conditioned spaces. This will make sure that your power supply will perform exceptionally even in the hottest environments. Let's take a look at what connectors does the TR2 come with.
The TR2 1000 Watt power supply comes with two 8-pin to 6-pin PCI-Express connectors, therefore even GPUs using the older 6-pin design can also be used with this power supply, however without these adapters, there are a total of 4 8-pin PCI-Express connectors for multi-GPU configurations. 
Here is the Output Table for the TR2 1000 Watt PSU:
| | | | | | | | | |
| --- | --- | --- | --- | --- | --- | --- | --- | --- |
| Output Voltage | +12V1 | +12V4 | +3.3V | +12V2 | +12V3 | +5V | -12V | +5VSB |
| Output Current Max. | 20A | 20A | 30A | 20A | 20A | 30A | 0.3A | 2A |
| Output Current Min. | 0.5A | 0.5A | 0.8A | 0.5A | 0.5A | 0.5A | 0A | 0A |
| Output Current Peak | — | — | — | — | — | — | — | — |
| Regulation | +5,-5% | +5,-5% | +5,-5% | +5,-5% | +5,-5% | +5,-5% | +10,-10% | +5,-5% |
| Noise & Ripple | 140 mV | 140 mV | 75 mV | 140 mV | 140 mV | 70 mV | 200 mV | 75 mV |
| | |
| --- | --- |
| Total Watts | 1000W |
| Peak Wattage and Load | 1100W (3 sec.). Total combined +12V output shall be 75A |
 And finally, here are some specifications of the fan: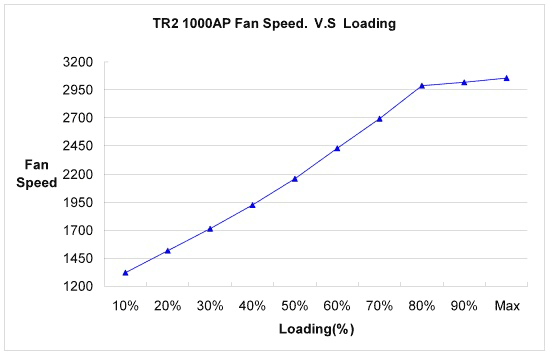 WHAT ABOUT THEM RAILS?
We have all, no doubt, been told that when purchasing a power supply that the number to look for is the amps on the 12V rail. What are each of the different rails for though, and why is the 12V rail typically the most important? Why the heck are they called rails? Let's take at look at each and see.
-12V – This rail is pretty much obsolete now and is only kept on to provide backward compatibility with older hardware. Some older types of serial port circuits required both -12V and +12V voltages, but since almost no one except industrial users use serial ports anymore you as a typical home user can pretty much disregard this rail.
-5V – Again this is another obsolete rail, the -5V was used for old school floppy controllers and some ISA bus cards. Again, no need for the typical home user to worry about this rail.
0V – Though not listed on any manufacturer spec sheet, every power supply has a 0V ground line. The ground signal is used to complete circuits with other voltages and provide a plane of reference against which other voltages are measured.
+3.3V – Finally we are starting to get into something useful! The +3.3V rail was introduced with the ATX form factor in order to power second generation Pentium chips. Previously the CPU was powered by the +5V rail (along with the system memory and everything else on the motherboard), but a reduced voltage was needed in order to reduce power consumption as the chips got faster. Until just recently, the +3.3V was used to exclusively power the CPU as well as some types of system memory, AGP video cards and other circuits.
+ 5V – As mentioned above, the +5V used to run the motherboard, CPU and the majority of other system components on older pre ATX based systems. On newer systems, many of the components have migrated to either the +3.3V or +12V rails, but the motherboard and many of its onboard components still use the +5V rail so it is of importance to the typical home user.
+5V SB – The +5V Standby or "Soft Power" signal carries the same output level as the +5V rail but is independent and is always on, even when the computer is turned off. This rail allows for two things. First, it allows the motherboard to control the power supply when it is off by enabling features such as wakeup from sleep mode, or wake on LAN technology to function. It also is what allows Windows to turn your computer off automatically on shutdown as opposed to previous AT supplies where you had to bend over and push the button. Every standard ATX power supply on the market will include this rail.
+ 12V – The +12V, also known as the mother of all rails, is now used to power the most demanding components in your system including the CPU, hard drives, cooling fans, and graphics cards. Historically the +12V rail was used only to power drives and cooling fans. With the introduction of the 4-pin CPU plug on P4 motherboards and then eventually AMD based motherboards, in order to supply newer power hungry CPUs, the +12V rail suddenly started to grow in importance. Today, dual core based motherboard require an 8-pin +12V connector to supply their power needs. High end GPU cards have also jumped on the +12V rail, which has required PSU makers to adapt. Where previously there was only a single +12V rail, there are now two or more, each designated to power specific devices in order to ensure that nothing is underpowered.
Now as to why they are called rails, the best explanation that I can find is that the term comes from the wacky world of electronics and it refers to a long metal bar or strip that is used to provide a particular voltage level. Perhaps someone with a deeper understanding of all things electrical could let me know whether or not that is true.
ATX 12V V2.2 Standard
ATX 2.20
2.20 is where we currently stand as of March 2005. It was released the same month as the short lived 2.1 revision which is why you won't see any units bearing that standard. The 2.20 again increased the efficiency requirements which now stand at a minimum of 65% or greater and a recommended level of 75% or greater. The +5VSB rail has also been increased to 2.5A
In short any power supply post 2.0 will do the job for you. The biggest advantage of purchasing a latter standard model would seem to be the increase in efficiency rating.
EPS12v Standard
The EPS12V specification is one of those standards that most people have heard about, but very few know what it actually does. The EPS spec itself is defined in the Intel Server System Infrastructure (SSI) spec and is currently at v2.1.
The EPS12V spec dictates that Power Supply units must have a 24pin 12V connector as well as one additional 8-pin 12V connector. If a PSU is noted as EPS12V compliant you can be assured that it will have all the connections you need to power your new dual core based system, however it should also be noted that units do not necessarily have to meet EPS12V spec to include an 8-pin 12V connector.
Enough of the boring stuff lets get on to some Packaging and Bundled Accessories!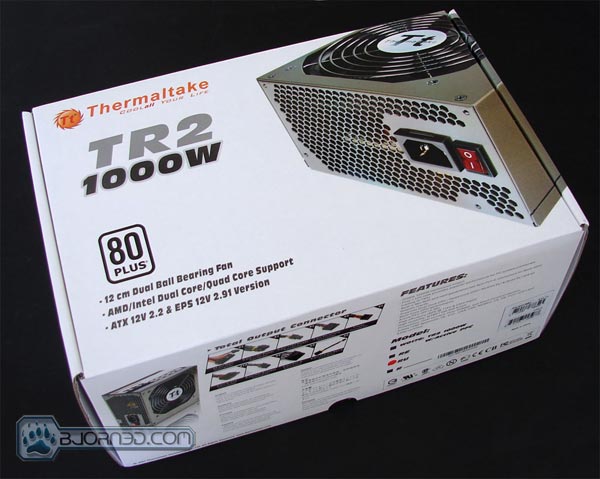 Click Image For a Larger One
The Thermaltake TR Standard Series 1000 Watt power supply comes in a nice and simple white box. The box was very sturdy, and had all the information about the power supply's specifications.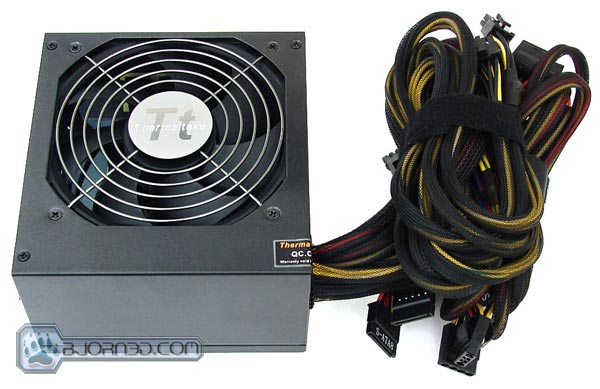 Click Image For a Larger One
After taking out the TR2 from its box, I was very surprised by its overall size. Personally, I was expecting a much larger power supply like the Ultra X3 1000 Watt Modular PSU. The Ultra X3 measures up to 7.5″ x 5.75″ x 3.25″, while the Thermaltake TR2 is just 5.5″ x 5.9″ x 3.4″. 
Thermaltake decided to wrap up the cables in a slim cable wrap. This not only comes handy during shipping because it can wrap up the cables into a nice small box, but also when doing cable management in your system during installation.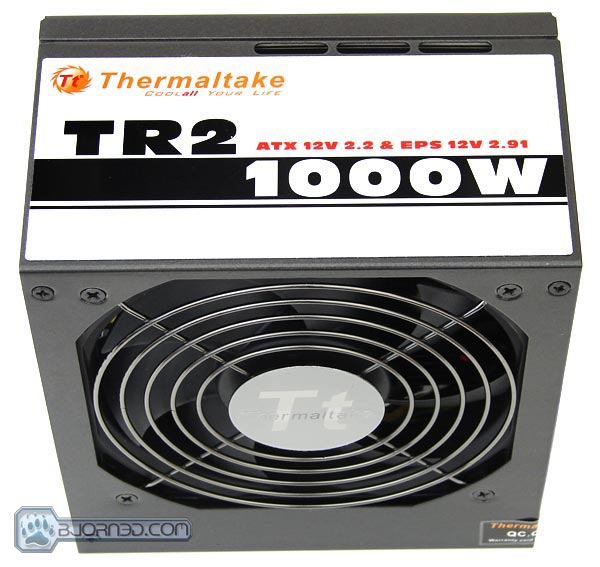 Click Image For a Larger One
This is the side of the power supply that will be showing on the left side of your computer case. While it's quite simple, it's not the most attractive look I've seen. Toward the top of the casing, 3 noticable horizontal holes were added. We are not quite sure why this was added, perhaps for more ventilation?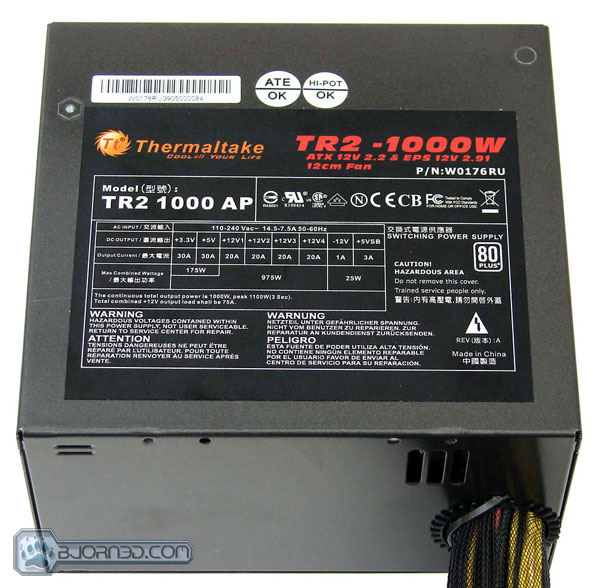 Click Image For a Larger One
The top of the Power Supply contains the output table, and other useful information like the size of the fan included with the power supply, certifications, and much more. Bellow, it is clearly visible that this is a non-modular power supply. It's quite a disappointment, but it is possible to live with it.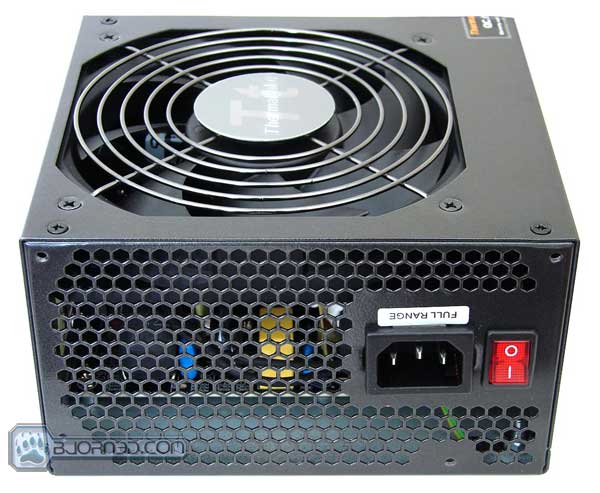 Click Image For a Larger One
This is where the power cable gets attached. There is a switch to allow the user to turn on and off the power supply, however there is no switch for the 115V to 220V settings. This power supply automatically takes care of the voltage switch depending on the country you are staying in. The honeycomb ventilation holes on the power supply help ventilate the power supply from all the hot air being push through by the 120mm fan.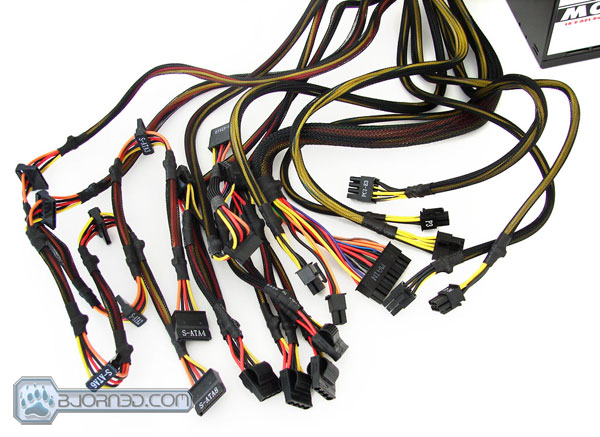 Click Image For a Larger One
This power supply comes with the following connectors:
1x 24-pin Main Connector
1x 8-pin +12V Power Connector
1x 4-pin +12V Power Connector
6x 4-pin Peripheral Power Connector
1x 4-pin Floppy Drive Connector
10x 5-pin SATA Connector
2x 6-pin PCI Express Connector
2x 8-pin PCI Express Connector
2x 8-pin to 6-pin PCI Express Connector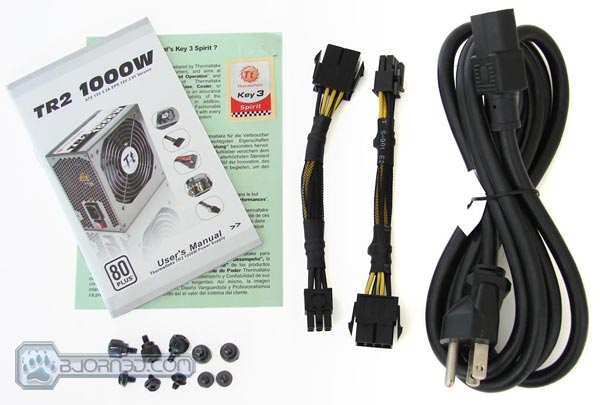 Click Image For a Larger One
Finally, here are some accessories that Thermaltake decided to include with this power supply. The two 8-pin to 6-pin PCI Express Connectors were also mentioned on in the list of connectors included with the power supply right under the previous image, however it was not included in that image. You can also see that Thermaltake included 5 thumbscrews or 5 regular screws for mounting the power supply to your case. Now let's take a look at the inside of the TR2 1000 Watt power supply.
Click Image For a Larger One
And finally, here is the picture of the fan that comes with the Theramaltake TR2 1000 Watt power supply.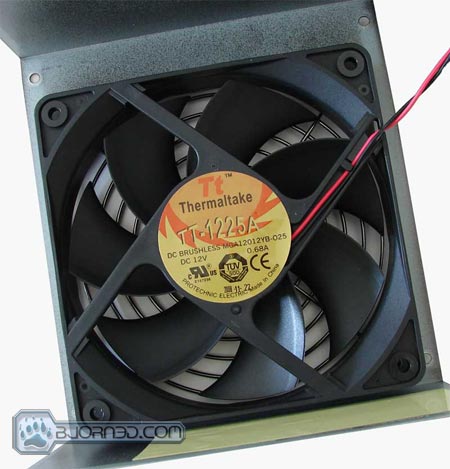 Click Image For a Larger One
This particular fan is very quiet, however it can get loud when run at full speed. Thankfully, this power supply automatically controls its fan speed, therefore the possibilities of this fan running loud are very unlikely.
TESTING & METHODOLOGY
When it comes to power supplies, any power supply, what you're really looking for is good clean voltage and plenty of it. Current standards are 5% variance on any rail maximum, which is a little more lax than my personal standard of 3% max everywhere but the +5vSB (+5v stand by) which is always on even when the power supply and computer are off. On the +5vSB it's not unusual to see 5% and since it's only for wake on Lan or by device feature it's not a big deal.
Like a lot of you enthusiasts out there, our PC's are an ongoing work of art that we have a lot of cash invested in. If a PSU won't hold to 2 or 3% load/idle no matter what we do to it, we won't use it or recommend it.
Testing Equipment
Thermaltake TR2 1000 Watt
Testing Equipment
Multimeter
RadioShack Digital Multimeter
Wall Voltage
Craftsman 400A AC/DC Clamp Meter
 To test the Voltages on each rail and then measure the overall Wattage used by the whole computer system, we have used two different equipment. We used the RadioShack Digital Multimeter to measure the voltages on each rail (5V,12V,3.3V). To measure the overall wattage used by the computer system we used a Craftsman 400A AC/DC Clamp Meter. We attached the clamp straight to the wall outlet with a special divider to measure the overall Wattage being used accurately. The results were precisely recorded in a word document.
Testbed
Test Rig
Case
Cooler Master Stacker 830 SE
CPU
Intel Core I7 920 Extreme 2.66Ghz @ 3.8Ghz (vcore 1.35v)
Motherboard
ASUS P6T SE X58 Motherboard
Ram
OCZ DDR3-12800 1600Mhz (7-7-7-18 1.66v) 12GB Kit
CPU Cooler
Thermalright True Black 120 Rev. C (Dual SilenX 120mm Fans)
Hard Drives

2x Western Digital RAID Edition 3 1TB Hard Drives

2x Seagate Barracude 7200.11 500GB Hard Drives

Optical
Sony DVD R/W
GPU
XFX GeForce 8800GTS G92 512MB Alpha Dog Edition
Case Fans

2x Noctua NF-P12 120mm Fans – Side

1x Noctua NF-P12 120mm Fan – Front

1x Noctua NF-P12 120mm Fan – Back

1x Noctua NF-P12 120mm Fan – Top        

Additional Fans

2x Noctua NF-R8 80mm Fans – Video Card

1x Cool-It Memory Fan Cooler

Testing PSU

Thermaltake TR2 1000 Watt Power Supply

Ultra X3 1000Watt Modular Power Supply

Mouse
Logitech G5
Keyboard
Logitech G15
Two different tests will be done with this testing system. One test will be conducted under stock settings, while the second test will be conducted under overclocked settings on the CPU and Video Card. To put the system under load condition, we used Cinebench R10 to stress the CPU and 3DMark Vantage to stress the video card. Let's take a look at the results.
TESTING RESULTS
The current ATX 2.2 specifications allow for the following variation in voltage outputs:
3.3 Volt Rail:   3.135V – 3.465V
5 Volt Rail:   4.75V – 5,25V
12 Volt Rail:   11.4V – 12.6V
Power Output Results(V) – Stock System
Measured With RadioShack Multimeter And
Craftsman 400A AC/DC Clamp Meter

Power Rail
Thermaltake TR2 1000 Watt
Ultra X3 1000 Watt Modular
Idle
Load
Idle
Load
3.3v
3.31V
3.31V
3.22V
3.22V
5v
 5.15V
5.14V 
5.02V
5.01V
12v1
11.98V
11.95V
12.17V
12.16V
12v2
12.04V
12.02V
N/A
N/A
12v3
12.03V
12.02V
N/A
N/A
12v4
12.00V
11.98V
N/A
N/A
Wattage Used
 181.7W
255.3W 
235.75W 
322W 
This batch of tests were done on the stock system. Since the Ultra X3 1000 Watt Modular Power supply only had 1 12V rail, we put (N/A) on all the others 12V rails. One very interesting and surprising parts of this test was the Overall Wattage being used by these power supplies. It seems that the Ultra X3 1000 Watt power supply was using an average of 50-75Watts more than the ThermalTake TR2 1000 Watt power supply. I tested the Ultra X3 twice and got the same results, so it's definitely not misleading. Another thing to notice is the 3.3V. The Thermaltake TR2 was almost right on the spot with the voltages on the 3.3V rail.
Power Output Results(V) – Overclocked System (GPU, CPU)
Measured With RadioShack Multimeter And
Craftsman 400A AC/DC Clamp Meter

Power Rail
Thermaltake TR2 1000 Watt
Ultra X3 1000 Watt Modular
Idle
Load
Idle
Load
3.3v
3.31V
3.30V
3.20V
3.18V
5v
5.14V
5.15V
5.01V
5.00V
12v1
11.97V
11.94V
12.16V
12.15V
12v2
12.03V
12.00V
N/A
N/A
12v3
12.01V
11.98V
N/A
N/A
12v4
11.98V
11.95V
N/A
N/A
Wattage Used
 210.45W
380W 
264.5W 
456.5W 
Once again, we are shown how the Ultra X3 1000 Watt power supply fails compared to the Thermaltalke TR2 1000 Watt power supply in the overall wattage used section. It seems that the Ultra X3 might not be advertised correctly for its 85% typical load efficiency since the Thermaltake TR2 1000 Watt power supply is rated at 80%+ typical load efficiency and it obviously did a lot better than the Ultra X3. Very impressive! It seems you can save a whole lot of money on your electricity bill with the Thermaltake TR2 power supply if you are one of those people that keep their computers on 24/7.
Conclusion
The Thermaltake TR2 1000 Watt power supply is a very powerful mainstream PSU that will have no problem taking care of some of the most powerful hardware in your system. While most of the things I would like to mention are good, there is one con I would like to talk about.
The power supply was very efficient compared to the Ultra X3 1000 Watt Modular Power supply, and there is no question about which power supply was quieter. The Ultra X3 makes a very annoying motor sound which is coming straight from the 140mm fan, however the Thermaltake 120mm fan is completely silent when its being operated at 20C-30C ambient temperature. There is a chance when the power supply heats up to high temperatures, or more wattage is being used, the fan might kick in and make some noise, but I highly doubt that this will be the case.
While the Ultra X3 was quite good at staying at acceptable voltages, the Thermaltake TR2 was much better in overall efficiency due to the fact that the Thermaltake TR2 power supply was using about an average of 50-75 Watts less than the Ultra X3. The same hardware were used for both tests.
One last pro to look at is Thermaltake's 5 Year Part/Labor Warranty. Not many manufacturers give a 5 year warranty for their PSUs, but it seems Theramltake did. Well Done!
Some of the disadvantages I found on the TR2 was its non-modular design. While non-modular power supplies are fine, an average person won't use all the power connector leads all the time, therefore a modular power supply would be much better to get rid of unnecessary cables that could clog up a good airflow in the case.
Performance 9
Value 8
Quality 9
Warranty 10
Features 7
Innovation 7
Pros:
+  1000 Watts of Clean Power
+  Excellent Efficiency
+  Quad Rail
+  Extremely Silent Operation
+  Small in Lenght
Cons:
–  No Modular Cabling.
–  Price is OK, but could be cheaper.
  The Thermaltake TR2 Standard Series 1000 Watt power supply is an exceptional power supply for a mainstream users in mind. It's a no doubt that it will be able to take care of some of the most power hungry PCs on the market, which is why the TR2 receives a 8 out of 10 and the Bjorn3D Golden Bear Award!