Are you trying to get that last bit out of your aging AGP machine? Well VisionTek is here to back you up. They have taken a 3650, and made it work for the AGP interface. Today we take a look at how it performs.
introduction
I am sure there are plenty of you out there who are trying to get that last year out of your old AGP machine. While the CPU's may be many years out of date, you can still try to make it just a little bit longer with a new graphics card. If you fall into this category then VisionTek has your back. They have managed to convert the PCIE native signal from the 3650 and convert it into one that works with the AGP bus, but what happens if you don't fall into this category?
Perhaps you want to gain some more PPD on folding, but do not have an extra machine to fold with. Well you can use this 3650 to fold, and increase your PPD on an old obsolete machine. You may be just someone looking for a new AGP card after your onboard video on your older motherboard decided to die on you. You certainly shouldn't pass up a card like this, because you may find the extra power useful down the road. Anyway you look at it, this 3650 AGP from VisionTek is your best bet to breath new life in an old AGP machine.
First lets take a look at the features and specifications of the card.
features
ATI Radeon™ HD 3650 Series Key Features
DirectX® 10.1 / Shader Model 4.1 support
AGP 8x
55nm process technology
ATI PowerPlay™ energy conserving technology
120 stream processing units
High-speed 128-bit HDR (High Dynamic Range) rendering
Up to 24x Custom Filter Anti-Aliasing
ATI Avivo™ HD video and display technology
UVD hardware acceleration
The features are pretty standard for even a normal PCIE 3650, minus the AGP 8x support.
specifications
| Feature/Specification | VisionTek 3650 | PNY 6800 GT |
| --- | --- | --- |
| Core Clock | 725 | 350 |
| Stream Processors | 120 | 16 |
| Memory Speed | Text | 1000 |
| Memory Type | GDDR2 | GDDR3 |
| Direct X Version | 10.1 | 9 |
As you can see the 3650 looks to have quite a bit more muscle than the old 6800 GT. The one advantage the 6800 GT does have is GDDR3. I am not sure why VisionTek cheaped out a bit on the RAM type, but the overall faster RAM speed should help it beat the 6800 GT.
pictures & impressions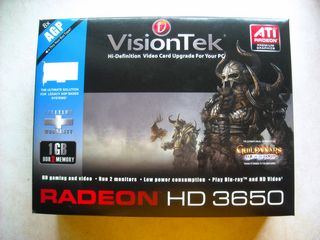 One look at the box, and you can see that VisionTek wants gamers to know this card can play. While Guild Wars certainly isn't the most graphic intensive game, it shows what the general audience of this card will be playing, MMO's. There are many people out there who have aging hardware, so this card is specifically targeted towards the players who don't have any money to spend on a whole new system, but want more performance.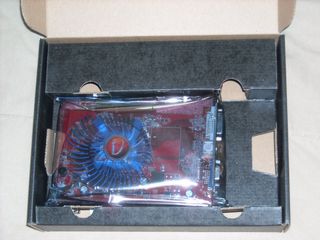 When we open the box we see that VisionTek opted to not include any foam padding. This isn't so much of a big deal for a cheaper card such as this, but they also happen to do the same thing on the 4890. It would have also been nice if there was something to keep the card from moving back and forth, since there is a lot of extra space on either side of the card.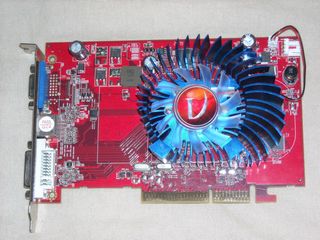 As you can see, this is certainly not the stock cooler. While it is larger than a single slot, it is not quite a full dual slot cooler. This cooler certainly is better than the stock 3650 cooler, and should make this card run extremely cool. The card also is very short, so it should easily fit into even a small cramped mid tower case.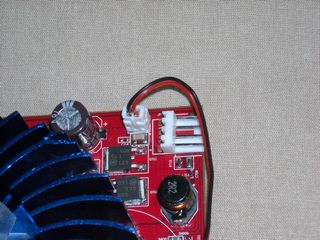 This is quite an odd sight for any graphics card. Here we have a standard floppy connection for this card. I wish VisionTek would have used a Molex connector, but most likely they opted for the floppy because of space constraints on the PCB due to it not normally needing outside power. However the AGP bus does not supply as much power as the PCIE bus, so this extra power was needed to run the card.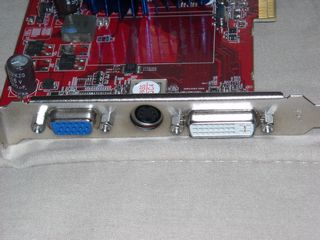 If we take a look at the front of the card we see your standard video plug ins. VisionTek has opted for a single DVI and VGA configuration, which is probably a good idea since many of the users are probably running a VGA monitor. They also have the S-video connector which can be used with both standard RCA, and component video.
Here we also have a site that you don't normally see, a heat sink on the back of a graphics card. The chip that it covers is a very important one, and without it the card would not work on the AGP bus. This card converts the standard PCIE 100 mhz signal into the AGP standard of 66 mhz. It would have been a little bit nicer to have a different heat sink that maybe wrapped around instead of the old style black one like this one.
.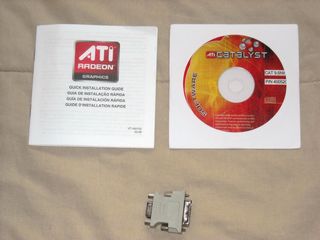 Now for the accessories list. First off VisionTek has included a driver CD. I don't normally recommend doing this, but since drivers are not readily available for AGP cards anymore, you should use the included drivers. The Catalyst version is almost up to date as of writing (9.6). There is also a quick install guide that people new to computers will find very useful. Finally there is a DVI to VGA adapter just in case your run dual monitors that use a VGA connection.
Metholdology
To test this card, we did a fresh load of XP bit and applied all the patches and updates for the OS, then we updated all the motherboard drivers and made sure that we had the latest 9.8 Catalyst and 190.62 Forceware drivers. We didn't install any video drivers on the test rig at first, we just installed the basics and then cloned the hard drive using Acronis. That way when we switch from the ATI GPU to the Nvidia GPU we can have a fresh load with no old drivers hanging around to bugger up our benchmark numbers.
We ran each test 3 times and averaged the results, the average of those results are reported here. The one exception to the 3 run rule is Stalker, this test is just so long so it was run once, and each of the test results where averaged together. Below is a detailed list of the components used during testing.
Test Rig
Case Type
Cooler Master Scout
CPU
Intel Pentium D 820 @ 2940 GHz
Motherboard
AsRock 4 Core Dual – SATA 2
Ram
(2x1GB) OCZ Platnium @ 410 2-3-2-5
CPU Cooler
Intel Q6600 Stock
Hard Drives
Western Digital 40 GB
Maxtor 120 GB
Optical
LiteOn DVD-R
GPU's Tested

PNY 6800 GT
VisionTek 3650

Testing PSU
Corsair TX650
Synthetic Benchmarks & Games
Synthetic Benchmarks & Games
3DMark 06
Stalker Clear Sky Stand Alone Benchmark
Crysis
Crysis Warhead
World In Conflict
Hawks
Far Cry 2
Overclocking

To overclock the VisionTek 3650 I used the ATI Catalyst built in overclocker. I slowly increased the clocks by 10 mhz until the system became unstable, then I backed down the clocks a bit and tested for stability. I kept lowering the clocks until the system was rock solid.
What I got was pretty darn sad. ATI really pulled a fast one on this card, and severely limited its clocks, so much that you probably wont even see a 2 FPS difference in games. Because of this, I didn't even bother overclocking the card. It's really not worth it, but if you want to, you can easily max the clocks in Catalyst.
3DMARK06 V. 1.1.0

3DMark06 developed by Futuremark, is a synthetic benchmark used for universal testing of all graphics solutions. 3DMark06 features HDR rendering, complex HDR post processing, dynamic soft shadows for all objects, water shader with HDR refraction, HDR reflection, depth fog and Gerstner wave functions, realistic sky model with cloud blending, and approximately 5.4 million triangles and 8.8 million vertices; to name just a few. The measurement unit "3DMark" is intended to give a normalized mean for comparing different GPU/VPUs. It has been accepted as both a standard and a mandatory benchmark throughout the gaming world for measuring performance.
We see that right off the bat the 3650 gets off to a great start! You can simply say the 6800 was no match for the 3650. 3DMark is only a synthetic benchmark though, and does not really give you the full picture of real life performance. Lets move onto some real games.
 Crysis v. 1.21

Crysis is the most highly anticipated game to hit the market in the last several years. Crysis is based on the CryENGINE™ 2 developed by Crytek. The CryENGINE™ 2 offers real time editing, bump mapping, dynamic lights, network system, integrated physics system, shaders, shadows, and a dynamic music system, just to name a few of the state-of-the-art features that are incorporated into Crysis. As one might expect with this number of features, the game is extremely demanding of system resources, especially the GPU. We expect Crysis to be a primary gaming benchmark for many years to come.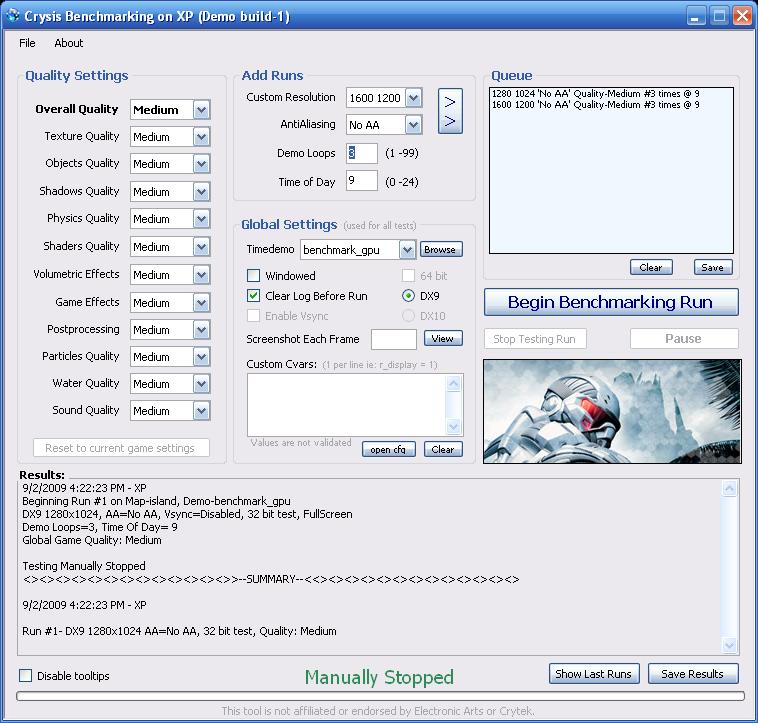 The Settings we use for benchmarking Crysis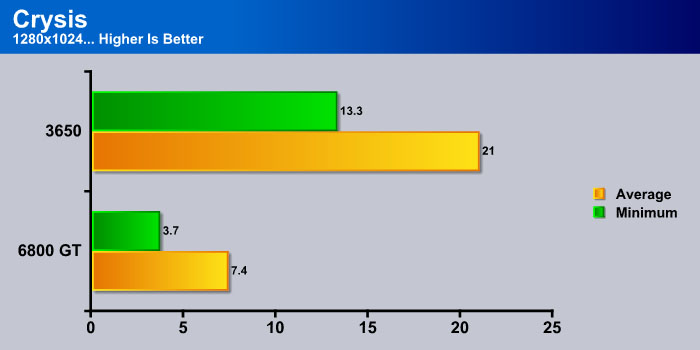 The 3650… I dont even have words for this. Completly obliterated the competition.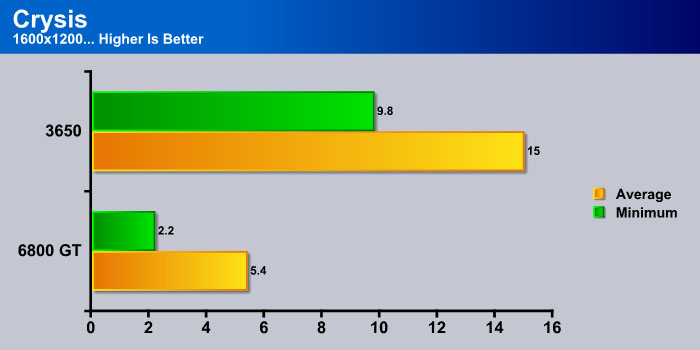 Again the 3650 showed the 6800 GT whos boss, and then some.
CRYSIS WARHEAD

Crysis Warhead is the much anticipated sequel of Crysis, featuring an updated CryENGINE™ 2 with better optimization. It was one of the most anticipated titles of 2008.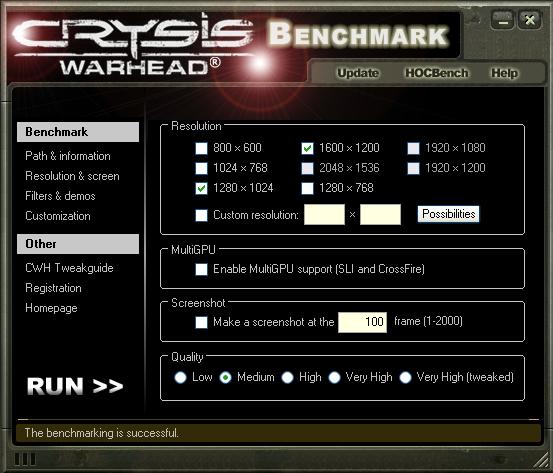 The Settings we use for benchmarking Warhead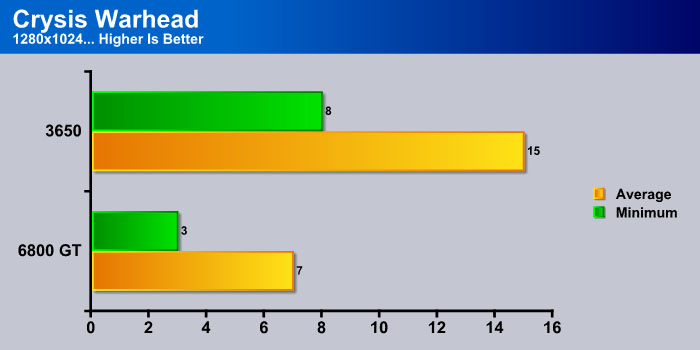 As with its sibling, Crysis Warhead is a pretty demanding game. Both cards where far from playable, but the 3650 fared much better.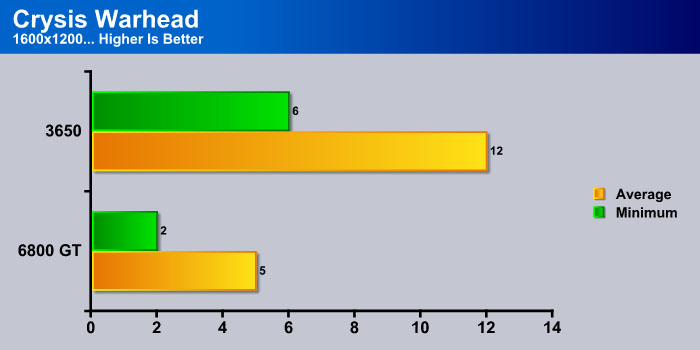 It was obvious from the start that a resolution upgrade would make the game even less playable, but I was very surprized at the performance difference between Warhead and the orginal Crysis. Warhead had a lower frame rate on both cards.
Far Cry 2

Far Cry 2, released in October 2008 by Ubisoft, was one of the most anticipated titles of the year. It's an engaging state-of-the-art First Person Shooter set in an un-named African country. Caught between two rival factions, you're sent to take out "The Jackal". Far Cry2 ships with a full featured benchmark utility and it is one of the most well designed, well thought out game benchmarks we've ever seen. One big difference between this benchmark and others is that it leaves the game's AI (Artificial Intelligence) running while the benchmark is being performed.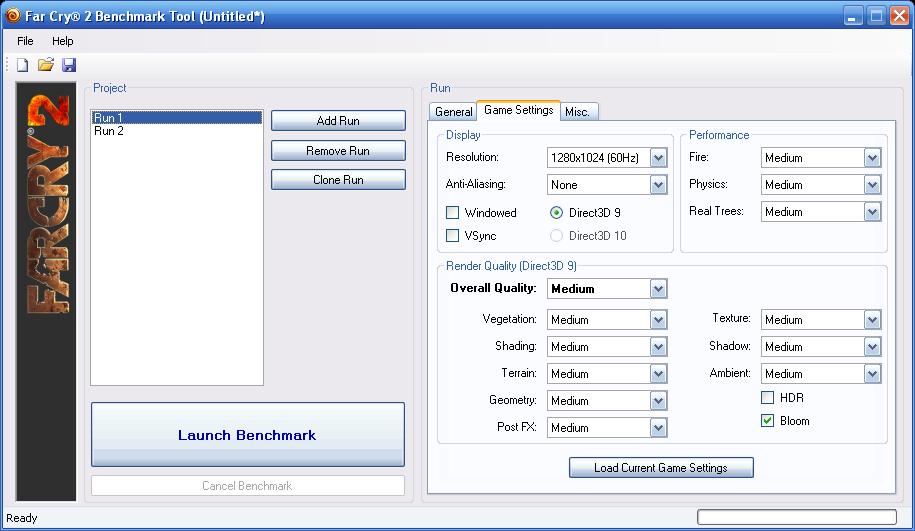 The Settings we use for benchmarking FarCry 2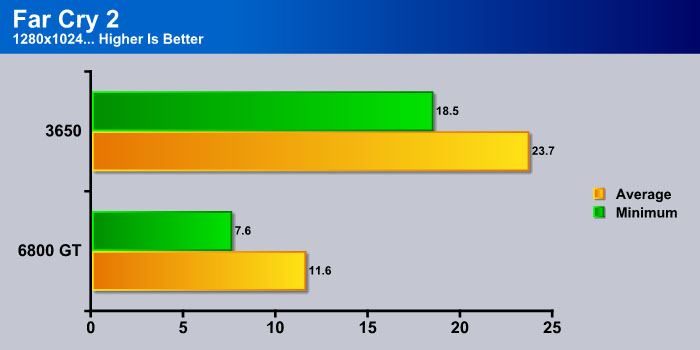 When we move to Far Cry, we see the same results as Crysis. The 3650 really has a lot more power than a 6800 GT.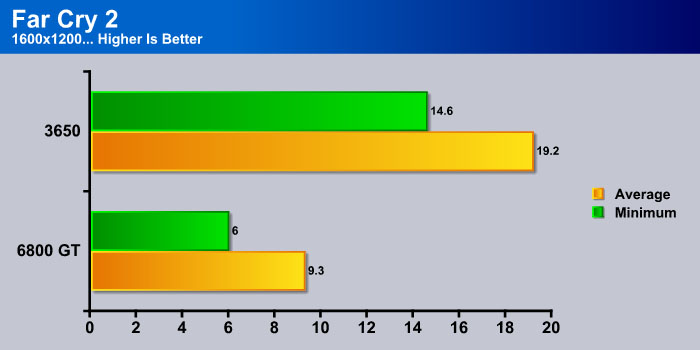 Again the 3650 flexes its muscle against the 6800 GT, and puts it to complete shame. The 3650 itself is approaching playability, but you will have to lower the settings even more if you want to smoothly play through the game.
S.T.A.L.K.E.R. Clear Sky

S.T.A.L.K.E.R. Clear Sky is the latest game from the Ukrainian developer, GSC Game World. The game is a prologue to the award winning S.T.A.L.K.E.R. Shadow of Chernoble, and expands on the idea of a thinking man's shooter. There are many ways you can accomplish your mission, but each requires a meticulous plan, and some thinking on your feet if that plan makes a turn for the worst. S.T.A.L.K.E.R. is a game that will challenge you with intelligent AI, and reward you for beating those challenges. Recently GSC Game World has made an automatic tester for the game, making it easier than ever to obtain an accurate benchmark of Clear Skie's performance.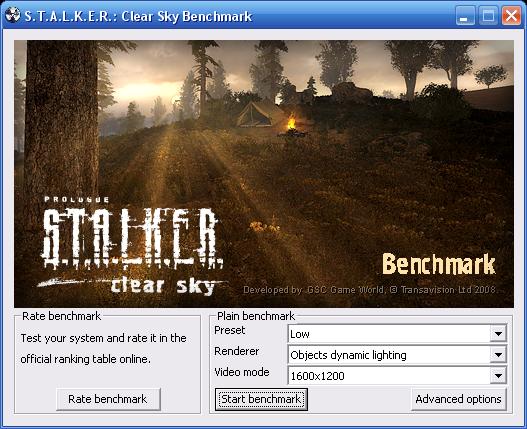 The Settings we use for benchmarking Stalker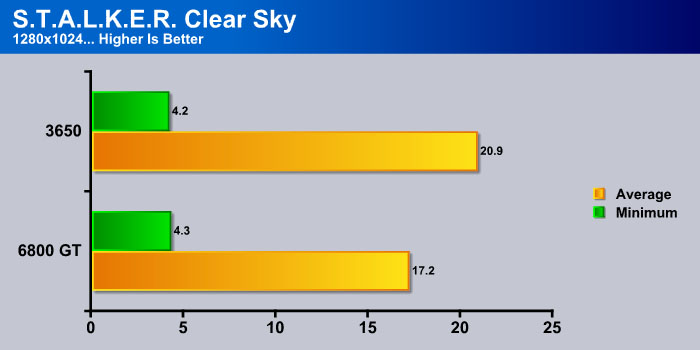 This is where the 6800 GT kind of comes back a bit. It was not really that far away from the 3650. This is kind of odd, because this game is optimized for ATI based GPU's.
Again the 6800 GT managed to stay within striking distance of the 3650, but still fell short.
HawX

The story begins in the year 2012. As the era of the nation–state draws quickly to a close, the rules of warfare evolve even more rapidly. More and more nations become increasingly dependent on private military companies (PMCs), elite mercenaries with a lax view of the law. The Reykjavik Accords further legitimize their existence by authorizing their right to serve in every aspect of military operations. While the benefits of such PMCs are apparent, growing concerns surrounding giving them too much power begin to mount.
Tom Clancy's HAWX is the first air combat game set in the world–renowned Tom Clancy's video game universe. Cutting–edge technology, devastating firepower, and intense dogfights bestow this new title a deserving place in the prestigious Tom Clancy franchise. Soon, flying at Mach 3 becomes a right, not a privilege.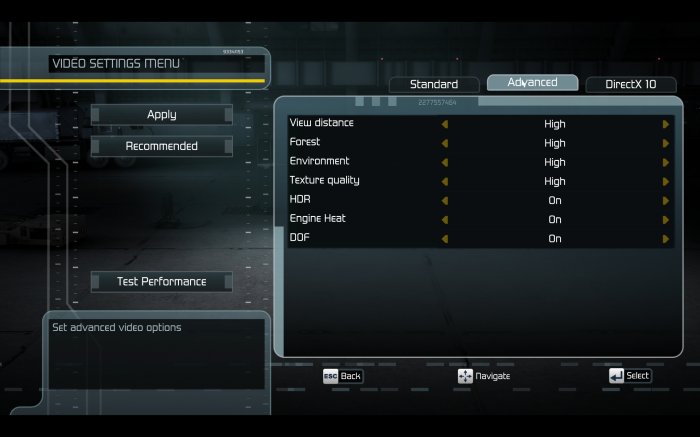 The Settings we use for benchmarking HawX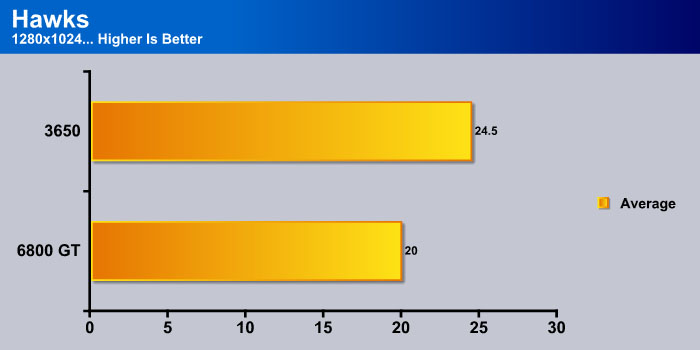 Surprisingly both cards did very well on this game maxed with 2x AA. The 3650 was only 5 frames away from being playable, while the 6800 GT would need another 10.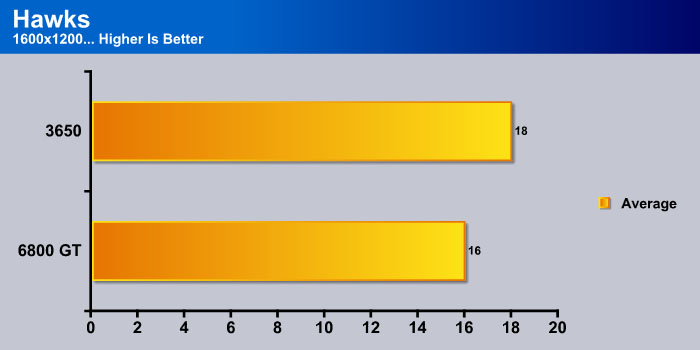 When the resolution is increased we see that the 6800 GT actualy gets quite close to the 3650, but is not able to gather enough steam… yet.
World in Conflict Demo

World in Conflict is a real-time tactical video game developed by the Swedish video game company Massive Entertainment, and published by Sierra Entertainment for Windows PC. The game was released in September of 2007. The game is set in 1989 during the social, political, and economic collapse of the Soviet Union. However, the title postulates an alternate history scenario where the Soviet Union pursued a course of war to remain in power. World in Conflict has superb graphics, is extremely GPU intensive, and has built-in benchmarks. Sounds like benchmark material to us!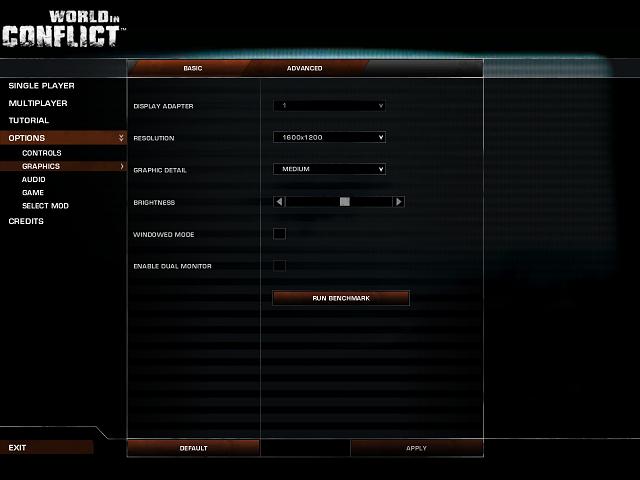 The Settings we use for benchmarking WiC
I was quite astounded by the end result. I really didn't think that the 6800 GT had what it took to match the 3650, but as you clearly see here, it does.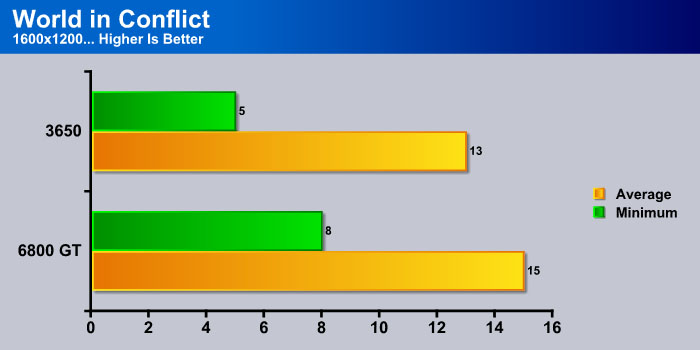 When the resolution is increased, the 6800 GT actually was able to pull ahead of the 3650! I guess its about time the 6800 GT won a test LOL.
temperatures

The VisionTek 3650 certainly was a cool card. I let the fan run at auto speed, which usually gives the sweet spot between noise and performance. Throughout testing the fan was very hard to hear over my case fans. To test the load temperature I loaded up Furmark 1.7, and let it run for 30 minutes. I then recorded the maximum temperature reached. To test the idle temperature I let the card sit with no programs running. Below is a table of the results.
| Idle Temperature | Load Temperature |
| --- | --- |
| 36 | 64 |
These are great temperatures for a modern GPU. You should have no issue with the GPU failing at these temperatures.
conclusion
Many people have counted AGP out since the advent of the Nvidia GeForce 8 series, and the ATI 2*** series, but really AGP keeps on breathing. Whether your running a old Skt. 478 P4, or a Q6600 on a AGP board, you can be sure this card is up to the job. While newer AGP boards that support the older 775 quads are not from companies like Asus, or DFI, they still work. It would be a wise investment to purchase a new AGP if you are running an older 478 rig, then slowly upgrade into better hardware, until you are using a PCIE card. Fact is many people still use AGP because they just don't want to get rid of that old computer that still runs good enough to browse the internet.
The question then becomes why would you need this kind of power in a AGP card? You really don't, but if you happen to play a few games here and there, and are already looking at a new AGP card, then why not get something that is at least worth the money they ask for? Now I know many of you are saying "A old AGP CPU bottlenecks this card!". Well that may be true, but with newer motherboards, you can run a Pentium D, or go for all or nothing with a Kentsfeild Quad. The hard part about reccomending this card is a 4650 is not that much more, just like the PCIE versions of the cards.
In the end, the competition was a little lacking, and I apologize for that, but I have in my hand a nice new… oh I'll let you find that out in a couple weeks! Look for some better competition for the 3650.
We are using this scale with our scoring system to provide additional feedback beyond a flat score. Please note that the final score isn't an aggregate average of the new rating system.
Performance 8
Value 7
Quality 9
Warranty 7
Features 7
Innovation 8
Pros:
+  Great Performance
+  Good Cooler
+  1 GB Of Memory

Cons:
–  Doesn't Vent All Air Out Of The Case
–  Floppy Power Connector
The VisionTek 3650 is a very powerful AGP card that has no issue whipping the older 6800 GT, and will make that old AGP rig last just a little longer. This is why the card received a 7 out of 10, and the Bjorn3D Seal of Approval.