Do you need a bit more power to keep your computer running? Don't ever cheap out on a PSU, instead grab a good brand like Corsair. Today we have the HX850 here today.
introduction
I am sure that by now many of you out there have heard all of the stories of PSU's going bad. The danger of a component being broken is greatly increased when you have either an inadequate power supply, or a cheap one. Those of you who have a small power supply on higher end components should heed this warning. If the PSU breaks it may not harm your components, but it sure will make it so your computer is down until you get a replacement. For those of you running a cheap branded PSU, you have the highest risk of damaging a component. Some of the cheaper PSU's will start to give out incorrect voltage when they age. If it decides to supply your motherboard with 14 volts instead of 12, then you may have a problem on your hands.
With this in mind, you are probably wondering what wattage you should have. There are many power supply calculators out there. I suggest you get a power supply that is at least 2 times higher than the needed power. This ensures that you are getting great efficiency out of your power supply, and thus saving money in the long run. Not only that, but you can also ensure that the power supply will last you through a couple upgrades, and maybe even a few systems.
If you really want your PSU to last the first company you should look at is Corsair. There have been a few rumors going around about Corsair lowering the certification of this PSU because it didn't live up to what the expected. This is untrue, the PSU was never designed to be a Gold PSU, but it actually qualifies as one. This shows that Corsair is a company that doesn't try to cheat to make them look better. Not only that, but Corsair backs this PSU with a 7 year warranty, so you can be sure that they 110% stand behind their power supplies.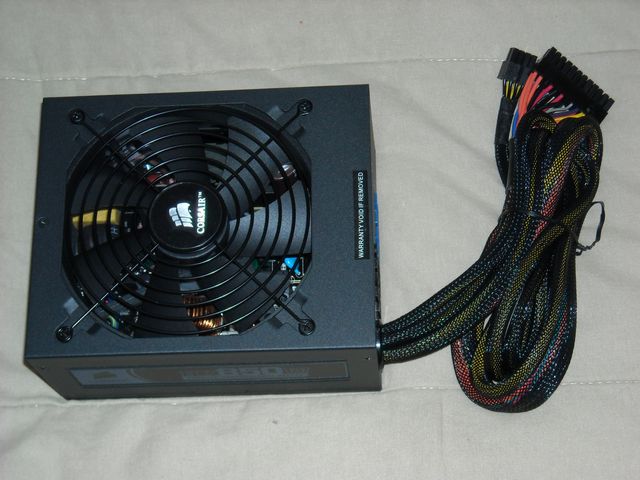 features
Guaranteed to sustain its full rated wattage at an ambient temperature of 50°C

Up to 90% energy-efficiency under real-world load conditions

Single +12V rail design providing up to 70A

Multi-GPU ready

105°C solid state capacitors

Active Power Factor Correction (PFC) with PF value of 0.99

Supports ATX12V 2.3 and EPS12V 2.91 standards. Backwards compatible with ATX12V 2.01

Auto switching circuitry for universal AC input from 90-264V

Over Current/Voltage/Power Protection, Under Voltage Protection and Short Circuit Protection provide complete component safety

Dimensions: 150mm(W) x 86mm(H) x 180mm(L)

MTBF: 100,000 hours

Safety Approvals: UL, CUL, CE, CB, FCC Class B, TÜV, CCC, C-tick
These specifications are pretty normal for a high end PSU like Corsair. The Solid state caps will help extend the lifespan of the power supply.
specifications
AC INPUT

100-240V ~ 12A 50/60Hz

DC OUTPUT

+3.3V

+5V

+12V

-12V

+5Vsb

MAX CURRENT

25A

25A

70A

0.8A

3A

MAX COMBINED WATTAGE

150W

840W

9.6W

15W

 

TOTAL POWER: 850W
According to the chart, the HX850 can actually output more than 850 watts, but Corsair likes to rate them a bit lower than their max capacity to ensure the PSU has a long life.
pictures & impressions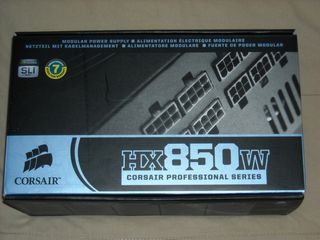 Here we have a shot of the box the PSU came in. It is simple and too the point. Right at the top left corner you can see the sticker that says this PSU is not only SLI certified, but also carries a 7 year warranty. Under that Corsair has clearly labeled this PSU as a 850 watt.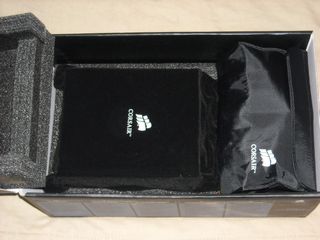 When we open the box we see that Corsair's excellent quality continues. The PSU was covered with a nice quality bag. Its worth noting that this bag was of better quality than the one included with the HX1000. Around the bag is a large layer of foam to keep the PSU even more protected. The cable bag was also stiffer than the one included with the HX1000, which I thought was a plus.
Now that the PSU is out of its bag we can get a good look at it. As with other Corsair modular PSU's, there are a few essential cables wired directly into the PSU itself. These are the 20+4 pin connector, the 4+4 pin CPU connector, and two 6+2 pin PCIE cables.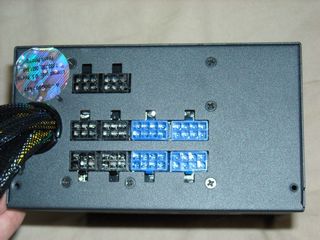 Here we have a shot of where the modular cables plug in. This is the same exact design as every other Corsair modular PSU, so all of the cables are interchangeable with any of the PSU's from the HX series.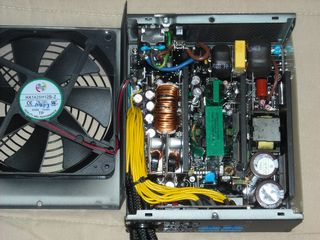 Lets have a look at the inside of the PSU. I am no electrical engineer by any means, but the quality inside looks to be really good, and the heat sink for the PSU looks to be large enough to cool the unit.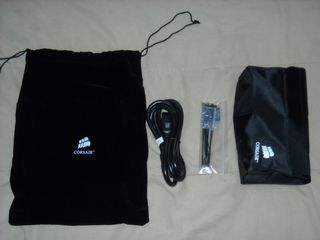 Here is a picture of all of the included accessories. The Corsair bag would be a good bag for something, I am sure you can use your imagination to find a good use for it. The power cable is a must, or your computer isn't going to get very far. There are a few cable ties with a Corsair sticker. These will at least get your cables somewhat managed, but you may need more for a full on job. Then we have the bag that carries all of the cables. As mentioned before I feel it is much better than the bag included with the HX1000.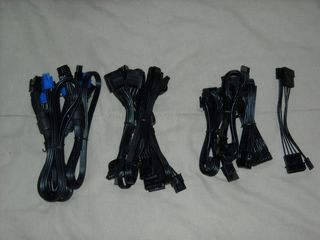 Here is a shot of all of the included cables. These include 12 Molex connectors, 12 SATA connectors, 2 floppy connectors,and 4 6+2 pin PCIE connectors. There should be plenty enough cables for any system configuration you have, even one with a large RAID system.
METHODOLOGY
Test Rig

Case Type

Cooler Master HAF932

CPU
Intel I7 920 @ 3.8
Motherboard
Intel SmackOver X58
Ram
12 GB DDR3 1600 @ 1600, 9-9-9-24
CPU Cooler
D-Tek Fuzion w/ acrylic top
Hard Drives
 Corsair P64 64 GB
(2x) WD SE16 750 GB
Optical
Lite-On DVD R/W
GPU

Leadtek GTX275

Case Fan

One Front 230mm Intake
One Back 140mm Exhaust
One Side 230mm Intake
Three Top 120mm Exhaust

Testing PSU

Corsair HX850w
Silverstone Element 850W
Kingwin 1000W
For the tests I used 3DMark Vantage to achieve a game like experience, which should lead to the maximum load possible. For the idle tests I manually turned the PSU on with nothing attached to it. A Kill-A-Watt watt meter was used to measure the wattage being drawn by the computer from the wall socket. A Craftsman digital multimeter was used to measure the voltages on the connector to ensure that the most accurate result was obtained. To get the Power Factor Correction, I had to run the PSU with the minimal components, since it will not give this with nothing plugged in.
The current ATX 2.2 specifications allow for the following variation in voltage outputs:
3.3 Volt Rail:   3.135 – 3.465V
5 Volt Rail:      4.75V – 5.25V
12 Volt Rail:   11.4V – 12.6V
RESULTS
Corsair HX850w


Kingwin 1000w




Silverstone 850w



OutPut Power
Idle
Load
OutPut Power
Idle
Load
OutPut Power
Idle
Load
12 volt
12.18
12.21
12 volt
12.19
12.17
12 volt
12.19
12.16
5 volt
5.1
5.1
5 volt
5.14
5.15
5 volt
5.14
5.16
3.33 volt
3.34
3.324
3.33 volt
3.412
3.14
3.33 volt
3.41
3.38
PFC
0.99
0.99
PFC
0.98
0.99
PFC
0.95
0.97
The Corsair had no issue matching up with the Silverstone, and even had a great Power Factor Correction! Overall the Corsair easily was within ATX 2.2 standards, which is exactly what you should look for in a PSU.
conclusion
When you are in the market for a new PSU, one brand should always be the first on your list, Corsair. Corsair makes some of the best PSU's, and have always combined shear power with great efficiency. With 850 watts, you can be sure that you will have enough power for future expansions, and will easily be able to run all but the most power demanding computers. This includes a huge RAID system, or a dual graphics set up, besides maybe a quad SLI system. With this kind of power, you can be almost certain you will be fine for the whole 7 years this PSU is warrantied for, but what is power with no efficiency?
Not much since an inefficient PSU can cost you a hundred dollars a year more than an efficient one. This is also where the Corsair HX850 really shines, it combines the power with excellent efficiency. As mentioned before, this PSU could have been certified 80 Gold, which is the highest certification of PSU's. Instead Corsair decided to make sure that every unit would live up to the certification, and thus lowered it to Silver. Again this shows what kind of company Corsair really is, one that you can stand behind, and be sure they will stand behind their warranty 110%.
We have added a new addition to our scoring system to provide additional feedback beyond a flat score. Please note that the final score isn't an aggregate average of the new rating system.
Performance 9
Value 9
Quality 9
Warranty 10
Features 9
Innovation 7
Pros:
+  Modular
+  Great Efficency
+  Single 70A 12v Rail

Cons:
–  None

 The Corsair HX850 is a great addition to Corsair's exceptional line of PSU's, and like their other PSU's this one delivers power when needed while maintaining excellent efficiency, which is why the HX850 receives a 9 out of 10 and the Bjorn3D Golden Bear Award!