The Gigabyte 4890 OC features 1GB of DDR5, a non-reference cooler that should drive down those blistering GPU temperatures. Extra cooling does that equal more overclockability?
INTRODUCTION
When ATI delivered the 4890 video card they increased the clock speed to a blistering 850MHz. With that increase in clock speed came more heat but little was done to improve the stock reference cooler they used. The cooler was really close to the cooler used on the 4870 which had a much lower clock speed, and even at that clock speed still ran too hot for a lot of enthusiasts.
Aftermarket coolers exist for GPU's, but that adds extra expense and it adds risk. Having been around computers since they set them on desktops we've seen a lot of aftermarket cooling ventures go badly, so badly that vendor estimates range from 5 – 10% of aftermarket cooling attempts end in catastrophic failure of the GPU. Improper mounting and lack of good instructions result in GPU death more often than the aftermarket cooler manufacturers would like to tell you.
If your looking for the insane clock speed of the 4890 but don't want to see the 90° C load temperatures common to the 4890 series some form of improved cooling is needed. A much safer option than upgrading the cooler yourself is to buy a 4890 with a factory installed aftermarket cooler. A pre-installed aftermarket cooler means that you don't chance killing your GPU, and the factory warranty won't be voided by installing an aftermarket cooling solution.
Enter the Gigabyte 4890 OC with it's pre-installed aftermarket cooler and blazing core speed of 900MHz. You get the best of both worlds, an aftermarket GPU cooler, and factory overclocked while keeping your warranty intact.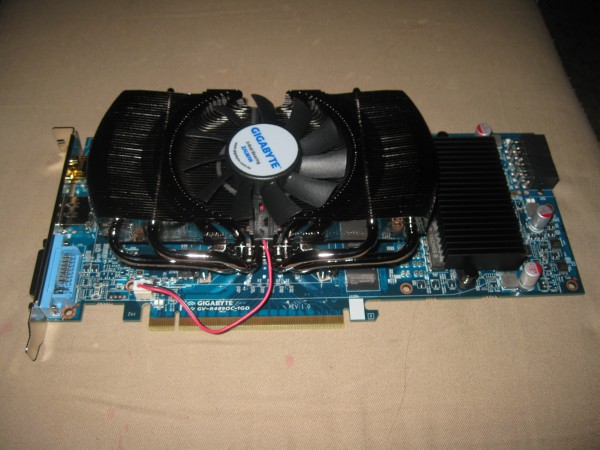 Click Image For a Larger One
Based on a Blue PCB with a 4 heat pipe cooling solution and open frame the Gigabyte 4890 OC has a lot to offer heat conscious enthusiasts that want the smoking performance of the 4890 OC without the smoke emanating from the chassis.
Features
| | |
| --- | --- |
| |  Overview |
 
 

55nm Technology


Faster clocks, double the transistor density of earlier 65 nm technology. 55nm technology helped make HD4670 series products the most advanced GPUs ever highest clocks speeds, incredible feature integration, full performance and precision all the time, and ability to take advantage of future, higher-speed memories.
 
 

Avivo™


Avivo™could provide vibrant high fidelity, flawlessly smooth next-generation video playback. Avivo™ technology easily allows your PCs to become digital home media center by its compelling video pipeline design that comprises the latest high definition video hardware acceleration, including H.264 and WMV9.
 

Catalyst™ Control Center


ATI's all-new Catalyst Control Center goes far beyond traditional driver configuration software—it's a feature-rich and stable 3D acceleration control application that puts you in complete command of your ATI visual processing unit (VPU). Catalyst Control Center offers exceptional graphics performance and visual quality for the ultimate in performance, stability, and innovation. Safe GPU overclocking, custom profiles, and assignable hotkeys are just a few of the many new features. You'll also enjoy frequent updates, reliable customer service, and an interactive user feedback program, all backed by ATI's technical confidence, industry-leading capability, and uncompromising commitment to creating your ultimate visual experience.
 
 
Microsoft® DirectX® 10.1
The power of DirectX® 10.1 with awesome performance, stunning visual effects, and more dynamic interactivity than ever before.Ensures the best performance and application compatibility for all DirectX® 10.1 applications. Microsoft® DirectX® 10.1 games, with stunning 3D graphics and shading effects.
 
 
OpenGL 3.0® Optimizations
Ensure top-notch compatibility and performance for all OpenGL 3.0 application.
 

CrossFireX™


Upgrade to even greater 3D performance quickly and easily thanks to plug-and-play ATI CrossFireX multi-GPU technology
 
 

PCI-E 2.0


PCI Express® 2.0 –Now you are ready for the most demanding graphics applications thanks to PCI Express® 2.0 support, which allows up to twice the throughput of current PCI Express® cards. Doubles the bus standard's bandwidth from 2.5 Gbit/s (PCIe 1.1) to 5 Gbit/sec.
 

RoHS Compliant


As a citizen of the global village, GIGABYTE exert ourselves to be a pioneer in environment care. Give the whole of Earth a promise that our products do not contain any of the restricted substances in concentrations and applications banned by the RoHS Directive, and are capable of being worked on at the higher temperatures required for lead free solder. One Earth and GIGABYTE Cares!
 

HDCP Support


High-Bandwidth Digital Content Protection (HDCP) is a form of copy protection technology designed to prevent transmission of non-encrypted high-definition content as it travels across DVI or HDMI digital connections.
 

HDMI Ready


High Definition Multimedia Interface (HDMI) is a new interface standard for consumer electronics devices that combines HDCP-protected digital video and audio into a single, consumer-friendly connector.
 
Windows Vista®
Enjoy powerful graphics performance, improved stability, and an immersive HD gaming experience for Windows Vista. ATI Catalyst™ software is designed for quick setup of graphics, video, and multiple displays, and automatically configures optimal system settings for lifelike DirectX 10 gaming and the visually stunning Windows Aero™ user interface.
* The entire materials provided herein are for reference only. GIGABYTE reserves the right to modify or revise the content at anytime without prior notice.
* All trademarks and logos are the properties of their respective holders.
Specifications

 Specification
| | |
| --- | --- |
| Chipset | ATI Radeon HD 4890 |
| Core Clock | 900 MHz |
| Mem Clock | 3900 MHz |
| Memory | 1GB |
| Memory Bus | 256 bit |
| Memory Type | GDDR5 |
| Card dimension | ATX |
| Bus Type | PCI-E 2.0 |
| Bus Speed | x16 |
| D-SUB | Y (By Adapter) |
| TV-OUT | No |
| DVI Port | Yes |
| Maximum Digital Resolution | 2560×1600 |
| Maximum VGA Resolution | 2048×1536 |
| VIVO | No |
| Multi View | No |
Special Features
Silent-Pipe II


Silent-Pipe II technology that generates natural airflow to provide more efficient cooling without the use of a heat sink or fan. This is achieved through a unique design that draws cool air in through a new proprietary front-flow thermal module to remove heat from the heat sink on the VGA card.
 
 

Silent-Pipe


Fast heat spreading without a sound: Heat pipe is filled with liquid material to transmit the heat generated from the heat source side: GPU side, to the other side of a graphic card. Heat is to be brought by vaporized liquid to the other side of the pipe, then for capillarity force, water from cooled steam will go back to the heat source side to begin its thermal trip again
 
 

Screen-Cooling


The extended heatsink makes the low profile PCB to standard ATX size. This stylish heatsink with special screen design uses the natural air flow in the case to cool down. Therefore, Screen-Cooling provides customers the same high performance in the ultra silent environment. Furthermore, the extended metal cover is able to protect the VGA cable and provides a useful handling.
 
 

Turbo Force Ultra / Turbo Force


GIGABYTE's proprietary Turbo Force Ultra technology that comprises T3 technology and V-tuner3 overclocking application. T3 technology comprises a series of performance tuning process that ensure maximum stability and enhance 30%~50% performance.
 
 

V-Tuner 3


GIGABYTE's monitoring and overclocking tool V-tuner 3 enables users to dynamically optimize the memory and GPU frequencies; moreover, demonstrates real-time temperature for models integrated with hardware thermal sensor chip.
V-Tuner 3 Features:
*Auto detect most suitable OC Clock
*Resume back to original CLK(BIOS Clock) while abnormal shut down.
 
 

V-Tuner 2


Real time monitoring the temperature, cooling fan speed and coltage of the graphics card, and dynamically control the working frequency and fan speed to let your graphics card always run at the best condition. GIGABYTE V-tuner 2 provides a user-friendly and simple interface for over clocking, and allows users to dynamically adjust core and memory clocks.
 
 
Pictures & Impressions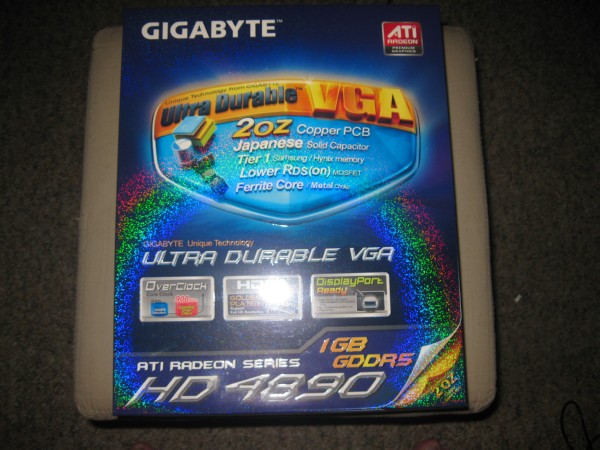 Click Image For a Larger One
Packaged in a bright blue box that provided plenty of protection for the Gigabyte HD 4890 OC was the GPU in pristine condition.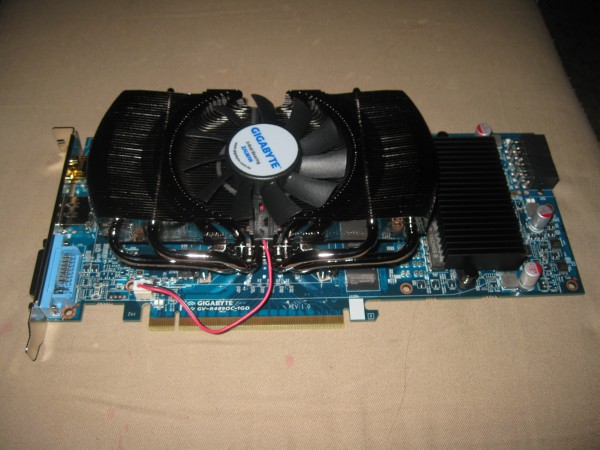 Click Image For a Larger One
Sporting a 4 heat pipe aftermarket cooling solution and an open chassis design the Gigabyte 4890 OC is sure to receive better airflow than cards enclosed in a plastic chassis.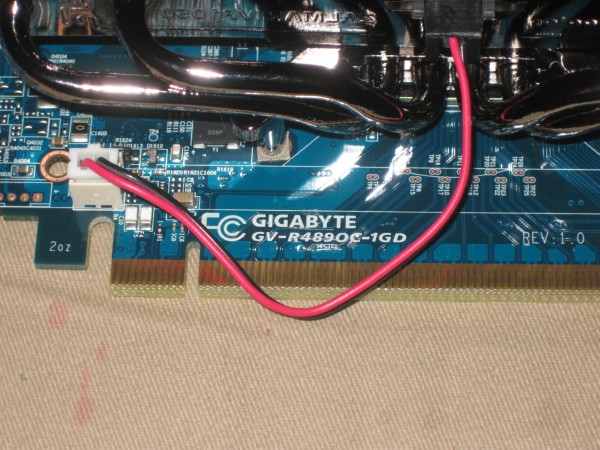 Click Image For a Larger One
Silk screened down by the PCI-E connector you find the products designation code GV-R489OC-1GD which tells us it's a 4890 Overclocked and has 1GB of DDR5. Notice to the right bottom this is a revision 1 card so we might see later revisions.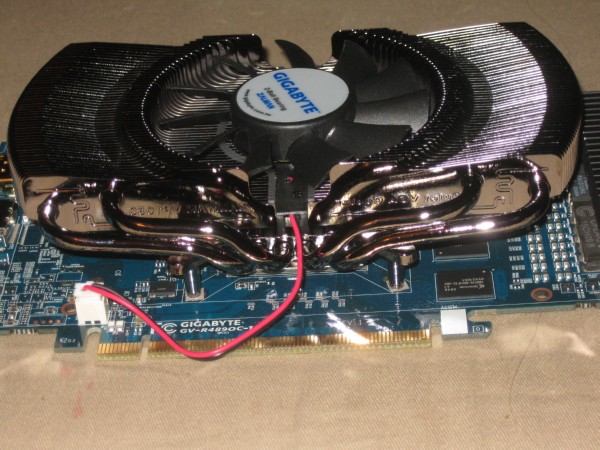 Click Image For a Larger One
The elegant 4 heat pipe design sets in a large silver heatsink and is connected with a 2 wire power connector.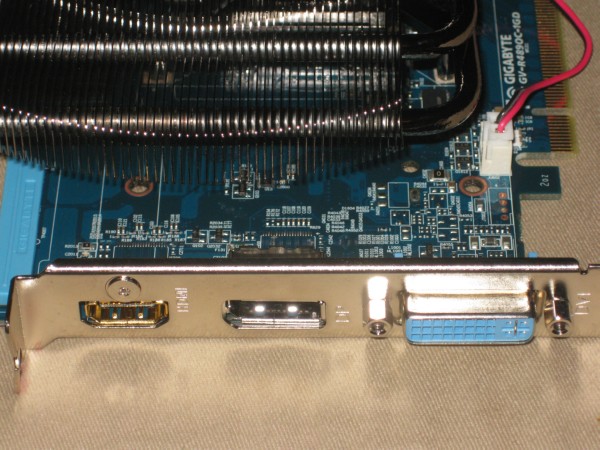 Click Image For a Larger One
With a unique output setup the Gigabyte 4890 OC has one DVi dual port, a HDMI port, and a Display Port output, D-Sub the old 15 pin standard is supported by adapter.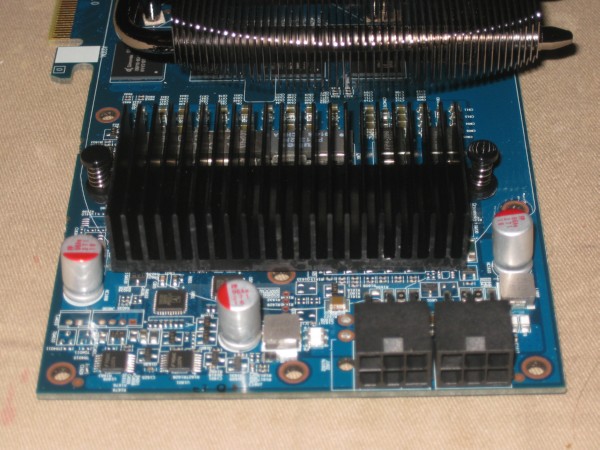 Click Image For a Larger One
The VRM's on the Gigabyte 4890 OC are heavily heatsinked and it won't take much airflow to keep those cool with all that heatsink surface area servicing them.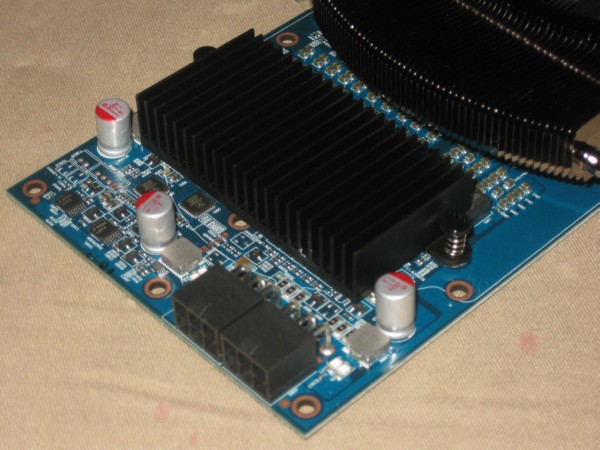 Click Image For a Larger One
Like all the 4890 cards we've seen you'll need two 6 Pin PCI-E power connectors for the card.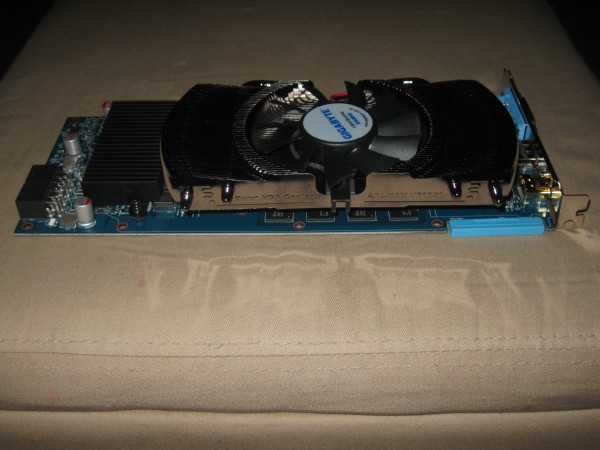 Click Image For a Larger One
The cooling solution looks to be a Zalman vf1000, but we are unaware if there has been any further modification to the cooling.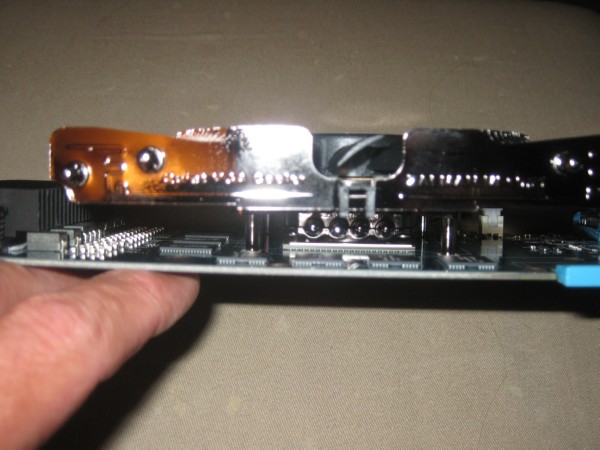 Click Image For a Larger One
We always like to check the heat sink base to make sure that it's nice and flush before firing up a GPU and while checking that we noticed that the memory chips do not have a heatsink in place, but the airflow from the fan should cool those pretty well. Several low profile memory chip sink sets are available for the hard core enthusiast if they want to sink the chips.
Click Image For a Larger One
Notice the solid Japanese caps used on the Gigabyte 4890 OC, and all the solder points look nice and neat. That's a good indication that stringent manufacturing processes were used in the GPU's construction.
Viewed from the top you can see how the fan is going to push air across the memory chips and out across the VRM heatsink.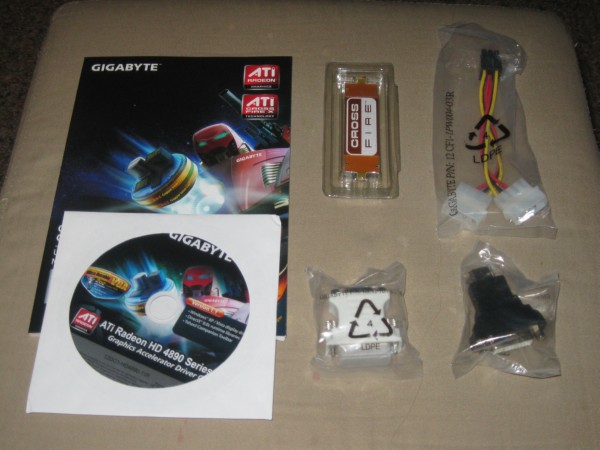 Included in th bundle with the card is a two molex to 6 pin PCI-E power adapter, a Crossfire bridge, DMI to D-Sub adapt or, HDMI to DVI adapter, manual and driver disk. Thankfully in the absence of a second DVI port Gigabyte has thoughtfully included the HDMI to DVI for those wishing to run dual DVI monitor setups.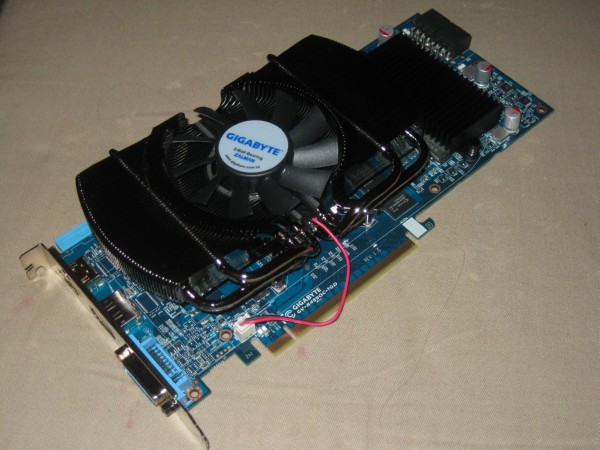 Click Image For a Larger One
We'll leave the Pictures & Impressions section with a beauty shot of the Gigabyte 4890 OC, and move on.
TESTING & METHODOLOGY
To test the Gigabyte 4890 OC 1 GB we did a fresh load of Vista 64. We loaded all the latest drivers for the Asus P6T6 motherboard, downloaded the latest drivers for the GPU, and applied all patches and updates to the OS. Once we had everything updated and the latest drivers installed, we got down to installing our test suite.
Once we had everything up to snuff, we loaded our testing suite, applied all the patches to the games, and checked for updates on 3DMark06 because it was crashing on load. We found that some update we'd done had knocked out the OpenAl portion of 3Dmark06's install. We downloaded the OpenAl standalone installer and ran that, which fixed our crash in Vista 64 (Ultimate). Then, we went ahead and installed 3DMark Vantage, stoked up a pot of coffee and we were ready to run. We ran each test at least three times and report the average of the three test runs here. Some runs were made more than three times (the coffee didn't get done quickly enough), then we cloned the drive using Acronis to protect ourselves from any little overclocking accidents that might happen. Testing was done at the default clock speed of the GPU's.
Test Rig
Test Rig
"Quadzilla"
Case Type
Top Deck Testing Station
CPU
Intel Core I7 965 Extreme (3.74 GHz 1.2975 Vcore)
Motherboard
Asus P6T6
Ram
Corsair Dominator DDR3 1866 (9-9-9-24 1.65v) 6 GB Kit
CPU Cooler
Thermalright Ultra 120 RT (Dual 120mm Fans)
Hard Drives
Patriot 128 GB SSD
Optical
Sony DVD R/W
GPU Tested

Gigabyte HD Radeon 4890 OC
Asus HD Radeon 4890 Voltage Tweak Edition
PNY GTX-285 Performance Edition
EVGA GTS-250 1 GB Superclocked
XFX GTX-285 XXX
BFG GTX-295
Asus GTX-295
EVGA GTX-280 (2)
XFX 9800 GTX+ Black Edition
BFG GTX-260 MaxCore
Leadtek GTX-260
Drivers for Nvidia GPU's 182.06
Palit HD Radeon 4870X2
Sapphire HD Radeon 4870 512MB
Diamond HD Radeon 4879 1 GB
Sapphire HD Radeon 4850 Toxic
Drivers for ATI GPU's 8.12

Case Fans
120mm Fan cooling the mosfet CPU area
Docking Stations
Thermaltake VION
Testing PSU
Thermaltake Toughpower 1200 Watt
Legacy
Floppy
Mouse
Razer Lachesis
Keyboard
Razer Lycosa
Gaming Ear Buds

Razer Moray
Speakers
Logitech Dolby 5.1
Any Attempt Copy This System Configuration May Lead to Bankruptcy
Synthetic Benchmarks & Games
Synthetic Benchmarks & Games
3DMark06 v. 1.10
3DMark Vantage
Company of Heroes v. 1.71
Crysis v. 1.2
World in Conflict Demo
FarCry 2
Warhammer 40k
 Crysis Warhead
3DMARK06 V. 1.1.0

3DMark06 developed by Futuremark, is a synthetic benchmark used for universal testing of all graphics solutions. 3DMark06 features HDR rendering, complex HDR post processing, dynamic soft shadows for all objects, water shader with HDR refraction, HDR reflection, depth fog and Gerstner wave functions, realistic sky model with cloud blending, and approximately 5.4 million triangles and 8.8 million vertices; to name just a few. The measurement unit "3DMark" is intended to give a normalized mean for comparing different GPU/VPUs. It has been accepted as both a standard and a mandatory benchmark throughout the gaming world for measuring performance.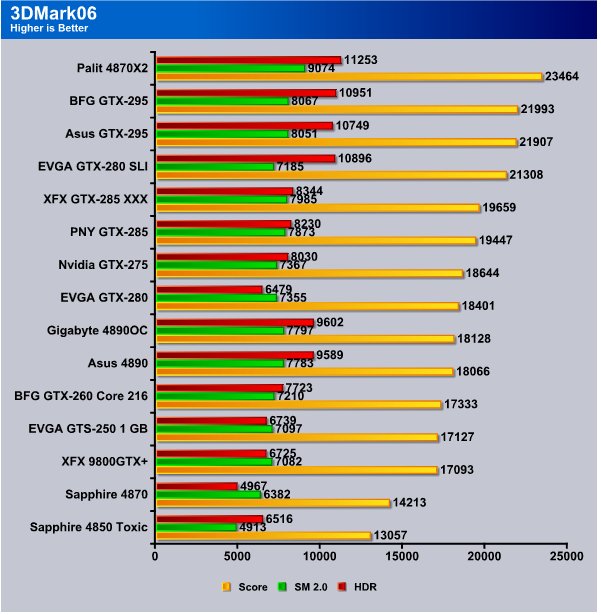 The GIgabyte 4890 OC churns out a respectable 18128, and comes out slightly ahead of the Asus 4890 Voltage Tweak edition.
3DMark Vantage

For complete information on 3DMark Vantage Please follow this Link:
www.futuremark.com/benchmarks/3dmarkvantage/features/
The newest video benchmark from the gang at Futuremark. This utility is still a synthetic benchmark, but one that more closely reflects real world gaming performance. While it is not a perfect replacement for actual game benchmarks, it has its uses. We tested our cards at the 'Performance' setting.
Currently, there is a lot of controversy surrounding NVIDIA's use of a PhysX driver for its 9800 GTX and GTX 200 series cards, thereby putting the ATI brand at a disadvantage. Whereby installing the PhysX driver, 3DMark Vantage uses the GPU to perform PhysX calculations during a CPU test, and this is where things get a bit gray. If you look at the Driver Approval Policy for 3DMark Vantage it states; "Based on the specification and design of the CPU tests, GPU make, type or driver version may not have a significant effect on the results of either of the CPU tests as indicated in Section 7.3 of the 3DMark Vantage specification and white paper." Did NVIDIA cheat by having the GPU handle the PhysX calculations or are they perfectly within their right since they own Ageia and all their IP?
In Vantage we see the Gigabyte 4890 OC again slightly ahead of the Asus 4890 Voltage Tweak edition, and the Gigabyte 4890 OC turned in a 11874. When thinking about chart position please keep in mind that we have 6 SLI/Crossfire card setups at the top of the chart whether they be single card dual GPU or dual GPU and those setups are in a different class then single GPU setups. Single card the Gigabyte 4890 OC would be in fourth place and positioned correctly for it's price point placement.
Far Cry 2

Far Cry 2, released in October 2008 by Ubisoft, was one of the most anticipated titles of the year. It's an engaging state-of-the-art First Person Shooter set in an un-named African country. Caught between two rival factions, you're sent to take out "The Jackal". Far Cry2 ships with a full featured benchmark utility and it is one of the most well designed, well thought out game benchmarks we've ever seen. One big difference between this benchmark and others is that it leaves the game's AI (Artificial Intelligence) running while the benchmark is being performed.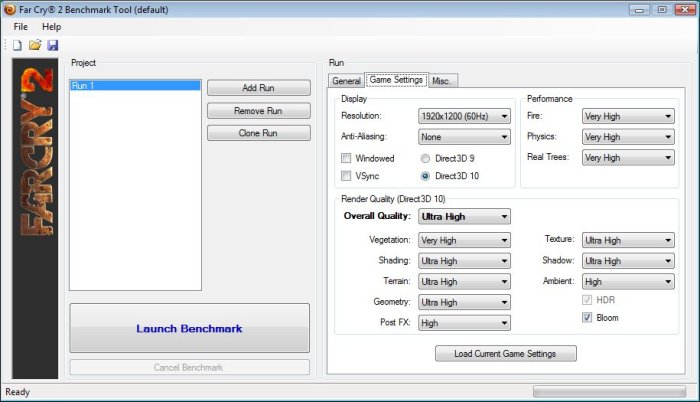 The Settings we use for benchmarking FarCry 2
Being a little more mature than the Asus Voltage tweak edition the Gigabyte 4890 OC might have a little advantage, the Gigabyte card has come out ahead in the last 3 tests. Not by much, but ahead is ahead by any standard.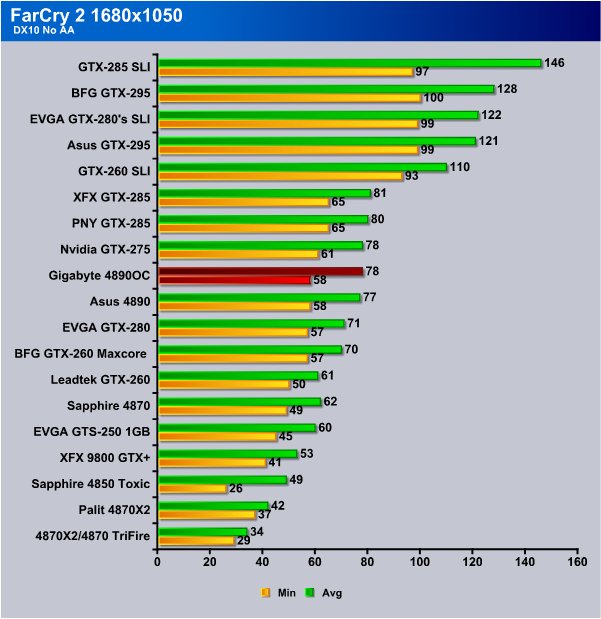 We see the Gigabyte 4890 OC hitting 78FPS average and 58FPS minimum, and coming in right below the GTX-275, and right above the Asus 4890. It never ceases to amaze us how well these cards position by price point and performance.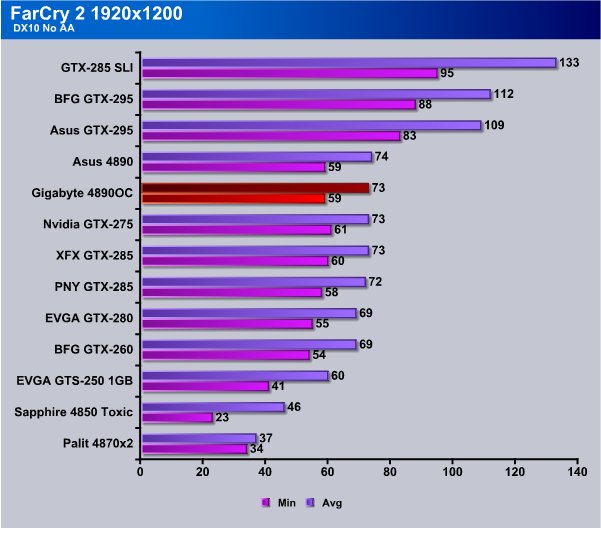 When we hit 1920×1200 the Asus GPU came out 1 FPS ahead of the Gigabyte card on average FPS, and differences that small can be nothing more than small differences in the test runs. With the stock clock on the Asus card being 850 and the Gigabyte being 900 we suspect it's differences in the test run.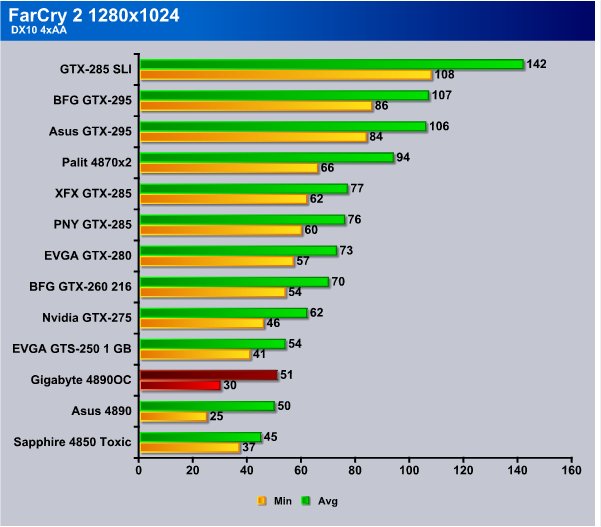 FarCry 2 at 1280×1024 with AA/AF turned on is as much CPU dependent as GPU dependent and the 4890 series cards suffer a little from that. As you'll notice the FPS go up when we hit 1680×1050 and that's an indication that it's a CPU limitation and not a GPU limitation.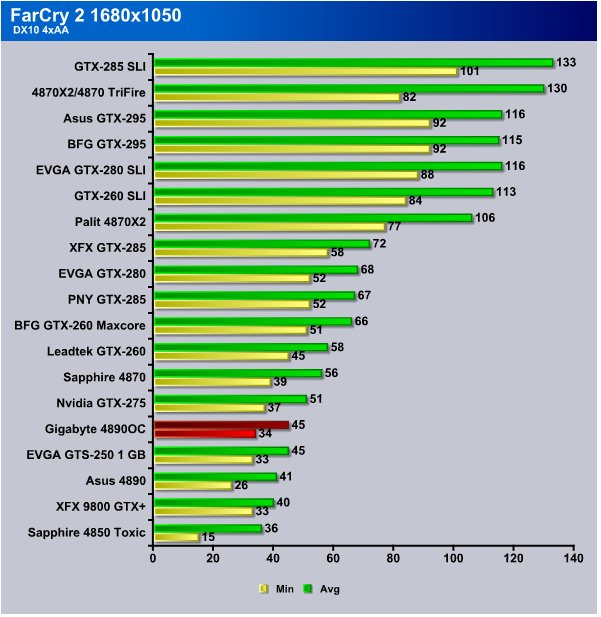 When we hit 1680×1050 4xAA things are a little more balanced and we get a little better FPS from the Gigabyte 4890 OC. The Gigabyte card's faster stock core clock jumped it up a position over the Asus card in this test.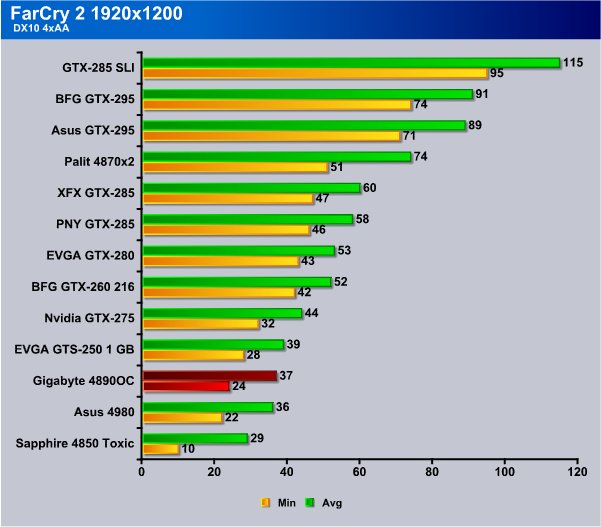 Maximum resolution tested with AA on is a little tough on the Gigabyte 4890 OC and minimum FPS dropped to 24FPS, but we didn't see any micro shutters visible to the eye.
Dawn of War: Warhammer 40,000

Developed by award winning Relic Entertainment, Dawn of War II ushers in a new chapter in the acclaimed Real-Time Strategy series – taking players to the brutal frontlines of war to lead an elite strike force on a mission to save the galaxy.
It is the 41st Millennium in Sub-Sector Aurelia – a cluster of worlds on the edge of the Galaxy – and a battle of epic proportions is about to begin. Ancient races will clash across the planets that dot this section of space, battling for the greatest of stakes – not only the claim to the land and its bounty – but the fate of each race.
With a focus on fast-action RTS game play, Dawn of War II brings to life the science fiction universe of Warhammer 40,000 like never before. Experience the intimate brutality of battle as you play through the epic campaign. Clash with enemies on battlefields ablaze with visceral hand-to-hand and ranged combat. Lead and develop your squads into the most battle hardened elite strike force in the Galaxy.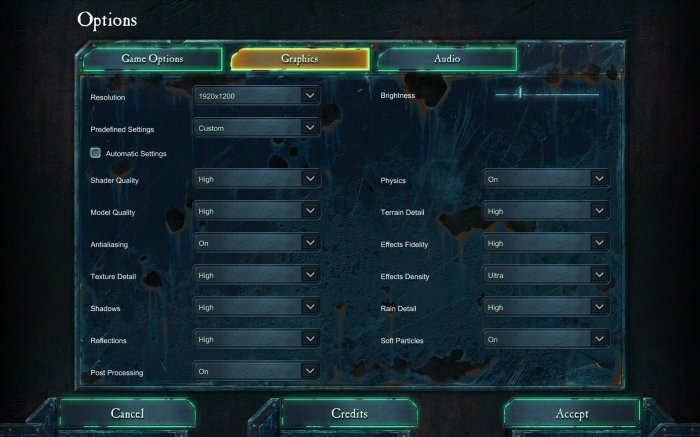 The Settings we use for benchmarking Warhammer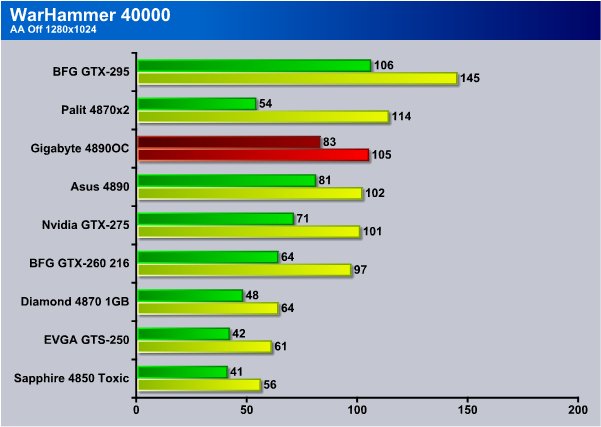 WarHammer 40K see's the Gigabyte 4890 OC churning out 105FPS Average, and 83FPS minimum at 1280×1024, and the Gigabyte card jumped out in front of the GTX-275 in this one.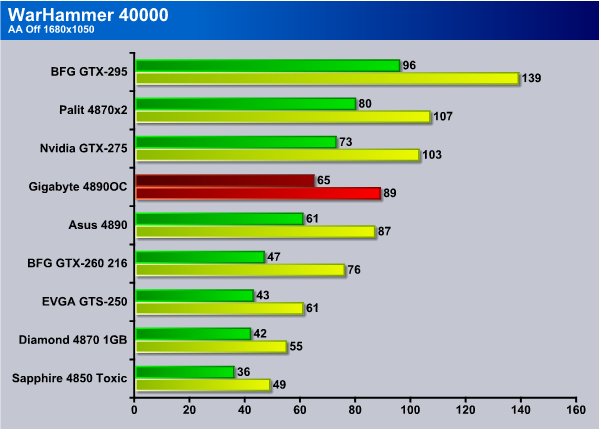 Moving up to 1680×1050 the GTX-275 moved back ahead of the Gigabyte 4890 OC, but the Gigabyte 4890 OC stays ahead of the Asus 4890 Voltage Tweak edition.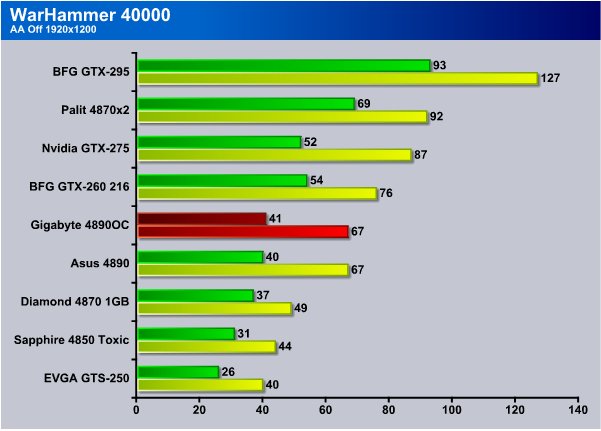 At 1920×1200 a few of the lower end cards struggle with WarHammer 40K, but the Gigabyte 4890 OC is well into the playable frame rate arena.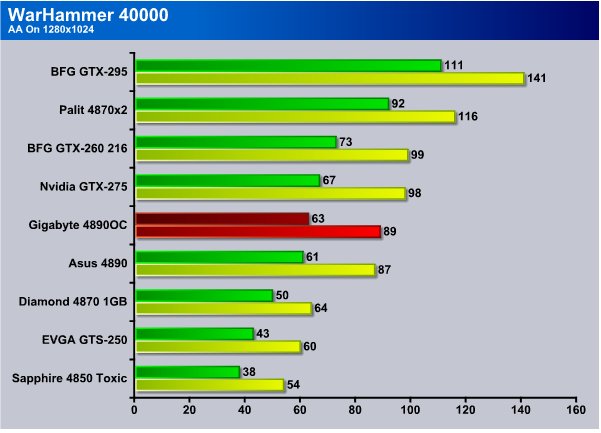 Switching AA on and going back to 1280×1024 the Gigabyte 4890 OC hits 89FPS average, and 63FPS minimum. It stays just ahead of the Asus 4890, and the extra 50MHz the Gigabyte 4890 OC has on the core clock is showing some advantage over a stock clocked card.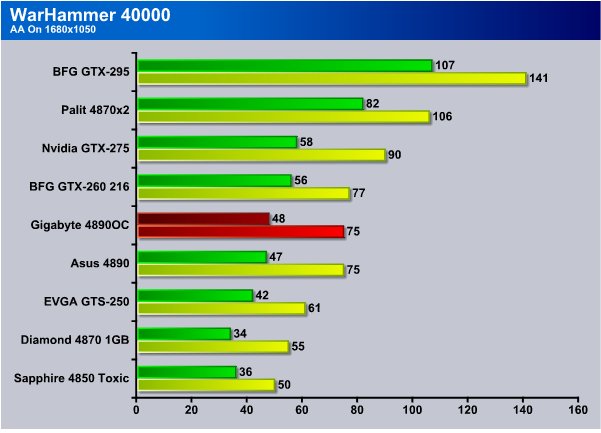 When we go to 1680×1050 with AA on both the 4890's are pretty much neck and neck, one FPS in either test makes it a hard call but both perform admirably.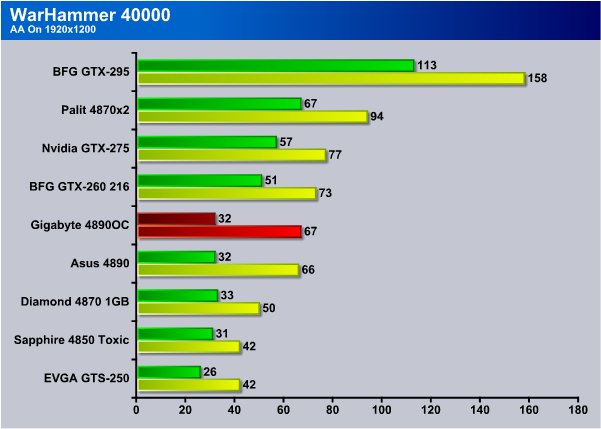 The maximum resolution tested 1920×1200 with AA on sees little change in the Gigabyte 4890 OC/Asus 4890 race the OC on the Gigabyte card shows a 1FPS advantage on average FPS, and both cards are still in the playable FPS range.
World in Conflict Demo

World in Conflict is a real-time tactical video game developed by the Swedish video game company Massive Entertainment, and published by Sierra Entertainment for Windows PC. The game was released in September of 2007. The game is set in 1989 during the social, political, and economic collapse of the Soviet Union. However, the title postulates an alternate history scenario where the Soviet Union pursued a course of war to remain in power. World in Conflict has superb graphics, is extremely GPU intensive, and has built-in benchmarks. Sounds like benchmark material to us!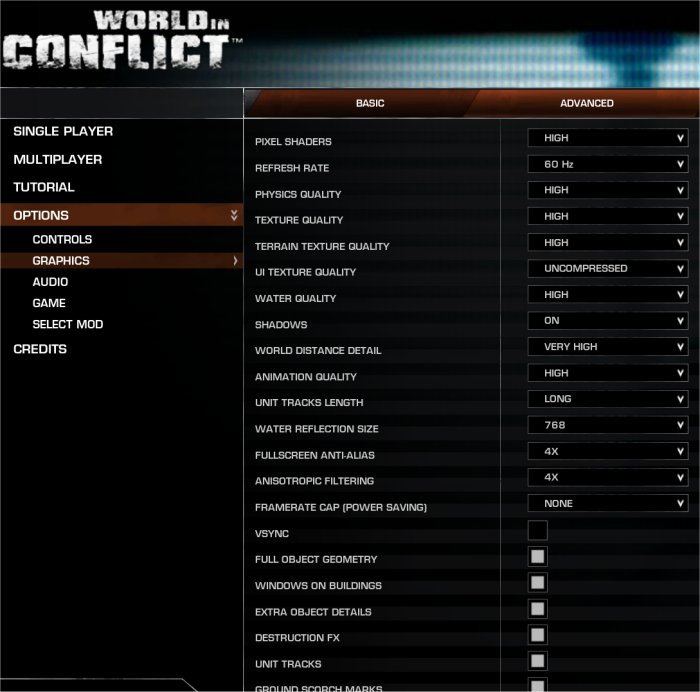 The Settings we use for benchmarking WiC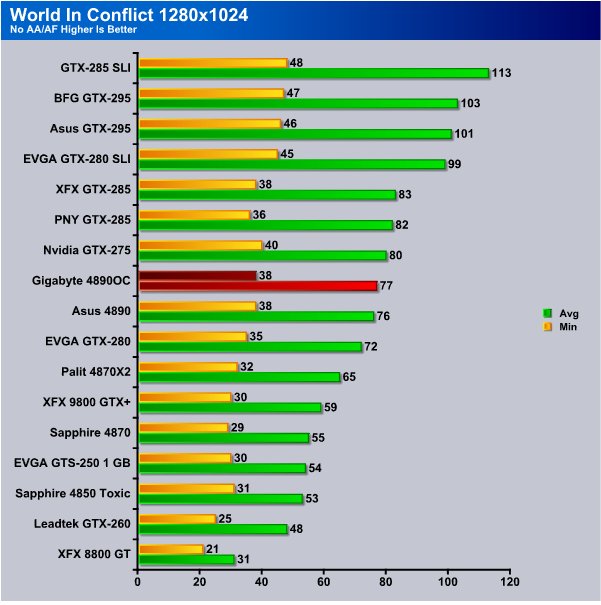 World In Conflict is a little long in the tooth, but it scales well with modern GPU's, and at higher graphics levels stresses them well. We see the Gigabyte 4890 OC coming in right below the GTX-275 which isn't surprising considering Nvidia waited until the 4890 series cards came out, and designed the GTX-275 to be a hair faster than the 4890 line. Of course with that little better speed comes a markedly higher price.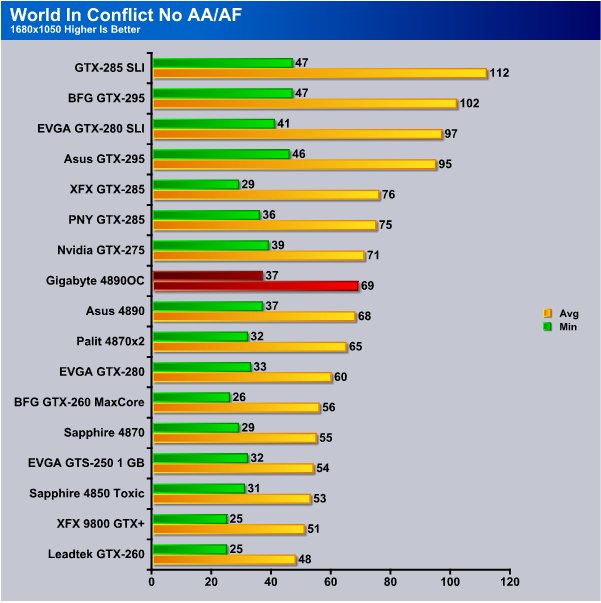 At 1680×1050 the Gigabyte 4890 OC hits 69FPS average, and 37FPS minimum, and maintains it's position above the Asus 4890 and below the GTX-275.
At 1920×1200 we see the Gigabyte 4890 OC at 61FPS average and 32FPS minimum, and we are still in the playable frame rate segment.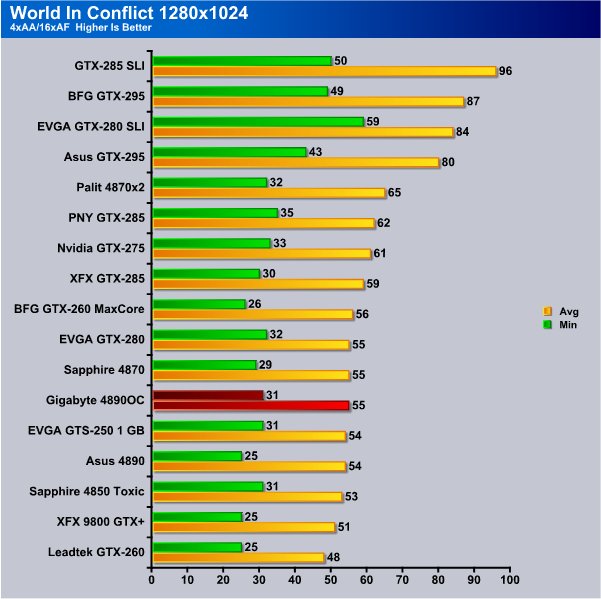 Dropping to 1280×1024 but adding 4xAA/16xAF the Gigabyte 4890 OC hits 55FPS average and 31FPS minimum, and you can tell the AA/AF setting is going to stress the cards at higher resolutions.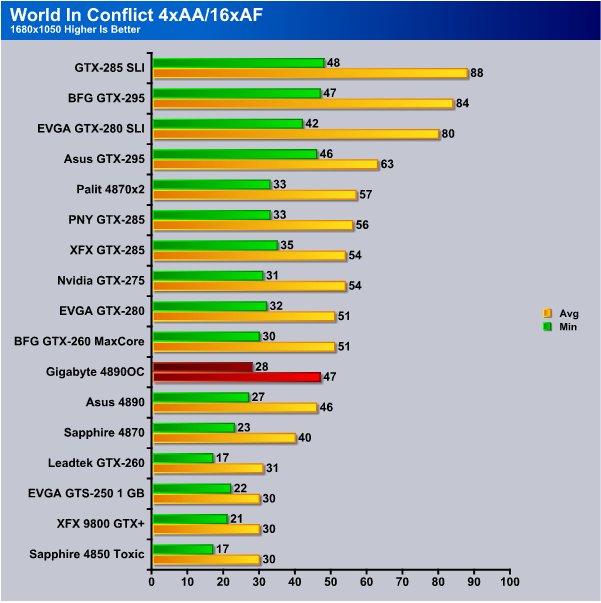 The Gigabyte 4890 OC drops to 28FPS minimum which is the lowest FPS rate considered playable with rock solid graphics, but we didn't notice any stutters so it's still very playable.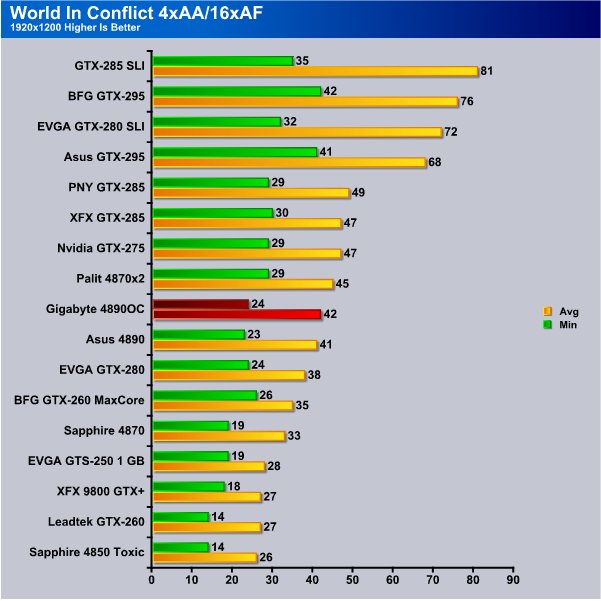 The highest resolution we tested 1920×1200 with AA/AF on, we see the Gigabyte 4890 OC drop to 24 FPS, and we noticed a minor stutter in the graphics. It's in good company though even the PNY GTX-285 dropped to 29FPS so it's more game optimization than GPU performance.
Left 4 Dead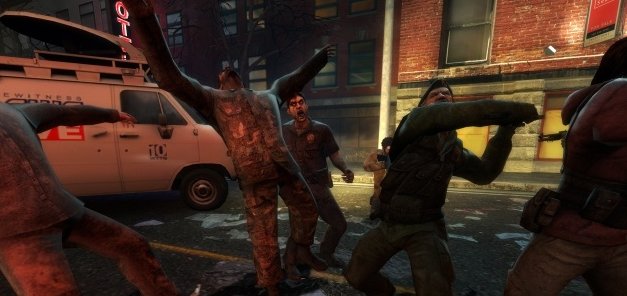 Left 4 Dead is a cooperative first-person shooter video game. It was developed by Turtle Rock Studios, which was purchased by Valve Corporation during development. The game uses Valve's proprietary Source engine, and is available for Windows and the Xbox 360. Development on the game was completed on November 13, 2008 and was released on November 18, 2008 in the United States and on November 21, 2008 in Europe.
Set during the aftermath of an apocalyptic pandemic, the game pits its four protagonists—dubbed "the Survivors"—against hordes of the infected. There are four game modes: a single-player mode in which allied characters are controlled by AI; a four-player, co-op campaign mode; an eight-player online versus mode; and a four-player survival mode. In all modes, an artificial intelligence (AI), dubbed the "Director", controls level pacing and item spawns, in an attempt to create a dynamic experience and increase replay value.
Left 4 Dead was well received by the industry media upon its release, with praise given for its replay value, focus on cooperative play, and movie-like experience. Several criticisms were aimed at limited level selection and the lack of a narrative. The game has won several publication awards, as well as distinctions from the Academy of Interactive Arts & Sciences and British Academy of Film and Television Arts. As was done with Team Fortress 2, Valve plans on supplementing the game with free downloadable content. The first of these, called the "Survival Pack", was released on April 21, 2009. The popularity of the game led to the development of a sequel, Left 4 Dead 2, which will be released in November 2009.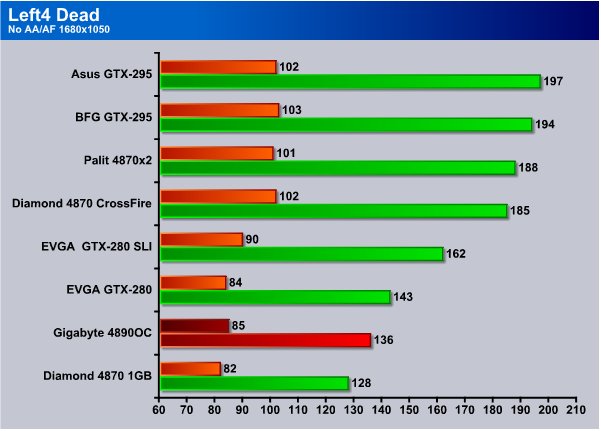 Left 4 Dead has released a few new expansion packs and Left 4 Dead 2 is due out in November so it's back in the news. To that end we've resurrected our Left 4 Dead charts and you may be seeing Left 4 Dead 2 in the charts soon. We test Left 4 Dead at 1680×1050 and above because with frame rates like this frankly testing at 1280×1024 is redundant. The Gigabyte 4890 OC produces 85FPS minimum and even the mighty GTX-280 only sees 84FPS so the Gigabyte 4890 OC is good to go here.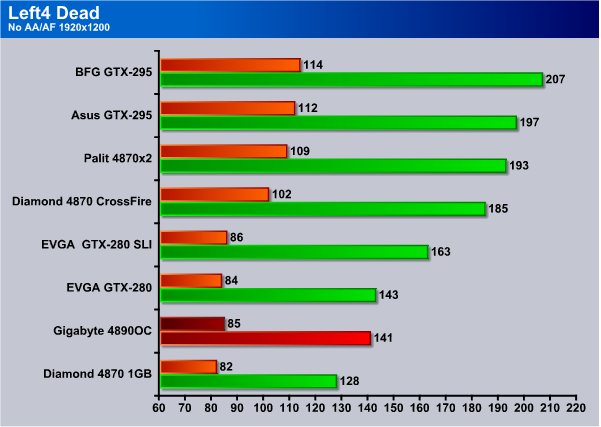 We see the minimum FPS holding at 85FPS at 1920×1200, but we got a few more FPS average and the Gigabyte 4890 OC sees 141 FPS average.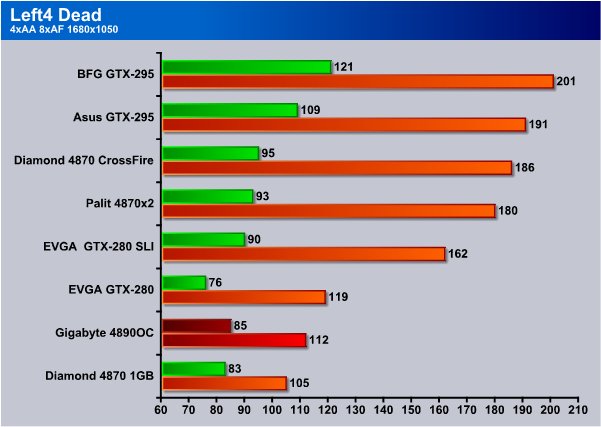 Even turning on AA/AF didn't slow the Gigabyte 4890 OC down much and minimum FPS are holding at 85, but we see a slight drop in average FPS.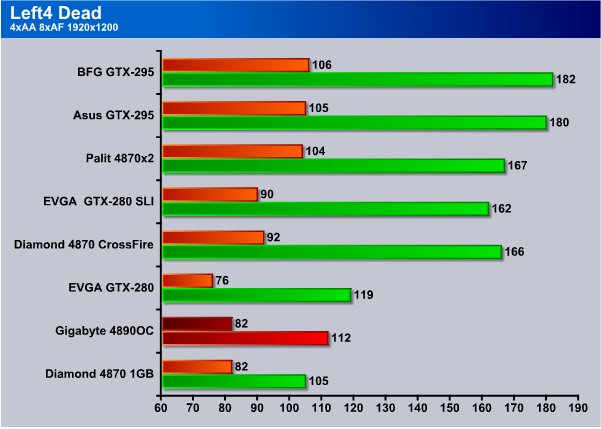 Highest resolution tested 1920×1200 with 4xAA/8xAF minimum FPS drop to 82 and average FPS to 112. We have to say it's a joy to see a new game so well optimized and able to run so well across a great selection of GPU's. Other game developers should take notice.
Crysis v. 1.21

Crysis is the most highly anticipated game to hit the market in the last several years. Crysis is based on the CryENGINE™ 2 developed by Crytek. The CryENGINE™ 2 offers real time editing, bump mapping, dynamic lights, network system, integrated physics system, shaders, shadows, and a dynamic music system, just to name a few of the state-of-the-art features that are incorporated into Crysis. As one might expect with this number of features, the game is extremely demanding of system resources, especially the GPU. We expect Crysis to be a primary gaming benchmark for many years to come.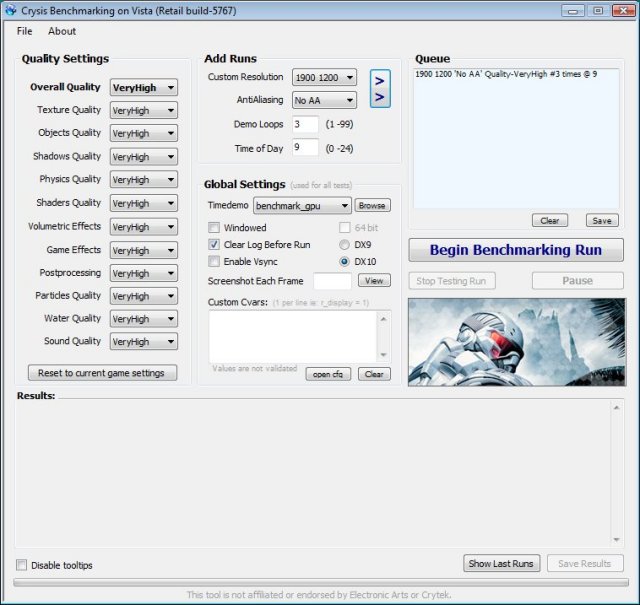 The Settings we use for benchmarking Crysis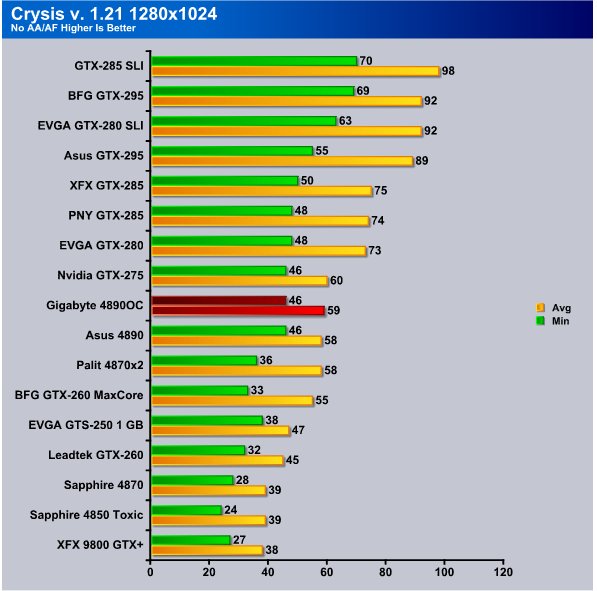 Crysis, which is hard on any GPU we know of, stresses the Gigabyte 4890 OC. Again the card falls between the Asus 4890 and the GTX-275, but at 1280×1024 the Gigabyte 4890 is just one FPS slower than the GTX-275 and one FPS faster than the Asus 4890.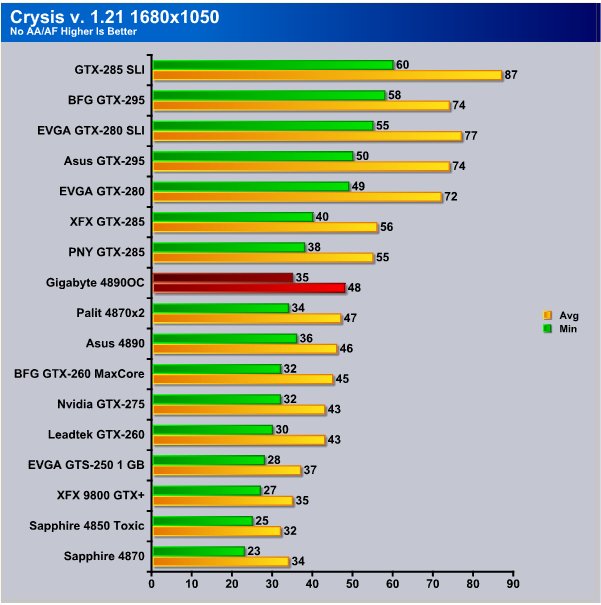 Moving to 1680×1050 the Gigabyte 4890 OC jumps ahead of the GTX-275 and Asus 4890 which was a little bit of an unexpected result so we ran the test and additional 3 runs, and the Gigabyte 4890 OC results remained the same.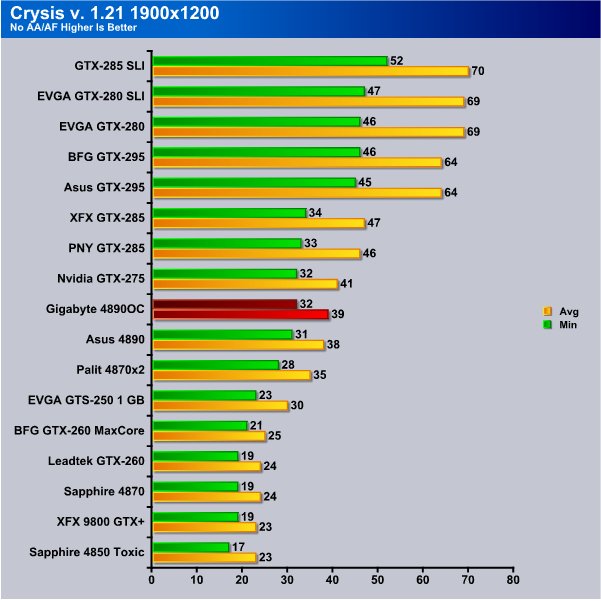 Hitting 1920×1200 the GPU's dropped back into their price point positions with the Gigabyte 4890 OC below the GTX-275, but above the Asus 4890.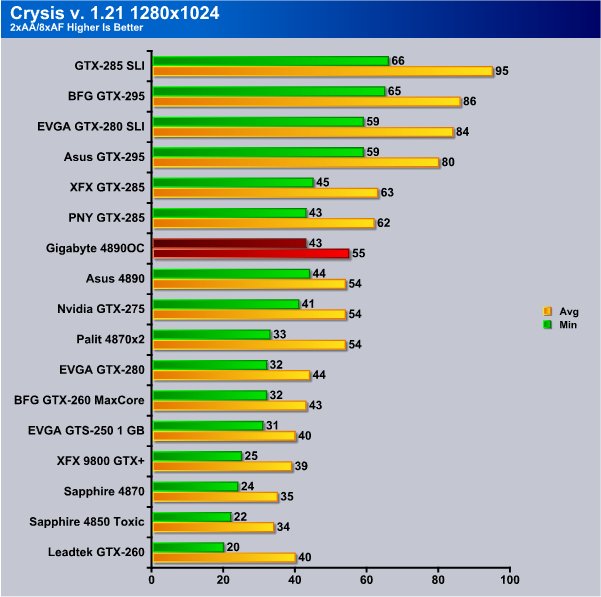 Generally things get rough in Crysis with AA/AF turned on but at 1280×1024 the Gigabyte 4890 OC is sailing right along.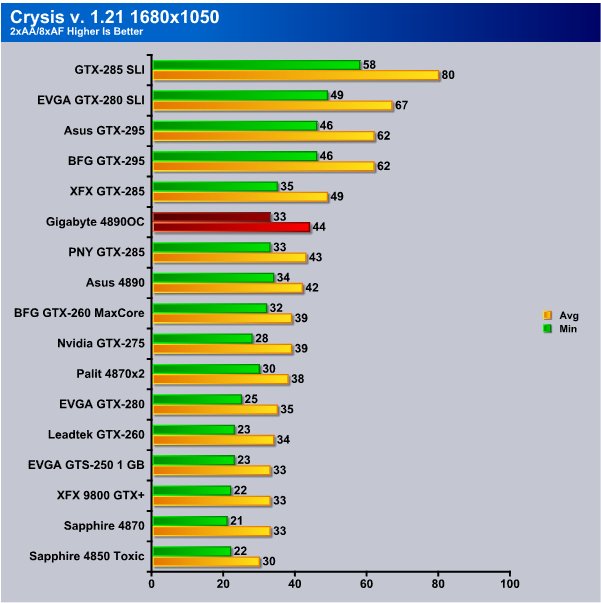 Moving to 1680×1050 with 2xAA/8xAF we see a lot of cards slow down dramatically, but the Gigabyte 4890 is still well into the playable frame rate sector.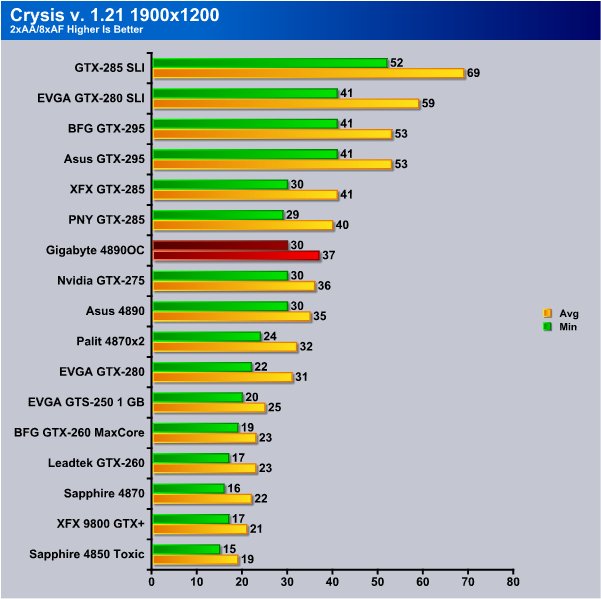 Maximum resolution tested 1920×1200 we see the GIgabyte 4890 OC still turning out playable frame rates which is saying a lot for any GPU.
CRYSIS WARHEAD

Crysis Warhead is the much anticipated sequel of Crysis, featuring an updated CryENGINE™ 2 with better optimization. It was one of the most anticipated titles of 2008.

The Settings we use for benchmarking Warhead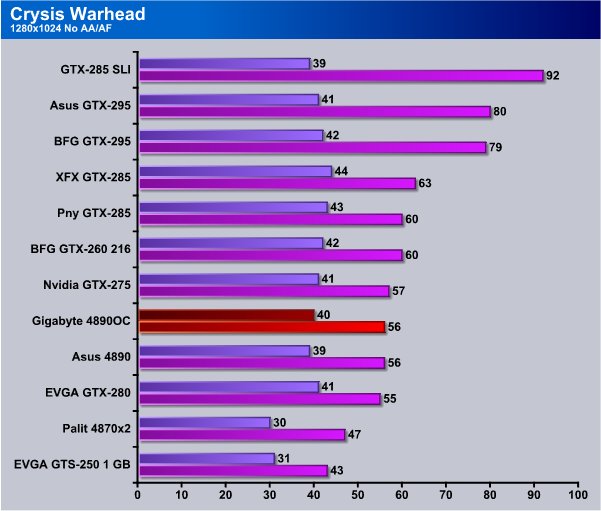 Crysis Warhead is just as hard on GPU's as Crysis, and we see the Gigabyte 4890 OC hitting 40FPS minimum and 56FPS average. Keep in mind this is with an i7 965 @ 3.74GHz and a good 6Gb kit of high speed ram. Slower systems will likely not produce as high a frame rate.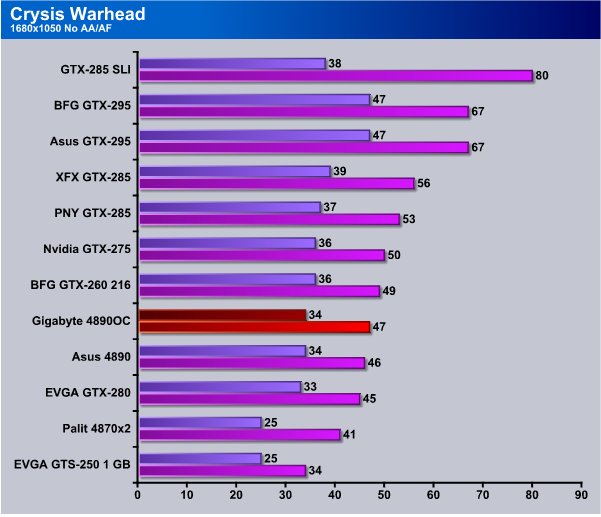 At 1680×1050 the Gigabyte 4890 OC is running 34FPS minimum and 47FPS average still barely ahead of the Asus 4890 which has a 50MHz slower core and a slight disadvantage.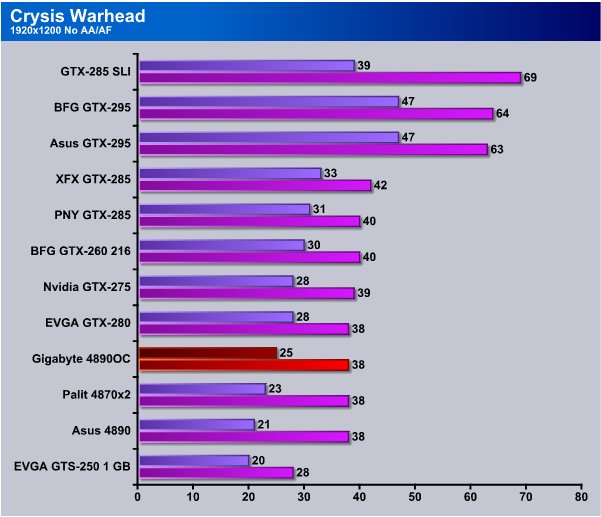 At 1920×1200 the Gigabyte 4890 OC drops to 25FPS minimum and 38FPS average, but again we didn't notice any serious stutter that would prevent us from playing at this level.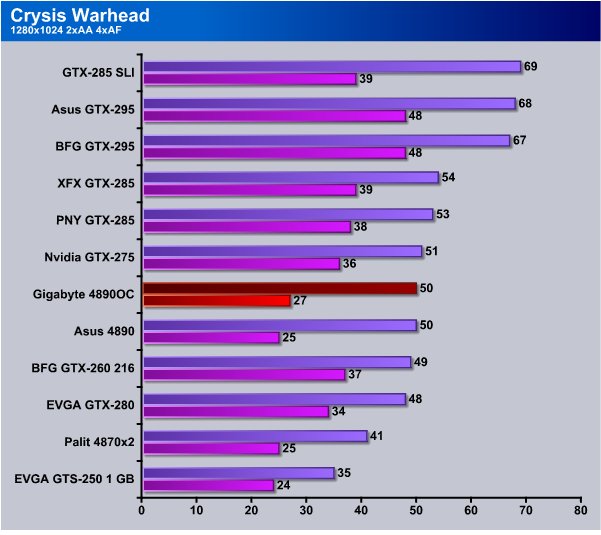 When we apply AA/AF on Warhead usually the GPU meets the road and out of the gate we see 27FPS minimum and 50FPS average. One should note this is more Warhead optimization than GPU.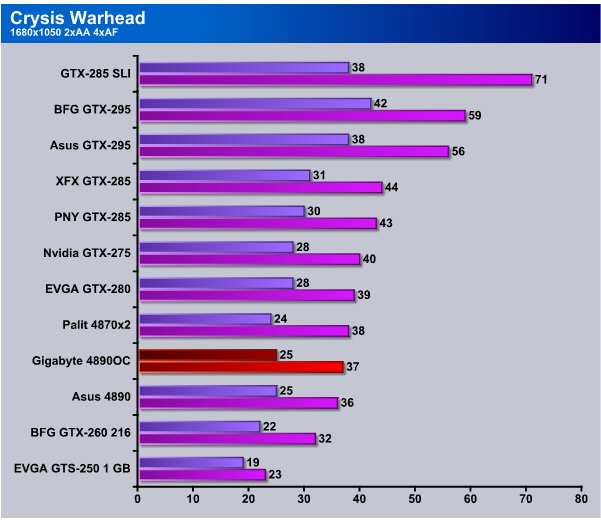 The median resolution 1680×1050 with AA/AF on doesn't slow the Gigabyte 4890 OC down much on Minimum FPS, but the average FPS drop to 37FPS and the only single core GPU to stay at 30FPS or above is the uber expensive GTX-285.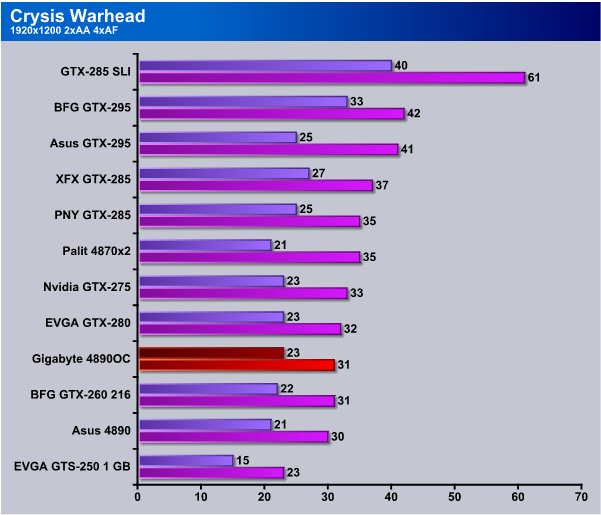 At 1920×1200 2xAA/4xAF most of the GPU's struggle with Warhead including the GTX-295, micro-stutters are pretty minimal with the Gigabyte 4890 OC and with just minor eye candy adjustments you should be able to play at this level easily.
TEMPERATURES

To get our temperature reading, we ran FurMark looping for 10 minutes to get the load temperature. To get the idle temp we let the machine idle at the desktop for 30 minutes with no background tasks that would drive the temperature up. Please note that this is on an open test station, so your chassis and cooling will affect the temps your seeing.
GPU Temperatures
Idle
Load
40°C
66° C
We left the fan on the Asus EAH4770 on auto and we saw really reasonable temperatures from the Asus EAH4770 we have nothing to complain about with it's thermal envelope.
POWER CONSUMPTION

To get our power consumption numbers we plugged in out Kill A Watt power measurement device and took the Idle reading at the desktop during our temperature readings. We left it at the desktop for about 15 minutes and took the idle reading. Then, during the 30 minute loop of 3DMark Vantage we watched for the peak power consumption, then recorded the highest usage.
GPU Power Consumption
GPU
Idle
Load
Gigabyte 4890 OC
239 Watts
358 Watts
Asus EAH4770
131 Watts
205 Watts
BFG GTX-275 OC
216 Watts
369 Watts
Nvidia GTX-275 Reference
217 Watts
367 Watts
Asus HD 4890 Voltage Tweak Edition
241 Watts
359 Watts
EVGA GTS-250 1 GB Superclocked
192 Watts
283 Watts
XFX GTX-285 XXX
215 Watts
369 Watts
BFG GTX-295
238 Watts
450 Watts
Asus GTX-295
240 Watts
451 Watts
EVGA GTX-280
217 Watts
345 Watts
EVGA GTX-280 SLI
239 Watts
515 Watts
Sapphire Toxic HD 4850
183 Watts
275 Watts
Sapphire HD 4870
207 Watts
298 Watts
Palit HD 4870×2
267 Watts
447 Watts
Total System Power Consumption
OVERCLOCKING

The Gigabyte 4890 OC is already factory Overclocked so we're not expecting much of an overclock out of it.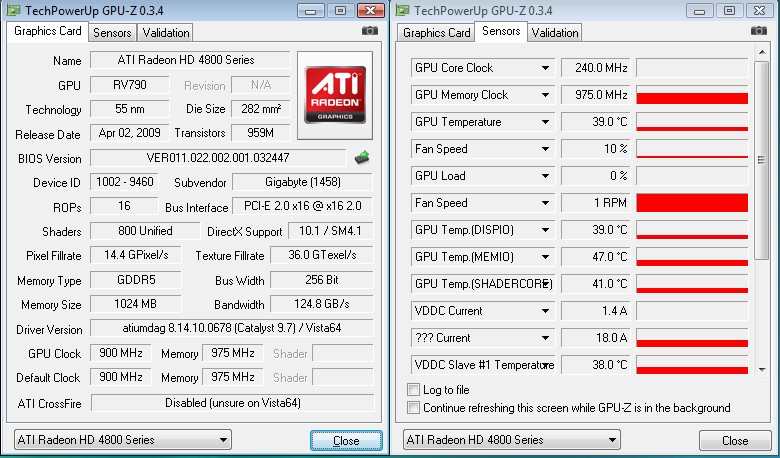 Factory stock speed on the Gigabyte 4890 OC is 900MHz Core and 975MHz Memory. Reference speed is 850 so we already have a 50MHz OC on the card.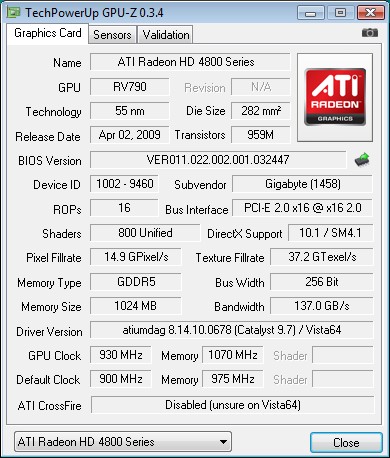 We were only able to get 30MHz more out of the core before we started seeing artifacts in testing with ATITool. From reference speed that's only 80MHz total OC from reference speed. We've seen a lot of 4890 GPU's hit 1000MHz so ours isn't the greatest overclocker. Overclocking is a crapshoot so it's hard to tell how far other cards will OC. Considering that the Gigabyte 4890 OC is one of the cheapest aftermarket cooled 4890's we could find on Newegg it's still worth the money despite our somewhat puny OC.
CONCLUSION
The Gigabyte 4890 OC was able to sail through every game we charted with little problem. As usual Crysis and Warhead were the hardest on the Gigabyte 4890 OC but that's normal and more a reflection on Crysis and Warhead than the Gigabyte 4890 OC. Power consumption was right in line with the other 4890 series cards we tested and temperatures were better with the Zalman vf1000 aftermarket cooler than the stock coolers we've seen.
Performance was high, and with the price expected in the ~$200 dollar range the price performance ratio is hard to beat. Currently select models of the GTX-275 run in the $230 with stock coolers so the Gigabyte 4890 OC is a pretty good value. What really gets us though is a GTX-285 runs ~$369 after MIR and there's no way the cost of the GTX-285 can come close to the price/performance ratio of the Gigabyte 4890 OC. For just a little more you can run two 4890's in Crossfire or run one GTX-285. From a price performance perspective the 4890 Crossfire setup would smoke a single GTX-285.
The factory overclocked nature of the Gigabyte 4890 the aftermarket cooler and 2oz copper PCB make the Gigabyte 4890 OC an excellent value and keep the card running nice and cool. Since it's factory overclocked and aftermarket cooled the warranty remains intact and there's no chance you'll kill the card attempting an expensive aftermarket cooler yourself. As we all know there's still overclocking headroom on the Gigabyte 4890 as most 4890 series cards are capable of the 1GHz range. We don't think the Gigabyte 4890 OC really needs an overclock but the headroom is there if you want it.
We like the Gigabyte 4890 OC and appreciate the option to have an aftermarket cooler without the extra hassle of strapping on one ourselves. The price performance is hard to beat and should rock any game you decide to play on it.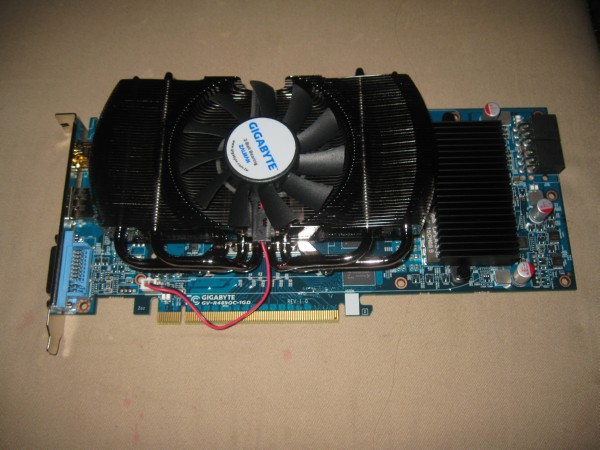 We are using an addition to our scoring system to provide additional feedback beyond a flat score. Please note that the final score isn't an aggregate average of the new rating system.
Performance 8.5
Value 9.5
Quality 10
Warranty 8
Features 9
Innovation 9
Pros:
+  Displayport And HDMI Native Connectors
+  Crossfire Capable
+  Aftermarket Cooled
+  The Cooler Makes It Stand Out From Stock Cooled Cards
+  2oz Copper PCB Makes It Run Cooler And Helps Resist Static Discharge.
+  Good Price/Performance ratio
Cons:
–  Heat Vented Inside The Chassis
–  Dual DVI Monitor Users Will Have To Use An Adapter
The Gigabyte 4890 OC is a joy to run and it runs cooler than stock cooled 4890's, it also has a 2oz Copper PCB which provides even cooler operation, it looks like an enthusiast GPU without having to modify the card yourself, the factory overclock keeps the warranty intact, and it easily handles all modern games so it scores a: 8.5 out of 10 and the Bjorn3D.com Seal Of Approval.