Artic Cooling has brought us a quiet, stylish chassis fan. These fans come either PWM that supports PST or Temperature Controlled. Lets step inside and check these fans out.
introduction
Arctic Cooling has always been a leader in quiet PC cooling devices. By utilizing a completely new innovation Pulse Width Modulation (PWM) Sharing Technology (PST), these fans have the ability to control all of your Arctic Cooling fans and further reduce the noise level of your chassis. 
Now the next question is, "What is PST?". PST works with all Arctic Cooling's PWM fans, in effect daisy chaining them to one PWM controller on your motherboard. When the CPU temperature increases instead of just ramping up the CPU fan it ramps up all fans that are connected. Visit Arctic Cooling website to get a bit better explanation, HERE.
We not going to just review one type of fan here at Bjorn3d, in fact we have two types of fans from Arctic Cooling. The other type is a TC (Temperature Controlled) fan. These types of fans work in conjunction to temperature sensor that is hard wired to the fan, as the sensor warms up it speeds up the fan. When the temperatures of that sensor go down the fan speed reduces.
These fans are designed for chassis. With out further ado, lets see what makes these fans differ from the other types of fans out there, and hopefully see what makes them tick. I just need to remember to keep my fingers away from the moving blades of the fan, LOL.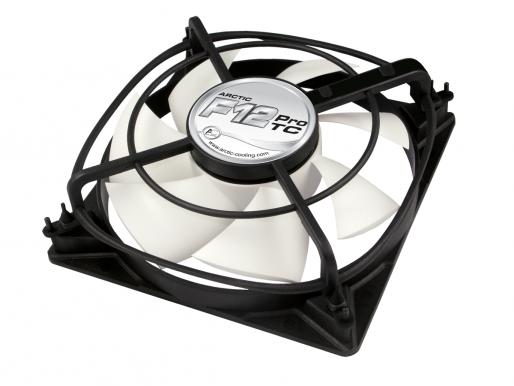 Specifications
PRO PWM
Main features
•    Patented PWM Sharing Technology (PST)
•    Best noise-performance ratio
•    Patented fan holder eliminates the
     buzzing sounds
•    Patented vibration absorption
•    Fluid dynamic bearing extends service
     life
•    Compatible with screw-less mounting 
PRO Temperature Controlled (TC)
Main feaures

• Temperature sensor on a 40cm long cable
• Accurate case temperature detection
• Cable can be positioned in wherever necessary 
• Extremely quiet – only 0.3 Sone 
• Patented fan holder eliminates the buzzing sound
• Patented vibration absorption
Packaging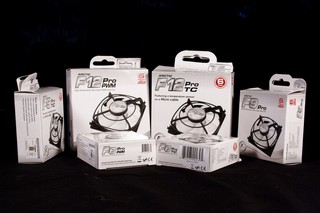 Here are all of the fans tested in this review. There are two types of fans for each fan size, a PRO PWM, and a PRO TC. Arctic Cooling still uses their signature white packaging for each fan, we can also see that Arctic Cooling gives us a 6 year warranty with these fans. There is also general specifications of each fan and the general features on each fan type. Now if you look at the 120mm PRO PWM fan this is the only fan that supports PST technology.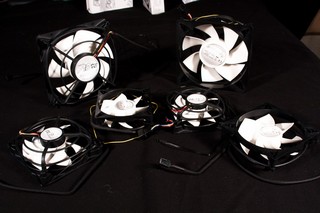 All of the fans out of there boxes, not shown is the standard chassis fan screws and a sticker that you get with each fan. I do like the high contrast of the white and black color of the fans. The use of these fans should really brighten up any drab chassis interior.
OVERVIEW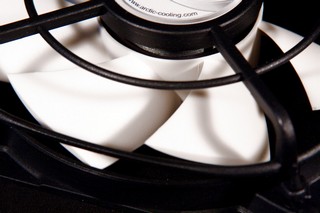 Looking at the blades of the Arctic Cooling PRO series fans. The back end of each fan is the intake, while the open side of the fans are the exhaust.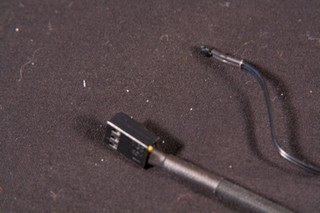 The standard three pin power connector with the sensor probe. The sensor probe wire is 40mm long. This should allow you to place this probe where ever you need it at.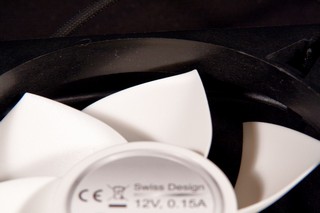 Looking throughout the open side of the fan. The blades do have a nice curvature to them.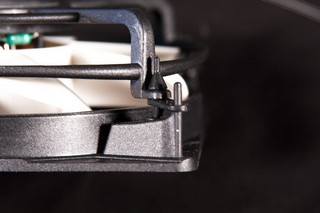 This is a rather cool feature that these fans have. The fan is isolated from the mounting side by these rubber mounts, this greatly reduces any vibrations you may get when using fans.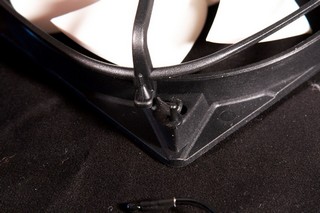 Just showing you that the mounting side of the each fan is indeed isolated from the actual fan itself.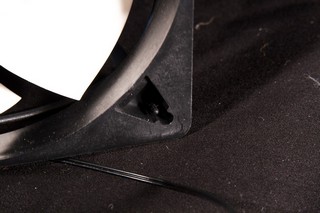 Looking at the mounting side of the fans. Installing these fans were pretty easy, I did not have to fight the fan screw in the entire way, just have to be careful not to tighten to far because you can strip these out fairly quickly.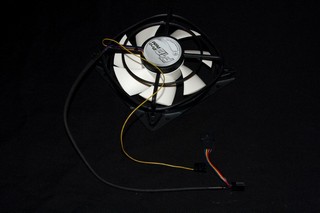 The 120mm PRO PWM/TC PST fan has two connectors on the fan. One is a female fan connector the other is a male connector, this allows us to use the PST feature of these fans.
Now as curiosity got the best of me, I found out these fan blades can be removed quite easily for easier cleaning. Pretty simple of a task, grip the fans base tightly, and from the back side of the fan press gently and the blades should pop right out. Do not use to much force you can snap a blade rendering the fan useless.
INSTALLATION
Now Since I do not have a real use for the 92mm PRO PWM/TC fans, I had to improvise its installation. I had to get creative to install the 80MM PRO /TC fans. I used the 120mm fans in my roommates computer for testing.
First up is the 120mm PRO  PWM/TC fan. As we can see this fan definitely jumps out at you when it is installed in a all black chassis.
The 92mm PRO PWM/TC fan I used on my open chassis computer. More specifically I put it on my memory, well at least i know my memory will stay cool.
My creativeness for the use of the 80mm PRO PWM/TC fans. Well after scratching my head on where I was even going to mount these fans, I remember my roommate modded his XBOX to fit two 80mm fans on the side of it to help cool it better. His temperatures went from the mid 50°C to a mere 36°C.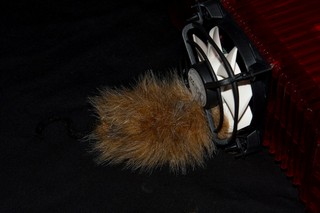 This is what happens when peoples finger puppets get to close to the fans, muhahahaha.
Conclusions
The use of the Pro Series fans from Arctic Cooling will not only make your PC much more quieter, but they also will add a bit more styling as well. These fans are also easy to clean, easy to install onto our chassis, and the 40mm temperature probe will allow any user to put this probe where it is needed to be at.
During my testing portion with the 120 PRO PWM fan the chassis temperature never changed. Once I hooked up the PRO TC fan the computer components temperatures fluctuated. During idle times this fan would barely spin, but as the components got hotter and the inside chassis temperature rose the fan would spin up therefore dropping the overall interior temperature. The TC's low CFM output during an idle stage would cause the components to turn slightly higher, but once the fan got fully ramped up the temperatures still were slightly higher then running the PRO PWM fan at full speed. All I can add about the 92mm chassis fan is that it kept my memory nice and cool since I did not have a chassis that uses the size. The 80mm fans on the XBOX mod we used where rigged to the XBOX's GPU so the fan would stay at a constant high speed.
The area that Arctic Cooling can do better in is their PRO TC fans is the CFM. I still do not understand why fan manufacturers have a fan that has a such a low CFM rating from the get go, and decide to compound this problem by making it temperature controlled. The idea or concept of a Temperature Controlled fan is to have that fan a mid/high CFM rating, so when the fan does get ramped up to full speed it will do more good. Currently as they way things are they cause more troubles then they are worth. In the XBOX test the fans did good because the chassis they use is so small anyways the temperature was always high without a fan. Really anything will help out these types of game boxes, as they are on the bottom of the barrel for cooling from the get go.
I could not get a pricing on these fans currently, but looking at Newegg and a few other websites from Arctic Cooling fans I can safely say these will be placed in the 6-12USD range. For a fan that cools well and looks good to boot makes these fans worth every penny.
OUR VERDICT: PRO PWM Fans
| | |
| --- | --- |
| Performance | 8 |
| Value | 8 |
| Quality | 10 |
| Features | 9 |
| Innovation | 9.5 |

We are using a new addition to our scoring system to provide additional feedback beyond a flat score. Please note that the final score isn't an aggregate average of the new rating system.

Pro
Cons

Looks extremely good inside of a dark Chassis

Quiet Operation

Can be daisy chained with other PRO PWM fans (PST)

Easy installation

None for the PRO PWM fans I can think of

 
Summary: The use of Arctic Cooling PRO PWM fans will brighten up any drabby looking chassis, also they have a great quiet to cooling ratio.
OUR VERDICT: PRO Temperature Controlled Fans (TC)
| | |
| --- | --- |
| Performance | 5 |
| Value | 9 |
| Quality | 10 |
| Features | 9 |
| Innovation | 6 |

We are using a new addition to our scoring system to provide additional feedback beyond a flat score. Please note that the final score isn't an aggregate average of the new rating system.

Pro
Cons

Easy to install

40mm Temperature Probe makes placing this anywhere we need it at

Extremely quiet

The Low flow nature of these fans is so low it caused my temperatures to be slightly elevated during idle times, also during heavy load times even after the fan spun up to 100%