The ASUS M4A78-HTPC/RC is being dubbed as the motherboard to get when 'Building the Dream Home Theater PC'. We've tested it to see if the included features indeed are good enough to warrant this statement.
INTRODUCTION
In today's crowded market it is important to try to make your product stand out in some way. The ASUS M4A78-HTPC/RC on the surface is just another micro-ATX motherboard with the AMD 780G/SB700 chipset but as its name implies there is more to it than that. In fact the ASUS M4A78-HTPC/RC is marketed as the motherboard to use when "Building the Dream Home Theater PC". With a special mode to keep the system quiet, improved sound as well as the software "Home Theater Gate" it sounds like ASUS might have created the perfect motherboard for us htpc-builders. Keep reading on as we pick this motherboard apart to see if ASUS can back up their claims or if it just falls flat.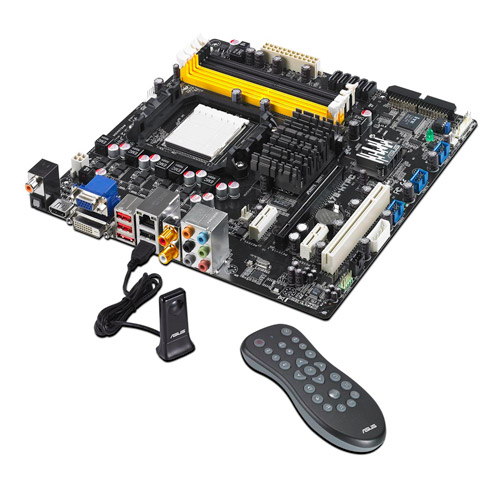 FEATURES AND SPECIFICATIONS
As mentioned earlier, this motherboard is using the AMD 780G/SB700 chipset. For quite some time this chipset has been quite popular among htpc-builders, so it is no surprise that ASUS choose this chipset for the motherboard. AMD has recently released an updated version of the chipset (AMD 785G), but the differences are not that big.
Let us look at some of the highlights of the specifications for this motherboard. For full specifications look at this page over at ASUS homepage.
Feature/Specification
ASUS M4A78-HTPC/RC
CPU

AMD AM3/AM2+/AM2 ;Phenom™II /Athlon™II /Phenom™ / Athlon™ /Sempron™ Processors
AMD Cool 'n' Quiet™ Technology
Support 45nm CPU

Chipset

AMD 780G/SB700

System Bus

Up to 5200 MT/s for AM3 /AM2+ CPU
2000 / 1600 MT/s for AM2 CPU
HyperTransport™ 3.0

Memory

4 x DIMM, Max. 16 GB, DDR2 1066/800/667 ECC,Non-ECC,Un-buffered Memory

Expansion Slots

1 x PCIe 2.0 x16
2 x PCIe x1
1 x PCI 2.2

VGA

Integrated ATI Radeon™ HD 3200 GPU
Max. shared memory: 256 MB

Storage
SB700 Chipset
1 xUltraDMA 133/100/66 for up to 2 PATA devices
5 xSATA 3 Gb/s ports Support RAID 0,1,10
1 x external SATA 3Gb/s ports
LAN
Atheros L1E Gigabit LAN controller featuring AI NET 2
Audio
– 8 -Channel High Definition Audio CODEC
– Supports Jack-Detection, Multi-Streaming
– Coaxial and Optical S/PDIF Out ports at back I/O
– DTS Surround Sensation Ultra PC
– 2-ch Gold-plated RCA output at back I/O
– ASUS Noise Filtering
This motherboard supports AM3-, AM2+- and AM2-CPU's. It still uses the same old HD3200 internal graphics which help accelerate video playback of some high-def material.
More interesting than the specifications are the "special" features of the motherboard.

Absolute Pitch Hi-Fi
The M4A78-HTPC/RC is according to ASUS the first motherboard which has a separate power connector for the audio components. This should help reduce electronic noise. It also has two gold-plated RCA-connectors so you can easily hook it up to speakers or your home theater equipment.
 

Tranquil Mode
When this mode is turned on the speed of the fans is lowered to ensure that the system is as quiet as possible.
 
DTS Surround Sensation UltraPC


DTS Surround Sensation UltraPC is a feature that lets you experience a better sounds in a stereo-setup by adding support for virtual surround sound, enhancements for the bass as well as "Voice Clarification" to make the human dialogue audible even with a loud background.

Home Theater Gate
We are already familiar with the Linux Environment Express Gate that ASUS offers on some of their motherboards (including this one). Home Theater Gate has a similar name but runs under Windows. It basically is a Media Center program with huge icons that, together with the included remote, is supposed to "make it easy for you to operate the media applications via a remote control up to 10 feet away from the monitor or TV".
 
CLOSER LOOK
The motherboard comes well packed in one of ASUS signature green boxes.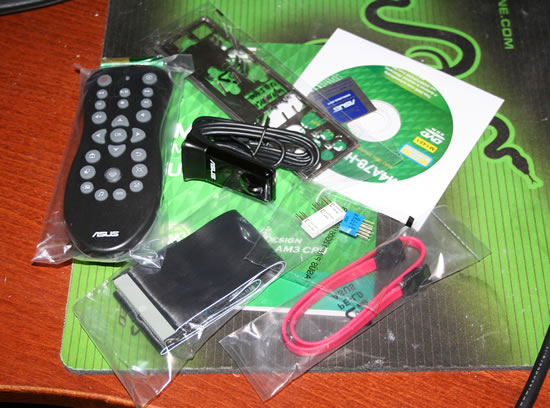 ASUS doesn't really ship that much stuff with the motherboard. We get:
A remote plus a USB IR-receiver
I/O Shield
1 EIDE-cable
1 SATA cable
Q-Connectors
CD with software and drivers
While it is a bit disappointing that ASUS just includes 1 SATA-cable at least this version of the motherboard comes with a remote and IR-receiver.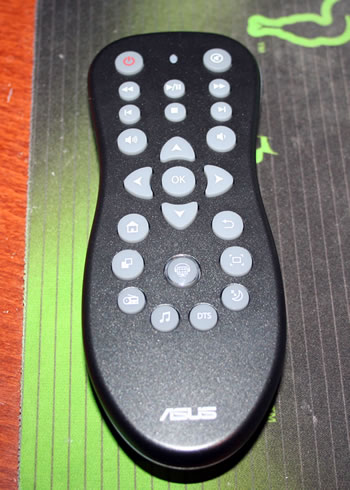 The remote is a quite simple remote but lies ok in the hand. It has buttons for the various features of ASUS Home Theater Gate but should also work for Media Center.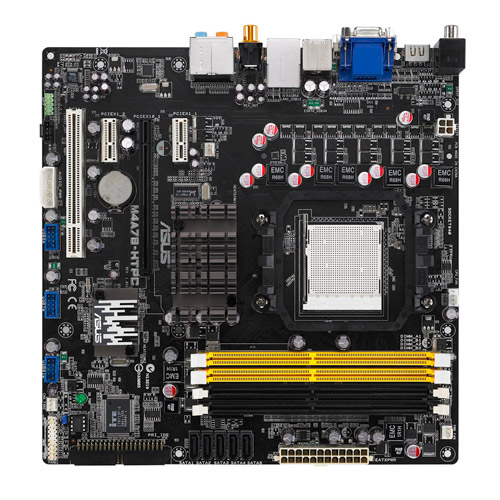 The motherboard is black and looks pretty nice. Since it is a micro-ATX motherboard there isn't that much room on it but it does not feel that we are missing any important connectors except a firewire connector or firewire header. Considering that one of the best TV-cards, the FireDTV/FloppyDVT, is using Firewire it is a bit of a oversight to not even make it possible to hook up a case connector to the motherboard. One feature we did like is the inclusion of 2 1xPCI-E connectors. Together with the PCI-slot there is ample room to expand the motherboard with TV-card or even a separate sound card.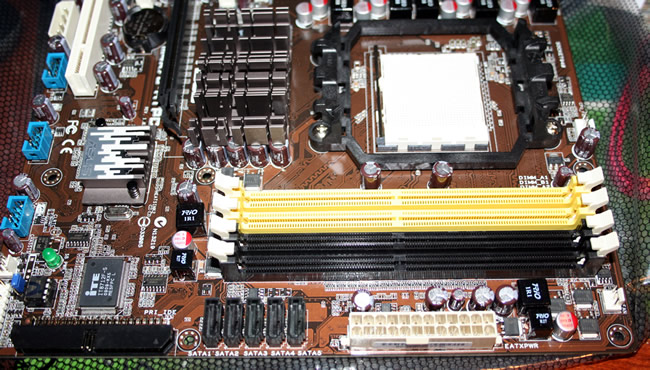 The motherboard comes with 4 memory-slots for DDR2-memory. It also has 5 SATA- and one IDE-connector. We at least no longer have to have an idle floppy-connector sitting on the motherboard
The two heat sinks on the motherboard are shaped like a "sound wave" and are a "Cooling Solution that is Both Stylish and Effective". I can't say that they are wrong or right but it feels more of a marketing ploy than anything else.
We've seen extra power connectors on motherboards before but then it has always been for the graphics cards but this time the idea is to give the built in sound card an independent power supply to reduce electronic noise.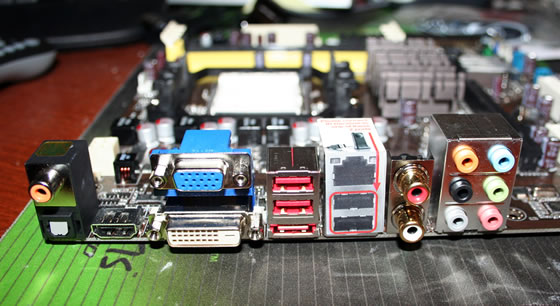 The ASUS M4A78-HTPC/RC has the usual connectors that we expect from a motherboard today including HDMI, DVI and VGA. It also has both optical and coax S/PDIF as well as two RCA-connectors. In fact it is obvious that some emphasis has been put to give as much options when it comes to audio output from this motherboard. One result of this is that we do not get a firewire connector and that we are limited to four USB2.0 connectors at the back. We still get an eSATA-connector though.
HOW DID WE Test the Motherboard? 
We usually do a battery of performance tests on the components we test. For this motherboard we decided to do things a bit differently. The AMD780G chipset is now starting to get quite old and we've tested several motherboards using it already. Basically we can tell you that this motherboard performs just as well as any other motherboard using the 780G chipset. The HD3200 will help offloading the CPU when we play media that supports hardware acceleration of the playback. The GPU however isn't really any use for anything but very casual gaming.
Our aim with the testing for this review instead is concentrated on the htpc-aspect of the motherboard. Considering that ASUS even puts htpc in the name of the motherboard we do expect that this is why any potential buyer is interested in this motherboard.
We put together a system with these components:
Silverstone Grandia GD01 case
AMD Phenom II 905e + Skythe Ninja Mini B cooler
2 GB DDR2
Windows Vista
ONKYO SR-X606 receiver with full support for the latest and greats audio format
To get support for Blu-ray we installed Arcsoft TotalMedia Theatre 3 Platinum. We then hooked our htpc up to our receiver in various ways and played the Blu-ray movies while trying to listen to the audio quality. We also tested the DTS Surround Sensation UltraPC feature with a pair of Creative … Headphones.
 
ASUS HOME THEATER GATE
One of the main features of this motherboard is the ASUS Home Theater Gate software that they include with this motherboard. In essence this is an alternative to software like Windows Media Center, Mediaportal and XBMC (Xbox Media Center).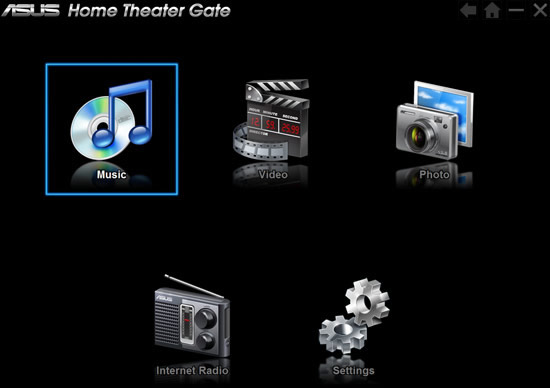 As this is aim to be used on a TV the icons are big and colorful. Together with the remote you can easily navigate around in the GUI.
There is however a gigantic issue with this program. Each action, whether it is to watch a movie, listen to music or listen to an Internet radio station starts an external program. So when we want to watch a movie it kicks up Windows Media Player (or which program you have selected for the type of file), and when we want to listen to one of the internet radio stations it starts up the included separate program for that and so on. The big problem is that these programs are NOT suited for being controlled through the remote or on a TV.
In the end it is a nice idea that just falls flat because of the implementation. At this time you are probably better of just installing XBMC and using that.
One feature of the software is "Tranquility mode". This is supposed to slow down/turn off the fans in the system to allow for a quiet movie experience. We never got it working in our system even though we had the case fans hooked up to the motherboard.
 
WATCHING MOVIES
Even though the 780G-chipset is starting to get a bit old now it still has an onboard GPU that is able to take over a lot of the work from the CPU when watching HD-media. We picked out a bunch of Blu-ray movies and monitored the CPU-load while watching various clips from them. Overall we saw a CPU-load at around 15-25% when playing them on our 1080p Samsung TV.
We ran into a small compatibility issue though between the AMD/ATI GPU and our Onkyo receiver. Sometimes the receiver would lose the connection with the motherboard needing a new handshake to get the image back. This only happened when watching a HD-movie so we are suspecting it has something to do with the HDCP-handshake.
TRYING TO GET SOUND
Just like most motherboard vendors ASUS seem to forget that when they have features they need to document them. We spent days, even weeks, on trying to get all the various audio connections working and succeeded in some instances and failed in others. It doesn't help that ASUS just do not think it is worth spending a few pages in their manual on the software side of their products.
There are several ways we can connect our htpc to a receiver or speakers.
RCA
The motherboard has two "gold plated" RCA-connectors at the back. The reason they are gold plated is unknown as the common wisdom on the Internet seems to be that the gold plating does not help audio quality. Maybe it is, maybe it isn't, but we cannot be the judge on that issue. It probably sounds good in the features-list though. To get the RCA-connectors to work we must enable them in the bios. We are not sure why they are not just working from the start but we guess ASUS has some reason for it. After they have been enabled in the bios they pop up as a selection in the VIA HD Deck utility as well as the Windows Sound control panel.
This is actually a quite nice feature. A lot of people have a TV with RCA-inputs or a regular set of speakers with RCA-inputs and by having native RCA-outputs on the motherboard we do not have to use a 3.5mm => RCA adapter. When we are using this feature we also get access to DTS Surround Sensation UltraPC (we will test this feature later in the review).
HDMI
HDMI is nice as it lets us transfer both the video and the audio in one cable. Unfortunately the AMD 780G chipset (as well as the 785G chipset) lacks support for more than 2 channel LPCM which means that we cannot use it for our 5.1 or 7.1-audio. This is a severe limitation of the AMD solution.
We ran into some problems with the software from VIA. In the VIA HD Deck software (as well as the Windows Sound Control panel) there are 2 HDMI-connectors available. We can either choose the ATI HDMI or HDMI (Tx0). HDMI (TX0) allows us to turn on DTS Surround Sensation UltraPC while ATI HDMI does not. The problem we ran into was that regardless what we did we could never get any sound over HDMI when choosing HDMI (TX0). We got regular stereo sound using ATI HDMI though.
S/PDIF
The motherboard has both a coax and an optical S/PDIF connector. This is nice as it means that you can choose which to use with your receiver. We tested several blu-ray movies using the optical connector and it worked fine. We of course will not get DTS HD (it uses DTS instead) but we at least got multichannel audio for our receiver.
The HDMI(TX0) device that we can select in the software can also be turned into a S/PDIF –audio device with the touch of a button but again we could not get any sound out of it when doing that. We are not sure what we will have to do to get it to work but it would help if ASUS or VIA had some documentation with the motherboard.
Analog connectors
The motherboard of course comes with the regular analog connectors for surround sound. We did actually not test these as we did not have any suitable cables at home.
Quality
As we are not audiophiles we can only give a layman's view (well, listen) on how the audio sounds. It sounds great through our receiver. We did actually notice that we got a slightly better quality (a bit less "noise") when using the separate power connector but it could also be our imagination as we expect it.
 
DTS SURROUND SENSATION ULTRAPC
Audio purists will probably want to skip this section. However – it is a fact that a lot of people hook up their htpc to a TV or to a regular 2-speaker set. Not everyone can afford a nice receiver. ASUS and VIA want to help improve the audio experience with the DTS Surround Sensation feature. As mentioned above this is a feature that only can be turned on for certain audio devices. We could not turn it on when using HDMI or S/PDIF but we could turn it on when using RCA- or a regular headphone jack.
There are two settings for DTS Surround Sensation, one for headphones and one for regular stereo speakers. You can also turn on the Bass enhancement and the Voice Clarification feature. To get the full benefit of this feature you actually have to set up your playback software to use 5.1-speakers instead of regular stereo speakers. It does sound like the VIA-software is taking the separate channels and putting them together in a stereo signal.
So how does it sound? We tested it in a few movies where we turned on/off the feature. A good example is the movie Sunshine which has a pretty nice start where you get a man talking and then a spacecraft slowly coming closer resulting in increasing noise as well as a nice effect when it passes you and the low trembling sound travels "behind" you.
It does indeed make a difference and you do notice that it feels like there is some more "surround"-feeling in the sound than without the feature. At the same time the sound however got a bit of an echo in it. It sounded like the sound was coming out of a tin can/bathroom. This was especially present when the man is talking in the beginning of the film.
We are not completely sure that we like the change in sound but at the same time it was more noticeable in some movies than in others. We do now understand why ASUS put a button on the remote to turn on/off this feature.
 
OUR CONCLUSION
While ASUS has some interesting features on this motherboard it still feels a bit hard to recommend it over a regular 780G-motherboard like the Asus M4A78-EM.
We do like the fact that it has two 1x PCI-E slots instead of 2 PCI-slots as well as both optical and coax S/PDIF. It does seem like the separate power connector for the sound does help a bit. It is also nice to get a remote and an IR-receiver for the remote. Last but not least the inclusion of 2 RCA-connectors is a very nice touch.
We are not necessarily as impressed with the execution though of all the new features. The ASUS Home Theater Gate software is a joke. We cannot see anyone seriously using it. We also are not completely convinced with DTS Surround Sensation UltraPC as it felt it changed the sound a bit more than we would like it to. Last but not least we were disappointed that ASUS could not include some better documentation so we could figure out why we could not get the VIA HDMI and S/PDIF "audio devices" working with DTS Surround Sensation.
We could not find a price in the US for this motherboard, but in Sweden it is about $40 more expensive than a Asus M4A78-EM which would mean a expected price in the US would be around $140.
OUR VERDICT: ASUS M4A78-HTPC/RC
| | |
| --- | --- |
| Performance | 7 |
| Value | 6 |
| Quality | 7 |
| Features | 8 |
| Innovation | 7 |

We are using a new addition to our scoring system to provide additional feedback beyond a flat score. Please note that the final score isn't an aggregate average of the new rating system.

Pro
Cons

Separate RCA-connectors

Off-loads CPU when playing HD-content

Remote and IR-receiver included

Lots of ways to get audio out

Separate power for audio

ASUS Home Theather Gate software not good

Issues getting sound when using the VIA HDMI and S/PDIF

Not convinced by DTS Surround Sensation

More expensive than a regular 780G-motherboard

 

 
Summary: The ASUS M4A78-HTPC/RC comes with some nice ideas and features but does not manage to convince us it is the "ultimate htpc-motherboard".