If you are in the market for a budget gaming case, check out the NZXT M59!
INTRODUCTION
Although they all serve the same purpose, PC cases are the source of first impressions when looking at a computer. Some have flashing lights, some have endless drive bays, and I'm sure there are some that will even make your coffee in the morning. No matter what the standout feature is, a case is there to hold all of the components together to tame the wild hardware inside.
Many times when putting together a parts list for a new build, the last thing that is thought of is the case. Sure you have the top-end CPU and videocard, SSDs for your data and gigs of RAM, but unless you have a case that is designed to house the latest hardware, you are at a standstill. Luckily NZXT has recently released the M59 gaming chassis. The M59 brings together a plethora of features that most users like to see in a case, all at a great budget price. Don't be swayed away from the M59 because of it's budget pricing; this case has great potential for builds of all natures. Let's take a look at what the $60 NZXT M59 can get done.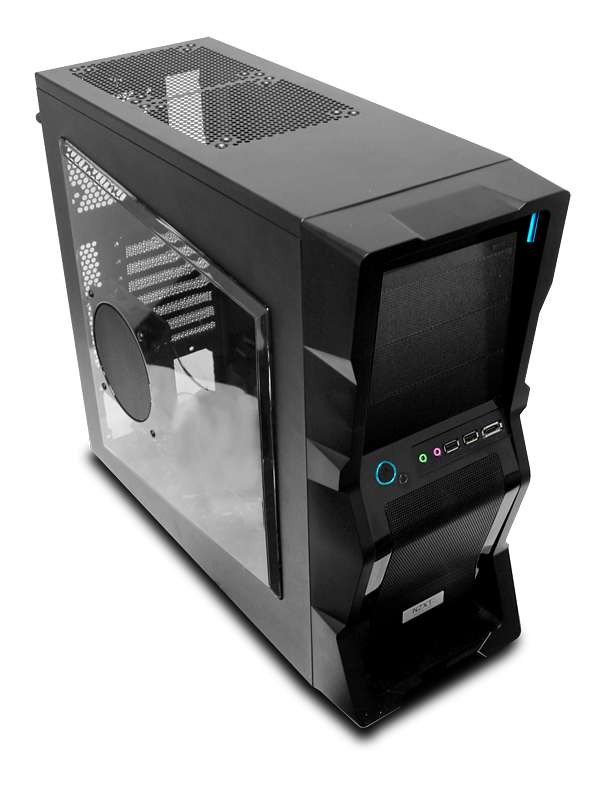 FEATURES
Immense performance: 5 fan capability (side 120mm LED and rear 120mm exhaust included) Included 9-fin rifle bearing NZXT fans rated at 42CFM and 23db
Night light: A ambient light sits over the 5.25″ drives to give visibility in dark rooms or at LAN parties
Black on black: Smoked clear window and a black interior gives the best combination of black on black
Meshed front panel: Allows for more airflow
5.25″ stealth bay: Keep a clean look
NZXT solid state bracket: Allows for two SSD drives to be installed
Wire routing: motherboard punched holes allows for quick CPU bracket removable and optimal wire routing, turned HDD also helps with managing cables
Pre-drilled water cooling holes: Holes on the back plate allow for easy routing of tubing
Front mounted ports: USB, audio, and ESATA ports
Support for external dual radiator: Mounting holes at the top of the chassis allow for easy radiator placement
High end graphics card support: The M59 features space that is especially designed to fit longer 10.5″ cards
A few of the features included on the M59 really stood out to me. First, NZXT includes a bracket to allow for installation of two solid state drives. As SSDs become more prevalent, this is something we will start to see as a standard feature on cases. The second thing that really stood out was the ability to fit large graphics cards. Although many cases are able to fit these cards, it is really nice to see this feature on a budget concious case.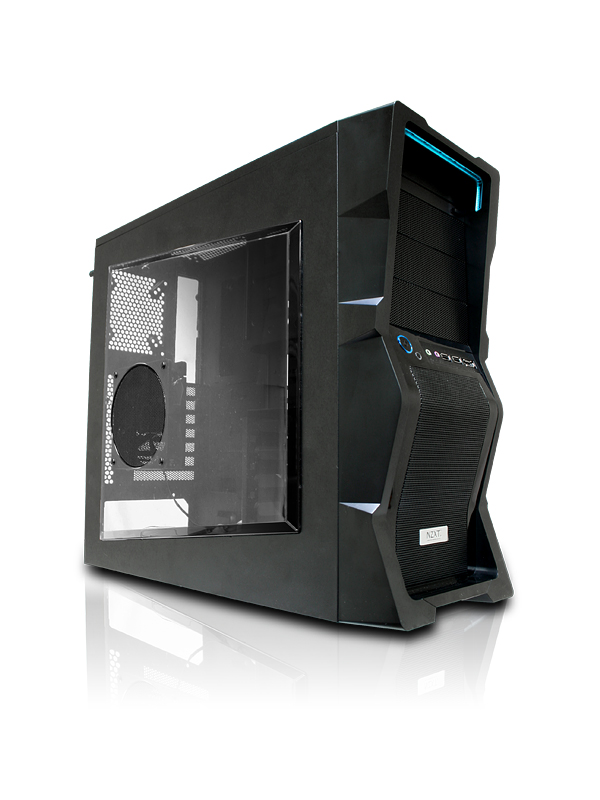 SPECIFICATIONS
Specification
NZXT M59
Case Type

Mid-Tower, black interior chassis
Material
Steel
Dimensions (WxHxD)

190 X 449 X 508 mm
Cooling System


FRONT, 1 x 120mm

SIDE,1 x 120mm LED [email protected], 23db/42CFM (included)

TOP, 2 x 140/120mm

REAR, 1 x 120mm, 23db/42CFM (included)

Drive Bays


11 Drive bays

4 External 5.25″ drive bays
7 Internal 3.5″ drive bays

Expansion Slots
7
Power Supply

500 Watt PS2 ATX 12V 2.0 (optional)
Weight
6.5 KGS (W/O Power)
Motherboard Support

ATX, MICRO-ATX, BABY AT
CLOSER LOOK: EXTERNAL
As seen on previous pages, the left side of the case features a window for viewing the internal components of the case. The window is tinted to keep the dark theme of the case, and features a cut out for an included 120mm LED fan. The side panel comes off easily thanks to a thumb screw attachment method.
The front of the M59 features a very angular design and might take a bit to get used to. The more I look at the front, the more it grows on me.
Click image for a larger version.
At the top of the front bezel is a nice LED "night light" that lets off a nice glow when the lights are out. Just below this light is a somewhat stealthed optical drive bay. NZXT touts it as a stealthed drive bay, but to me a truly stealthed drive bay looks like nothing is there. This bay actually looks like an optical drive is installed, you just don't know what kind.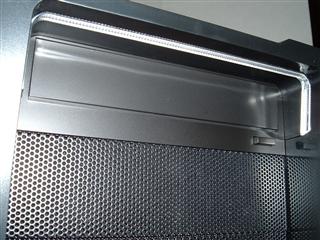 Night light and stealth drive – Click image for a larger version.
The three empty drive bays below all feature a perforated grill design with a foam filter to help keep noise inside the case, and dust outside.
The power and reset buttons are nothing to write home about, but they do their job just fine. To the side of the buttons are your standard headphone and microphone jacks, two USB ports and an eSATA port.
Buttons and ports – Click image for a larger version.
Below the ports is a nice perforated grill that hides an optional 120mm fan mount. This grill is also backed up by a piece of foam. The entire front bezel can be easily removed from the front of the case by pulling the bottom edge away from the case.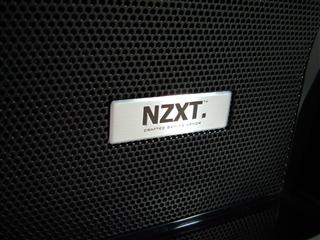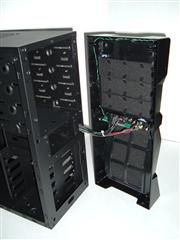 Front panel and removal – Click images for a larger version.
The top of the case is home to two 120/140mm fan mounts. This is also where NZXT touts the ability to install a watercooling radiator. Pre-stamped holes are there for mounting your fans or radiator, but it should be noted that the holes may not match your radiator exactly, depending on the make and model. If left unpopulated, the top grill acts as a passive exhaust port for rising chassis heat, but also as a possible spill hole. Keep open drinks away.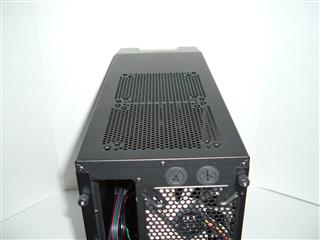 Room for a radiator – Click image for a larger version.
Out back the M59 treats us to a pretty standard fairing for any modern case. Pre-cut and grommetted watercooling tubing holes are located at the top of the case to allow your tubing to make its way to the radiator. A single 120mm fan is installed below the watercooling holes and is the sole exhaust for the rear of the case. All of the I/O slot covers are perforated, as is the part of the case next to them. This will allow for passive airflow for the case, depending on how you configure the fans in the M59.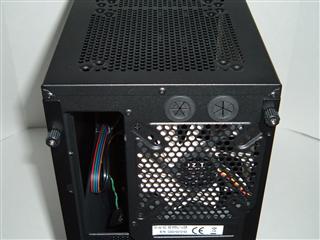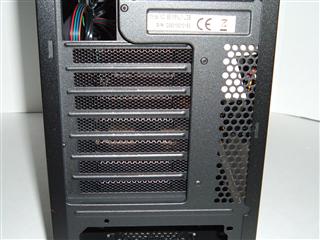 Click images for a larger version.
Most of the time you will only find feet at the bottom of a case, but the M59 also features a grill with a removable filter to allow the bottom mounted power supply to take in cool air from below the case. This removable filter is a nice feature, as you can simply take it off and clean it to ensure proper cooling for the power supply.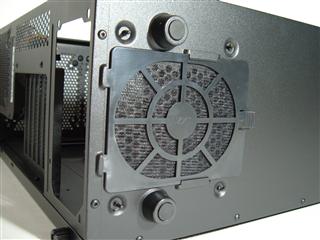 Removable filter – Click image for a larger version.
Overall, the build of the M59 is pretty nice for a budget-priced case. The steel used in the case does seem a bit flimsy in spots, but this also helps to keep the weight of the case down.
CLOSER LOOK: INTERNAL
With the side panel removed, we are greeted by a nicely laid out chassis interior on the M59. To go along with the black on black theme of the case, the entire interior of the M59 is also painted black.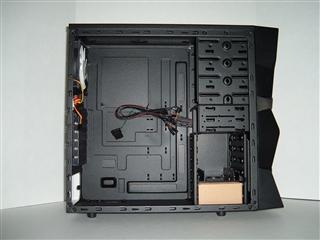 Click image for a larger version.
The 5.25″ drives are installed using thumb screws, and require both side panels to be removed to ensure a solid installation. Two 3.5″ drive bays below the optical drive bays are oriented in the same direction and can be used to house the included SSD installation bracket. The five bays below are setup sideways, allowing you to hide the cabling that is associated with the drives and provide a cleaner look.
SSD tray – Click image for a larger version.
Most of the edges inside the M59 are rolled. This is a great feature, as nobody likes to get cut up swapping out hardware in their case.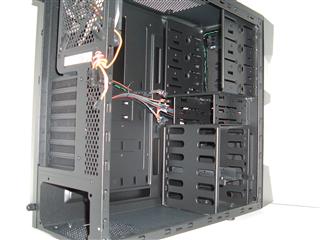 Smooth edges – Click image for a larger version.
A great internal feature that NZXT included on the M59 is the number of holes available for cable management. Not only is there a large hole that allows for cooling backplates to be swapped without removing the motherboard, there are also numerous other holes around the motherboard area to allow for cable management. With this case, there is not much of an excuse to have a rat's nest of cables blocking airflow to components.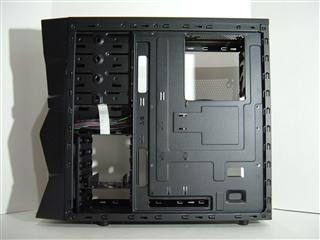 Cable management – Click image for a larger version.
INSTALLATION
The NZXT M59 will be the new home for my guest PC components. I like to have the ability to offer our visiting guests a PC of their own so that they are able to check their e-mail, surf the web and even game on a PC of their own. This allows guests to not feel like they are being bothersome by asking to use the family computer. The M59 is a great choice for this use, as it is very quiet with the included fans, and does not have a plethora of flashing lights. The glow from the night light on the front bezel can help illuminate an unfamiliar room for overnight guests.
Test Platform

Processor

Intel Pentium 4 3.20Ghz (Prescott)

Motherboard

ASUS TGD1-LA

Memory

2GB Corsair PC3200

Hard Drive (internal)

250GB Western Digital SATA 3.0Gb/s 16mb cache

Video Card

XFX GeForce 8600 GT

Power Supply

OCZ ModStream 520 Watt

Case

NZXT M59

Operating System

Windows 7 Ultimate, build 7100
For the most part, installing a system in the M59 is a breeze. However, the first step was more of a hassle than I have ever experienced. When installing the motherboard stand-offs, the interior paint had coated the pre-threaded holes, making for one heck of a frustrated install. While most cases allow for simple finger threading of the stand-offs, I was required to use a pair of pliers and screwdrivers in order to get the stand-offs installed.
Another issue I had with the M59 was the cable management. The holes in the case for routing are great, but behind the right side panel, there is hardly any room to pass cables to the drives. Power and data cables have to be crammed in tiny gaps, which makes getting the side panel back on a bit rough.
Once the required mounting points were secured for the motherboard and the cables were organized, everything else installed just fine. As mentioned earlier, optical drives use thumb screws to keep tight. 3.5″ drives installed in one of the five sideways bays using simple drive rails that attach to the sides of the drives and simply slide and click into place. These rails feature small rubber rings to help reduce any vibrations from the drives, thus keeping noise down.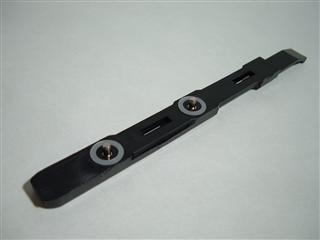 Drive rail – Click image for a larger version.
Here are a few shots of the NZXT M59 up and running.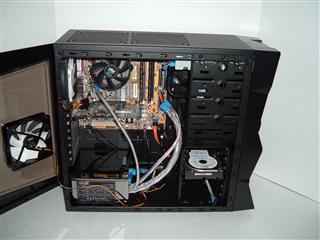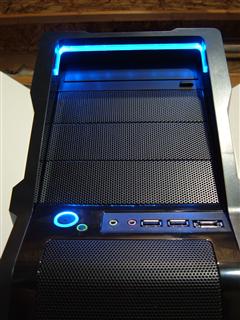 Drive rail – Click image for a larger version.
TESTING
To test the cooling performance of the NZXT M59, both idle and load temperatures were taken. Idle temperatures were taken one hour after startup under a fresh installation of Windows 7. Load temperatures were taken using OCCT Perestroika 3.1.0 for one hour.
NZXT Temperatures (CPU)

Load

Idle

63C

43C

NZXT Temperatures (Case)

Load

Idle

42C

38C
After populating the rest of the available fan mounts, temperatures are sure to drop an additional degree or two. These numbers are great for a stock cooling setup.
CONCLUSION
From the start, the NZXT M59 has been a winner. It has most of the latest features of a high-end case, with the price-tag of a budget case. The black on black look of the M59 looks great and the window on the side shows off all of the goodies tucked inside. With space for a watercooling radiator on the top of the case, there is plenty of room for cooling expansion.
Another way NZXT is looking out for users is with the inclusion of an SSD adapter. A feature like this in a budget case is nice to see.
A budget case is not without flaws, and the M59 is no different. Luckily the only real flaws we discovered were the difficult motherboard stand-off holes and tight cable management in some areas. A few places on the case like the side panels and front panel seemed a little flimsy, but overall the case is pretty solid.
OUR VERDICT: NZXT M59
| | |
| --- | --- |
| Performance | 8 |
| Value | 10 |
| Quality | 7 |
| Features | 8 |
| Innovation | 8 |

We are using a new addition to our scoring system to provide additional feedback beyond a flat score. Please note that the final score isn't an aggregate average of the new rating system.

Pro
Cons

Great value for the price

Many extra features not found in budget cases

SSD tray

Watercooling holes and radiator mount

Great access to back of motherboard

Fully painted interior

Motherboard stand-off holes hard to thread

Tight cable management

Flimsy in some places

 
Summary: The NZXT is exactly what you would expect from a budget case, and more. Extra features at no extra cost make this a great case for a build of just about any nature.