Corsair has released a low voltage Dual Channel DDR3 for LGA1156 and it's low voltage needs. The Dominator 1600 CL8 kit uses 1.65v and we've driven it as hard as it will go.
Introduction
Along with Core i5/i7 (LGA 1156) came different requirements for RAM than previous platforms. The predecessor to LGA 1156 was core i7 LGA 1366 and it needed low voltage DDR3 in the triple channel flavor. The LGA 1156 platform needs Dual Channel DDR3, and it has the same 1.65v low voltage requirement as the previous platform.
When LGA 1366 hit the streets memory vendors were scrambling for low voltage memory IC's and the manufacturers of the low voltage controllers couldn't keep up. Kit's were slow in appearing because of the lack of an adequate supply of memory IC's that fit the bill for voltage. Our first kit was a triple channel kit that ran at 1066MHz and we were glad to have it because prices were extremely high at the time.
When Core i5/i7 launched vendors were ready for it and memory in every speed and flavor was ready for the shelves, which means that one of our favorite brands was ready to ship. Corsair sent us a 4GB kit of Dominator 1600MHz with timings of 8-8-8-24. Let's run the Dominator a few different ways and see how far we can drive it before it screams for mercy.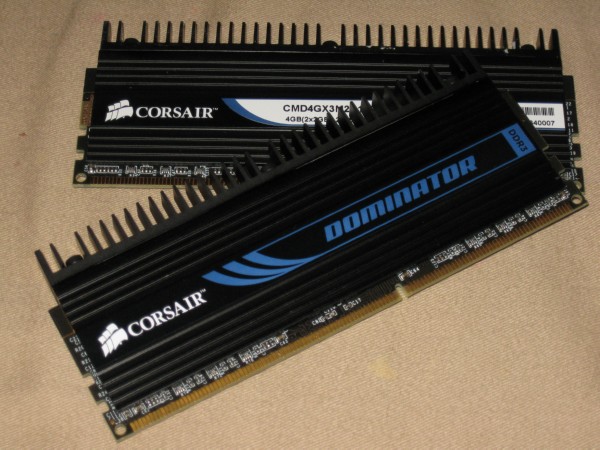 Click Image For a Larger One
Corsair kept the same Dominator heat spreader that we have all come to know and love and the RAM projects a serious enthusiast presence. Nothing says ram like Dominator!
Specifications
Extreme Performance 1600MHz
Low Latency (8-8-8-24)
XMP Ready
Equipped with DHX Heat shield
100% Tested and Verified
Lifetime Warranty
RoHS Compliant
Tested on Intel® P55 chipset (1.65v)
Running at 1600Mhz with 8-8-8-24 timings and compliant with the requirements for Core i5/i7 (1.65v) the Dominator DDR3 is XMP ready and we got plug and play performance from the kit. Each kit is 100% tested and verified to run at the advertised specifications before it leaves Corsair. Modules are RoHS (Green) compliant and warranted for life.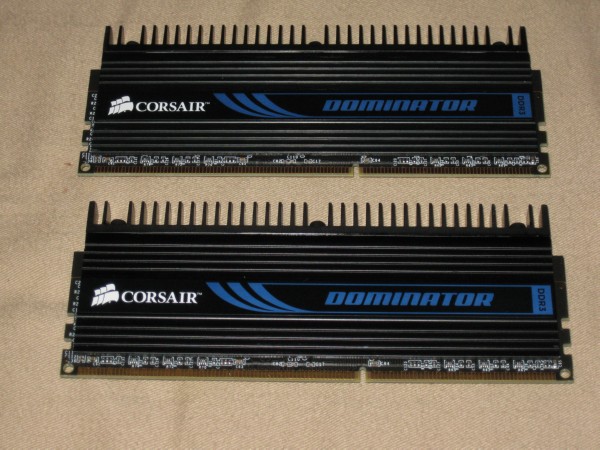 Click Image For a Larger One
Featuring the traditional Black DHX (Direct Heat Xchanger) the Dominator is an imposing sight. Any time you see Dominator in a rig you know you're looking at a serious enthusiast.
Pictures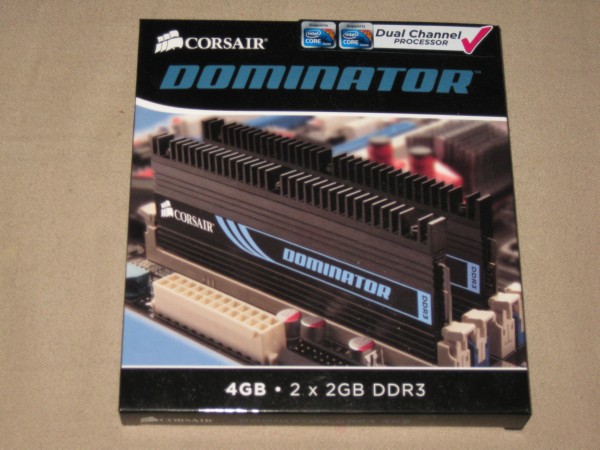 Click Image For a Larger One
The Dominator kit comes in a typical (mostly) black box that now sports a couple of i5/i7 emblems on top the box.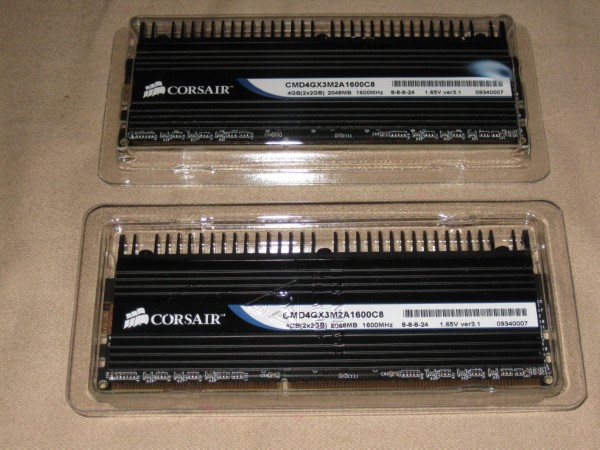 Click Image For a Larger One
We haven't seen the dual clam shell design from Corsair before this kit, and it protected the kit very well during shipping.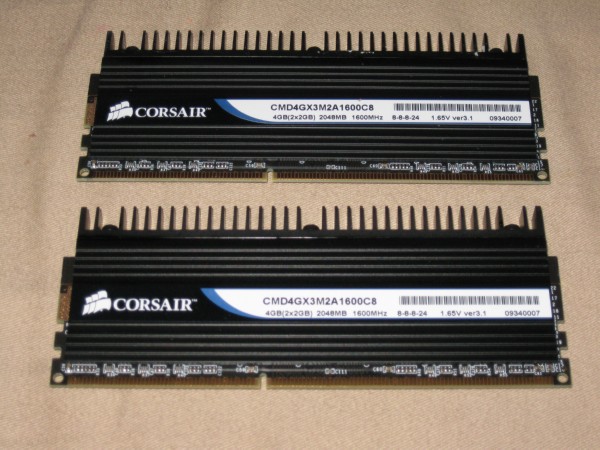 Click Image For a Larger One
Laid out the Corsair Dominator kit has an imposing presence, it's almost like Corsair has their own RAM witch doctor who imparts an "Imposing Spell" on the ram before it's packaged and shipped out.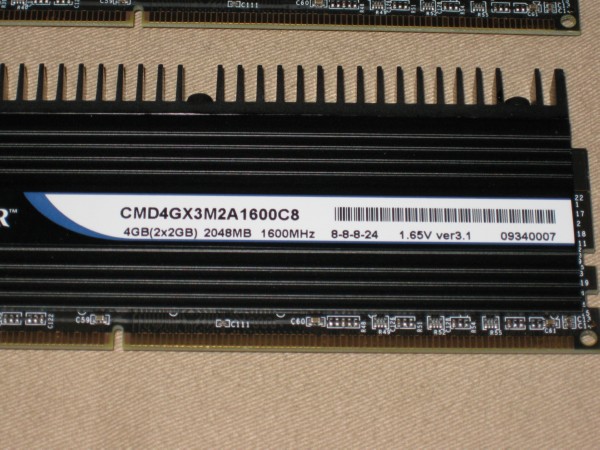 Click Image For a Larger One
Up close on the sticker you can see that this is indeed a CMD4GX3M2A1600C8 kit and each module is 2GB with a rated speed of 1600Mhz and timed to 8-8-8-24 and holding the line at 1.65v which is Intel's specified maximum voltage for LGA 1156 i5/i7 CPU's.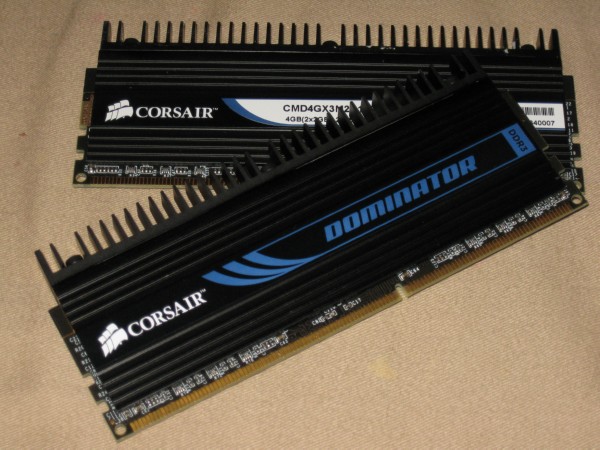 Click Image For a Larger One
The back side of the modules are just classy black with the Corsair emblem and Dominator Logo. We've never seen a Dominator kit fail but should that ever happen they would make a good executive "Zen Garden" rake. Or you could just take advantage of the lifetime warranty and Corsair would send you a new kit.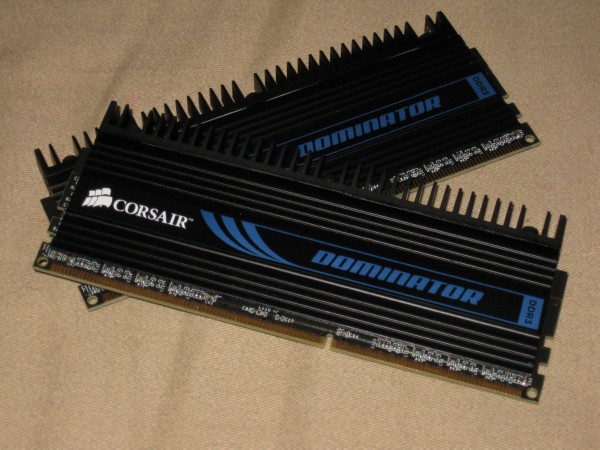 Click Image For a Larger One
We believe that we have mentioned this earlier but nothing says Ram like a kit of Dominator.
Testing & Methodology
We did a fresh load of Vista Ultimate 64 bit on the Crucial 128GB SSD and loaded all the latest motherboard drivers for the Gigabyte GA-P55-UD6. We updated the BIOS to the newest available BIOS at the time of testing. We ran each test 3 times and report the average of each three pass run here.
Being a locked multiplier CPU you have to OC to reach some of the higher end kits rated speeds. The highest kit speed we saw without us or the XMP having to raise the Bclk on the rig was 1600MHz. To that end when you reach the overclocking section we included the CPU-Z screen for CPU and Ram so you can see the Bclk used on the kit being tested.
Test Rig
Test Rig
"Quadzilla i5"
Case Type
Sunbeam 9 Bay Acrylic Chassis
CPU
Core i7 870
Motherboard
GIgabyte GA-P55-UD6
RAM

Patriot Viper 2 Sector 5 DC DDR3 2000MHz 4GB Kit Cas 8 (PVV34G2000LLKB)

Kingston HyperX DC DDR3 2133MHz 4GB Kit Cas 8 (KHX2133C8D3T1K2/4GX)

Corsair Dominator DC DDR3 1600MHz 4GB Kit Cas 8 (CDM4GX3M2A1600C8)

CPU Cooler
Thermalright Mux 120 (Dual 120mm Fans)
Hard Drives
Crucial 128 GB SSD(MLC/Samsung controller)
Optical
Sony DVD R/W
GPU(s)
BFG GTX-260 Maxcore
Case Fans
120mm Fan cooling the mosfet CPU area
Docking Stations
None
Testing PSU
Tagan BZ 700w Modular
Legacy
None
Mouse
Razer Lachesis
Keyboard
Razer Lycosa
Gaming Ear Buds

Razer Moray
Speakers
None
Any Attempt Copy This System Configuration May Lead to Bankruptcy

Test Suite
Synthetic Benchmarks & Games
SANDRA XII Professional
Everest Ultimate Edition v.4.60
SuperPi Mod 1.5XS
WinRar v.3.71 Compression Benchmark
Everest Ultimate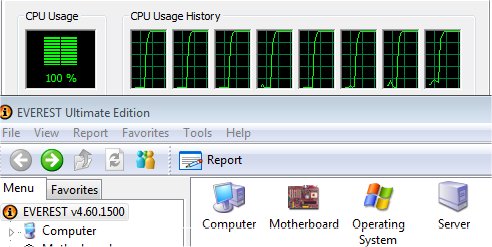 "EVEREST Ultimate Edition is an industry leading system diagnostics and benchmarking solution for enthusiasts PC users, based on the award-winning EVEREST Technology. During system optimizations and tweaking it provides essential system and overclock information, advanced hardware monitoring and diagnostics capabilities to check the effects of the applied settings. CPU, FPU and memory benchmarks are available to measure the actual system performance and compare it to previous states or other systems. Furthermore, complete software, operating system and security information makes EVEREST Ultimate Edition a comprehensive system diagnostics tool that offers a total of 100 pages of information about your PC."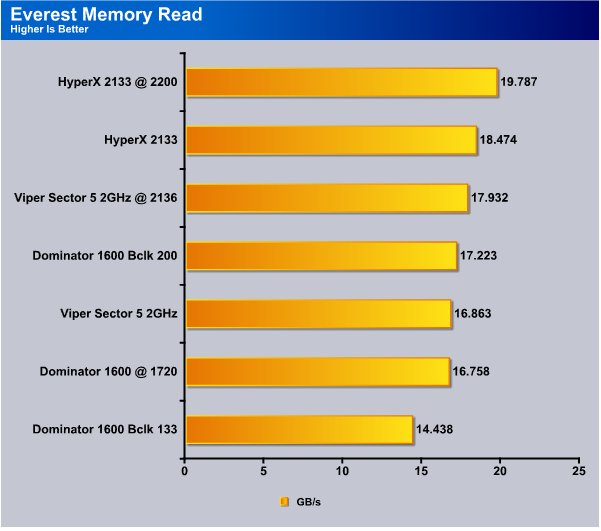 Lets get this out of the way right up front. The Dominator was tested three different ways. Dominator 1600 Bclk 133 is what the ram sets BIOS to with the XMP Profile. The CPU is at stock speed 2.93GHz, and the ram at 1600MHz with a Bclk of 133. Dominator 1600 Bclk 200 is the Dominator still running at 1600MHz, but with the CPU heavily overclocked and a Bclk of 200. Dominator 1600 @ 1720 is the OC speed we tested at. We tested the Dominator in that method to show how you can use the higher Bclk capabilities of the P55 chipset to increase performance not only on the CPU but the ram as well. We think you'll be amazed at how well ram at 1600 MHz and a Bclk of 200 can perform. We included screen shots of the different settings in the overclocking section if you want to see those.
Even at 1600MHz with a stock Bclk of 133 you can see that Intels' new integrated Dual Channel Memory controller is much better than previous memory controllers. Typically we would expect to see this same ram in the 8 – 9GB/s range on older Intel and Current AMD platforms. Stock speed CPU and Ram we see the Dominator 1600MHz kit hitting 14.438GB/s. Kicking it up to 1720MHz we get a 2+GB/s performance increase, but leaving it at 1600 and kicking the Bclk to 200 we get a whopping 17.223GB/s. So it appears the question here is OC the RAM directly or leave the ram running at stock speed and clock the dog doo out of the Bclk. Higher Bclk with the ram running at 1600MHz outperformed the straight ram OC of 1720.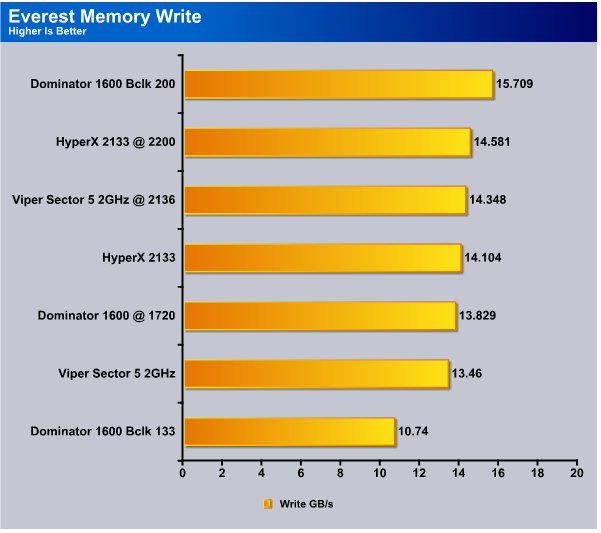 Now on the memory write test notice the Dominator kit with the higher Bclk topping the chart at 15.709GB/s and outperforming a couple of other kits which natively are clocked much higher. Then just a standard OC to 1720 drops the Dominator down to 13.829GB/s which is still pretty good. Dropping to stock clocks at the native 1600MHz of the Dominator kit we get 10.74GB/s which is still much better than previous platforms. So by  using the stock speed but kicking the Bclk to 200 (CPU running at 3.8GHz multiplier 19) we gain a 50% performance increase. Not to shabby for a couple of hours tweaking. Bet the non-overclockers reading this review are thinking about overclocking now.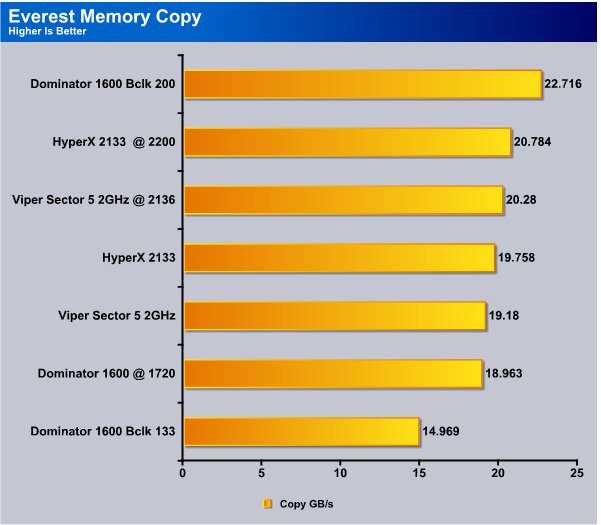 The Everest Memory Copy test shows our highly overclocked CPU and the Bclk of 200 topping the chart again. We hit an amazing 22.716GB/s with our tweaked 1600MHz Dominator kit. The Dominator kit came in at 18.963GB/s at it's OC speed of 1720, and 14.969GB/s at stock speed on the CPU and ram. We wish we had a couple more 1600MHz kits to run on the charts because it's not really fair to compare a 1600MHz kit to other kits that run at 2GHz and above. Considering that at well tweaked speeds we topped the charts, the Dominator is more than holding its own against the higher clocked kits.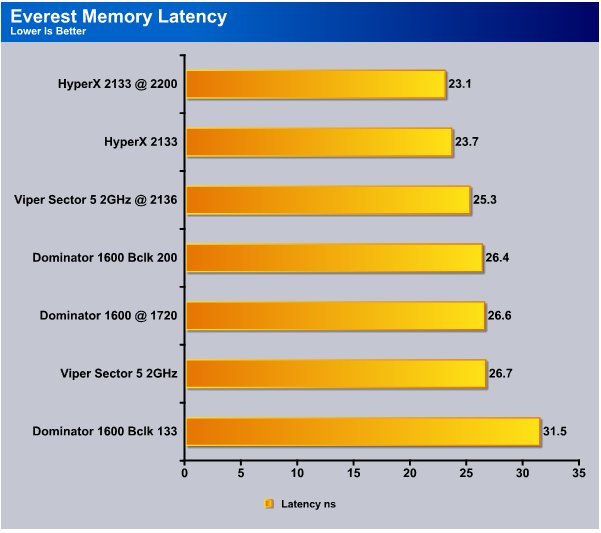 At the Stock speed we see the Dominator kit running a 31.5ns latency, and at 1720 that drops dramatically to 26.6ns and we get another slight improvement at Bclk 200.
WinRar v. 3.71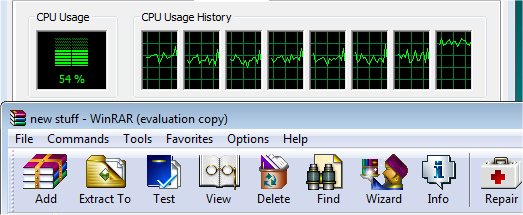 This module in WinRar generates random data, which contains specially introduced redundancy, increasing the load to both the processor and memory. Data is then passed through RAR compression and decompression algorithms, and the output of the decompression algorithm is compared to the source data. If any differences are found, WinRar then reports "Errors found – Yes" in the command window. WinRar displays a size of processed data and compression speed, current and resulting, in kilobytes per second.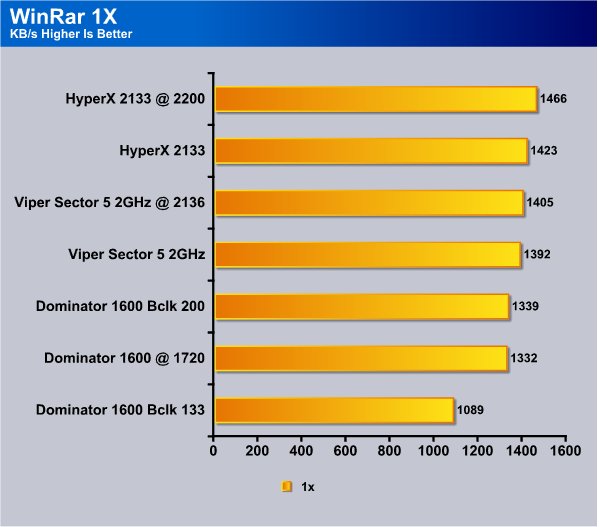 In WinRar we see the Dominator kit competing against faster and much more expensive kits, and still holding it's own against the more expensive kits. Churning 1339KB/s at the Bclk 200 1600MHz speed, 1332KB/s at 1720 and at stock speed CPU and RAM 1089KB/s.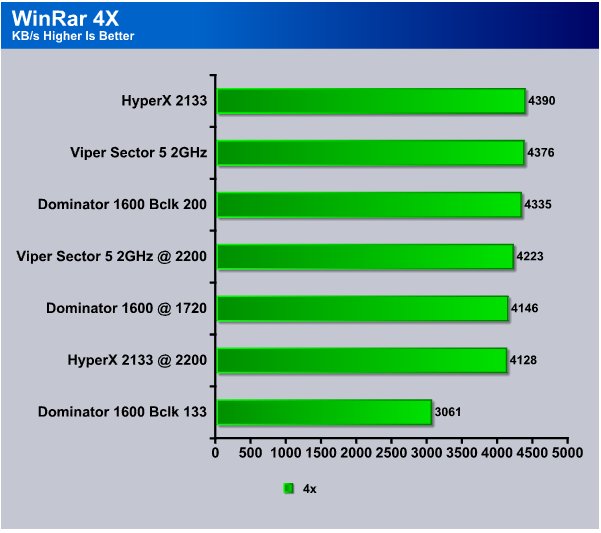 When we move to the multi-threaded WinRar test we see that the heavily overclocked CPU and Dominator running at 1600MHz with the 200MHz Bclk turning in a very respectable 4335KB/s, overclocked to 1720 we see the Dominator turning in 4146KB/s, and with the CPU and RAM at stock speed 3061KB/s. In other words well tweaked we increased the performance of the RAM and Rig by more than 25%.
Sisoft Sandra
"SiSoftware Sandra (the System Analyser, Diagnostic and Reporting Assistant) is an information & diagnostic utility. It should provide most of the information (including undocumented) you need to know about your hardware, software and other devices whether hardware or software. It works along the lines of other Windows utilities, however it tries to go beyond them and show you more of what's really going on. Giving the user the ability to draw comparisons at both a high and low-level. You can get information about the CPU, chipset, video adapter, ports, printers, sound card, memory, network, Windows internals, AGP, PCI, PCI-X, PCIe (PCI Express), database, USB, USB2, 1394/Firewire, etc."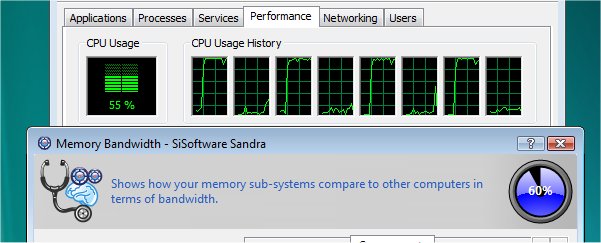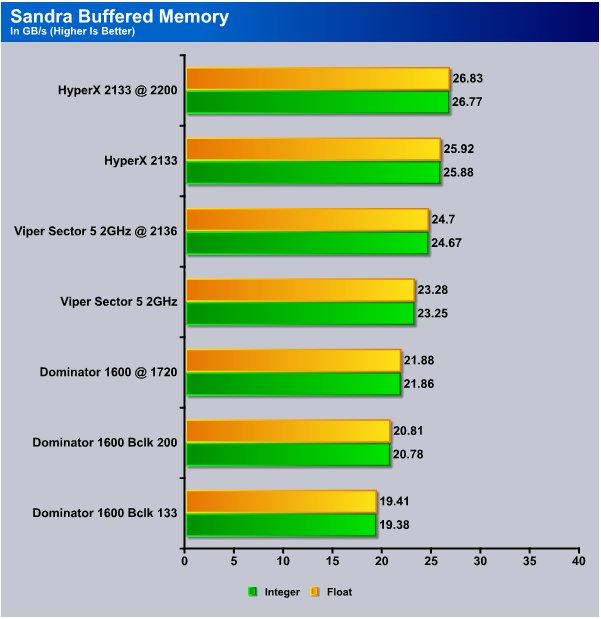 In SiSoft Sandra Bufferered memory test the Dominator 1600MHz kit turned in 19.41GB/s at stock speed with the CPU running at 2.93GHz (stock). That's a pretty amazing score considering just a few short months ago LGA775 (Intel Core 2 series) we were lucky to see 10GB/s on a highly tuned machine. Pushing the Bclk to 200 but keeping the Dominator kit at 1600MHz we get a 1.4GB/s performance increase, and overclocked we got a 2.4(Ish)GB/s performance increase over stock.
Super Pi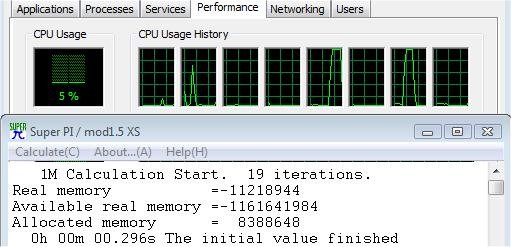 Super PI is the "Gold standard" for many when it comes to judging system performance. We ran 1 and 2 Meg calculations, again running each test three times and reporting the average of the results.
Running at stock speed the Dominator kit turned in a 14.289 second score. Again, keep in mind it's not really fair to compare a stock speed 1600MHz kit to kits rated to run over 2GHz, and a few other kits we had hands on for a few hours that run at 1600MHz turned out similar scores. People tend to think that Super Pi is totally ram dependent and ram is a big factor in Super PI, however a well tuned system with a highly overclocked CPU and a nice high Bclk (or FSB as the case may be) have a great effect on the score. When we clocked the Dominator to 1720MHz with a CPU overclock of 3.784GHz (Bclk 174) we dropped more than 3 seconds from the Super PI score. Increasing the Bclk to 200 but holding the CPU to 3.8GHz by decreasing the multiplier to 19, we shaved off .022 seconds from the overclocked score. That should tell you that ram speed isn't the single deciding factor in Super PI. A high ram speed with a good CPU overclock using the Bclk is key to getting great Super PI scores. We chose to show that in a more dramatic fashion and increased the Bclk to 200 and the CPU to 3.8GHz but held the ram to 1600MHz. Just overclocking and looking at the OC numbers and saying that's a good overclock without seeing the effect it had on performance is often a mistake. Try a Ram OC, then OC the CPU with as high a Bclk your comfortable with and retest. At some point in adjusting Bclk, ram speed, and CPU overclock you'll hit the sweet spot.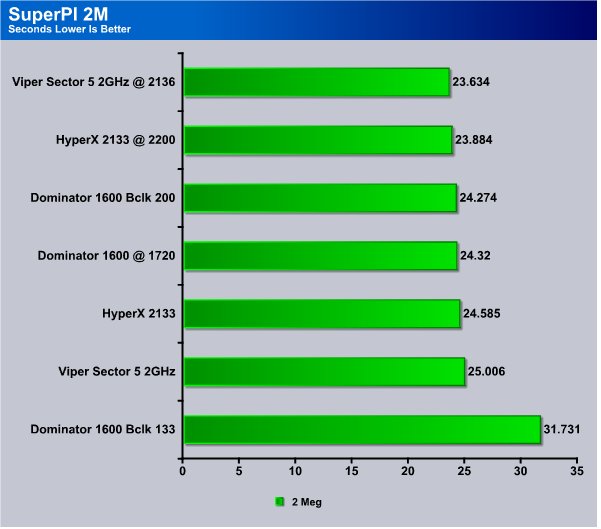 Turning to the 2Meg test in Super PI the Dominator kit running at stock speed with no overclock on the CPU turned in a 31.731 second score. Turn it up a notch and overclock the ram to 1720MHz we drop more than 7 seconds from the score. Then increasing the Bclk to 200, dropping the ram speed to 1600MHz again, we shaved a few hundredths of a second off the OC score. We can see those mental wheels churning, OC the ram, no go for a higher Bclk, no overclock both. Overclocking both the CPU using Bclk and increasing the ram speed usually produce the best results. Be warned though we've seen kits of i5 low voltage ram run at seemingly incredible speeds only to find we had pushed the RAM too far and it was starving for voltage. The kit in question was running at 2256MHz but we saw a dramatic drop in performance so we backed up to 2200MHz and got much better performance. So again, don't assume that just because you hit a fantastic speed you've increased performance. Test, retest and test again before cracking open the celebratory brew.

Lets take a look at the Corsair Kit just like CPU-Z shows on first boot.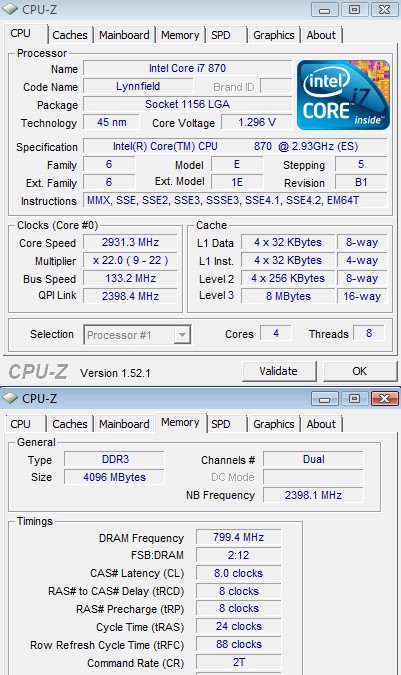 We enabled the XMP profile and it set the Bclk back to 133MHz, set the RAM voltage and booted right into Vista stable as a rock. Plug and play but it waxed the OC. What fun is running Dominator RAM with a Bclk of 133 and the CPU at stock speed? Kinda defeats the whole point and we can't have that.
Notice we kicked it up a little here and are running a Bclk of 200Mhz and held the ram at 800MHz but switched to a 1T command rate. It did take a little fiddling with voltages to get this stable but that was to stabilize the motherboard chipset more than stabilize the RAM. We charted the Dominator at Bclk 133, Bclk 200 both running at 1600MHz so you could see the astounding difference tweaking a system can make in performance.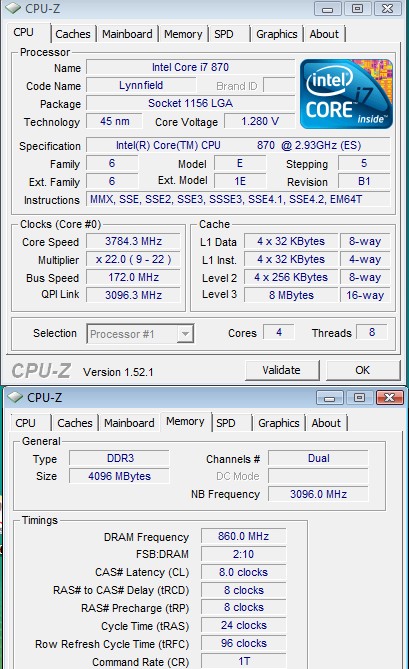 We managed to get the Dominator kit to 1720 while holding the 8-8-8-24 1T timings and command rate. We could go higher on the kit by loosening the timings, but loosening the timings decreases the efficiency of the ram. We like to drive it as hard as it will go while holding the rated timings. Raw speed with looser timings you would have to drive the frequency impossibly high to overcome the looser timings. We like tight and fast, we are speaking about RAM of course.
Conclusion
The 4GB Dominator DDR3 Dual Channel kit running at 1600MHz had some stiff competition with both the comparison kits running at 2GHz and above. With just an hour or so tweaking we took the advantage away from the faster kits and showed that with some fine tuning you can get great performance from a lower clocked kit.
Performance on the Dominator kit was better than we've seen on previous platforms and overclocking and tuning the Dominator kit on the LGA 1156 platform was a dream come true. The ease of overclocking on the platform makes it well worthwhile to play with CPU speed and Bclk frequencies to achieve the perfect balance of speed vs. performance.
Setting the XMP profile the Dominator kit was plug and play on the Gigabyte GA-P55-UD6 and we like kits that provide plug and play functionality. Kicking the Bclk to 200 and holding the ram at 1600MHz was a devastating combination. Most of the LGA 1156 boards we've seen can easily run a Bclk of 200 and some boards go beyond 200MHz Bclk with just minor tuning. That gives you a lot to think about, buying a slightly better board and running a high end kit of ram like the Dominator kit with a little tuning can increase system performance by as much (or more) than 25%. That's a big plus for the Dominator kit and it took every thing we could throw at it and ask for more.
With a lifetime warranty, great overclockability and the new LGA 1156 platform driving it you have a winning combination with the 4GB kit of Dominator DDR3 DC 1600MHz kit.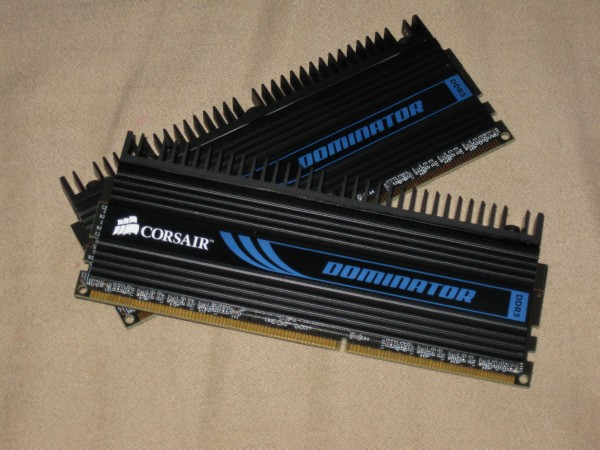 We are using a addition to our scoring system to provide additional feedback beyond a flat score. Please note that the final score isn't an aggregate average of the rating system.
Performance 8
Value 8
Quality 10
Warranty 10
Features 9
Innovation 8

Pros:
+  Good Overclocker
+  Rock Solid Stable At Every Setting We Tried
+  Performance Scaled Well With A Standard Overclock And Blew Us Away At Stock Speed With a Bclk Of 200.
+  Performance Above It's Price Point
+  Easy To Overclock
+  Dominator Quality
Cons:
–  Tall Heat Sink Might Interfere With Some CPU Coolers
–  Getting Spoiled By Dominator Ram
The Corsair Dominator DC DDR3 1600MHz kit fits the bill for low voltage ram on the i5 LGA 1156 platform. It overclocked easily, scaled well when overclocked, and was rock solid stable in every configuration we ran it at so it scores an: 8 out of 10 and the Bjorn3D Seal Of Approval.