Patriot launched a new Core i5 ram, the Viper 2 Sector 5 2GHz low voltage Dual Channel DDR3 engineered for blazing performance under the 1.65v ram voltage limitation.
Introduction
It seems like with every socket change we get a different type of RAM and it's getting more confusing for the end user to figure out which RAM kit is designed to work with their platform in an optimal manner. When Intel released the LGA 1156 Core i5/i7 platform it was no exception. The LGA 1366 platform demanded Triple Channel RAM for optimal performance and it had to run under 1.65v and memory companies were scrambling to meet the end users demand for low voltage high performance kits.
The first kits for LGA 1366 we saw were lower end 1066 and 1333 kits rushed to market and weren't truly low voltage kits, but high voltage kits that would run at lower speeds and lower voltages. This wasn't really a shortcoming on the RAM vendors part. The manufacturers of low voltage memory IC's (Controllers) weren't geared up for production of that volume of low voltage memory IC's.
Now with the LGA 1156 platform, Dual Channel DDR3 is all the rage. While your older high voltage DDR3 kit will work, it will need to run in under 1.65v to ensure you don't end up killing your CPU. So if you have a 1600MHz kit that requires 1.9v, (which isn't uncommon) you'll likely be limited to the 1333 – 1400 MHz range on that kit. To take advantage of the full potential of LGA 1156 Core i5/i7 memory your going to need a good kit of low voltage DDR3 capable of giving you the performance you want and stay under that pesky 1.65v limitation imposed on LGA 1156 CPU's. We say " imposed " on CPU's because it's the memory controller on the CPU that needs the RAM to stay under 1.65v to prevent damage.
Your in luck, with LGA 1156, the RAM vendors knew what to expect and had kits waiting on the shelf built to specifications specifically for Core i5/i7. Kit's like the Patriot Viper 2 Sector 5 4GB 2GHz kit we have in hand to show you today. By the time we get done with it the Sector 5 kit may be ready for Area 51.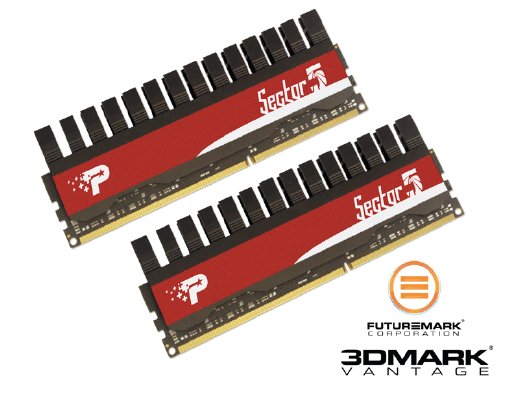 Viper 2 Sector 5 sports a new red sticker and black heat spreaders. Slated to be bundled with 3DMark Vantage for a little extra added value and running at 2GHz with 8-8-8-24 timings, we expect the Viper 2 Sector 5 2Ghz kit to be one of the go to kits for hard core enthusiasts and dream material for those who settled for less.
Specifications
Patriots take on the Viper 2 Sector 5 Series

The Patriot Viper II 'Sector 5' Series, part of the Extreme Performance (EP) line, is the ultimate performance memory solution for the Intel® P55 system platform. The Viper II 'Sector 5' series are built using only the highest quality pre-sorted IC's available and are subjected to rigorous testing and validation on the P55 platform to achieve optimized performance and maximum quality. These modules are engineered to reach 2000MHz at 8-8-8-24 timings and are available in 4GB kit capacity. This kit includes Futuremark's® 3DMark® Vantage benchmarking software for enthusiasts to fine tune their system for optimal performance.
VIPER SERIES FEATURES:
Extreme Performance PC3-16000(2000MHz)
Low Latency (8-8-8-24 timings)
XMP Ready
Equipped with advance aluminum heat-dispersing shields
100% Tested and Verified
Lifetime Warranty
RoHS Compliant
Tested on Intel® P55 chipset (1.65v)
Bundled with 3DMark Vantage
With the Patriot name and native 2000MHz speed with timings of 8-8-8-24, you can bet this is going to be one of the fastest kits on the market for i5/i7 memory. The XMP profile should make it a plug and play kit for beginners and a good starting point for overclockers. It's always nice to be able to plug a kit in and leave the tweaking until later. The nice aluminum heat spreaders dissipate heat nicely and each module is tested and verified. They better be tested and verified with a lifetime warranty. Patriot has a long time to stand behind the warranty on these beauties. Not only are they tested and verified, they are tested on Core i5/i7 LGA 1156 so your not shooting in the dark and hoping you picked up the right kit for your new rig.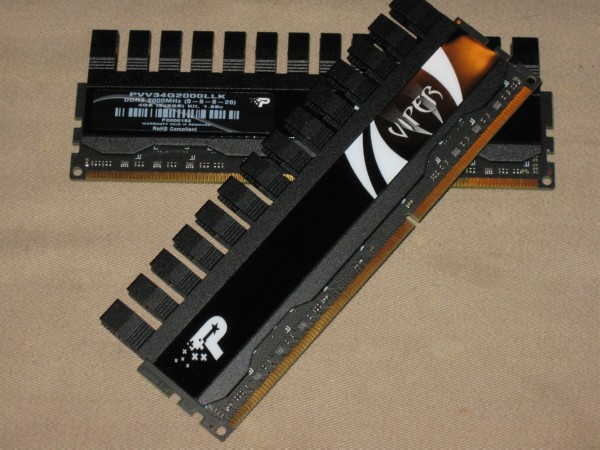 Click Image For a Larger One
**** Please note that production kits will have the red sticker, we received an early kit and the retail packaging and red sticker weren't ready yet.
That's ok with us that just means we have a limited edition collectible 4GB kit of Viper 2 Sector 5 2GHz ram. Eat your heart out.
Pictures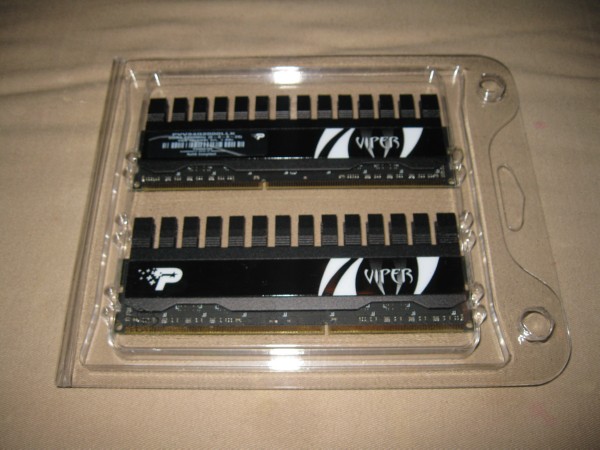 Click Image For a Larger One
Keep in mind this isn't the sticker that Patriot will use for the Sector 5 series and it's not the final retail package. We like our Limited Edition Collectible Sector 5 kit so we are going to show it to you anyway.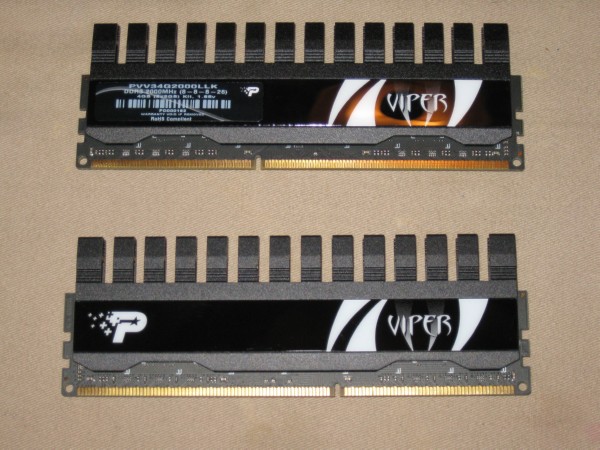 Click Image For a Larger One
Getting a good look at the sticker, it's hard to see why Patriot decided to go with a different design. Just putting Sector 5 vertically in one of the Fangs would have made for a really sharp looking kit.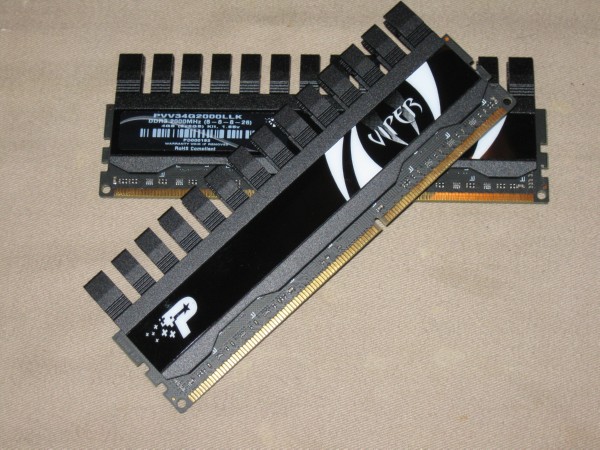 Click Image For a Larger One
The integrated heat spreader on the Viper 2 Sector 5 kit provides a lot of area to dissipate heat from and you can be rest assured that the kit ran nice and cool even overclocked in our test rig.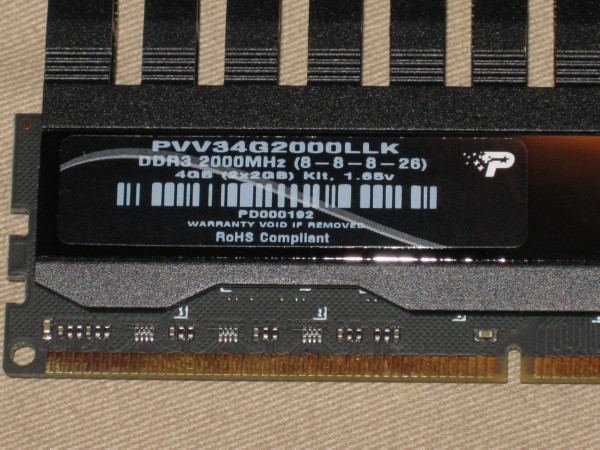 Click Image For a Larger One
Getting up close and personal with the sticker on the kit, you can see that this is indeed a PVV34G2000LLK DDR3 2000MHz kit rated to run at 8-8-8-26 except that the sticker is wrong. The kit is rated to run at 8-8-8-24 both in the company literature and on the company website, so we ran it at 8-8-8-24 and had no problems.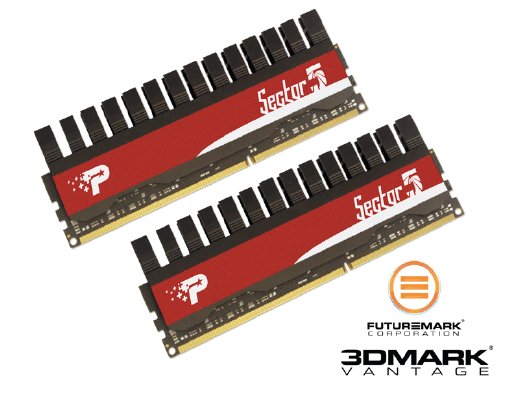 Again, here's what the final retail modules will look like when you receive yours. If your really nice and beg with sincerity you might talk them out of one of the black label kits, but we doubt it. The Black kit is our all ours.
Testing & Methodology
We did a fresh load of Vista Ultimate 64 bit on the Crucial 128GB SSD and loaded all the latest motherboard drivers for the Gigabyte GA-P55-UD6. We updated the BIOS to the newest available BIOS at the time of testing. We ran each test 3 times and report the average of each three passes run here.
Being a locked multiplier CPU, you have to OC to reach some of the higher end kits rated speeds. The highest kit speed we saw without us or the XMP having to raise the Bclk on the rig was 1600MHz. To that end, when you reach the overclocking section we included the CPU-Z screen for CPU and RAM so you can see the Bclk used on the kit being tested.
Test Rig
Test Rig
"Quadzilla i5"
Case Type
Sunbeam 9 Bay Acrylic Chassis
CPU
Core i7 870
Motherboard
Gigabyte GA-P55-UD6
RAM

Patriot Viper 2 Sector 5 DC DDR3 2000MHz 4GB Kit Cas 8 (PVV34G2000LLKB)

Kingston HyperX DC DDR3 2133MHz 4GB Kit Cas 8 (KHX2133C8D3T1K2/4GX)

Corsair Dominator DC DDR3 1600MHz 4GB Kit Cas 8 (CDM4GX3M2A1600C8)

CPU Cooler
Thermalright Mux 120 (Dual 120mm Fans)
Hard Drives
Crucial 128 GB SSD(MLC/Samsung controller)
Optical
Sony DVD R/W
GPU(s)
BFG GTX-260 Maxcore
Case Fans
120mm Fan cooling the MOSFET CPU area
Docking Stations
None
Testing PSU
Tagan BZ 700w Modular
Legacy
None
Mouse
Razer Lachesis
Keyboard
Razer Lycosa
Gaming Ear Buds

Razer Moray
Speakers
None
Any Attempt Copy This System Configuration May Lead to Bankruptcy

Test Suite
Synthetic Benchmarks & Games
SANDRA XII Professional
Everest Ultimate Edition v.4.60
SuperPi Mod 1.5XS
WinRar v.3.71 Compression Benchmark
Everest Ultimate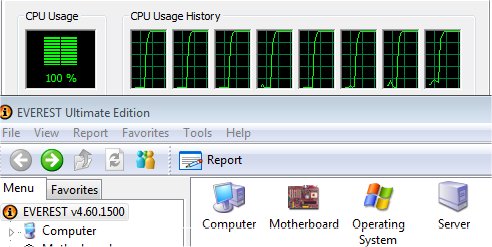 "EVEREST Ultimate Edition is an industry leading system diagnostics and benchmarking solution for enthusiasts PC users, based on the award-winning EVEREST Technology. During system optimizations and tweaking it provides essential system and overclock information, advanced hardware monitoring and diagnostics capabilities to check the effects of the applied settings. CPU, FPU and memory benchmarks are available to measure the actual system performance and compare it to previous states or other systems. Furthermore, complete software, operating system and security information makes EVEREST Ultimate Edition a comprehensive system diagnostics tool that offers a total of 100 pages of information about your PC."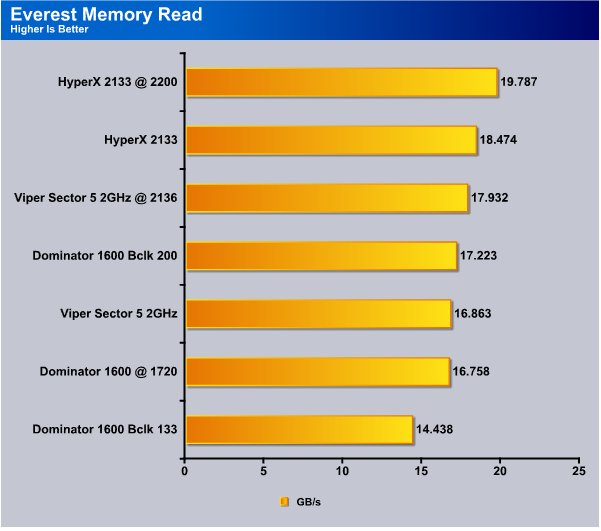 The Viper 2 Sector 5 2GHz kit clocked to 2136MHz and came in third on the chart which isn't bad considering it was only bested by a faster 2133MHz native speed kit. When Clocked to 2GHz using the XMP profile settings it should be in fourth but we clocked the Dominator kit to 1600MHz ignoring the XMP on that kit and cranked the Bclk on the rig up so high that a vein in our foreheads was about to pop. More than likely it's the larger OC on the Dominator kit that accounts for it being in the lead more than the RAM itself. Few boards can sustain a Bclk of 200 with the CPU cranked up close to 4GHz but we had no problem with the Gigabyte GA-P55-UD6 flagship board holding the Bclk or OC for extended periods. With Intel locking the multiplier on the CPU's Bclk is used for overclocking the ram and CPU and the XMP profiles all handle it their own way. As we show with the Dominator kit, the XMP profile is good for the less tech savvy but with proper tweaking beyond the XMP profile can yield better results on any kit.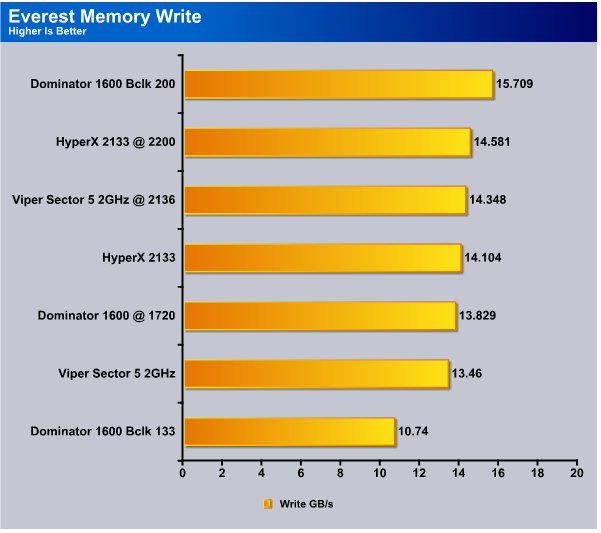 Discounting the insane OC on the Corsair kit which is unrealistic for most end users to achieve, the HyperX kit running at 2200MHz tops the chart for what most end users can reasonably expect and the Viper 2 Sector 5 kit overclocked to 2136 comes in right on the HyperX kits heels. The XMP profile on the kit made it plug and play but using the XMP profile and running at stock speed, the Sector 5 kit dropped down to 13.46GB/s and it becomes obvious that XMP profiles work well but don't always run the ram at what we would call optimal conditions.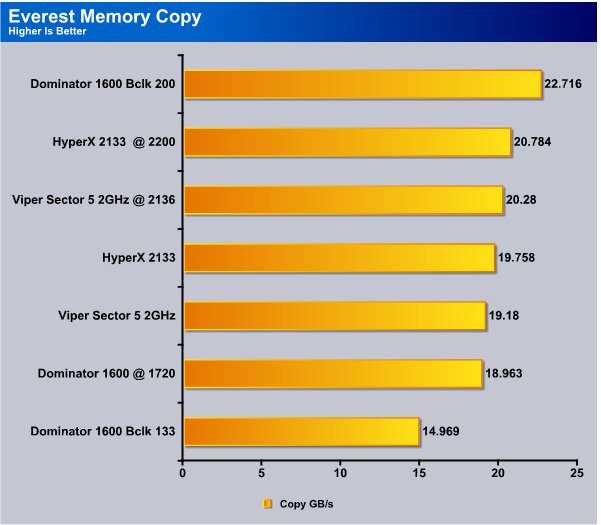 The Everest Copy test shows the Viper 2 Sector 5 2GHz kit hitting 20.28GB/s when overclocked and at stock speed turning in a more than respectable 19.18GB/s.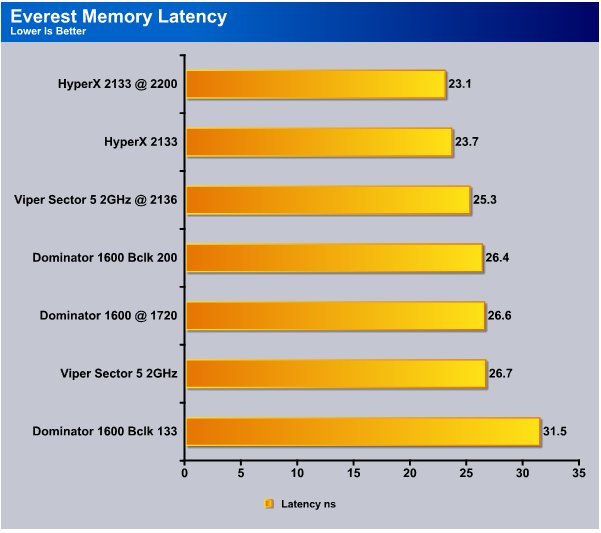 The latency on the Viper 2 Sector 5 kit comes in at 26.7ns at stock speed and gets better at 2136MHz and turns in a 25.3ns at the OC speed.
WinRar v. 3.71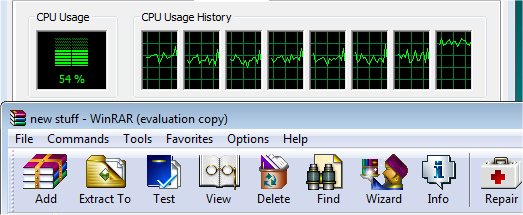 This module in WinRar generates random data, which contains specially introduced redundancy, increasing the load to both the processor and memory. Data is then passed through RAR compression and decompression algorithms, and the output of the decompression algorithm is compared to the source data. If any differences are found, WinRar then reports "Errors found – Yes" in the command window. WinRar displays a size of processed data and compression speed, current and resulting, in kilobytes per second.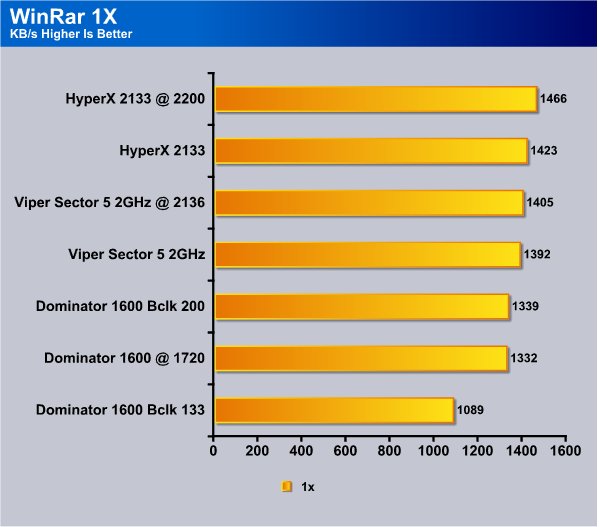 In WinRar the Viper 2 Sector 5 2GHz kit turned in 1405KB/s when overclocked and 1392KB/s at stock speed. That's pretty respectable considering the HyperX kit at 2133MHz was only 18KB/s ahead of it.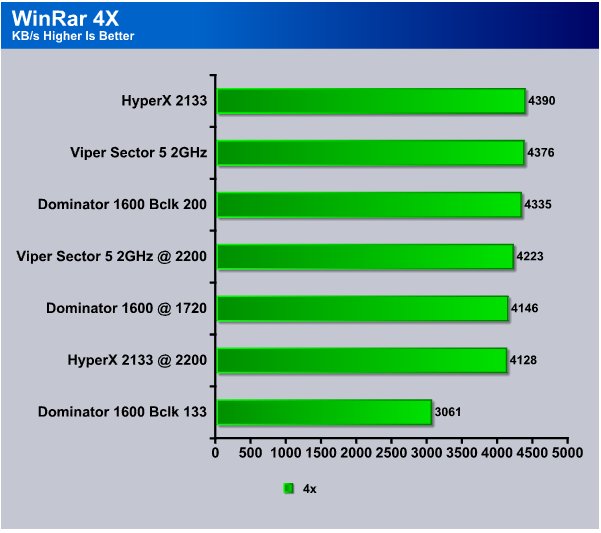 The multi-threaded test in WinRar sees the Viper 2 Sector 5 kit running at 4376KB/s and taking second place with the HyperX kit a mere 24KB/s ahead of it. Notice both kits lost performance at the OC speed that's usually due to a different memory multiplier to Bclk ratio.
Sisoft Sandra
"SiSoftware Sandra (the System Analyzer, Diagnostic and Reporting Assistant) is an information & diagnostic utility. It should provide most of the information (including undocumented) you need to know about your hardware, software and other devices whether hardware or software. It works along the lines of other Windows utilities, however it tries to go beyond them and show you more of what's really going on. Giving the user the ability to draw comparisons at both a high and low-level. You can get information about the CPU, chipset, video adapter, ports, printers, sound card, memory, network, Windows internals, AGP, PCI, PCI-X, PCIe (PCI Express), database, USB, USB2, 1394/Firewire, etc."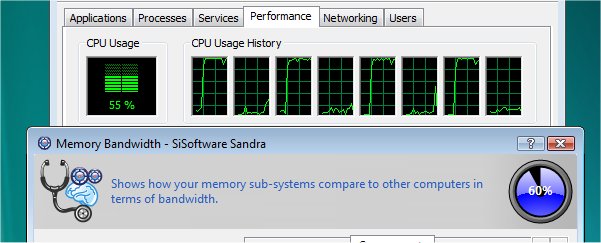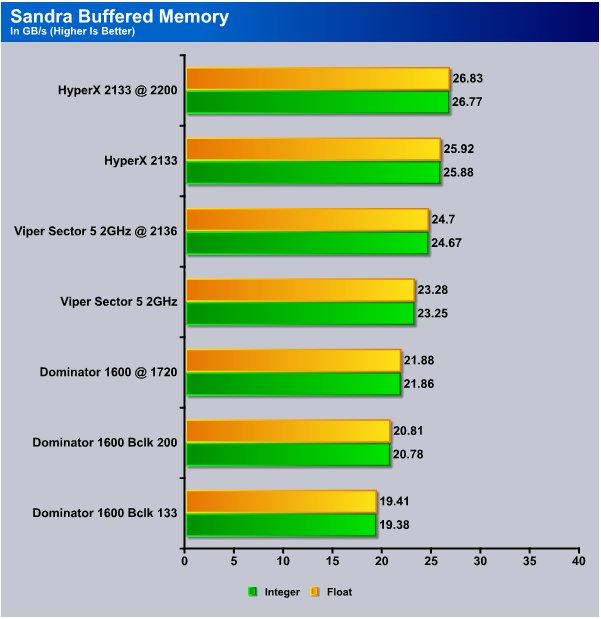 Sandra has the kit churning out 24.7GB/s at it's best OC speed of 2136MHz, keep in mind that we generally keep the rated timings for our overclock on RAM. Loosening the timings and achieving a higher clock speed means you would have to drive the raw speed so high to overcome the higher timings that doing so would be next to impossible and while a lot of review sites do that to generate higher OC numbers that's not something we approve of. Hold the rated timings and clock it as high as possible while checking performance and clock it until it won't clock anymore. In our experience, you would have to drive a 2GHz kit to 2300 or 2400MHz to overcome the looser timings. With low voltage kits, that's probably not going to happen.
Super Pi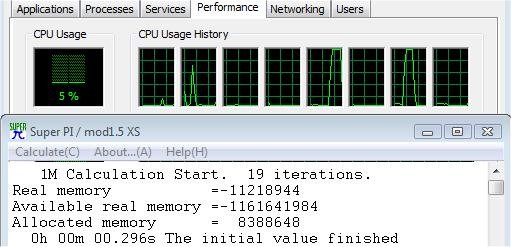 Super Pi is the "Gold standard" for many when it comes to judging system performance. We ran 1 and 2 Meg calculations, again running each test three times and reporting the average of the results.
SuperPi seemed to like the Viper 2 Sector 5 kit pretty well and it turned in the best recorded time. Like we mentioned though, the XMP profile works but it quickly became apparent that wasn't the best way to clock the kit.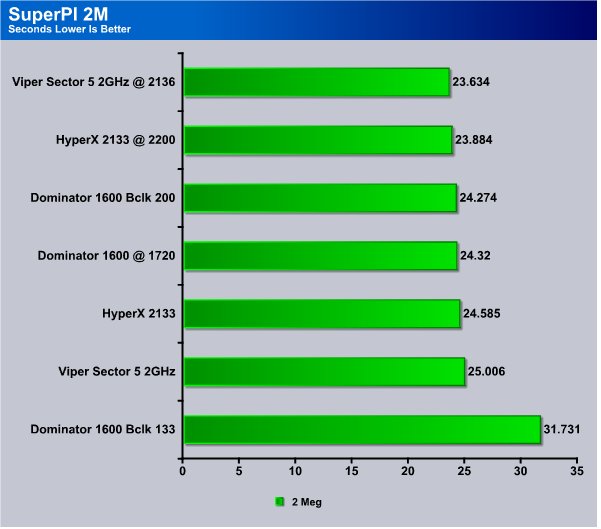 In the SuperPI 2MB test we see the same thing. The XMP profile setting running them at 2GHz turned in a semi lackluster score of 25.005 seconds and our clocking effort turned in a 23.634 second time so this kit is well worth tweaking. (Hint: Raise the Bclk and OC the CPU til it screams)

Lets take a look at the Patriot Kit just like CPU-Z shows on first boot.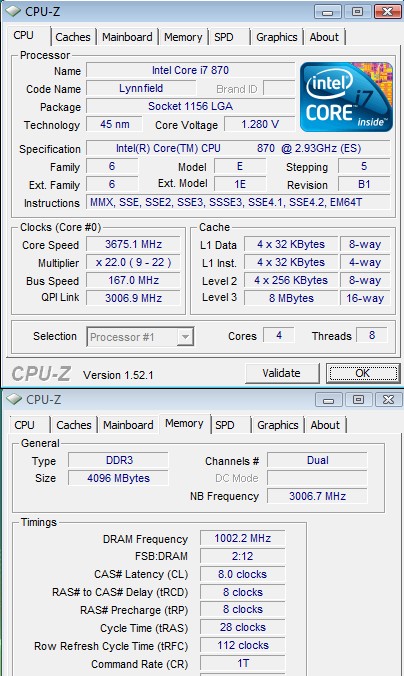 On the way out of BIOS we set the multiplier back to 22 on the CPU but other than that we let the XMP handle the ram settings. Please note that setting the XMP on a lot of kits will change the Bclk, memory voltage and PCH voltage, so if you have an existing overclock you might want to make sure you have those setting saved prior to enabling the XMP.
Like we mentioned earlier on the Gigabyte GA-P55-UD6, the 4GB kit of Patriot Viper 2 Sector 5 2GHz DDR3 was plug and play. We just enabled the XMP and it booted right to 2GHz. We tweaked the CPU multiplier and we came in at 3.675GHz on the CPU and 2002MHz on the ram stable as a rock.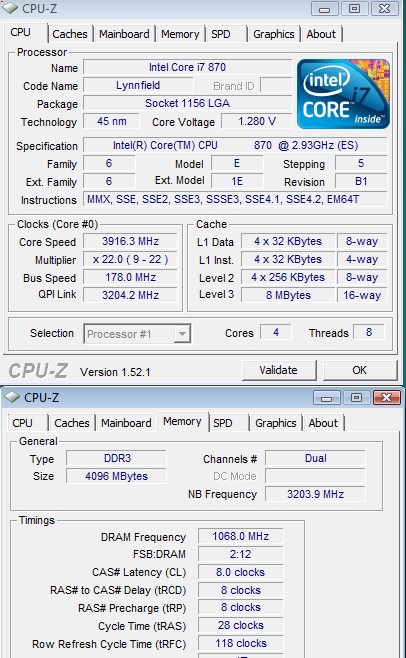 We like to keep the timings at stock and see how far we can overclock the kit being tested. You can get higher raw RAM speed by loosening the timings and a lot of review sites do that to get sensationalist numbers and impress the noobs. Fact of the matter is, loosening the timings means you would have to increase the RAM speed so high to overcome the looser timings that all those sites are doing is generating large numbers but decreasing the efficiency of the RAM. Tight timings is the way to go on RAM and clocking as high as you can go within the rated timings will get you more performance than just going for top speed. Notice we increased the Bclk from 167 to 178MHz and kept the CPU multiplier at 22 so we got a CPU Overclock to 3.916MHz and increased the RAM to 2136MHz which is the best of both worlds, nice CPU OC with a good RAM OC. The 164Bclk the XMP profile set limited us to 3.674GHz on the CPU but with just minor tweaking we increased the ram kits performance dramatically.
We got the Patriot Viper 2 Sector 5 up to 2136MHz and kept the rated timing of 8-8-8-24. Yes we realize the picture says 8-8-8-28 but in Bios it says 8-8-8-24. CPU-Z got a little funny when we were overclocking. Here's a shot of the BIOS settings.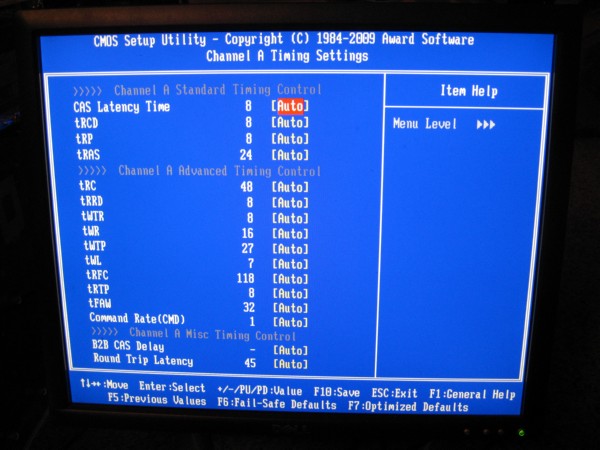 So CPU-Z got a little drunk with all that speed, it happens. We checked the BIOS several times and the Viper 2 Sector 5 kit was holding at 8-8-8-24. That's a total overclock of 136MHz while holding tight timings at 8-8-8-24 and 1T. Not to shabby for a kit wound this tight.
Conclusion
Patriot refers to our Viper 2 Sector 5 kit as an engineering sample but as far as we can tell it's identical to the production kit except for the sticker change. We prefer limited edition collectible and suspect that about 4 – 6 kits with this label made their way to review sites. We like the black label but the red label looks nice too. Performance wise the label doesn't affect anything so these benchmark numbers should hold true for production kits.
Assuming that this is a full production kit with a pre-production alternative sticker we like the performance of the Viper 2 Sector 5 2GHz kit. Nice tight 8-8-8-24 timings don't hurt our feelings any and with 136MHz overclocking headroom on our kit staying within the rated timings is great overclocking ability.
Performance remained high and we understand the need for fairly conservative XMP profile settings but this kit has a lot more to give by going for a higher Bclk and using the CPU multiplier to adjust CPU speed. In other words it's tweaktastic.
Given the capabilities of the Gigabyte GA-P55-UD6 we used for testing and the inherent speed of the Viper 2 Sector 5 2GHz kit your looking at a winning combination for experienced overclockers and the less tech savvy casual end user.
Who doesn't love blazing speed with plug and play ease? We have seriously considered the possibility that Patriot found the Viper 2 Sector 5 kit at Area 51 (given the fangs on the sticker on Viper kits we suspect a reptilian race) and that would explain the blazing speed with plug and play ease. Only Alien intelligence can explain the ease of use and blazing speed on this kit.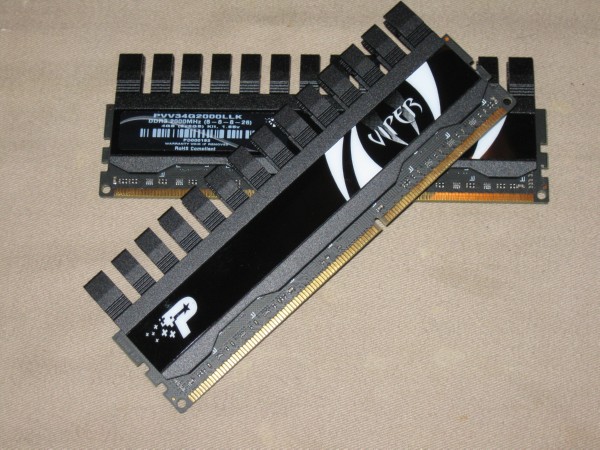 We are using an addition to our scoring system to provide additional feedback beyond a flat score. Please note that the final score isn't an aggregate average of the new rating system.
Performance 8.5
Value 9
Quality 10
Warranty 10
Features 8
Innovation 8

Pros:
+  Great Overclocker
+  Plug And Play XMP Profile On Our Board And We Suspect Most P55 Boards
+  2136MHz With 1.65v RAM Voltage Is Amazing
+  Scaled Well When Overclocking
+  Nice And Stable
+  Newly Designed Two Chip Chipset (P55) Allows An Insanely High Bclk Which Makes Overclocking This Kit Fun
Cons:
–  Switching To A Red Sticker On Production Models
–  No Official Admission Of Stealing Alien Technology
The blazing speed of the Patriot Viper 2 Sector 5 2GHz kit obviously stems from stealing technology from a more intelligent Alien life form stored in some subterranean vault at Area 51 and we don't have a problem with Alien Technology theft. The speed and plug and play ease of the Sector 5 kit impressed us to no end, performance was high, overclocking was a joy and despite our Collectible kit mirth the production kits look very nice. The inherent speed of the Viper 2 Sector 5 2GHz kit earns it a score of: 8.5 out of 10 and the Bjorn3D Seal Of Approval.