13 fans all software controlled, aluminum frame, mesh and acrylic side panel window, removable motherboard tray, tool-less design, plus much much more. Meet Ikonik's RA X10 Sim.
Introduction
Ikonik is a new player in the game of high quality enthusiast chassis. With companies like Silverstone, Lian-Li, Cooler Master, Gigabyte and Antec overshadowing the market, the name Ikonik may be foreign to even the most up to date chassis enthusiast. Ikonik however, has a group of experienced employees who all have the same goal in mind. A goal to create high quality products that are functional and durable that look good while doing so. Having previously reviewed Ikonik's Ra X10 Liquid, we are familiar with what Ikonik can bring to the table. Sporting the same features as its big brother, we are very anxious to see how this case performs with an air cooled configuration.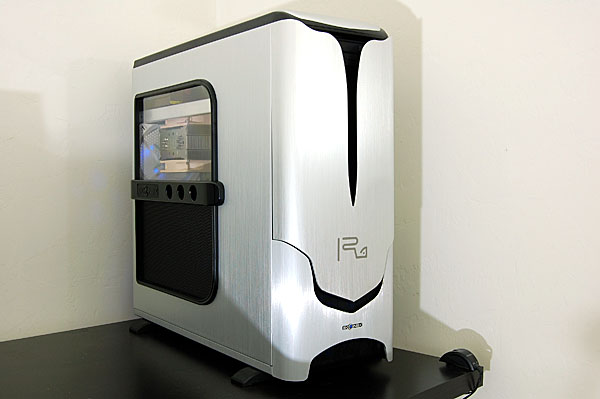 About Ikonik
Our establishment
Ikonik Technology was founded by a team of IT-experts – who were operating for a well-known brand in the industry. Following the same business model of international business, we position ourselves in the same level of high standards in everything that we do.
Our core-business
Ikonik Technology is focusing on designing, branding, manufacturing and distribution of all computer peripherals. Not only will we create and supply these components to the power users – but we also provide the service and aftercare, in order to safeguard users' equipments.
In this highly competitive and aggressive environment, Ikonik Technology strives to deliver that extra bit more. We are constantly improving the standard of quality, surpassing users' requirements and deliver products with performance, fun, good looks and easy to use.
Our award-winning expertise
With years of experience in R&D, sales & marketing, product and production management – we know how the market looks like. We have an award-winning team that won various international awards, such as:
Tom's Hardware Innovation Award for Ra X10 LIQUID (global)
Product of the Year for Zaria A20 (Denmark)
IF Design award for cooler (Germany);
Tweaktown Award for innovative design of power supply (Australia);
3D Gameman Award for chassis (US);
Overclocker Award for cooler (US);
PC DIY award for chassis (Taiwan);
Tech Power Up for cooler (Global);
Guru3D Award for power supply (Netherlands);
OC Workbench Award for power supply (Singapore);
59 Hardware Award for cooler (France);
GamesAxis Award for cooler (Malaysia);
Digiworld Award for cooler (Czech Republic);
PC Impact Award for chassis (UK);
Game Reactor Award for cooler (Norway);
Hardware-Test Award for chassis (Denmark);
ComMart Award for cooler (Taiwan);
With such a list of award-winning product – Ikonik Technology has the confidence that our R&D-team is an expert in this field.
During the annual international IT-exhibition Computex 2008, IKONIK received the 'Innovation Award' from world's leading IT-website Tom's Hardware. Only two companies got this award and IKONIK was one of the lucky ones.
Our international work force
Ikonik Technology does not only have an experienced management team, but also prides itself in the fact that we possess an international work force. We understand that each culture holds its own values and 'way of thinking' and thus we established native speakers for each market.
Our values
Empower people
Deliver cutting-edge products
Delight customers
Honesty
Our vision
Our mission is to become a mature and sophisticated player in the IT-market, driving people and products to its upmost capabilities. The strategy aims at the growth of the company by focusing in the areas of integrating PC and technology into everyday lifestyle, with a certain panache. Technology no longer needs to be an entity that only certain trained people can excel, in, technology is compatible with everyday life. Ikonik Technology uses design to ensure people not only use a computer product, but uses a smart looking product too. We want to bring something new in everything what we do. We want to distinguish our self in design, performance and marketing.
FEATURES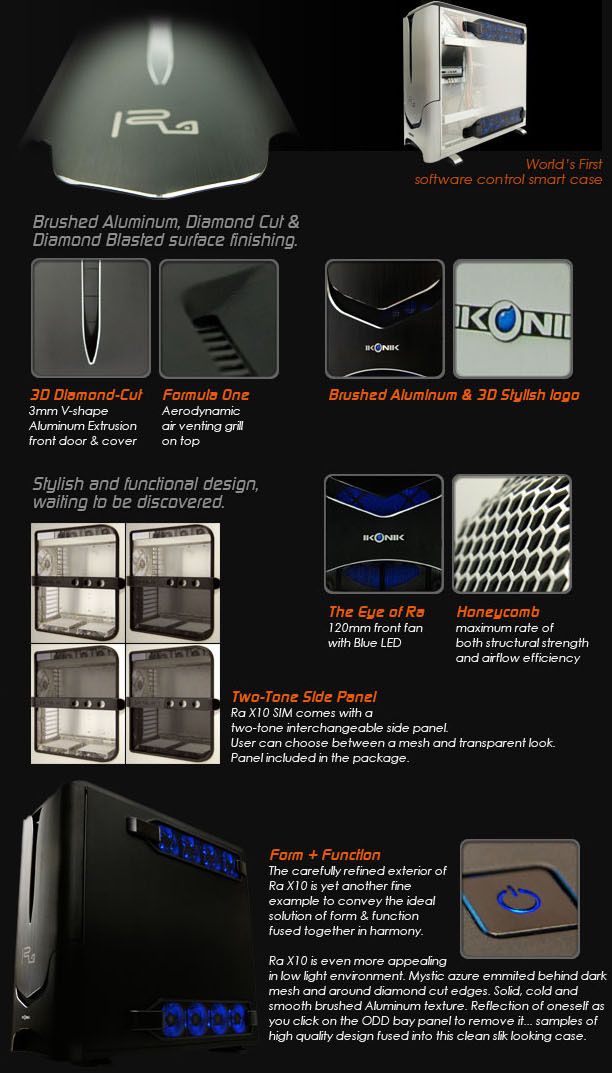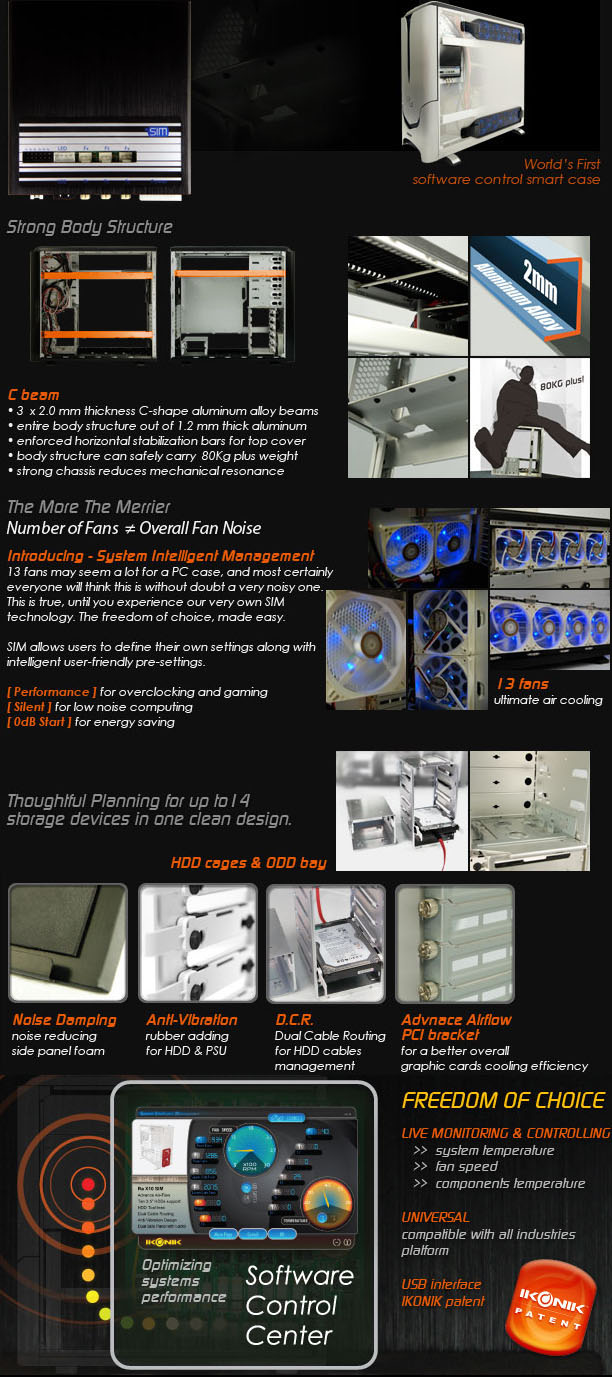 SPECIFICATIONS 
| | |
| --- | --- |
| Model name | Ra X10 SIM |
| Case type | full tower |
| Dimension (W x H x D) | 220 x 572 x 606 |
| Color | Black / silver |
| 5,25" drive bay | 6 (incl. convert kit for 3,5' external device) |
| 3,5" internal drive bay | 10 |
| Expansion slots | 8 |
| Side panel | Two-tone interchangeable (mesh/transparent) |
| Material | Entire aluminum (3.0 mm front door / 1.2 mm body construction / 2.0 mm material thickness construction bars |
| I/O panel | top (dual e-SATA / quad USB 2.0 / one IEEE 1394 / one audio) |
| Cooling | 2 x front 120 mm incl. LED / rear 1 x 140 mm incl. LED / rear bottom 2 x 80 mm incl. LED / 2 x 4 80 mm side fans incl. LED |
| Mainboard support | µATX / ATX / CEB / E-ATX (extended-ATX) |
| Tool-less design | One-touch removable front drive-bay cover / removable MB-tray / one-click HDD installation / PCI-slots |
| Protection | Rubber op HDD and PSU railing for anti-vibration and noise reduction |
| Maintenance | Removable and washable filter, HDD cage and MB-tray |
| LED | Front / rear / right |
| Design | Diamond-cut front door/ rotatable & removable anti-dust cover / EPS 12V PSU support/ diamond sandblasted aluminum top cover |
PACKAGING
Click Image For a Larger One
On the front of the box is a general description of the product. On the back the specifications are listed along with plenty of pictures that point out the features. Having a description along with a visual reference makes this a pleasure to look at. It nice to see Ikonik include this on their boxes. Once opened you are greeted with foam, a manual, the SIM software disc, 5.25″ to 3.5″ cover, and the very cool swappable acrylic windows. Everything within the box is in place and well protected. Very nice packaging indeed.
 
THE CASE 
Click Image For a Larger One
Once the case was out of the box and unclothed, we were pleasantly surprised. This case is very, very nice. The build quality of the case is nothing short of HIGH quality. The aluminum is top notch, the mesh grills are firm, the side panels are firm, the case is sturdy, no dents, no scratches, nice and clean. When you work in and out as many cases as we do, we sometimes forget just how nice a case can be visually. This case is without a doubt one of the sharpest looking cases we've dealt with, same goes for its big brother the Ra X10 Liquid. Retractable case stands, easy push bay covers, I/O Panel dust cover, liquid cooling holes, swappable side panel windows, and side panel release buttons. These are features you would expect from a high quality enthusiast case. Once again, a quality product from Ikonik. On to innards.
 
Click Image For a Larger One
Within the case the quality continues. Tool-less features are everywhere. All three of the drive cages can easily be removed for ease of access. With each drive bay are hard drive sliders. Each slider has rubber pegs which keep the drive in place. The sliders simply slide into place keeping the drive in tact. To install an optical drive, slide the drive into an empty bay. Once its seated, push the button in, thats it. The button pushes a metal pin into the drive keeping it in place. To remove the optical drive, simply slide the clip next to the button to the left. This will release the pin and allow the drive to be removed. All of the cabling within the case is neatly managed with zip ties and a special grommet. The fans are nicely cable managed as well. Considering the ridiculous amount of fans (13!), Ikonik did a wonderful job keeping all the cables neatly managed. In one of the drive bays was the rest of the included accessories which consisted of two 3-pin extenders, the SIM USB power cable, thermal probes, keys, screws and a cleaning clothe.
 
Click Image For a Larger One
The removable motherboard tray is something all enthusiast cases should have. We were delighted to see this feature in the Ra X10 SIM. The option to remove the tray when needed makes working on hardware much easier. No need to fiddle with screws within the case, just remove the tray. We love this feature. The overall build quality of the Ra X10 SIM is very good. One major item that we've yet to focus on is the SIM. The SIM is what really sets this case apart from cases in its hefty price range. Lets have a look at it.
The SIM
To get a better understanding of how the SIM works view the diagram below.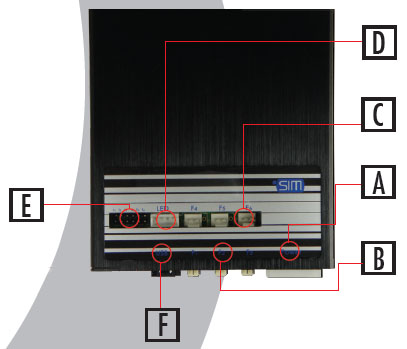 A – This is where power is provided to the SIM. The SIM requires a molex connector for power.
B & C – This is where the six 3 pin fan connectors reside.
D – LED Power.
E – The six thermal probes are plugged in here to allow the SIM to get thermal readings.
F – The USB cable is plugged into here. This is what makes the SIM usable via the SIM software. 
The SIM Software
The SIM software is what allows you to control the SIM itself. In the software your able to check the thermal probe temperatures, check and adjust fan speeds, and even turn off the fan lighting. The software is straight forward and is quite simple to use. Here are some pictures of the SIM software in action and two more diagrams that further explain the SIM features.
Click Image For a Larger One
From the images above you can see the SIM software is straight forward and easy to use. We downloaded the latest version (v1.21) of the SIM software directly from Ikonik's website. The latest version includes full support for Windows Vista and Windows 7 and also works properly with suspend and sleep mode. Prior to installing the latest version we had an issue with the fan speeds automatically adjusting to the performance mode when coming back from suspend or sleep mode. This is now resolved in the latest version of the SIM software. It's nice to see that Ikonik not only follows through with quality cases, but also follows through with keeping their software up to date. The SIM software is nice overall and is certainly functional. Now that we've seen the case, the SIM and the SIM software, its time to test things out. We are anxious to see what these 13 fans are capable or not capable of. On to the testing.
Methodology
To get the most accurate results as possible, we used our Ra X10 Liquid review to compare temperatures with the Ra X10 SIM combined with the Noctua cooler. Below is the test system specifications and our resulted temperatures from the Ra X10 Liquid review.
 
Test Rig – Station_i7
Case Type

Ikonik Ra X10 SIM

CPU
Intel I7 920 (D0) @ 3.78GHz (1.24v) – 180×21
Hyper Threading & Turbo/SpeedStep Enabled
Motherboard
DFI LANParty UT T3EH8
Ram
Kingston HyperX 3x1GB DDR3 2000MHz @ 1800MHz
8-8-8-24 Timings
CPU Cooler
Noctua NH-U12P SE1366
CPU Cooling Compared
Cooler Master V10
Ikonik Ra X10 Liquid
Hard Drives
Western Digital Raptor 10,000RPM 74GB
Seagate Barracuda 7,200RPM 320GB
Optical
Samsung DVD+/- R/W
GPU

XFX 4870 X2

Case Fans

Two Lower Front 120mm Intake
One Back 140mm Exhaust
Two Lower Back 80mm Exhaust
Four Upper Motherboard Side 80mm Exaust
Four Lower Motherboard Side 80mm Intake

PSU

ThermalTake Pure Power 600W
Here is how the Ra X10 SIM looked after everything was installed.
Click Image For a Larger One
Very sharp looking. I never seem to get tired of blue LED's, especially in this case. On to the results.
TESTING SETUP
To properly test the idle and load temps we used Prime95 to stress the CPU and Crysis Warhead to stress the system overall. We let Prime95 stress the system for 15 minutes during each run. To monitor temperatures we used Real Temp and HWMonitor. We ran an idle and load comparison between the " Silent " mode and the " Performance " mode.
Prime95 (CPU Stressing) Results
*** Keep in mind this is an i7 and the temperatures are not even across every core. Also, 920 D0 steppings tend to have higher idle temps than C0 steppings.

Click Image For a Larger One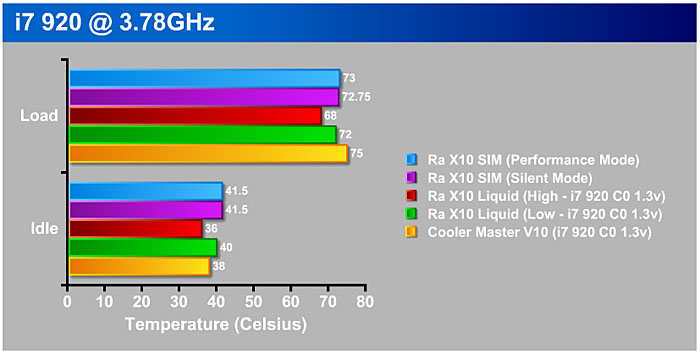 From the results you can see that the temperatures basically remained the same. Sadly we didn't have a DB meter to measure the sound, but I must say that the performance setting is almost unbearable. When all of the fans are set to the performance setting, the Ra X10 SIM becomes annoyingly loud. This is fine for short term benchmark runs but for daily use forget about it. The silent mode seems to be the sweet spot for CPU cooling as the performance setting does nothing for the CPU temps.
 
Crysis Warhead (System stressing) Results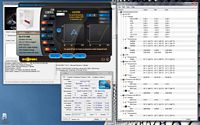 Silent Mode results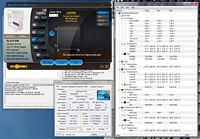 Performance mode results
Click Image For a Larger One
Looking at the " Max " column in the HWMonitor window, you'll notice the temperature actually went up 1C under the Performance setting while running Crysis. The CPU and GPU both seemed to rise about 1C overall. This is a bit strange considering the amount of ruckus these fans make at the Performance setting. You would think with so much noise that the fans would increase the air flow within the case resulting in lower temperatures, unfortunately this was not the case. With the testing out of the way, lets move on to the conclusion.
Conclusion
The numbers don't lie. After running our stress tests on the Ra X10 SIM, we were puzzled. How can all that air flow actually increase the temperatures? We are not mad scientists so we don't have a scientific answer for you readers, but we do have a general understanding of what may have went wrong with this design. First off, way too many 80MM fans. 80MM fans are normally used on chipsets or low end video cards. You rarely see them in current enthusiast chassis. The reason is simple, airflow distribution and noise. 120MM fans are usually the norm in enthusiast chassis for a reason. They spread air better and they do so without making too much noise. We feel Ikonik would have done themselves a favor by going with more 120MM fans and ditching the 80MM fans altogether. Aside from the small diameter fans, the placement of them didn't help either. Having fans blowing air in and out the backside of the case is a bit strange. To make it simple, think about the good ol' Antec 900. You have air coming in the front and then it goes right out the back with the help of a big fan pulling air straight up the back. This is one of the best air flow solutions in my personal opinion and I'm sure other Bjorn3D staff would agree. If Ikonik ditched the 80MM's, added a third 120MM intake, a 140MM top layer exhaust, and squeezed two 92MM lower rear exhaust fans, the airflow would be damn good.
With all the bad news out of the way, lets focus on the good. For one, the build quality of this case is absolutely awesome. We usually aren't a fan of front swing door cases but Ikonik's design is nice. The diamond cut front door is beautiful. We loved the tool-less features, the retractable feet, the push and remove optical bay covers and the swappable side panel window is a very nice feature as well. Some people love acrylic, some people want the most air flow possible, and some want both. Ikonik has thought of everything and shoved it into this case. A little more R&D could have improved the overall airflow of the case making the SIM feature really standout. Unfortunately we can't see any owner of this case using the Performance setting on a 24/7 basis without wearing ear muffs.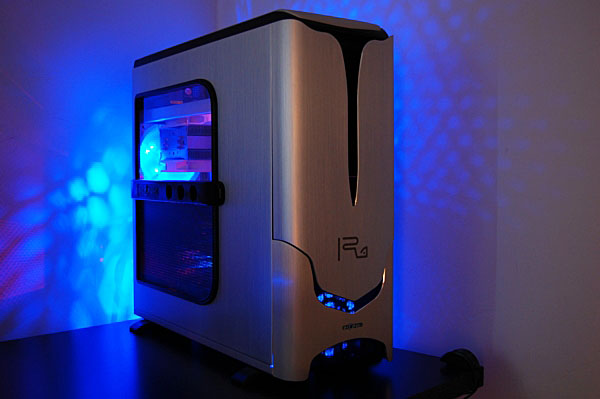 We are trying out a new addition to our scoring system to provide additional feedback beyond a flat score. Please note that the final score isn't an aggregate average of the new rating system.
Performance: 6.5
Value: 6.5
Quality: 9
Warranty: 8.5
Features: 9
Innovation: 7 
Pros:
+  Very high build quality. Some of the best we've seen first hand.
+  Tool-less design
+  Swappable side panel windows
+  lt's about 95% aluminum, we like aluminum
+  SIM feature and software is refreshing. Fans can be controlled, temperatures monitored
     and even the blue LED's on the fans can be turned off.

Cons:
–  Very expensive and limited availability. This case will set you back $340+ if you can even find one.
–  The 13 fans don't really seem to improve overall airflow. Especially the 10 80MM's.
 
We are actually quite sad with how the Ra X10 SIM performed. We wanted it to shine and believe that Ikonik is a new player in the enthusiast chassis market that deserves recognition. They certainly are if your focusing on build quality and overall design. Unfortunately, function is what really matters to enthusiasts. It takes form and function to create a solid case that will ultimately win an enthusiast's heart. The Ra X10 SIM has plenty of form, just not enough function. We give the Ikonik Ra X10 SIM a respectable 7.0 out of 10.