Sporting features like Japanese capacitors, gold plated connections, 99% capable PFC, and backed by a 5 year warranty, we review Thermaltakes ToughPower XT 850W power supply.
INTRODUCTION
Quad core processors, multiple video cards, and multiple hard drives are common components in computer enthusiasts setups. Providing quality power to these components is not resolved by buying the cheapest, highest rated power supply (PSU) you can find. The proper solution is to find a PSU that is reputable and efficient for your setup. Many PC builders are clouded by the cost of high quality PSUs. Instead of buying a proper PSU, builders will sometimes skimp on the PSU cost to be able to get a faster video card or more components. The fact is, the PSU is the most important piece of hardware in every computer.
Being the device that powers the entire computer, it is very important to get a PSU that will satisfy your hardware's needs. Delivering steady, even power to the hardware is very, very important. Poor power delivery to the hardware will cause irreversible damage; fried hardware, short outs and even fires can result from poor quality PSUs. Selecting the proper PSU for a build is vital and should never be overlooked.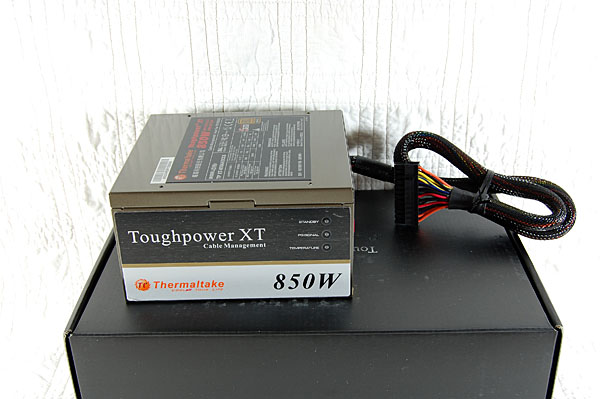 This is where Thermaltake comes into the picture. Having been around for many years, Thermtake is well known for their high quality PSUs, cooling solutions, and cases. Being one of the highest 80 Plus Bronze certified companies, Thermaltake knows their power supplies. Equipped with Japanese capacitors, a solid 12v+ rail, a PSU monitor, thermal controlled fan, and a 5 year warranty, we are anxious to see how Thermaltake's Toughpower XT 850W PSU performs.
Features
FanDelayCool
Evolved from high-end projector's cooling system, FanDelayCool enables users to control how long the 14cm fan should continue to operate (up to 30 seconds) after system shutdown.
S.P.T. Indicator
Indicates the standby, PG signal, and temperature status of the power supply.
12Vin1
Single +12V rail provides the best compatibility for the latest components.
High Quality Japanese Capacitors
Provide superb performance and reliability.
S.F.C. Quiet
Toughpower XT's 14cm dual-ball bearing cooling fan is equipped with S.F.C. Quiet technology so that the fan always operates at optimal speed for quiet operation.
Gold-plated Connectors
For superior conductivity.
Meets 80 PLUS Bronze Efficiency Requirement
Eco-Friendly design for the highest efficiency, least heat, and also lower energy bills.
5-Year Warranty
Thermaltake quality 5-year warranty for parts and labor.
Modular Design
14cm ball bearing cooling fan with Japanese made 8mm bearing system.
Compliance with Intel ATX 12V 2.3 & SSI EPS 12V 2.92 standards.
Support dual 8-pin PCI-E & dual 6-pin PCI-E connectors for next generation graphic cards.
Guaranteed to deliver stable continuous output at 50℃ environment.
Universal AC input 100V~240V and Active PFC (PF value up to 99%).
DIMENSION: 5.9"(W) x 3.4"(H) x 6.3" (L);150mm(W) x 86mm(H) x 160mm(L)
Protections: Over Power, Over Voltage, and Short-Circuit protection.
Safety / EMI Approvals: CE, TUV, FCC, UL, CUL, GOST and BSMI certified.
SPECIFICATIONS


– Wattage   
850 watts
– Fan   

140mm Fan

1900 RPM ± 10%

– Efficiency   
Up to 88%
– PFC   
Active PFC
– Hold-Up Time   
16ms
– Switches   
ATX Logic on-off additional power rocker switch
– Motherboard Connectors   
20+4-pin Main Connector 
8-pin Power Connector 
4-pin Power Connector
– Power Good Signal   
100-500ms
– Form Factor   
ATX 12V 2.3
– Dimension   
6.3 x 5.9 x 3.4 inch 
160 x 150 x 86 mm
– Warranty   
5 years
– Certifications   
 
– Input Voltage   
100 VAC ~ 240 VAC
– Input Current   
115VAC/10A Max. 230VAC/5A Max.
– Input Frequency Range   
47 ~ 63 Hz
– Inrush Current   
 
– Operating Range   
100 VAC ~ 240 VAC
– MTBF   
120,000
– RFI / EMI   
UL/CUL, FCC, TUV, CE, BSMI, GOST-R Certified
– Output Table   
– Operating Temperature   
10 ℃ to +50 ℃
– Storage Temperature   
-20 ℃ to +70 ℃
– Operating Humidity   
20% to 90%,non-condensing
– Storage Humidity   
5% to 95%, non-condensing
These are the features we would expect from any high quality PSU. Solid 12V rail(s), Japanese capacitors, modular design for less case clutter and better airflow, thermal controlled fan to give proper and quiet cooling, gold-plated connectors, and a nice warranty. Now that we've seen what this PSU is capable of, lets take a look at the PSU itself.
Pictures & Impressions
Click Image For a Larger One
The box the PSU comes in is covered in feature information. The front of the box is plain but does have a flip up cover that contains the PSU's main features. Listed on the back of the box is the power specifications, features, and included cables. Everything important is listed on the box. Within the box is another box that contains a Thermaltake badge, warranty information, a manual, cables, and the PSU itself.
Click Image For a Larger One
Also in the the box are two bags, a small box and the PSU itself.. In the very cool Thermaltake logo'ed bag are the majority of the cables and in the clear bag there are screws, a silicon pad to reduce vibration, Thermaltake logo'ed cable management wraps, Thermaltake badge, and misc. extensions.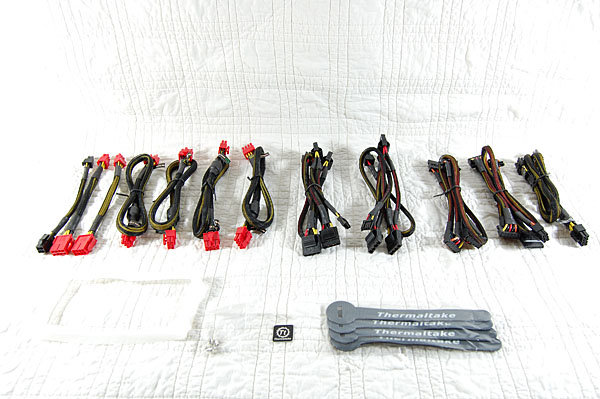 Here are all the cables/connectors included. One extension 4-Pin 12V CPU connector, two extension PCI-E 8-Pin to PCI-E 6-Pin connectors, two PCI-E 6-Pin cables, two PCI-E 8-Pin cables, two Molex cables with 8 connectors (and two floppy connectors), two SATA cables with 8 connectors, and one 8-Pin 12V cable that has a 4-Pin cable combined. Thermaltake provided plenty of cables to be able to run multiple drives and GPU setups. Keeping legacy peripheral users in mind, Thermaltake also provided two floppy connectors.
Maintaining a calm coloring, the color oriented connections, silver label and status lights draw most of the attention. A few features worth noting is the S.P.T Indicator, Fan Delay Cool switch and the 24 pin cable.
The S.P.T. Indicator is only equipped with XT Series Thermaltake PSU's. The S.P.T. Indicator allows you to check the PSU's status by viewing the lights.
PSU Status

LED

Information

Standby
Green
Power supply and system in normal operation.
PG Signal
Green
Red
-Power supply is working properly.
-Faulty power supply unit.
Temperature
Green
Red
-Not over 100C at secondary side of PSU.
-Over 100C at secondary side of the PSU.
The status lights are a helpful feature to have when diagnosing hardware issues. Knowing if your PSU is part of the problem will save a lot of time, we think this is a feature all PSU's should have.
The FanDelaySwitch is another feature we liked on this PSU. This feature allows the fan to stay on while the computer is off to cool down the PSU before it powers itself off. The three choices are -Auto, -15, and -30. Auto being automatic, -15 being 15 seconds, and -30 being 30 seconds. We recommend leaving this on Auto as the PSU has temperature sensors and surely knows best.
From the pictures you can see that only the 24 pin cable is attached to the PSU. Most modular PSU's will keep the CPU 4/8 pin and 24 pin cable attached, having only the 24 pin cable attached and a fan switch are nice additions to an already fully featured PSU. These little details are what make the quality and attention to detail noticeable with Thermaltake PSU's.
METHODOLOGY
Station i7
Case Type

Homemade Tech Station

CPU
Intel Core i7 920 @ 3.6GHz (1.16v)
Motherboard
DFI LANParty X58 UT-T3EH8
RAM
3x1GB Kingston HyperX DDRIII 2000 @ 1800, 8-8-8-18
CPU Cooler
Noctua NH-U12P w/ 120MM Scythe 86CFM Fans (Push/Pull)
Hard Drives
OCZ Vertex 60GB SSD
Seagate Barracuda 7200RPM 320GB SATA
Optical
Lite-On DVD R/W
GPU

XFX 4870X2

Case Fan

Two 120MM Noctua NF-P12 – Side Cooling
One 92MM Noctua NF-B9 – HD Cooling

Testing PSU

Corsair HX 850W
Silverstone Element 850W
For testing, a Kill-A-Watt wall socket meter was used to measure the total wattage consumed and a Ideal Multimeter was used to measure the voltages. To stress the hardware, we used Prime95 for voltage measuring and Crysis Warhead for system load stressing.
Click Image For a Larger One
The current ATX 2.2 specifications allow for the following variation in voltage outputs:
3.3 Volt Rail:   3.135 – 3.465V
5 Volt Rail:      4.75V – 5.25V
12 Volt Rail:   11.4V – 12.6V
RESULTS
Thermaltake TP XT 850W

Corsair HX 850W

Silverstone Element 850W

OutPut Power
Idle
Load
OutPut Power
Idle
Load
OutPut Power
Idle
Load
12 volt

12.17

12.16

12 volt

12.18

12.21

12 volt

12.19

12.16

5 volt

5.11

5.10

5 volt

5.1

5.1

5 volt

5.14

5.16

3.33 volt

3.34

3.33

3.33 volt

3.34

3.32

3.33 volt

3.41

3.38
Thermaltake TP XT 850W
Watt Usage
Idle: 232W
Load: 438W
From the results you can see that the Thermaltake Toughpower XT 850W performed right along the Corsair HX 850W and Silverstone Element 850W. Looking at the voltage variations between idle and load, the Thermaltake had the smallest increments. Having little to no variation between idle and load means power is being delivered at an even steady pace, no jumps or surges. This is what you want to have in a PSU, solid power delivery. Considering the class of PSU's compared, the Thermaltake performed as it should with the high grade class competitors. Looking at the ATX 2.2 specifications, this ATX 2.3 (80PLUS, Reduced 12V) PSU from Thermaltake had no issue delivering reliable power to the hardware. On to the conclusion.
conclusion
Costing $249, the Thermaltake Tough Power XT 850W PSU is certainly not a cheap PSU. There are plenty of 800W+ PSU's you can find under the asking price of this PSU. The thing is, you won't find many ATX 2.3, 80 PLUS Bronze certified PSU's under $249. So this is where we ask you readers to consider reasons for upgrading your PSU. If your moving to a multi GPU setup or have a ton of peripherals to power, this PSU may be the perfect PSU for you. If not, we recommend thinking about your upgrade path.
If you see yourself utilizing multiple video cards or dual GPU cards, and/or multiple hard drives, definitely keep this PSU in mind. It has some of the smallest voltage variation that we've seen, it has the FanDelaySwitch to continue cooling the PSU even after powering off your machine, and it also has the unique S.P.T. Indicator lights. $249 isn't a lot of money when your going to be powering and protecting your $1,000+ machine. This PSU is as solid as they come.
 
OUR VERDICT: Thermaltake Tough Power XT 850W PSU
| | |
| --- | --- |
| Performance | 9 |
| Value | 8.5 |
| Quality | 8.5 |
| Features | 9 |
| Innovation | 8.5 |

We are using this scale with our scoring system to provide additional feedback beyond a flat score. Please note that the final score isn't an aggregate average of the rating system.

Pro
Cons

Very little variation between idle and load voltages

Quiet Fan

Only the 24 pin cable is connected to the PSU

FanDelayCool Switch allows the fan to cool the PSU after shutdown

S.P.T. Indicator LED's allow you to check the PSU's status

ATX 2.3 – 80 PLUS Bronze

S.P.T. Indicator LED's may be hard to see in some cases

Cable sleeving is a little stiff

A little expensive for 850W

 
Summary: The Thermaltake Tough Power XT 850W PSU is a solid PSU that delivers smooth power and has features other PSU's lack. Keeping things very modular with only the 24 Pin cable being attached, having a delayed fan switch to cool the PSU down after use, and having status LED's are all things expensive PSU's should include. Being ATX 2.3 and being 80 PLUS Bronze certified, multi GPU setups and heavy peripheral users will have confidence when using this high quality PSU from Thermaltake.