Vision Tek has brought to us an incredible video card. We all that it can perform very well. the next question is how does it handle when we add another for some Crossfire action? Step inside and see how the HD4770 does.
Introduction
Since the HD4770 video card has come out, most of us have been amazed at the sheer, raw performance this little video card came with." To top that off, the pricing of this video card sits in a perfect spot for those who needed a video card to be able to play today's games with out sacrificing too much as far as visuals.
If you have not already guessed, this review is based upon one of them great performing video cards the HD4770. This time aroung though, I will not be just using one HD4770 (VisionTek's). I will be pairing this HD4770 with another HD4770 video card from Sapphire. And see how these two video cards stck up in some Crossfire action.
Let's meander downstairs into the "Dungeon", pair up the two HD4770's, throw them in an already proven machine ("Mini Me"), start up the benchmarks and watch the sparks fly.
I bring forth the, VisionTek HD4770 video card.
SPECIFICATIONS
Key Features

512MB GDDR5 memory
DirectX® 10.1 support
24x custom filter anti-aliasing (CFAA) and high performance anisotropic filtering
Quad mode ATI CrossFireX™ multi-GPU support for highly scalable performance1
PCI Express® 2.0 support
Dynamic geometry acceleration
Game physics processing capability
ATI Avivo™ HD video and display technology2
Unified Video Decoder 2 (UVD 2) for Blu-ray™ and HD Video
Accelerated Video Transcoding (AVT)
DVD Upscaling
Dynamic Contrast
Built-in HDMI with 7.1 surround sound support
Dynamic power management with ATI PowerPlay™ technology2
ATI Stream technology2

Supported configurations  

Single DVI-D
Dual DVI-D
HDMI (video and audio) via adapter
Single VGA (via adapter)
Dual VGA (via adapter)
S-Video/RCA (cable sold separately)
Component HDTV
Hardware crossfire (crossfire cable sold separately)

 

Supported Operating Systems

Windows Vista (all versions)
Windows XP
Windows XP Media Center Edition

System Requirements

PCI Express® based PC is required with one X16 lane graphics slot available on the motherboard
450 Watt or greater power supply with 75 Watt 6-pin PCI Express® power connector  recommended (550 Watt and two 6-pin connectors for ATI CrossFireX™ technology in dual mode)
Card will occupy (2) chassis expansion slots
Certified power supplies are recommended.  Refer to http://ati.amd.com/certified PSU for a list of Certified products
1GB of system memory
Installation software requires CD-ROM drive
DVD playback requires DVD drive
Blu-ray™ / HD DVD playback requires Blu-ray / HD DVD drive
For a complete ATI CrossFireX™ system, a second ATI Radeon™ HD 4770 graphics card, an ATI CrossFireX Ready motherboard and one ATI CrossFireX Bridge Interconnect cable per board are required
As we can see this is identicle to most of the HD4770 video cards out there.
COMPariSON
Specifications
 
HD4670
HD4870
HD4850
HD4770
9600GT
Processing Cores
 320
 800
 800
640
 

64

Core Clock
 750
 750
 625
750
 

650

Shader Clock
 750
  750
 625
750
 

1625

Memory Clock (effective)
 2.0
 3600
  1986
3200
 

1800

Memory Interface
 128 bit
 256 bit
 256 bit
128 bit
 

256 bit

Memory
 512MB/1GB GDDR5
 512MB/1GB GDDR5
 512MB GDDR3
512MB GDDR5
 

1024MB GDDR3

Fabrication Process
 55nm
 55nm
 55nm
40nm
 

65nm
This table is Just a quick reminder of what the HD4770 has. As far as shaders, clock speeds, memory size, and type.
Packaging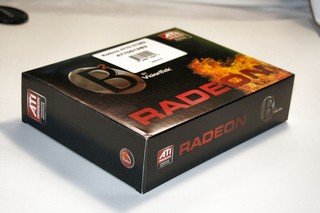 We need to start off somewhere, so lets begin with how VisionTek packaged up their HD4770 video card. Other then the white sticker in the upper portion of the box, we have no idea this is a HD4770 video card.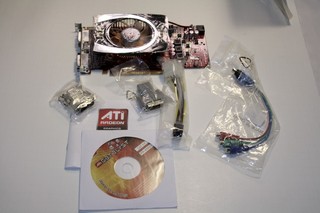 Here is everything included laid out.
One HD4770 video card
DVI to D-SUB adapter
DVI to HDMI adapter
Two molex to One PCI-E power adapter
HD S-Video adapter
Installation manual
One driver disk
What, no internal crossfire ribbon? Well looks like I have to dig up one of my many internal ribbons to run two of these together.
Overview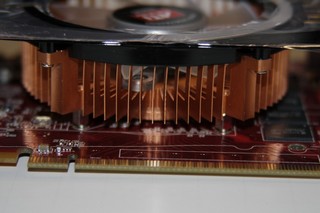 We can already tell the heat sink that VisionTek used to cool the HD4770 video card is the reference radial design.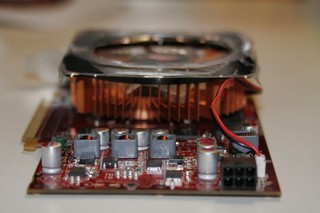 Looking at the front of the video card. We need to use one PCI-E 6 pin power plug to properly power this card up.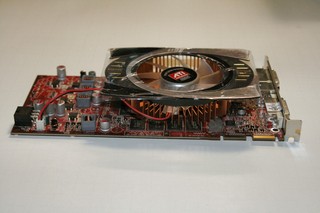 Up towards the rear of the HD4770 video card uses 2 crossfire interconnects. If you plan on using crossfire you will need to hook up both ribbons. I still am confused why VisionTek did not include one in with this video card
Up close shot of the two internal crossfire connectors on the HD4770 video card.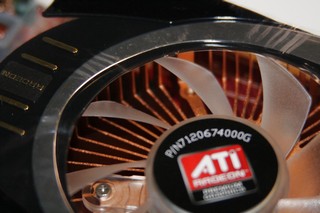 Looking through the blades of the fan. This heat sink is designed good, as the fan should not be restricted.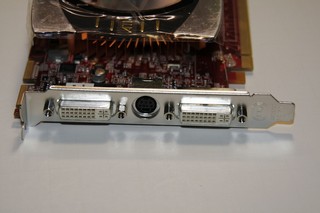 Looking at the two DVI ports and the one S-Video ports on the rear IO back plate.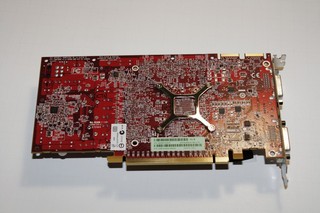 A quick look at the backside of the VisionTek HD4770 video card.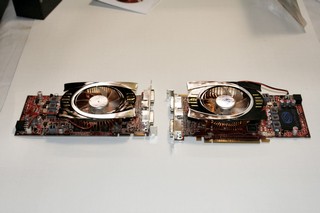 The two HD4770's put next each other. The HD4770 video card on the right is a Sapphire (Review can be found HERE). The left side is the VisionTek HD4770. Other then a couple of minor difference these two video cards are identical.
The money shot. This video card is so begging for a good work out. Who am I to deny such a challenge.
Installation
Here are both of the HD4770's in Min Me and dressed to kill. So who am I to deny such a request?
TESTING METHODS
Test Setup &Testing Methodology
CPU
Intel Core i7 920 C0 @ 3.990
Motherboard
MSI X58 Platinum
Case
Case? what Case? Who uses a Case?
Memory
GSkill Trident 2k
Video Card's
XFX 4870X2, HIS 4870, 2 HD4770
Hard Drives
 2 x Seagate 320 Momentus Raid 0, 1 WD 160 gig
CDRom Drive
Lite On DVD burner Lite On Blue Ray
Power Supply
So Secret I have to Kill ya if i told ya
CPU Speeds Used
3990Mhz
Operating System Used
Microsoft Windows Seven 7100 RC1
Type of Software Used During Testing
3DMark Vantage, World In Conflict, Company Of Heroes, Far Cry 2, Mirrors Edge, Hawx
Video Card Cooler

Koolance Cooled, Stock
CPU Cooler

Koolance 340 CPU



For my testing methods, I will run the above listed benchmarks. A minimum of three runs per benchmark to ensure that my readings were consistent and that no erroneous readings were present. I will be comparing this video card with a 285GTX, HD4870. I also will include the Crossfire HD4770 run. The only resolution I will be using is 1680 x 1050 as this puts quite a bit of the load directly onto the GPU also ensure that my frames rates were at least playable. The visual settings on each benchmark were set to their absolute maximum. With the exception of 3DMark Vantage I used the default Performance setting.
I will be adding two extra benchmarking runs but these will only be in DX 10.1 mode. The only video cards used here were the HD4870, HD4770, also Crossfired HD4770. The games I chose for this tasking is Hawx, and Stalker Clear Sky. Stalker Clear Sky I will be using screen shots instead of trying to chart this particular benchmark.
To keep things as simple as possible, I am not going to include the second HD4770 (Sapphire) in with the benchmarks. The performance was nearly identical to the VisionTek HD4770 video card. While running the two HD4770's in Crossfire these cards will not be overclocked.
HellFires ANd Damnation (Overclocking)
Since RivaTuner does not actually recognize the HD4770 video card. I needed to apply a "workaround" to get Riva Tuner to overclock this video card. I made a quick get away over to Legit Reviews (HERE), located their how to get Riva Tuner to properly overclock the HD4770 video card (located HERE). Better give credit where credit is due. So a thank you to Legit Reviews (again) for coming up with this workaround.
Using that guide I was able to bring the VisionTek HD4770 video card up to a staggering 900MHz core clock speed and a 1000MHz memory speed with ease. I tried to go a little higher but I was being greeted with either, The Display Driver has stopped responding bit or a complete lock up of the computer. Considering I started off with a mere 750MHz core 800MHz memory speed, I figured the current overclock I had was perfect.
Temperatures
I had a PCI-E Creative X-FI sound card in between the two video cards. This arrangement I had with these two video cards including the sound card, gave me very little airflow to the Vision Tek HD4770 video card. I did use a 120MM fan and placed it on top of the three expansion card's to help compensate for this. So your temperatures will very greatly from my own.
This is the VisiosnTek HD4770 temperature while at stock clock speeds after a good solid run with Stalker Clear Sky. Considering the X-FI sound card was sitting extremely close to this video card having 62°C full load was not all that bad.
3dmark vantage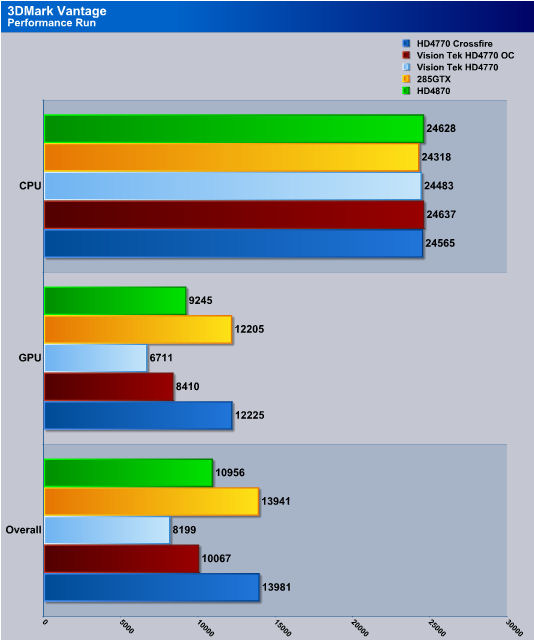 Looking at the GPU portion of 3DMark Vantage. We see the single HD4770 video card perform fairly well, for default clock speeds of 750MHz GPU/800Mhz memory. But by ramping up the clock speeds to a 900/1000MHz the HD4770 literally takes off and starts to rival my HD4870. By pairing this video card with another HD4770 they easily catch up to the 285GTX video card.
I am going to be mentioning the minimum frame rates throughout out the gaming sequences, as this is the frame rates that will make or break enjoying the game.
world in conflict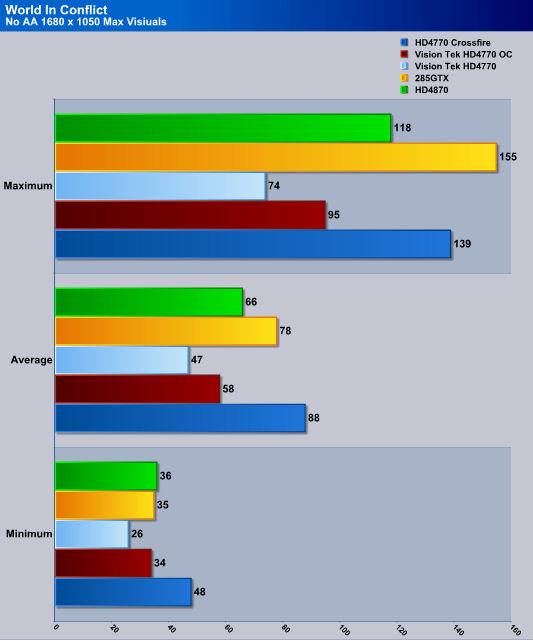 Looking at the minimum frame rates, the default clocked HD4770 barely pulls a playable frame rate. (optimally we want 30FPS) 24 is playable. Overclocking the HD4770 video card really increased the frame rates to the point it caught up to the 285GTX and the HD4870 video cards. Adding a second HD4770 further increased this gap between the 285GTX and HD4870 video cards.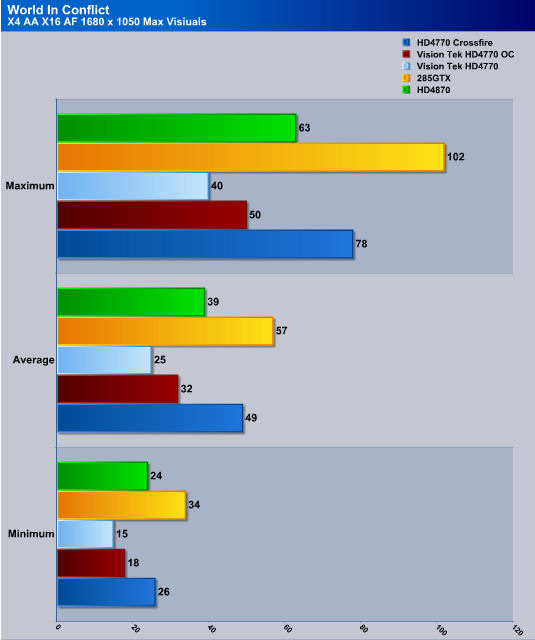 Turning on the AA the only video card that could be playable optimally was the 285GTX.
company of heroes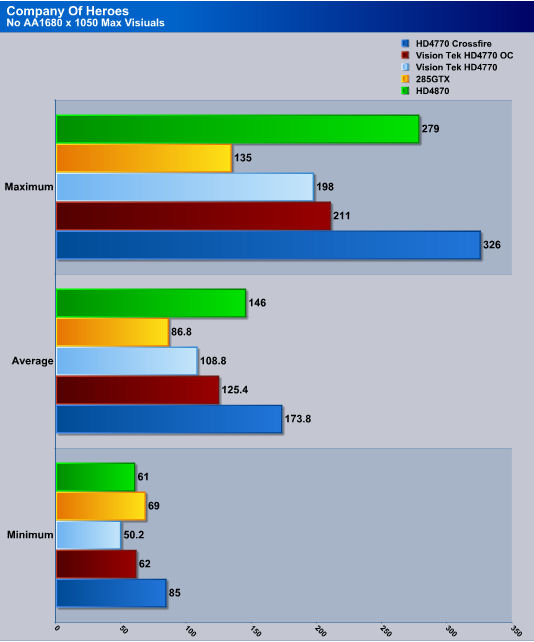 COH plays well no matter what we have as a video card.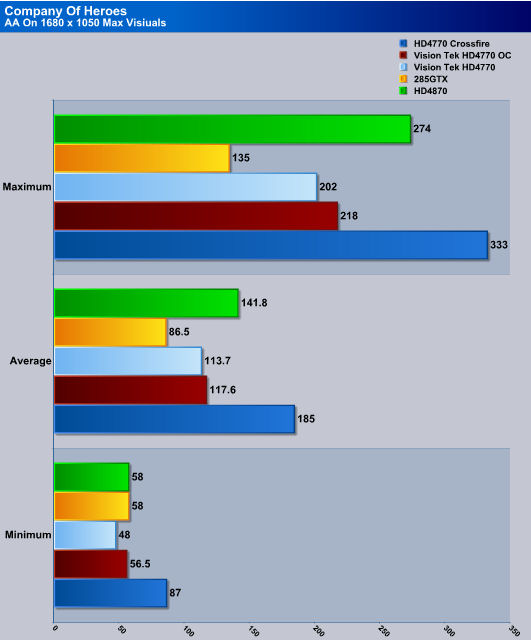 Even applying AA the HD4770 still manages to easily handle this game.
Mirrors edge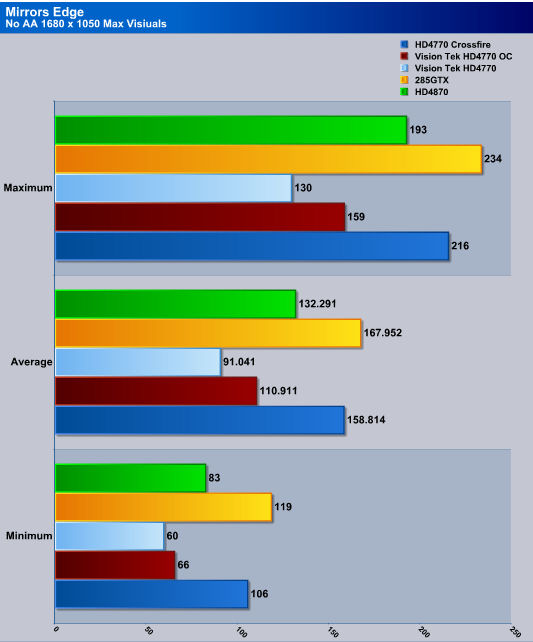 Mirrors Edge may not be a very demanding game in our arsenal of benchmarking programs. But it is sure pretty to look at, and awesome to play. There's just something about a hot Asian female running on walls jumping from building to building. On this game we managed a great frame rate of 60+. Overclocking this little video card did not quite yield us the increase of frame rates to justify overclocking.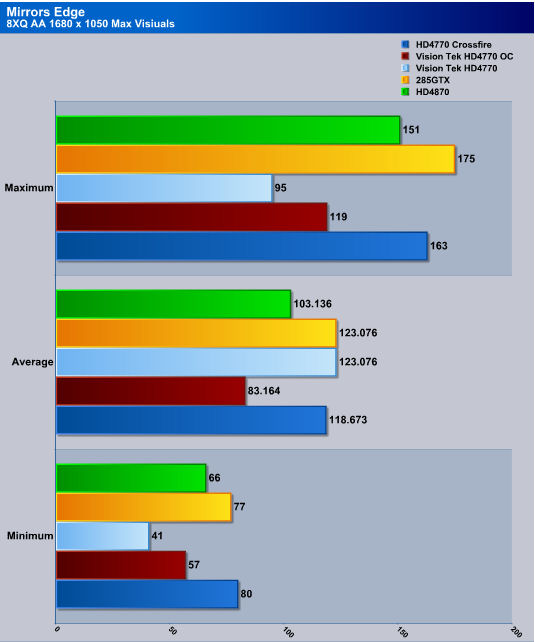 Cranking up the AA to 8XQ still could not bring the VisionTek HD4770 to its knees.
Hawx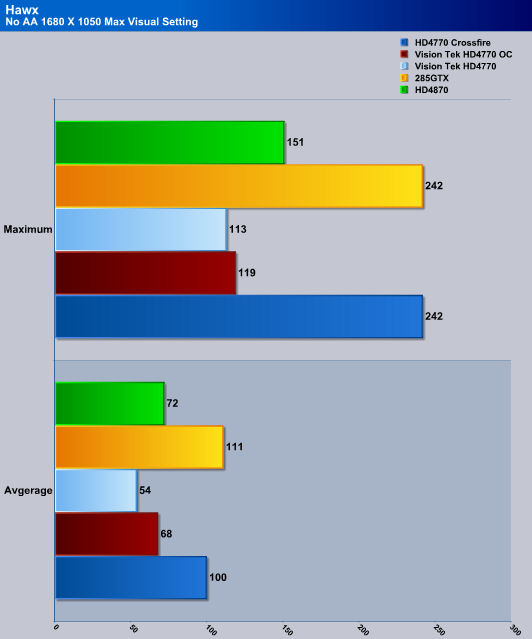 If you like to fly around and blow things up and not have to worry about landing, then Hawx is the game for you. Gaming in Hawx the HD4770 still managed to pull some decent frame rates. By adding two HD4770's almost gave us a 100% increase in frame rates in the average portion.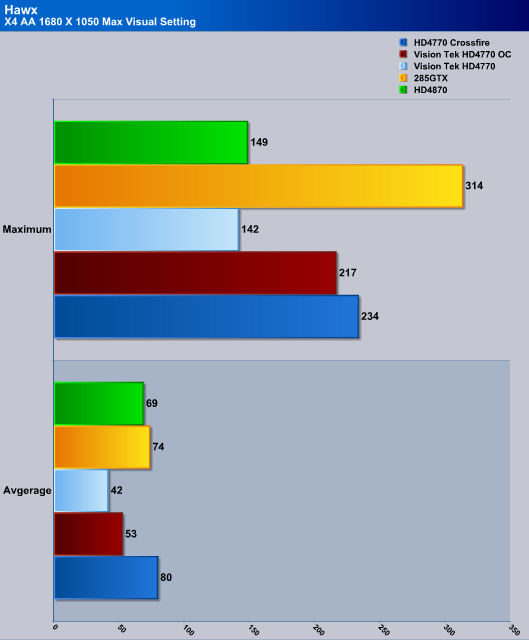 Even upon increasing the AA level to 4X the HD4770 manages to keep its head above water.
Far Cry 2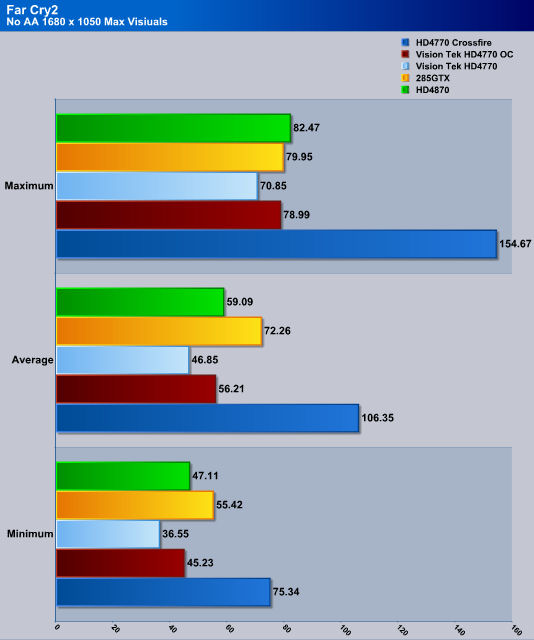 Far Cry 2 Is an all out ruthless game in terms of performance measuring. This benchmark really shows us what the HD4770 is made of. The VisionTek HD4770 still manages a 30+ frame rate, overclocking the HD4770 does give us a performance boost. Adding a second HD4770 catapults us to new levels of performance from these video cards.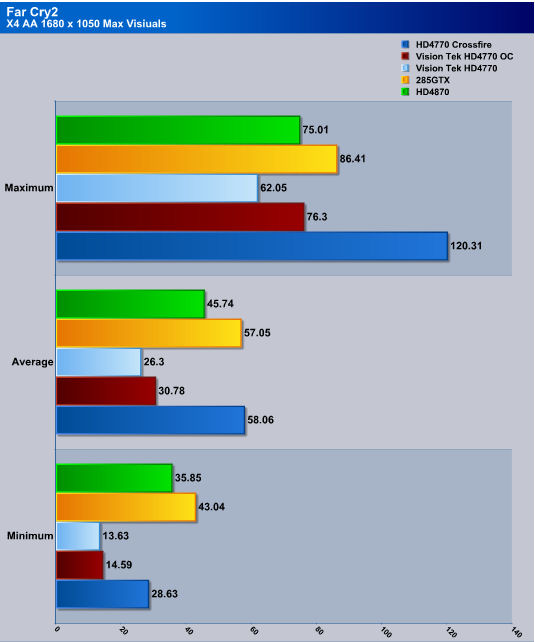 Adding 4X AA. Brings the performance of the HD4770 to its knees. Even Crossfiring the HD4770's barely puts in a decent frame rate.
Direct X 10.1 Testing
This portion is Just the capabilities of the HD4770 video card. Nvidia has PhysX, ATI has Direct X 10.1. Both of these types of capabilities and are being implemented in several games. I am going to use only a couple of Direct X 10.1 capable games that I have right off hand. Those games are Stalker Clear Sky, and Hawx. Again this is just for a reference use only.
I only did a No AA maxed visual quality @ 1680 x 1050 resolution.
Stalker Clear Sky
For Stalker Clear Sky I just took screen shots of the VisionTek HD4770 video card, including a Crossfire HD4770's benchmark run. I also did a benchmark run on the HD4870 video card for comparison reasons.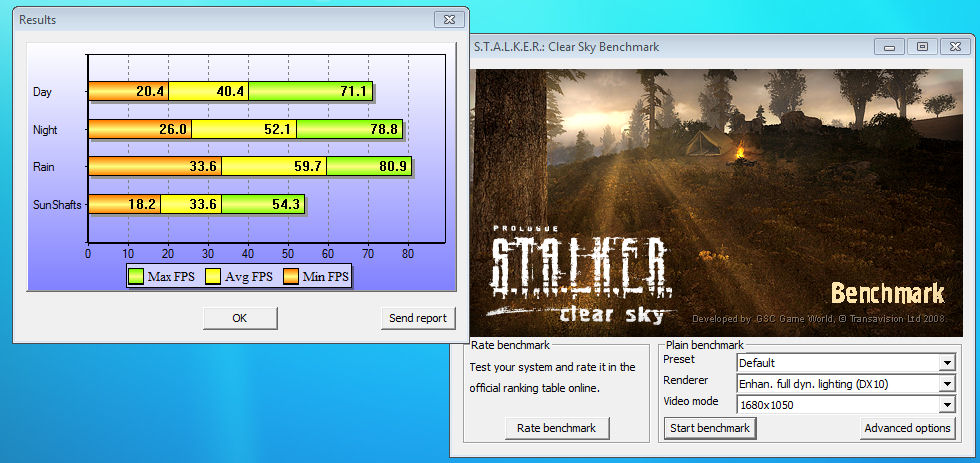 This is a default single benchmark run with the VisionTek HD4770 video card. This benchmark just gives the HD4770 a good work out.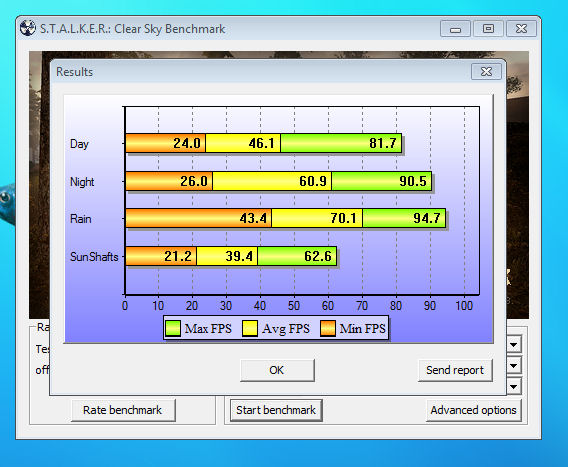 Upping the clock speeds to 900/1000 MHz does gives a bit more of an performance increase.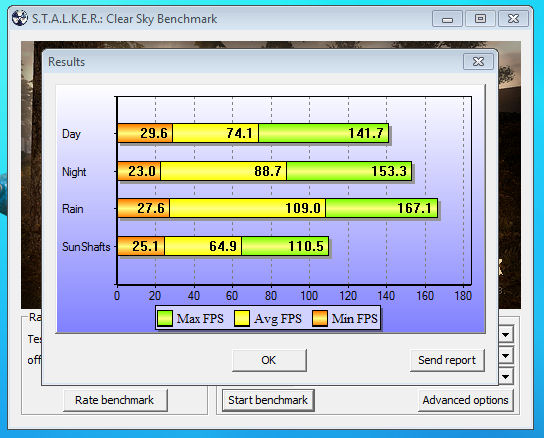 Crossfired HD4770's.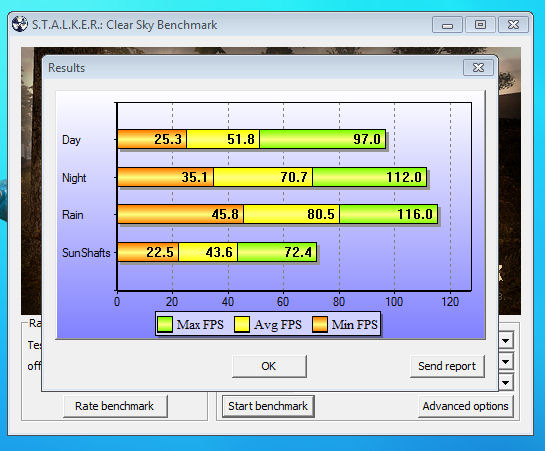 The HD4870 turn at the wheel while driving Stalker Clear Sky in Direct X 10.1.
Hawx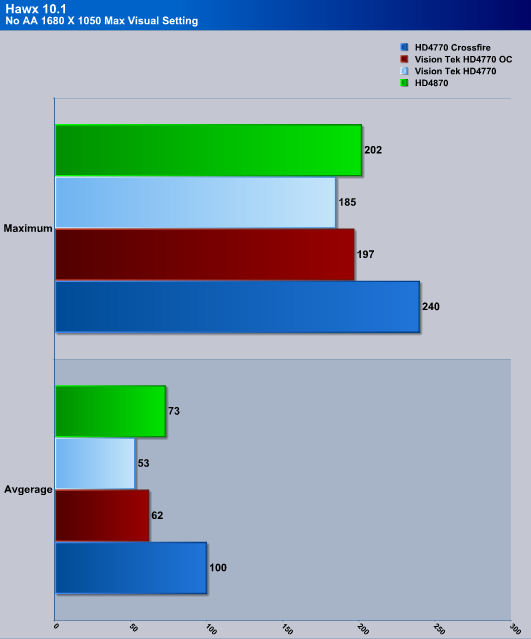 It is nice to know that the VisionTek can handle Direct X 10.1 with ease.
COnclusions
Now that I have had my fun with the VisionTek HD4770 and pairing it up with another HD4770 for some Crossfire it is time for myself to wrap things up about this video card.
My time spent while using the HD4770 re-affirms that this little mid range still has what it takes to play today's games with ease also with out making to many sacrifices to our visual settings. By adding a second HD4770 on the most part gave an already great performing video card by making it perform even better.
Unfortunately in the harsh reality of things, It is still very limited when rendering AA in these newer games. With ATI dropping prices on their higher end video cards down to levels where almost just about anyone can afford them outshines the HD4770 pricing vs performance ratio. This HD4770 video card can be bought for around 100 USD, the HD4870 same manufacturer (VisionTek) can be bought for around 140 USD. With this in mind, The VisionTek HD4770 gets put in a place for those people who cant squeeze that extra 40 USD for an even more powerful card that can render AA, or for those who already have a HD4770 and wanting that extra little kick from their gaming experience.
The one area these little video cards do extremely well in. Is there ability to overclock like mad and run extremely cool while doing so.
Performance 9
Value 8
Quality 10
Warranty 9
Features 7.5
Innovation 8
Pros:
+Great overclocking ability
+Runs cool
+Small form size
+Good scaling when using two video cards in Crossfire
Cons:
– Price is a tad high considering a 4870 can be bought for 40 USD more.
– No Crossfire ribbon included.
The VisionTek HD4770 video card performed flawlessly. It has respectfully earned a 7.5 out of 10 and a: