Kingston's SSDNow V 128GB Laptop Upgrade kit is an easy to use kit that allows you to clone your existing HD and leaves you with an external HD enclosure for the old HD.
INTRODUCTION
SSD's are an important evolution in the computer hardware field, offering greater reliability, no moving parts and higher transfer speeds. The hold back on SSD's has been price, with an unfavorable price per gigabyte ratio they have been slow in gaining mainstream acceptance.
Many laptops heading out the factory door don't have very good hard drives in them, sure they work but the performance we've seen on them is fairly low. Much to our horror we saw 30MB/s on the Toshiba Satellite we use around the lab. Right out of the factory spanking new they tossed a Hitachi Deskstar 120GB HD that averages 30MB/s in a decent laptop with 4GB of ram and a T5300 Intel Dual Core processor.
So how do we eliminate that bottleneck and still keep months of data and work intact without having to reinstall the OS, move mounds of data, reinstall the programs to use the data. A task that has taken a couple of days in the past now a simple easy to use kit offers to alleviate all that headache. Count us in we've got to see this.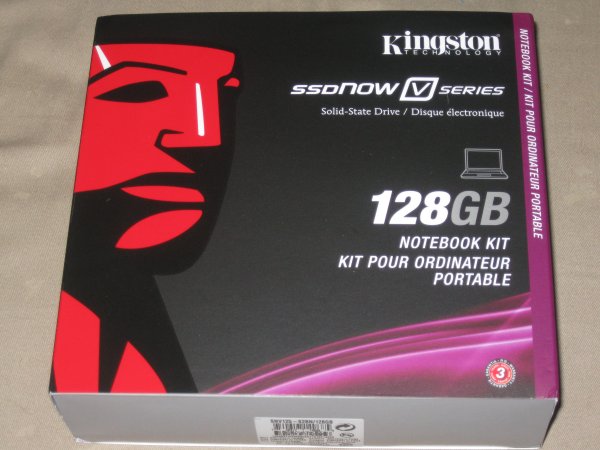 Laptop Hard Drive Upgrade in a box, designed for the average computer user and not the $100 an hour tech at the local computer shop. Kingston has definatly gone the extra mile with this one.
Kingston Second Generation SSDNow V+ Series:
Kingston Second Generation SSDNow V+ Series Bundle Kits:
FEATURES & SPECIFICATIONS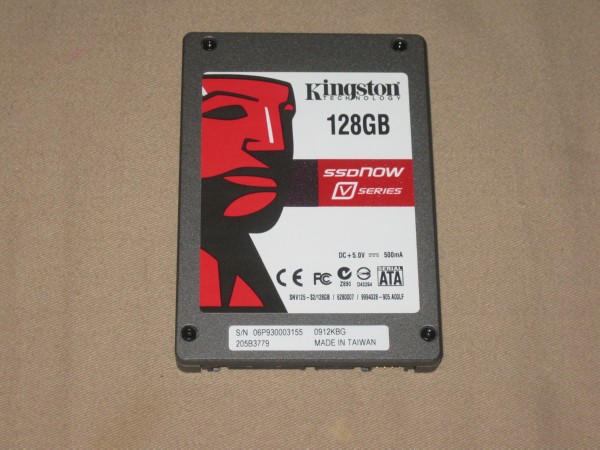 Features
Fast – up to 100MB/sec. read; 80MB/sec. write**
Performance – enhances productivity; makes users more efficient
Innovative – 2.5″ form factor; uses NAND flash memory components.
Silent – Runs silent and cool with no moving mechanical parts
Reliable – less likely to fail than a standard hard drive
Shock Resistant – No moving mechanical parts so the SSD handles rougher conditions.
Supports S.M.A.R.T. – Self-Monitoring, Analysis and Reporting Technology tells the user when a drive is about to fail
Guaranteed – 3 year legendary Kingston warranty, 24/7 tech support
Specification
Capacity* – 64GB, 128GB
Storage Temperatures – -40° C to 85° C
Operating temperatures – 0° C to 70° C
Vibration Operating – 2.17 G (7–800Hz)
Vibration Non-Operation – 20 G (20–2000Hz)
Power Specs –128GB Active: 2.5W (TYP) Sleep: 0.45W (TYP) 64GB Active: 2.0W (TYP) Sleep: 0.45W (TYP)
Life expectancy – 1 million hours mean time before failure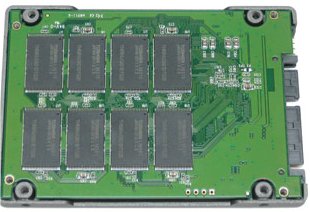 Popping the SSDNow open lets us get a look at inner workings of the drive, when opened we see 8 Toshiba MLC Nand Flash memory chips.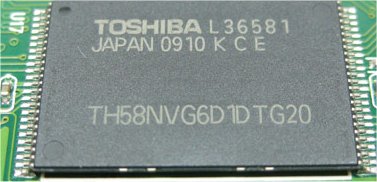 Here's a close up of the Toshiba TH58NVG6D1DTG20 MLC NAND Flash chip used in the SSDNow.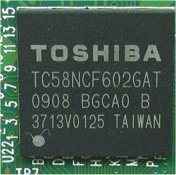 The Toshiba TC58NCF602GAT chip at the center of the drives operation is a reprogrammed JMicron JMF602 controller with the Toshiba name laser etched on it. Kingston and Toshiba have worked closely to eliminate the stutter on this controller and we have a little information from Kingston on the subject.
The controller in the SSDNow V Series upgrade bundle is from J-Micron, even though it says Toshiba on it. Kingston engineers have worked closely with their counterparts at both J-Micron and Toshiba over the past six months on this drive. The controller has gone through several firmware changes and more extensive testing. We have solved the lag and stuttering issues that occurred with earlier solid-state drives using this particular controller. Our tests show the V Series is stable and ready to bring to market. – Kingston PR
We don't expect to see any stutter on the drive during testing, but since this design doesn't use cache to smooth out the data transfer like some drives we do expect to see some variance in data transfer similar to other drives we've seen with no cache working with the controller. With an average of 1.0 Million hours MTBF (Mean Time Before Failure) the drive should long outlast the 3 year warranty Kingston has on the drive.
PICTURES & IMPRESSIONS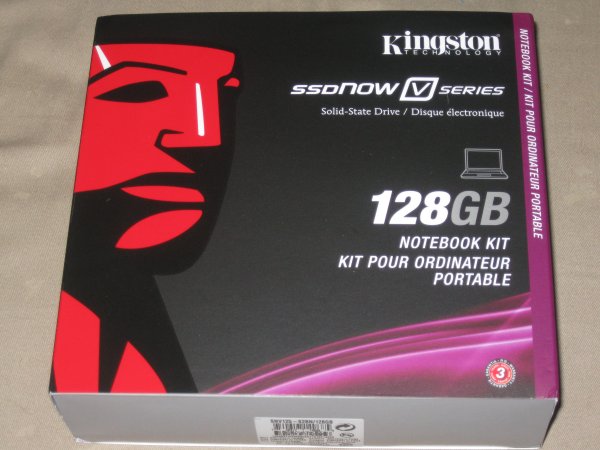 The Kingston SSDNow Notebook kit comes in a nice box with plenty of information and specifications to help inform the consumer about it's purchase.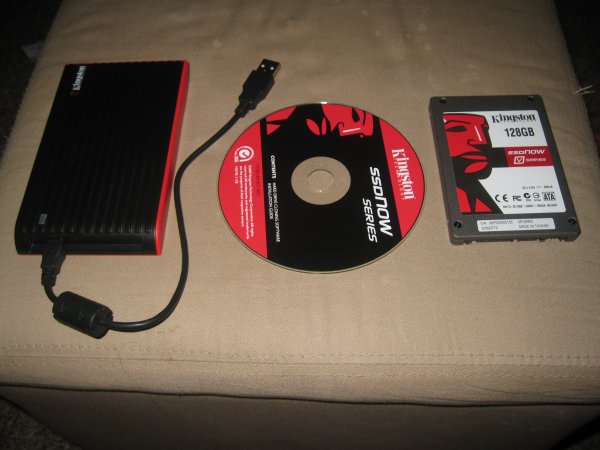 Inside the box you'll find the SSDNow 128GB Drive and the External Enclosure along with on disk instructions and a bootable copy of Acronis. Before we even get started, read the instructions on the disk and you'll find out that the SSDNow gets installed into the Notebook and the Notebook drive gets installed into the External Enclosure.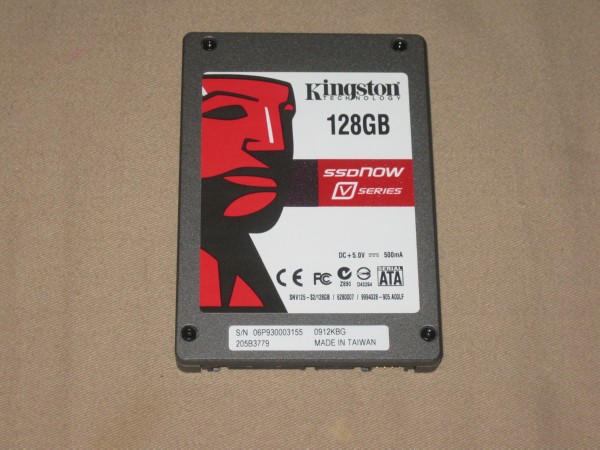 The SSDNow has the typical 2.5 inch form factor and from previous experience we know the size doesn't have much to do with speed. It's a little counter intuitive because we are so geared for larger is better and larger is faster but we assure you in SSD technology size really doesn't matter much. That being said we're hearing about new 32nm drives appearing and this technology is 45nm so we may end up eating those words soon.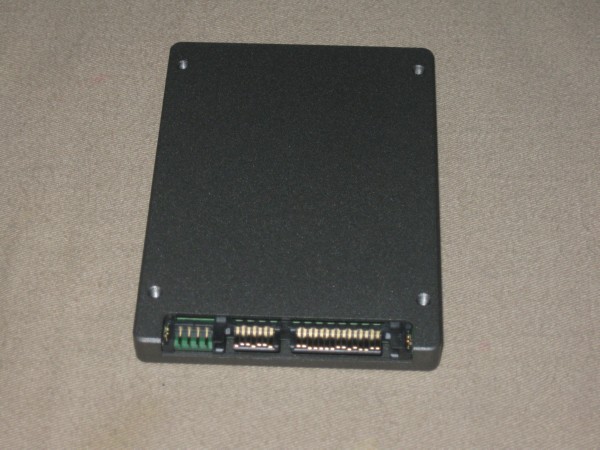 Standard Sata connections show on the back of the drive and the 4 pins to the left are used if you flash the drive's firmware sometime in the future.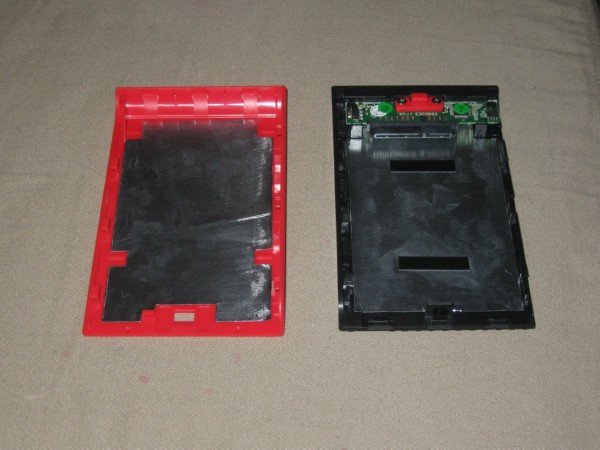 Push the red button shown in the upper right and you can slide the enclosure open about a half inch and the cover lifts off easily.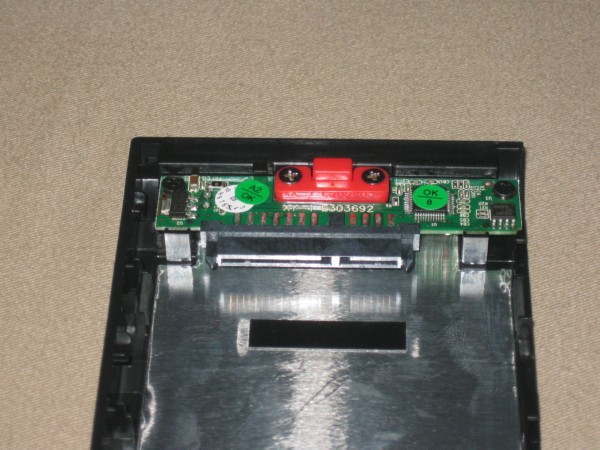 Again standard Sata controller inside the chassis of the external enclosure which is lined with anti-static foil.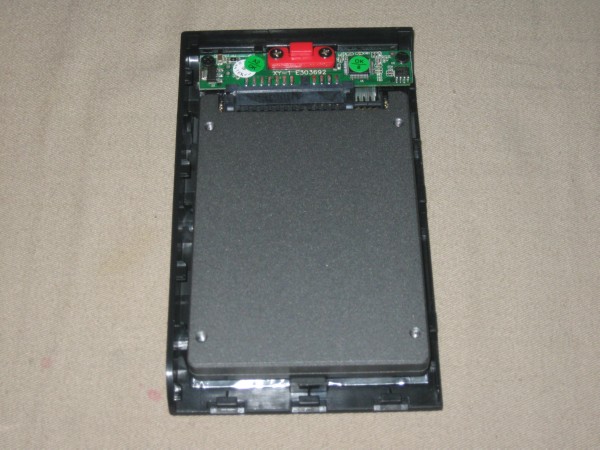 The drive should slide into the enclosure belly up and snap into place very easily. Keep in mind this is just an example picture and if cloning the Laptops existing drive to the SSDNow put the old hard drive into the enclosure and not the SSDNow.
Replace the drive cover and your ready to start the cloning process. Don't mind the small foot in the left hand corner of the picture that's just our 2 1/2 year old lab technician in training getting close to the action.
Cloning The Drive
Cloning with newer versions of Acronis is something we've been doing for a while now to maintain consistency of OS loads for product to product reviews. It took a couple of spare hard drives but now we can load a fresh OS for every review with a minimum of headaches and we are covered in case we run into any happy little overclocking accidents.
Keep in mind that the Bootable Acronis that is bundled with the Kingston SSD can be used for any system with a bootable Optical drive setup. That helps make the SSDNow Notebook upgrade kit a better value just like the inclusion of the external 2.5 inch HD enclosure. Once the laptops old HD is cloned you have a functional external enclosure with the HD you've replaced ready for backup or data storage purposes. With this all in one package smart design we sincerely hope that other vendors have taken notice and will offer similar bundles.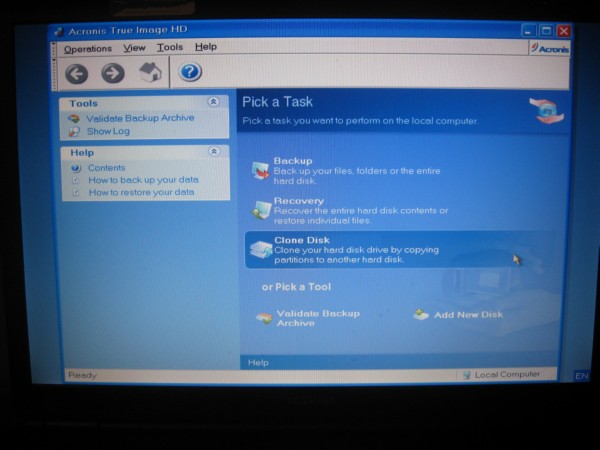 Once you have the SSDNow installed in the Notebook and the original notebook HD installed into the External enclosure put the Acronis Disk into the Optical drive and boot to it. You might have to go into BIOS and set the optical drive as the boot drive or hit a key at startup to go to a boot menu. Once you've booted to the Acronis disk (takes a minute or two be patient) click Clone disk.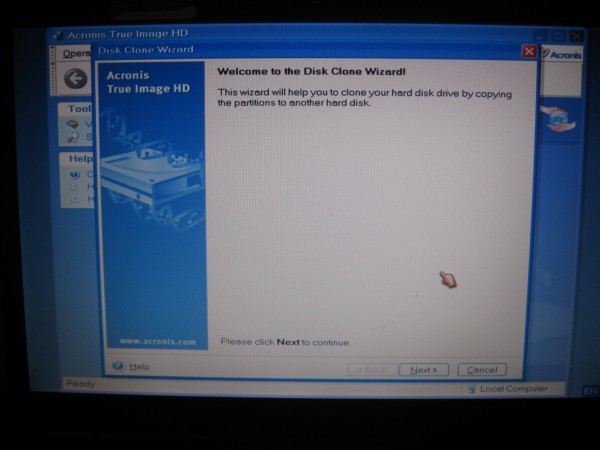 You get a Wizard screen and all you do is click next.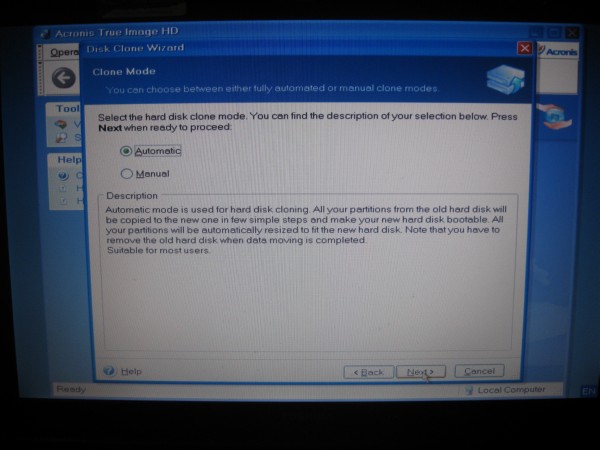 Automatic Mode is your best bet unless you have previous experience with Acronis.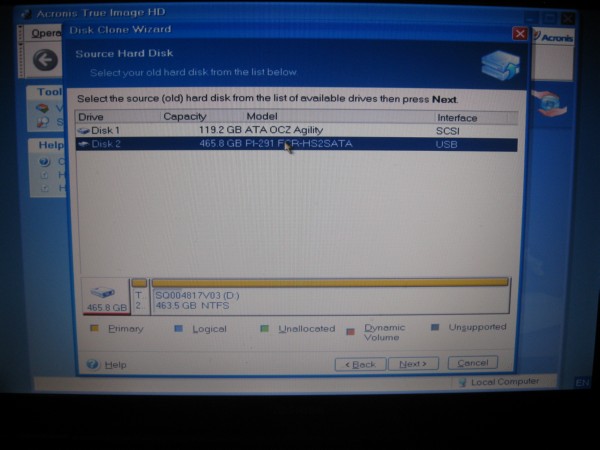 We had already cloned the SSDNow and some emails came in so we didn't want to have files strung across multiple drives and we wanted to show that the bundled Acronis would work with any disk so we shot the pictures with a previously empty drive from another vendor to make sure the Acronis wasn't drive specific. On this screen you select the old HD you want to clone to the SSDNow then click next.
On the Target drive screen select the drive you want to clone to.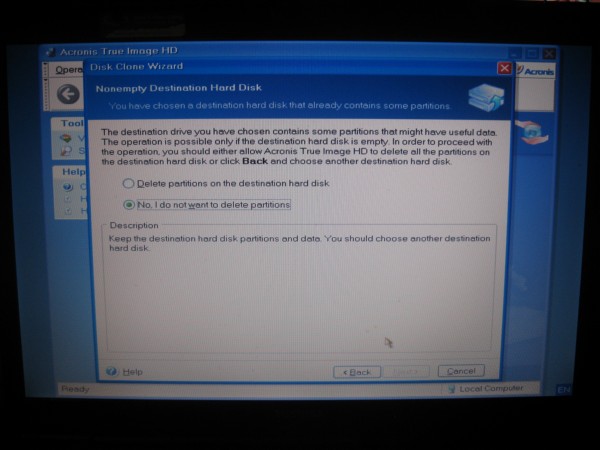 If you have data or partitions on the destination drive you have to choose Delete partitions on the destination hard disk or Acronis will abort. Using the SSDnow kit the destination drive should be blank, but we wanted to make sure this was a full blown copy of Acronis so we made a partition on the destination disk. The included Acronis is a full blown bootable copy which helps make this kit a great value.
You'll get one screen prior to this asking you to confirm your choice of Source and Destination disks. Make sure you have it right or you might be greeted with an error or get the cloning order wrong. Once you've passed the confirmation screen you get to the cloning screen which tracks your progress.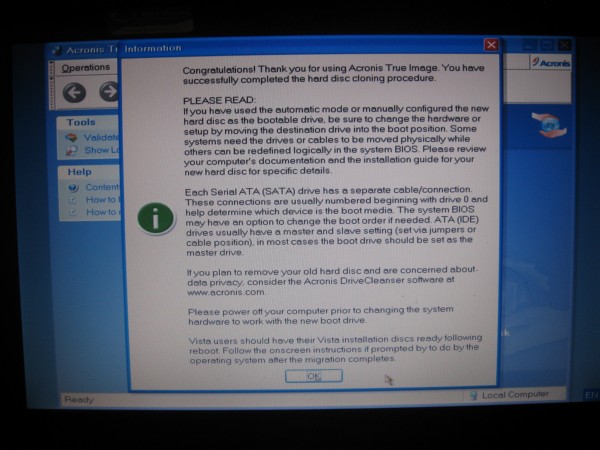 Once the progress bars have stopped the clone is finished and your greeted with the congratulations screen telling you that you have successfully cloned the drive. Cloning was a snap and we cloned 5 or 6 drives back to back with no error.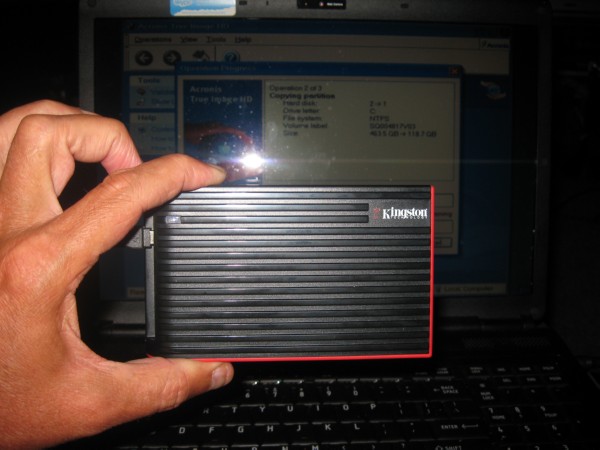 Then we took a shot of the cloning in progress with the Kingston External enclosure in front of the laptop. Total time to clone 45GB of data and files, about 14 minutes. We cloned a couple of platter drives we had around the lab just for fun, total time platter drive to platter drive, 29 minutes with the same data set. The drive we cloned to was the origional laptop HD a Hitachi Deskstar 120GB and that should show you the inherent speed increase of the Kingston SSDnow. It took more than double the time to clone platter to platter. Many laptops hit the street with the same model and speed Deskstar, we tested and the 160GB deskstar isn't any faster, so you might want to look into this Notebook upgrade kit, the 30MB/s read and 17MB/s write on the Deskstar was a major bottleneck.
Testing Methodology
Testing on the Kingston SSDNow 128GB Notebook upgrade kit was pretty straight forward. We went through the cloning process and ran the drive in day to day operation for about a week before we started testing. SSD's will get a little degradation in performance so it's better to run the drive and get a little feel for it before testing than to open the box and generate benchmark numbers when the drive is new.
We tested in the lab laptop a Toshiba Satellite with a t5800 2 GHz Core 2 Duo, Vista Home Premium 64bit, and 4GB of ram. For the record it's an L355 model, nothing special just an ordinary work laptop that retails for around $500 unless it's tax time then a certain retail store (that shall remain nameless coughwalmartcough) will charge $600 in a minor tax time price gouging practice they're known for.
We ran our normal suite of test software, HD Tach, HDTune Pro, Crystal DiskMark, and ATTO. We're looking into expanding that test suite with a few new utilities so keep your eyes open for that. We ran the tests 3 times and picked the median results to post screen shots of here. From test to test we generally only saw about 1 – 2MB/s difference so any of the screen shots would have been good.
Results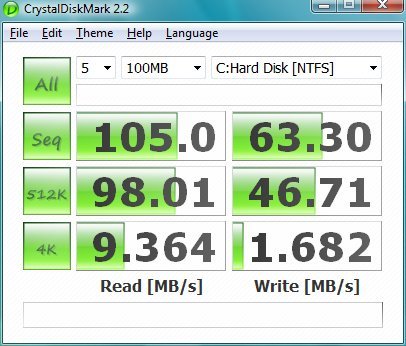 Rated to run up to 100MB/s read in Crystal Diskmark the SSDNow managed to beat that by 5MB/s and came in at 63.30MB/s Sequential. It's rated at up to 80MB/s write but that's dependent on the test and data size parameters. The 512k test slows drives down a little but not much on the read portion, the write portion of the 512k test shows us hitting 46.71MB/s. The 4k test which is brutal on drives of any type shows 9.364MB/s Read and 1.682MB/s write. Being a Value based drive with a Toshiba/JMicron controller and no cache to service the controller this is well within nominal speeds for the drive.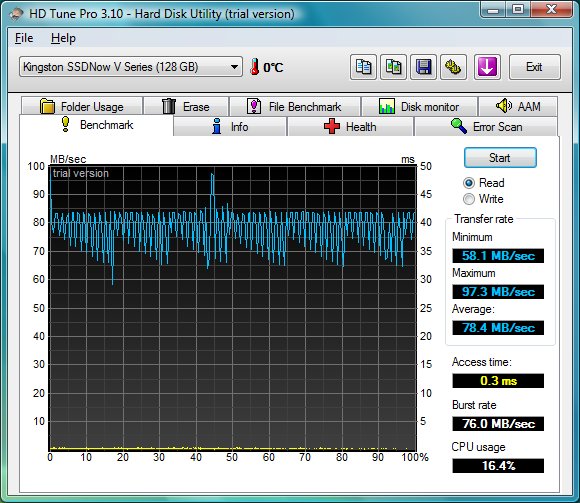 Maximum read speed on the SSDNow was 97.3MB/s, average speed is 78.4MB/s and Minumum sped is 58.1MB/s with an access time of 0.3ms. Burst rate comes in at 76.0MB/s and total CPU useage at 16.4%. No attempt was made to minimize CPU useage and laptops are notoriously loaded with half a ton of background tasks running. That's more realistic to show you what you can expect on your average end users laptop than running a stripped down bootup. Notice the up and dwn movement of the speed, this is typical of Value based SSD's that don't utilize cache to service the drive controller. Still compared to the 30MB/s we were getting from the Deskstar we're seeing about 2.5 times the speed delivered more consistently than the now retired Deskstar. Combined with the 0.3ms Acess time which was 14ms or higher on the Deskstar the SSDNow gives the laptop a lot snappier feel.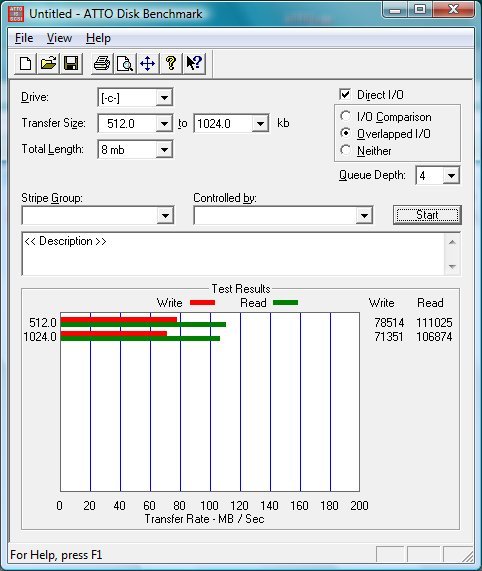 When we get to ATTO we used the standard lab testing settings we use for all drives. Read speeds exceeded the advertised 100MB/s and Write speeds approached the advertised 80MB/s. Pretty impressive for a Value based SSD.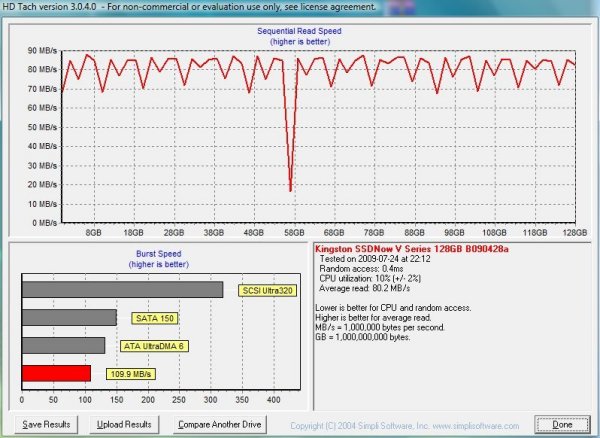 Then we get to the last test HD Tach.In HD Tach we averaged 80.2MB/s and the burst speed came in at 109.9, CPU utilization was at 10%, and the access time was at 0.4ms. We see one momentary drop in speed which probably happened when one of those pesky background tasks hooked an interrupt with a priority task.
CONCLUSION
The Kingston SSDNow 128GB Notebook upgrade kit retails for about $219.99 (at time of post) and includes the SSDNow 128GB drive, the External Enclosure, and a bootable Acronis that can clone any drives you need cloned. Figuring that the typical Drive enclosure runs in the $25 to $30 dollar range, then tag a little shipping on, and a copy of Acronis will set you back $39 the value added bundle with the SSDNow is worth about $64 (USD) shipping not included. So the drive minus the value added bundle comes in at $155.99 a pretty reasonable price for an entry level SSD. The $219.99 kit cost leaves you with a faster Notebook, an external HD ready for backups or data storage, and a copy of Acronis. Unlike a lot of bundles which end up in a drawer somewhere this bundle should serve you well on a day to day basis.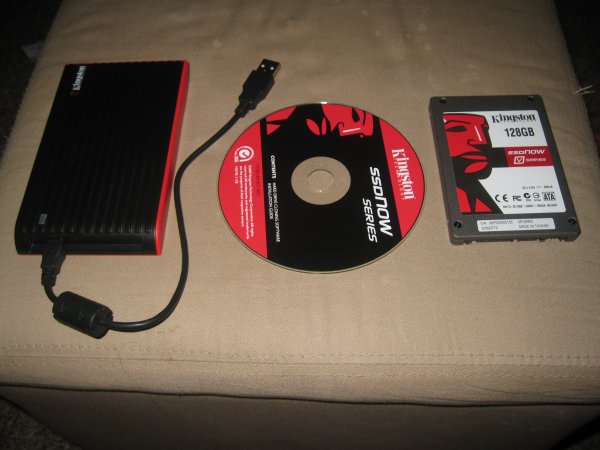 The SSDNow Notebook upgrade kit was a good idea that needed to happen, the ease of the upgrade was a snap and we would expect just about anyone to be able to do it with no problems. The $219.99 cost is pretty small to rejuvinate a lagging laptop and provided a big boost in bootup time, and snappier operation.
The stutter we saw in earlier JMicron 602 controllers is entirely missing in this updated firmware model. While the SSDNow is a value based entry level SSD it's a very good entry level SSD and anyone looking to get into SSD technology or boost the speed of an aging laptop can't go wrong with the Kingston SSDNow Notebook Upgrade Kit.
We are using an addition to our scoring system to provide additional feedback beyond a flat score. Please note that the final score isn't an aggregate average of the new rating system.
Performance 7.5
Value 8
Quality 9
Warranty 9
Features 8
Innovation 7
Pros:
+  Complete Kit
+  Low Power Consumption
+  Boosts Sagging Laptop Performance
+  No Moving Parts
+  Reliability
+  Good Speed For A Value Based SSD.
Cons:
–  Higher Per Gigabyte Cost Than Platter Drives
The Kingston SSDNow Notebook Upgrade Kit represents an exceptional Value in the SSD arena, it's affordable, you get the complete kit with everything but a screwdriver included, it's easy to use and it provided a nice speed boost to a lagging laptop so it earns a: 7.5 out of 10 and the Bjorn3D Seal Of Approval!

Since the Kingston SSDNow Kit is an exceptional value it also deserves the Bjorn3D Best Bang For The Buck Award!

Kingston Second Generation SSDNow V+ Series:
Kingston Second Generation SSDNow V+ Series Bundle Kits: