NZXT has come up with a fan controller that is easy to use, as well as unique. what makes the Sentry 2 fan controller different?
INTRODUCTION
Since the dawn of the computer era started, the need of fans has become as necessary to use as the heat sinks we use to cool our computer components. As chassis become bigger they are able to handle a larger amount of fans. The need to limit the amount of noise the fans produce has become a top priority for most of us computer users.
Fan controllers are a perfect candidate for us users to help limit the amount of noise these fans make by adjusting the amount of voltage to each fan we hook up therefore dropping the amount of noise that the fans make. Fan controllers also gives us another ability of organizing all of our fan wires in a more organized manner increasing overall air flow in the chassis, at the same time tiding up the interior of our chassis.
NZXT has come up with a rather unique fan controller that not only controls five fans, but also allows us to monitor up to five component temperatures. The Sentry 2 fan controller is a touch sensitive fan controller that allows us to manually adjust the fan speed or allows the fan controller to control the fans automatically in conjunction with the temperature probes.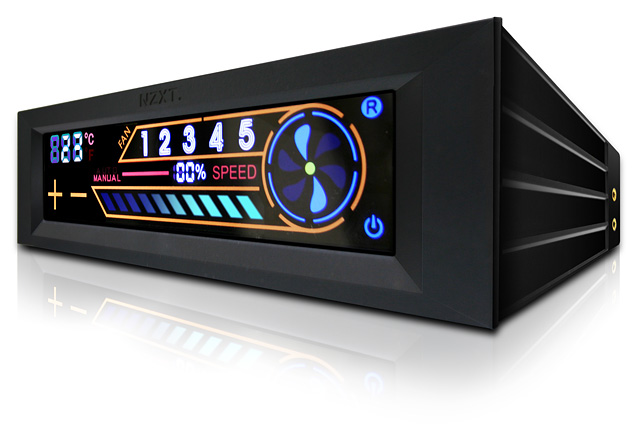 If you have a lot of fans in your computer then a fan controller is an absolute blessing to have.
Features
Touch screen interface
Five fan control through an intuitive interface
Ultra fast selection and response time
Display temperatures in both F and C
Light switch turns off the meter when sleeping
Automatic and manual modes of control
Full compatibility with all types of fans using voltage control
With a minimum of at least 10 Watts per channel, the Sentry 2 will support almost all high end fans
Tuned accuracy with only a tolerance of one degree
Sound alarm to alert when the temperature is over
Stored settings, the Sentry keeps your settings even after powering off
PACKAGING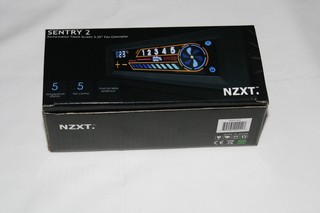 Let's look at the packaging the Sentry 2 came in. NZXT gives us a glimpse of the fan controller and also states this fan controller has five temperature probes, & controls five fans. This fan controller needs an available 5.25″ bay drive in order to mount this into our computers.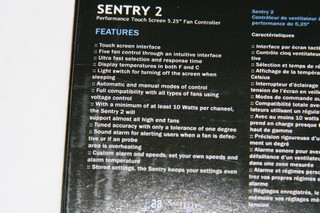 Now I was looking at the packaging, when I flipped the packaging over to its backside, looking at the features of this fan controller, I noticed this fan controller is compatible with all types of fans (well most fan controllers have a 18 watt limitation, basically if your fan pulls more then 1.5 amps on the 12 volt rail then you've gone over the rating of that fan controller). I then looked down one more line and this fan controller has a minimum of 10 watts per fan. Hmmm, that got me wondering about my fans. A quick look at my fans on their amp rating my fans are only 0.26 amps 12 x .026 = 3.12 watts. So what is a reviewer to do? Hook things up and if it goes, it is going in a big ball of flames hehe.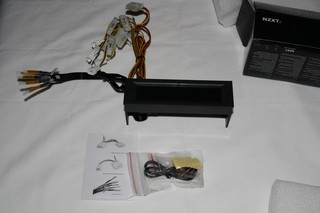 NZXT did a good job securing the Sentry 2 in the box by using foam to completely surround the fan controller (not shown).
What do we get with the Sentry 2 fan controller?
A fan controller
A bag of 4 screws to secure the Sentry 2 into our computers.
Extra set of 2 temperature probes. This is the first time I've actually seen a company give out extra probes. Good call NZXT.
The instruction manual.
The Instruction manual was pretty vague on the use of the Sentry 2 controller. I could not figure out how to switch from Celsius to Fahrenheit or what was the sixth mode did.
OVERVIEW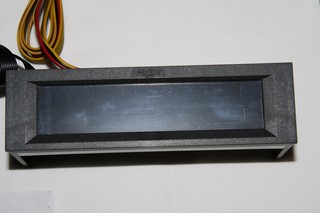 The Sentry 2 fan controller has a plastic cover over the front of it to help keep the screen from getting damaged during packaging. Looking at the Sentry 2 fan controller theres nothing really different from other fan controllers we've seen except of course that there are no push buttons and knobs to turn.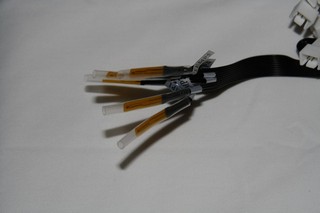 NZXT gives us 5 temperature probes already installed onto the Sentry 2. These probes are pretty long, so we should not have too many issues hooking these up to where ever we need them at.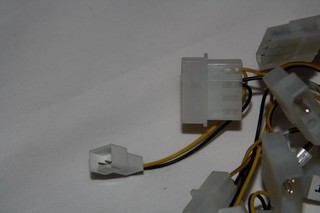 This is one area I think that NZXT could have done a bit better. On the fan connectors NZXT put both molex and 3 pin power for the fans. I would have prefered these be separated from one another. Either go from a molex to a 3 pin power, or vice versa. I forgot to get a picture of the incoming power connector, this is jumbled up with the fan power connectors. Do not get this confused for a fan power connector.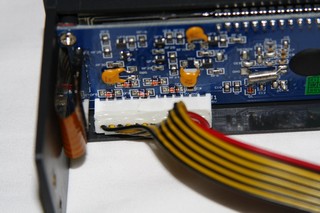 Looking at the back of the Sentry 2 fan controller where the fans get plugged into, these were hot glued into the PCB. This is to keep these into place as we tug and pull on our fan power connectors.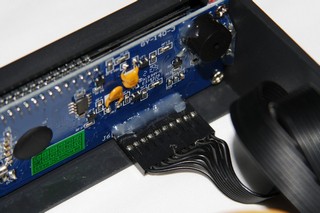 Again on the temperature probes they were also hot glued into place. Now the temperature probes were not separated from each other, in fact they were all part of a single ribbon. You will have to carefully separate each temperature probe from the ribbon to set it where you will need it at.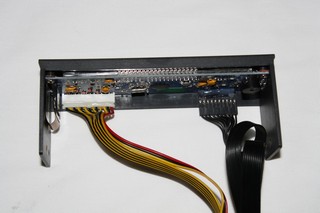 Looking at the back of the NZXT Sentry 2 fan controller one last time.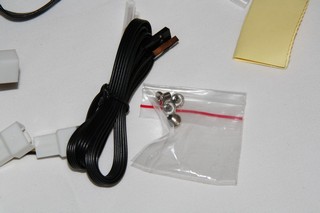 The 4 screws to secure this fan controller to our chassis. Also the extra 2 temperature probes.
INSTALLATION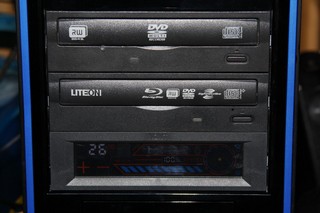 No real need to give an in depth install as things are not much different from installing a CD/DVD ROM drive.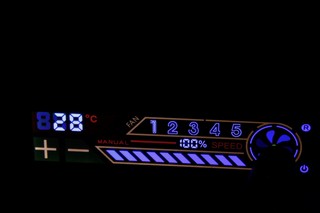 I stuck one of the temperature probes in my mouth to see if they will read. Well, the temperature did go up once it was in my mouth.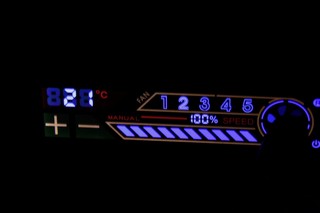 To move from one fan to another fan and or to check on each of the temperatures you just need to touch the big swirling fan on the far right of the Sentry 2 fan controller.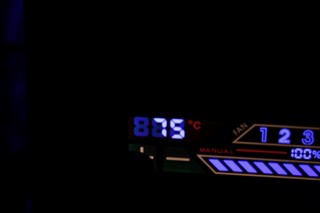 We can set the maximum temperature of the Sentry 2 fan controller to what we see fit. If that component of the computer hits this limitation we set, an alarm will sound. To do this is pretty simple. Just touch the temperature reading once then it switches over to the maximum setting, then just use the +/- buttons to adjust up or down.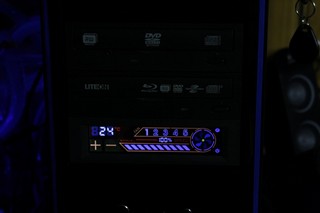 To control a fan is again a pretty simple task. Just touch the +/- buttons on the Sentry 2 to set the desired fan speed. You can adjust each fan from 40% to 100% in 10% increments. Go below 40% the fan turns off. I would like to have seen this controller go from 0 to 100% in 10% increments.
TESTING
To test the Sentry 2 fan controller, I put one of the probes into my mouth to attempt to read my body temperature. I found out I am roughly 36°C (96.8° Fahrenheit). I had a old style thermometer in my mouth as well to confirm the temperature reading of the probe. The temperature reading on the fan controller was with in a degree of the thermometer. It is not an exact science but I found it to be a good way to check my body temperature, the things we do to test products.
For the fan controller bit, I used both a moderate CFM fan and a high flow CFM fan. I used a 92mm Tornado fan for my high end fan  and adjusted the fan speed through the fan controller. The Sentry 2 did manage to drop the fan speed down on the Tornado, but not having any setting below 40% the Tornado fan was still fairly loud. On the other hand a Tornado fan is loud no matter what setting we have it at. I then hooked up one of my LED 72 CFM 120mm fans. The Sentry 2 controlled this fan with pretty good precision, as I would drop the fan speed by 10% ( one touch on the minus button) the fan would decrease as well as the LED would get dimmer. this is where I feel the 40% limit is good, because on a moderate/low flow fan anything below 40% does absolutely no good anyway.
I even tested the auto feature of the Sentry 2. I ended up sticking the temperature probe into my mouth, hooked up the corresponding fan for the temperature probe, fan one to temperature probe one and watched the fan get sped up. As soon as I took the probe out of my mouth and allowed it to cool down the fan would slowly speed down. Well I know my body temperature is high enough to get a fan sped up.
CONCLUSIONS
Fan controllers have become just as unique as our computers. NZXT has added some of the best attributes of fan controllers into one simple easy to use unit. The Sentry 2 is easy to use, has a bright & large enough of a display to read our temperatures quickly and effortlessly. Switching from one temperature/fan control mode to another is as easy as counting 1,2,3.
The only areas I think NZXT could do better in. Instruction manual was not very clear on how to switch from Celsius to Fahrenheit, I still have no clue on how to do this. Also I still have no idea what the sixth mode of this fan controller does. All I know is that it lights up all of the modes 1-5 and the temperature monitor goes blank. Instruction manual does not state what it does or how it goes about it during that mode.
Performance: 8.5
Value: ??.??
Quality: 8
Warranty: 8
Features: 8
Innovation: 8.5
Pros:
+ Easy to use
+ Bright but not overly bright screen
+ Easy to read numbers
+ Touch screen
Cons:
– Instruction manual kind of vague
The ease of installing, & use of this fan controller. Give's the Sentry 2 fan controller a well earned 8.0 out of 10 and a: