Looking for a new power adapter for your laptop? You could pick up an OEM replacement, or you can pick up one with a little added value, the Cooler Master SNA 95.
Introduction
While not in our typical review lineup, a universal notebook adapter is something I've wished I had around from time to time, as I'm sure many of you have as well. One of the advantages of using a universal adapter is always going to be price. Face it, things give out and have to be replaced. OEM products are almost always more expensive, sometimes significantly so.
Granted, power adapters are more common and aren't as bad as some parts, like the hard drive I replaced in a friend's laptop. The manufacturer (I'll leave names out of it, to avoid litigation) wanted $345 plus shipping for the HDD. Nothing special, just a 40GB 2.5″ IDE drive that's 3 years old or so. I picked up a bigger, faster drive online for $59.99, but I digress. The only reason I mention it is to illustrate the cost difference between OEM and aftermarket.
The power supply for our test laptop, which happens to be a Dell, retails for just shy of $70 from their website. While the Cooler Master is priced very close to that particular adapter, it does have some added functionality not offered from Dell, a USB charger built in. It's rather nice to be able to charge any of your USB devices in addition to or in place of your laptop computer.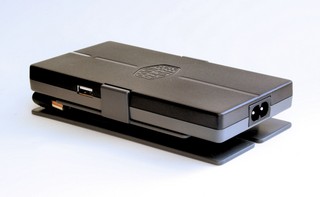 The biggest question we face now is this: Will the SNA 95 deliver enough added value to justify passing over the OEM power adapter? It is sleek, small, and considerably lighter than the OEM version, but we really want to know if it will power our system.
features
While the concept of a universal notebook adapter is not new to the marketplace, the SNA 95 does take a slightly different approach. First of all, I have to point out the USB charging capability. I haven't figured out why more manufacturers don't offer it.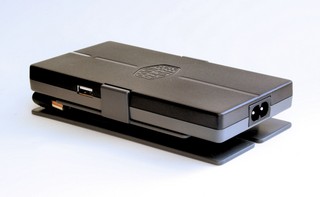 The SNA 95 does offer 9 tips and includes a black storage tray to hang on to the 8 that aren't in use.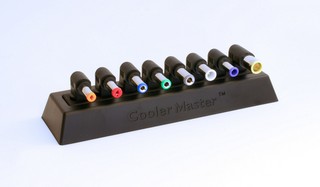 The removable base of the SNA 95 doubles as a cord keeper, allowing you to wind the cable up to keep it from being damaged or just plain getting in the way.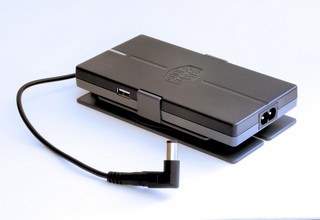 The unit has an LED that is white to indicate the power is on and turns blue to show when the USB charger is in use.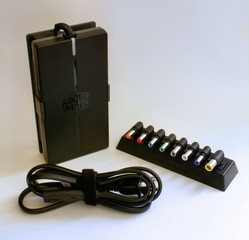 Below is a look at the whole package including the nice little cloth carry bag that came with it.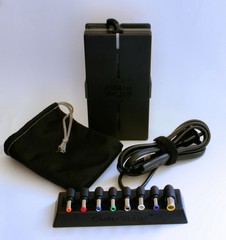 specifications
You do need to be careful when purchasing a universal notebook adapter. Some adapters offer a selectable output voltage, some are auto-sensing, and others still (like the SNA 95) work on one voltage only. 19V is the rated output for the SNA 95 and it will work on anything that uses 18-20Vdc, if your notebook runs on 12Vdc I'd avoid this one. Still, the vast majority of users will find that it will work for them, as 19Vdc is the most common voltage for a 15.4″ notebook.
The SNA 95 does offer high efficiency; up to 90%. It also has over-current, over-voltage, and surge protection.
Cooler Master SNA 95 Specifications
Model
RP-095-D19A-A1
Input Voltage

100-240Vac full range

Input Frequency Range

50-60 Hz

Output Rating

18 ~ 20Vdc / 19Vdc @ 4.74A

4.75 ~ 5.25Vdc / 5Vdc @ 1A

Output Power
Total 95W / Peak 150W
LED Indicator

White LED for power on

White LED flickers for OCP/OPP/SCP

Blue LED for USB charge

Operation Temperature
5 ~ 40oC
Efficiency
Up to 90%
Dimensions
75 x 17 x 145 mm : 2.9 x 0.7 x 5.7 inches
test setup
Testing the Cooler Master SNA 95 might just be the easiest round of testing we've ever had to run. Plug it in and watch it go, or not. Those are the only two possible results. So without wasting any time, let's see how it does!
For our test machine, we are using my Dell Inspiron 1501 laptop along with my Ipod Touch 16GB (Gen II) to test the USB charging.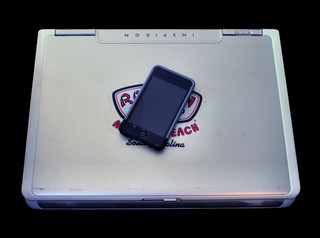 test results
Well, as you can see from the pictures below, results were hit and miss. While the SNA 95 powered the laptop just fine, it was not able to charge the battery. In the manual for the SNA 95 it does state that certain notebooks require a specific ID from the charger that allows it to actually charge the battery. Unfortunately there is no database of laptops to differentiate which it will work with and which ones that will simply power from it, without charging the battery as seen below.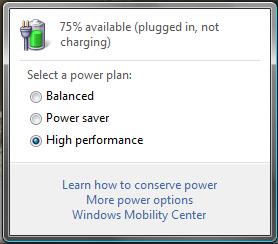 On the plus side, the SNA 95 had no trouble whatsoever charging the Ipod. Plugged it in and off it went!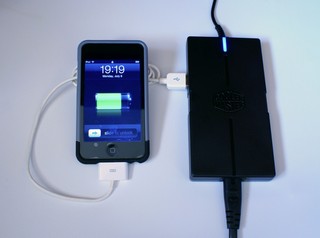 CONCLUSION
All things being equal, I would love to love this power adapter. Charging USB devices as a standalone is great. While it is the smallest 95W power adapter I've seen, it's still a little much to carry around strictly for charging USB devices however.
Where this device runs into trouble is in the laptop battery charging. If all I wanted to do was power my laptop, it'd still be a great device. But I often run the battery to near depletion and I have to be able to recharge it. If I were going to replace the OEM power adapter, I can't settle for one that won't charge the battery, and I don't think our readers would either. Let me be clear however, this is not Cooler Master's fault, this has a lot to do with Dell (among other computer manufacturer's) and their infatuation with proprietary equipment. That does not change the fact however that it is unable to charge my laptop. If I were a buyer, I'd be forced to return it.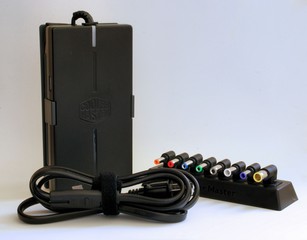 One other note, not all USB devices will work with this charger. The vast majority will, but the list cannot be all-inclusive if for no other reason than the sheer number of devices on the market.
The SNA 75 has not yet come to market, but it is expected to have a price point of around $70 and carries a 2 year manufacturer warranty.
We have added a new scoring system to provide additional feedback beyond a flat score. Please note that the final score isn't an aggregate average of the new rating system.
Performance 6
Value 6
Quality 8
Warranty 9
Features 7.5
Innovation 8
Pros:
+  More than just your average notebook power supply
+  Attractive styling
+  Easy to use

Cons:
– Will not charge batteries on all laptops that it will power
– Difficult to find, not yet available on the internet
The Cooler Master SNA 95, while a great idea and a capable product, was not able to deliver in all areas. This is why the SNA 95 gets a final score of:
7 out of 10
Please note that on the Coolermaster website it's clearly listed that some models of laptop use a proprietary battery charging method with their laptop power adapters to force you to purchase an OEM laptop adaptor from the original vendor. The laptop being tested is one of those proprietary laptop power designs and we checked the Coolermaster webby and like most notebook adaptors the exact models it supports is not listed, we have made Coolermaster aware of this shortcoming and hope that a list of fully supported laptops will be forthcoming. Laptops that are only supported for AC operation and not battery charging should be listed. The proprietary design of laptop battery charging isn't Coolermasters fault, its an attempt by laptop manufacturers to make sure they can charge exorbitant prices for otherwise affordable products and has been shown to be an effective device to get more of your money. This is a practice we don't support nor approve of but until the consumer insist on one standard for laptop Power Adapter connection by buying laptops that don't use the proprietary PSU connection it's not going to happen. Do a little research, call the manufacturer's 800 number and ask, if the adapter gets damaged will I be able to use a 3rd party power adapter or will I have to buy "Your" power adapter. If they don't know the answer or tell you that you have to buy the OEM power adapter we'd suggest that you tell them you'd prefer a laptop that will accept a 3rd party adapter and send the message that corporate greed to restrict you to buying proprietary hardware at inflated prices is no longer an acceptable practice.

Methious…