Asus brought us the M4A79T, and we brought it pain….but it kept up.
Previously I reviewed one of MSI's latest 790FX-GD70 and I considerd it to be hands down, one of the best AM3 boards I have used. Some time has past now and my collection has grown a bit more and today we get to toy with the Asus M4A79T Deluxe. It seems like we are getting rehahes of the tired 790FX chipset but with each board their seems to be more and more improvements. Even though we patiently await the newer AMD chipsets ahead it's always nice to see a new board in the pile.
The question though, is what kind of minor tweaks will Asus bring with their M4A79T Deluxe? Lets continue to find out if it take the crown over MSI's steep competition.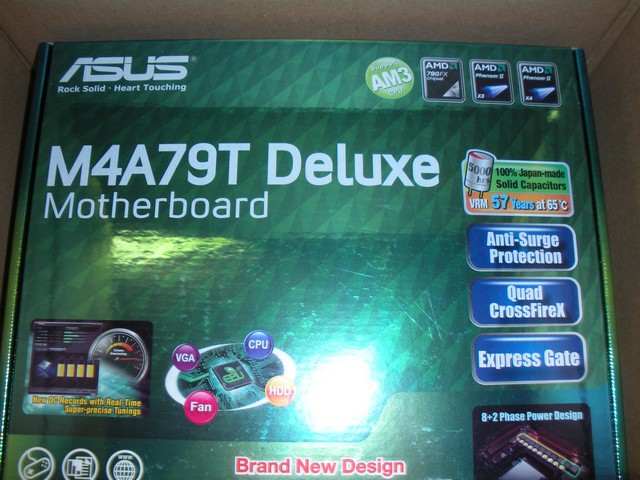 FEatures
CPU, Chipset and Graphics features
AMD® Phenom™ II/Athlon™ II/ Sempron™ 100 Series Processors (socket AM3)
This motherboard supports AMD® Socket AM3 multi-core processors with unique L3 cache and delivers better overclocking capabilities with less power consumption. It features dual-channel DDR3 1333 memory support and accelerates data transfer rate up to 5200MT/s via HyperTransport™ 3.0 based system bus. This motherboard also supports AMD® CPUs in the new 45nm manufacturing process.
AMD 790FX Chipset
AMD 790FX Chipset is designed to support up to 5200MT/s HyperTransport™ 3.0 (HT 3.0) interface speed and quad PCI Express™ 2.0 x16 graphics. It is optimized with AMD latest AM3 and multi-core CPUs to provide excellent system performance and overclocking capabilities.
Native DDR3 1600(O.C.) Support
This motherboard supports native DDR3 1600(O.C.) that provides faster data transfer rate and more bandwith to increase memory computing efficiency, enhancing system performance in 3D graphics and other memory demanding applications.
PCIe 2.0 support
This motherboard supports the latest PCIe 2.0 devices for double speed and bandwidth which enhances system performance.
ATI CrossFireX™ Technology
ATI's CrossFireX™ boosts image quality along with rendering speed, eliminating the need to scale down screen resolution to get high quality images. CrossFireX™ allows higher anti-aliasing,
anisotropic filtering, shading, and texture settings. Adjust your display configurations, experiment with the advanced 3D settings, and check the effects with a real-time 3D-rendered previews within ATI Catalyst™ Control Center.
 We have some nice features on this board to use. I think the nicest thing overall is the fact that you can jump straight to 1600 DDR3 without needing to overclock anything.
Specifications
Brand
ASUS
Model
M4A79T Deluxe
Supported CPU
CPU Socket Type
AM3
CPU Type
Phenom II / Athlon X4 / Athlon X3 / Athlon X2
FSB
2600MHz Hyper Transport (5200 MT/s)
Chipsets
North Bridge
AMD 790FX
South Bridge
AMD SB750
Memory
Number of Memory Slots
4×240pin
Memory Standard
DDR3 1600
Maximum Memory Supported
16GB
Expansion Slots
PCI Express 2.0 x16
4 x PCI Express 2.0 x16
(dual X16, triple X16/X8/X8, or Quad X8)
Storage Devices
SATA 3Gb/s
5
SATA RAID
0/1/5/10/JBOD
Onboard Video
Onboard Video Chipset
None
Onboard Audio
Audio Chipset
Realtek ALC1200
Audio Channels
8 Channels
Rear Panel Ports
eSATA
1 x eSATA 3Gb/s
Audio Ports
6 Ports
Physical Spec
Form Factor
ATX
Features
Features
ASUS Express Gate
8+2 Phase Power Design
Precision Tweaker 2
ASUS EPU
ASUS Turbo V
ASUS Turbo Key  
Again, standard features one would expect to see on this kind of board.
Pictures & Impressions
Let's take a gander at the board shall we?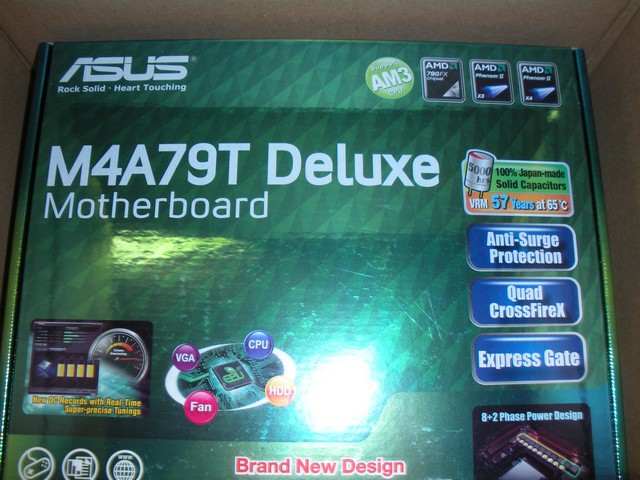 Here we have the front of the board. I think Asus is proud of their boards because they always seem to cram every inch with information to fully explain to the end user what they are getting. Don't get me wrong! This is a really good thing. I like to see companies doing this because it fully informs the customer of their purchase.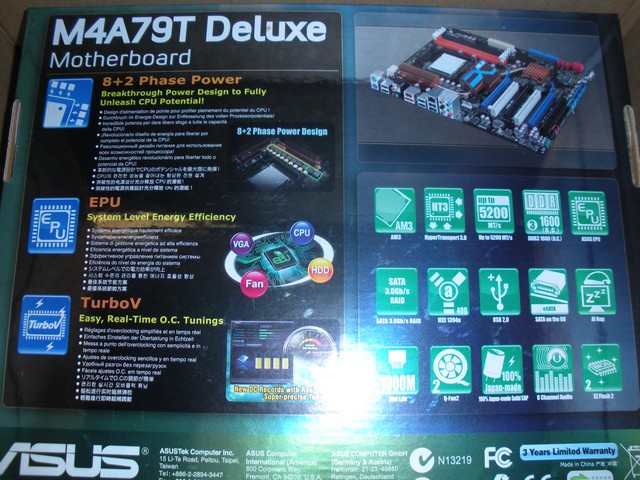 As with the front of the board, the rear is cram packed too. It even has an inset mini image so you can see a physical shot of the board before purchase. If your anything like me then you are picky at what color the PCB is to color coordinate your PC. I'm still waiting for my black and hot pink board……just kidding.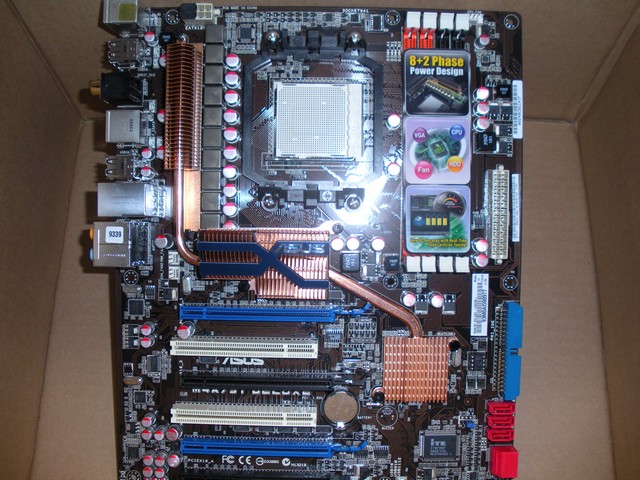 Here's a front overall shot of the board. Looks pretty hot to me, in a geeky kind of way. We like to see the PWMs cooled off by a heatsink. To us, that screams quality and overclockability. Which in fact, this board does overclock. We will get to that later on though so stick around.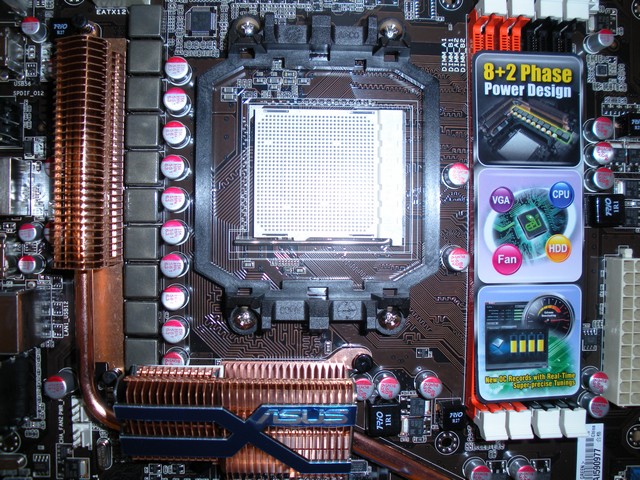 Here is a favored CPU socket shot of the board. Along with the sticker on the RAM slots to continue informing you, the consumer, of what this board has. Again we see the nice copper chipset heatsink and PWM cooling and again we see a pet peeve of mine. RAM slots dangerously to close to the CPU socket. If I wanted to run 4 performance RAM sticks that had tall heatsinks I wouldn't be able to because my TRUE 120 blocks the path. Of course, I'm a poor PC geek that can't afford such luxuries. So all is well.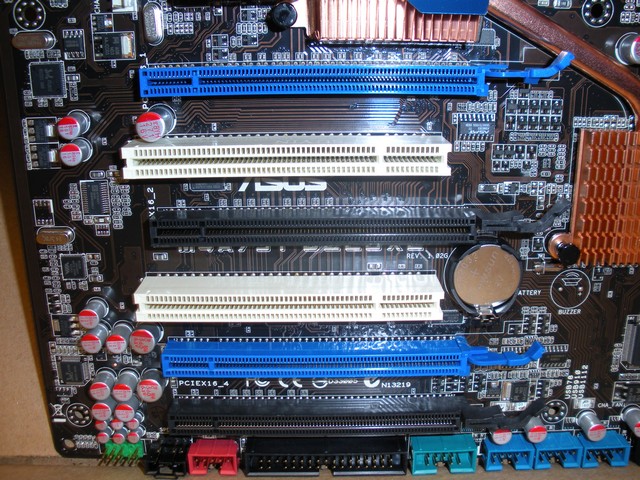 Here we have a close up of the slots showing that we have a quad Crossfire ready motherboard at our disposal. This is no Crosshair III but it will rock four ATI cards for monster graphical solutions. For Tri-Crossfire Asus leaves us enough room to run all dual slot coolers. For dual Crossfire we are left enough room for a PCI-E sound card and a PCI card.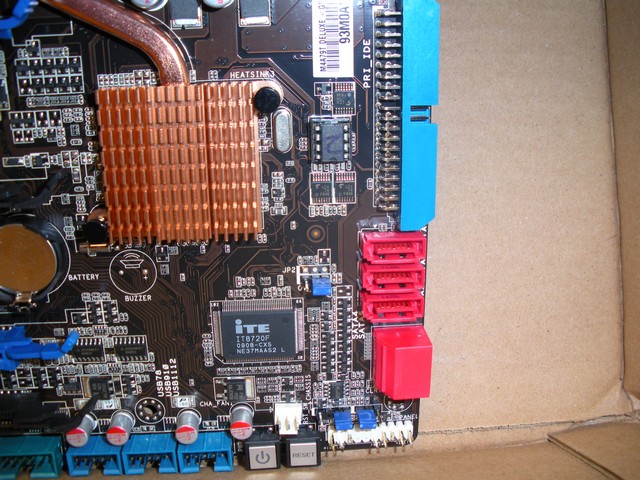 Here we have what I consider a minor oopsie on this board. We like SATA ports, and lots of them. We also like 90 degree SATA ports as well. I barely had enough room to put all my drives on this board because of lack of SATA ports. This is ok though for me, because the addition of our enthusiast buttons makes up for this, as well as a 90 degree IDE port.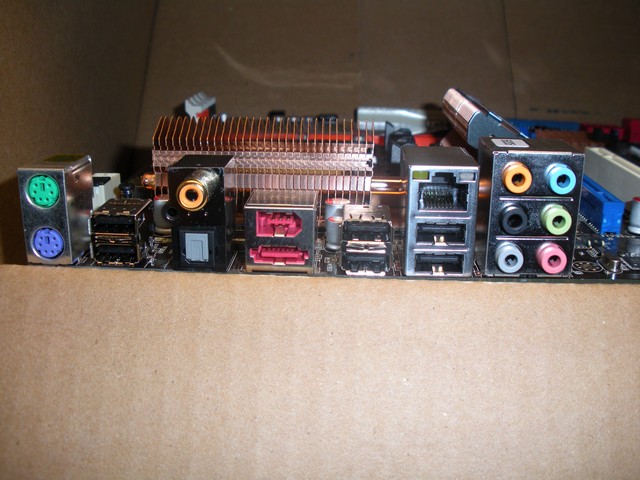 Here we have the rear end. The business side of the board. Asus dropped the dual ethernet port structure for this board to add on an SPDIF/Optical audio header as well as eSATA. This isn't a bad trade off considering most people use onboard audio since they got alot better.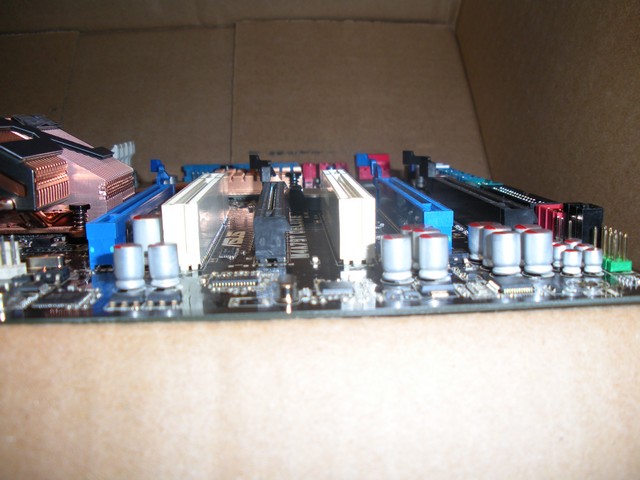 Finally we have a side shot of our slots which shows that nothing gets in the way of having 3 dual slot cards for graphics. Lets move on to the BIOS.
Bios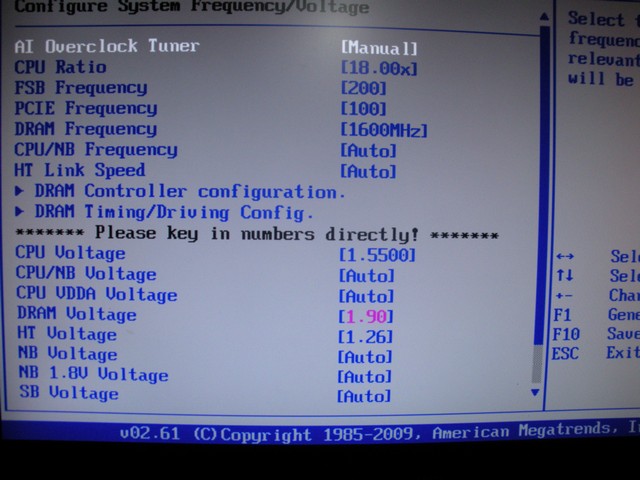 I figured I would start with the one screen most everyone wants to see. The overclocking screen. It looks almost identical to any other Asus board bios but there is a slight difference. You can type in any numbers you want for voltages. Pretty handy if you want something specific.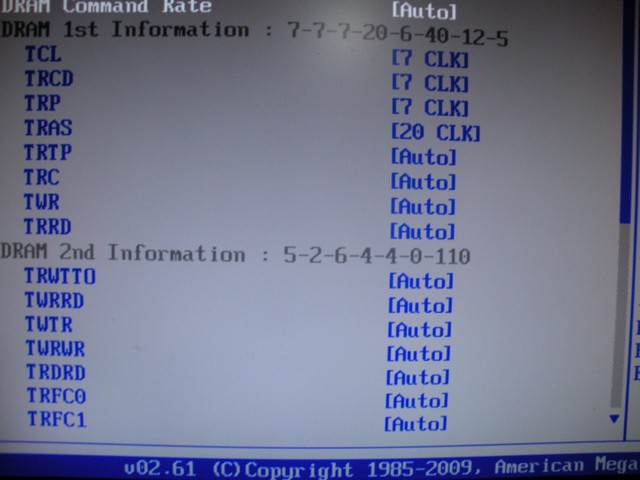 This is just a screenshot of the memory timing options. I use 7-7-7-20 timings on my DDR3. If I went slower I could probably tighten them up more but I don't see the need.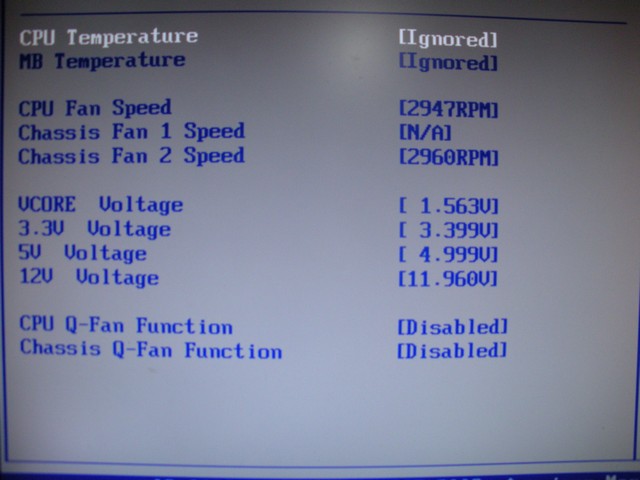 Here is the Hardware Monitoring screen. I usualy ignore most everything here besides what the bios shows for voltages. Which it seems pretty accurate, which is good.
Test Rig
Each test was done 3 times and averaged out for a final score. This ensures accuracy between all rigs. Also, each test was run at the same CPU frequency and with the same video card for an even playing field. Each rig was tested with a clean install and to ensure accuracy between installs Acronis was used to make sure each install was the same.
Test Rig
"Univac"
CPU
AMD Phenom II X3 720BE @ 3.7ghz
Motherboard
Asus M4A79T Deluxe
Ram
2x2gig G.Skill DDR3 @ 1600mhz 7-7-7-20
CPU Cooler
Thermalright Ultra eXtreme 120 Black Edition
Hard Drives

64GB G.Skill SSD (OS)

Western Digital 160gig Scorpio Black SATAII (enclosure)

GPU

eVGA GTX280 SSC Stock Clocks

PSU
Thermaltake Toughpower 1000 Watt Modular
OS

Windows 7 Ultimate RTM x64

This is my sweet little POS =)
Test Suite
Synthetic Benchmarks
3DMark Vantage
SuperPI
Crysis V1.21
SiSoft SANDRA Business 2009
Everest Ultimate Edition v. 5.0
Cinebench R10 64 bit
Overclocking
Overclocking this Asus board was pretty easy like the others. I used Orthos and Prime95 to ensure stability and let that sit and grind for a few hours a piece. As with all Black Edition AMD CPU's the unlocked multiplier is a dream and makes overclocking as simple as possible. Never before have I had the luxury of not using FSB to overclock a CPU. So with that being said on air cooling I got pretty far. Take a look.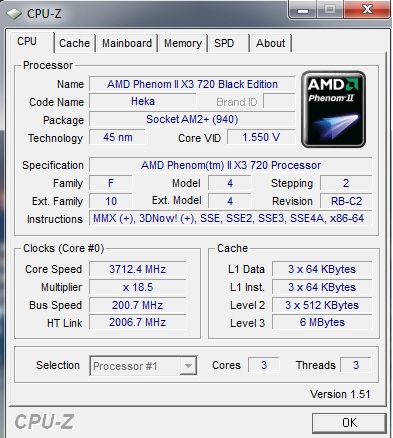 Here I show the stable clock I used to bench with. The max I got to boot up on a suicide run was 3.9Ghz but wasn't stable enough for a screenshot. I'm sure if I was using my water cooling that 3.9Ghz or at least 3.85Ghz would be game stable.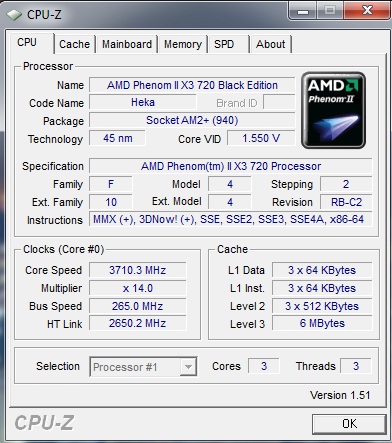 As you can see I acknowledge that not everybody can afford a Black Edition processor so I show a solid 3.7Ghz on an FSB overclock as well.
Heres just a little shot to show that this is the board I am actualy running with bios v1.
SiSoft
"SiSoftware Sandra (the System ANalyser, Diagnostic and Reporting Assistant) is an information & diagnostic utility. It should provide most of the information (including undocumented) you need to know about your hardware, software and other devices whether hardware or software. It works along the lines of other Windows utilities, however it tries to go beyond them and show you more of what's really going on. Giving the user the ability to draw comparisons at both a high and low-level. You can get information about the CPU, chipset, video adapter, ports, printers, sound card, memory, network, Windows internals, AGP, PCI, PCI-X, PCIe (PCI Express), database, USB, USB2, 1394/Firewire, etc."
Unlike previous boards I have reviewed this Asus board seems to be ahead of the game for being practically the same thing as every other board with a few minor differences. Of course, the percentage of being ahead is very small, but they are still ahead.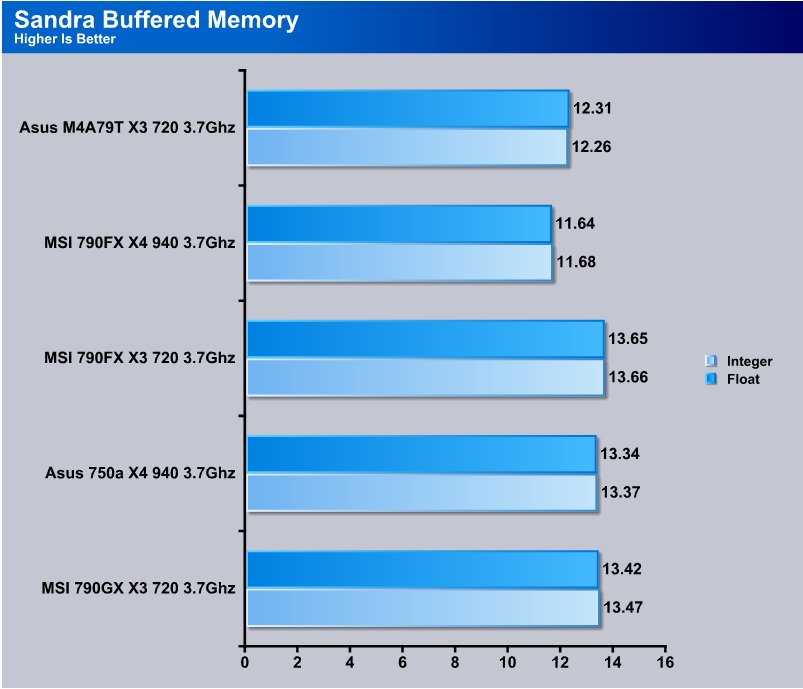 The only thing I have noticed this board lacks is in memory synthetic. I can't explain why but it does. Of course anything above 1333 DDR3 on AMD isn't really noticed in real world applications but shh I didn't say that.
EVEREST
"EVEREST Ultimate Edition is an industry leading system diagnostics and benchmarking solution for enthusiasts PC users, based on the award-winning EVEREST Technology. During system optimizations and tweaking it provides essential system and overclock information, advanced hardware monitoring and diagnostics capabilities to check the effects of the applied settings. CPU, FPU and memory benchmarks are available to measure the actual system performance and compare it to previous states or other systems. Furthermore, complete software, operating system and security information makes EVEREST Ultimate Edition a comprehensive system diagnostics tool that offers a total of 100 pages of information about your PC."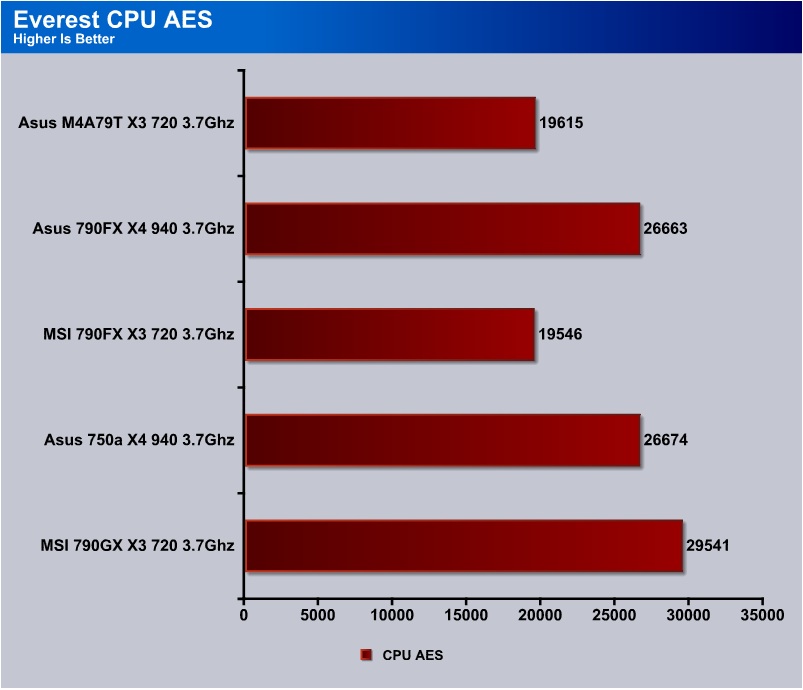 Where Asus lacks in the memory department they come back slightly in the CPU department. I personally would rather see this anyways since to try and catch up to i7 benches we need more CPU horsepower.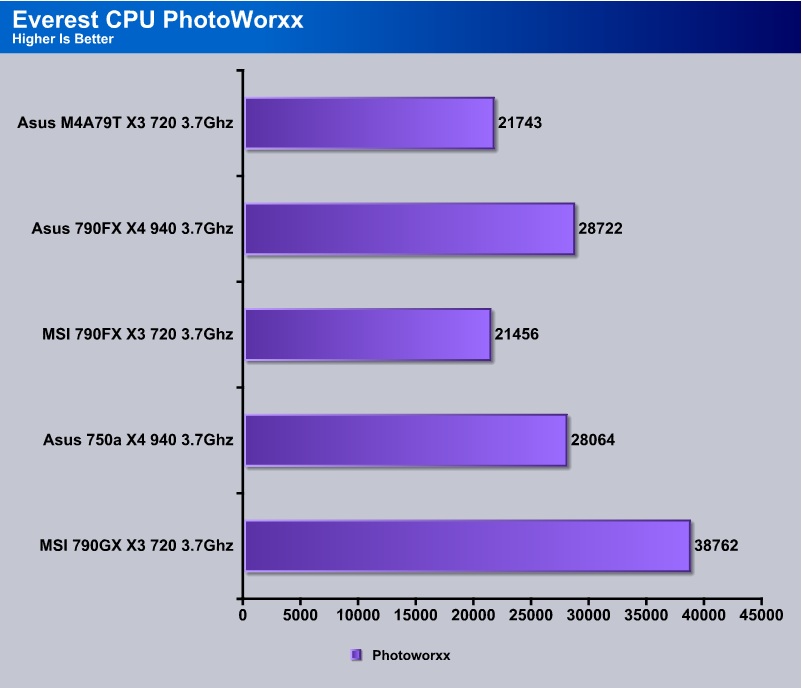 Like I was saying, Asus knows how to build them. Odlly enough though, the 790GX chipset comes out ahead of everybody. Very odd, but that's how it was.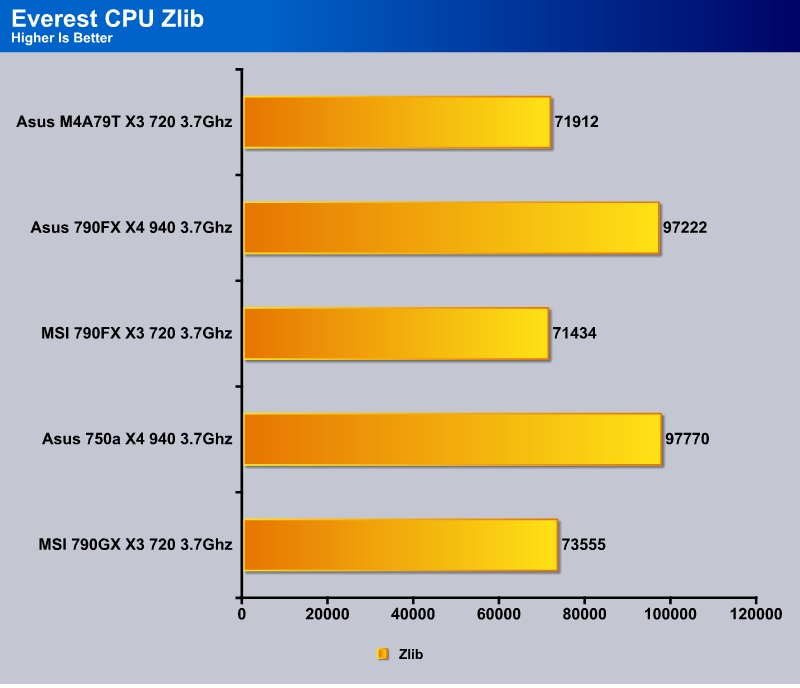 And now we are back to normal with our Asus board in the lead. Obviously, a quad-core is going to out bench a tri-core in CPU benchmarks but I decided to through those in there anyways just for comparison.
CINEBENCH
CINEBENCH runs several tests on your computer to measure the performance of the main processor and the graphics card under real world circumstances. The benchmark application makes use of up to 16 CPUs
or CPU core.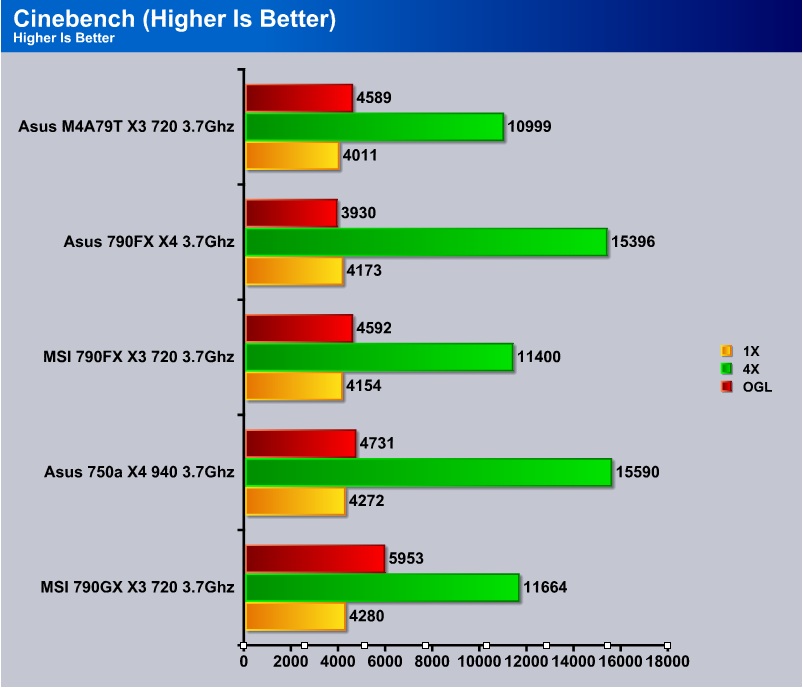 MSI has the slight edge here probably because of it's increase in memory bandwidth over the Asus. Cinebench is supposed to simulate real world applications so this is probably more accurate than our synthetic benchmarks but it is afterall still a benchmark.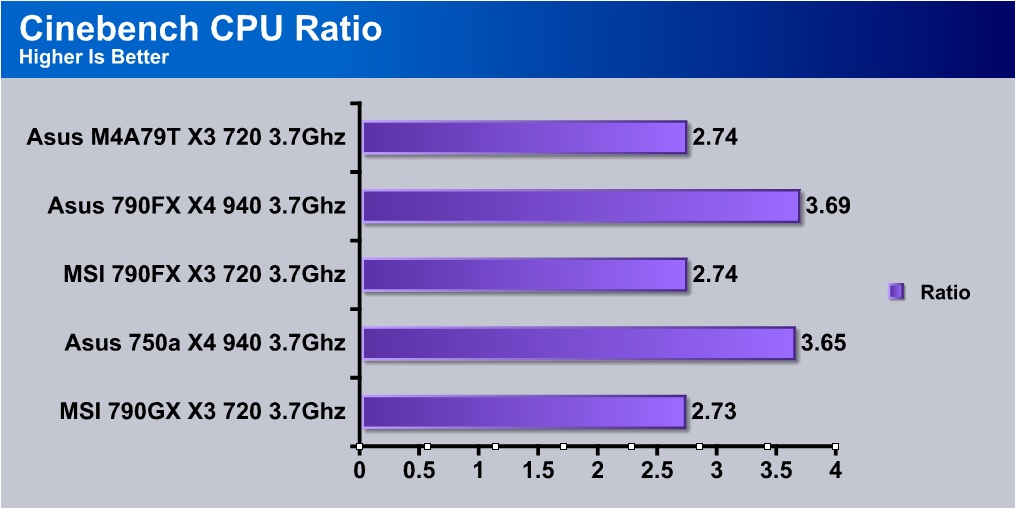 Tied with the competition and both are slightly over the mainstream 790GX board. Seems the AMDs scale really well in Cinebench.
SUPER PI
Super Pi is a program that calculates pi to a specified number of digits after the decimal point up to a maximum of 32 million. The Gauss-Legendre algorithm which is a windows version of a program used by Yasumasa Kanada in 1995 to compute Pi to 232 digits.
Super Pi is used by many overclockers to test performance and stability of their systems. In this community, Super Pi has become the standard for providing benchmarks to compare pi calculation times and demonstrate their overclocking skills. The program can be used to also test the stability of a particular overclocking speed. If a computer can calculate PI to the 32 millionth place after the decimal without a mistake, it is considered moderately stable in terms of RAM and CPU performance. More intensive CPU and RAM tests include calculations that run for hours instead of minutes and better test system stress levels.
MSI clearly dominated in Super Pi but in real world applications you wouldn't be able to tell the difference between the two.
3DMark Vantage
For complete information on 3DMark Vantage Please follow this Link:
www.futuremark.com/benchmarks/3dmarkvantage/features/
The newest video benchmark from the gang at Futuremark. This utility is still a synthetic benchmark, but one that more closely reflects real world gaming performance. While it is not a perfect replacement for actual game benchmarks, it has its uses. We tested our cards at the 'Performance' setting.
Currently, there is a lot of controversy surrounding NVIDIA's use of a PhysX driver for its 9800 GTX and GTX 200 series cards, thereby putting the ATI brand at a disadvantage. Whereby installing the PyhsX driver, 3DMark Vantage uses the GPU to perform PhysX calculations during a CPU test, and this is where things get a bit gray. If you look at the Driver Approval Policy for 3DMark Vantage it states; "Based on the specification and design of the CPU tests, GPU make, type or driver version may not have a significant effect on the results of either of the CPU tests as indicated in Section 7.3 of the 3DMark Vantage specification and white paper." Did NVIDIA cheat by having the GPU handle the PhysX calculations or are they perfectly within their right since they own Ageia and all their IP? I think this point will quickly become moot once Futuremark releases an update to the test.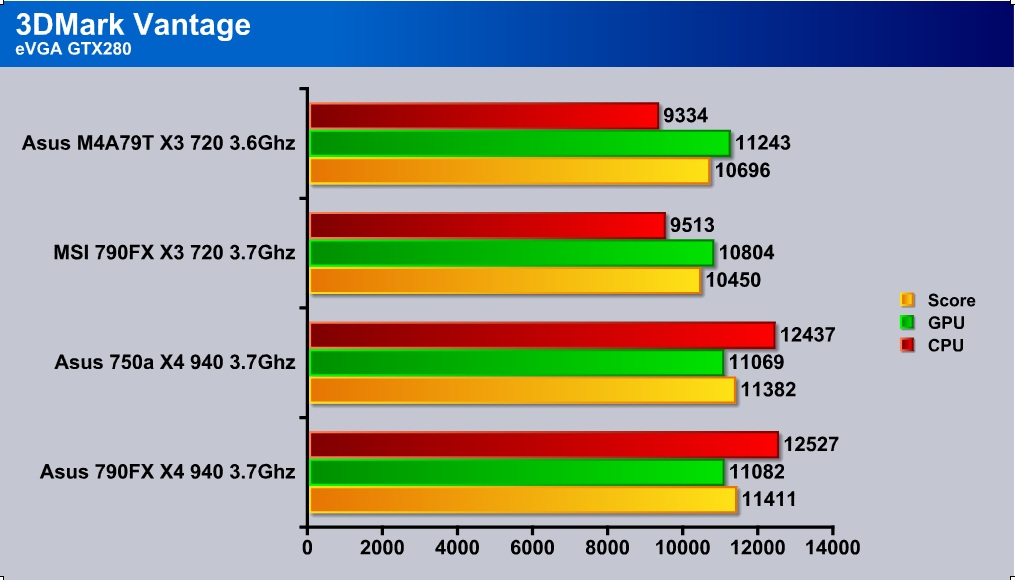 In 3DMark Vantage our MSI board edges out the Asus with a minor lead. My best guess is because the Asus would not bench Vantage at 3.7Ghz so I had to drop to 3.6Ghz. If able to run at 3.7Ghz our Asus board would probably carry its edge over the MSI.
Crysis v. 1.21
Crysis is the most highly anticipated game to hit the market in the last several years. Crysis is based on the CryENGINE™ 2 developed by Crytek. The CryENGINE™ 2 offers real time editing, bump mapping, dynamic lights, network system, integrated physics system, shaders, shadows, and a dynamic music system, just to name a few of the state-of-the-art features that are incorporated into Crysis. As one might expect with this number of features, the game is extremely demanding of system resources, especially the GPU. We expect Crysis to be a primary gaming benchmark for many years to come.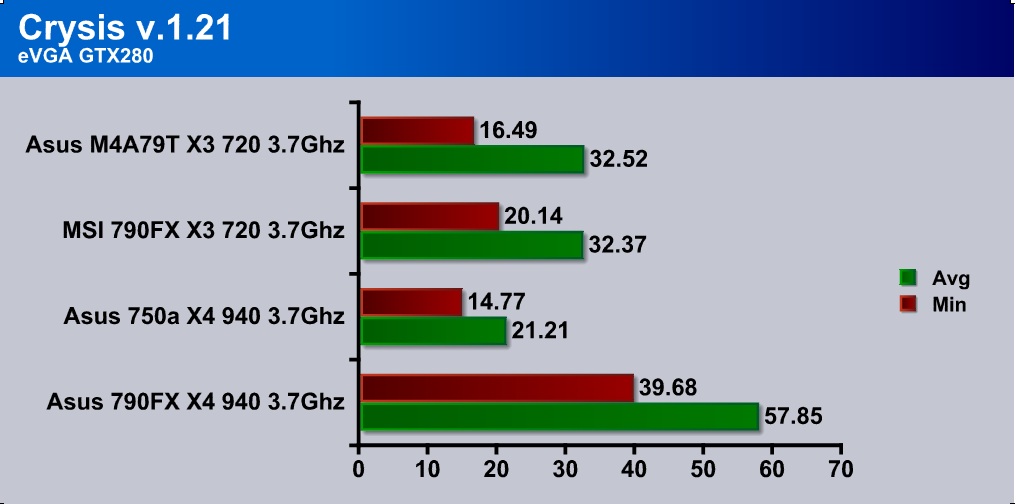 The average of both boards here are practically the same. Besides the Asus having more of a slight dip in min FPS you won't notice a difference between either boards at all.
Conclusion
I think we can all sit back and say Asus knows how to make a nice motherboard. Not only does this board overclock well but it looks good and is rock solid for anything I through at it. The competition is steep though. Gigabyte has their 790FXT, MSI has their GD-70, DFI has their 790FXB, and Asus has the top Crosshair III ROG board. Pretty much everybody board is sitting in the same bowl where features and performance is concernd so the real question is price. Every single one of these top end boards are under $200 currently on Newegg which in my opinion has Intel beat. With the product in question though, Asus has the M4A79T priced above the other companies enthusiast boards. Is it really worth the extra 10-20 bucks? I say yes, you can't beat exceptional quality from a good company.
In a further review I will be directly comparing all 3 companies big boards. GIgabyte, MSI, and Asus in a show down and we will see who comes out on top. So far my money is on this Asus.
We are using a new addition to our scoring system to provide additional feedback beyond a flat score. Please note that the final score isn't an aggregate average of the new rating system.
Performance 9.5
Value 10
Quality 10
Warranty 9
Features 9
Innovation 8
Pros:
+  Great Performance
+  Excelent Quality
+  Easy Overclocking
+  Great Slot Placing

Cons:
–  To Few SATA ports
–  Price is kinda high
 Compared to the other motherboards in this review. The Asus M4A79T Deluxe comes out on top and will be an excellent addition to your AMD PC, so it recieves a:
9 out of 10, and the Bjorn3D Golden Bear Award