Our first impressions of mid range video cards is bottom of the barrel performance. Let's look at the Sapphire HD4770 that uses ATI's new 40nm process and GDDr5 memory.
INTRODUCTION
It is nothing new for video card manufacturers to attempt to improve upon already proven video cards. Normally when these improvements are made the performance gain is marginal. But again, every once in a while a video card manufacturer comes out with a real gem of a video card. The Sapphire HD4770 video card is one of these gems.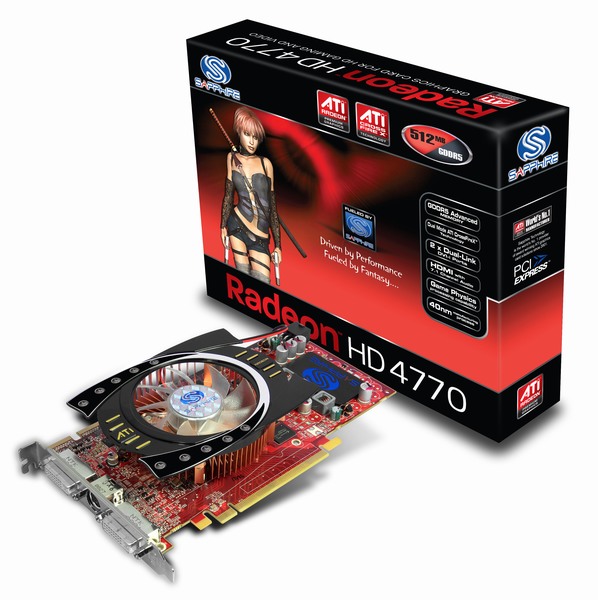 About Sapphire
Pioneers in a new era of how data is displayed and games are played, Sapphire shepherds the performance oriented with ground-breaking solutions to an environment that remains in a constant state of flux and ultimate evolution. For over ten years Sapphire has held true to its unwavering commitment, the commitment to deliver the most feature rich and soundly engineered products. Because of Sapphire's firm position on achieving excellence with each product that leaves our ISO9001 and ISO14001 certified factories, you can rest assured that your customers will recognize YOUR commitment to selling only the highest of quality components.
"Sapphire is ATI's largest and best performing partner World Wide" Dave Orton, CEO ATI
Since ATI announced its manufacturing & distribution relationships with ODMs and AiBs in June of 2001, SAPPHIRE has been THE key ATI Graphics Boards Supplier worldwide and now stands poised and ready to capture the mainboard audience of those who seek a stable platform for their mission critical operations.
Captured within the circuitry of each of SAPPHIRE's graphic cards and mainboards can be found the collective feedback from generations of enthusiasts in every market niche. Brought to life through performance oriented innovation and an emphasis on quality control, SAPPHIRE designs, manufactures and distributes the most complete range of ATI video boards and mainboards–from the mainstream products that afford the casual user the opportunity to enjoy enriched graphics and affordable platform solutions to the state-of-the-art technological marvels that drive fantasies to before unattainable thresholds of realism, and offer the pinnacle of stability and performance! SAPPHIRE refuses to compromise quality by cutting corners at the expense of its customers experience with their products. All ATI board designs undergo a stringent layout inspection by our staff of engineers to guarantee that they represent the usual high-quality image of ATI original boards. We also enjoy the resources of a highly innovative technical department that layout complex designs to accommodate different market niches as they arise. SAPPHIRE ATI video boards have long been the reliable choice for a great number of OEMs and large System Integrators in Europe, North America, Asia and Latin America based largely on our ability to meet a fast paced technical markets advancements as well as our means to produce large quantities of product.
All SAPPHIRE ATI video boards are manufactured under 100% ATI production criteria including QC and outgoing system. Our monthly video board production capacity can reach a lofty 1.8 million and often topples this landmark figure. Our factory has always been the major manufacturer on ATI boards for most of the top ten tier 1 OEMs worldwide. With this background, you should undoubtedly be guaranteed of the impeccable quality, production capacity and product reliability of all ATI video boards and mainboards from SAPPHIRE. Be they business oriented or something just off center of the crosshairs, Sapphire has a solution for you and we look forward to an exciting and prosperous relationship with you!
SPECIFICATIONS
Specifications
 
HD4670
HD4870
HD4850
HD4770
9600GT
Processing Cores
 320
 800
 800
640
 

64

Core Clock
 750
 750
 625
750
 

650

Shader Clock
 750
  750
 625
750
 

1625

Memory Clock (effective)
 2.0
 3600
  1986
3200
 

1800

Memory Interface
 128 bit
 256 bit
 256 bit
128 bit
 

256 bit

Memory
 512MB/1GB GDDR5
 512MB/1GB GDDR5
 512MB GDDR3
512MB GDDR5
 

1024MB GDDR3

Fabrication Process
 55nm
 55nm
 55nm
40nm
 

65nm
As we can see, the HD4770 video card is using an entirely new fabrication process of 40nm. ATI left the memory interfacing at 128 bit, but like the 4870/4890 video cards, this video card is sporting the GDDR5 memory which doubles the effective memory bandwidth of previous GDDR3 memory. The GPU core of the HD4770 has double the amount of shaders than the HD4670 and 160 shaders less than the HD48xx series video cards.
FEATURES
826 million transistors on 40nm fabrication process
PCI Express® 2.0 x16 bus interface
128-bit GDDR5 memory interface
Microsoft® DirectX® 10.1 support

Shader Model 4.1
32-bit floating point texture filtering
Indexed cube map arrays
Independent blend modes per render target
Pixel coverage sample masking
Read/write multi-sample surfaces with shaders
Gather4 texture fetching

Unified Superscalar Shader Architecture

640 stream processing units

Dynamic load balancing and resource allocation for vertex, geometry, and pixel shaders
Common instruction set and texture unit access supported for all types of shaders
Dedicated branch execution units and texture address processors

128-bit floating point precision for all operations
Command processor for reduced CPU overhead
Shader instruction and constant caches
Up to 128 texture fetches per clock cycle
Up to 128 textures per pixel
Fully associative multi-level texture cache design
DXTC and 3Dc+ texture compression
High resolution texture support (up to 8192 x 8192)
Fully associative texture Z/stencil cache designs
Double-sided hierarchical Z/stencil buffer
Early Z test and Fast Z Clear
Lossless Z & stencil compression (up to 128:1)
Lossless color compression (up to 8:1)
Up to 8 render targets (MRTs) with anti-aliasing
Accelerated physics processing

Dynamic Geometry Acceleration

High performance vertex cache
Programmable tessellation unit
Accelerated geometry shader path for geometry amplification
Memory read/write cache for improved stream output performance

Anti-aliasing features

Multi-sample anti-aliasing (2, 4, or 8 samples per pixel)
Up to 24x Custom Filter Anti-Aliasing (CFAA) for improved quality
Adaptive super-sampling and multi-sampling
Gamma correct
Super AA (ATI CrossFireX™ configurations only7)
All anti-aliasing features compatible with HDR rendering

Texture filtering features

2x/4x/8x/16x high quality adaptive anisotropic filtering modes (up to 128 taps per pixel)
128-bit floating point HDR texture filtering
sRGB filtering (gamma/degamma)
Percentage Closer Filtering (PCF)
Depth & stencil texture (DST) format support
Shared exponent HDR (RGBE 9:9:9:5) texture format support

OpenGL 3.0 support
ATI Avivo™ HD Video and Display Platform1

Unified Video Decoder 2 (UVD 2) for H.264/AVC, VC-1, and MPEG-2 video formats

High definition (HD) playback of Blu-ray and HD DVD video2
Dual stream (HD+SD) playback support
DirectX Video Acceleration 1.0 & 2.0 support
Support for BD-Live certified applications

Hardware DivX and MPEG-1 video decode acceleration
Accelerated video transcoding & encoding for H.264 and MPEG-2 formats
ATI Avivo Video Post Processor1

Color space conversion
Chroma subsampling format conversion
Horizontal and vertical scaling
Gamma correction
Advanced vector adaptive per-pixel de-interlacing
De-blocking and noise reduction filtering
Detail enhancement
Color vibrance and flesh tone correction
Inverse telecine (2:2 and 3:2 pull-down correction)
Bad edit correction
Enhanced DVD upscaling (SD to HD)9
Automatic dynamic contrast adjustment

Two independent display controllers

Drive two displays simultaneously with independent resolutions, refresh rates, color controls and video overlays for each display
Full 30-bit display processing
Programmable piecewise linear gamma correction, color correction, and color space conversion
Spatial/temporal dithering provides 30-bit color quality on 24-bit and 18-bit displays
High quality pre- and post-scaling engines, with underscan support for all display outputs
Content-adaptive de-flicker filtering for interlaced displays
Fast, glitch-free mode switching
Hardware cursor

Two integrated dual-link DVI display outputs

Each supports 18-, 24-, and 30-bit digital displays at all resolutions up to 1920×1200 (single-link DVI) or 2560×1600 (dual-link DVI)3
Each includes a dual-link HDCP encoder with on-chip key storage for high resolution playback of protected content4

Two integrated 400 MHz 30-bit RAMDACs

Each supports analog displays connected by VGA at all resolutions up to 2048×15363

DisplayPort output support

24- and 30-bit displays at all resolutions up to 2560×16003

HDMI output support

All display resolutions up to 1920×10803
Integrated HD audio controller with support for stereo and multi-channel (up to 7.1) audio formats, including AC-3, AAC, DTS5, enabling a plug-and-play audio solution over HDMI

Integrated AMD Xilleon™ HDTV encoder

Provides high quality analog TV output (component/S-video/composite)
Supports SDTV and HDTV resolutions
Underscan and overscan compensation

Seamless integration of pixel shaders with video in real time
VGA mode support on all display outputs

ATI PowerPlay™ Technology6

Advanced power management technology for optimal performance and power savings
Performance-on-Demand

Constantly monitors GPU activity, dynamically adjusting clocks and voltage based on user scenario
Clock and memory speed throttling
Voltage switching
Dynamic clock gating
Central thermal management – on-chip sensor monitors GPU temperature and triggers thermal actions as required

ATI CrossFireX™ Multi-GPU Technology7

Scale up rendering performance and image quality with two, three, or four GPUs
Integrated compositing engine
High performance dual channel bridge interconnect8
 PACKAGING
| | |
| --- | --- |
| | The things we reviewers have to do to keep prowlers off of our review samples. Poor, little finger puppet didn't stand a chance against Raptor Bones. |
| Looking at the sides of the packaging that Sapphire uses for the HD4770 video card | |
| | Looking at the front side of the box for the HD4770 video card. |
| | The backside of the box has all of the general specifications and features of the HD4770 video card. |
| Once we open the bos there is another card board box we have to remove.  | |
| Upon opening the inner box, we finally see what Sapphire included. The first thing we have is the instruction manual. | |
| Sapphire did a pretty good job on making sure the HD4770 video card would not get harmed during shipping. Not only they did a good job on the card board to keep it from shifting around, Sapphire put a Anit-Static bubble wrap around the video card itself. | |
| | All of the adapters are located below the insert that Sapphire used to hold the HD4770 video card in place. |
| All of the contents of packaging laid out. Being held up by my little helper the Raptor is the HD 4770 video card. Below the video card and left is the instruction manual, a DVI-HDMI adapter, DVI-DSUB adapter. Moving to the right is a 1 four pin Molex to 6-pin PCI-E power adapter, an S-video-component adapter, a crossfire ribbon, the driver disc, Cyberlink Power DVD 8 and Cyberlink DVD Suite. | |
OVERVIEW
| | |
| --- | --- |
| | Now time for the "FUN" stuff. the overview of the HD4770 video card. This video card does not really use a large full coverage heatsink we have been accustomed to. The HD4770 video card only needs the use of one PCI-E 6-pin power plug. Now the one thing got me kinda curious is what's underneath the aluminum plate with the Sapphire logo on it. |
| I guess I will figure that out later. Meanwhile, let's look at the fins of the video card cooler. These are spaced out far enough to allow plenty of air movement from the fan blades. | |
| Well, trying to get a good picture of underneath that little plate was not exactly easy for the camera. But my inspection revealed it to be a heat spreader for the analog power modules for the the HD4770 video card. | |
| The back side of the HD4770 video card. There are two DVI ports, and one S-video component port. Why hasn't ATI moved over to a HDMI port instead of the S-video port? | |
| | Looking through the blades of the fan that Sapphire used to cool this video card.  |
| | Nope, this is not another GPU heatsink shot. This is a check to make sure the PCB of the video card was not warped with the use of the GPU cooler. |
| Looking at the back side of the HD4770 video card. Almost kinda looks like a miniature city on this side doesn't it? Slightly smaller scale, of course. | |
| | Well since this is new video card, we have to see what is under the hood. Before I can show ya's the "Engine" we need to remove the "Hood" first. |
| Looking at the base of the GPU cooler that Sapphire used. Hmm, now not exactly smooth now is it! The raptors claw does not even reflect off of the surface anywhere, and we can make out the rough machining marks of the base of the cooler. | |
| | Well, let's take a peek at the memory that Sapphire used on this video card. Don't you love this type of reviewing? Just when you think you will see what you want to see I change things up a bit. For a bit of info about this type of memory I went to Qimonda's website located HERE, I looked up the GDDR5 memory located HERE and downloaded the memory PDF for the IDGV1G-05A1F1C-40X memory type and found out this memory is rated at a 4 GHZ capability. Things that make you go hmmmmm……………. |
| | Little teaser for y'all. There's the core. But it's still covered in the original goop that Sapphire used. Muhahahaha. |
| Oh, pretty looking GPU core. We can almost make out the claw of the Raptor helper of mine. | |
| Raptor helper holding up the HD4770 video card for me. Here's a naked HD4770video card. | |
| | Normally people use a quarter for a comparison to the GPU core. Me, I felt a quarter was too big to use and decided to use a US dime. The core of the HD4770 is smaller than a US dime. WOW, that's getting tiny. Also take notice the ATI has the GPU core offset by a 45° angle. Last time I saw this configuration was when ATI made the 2900XT video card. Hmmmm. |
INSTALLATION
Since, I shown ya's the HD4770 video card and embarrassed it (by showing you in its naked form, LOL) and then finally placed the heat sink back on it, it is time for the games begin …
The Sapphire HD4770 video card sitting in my computer. And you are wrong. It is not in there all peaceful like it is getting a good work out. Raptor Bones making sure of that …
TESTING METHODOLOGY
Test Setup &Testing Methodology
CPU
Lapped Core i7 920 @ 3.6GHz
Motherboard
MSI X58 Eclipse
Case
Coolermaster Cosmos
Memory
Gskill Trident 2000MHz
Video Card's
Sapphire HD4770, Gigabyte 9600GT
Hard Drives
 2 x Seagate 2.5″ HDD's Raid-0, 1 160 gig WD HDD Backup.
CDRom Drive
Lite On Sata1 DVD Burner
Power Supply
SilverStone 1200 watt PSU
Type Of Coolers Used
Cooler Master V8 CPU cooler
CPU Speeds Used
4080MHz 215 x 19
Operating System Used
Microsoft Windows Seven 7100 RC1
Type of Software Used During Testing
3DMark06, 3DMark Vantage, Far Cry 2, Stalker Clear Sky Benchmark, Hawx, Mirrors Edge

Any Attempt on copying this system specifications will result in assimulation by your computer


ASSIMILATION COMPLETE!!!!
For testing the Sapphire HD4770 video card, I ran each benchmarking program listed three times to ensure each test was accurate and consistent with one another. The worst test score (frames) was then recorded. For the testing portion, I allowed the HD4770 video set the pace and rules of how the comparison video card was going to be tested. Since the HD4770 video card supports Direct X 10.1, if that benchmark program or game supported that function I ran it at that API. If the comparison video card did not have that type of support of the API I did not run it. Can't compare two different types of API's against each other and say one is faster than the other. I was unable to compare the HD4870 to HD4770 video card because I had issues with the 9.4 Catalyst driver running on the HD4870 video card properly. The only driver that would work correctly on the HD4870 and Windows Seven 7100 RC1 was Catalyst 9.3, which I thought was really wierd myself. I determined since the driver versions were different it would not properly give me accurate results against one another (HD4770, HD4870 video cards). The driver I used on the 9600GT video card was 185.81 driver version with PhysX turned off.
I also did not run 1024×768, 1280×1024, 1440×900 resolutions. Running below the 1280×1024 resolution was CPU bound, and did not prove to be a good point to start at. I tested both video cards at 1680×1050 resolution with and with out AA. No AF was used because that game/benchmark did not give me that option in the graphics settings. Sometimes, forcing AA/AF through the control panel works, sometimes it don't.
OVERCLOCKING
Before I continue I need to say/add one thing. I cannot take credit for the ability of overclocking the HD4770 video card. That credit belongs too Legit Reviews which can be found HERE. These good reviewers came up with a "FIX" for Riva Tuner to overclock the HD4770 to extreme levels, and yes, I used their guide located HERE, to help me overclock the HD4770 to extreme levels. So, a big thank you goes out to Legit Reviews. Thank You.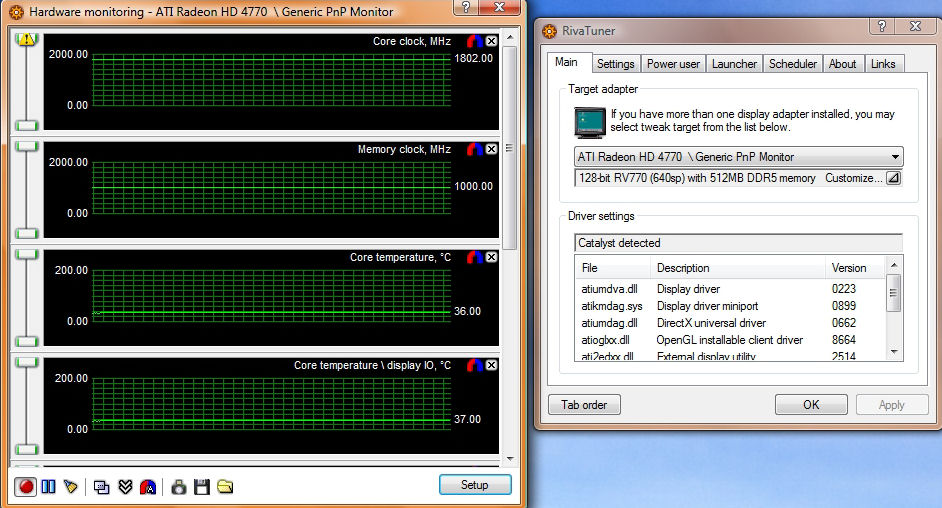 Well, here's a screen shot of Riva Tuner with the clock speeds I used. Now you are probably scratching your head on this screen shot. Well, don't worry. I wore a bald spot on my head as well. My explanation of the GPU core speed of 1802MHz, being I am using a Beta OS on drivers that are not specifically written for the HD4770 (modified 9.4 catalyst) with a "Tweaked version of Riva Tuner" something's bound to be a little screwy. For some odd reason Riva Tuner reported my GPU core speed double of what was used. I overclocked the core of the HD4770 to 901/1000 MHz, so Riva Tuner reports the memory MHz right as 1000MHz (remember to multiply this by 4 as this is GDDR5) and the GPU, well, you get the picture.
Reminder: I used both default GPU speeds of 750/800MHz, and overclocked the HD4770 to 901/1000MHz. The 9600GT was left at default GPU speeds through out testing.
FAR CRY 2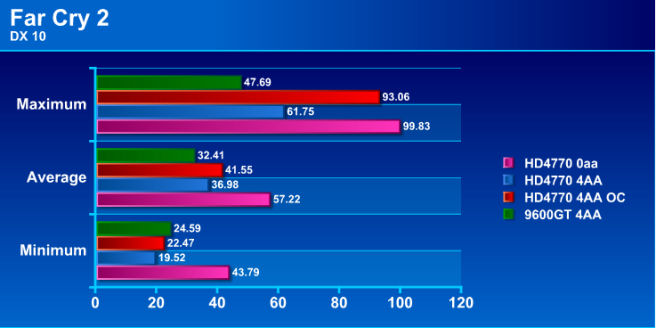 Starting our benchmarking testing on Far Cry 2. The frame rates we need to pay close attention to is the minimum. We can tell the 9600GT 1 gig video card has no problems handling this game at a res of 1680×1080 with 4xAA. The limited memory of 512 MBs cripples the HD4770 once we start to use 4xAA on both overclocked and default clock speeds. The non 4xAA run (default) has no problems playing Far Cry 2 as the frame rates are nearly double that of the 4xAA HD4770 overclocked run.
MIRROR'S EDGE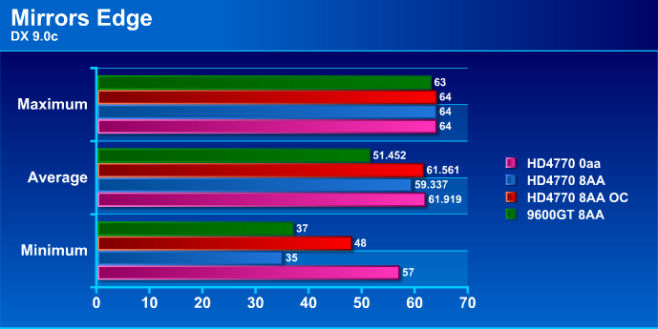 Once again, paying close attention to the minimum frame rates. In Mirror's Edge gaming, we see the same performance hit as we did with Far Cry 2 once AA is applied, giving us a difference of 22 Frames a second when looking at the default GPU clock speeds of 750/800. Overclocking the Sapphire HD4770 video gives us a nice performance boost, a gain of 13 frames a second, but it is not enough to catch up to the non overclocked setting and no AA test.
HAWX

Okay, a little explanation on this part of testing. The 9600GT supports Direct X 10 and does not support Direct X 10.1. Hawx automatically enables Direct X 10.1 on the HD4770 video card and disabled this feature on the 9600GT video card, so I could not do a fair comparison between these two video cards on this benchmark (remember I said the HD4770 set the standard on how things were going to be tested). Now this is a refreshing sight. Finally, we see the overclocked testing of the HD4770 came out ahead of when the HD4770 video card was running at default clock speeds.
3DMARK06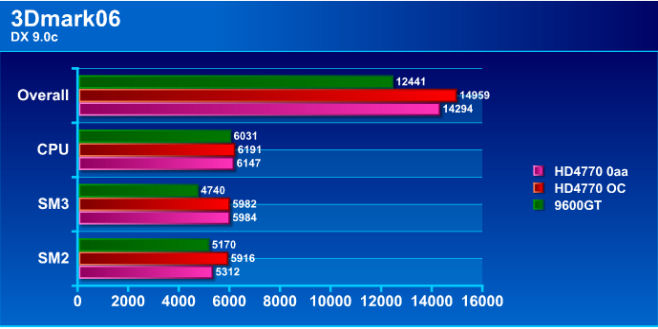 The 3DMark series benchmarks are the synthetic benchmarking programs we all came to know and run a lot of. These scores do not represent actual gaming. Really, the only real area the HD4770 shined on was the SM2 testing when looking at the non overclocked HD4770 and the overclocked HD4770 settings. The HD4770 manages to stay ahead of the 9600GT video card.
3DMARK VANTAGE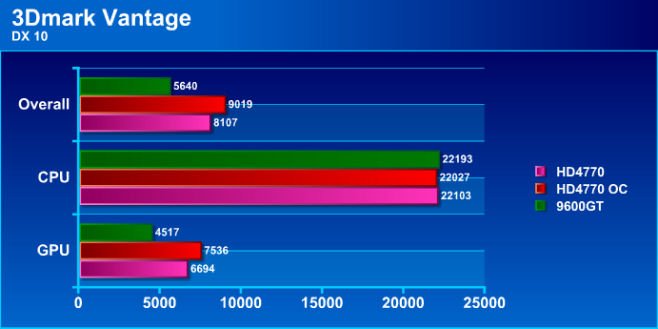 This is where the HD4770 flexes its muscle. Even while the HD4770 was running default clock speeds of 750/800MHz, it surpasses the 9600GT in both GPU scoring and in overall scoring. Now, keep in mind this is another synthetic benchmark and does not represent real world gaming.
STALKER CLEAR SKY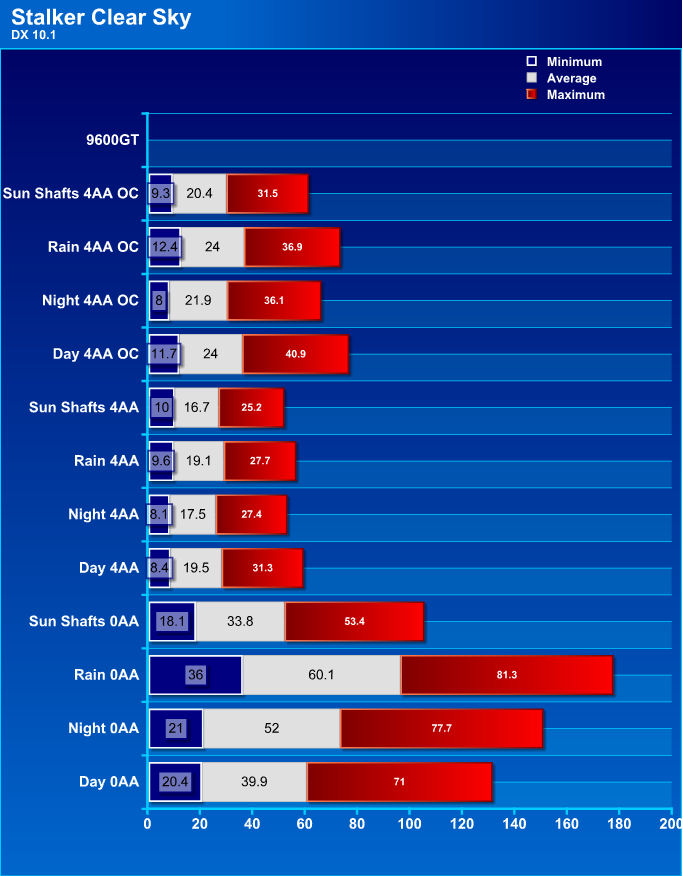 Stalker Clear Sky benchmark test again was tested in Direct X 10.1 mode. Therefore, I was not able to run the 9600GT in that mode. As we saw with Far Cry 2 and with Mirror's Edge testing, once AA is applied, the frame rates drop.
CONCLUSION
The Sapphire HD4770 performance was not at all what I was expecting. Normally, when we think about mid range video cards, we think they are the bottom of the barrel and will only play our games at a bare minimum settings. This was not the case with the HD4770 video card. It not only managed to play games at a decent frame rate, it managed to do so with high graphic settings and also with a decent resolution of 1680 x 1050. Where things turn to the worst with this video card was when I started to apply AA. That's when the HD4770 video card was brought to its knees. Having a limited memory of 512MBs is one of the causes of this significant drop of frame rates. Another reason is the driver needs some serious updating.
For a video card that costs less than 100 USD, the Sapphire HD4770 is an affordable buy for anyone who is needing a solid performing video card that does not want to make too many sacrifices on visual quality. And in this case, the only real sacrifice that would have to be made was with the AA setting.
Performance 9
Value 9
Quality 9
Warranty 7
Features 8
Innovation 9

Pros:
+ New process of 40nm
+ Has serious overclocking potential
+ Great performance for such a cheap video card
Cons:
– Performance suffers greatly once AA is applied
– Base of GPU cooler still had the original machining marks left on it (a bit more spit and polish could have been done)
Final Score: 8.5 out of 10 and the Bjorn3D Golden Bear Award.