With new cards just on the horizon, you will need evermore powerful PSU's to run them. SilverStone is no new kid on the block. You can trust them for a reliable PSU such as the Element 850w.
Introduction
As graphics cards keep on getting more powerful, they also require more power. It was not that long ago when a 400 watt PSU would run the latest high end hardware without breaking a sweat, now times are a bit different. Idealy you want at least a 500 watt powersupply, and more around 850 watts if you are running a high end system. SilverStone has introduced another PSU that falls right in this high end bracket, the Element 850watt PSU.
This PSU features a class leading dual 12v rails equating to a total of 62A. This much power will ensure that your brand new high end video card will have all the power it needs and then some. A high degree of efficiency also comes with this high power output. This means that you will not be wasteing lots of electricity on essentialy nothing, and instead be useing it to power your components, and drive down your electricity bill. Lets dig deeper into this SilverStone PSU.
About SilverStone
Intro
   Founded in 2003, SilverStone is an established leader in its field, with an elite team of engineers; we started our quest of providing products that create inspirations.  We have since expanded the lines of products as well as types of products we produce, giving our customers a wide selection of choices. 
With distribution centers in different areas of the globe, SilverStone products can be seen all over the world, not just for computer users but also for home entertainment use.  Providing leisure with integration of advanced technologies that is functional and making them enjoyable to use.
Here at SilverStone Technology, we continue to pride ourselves in providing the highest level of standards in designing and manufacturing computer enclosures, power supplies, and accessories.  Our pursuit for the first class aesthetic appeal is relentless; our teams of devoted engineers are constantly searching for the best technologies that suit end-users with different needs and will make our products as technologically sound as they are beautiful.
Philosophy

   SilverStone Technology's philosophy is based on our recognition that merely having innovative expertise within the industry is not enough. Our objective is to ensure that our expertise is delivered to all products with consistency, in response to user's needs, and with maximum user satisfaction.  SilverStone Technology thrives on challenges of rapid technological advancements and creating aesthetic standard for the industry.
FEATURES
Introduction
SilverStone ELEMENT series power supply is the synonym of saving electricity and cost. ELEMENT series ST85EF can deliver exceptionally high efficiency with greater than 82% within 20% to 100% loading and its 850W continuous output has dual +12V rails with 65A combined output, moreover, its quad PCI-E 6 pin and dual PCI-E 8 pin connectors can support up to the needs of highest graphic cards on the market. For enthusiasts, the compact size (160mm) of ST85EF is another advantage for easy integration for any sizes of chassis and it is ready to deliver in any high powered environment for serious work or play.
Special Feature
850W continuous power output
Class-leading Dual +12V rail(s) with 65A
High efficiency with 82%~85% at 20% – 100% loading
Support Dual PCI-E 8pin and Quad PCI-E 6pin connectors
Silent running 135mm Fan with 19dBA
Support ATX 12V 2.3 & EPS 12V
SPECIFICATIONS
 Model No.

SST-ST85EF

 Max. DC Output

850W

Load Range

| | | | | | | |
| --- | --- | --- | --- | --- | --- | --- |
|   | 3.3V | +5V | +12V1 | +12V2 | +5VSB | -12V |
| Max.(Amps) | 25A | 30A | 30A | 35A | 3.0A | 0.8A |
| Peak (Amps) | / | / | / | / | / | / |
| Min.(Amps) | 1.0A | 1.0A | 1.0A | 1.0A | 0.1A | 0A |
| Range (%) | ±5 % | ±5 % | ±5 % | ±5 % | ±5 % | ±10 % |
| Line Reg.(%) | ±1 % | ±1 % | ±1 % | ±1 % | ±1 % | ±1 % |
| Ripple(mVp-p) | 50mV | 50mV | 120mV | 120mV | 50mV | 120mV |

 combined +3.3, +5V

180W

 combined +12V

780W(65A)

 Input Voltage

103V~264V

 Input Frequency Range

50Hz ~ 60Hz

 PFC

Active PFC(PF>0.95 at Full Load)

 Efficiency

82%~85% at 20%~100% loading

 MTBF

100,000 hours at 25℃(at Full Load)

 Operating temperature

5°C ~ 50°C

 Protection

Over Current Protection
Over Power Protection
Over Voltage Protection
Short Circuit Protection
No Load Protection

 Connectors

1 x 24 / 20-Pin Motherboard connector (550mm)
1 x 8 / 4-Pin EPS / ATX 12V connector (550mm)
2 x 6-Pin PCIE connector (550mm)
2 x 8/6-Pin PCIE connector (550mm / 150mm)
6 x SATA connector (500mm / 250mm / 250mm)
6 x 4-Pin Peripheral connector (500mm / 250mm / 250mm)
2 x 4-Pin Floppy connector (500mm / 250mm / 250mm / 150mm)

 Color

Black (Lead-Free Paint)

 Cooling System

Silent 135mm fan

 Noise Level

19dBA – 35dBA

 Dimension

150 mm (W) x 86 mm (H) x 160 mm (D)

 Weight

2.6 kg
PICTURES & IMPRESSIONS
As with any box, there is some valuable information to sift through. On the front you can see the 80 Plus Bronze sticker, which means this PSU meets the requirements to be certified, which includes over 80% efficiency. The front contains SilverStone's blab about all of the most important features of the PSU, while the side includes the same information in multiple languages. The other side of the PSU box (not shown) includes a list of all of the cables included with the PSU.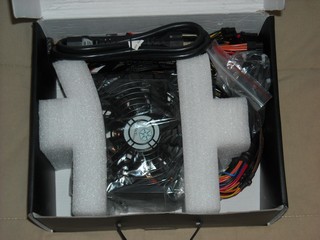 The inside of the package is simple, but gets the job done. Two pieces of foam keep the PSU locked in place and insure that it is not freely moving around, endangering the structural integrity of the PSU. All the cables are nicely routed, so you don't have a bunch of cables sprawled out all over the box. Neatly placed on the top is the power cord, and manuals (not pictured).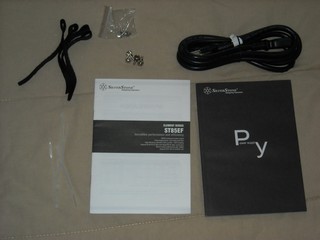 The PSU itself comes with the bare minimum of accessories, a bit disappointing for a 850 watt PSU. What they do include will get you up and running. This includes a power cable, a couple manuals which will show you just how to work the PSU, and its warranty. There are also thumb screws for the PSU, but many cases already come with PSU screws, so these most likely wont be needed. There are also Velcro strips included, but I don't really know what these are for, and the manual does not include any information about what they could be used for.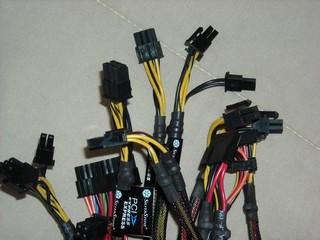 Here is a picture of all of the included cables. These include one 20+4 motherboard connector, one 4+4 CPU power connector, two floppy connectors, six SATA connectors, six Molex connectors, two 6-pin PCIE connectors, and two 6+2 connectors. This is plenty enough connectors to run just about any computer, even a computer with SLI GTX295's.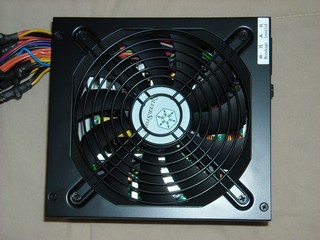 Here we have the real thing delivering the power to the computer. As you can see the outside has a nice black coat of paint on it. Many cases are black, so this should fit in perfectly with the majority of them. One disappointing thing about this PSU is that it is not modular. This will turn off a lot of people, but modular PSU's tend to cost more, so many people would rather save the money and deal with the cables. Moving on to the fan you will see that it is a 140mm, which should keep this PSU quite cool, and SilverStone added the nice touch of putting their name and logo on the center of the fan.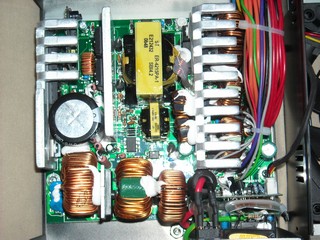 As we pop the side off of the PSU we get a better look at the guts. The PSU looks of pretty good construction, and the heat sinks are plenty large enough, so you can be rest assured it won't be overheating unless you throw it in an oven.
METHODOLOGY
Test Rig

Case Type

Cooler Master HAF922

CPU
Intel I7 920 @ 3.7
Motherboard
Intel SmackOver X58
Ram
(2×3) Mushkin HP3-12800 @ 1480, 8-8-8-20
CPU Cooler
Cooler Master V10
Hard Drives
WD SE16 640 GB
WD SE16 750 GB
Optical
Lite-On DVD R/W
GPU

Leadtek GTX275

Case Fan

One Front 200mm Intake
One Back 120mm Exhaust
One Top 200mm Exhaust

PSU

Corsair HX1000W
Silverstone 850w
Kingwin 1000w
For the tests I used 3DMark Vantage to achieve a game like experience, which should lead to the maximum load possible. For the idle tests I manually turned the PSU on with nothing attached to it. A Kill-A-Watt watt meter was used to measure the wattage being drawn by the computer from the wall socket. A Craftsman digital multimeter was used to measure the voltages on the connector to ensure that the most accurate result was obtained. To get the Power Factor Correction, I had to run the PSU with the minimal components, since it will not give this with nothing plugged in.
The current ATX 2.2 specifications allow for the following variation in voltage outputs:
3.3 Volt Rail:   3.135 – 3.465V
5 Volt Rail:      4.75V – 5.25V
12 Volt Rail:   11.4V – 12.6V
RESULTS
Corsair HX1000w


Kingwin 1000w




Silverstone 850w



OutPut Power
Idle
Load
OutPut Power
Idle
Load
OutPut Power
Idle
Load
12 volt
12.07
12.03
12 volt
12.19
12.17
12 volt
12.19
12.16
5 volt
5.12
5.11
5 volt
5.14
5.15
5 volt
5.14
5.16
3.33 volt
3.33
3.325
3.33 volt
3.412
3.14
3.33 volt
3.41
3.38
PFC
0.97
0.98
PFC
0.98
0.99
PFC
0.95
0.97
As you can see, the SilverStone PSU had higher voltages, but the Corsair PSU still had no issue staying in ATX 2.2 guidelines. The Power Factor Correction was much better on the Corsair PSU. Overall, the SilverStone is a worthy PSU that is of great quality.
Conclusion
One component that can never be forgotten is the power supply. This component will most likely last you through multiple computers, so you don't want one that will give out on you after a long gaming marathon. When you pick up a SilverStone PSU, you can be sure it wont quit on you after just a year of using it. You can also expect it to be very power efficient. Over time this will save you a lot on your power bill, maybe even enough to pay for itself, because the PSU is a Bronze 80+ PSU. This means that the PSU is more than 80% efficient at load.
Another factor to consider is power. You don't want to be underfeeding all of your components, which is why the 850 watts on this PSU will keep you well above the recomended wattage. While I was testing the system, it never went above 405 watts, which leads me to believe that it will easily be able to handle SLI GTX275, for some serious gaming power. The only real problem with this PSU is it's not modular. This will not bother a lot of people, as non-modular PSU's are cheaper, but many of us don't like the extra bundle of cables that come with a non-modular PSU. Whatever your needs may be, the SilverStone Element 850w will rise up to the task, giving you plenty of power and delivering great efficiency.
We are trying out a new addition to our scoring system to provide additional feedback beyond a flat score. Please note that the final score isn't an aggregate average of the new rating system.
Performance 9
Value 9
Quality 10
Warranty 8
Features 8
Innovation 5
Pros:
+  Stable power
+  80 Plus efficiency compliance
+  Sleeved cables

Cons:
–  Non-modular
–  Fan makes a ticking noise
The SilverStone Element 850watt PSU receives a final score of 8 out of 10 and the Bjorn3D Seal of Approval.