Razer gives us their new mouse pad before launch, the Sphex. Being the thinnest gaming pad available, we give it a run to see how it holds up against its heavyweight competitors.
INTRODUCTION
With gaming mice constantly being the focus for aim and precision, mouse pads are easily overlooked. After spending $40 to $60 on a gaming mouse, spending an additional $10-$20 on a mouse pad may seem more like a chore than a necessity. Unfortunately, your brand new shiny mouse can only do so much. A high DPI mouse will perform best with a high DPI accepting mouse pad. A cheap cloth pad will work just fine, but the real potential of your mouse will forever be hidden. Gamers know what gamers want, and that is exactly why Razer has released so many good products. Along with their mice, they've also released many mouse pads including cloth pads, hard surface pads, dual sided pads, and now an incredibly thin $15 pad, the Sphex.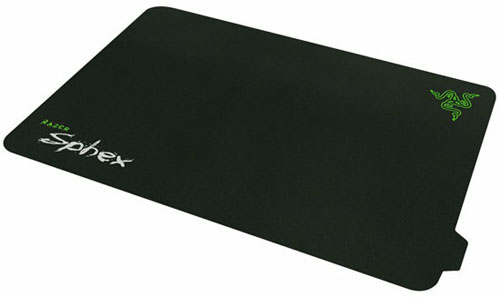 Razer: The Company
"Razer collaborates with gamers to develop, manufacture and market cutting-edge gaming peripherals utilizing proprietary technologies that give gamers the competitive edge. We reinvented the computer gaming industry by bringing this competitive edge to gamers when professional computer gaming was in its infancy. In the mid 90s, with the advent of networked gaming and competitive first-person-shooter (FPS) games, gamers found that their legacy peripherals were inhibiting rather than enhancing their gameplay."
"Having led the technology arms race and overpowered competitors, Razer once again stamped its authority in gaming technology in the fall of 2005, by launching the Razer Copperhead™."
"Right about then, Microsoft and Razer decided to co-develop and co-brand Microsoft's next generation of gaming peripherals, culminating in the Microsoft|Razer Habu gaming mouse, and the Microsoft|Razer Reclusa gaming keyboard."
"Undoubtedly, Razer is the worldwide leader in terms of professional gaming peripherals. While we are light years ahead of our competitors in terms of technology, design and ergonomics, we are not resting on our laurels but are developing other key products and peripherals with the gamer in mind to bring that competitive edge to gameplay that Razer is synonymous with."
"Headquartered in Carlsbad, California, Razer collaborates with gamers to develop, manufacture and market cutting-edge gaming peripherals utilizing proprietary technologies that give gamers the competitive edge. Razer products have earned critical praise and won multiple awards from around the world for their precision, sensitivity, usability and distinctions in product design. Engineered to near perfection, Razer's reputation of being the leader in gaming peripheral technology is embodied in every single Razer product. For more information, please visit www.razerzone.com"
"Razer – For Gamers. By Gamers™."
SPECIFICATIONS
 
High performance surface for both optical and laser mice 
Currently the world's thinnest gaming-grade mousing surface
Extra thin to avoid restrictions
Adheres to any surface using a special multiuse adhesive
Washable surface 
Approximate size:
320mm (length) x 230mm (width)
 
Pictures & Impressions
Click Image For a Larger One
The Razer Sphex comes wrapped in resealable plastic. I took the plastic wrap off so I could get clear pictures of the packaging. The packaging itself is very nice. The front has a hologramic-like logo, a glossy picture of the pad, a hole that allows you to touch the surface, quick feature listing, and the known Razer black coloring. On the back, specifications are listed and there are pictures displaying the adhesive bottom, thinness, and size.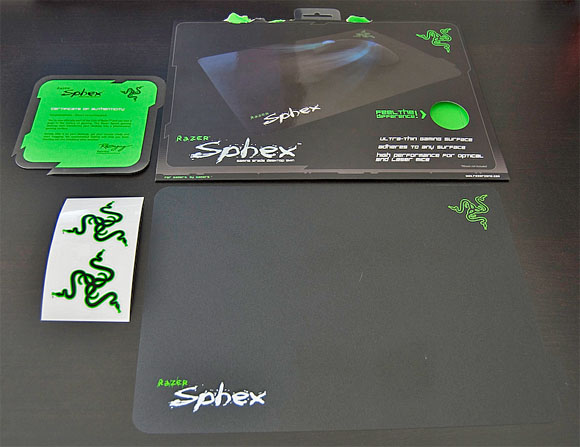 In the packaging is the pad, Razer stickers, and a certificate of authenticity. After having the pad in my hands I was able to see what made the Sphex so special, its incredibly thin size.
Click Image For a Larger One
The pad is so very thin! In the pictures above you can see a side by side comparison with an envelope. The Sphex is literally as thin as paper! So how does it compare to other pads?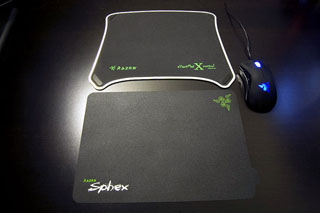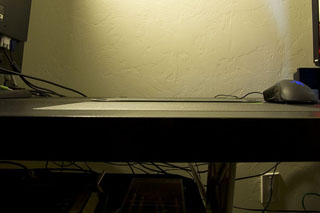 Compared to the Razer eXactMat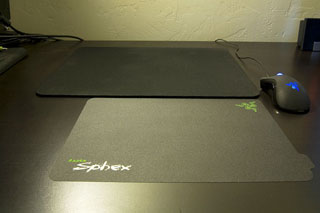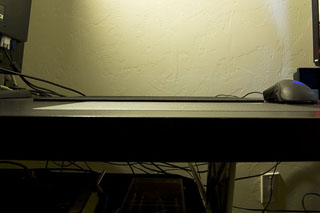 Compared to a generic cloth pad similar to the Razer Goliathus
Click Image For a Larger One
I've said it already and I will say it again, the Sphex is very thin! The pictures above show comparisons with the Razer eXactMat and a generic cloth pad that is similar to the Razer Goliathus. The Sphex really is a desktop gaming " skin ".
Testing
To test the Sphex, many hours of gaming was done as well as many hours of general use. Coming from a first person shooter background, FPS' were the games of choice. Quake Live, Unreal Tournament III and Left 4 Dead were played. For general use testing Microsoft's Paint and GIMP were used. To give a bit of history, I've been playing FPS games since I was 14 years old. I'm now 26. That means I have 12 years of fragging experience under my belt. I've played the entire Quake series, Unreal series and just about any game released from Valve. I have used many mouse pads including cloth, hard plastic surfaces, dual sided mousing pads and even no mouse pad at all. To test properly, I used Quake Live specifically due to it having live displayed stats. Your able to track a certain weapon's hit percentage at any time. Prior to using the Sphex I had a lightning gun percentage of 30-31%. If you've played Quake at all, you would understand that 30-31% is better than average. After using the Sphex, my lightning gun percentage went up to 35-37% on average. I even had one game where I hit 44%. Many factors play into stats, especially your opponents skill level. Setting that factor aside, the Sphex without a doubt improved my gaming experience. I was hitting shots I would normally miss, I was able to navigate through maps faster, my movement and aim noticeably improved. All the while my wrist stayed comfortable. During general use the Sphex performed very well.
Having a high DPI mouse like the DeathAdder, the operating system sensitivity by default was way to high. I lowered it dramatically to accommodate the crazy high sensitivity within games. In doing so a bigger pad was needed, hence the gigantic cloth pad. With the Sphex I'm able to navigate just like I would with the giant cloth pad, using only half the space. Within Microsoft's Paint and GIMP I was able to make precision paint strokes with ease. Compared to the generic cloth pad, it was definitely easier. Compared to the eXactMat, it was the same but more comfortable due to the Sphex being so flat. The surface of the Sphex is very smooth. As quiet as the cloth pad and tracks as well as the eXactMat without the noise. It's a perfect combination of the two. Having the adhesive bottom the Sphex stayed put. Through vigorous gaming and swift paint strokes, the Sphex never rippled or moved. The multiuse adhesive works very well. I repeatedly removed the Sphex and reseated it, every time it reseated just like it did out of the box.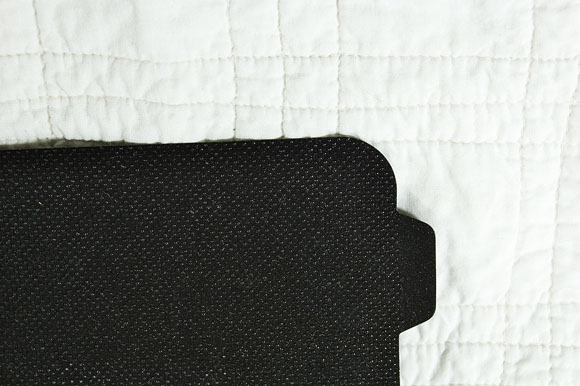 To test out the quality of the special multiuse adhesive, I put dust and cat hair on it. Sadly, the dust and cat hair were tricky to remove. At first I took a lint roller to it to see how it would respond. Word of advice, do NOT use a lint roller with the Sphex! Adhesive + adhesive = failure. The lint roller ended up pulling off some of the multiuse adhesive! Fortunately, I was able to free the Sphex from the lint roller. Because it is so thin, it is very easy to bend it and wrap it on to sticky things, like lint rollers. To remove the hair I used a pair of tweezers, to remove the dust I used a very damp terry cloth. Before sticking your Sphex to your desk, clean the area well.
Conclusion
To put it bluntly, the Sphex delivers. In gaming it was comparable to Razer's eXactMat while having the quietness and stability of Razer's Goliathus. We loved how flat it was, how smooth it was, and how it seemed to be just the right size. It excels in gaming and will definitely improve your general use experience. Having a gaming mouse doesn't require a gaming mouse pad, but having a pad that will properly support your mouse is nice. No matter what mouse you have, you will notice an improvement with this mouse pad. Unfortunately, nothing is perfect. There are a couple things that we feel the Sphex could benefit from. First thing is the thinness. The Sphex is so thin that it is fragile. If your a LAN party enthusiast, it might be best for you to buy another pad for your LAN's. We felt the pad would end up being damaged somehow while being toted to multiple LAN's. You could use the packaging as a temporary traveling case, but that won't last too long as its just reinforced paper. If the Sphex came with a traveling case of some sort, it would resolve that issue.
The second thing we did not love was the multiuse adhesive. If indeed you are going to multiple LAN's, you will need to prep whatever surface your sitting at. You will need to clean it thoroughly. If you don't, you will have dust, hair, and debris all over the bottom of your pad. Cleaning it is an option, but who wants to clean their pad every time they move it? Lets not focus on the bad because there is a lot we love about the Sphex. Its $15, its the perfect size, it performs up to par with pad's twice its price, and it looks like it belongs on your desk.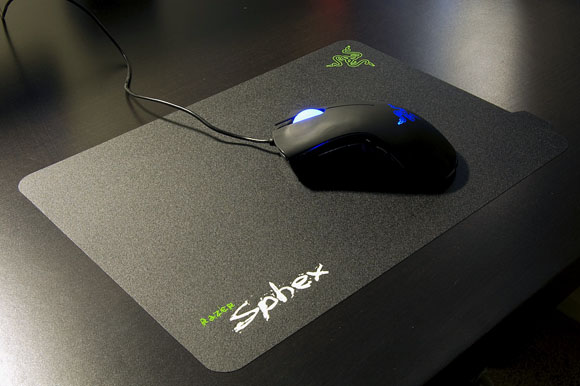 We are trying out a new addition to our scoring system to provide additional feedback beyond a flat score. Please note that the final score isn't an aggregate average of the new rating system.
Performance 8.5
Value 8.5
Quality 8
Warranty 8
Features 8
Innovation 9 
Pros:
+  Incredibly thin
+  Sticks flush and stays to any surface via a multiuse adhesive bottom
+  Works with both optical and laser mice
+  Mouse movement is very smooth and precise
Cons:
–  Fragile, could easily be damaged if not properly taken care of
 
The Razer Sphex is truly a breakthrough mouse pad. It performs like a $30 mouse pad yet it cost only $15. Its innovative due to it currently being the worlds thinnest gaming mouse pad and it has all the features a gamer would expect. We give the Razer Sphex an 8.5 out of 10 and the Bjorn3D Seal Of Approval.