With Intel's new socket right on the horizon, there are not a whole lot of coolers equipped to fit on the new socket. Today we have the Cooler master Hyper TX3, which will fit this socket.
INTRODUCTION
The moment is almost finally here, Intel's true answer to AMD's socket AM3. It would seem like more cooler manufacturers would be touting the fact that their coolers are compatible with the new socket. Finally we have one, the Cooler Master Hyper TX3! While it's too early to test this beast on a socket 1156 board, we can still get an idea on how it will perform on current generation processors, in this case the Athlon X2 7850 BE. But enough talk about future CPU's. What about CPU's out now? Well, you're in luck, the Hyper TX3 supports all recent sockets, dating back to K8 CPU's.
Cooler Master is a well known brand now, especially in the chassis market, but can they pull out another winner of a CPU cooler? Read on to find out!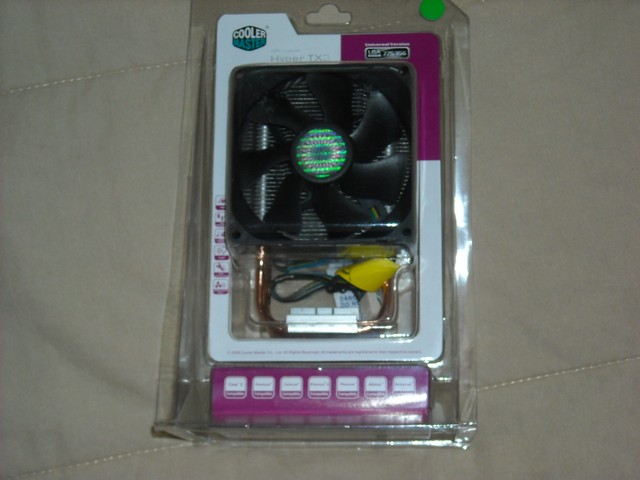 About Cooler Master
Cooler Master was founded with the mission of providing the industry's best thermal solutions. Since its establishment a decade ago, the company has remained faithful to this mission, emerging as a world leader in products and services for companies dealing with devices where heat issues must be resolved.
A critical component of Cooler Master's ability to successfully pursue its mission is an unstinting commitment to quality, as demonstrated by the ISO 9001 certification granted to its main manufacturing plant in Taiwan. It has also enforced ISO guidelines and is in the process of applying for ISO 9002 certification at its second and third plants, located in China. Cooler Master has also implemented a number of analytical and testing protocols to ensure top quality, including at subcontractors, to further ensure thorough quality control. Moreover, Cooler Master's dedication to quality extends beyond manufacturing to every aspect of its operation, including service.
Cooler Master's current business encompasses a comprehensive lineup of thermal solutions for a full range of applications. Its products range from heat sinks and fans to component housing, chassis, and ducting for computers, industrial machinery, telecommunications equipment, and many other devices.
FEATURES
Flexible mountings for multiple sockets.
Maximum compatibility with CPU wattage of over 130W TDP.
Three direct contact heat-pipes with aluminum fins provide excellent heat dissipation.
Optional second fan may be installed to increase cooling performance.
92mm PWM fan with wide RPM range and anti-vibration rubber pads.
Silent CPU cooler with 17 dB-A at minimum speed.
Easy swappable fan by utilizing clips ( extra clips included).
SPECIFICATIONS
Heat Sink Dimension

90 x 51 x 25mm / 3 x 2 x 5.47 inches

Heat Sink Material

Aluminum fin + 3 heatpipes

Fan Dimension

92 x 92x 25mm

Fan airflow

15.7 – 54.8 CFM

Fan Air Pressure

0.35 – 4.27mm H20

Fan Life Expectancy

40,000 hours

Bearing Type

Long life sleeve bearing

Voltage Rating

12v

Noise Level

17 – 35 dBA

Weight

470g / 1.04 lbs
Socket Compatibility

CPU Socket Intel Socket LGA 775/1156
AMD Socket 754 / 939 / 940 / AM2 / AM3
PICTURES & IMPRESSIONS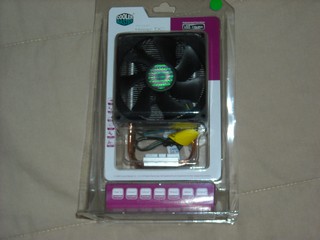 Looking at the package, you see where Cooler Master cut a little bit of cost on. The package is not nearly as elaborate as say the V-10's packaging, but it really doesn't have to be. The package is sturdy enough so that the cooler will not be damaged before delivery, and it's light enough to save Cooler Master a few extra bucks, which they have graciously passed on to you. The packaging has a little blurb at the top about it being socket 1156 compatible. This will help any potential customer who is unsure if it will fit on their CPU.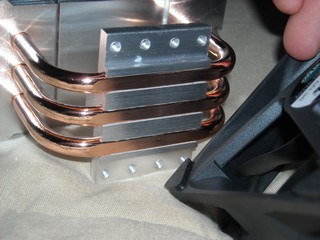 Let us first take a look at the bottom of the cooler itself. You will notice that it has direct touch heat pipes. These help quicken the transfer of heat, and thus cool the CPU down more. It looks like it is quite uneven, but upon feeling it, I noticed it was relatively flat. The reflection is another matter. As you can see from the picture, there is only a slight reflection in the bottom of the cooler. This doesn't necessarily mean that the bottom is not flat, it just means it was not highly polished. Cooler Master had to cut somewhere, and this is one area, but I feel they smoothed it enough so that this doesn't matter a whole lot.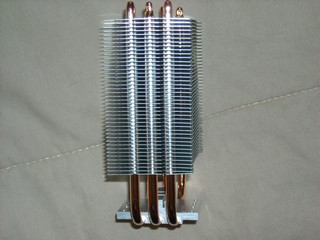 As we move to the side of the cooler, you can see how small it is. The pictures don't really give this cooler a feeling of just how small it is. The size will definitely inhibit its ability to cool the CPU, but I feel that it will still do a fine job as long as you are not running a top of the line CPU, so you should be perfectly fine.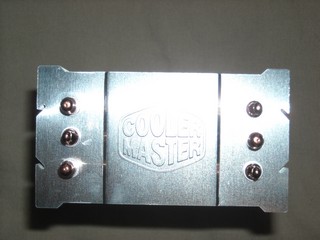 There is one design flaw that Cooler Master forgot about on this cooler, the curved design. When you curve the fins of the cooler, it helps air more efficiently flow into the cooler. This helps the overall cooler efficiency. They did at least make it indented a little bit, and another good thing by running the heat pipes all the way through the cooler, which delivers the best performance. The Cooler Master logo only makes it that more appealing.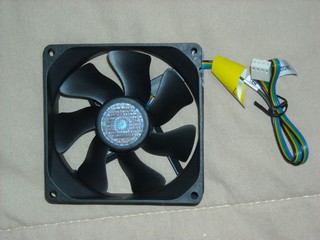 Now if we take a look at the fan, we will see Cooler Master used a fairly good design. The fan has the ability to move up to 54.8 CFM, which is quite a bit for a 92mm fan, and it does it with only making 35 dBA. This is approaching the loud level, but most likely your motherboard will control the fan so it is not running at full blast all of the time. Cooler Master also used a great fan blade design, which maximizes airflow, while minimizing the noise level.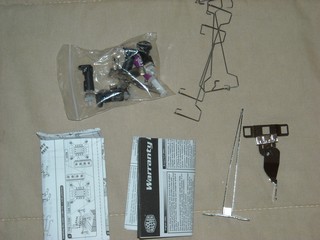 The TX-3 comes with a fair amount of accessories. The basics include an instruction manual and a warranty brochure. The two year warranty is quite good for a cooler. The cooler also comes with extra mounts if you so choose to add another fan to improve the cooling, and mounting hardware for both Intel 775, 1156 and AMD AM2, AM3, 754, and 939.
METHODOLOGY
To record the idle temperature of the CPU, I let Windows sit and do nothing for about ten minutes to ensure that the temperature was as low as it could get. To test the load temperature, I ran LinX, a Linpack tester similar to Intel Burn. After about 30 minutes I recorded the highest temperature. On the motherboard I used, the X2 7850 would not go higher, so I set the voltage to 1.45 to simulate more heat of a higher overclocked CPU. My system specs are listed in the chart below.
Test Rig

Case Type

Logysis Dracula

CPU
AMD X2 7850 @ 2.8, 3.0 1.45v
Motherboard
Sapphire 780G
Ram
(2×2) Corsair XMS 2 800 @ 800, 5-5-5-18
CPU Cooler
Coolink Silentator
OCZ Vendetta 2
Cooler Master Hyper TX3
Hard Drives
WD SATA 80 GB
Optical
Lite-On DVD R/W
GPU

HIS HD 4850 1 GB

Case Fan

One Front 80mm Intake
One Back 120mm Exhaust

Testing PSU

Corsair TX650
Testing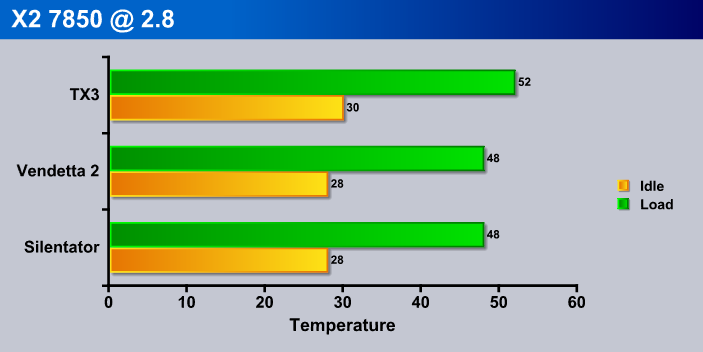 The TX3 gets off the an okay start. It was expected that it would not match the Vendetta 2 or the Silentator. The heat pipes did help the cooler stay in close range of the other two coolers.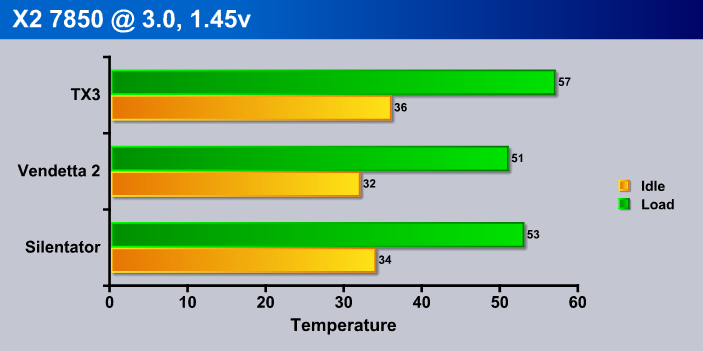 When the heat builds up, the TX3 is still able to keep the temperatures under control. For the price and size of this cooler, it falls right into where it should be.
CONCLUSION
The Cooler Master Hyper TX3 only real downfall is its size. Cooler Master sacrificed size for a lower price, which makes sense. Another reason for a reduced size is that some people just don't want a massive cooler. This cooler perfectly fits the bill for anyone falling into that category. It was easily able to keep the X2 7850's temperature under control with room to spare. Since this cooler was able to keep up with a 95watt CPU, I would expect it to do just fine on the X3 720, and still give you some overclocking head room.
Another great selling point of the Hyper, is its compatibility. With its ability to run on any socket in recent history (minus 1366), you can almost guarantee it will fit your computer that you just bought or one you have owned for a couple of years.
We are trying out a new addition to our scoring system to provide additional feedback beyond a flat score. Please note that the final score isn't an aggregate average of the new rating system.
Performance 8
Value 9
Quality 8
Warranty 8
Features 8
Innovation 7
Pros:
+  Ability to run dual fans
+  Huge socket compatibility
+  Heat pipes

Cons:
–  92mm fan
–  No 1366 support
With a final score of 7.5 out of 10 the Cooler Master Hyper TX3 receives the Bjorn3D Seal of Approval.