Does that new hardware require a bit more power? How about your want for a modular design? Well, how about checking out the Ikonik Vulcan 850 watt power supply for your new rig?
INTRODUCTION
As more and more new computer equipment comes out, some of us rush to buy it, while others lag behind a bit and wait for the price to drop before making a purchase. Then, once we get our new toys home, we realize that our old PSU just isn't cutting it anymore. The next PSU you are going to want to buy will have to feature great stability and be one that you can depend on, because you won't want to fry your new toys. Today, we have the Ikonik Vulcan 850 watt power supply. The PSU has plenty enough power for the average user and even those that are a little more than average person.
When you are choosing the Ikonik Vulcan, you are choosing an Nvidia SLI certified PSU, which is certainly enough to make me trust the PSU, but as we all know, you should always try it before you buy it. So, today I will put this PSU to the test and see how it stacks up to other similar power supplies.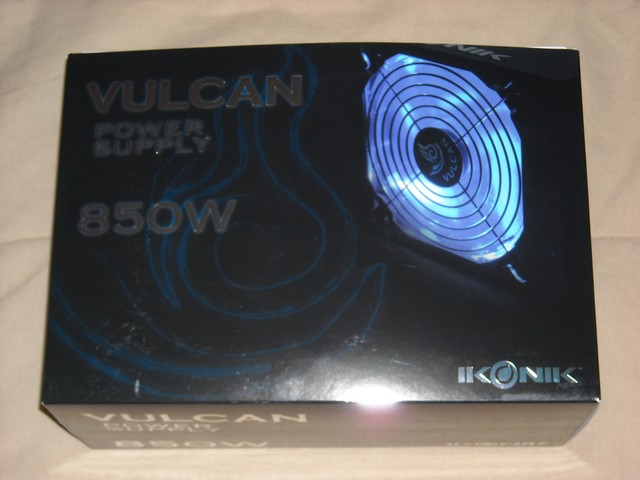 About Ikonik
Our establishment
Ikonik Technology was founded by a team of IT-experts – who were operating for a well-known brand in the industry. Following the same business model of international business, we position ourselves in the same level of high standards in everything that we do.
Our core-business
Ikonik Technology is focusing on designing, branding, manufacturing and distribution of all computer peripherals. Not only will we create and supply these components to the power users – but we also provide the service and aftercare, in order to safeguard users' equipments.
In this highly competitive and aggressive environment, Ikonik Technology strives to deliver that extra bit more. We are constantly improving the standard of quality, surpassing users' requirements and deliver products with performance, fun, good looks and easy to use.
Our award-winning expertise
With years of experience in R&D, sales & marketing, product and production management – we know how the market looks like. We have an award-winning team that won various international awards, such as:
Tom's Hardware Innovation Award for Ra X10 LIQUID (global)
Product of the Year for Zaria A20 (Denmark)
IF Design award for cooler (Germany);
Tweaktown Award for innovative design of power supply (Australia);
3D Gameman Award for chassis (US);
Overclocker Award for cooler (US);
PC DIY award for chassis (Taiwan);
Tech Power Up for cooler (Global);
Guru3D Award for power supply (Netherlands);
OC Workbench Award for power supply (Singapore);
59 Hardware Award for cooler (France);
GamesAxis Award for cooler (Malaysia);
Digiworld Award for cooler (Czech Republic);
PC Impact Award for chassis (UK);
Game Reactor Award for cooler (Norway);
Hardware-Test Award for chassis (Denmark);
ComMart Award for cooler (Taiwan);
With such a list of award-winning product – Ikonik Technology has the confidence that our R&D-team is an expert in this field.
During the annual international IT-exhibition Computex 2008, IKONIK received the 'Innovation Award' from world's leading IT-website Tom's Hardware. Only two companies got this award and IKONIK was one of the lucky ones.
Our international work force
Ikonik Technology does not only have an experienced management team, but also prides itself in the fact that we possess an international work force. We understand that each culture holds its own values and 'way of thinking' and thus we established native speakers for each market.
Our values
Empower people
Deliver cutting-edge products
Delight customers
Honesty

Our vision
Our mission is to become a mature and sophisticated player in the IT-market, driving people and products to its upmost capabilities. The strategy aims at the growth of the company by focusing in the areas of integrating PC and technology into everyday lifestyle, with a certain panache. Technology no longer needs to be an entity that only certain trained people can excel, in, technology is compatible with everyday life. Ikonik Technology uses design to ensure people not only use a computer product, but uses a smart looking product too. We want to bring something new in everything what we do. We want to distinguish our self in design, performance and marketing.
FEATURES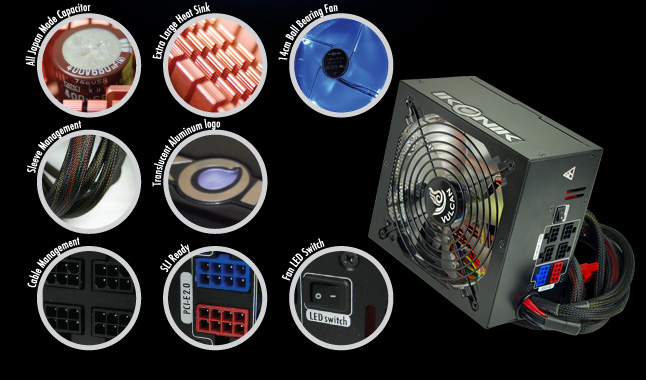 SPECIFICATIONS
Model

Vulcan 850

Vulcan 650

Type

ATX 12V V2.3 / EPS 12V V2.91

Fans

140 mm

PFC

Active

Main connector

20+4 pin ATX

+12V rails

4

PCI-E connectors

4

2

Nvidia SLI support

YES

Nvidia 3 Way SLI Support

N/A

ATI CrossFire support

YES

Modular cabling support

YES

Efficiency

80PLUS

Over voltage protection

YES

Overload protection

YES

Input voltage

100 – 240V

Input frequency range

50 – 60 Hz

Input current

[email protected] / [email protected]
[email protected] / [email protected]

Output

[email protected], [email protected], [email protected], [email protected], [email protected], [email protected], [email protected], [email protected]
[email protected], [email protected], [email protected], [email protected], [email protected], +12V4[email protected], [email protected], [email protected]

MTBF

>120,000 hours

Connectors

20+4PIN / 4+4PIN / 9 SATA / 5 PATA / 1 floppy 4PIN / 4 PCI-E 2.0

20+4PIN / 4+4PIN / 6 SATA / 5 PATA / 1 floppy 4PIN / 2 PCI-E 2.0

Dimensions

160 x 150 x 86mm

160 x 150 x 86mm
PICTURES & IMPRESSIONS
Ikonik gives us a first glimpse of the Vulcan from the picture on the front of the box. They also list the wattage of the PSU. When we move over to the back of the PSU, we see that Ikonik has included a great deal more detailed information about the Vulcan. This includes its long list of certifications. Also, another interesting thing to note, is that Ikonik has encased the actual box in what you see here, a cover box. The actual box is just a simple white box with Ikonik's logo on it.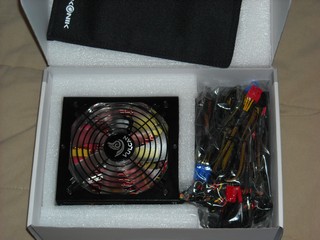 When we open the box, we are greeted by the Vulcan. There was a Syrofoam cover, which was taken off, just in case you where wondering why there was nothing protecting the PSU from the top. On top of that, Ikonik has completely encased the Vulcan in a Syrofoam bed of sorts. This will ensure that the PSU does not have any fatal accidents before you get your hands on it. As you can see, all of the modular power cords for the PSU are neatly packaged right next to the PSU itself.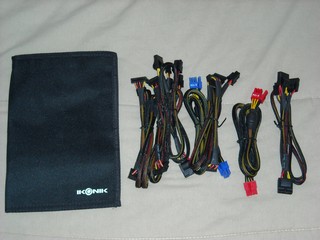 Here we have a whole collection of the accessories, minus the power cord and manual (was buried, and didn't find it until later). The pouch looking thing on the left can actually be used for quite a variety of things. You can certainly put in your extra power cords, but it is also a pretty good tool holder. The modular cables are as follows, two 6+2 pin PCIE power connectors, five Molex connections, nine SATA connectors, and one Floppy connector. This should be plenty enough extra cables, since like the Corsair HX1000W, this PSU has some cables built into the PSU itself.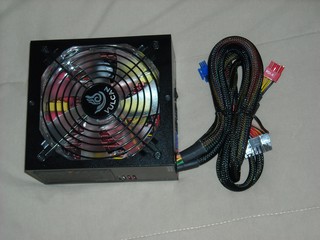 Now for the real attraction, the PSU itself. As mentioned before, the Vulcan has a few cables built into it. They are as follows, one 20+4 pin motherboard connector, two 6+2 pin PCIE connectors, and a 4+4 pin CPU power connector. This means you can theoretically run a dual GTX295 setup. That should more than satisfy most users. The fan on this PSU happens to be a nice sized 140mm. This will move a lot of air without making a lot of noise, so your PSU can really be cool and quiet.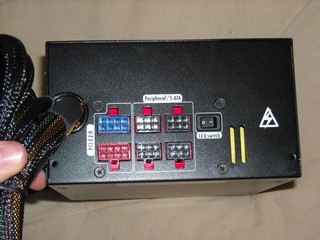 From this angle we can get a good look at the PSU power plug-ins. There are only four extra plug-ins for Molex's and SATA's so you will not be able to run all of the cables included, but you will be able to run a majority of them. Also, there are two plug-ins for the PCIE connectors, so you can use both of the ones included. The LED on/off switch is a very nice addition that isn't on very many PSU's at all.
I just had to include this. If you have a case that uses a top PSU, then you're in luck.  Ikonik has included their logo right on the side of the PSU. All you have to do is peel the protective plastic off. This is a nice addition that not a lot of PSU's have, but makes it look a lot cooler.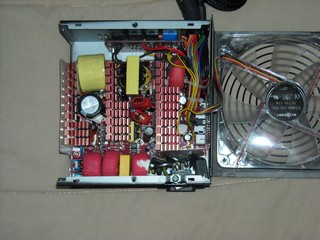 Now if we take a look on the inside, we can see the quality. Ikonik has included large heat sinks, which will get rid of all the excess heat in the system. The overall inside quality looks quite top notch.
METHODOLOGY
Test Rig

Case Type

Cooler Master HAF922

CPU
Intel I7 920 @ 3.7
Motherboard
Intel SmackOver X58
Ram
(2×3) Mushkin HP3-12800 @ 1480, 8-8-8-20
CPU Cooler
Cooler Master V10
Hard Drives
WD SE16 640 GB
WD SE16 750 GB
Optical
Lite-On DVD R/W
GPU

Leadtek GTX275

Case Fan

One Front 200mm Intake
One Back 120mm Exhaust
One Top 200mm Exhaust

Testing PSU

Corsair HX1000W
Silverstone Element 850W
Ikonik Vulcan 850W
For the tests I used 3DMark Vantage to achieve a game like experience, which should lead to the maximum load possible. For the idle tests I manually turned the PSU on with nothing attached to it. A Kill-A-Watt watt meter was used to measure the wattage being drawn by the computer from the wall socket. A Craftsman digital multimeter was used to measure the voltages on the connector to ensure that the most accurate result was obtained. To get the Power Factor Correction, I had to run the PSU with the minimal components, since it will not give this with nothing plugged in.
The current ATX 2.2 specifications allow for the following variation in voltage outputs:
3.3 Volt Rail:   3.135 – 3.465V
5 Volt Rail:      4.75V – 5.25V
12 Volt Rail:   11.4V – 12.6V
TESTING
Corsair HX1000w


Ikonik 850w




Silverstone 850w



OutPut Power
Idle
Load
OutPut Power
Idle
Load
OutPut Power
Idle
Load
12 volt
12.07
12.03
12 volt
12.13
 12.16
12 volt
12.19
12.16
5 volt
5.12
5.11
5 volt
5.13
 5.14
5 volt
5.14
5.16
3.33 volt
3.33
3.325
3.33 volt
3.353
 3.408
3.33 volt
3.41
3.38
PFC
0.97
0.98
PFC
0.97
 .98
PFC
0.95
0.97
The results where a bit unexpected. Upon load, the voltages (all except the 3.33 volt) went up. This does not normally happen, but is great, as it shows the rails are easily taking the power usage.
CONCLUSION
While many of us wish we had a 1000 watt PSU, sometimes we have to set our sites to a more realistic number. Honestly, you could easily run pretty much any SLI or Crossfire configuration on this 850 watt, so why pay more for power you don't need? Yeah, that's what I thought. Just stick with the 850 watt PSU. It will power all your high end graphics cards, multiple hard drives, and high wattage CPU.
Not only does the PSU's voltages go above and beyond, Ikonik backs the Vulcan with a 5 year warranty. This is really great and shows that Ikonik backs up their product. The on/off switch for the LED's is really a nice addition that shows Ikonik pays close attention to every detail to make their product just that much better. With this quality, thoughtfulness, and reliability, the Ikonik Vulcan 850 watt PSU is a great buy for someone looking for a good modular 850 watt power supply.
We are trying out a new addition to our scoring system to provide additional feedback beyond a flat score. Please note that the final score isn't an aggregate average of the new rating system.
Performance 10
Value 9
Quality 9
Warranty 9
Features 9
Innovation 8
Pros:
+  LED fan
+  Modular
+  Near 90% efficiency

Cons:
–  850 watts may be too small for some people's ego
With a final score of 8 out of 10 the Ikonik Vulcan 850 watt PSU receives the Bjorn3D Seal of Approval.